Since 2020 we've seen a huge spike in online marketplace sales.
These numbers are only expected to increase, and given current circumstances, they just may be a key step on an individual and global level.
This article explores Online Marketplace Stats.
Online Marketplace Stats for Industry 2023
Roughly 79% of Americans today make purchases online.
15% of Americans make online purchases on a weekly basis.
In 2021, $3.23 trillion was spent globally on the top 100 online marketplaces.
46% of online retailers would merge fulfillment centers to compete with Amazon.
E-Marketplace Demographics Stats 2023
39% of men shop online for Technology, while only 18% of women do.
46% of women shop for clothes/sports goods, whereas only 40% of men do.
As of 2020, millennials accounted for 20.2% of digital purchases.
Amazon Marketplace Statistics
Amazon accounted for 45% of online shopping spending in 2018.
Amazon has its own inventory of 12 million items, and with marketplace sellers, there are about 350 million.
Each month around 197 million people around the globe go on Amazon.
After finding a product on a competing online marketplace, 9 out of 10 people will go to Amazon to compare prices.

Wish Marketplace Statistics 2023
There are over 300 million product listings on Wish.
There are over 500,000 sellers on Wish.
In 2020 Wish generated $2.5 billion in revenue.
Walmart Marketplace Statistics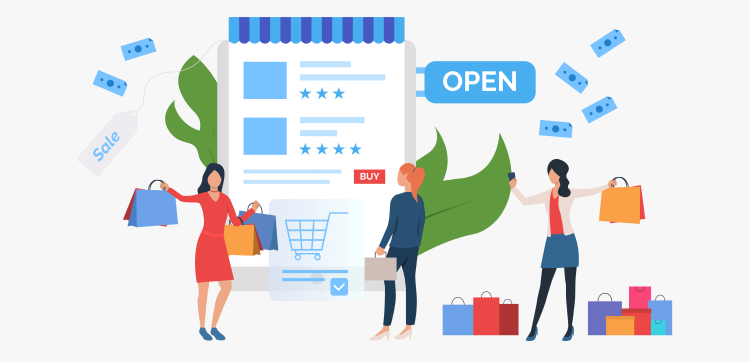 Walmart's marketplace passed 100,00 sellers in 2021!
In 2020 Walmart's marketplace gross merchandise volume tripled from 2019.
Yearly online sales for Walmart are about $13 to $15 billion.
eBay Marketplace Statistics
eBay has over 185 million active buyer accounts and 19 million seller accounts.
80% of the items sold through eBay are new products.
There are about 1.3 billion listings on eBay.
There are more than 109 million visitors to eBay each month.
In a 2021 survey, eBay was the most popular online marketplace for sellers earning a 6.5/10.
Etsy Marketplace Statistics
Etsy has 81.9 million active buyer accounts.
There are 4.36 million sellers on Etsy.
62% of Etsy sellers are based in the US.
Women make up 83% of Etsy sellers.
In 2020 Etsy generated $1.9 billion in marketplace revenue.
In 2020 Etsy gained 38 million new buyers, doubling the previous year's total.
Facebook Marketplace Statistics
At the beginning of 2021, Facebook Marketplace had almost 2 billion users around the world.
Facebook Marketplace reported $26 billion in revenue in 2021, 48% higher than the previous year.
In the US, Facebook Marketplace is the 5th most popular online marketplace.
Other Marketplace Statistics
According to Zillow stats, it is a leader in the rental and real estate marketplace.
You might be interested to check those related posts as well:
FAQs
How much does it cost to build an online marketplace?
Online marketplaces can cost anywhere from $10,000 to upwards of $100,000 to build. This averages around $40,000.
What is the most popular online marketplace?
Amazon is the most used online marketplace, with net revenue of $470 billion.
How many online marketplaces are there?
Across the globe, there are over 150 online marketplaces, including Amazon, Etsy, Google Express, and Alibaba.
Conclusion
In a world that is increasingly turning to technology for everyday life, leading online marketplaces like Amazon, Walmart, and eBay have managed to capitalize on profits.
As we reach back towards "normal life," online marketplace shopping may become the new normal for all, according to the most recent online marketplace stats.
Sources:
Online shopping and Americans' purchasing preferences
Online Shopping Statistics You Needed to Know in 2022
U.S. digital buyer share by age 2020
15 Amazon Statistics You Needed to Know in 2022
10 Fascinating Amazon Statistics Sellers Needed To Know in 2022
10 eBay Statistics You Needed to Know in 2021
U.S. leading online marketplaces 2021
42 Etsy Stats and Facts for 2022
Etsy User and Revenue Stats: How Many People Shop on Etsy in 2022?
How Many Users Does Wish Have? User and Revenue Stats for 2022
Walmart's marketplace: number of sellers 2019-2021
Walmart Statistics
Key figures on Facebook Marketplace & Shops 2021
How Facebook is doubling down on Marketplace