Almost half a century ago, a Harvard associate professor and a computer scientist by the name of Ivan Sutherland, invented a head-mounted display.
It was the first of its kind and they called it the Sword of Damocles.
From then to now, AR has had quite a journey. Augmented reality (AR) has become a part of our daily lives, so much so that it might not be long before the line between physical and digital reality becomes hard to distinguish.
If you'd like to know more about augmented reality, check out the following ar stats, facts, and trends.
General AR Stats and Facts 2023
As of 2022, the value of the AT market is an astonishing $3.5 billion.
By 2023, the AR market is expected to be worth more than $18 billion.
By 2024, predictions are that 1.73 billion people will be mobile AR users.
AngelList has over 2,300 AR startups.
70% of people in the US aren't really sure what augmented reality is.
Almost 50% of Americans already use augmented reality but don't know it.
Examples of AR in everyday use include Camera Effects, a Facebook AR tool, and Snapchat's Lens and Snap Camera tools.
AR in Work and Education Stats 2023
AR gained recognition via gaming. However, recent statistics show that AR development companies are focusing more of their attention (65%) on industrial applications.
The use of AR in education is set to increase, as it is especially useful for disabled students.
The augmented reality work benefits include workplace training, workplace safety guides, and product demonstrations.
According to a report by Forester, 14 million workers will be daily smart glasses users in the workplace by 2025.
An increasing number of companies are expected to use AR/MR to help with quality control, troubleshooting, and training.
Digital Marketing & AR Stats 2023
67% of buyers and media planners want to include more AR/VR advertisements in their marketing campaigns.
When it comes to the customer buying experience, a mere 1% of retailers currently make use of augmented or virtual reality.
While over 70% of shoppers say they'll shop more frequently using AR, only a little over half of the retailers say they are prepared to use it.
67% of ad agencies are using AR more and more.
More than one-third of AR retailers use augmented reality to help the consumer better understand their products.
Use AR, and you could increase conversion rates by 40%.

AR Consumer Behavior Stats 2023
Users of augmented reality are mostly between the ages of 16 and 24.
70% of people claim to be aware of augmented reality.
61% of shoppers say they much prefer a retailer that offers augmented reality experiences.
If consumers were able to customize products in AR, 40% say they would willingly pay more.
Almost one-third of consumers currently use AR when shopping.
AR and Technology Stats
Last year, Microsoft was contracted to supply 120,000 HoloLens-based gadgets to the United States Army.
Over one-quarter of smartphones are compatible with ARCore or ARKit.
Between 2021 and 2026, smart glasses, as well as wearables, are going to enjoy unprecedented growth of as much as 71.3% CAGR.
AR technology can help with product development, collaboration experiences, communication, training, and more. Around 88% of medium-sized businesses already use it in some form.
AR Trends 2023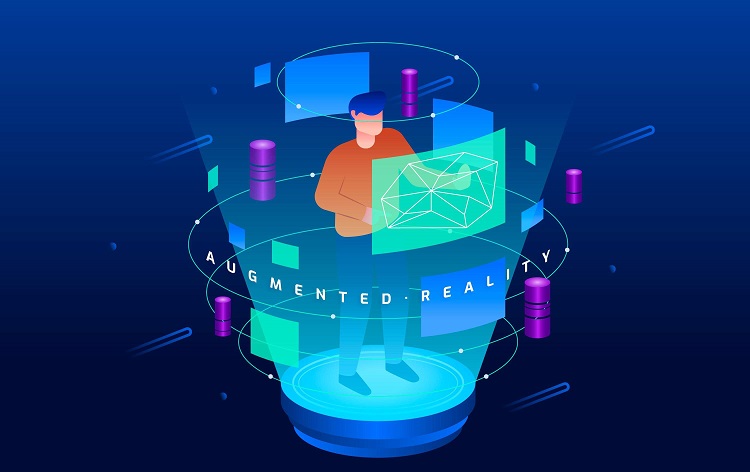 This 2023, expectations are that the augmented reality gaming market will reach almost $285 billion.
In the first 6 months after its release, ARKit-only apps managed a massive 13 million downloads.
AR will soon be an integral part of cars manufactured by Mercedes, Audi, Toyota, Tesla, and Volvo.
Android phones that are AR-enabled showed an increase in users from 100 million to 250 million.
iOS has more AR apps (over 2,000) than Android.
Further adoption of various augmented reality solutions will be encouraged by the Internet of Things, the metaverse, and Industry 4.0.
You might be interested to check those related posts as well:
FAQs
How many augmented reality users are there?
Recent data indicates that the number of mobile augmented reality users worldwide will be around 1.7 billion. The figures for 2022 estimate there will be 1.1 billion users.
How many augmented reality apps are there?
AR software has been enabled on more than 500 million mobile devices. The iOS app store has the largest selection of AR apps, at over 2,000. While Google Play only has around 200 Google AR apps available.
How fast is augmented reality growing?
Between 2020 and 2025, the market size of AR and VR is predicted to grow at a CAGR of 46%.
How many people use AR for shopping?
An estimate by Gartner puts the number of people who use augmented reality for shopping at more than 100 million.
How big is the augmented reality market?
In 207, the value of the AR market was around $3.5 billion. By 2025, it is predicted to reach a massive $198 billion.
Conclusion
The AR statistics we've included in this post emphasize that augmented reality might be the future, but you're able to experience it today. It's commonly used in games to make them more fun to play.
However, it also has applications in education, the workplace, shopping, marketing, healthcare, and countless industries around the world.
We used the following resources to compile the AR stats above:
Techjury
Threekit
CitrusBits
FinancesOnline
KommandoTech
Statista
XRToday