Wish has grown in popularity in recent years. It has a goal to become one of the top options for shopping for cheap alternatives.
Here are some of the statistics for the eCommerce website platform.
General Wish Inc Stats and Facts 2023
300 million products are available in the Wish store.
Wish was launched in 2010.
CEO Piotr Szulczewski has an ambition for Wish to be the second or third trillion dollars a year marketplace.
Piotr Szulczewski and Danny Zhang were the co-founders of Wish.
Wish has 1,100 employees.
Most employees at Wish are located in the United States.
Wish Inc Market Share Statistics 2023
It is the fourth largest online United States marketplace by online sales volume.
Three million items are sold daily on Wish.
Wish has a global market share of 0.02% of the eCommerce market.
Wish has a US market share of 0.08% of the US eCommerce market.
The market share of Amazon for 2021 was 37%.
Wish Inc User and Demographics Statistics 2023
A third of orders on Wish comes from the United States.
The young and middle class are the main demographic of Wish users.
There are 600 million registered users on Wish.
Wish has customers within 100 countries.
60.39% of users are male.
24.76% of Wish users are between the age of 25 and 34.
The 35 to 44 age group is the second-highest user group.
Only 9.40% of Wish's users are over 65.
Wish Inc Usage Stats 2023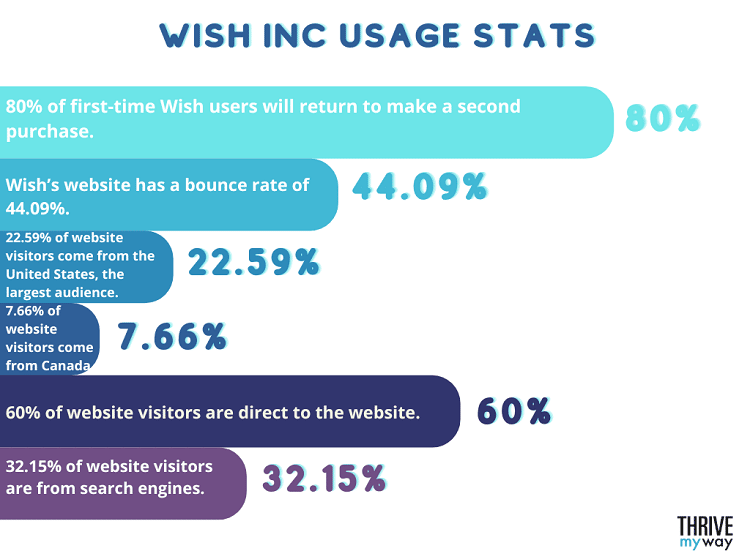 Globally, 100 million people use Wish every month.
There are 26 million users who shop on the platform every month.
More than 600,000 merchants sell on Wish.
In Q1 of 2020, Wish had its highest monthly usage with 120 million users.
In Q1 of 2022, Wish had one of its lowest months for users, just 26 million.
In 2019, Wish was the most downloaded shopping app.
80% of first-time Wish users will return to make a second purchase.
Wish's website has a bounce rate of 44.09%.
The average session on Wish's website includes 8.36 page views.
The average session duration on the website is 4 minutes and 32 seconds.
22.59% of website visitors come from the United States, the largest audience.
7.66% of website visitors come from Canada, the second largest audience.
The most shopped-for items on Wish are healthcare products, followed by birthday presents, gadgets, essential items, and cleaning products.
60% of website visitors are direct to the website.
32.15% of website visitors are from search engines.
'Wish' is the most successful keyword for the online store.

Wish Revenue Statistics 2023
In 2020, Wish earned more than $2 billion in revenue.
Wish's revenue dropped 20.7% in 2021 from the 2020 levels.
The Q1 revenues were 25% of their 2020 Q4.
Their net loss in 2019 was $129 million.
Their net loss in 2021 was $361 million, half their net loss in 2020, which was $745 million.
So far in 2022, the European market earned Wish $833 million.
North American revenues accounted for 40.23% of Wish's entire revenue.
71% of the revenue generated by Wish is from their Root Marketplace.
In 2020, $200 million was earned on Wish from product boost, where merchants pay to advertise their products higher.
In 2019, $291 million was earned from the product boost option to merchants. Therefore, between 2019 and 2020, this revenue stream decreased by 31.2%.
Wish's Logistics business earned $514 million in 2020, 375% higher than the 2019 figure of $137 million.
In 2018, Wish only earned $6 million from its Logistics revenue stream.
South American revenues in 2020 were $90 million. This is a 55% increase in the 2018 revenue levels.
Additional Wish Inc Stats 2023
In 2019, Wish removed numerous merchants from their system due to fake or misleading products.
In 2019, Wish had a valuation of $11.2 billion.
In 2022, Wish has a valuation of $0.9 billion. This is a third of their valuation in 2015 ($3 billion).
The Los Angeles Lakers are sponsored by Wish, costing the company between $38 million and $42 million yearly.
The company holds $1.07 billion in cash.
The company has marketable assets of $142 million, according to its latest filing.
Sales and Marketing account for 76.76% of the operating costs in 2021 and 2020.
Only 10% of the operating costs are budgeted for product development.
The operating costs for administrative and general expenses during 2020 were $295 million.
YouTube is Wish's most successful social media channel, generating 39.89% of its social media traffic.
Facebook is Wish's second-best social media traffic source, generating 33.53% of their social media traffic.
You might be interested to check those related posts as well:
FAQs
How much profit does Wish make a day?
Currently, Wish does not make any profit per day. They are making a loss of nearly $1 million per day. This is partly because they are looking to market their brand and refocus. At one point, they were making losses of $2 million a day.
How many orders are made on Wish per day?
According to some websites, at the height of their popularity, there were 2 million deliveries per day on Wish. Most of these orders came from customers who found them on social channels like YouTube and Facebook.
How much does the average person spend on Wish?
The average user of Wish will spend about $27.78 a year on Wish. Most people place very small orders once or twice a year, whereas others can spend on the platform monthly. Prices on Wish are very low, so it is easy for customers not to spend a lot over a year.
Conclusion
Wish might have had a couple of tough trading years, but the platform has the potential to perform well in the future. It has had to refocus and improve its offerings.
Part of this is removing some of the misleading sellers that damaged their reputations in 2019 and 2020.
Sources:
Deliverr
Business of Apps
Expanded Ramblings
Earth Web
Similar Web
Backlinko