With a webinar, you get the chance to build more personal relationships with your audience.
This is especially important now because of the COVID-19 pandemic that has forced many elements of the business world into the virtual environment.
An increasing number of B2B and B2C businesses are turning to webinars for their marketing efforts.
Did you know that according to the Content Marketing Institute, 58% of marketers use webinars for promotion?
And around 32% of them think webinar marketing is critical for their business success.
However, hosting live webinars can be challenging.
Whether you want to teach your audience something, sell your products or services, or provide additional value for your audience, there are a wealth of affordable webinar software solutions to help you.
In this review, we're going to look at 22 of the Best Webinar Software Platforms available this year.
How to Find the Best Webinar Platform for You?
There are many things to consider when choosing a webinar platform.
Here are just a few of them:
How easy it is to use
The cost
Reliability
Features needed, for example, calls to action, phone call-in options, recordings, replays, whiteboard, and analytics needs
Webinar frequency
Number of attendees
Integrations, such as whether the software effortlessly connects with your CRM, email marketing service, or calendar tools
Best Webinar Software 2023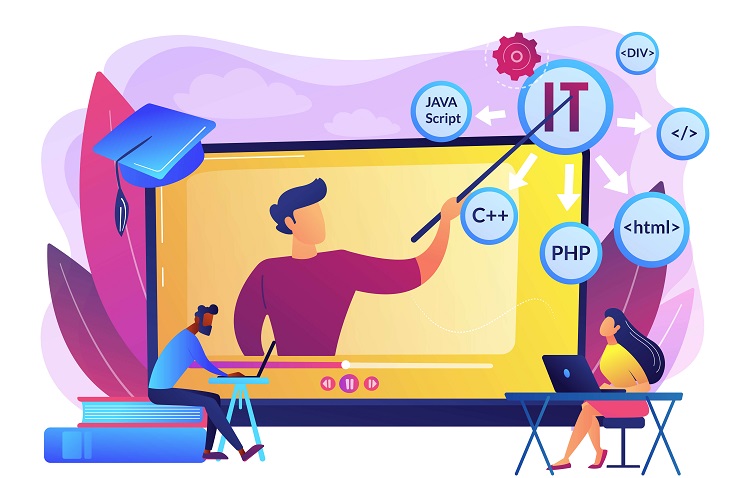 In this article, we're going to look at some of the best webinar tools available right now.
If you're ready to get your webinar strategy up and running, here are some webinar solutions worth considering
We'll look at the features of each one, examine the pros and cons of each platform, and discuss pricing and compatibility.
In other words, you'll find everything you need to help you choose the best platform for your needs.
WebinarNinja – The Best Webinar Software for High-End Coaches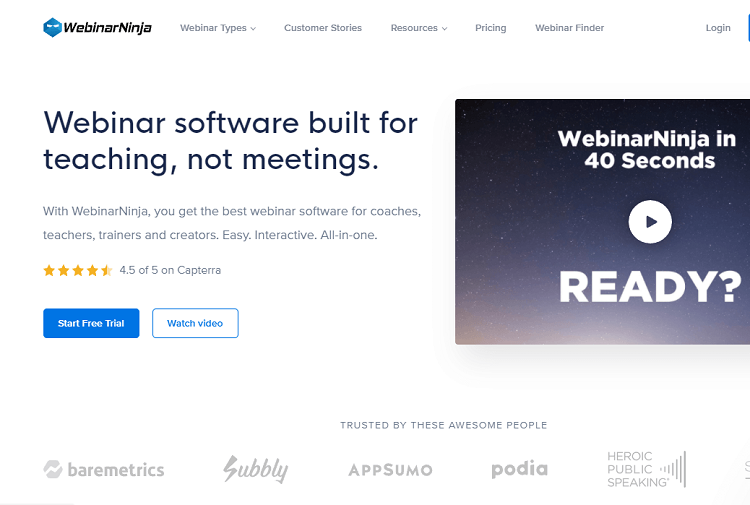 Webinar Ninja is a one-stop webinar solution that many big-name brands put their trust in.
It also has a reputation for being one of the most straightforward tools you can use.
It comes complete with thank you and sign-up pages right out of the box, which means you're able to create your first webinar in less than a minute.
You can create a range of different webinars.
For example:
Live: You broadcast this type with a live host and encourage audience interaction.
Automated: This type of webinar is something you record and then run at specific times or when the audience demands.
Series: This is a collection of several webinars.
Hybrid: This type of webinar combines pre-recorded webinars and live videos.
Other features include registration confirmations, email notifications, and event reminders that provide registrants with everything they need.
It also features vital marketing tools you can use for tracking conversions and attendance rates.
Such helpful information means you can analyze stats and be proactive when it comes to moving attendees through your sales funnel.
Key Features
Smooth user experience
Live and automated webinars are possible
Clean user interface and attractive registration page templates
Vast customizations options
Pros
Superfast live chat
You can display times offers at any time during the webinar
Analytics dashboard that allows you to export data
Integration is possible with more than 1,000 apps with Zapier
Cons
Newbies and the uninitiated may find the back end challenging to navigate
Reports of occasional glitches with the audio
Extended presentations take longer to upload
Pricing
You can try WebinarNinja for free for 14 days if you want to test its features.
After that, there are four paid plans (billed annually):
The starter plan is $39/month for up to 100 live webinar attendees.
Pro Plan is $79/month for up to 300 live webinar attendees.
Plus Plan is $129/month for up to 500 webinar attendees.
Power Plan is $199/month for up to 1,000 webinar attendees.
Compatibility
Livestorm – Best Webinar Software Platform for Product Demos and Sales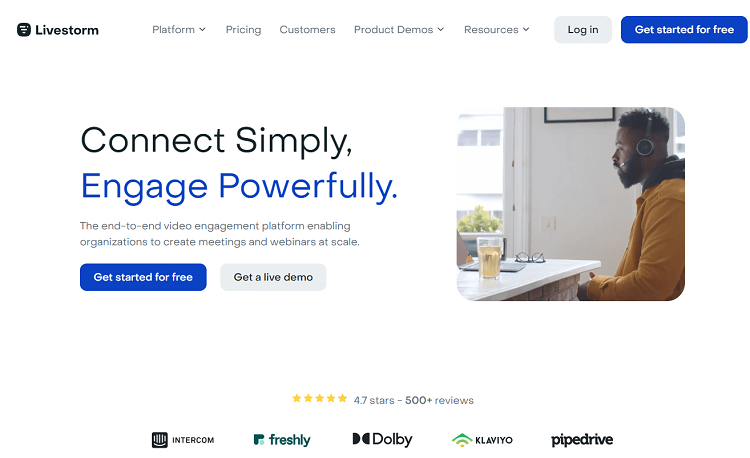 You can use Livestorm on any browser without an issue regarding your webinar's size.
It's also possible to access the platform from any device, including mobile phones, tablets, PCs, and laptops.
Use the Livestorm tool, and you're able to run automated, on-demand, or live webinars, depending on your needs.
Livestorm is the perfect webinar tool for all kinds of live events, such as customer training, product demos, and various technical sales topics.
Other applications that work well with Livestorm include employee onboarding, video podcast interviews, and online courses.
One particular feature that makes this platform stand out is email logistics.
It allows you to send personalized promotional emails, automate them, and check their status.
Webinar participants don't need to create a specific account or register.
Instead, they simply join with one click.
Livestorm is a very flexible webinar platform and offers full webinar funnel customization.
Add your logo and brand colors to make your webinar genuinely personal.
One final feature is the automated webinar workflow builder.
The overview it provides is very visual.
Key Features
Allows you to conduct pre-recorded and on-demand webinars, recurring webinar events, YouTube Live, and other events.
Participants can join the webinar in any browser with one click.
Within the webinar, you can include Q&A, polls, and live chat.
Reporting capabilities and analytics are excellent.
Pros
You get access to adaptable webinar themes that are easy to set up.
Features include screen-sharing, one-click invitations, and embedded registration forms.
User reports include detailed attendance analytics, replay analytics, source tracking, and participation reports.
Unlimited recording storage.
Cons
On occasions, the display becomes blurry and pixelated.
The performance of the video and audio is influenced by the host's internet connection.
Once offer pop-ups are closed, attendees can't open them up again.
Pricing
Livestorm has a free plan that comes with essential features such as unlimited on-demand meetings and webinars.
However, the number of registrants is limited to 10, and a webinar session is limited to a maximum of 20 minutes.
Paid plans include Livestorm Premium which costs $99/host per month.
Up to 100 attendees are included, and events must last no more than 4 hours.
Additional live attendees can be added at an additional cost.
An Enterprise plan is available and features premium training, SLA availability, and managing multiple workspaces.
For this plan, you have to contact Livestorm for a personalized quote.
Compatibility
Livestorm is compatible with a range of other applications such as Salesforce, Slack, Integrately, Google Analytics, Zapier, HubSpot, Facebook and Google Ads, and much more.
Demio – The Best Webinar Software Platform for Startups

One of the first things that will impress you as soon as you open the box, so to speak, is the ease with which you can set up a webinar.
It's an ideal platform, whatever the size of your business, and is perfect for holding interactive live events to help drive your marketing campaigns.
No download is required, and all your attendees can access the beautiful webinar platform with one click.
You can also customize the platform to reflect your branding.
All the video conferencing features you might need are included in the package, such as automated and live webinars, registration, landing pages, replays, and much more.
Standard features across the range of pricing plans include 27/7 email and chat support, advanced webinar setup, unlimited webinars, robust analytics, and storage for up to 100 recordings.
Key Features
Automatic recording saves a copy of your webinar to the cloud.
Easy to navigate interface even for the non-technical
System Check makes sure your audio and video input is ready
You can run interactive polls and get stats in real time.
Pros
Provides an enjoyable waiting room experience for attendees with chats, handouts, and polls.
Built-in analytics and insights are robust.
Marketing tools are easy to integrate.
Event reminders and email automation features.
Cons
If you want to invite more than 50 live participants, the price is a little high.
Registration page conversion analytics are not available.
The registration page has a few customization options.
Pricing
It's possible to try before you buy with a 14-day free trial.
After that, prices are as follows:
Starter Plan is $34/month for a single host and 50 attendees.
The Growth Plan is $69/month per host and for 150 attendees.
Premium Plan is designed for 500 or 1,000 attendees. You have to speak with a representative for a personalized quote.
Compatibility
Demio webinar is compatible with a range of marketing automation solutions, for example, AWeber, ConvertKit, GetResponse, Mailchimp, Drip, Marketo, and Ontraport.
Demio also works with Zapier to connect with more than 1,000 other web applications.
eWebinar – The Best Automated Webinar Platform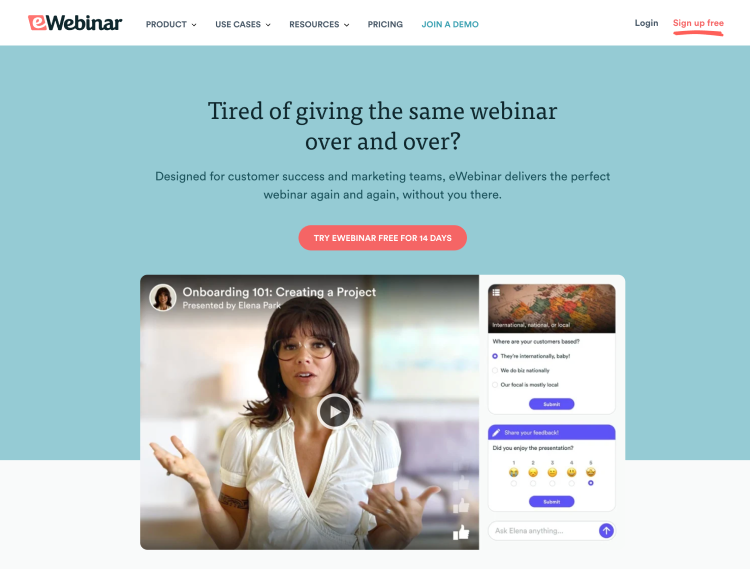 eWebinar is a webinar platform 100% dedicated to automation. With this singular focus, they are able to offer a number of features that no other automated webinar software provides.
Their #1 differentiating feature is their private chat system, which lets you flexibly respond to messages from attendees in real-time through live chat or asynchronously via email, depending on your availability.
They also offer a large variety of interactive elements designed to create a more engaging experience for attendees and keep them watching until the very end.
Key Features
Robust chat system with notifications of new messages and Slack integration.
More than a dozen interactions may be set to appear throughout your webinar.
A recurring schedule in the local time zones of attendees for maximum convenience.
On-demand and "just in time" sessions for increased attendance rates.
Pros
Intuitive interface and simple 10-minute setup process.
Comprehensive analytics to show you what's working and what's not.
Customizable webinar templates with recommended landing page copy, pre-written email notifications, and suggested interactions.
Embeddable widgets to help drive signups from your website, blog, or landing page.
Cons
You may not record or present webinars live.
eWebinar does not offer features that give the false impression a webinar is more popular or engaging, such as simulated chat and attendees.
Pricing
eWebinar offers a 14-day free trial. Their pricing plans are based on the number of published webinars you have and come with unlimited attendees, unlimited team members, and all features. Plans start at $49/month; the base price of their enterprise plan is $250/month.
Compatibility
eWebinar directly integrates with many CRM and marketing automation tools such as ConvertKit, ActiveCampaign, MailChimp, Hubspot, and more, plus 1000+ more via Zapier. Other integrations include Slack for responding to chat messages, Twilio for SMS and WeChat reminders, BombBomb for video emails, and Zoom for importing cloud recordings with a click.
WebinarJam – The Best Webinar Software Platform for Large Businesses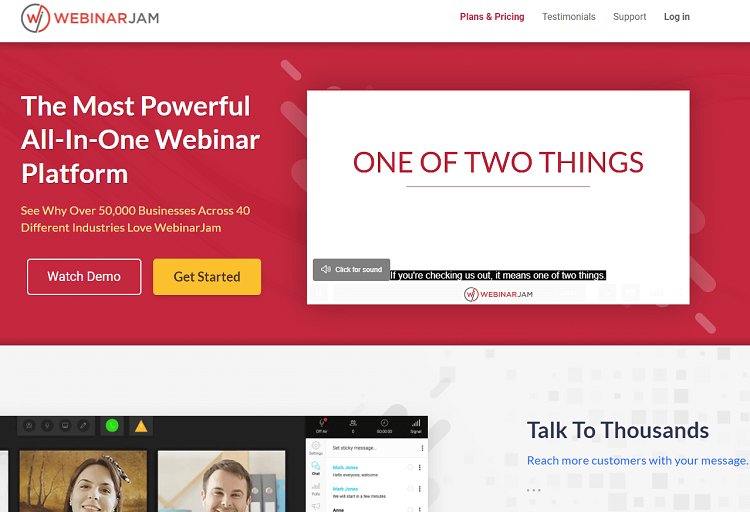 If you want to reach an audience in the thousands, WebinarJam is one of the best platforms out there.
However, it's worth mentioning that even if your audience is much smaller, there's no reason why you should miss out on the fantastic interactive features WebinarJam has to offer.
One of the most popular features has to be the advanced live chat.
From within the webinar, the software can pull a person's video to the stage.
Pop-ups and countdowns can also be included if you want to encourage your attendees to participate further.
It might be designed with big businesses in mind, but it requires no technical knowledge to get started, and the easy-to-use platform guides you every step of the way.
WebinarJam uses all the latest technology, such as WebRTC, Flash, HLS, and RTMP, which means it's compatible with almost every web browser and device.
Other impressive features include customer-facing interfaces, HD video, the option of multiple presenters, and user-friendly dashboards.
Key Features
A step-by-step setup that's easy to follow.
Access to a range of registration page templates with different elements and layouts.
A/B testing for the registration page allows you to test different variants to see which converts best.
Automatic recording.
Pros
Compatible with a range of operating systems and browsers.
The feature allows you to incorporate surveys and polls with your webinar.
It takes 60 seconds to get your webinar up and running.
Multiple attendees can be handled easily.
Cons
To download the webinar replay file, you need a third-party tool.
There have been issues with sound and video delays of up to a couple of seconds.
The integration with 3rd party AV tools is more limited than other platforms.
Pricing
One downside with the pricing of this platform is that you can only pay for one year at a time.
There is, however, a 30-day risk-free money-back guarantee that allows you to cancel anytime.
Three price plans are available:
The Basic Plan costs $499 per annum for up to 500 attendees and includes two hosts and 2 hours max duration.
Professional Plan costs $699 per annum for up to 2,000 attendees and includes four hosts and 3 hours max duration.
Enterprise Plan costs $999 per annum for up to 5,000 attendees and includes five hosts.
Compatibility
InEvent – The Best Webinar Software for Real-Time Editing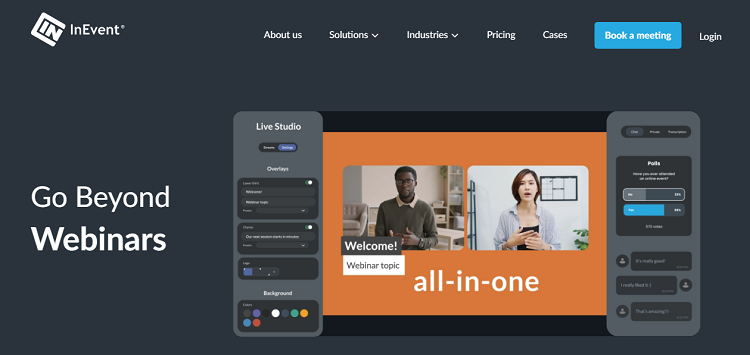 InEvent is a dynamic audio-video solution that has the ability to create, recreate and customize a variety of virtual interactions ranging from Webinars, to live broadcasts, panel discussions, summits, networking sessions, and conferences, and spanning across the pharmaceutical, educational, corporate, and event tech industries.
The platform has cutting-edge mobile technology to make interactions and engagements with your attendees' whole new levels with quizzes, gamification, interactive newsfeed questions, networking, and agenda.
With InEvent's Live Studio, you can have a TV-like streaming experience with all devices. It is the audio-visual solution you need to go beyond your events and webinar interactions.
Users can edit real-time videos in simultaneous collaboration without uploading files or using any external software. Its cloud-based platform will host your files and enable your access from anywhere.
The platform provides cloud-based servers being a repository for your video files and also marketing and analytics features to give an all-in-one solution to the clients.
Key Features
Real-time content editing on live streams
Customizable virtual Lobby, website & landing pages
Possibility to stream sessions on-demand
Broadcast TV-like experiences with a drag-and-drop interface that allows real-time customizations
You can connect people across continents and keep them engaged regardless of language barrier or disabilities with our audio interpretation and sign-language language channels
Pros
Holistic attendee data reports
Access live streams through mobile phone Dial-In
Usage of engagement features to provide the audience with a great time
Efficient customer support service is available in several languages
It can be integrated with other CRMs, like Zapier and HubSpot
Cons
Only 10 free credits in the trial period
Pricing
You can start your 30-day trial with your account equipped with 10 free credits. You can use these to test the platform, invite other users, and start creating your first event
Paid plans start with the Standard, in which you can use the Live Studio and the accessibility tools. From 500 attendees enrolled, you can invest US$ 600.00 monthly
With the Pro plan, you can have the same benefits as the Standard plus award-winning Integrations for lead generation. From 500 attendees enrolled, you can invest US$ 1200.00 monthly
You can check it out here for more information
Compatibility
InEvent is compatible with a range of integrations such as Zapier, Microsoft Dynamics, SAP Cloud, Marketo, Salesforce, HubSpot, Interprefy, Google Analytics, Facebook Pixel, Paypal, Linkedin Insight Tag, Stripe, Wirecard, Intercom, and more!
EasyWebinar – The Best for Social Media
EasyWebinar prides itself in being a "wildly easy to use live and automated webinar platform," which is just what you need if you're new to producing webinars for your business.
Another claim to fame is that it's reportedly one of the only platforms that have successfully integrated marketing strategy with webinar technology.
You can use the software to launch your very first webinar quickly, thanks to the drag-and-drop page builder.
There are also heaps of seamless integrations readily available.
Another feature that makes this platform stand out is that it allows you to host live streams on YouTube and Facebook simultaneously.
The most obvious benefit of this is that it provides uncapped potential concerning the number of people you can reach with your content.
Other features this platform offers include a multi-presenter option, shopping carts, integration with popular email marketing software, and lead generation tools.
Key Features
Interactive live chat, HD video, and screen-sharing options.
Up to 100 attendees can participate, even with the basic plan.
Use YouTube Live Integration and benefit from unlimited live viewers.
You can virtually transport your entire webinar funnel into 100+ languages.
Pros
Live and automated webinars are possible.
Seamless integration with popular platforms such as MailChimp and WordPress.
Option to turn live events into evergreen webinar funnels.
Four presenters are allowed in one room, all with sharing capabilities.
Cons
It's not one of the cheapest webinar software platforms.
The interface and setup look a little dated.
When editing the landing page, you can't preview it.
Pricing
You have the option to pay for each of the three available plans every month.
However, if you pay annually, you get three months free.
A 14-day free trial is also available.
Prices are as follows:
Standard Plan from $78/month includes up to 100 live attendees
Pro Plan from $129/month includes up to 500 live attendees
Enterprise Plan from $499/month includes up to 2,000 live attendees
Compatibility
EasyWebinar is designed to work with all the software you might already have, including GetResponse, MailChimp, HubSpot, and ConvertKit.
PayPal, Stripe, TwitterChat, Infusionsoft, and Clickbank also work with this webinar software platform.
GoToWebinar – The Best Webinar Software Platform for Reliability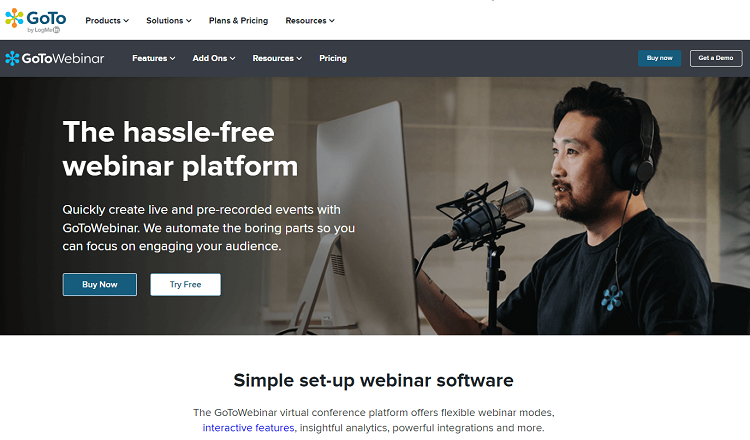 GoToWebinar is trusted by many large businesses because it is so reliable.
You don't have to stress about it freezing in the middle of stuff, poor-quality audio or video, or any two- or three-minute lags.
It's also one of the oldest webinar software platforms, and its experience shows.
The pricing is on the steep side, but it does allow you to run a webinar room with the capacity to hold up to 1,000 participants.
The platform exposes you to a wide range of features, all of which are designed to improve your webinar experience.
They include flexible scheduling, access to several in-built webinar templates, automated email reminders, a highly converting registration page, and customizable webinar invitations, to name just a few.
On the other hand, there is one aspect that lets it down, especially when you compare it with newer webinar software platforms.
GoToWebinar technological solutions still require downloading and installation.
Key Features
Mobile apps that you can use for the management of your webinars.
Pre-recorded events and automatic recording, which you can then share online.
Source tracking allows you to discover which channel results in the most webinar signups.
In-built surveys and polls to engage your audience.
Pros
Up to 1,000 attendees are in the room.
Video and audio of the highest quality.
Live and automated webinars + webcasts.
You can personalize the webinars by adding your logo and brand colors.
Cons
It's costly.
Requires downloading and installing.
Customization of the landing page is not an option.
No call-to-action offers.
Pricing
You can save on the regular monthly cost if you choose to be billed annually.
Discounted prices are as follows:
Starter Plan starts from $89 per month, billed annually.
Pro Plan starts from $199 per month, billed annually.
Plus Plan starts from $429 per month, billed annually.
A free 7-day trial is also available.
Compatibility
GoToWebinar is integrated into many of the apps you might already use, for example, HubSpot, Marketo, ActiveDemand, Zoho Cliq, CirQlive, Prezi, and many more.
LiveWebinar – Best for Live Streaming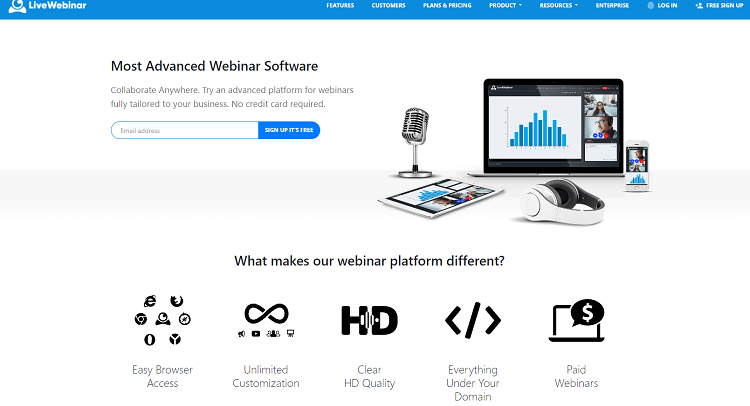 LiveWebinar is a cloud-based webinar tool you can use for hosting webinars, sharing screens, recording your screen, streaming live video, broadcasting social media, and a whole lot more.
It has the capability to host more than 1,000 participants, over 99% SLA, and more than 42 data centers.
You don't need to download or install anything if you want to join and conduct webinars.
Instead, access the application directly from your browser, whether you use Firefox, Chrome, Opera, or other browsers.
If you want to embed webinars into your website, it's not a problem which means you can conduct or display webinars straight to your visitors.
You can also stream live on any social media platform, for example, Vimeo, YouTube, or Facebook.
The platform can also be connected to and worked on from any device, including your mobile phone, Smart TV, or PC.
Lightning-fast business communication is a given, and you can customize the layout, select from a range of visual and audio settings, and decide how the webinar attendees can participate.
Key Features
The Whiteboard feature allows you to express your ideas by drawing on videos and documents. Visitors can draw as well.
You can split your main room into smaller breakout rooms, even when the meeting is live.
It allows you to host up to 1,000 attendees.
A freemium option is available for up to 5 attendees.
Pros
You can record live webinars in full HD and store them in your own cloud space.
You can easily share content by showing your desktop in real time.
Webinars and meetings can be broadcast to external sources and social platforms such as Facebook and YouTube.
Elevate the experience of your presentations with the LiveWebinars Whiteboard feature.
Cons
Takes a little getting used to in the beginning.
There is no analytics dashboard, only exports.
The registration page has no design options.
Pricing
LiveWebinar has a free option, which is a good webinar solution for small teams.
You get up to 5 attendees, two hours of recordings, screen sharing, tests, polls, and surveys, and marketing automation included in the plan.
The remaining paid plans come with a 20% discount if you decide to pay annually.
Prices are as follows:
Pro Plan is $11.99/month and includes up to 100 attendees
Business Plan is $95.20/month and includes up to 500 attendees
A Custom Plan is available with up to 1,000 attendees and more. You have the option to choose what features and capacity you want and customize the plan to your needs. Price is available on the application.
Compatibility
LiveWebinar is compatible with many email marketing tools such as MailChimp, CampaignMonitor, AWeber, GetResponse, and many more.
You can also automatically subscribe your webinar leads to marketing automation tools and CRMs.
BigMarker – The Best Webinar Software Platform for Virtual Meetings and Business Summits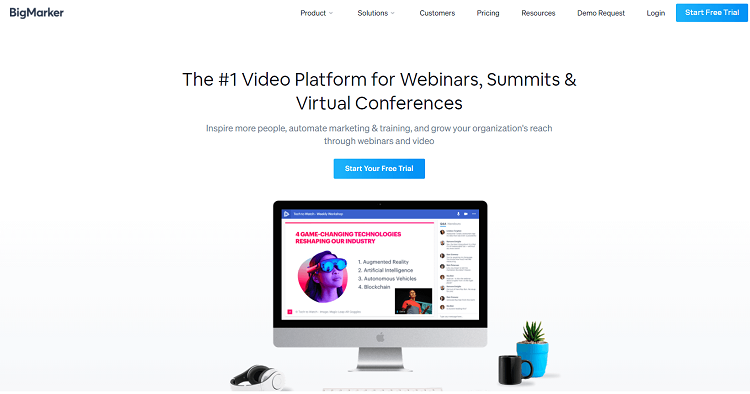 BigMarker has a reputation for being an outstanding software platform for broadcasting virtual conferences and meetings, summits, and webinars.
However, the area in which it really excels is its live-streaming capabilities.
Up to 10,000 people can participate simultaneously, and you're able to create an outstanding interactive experience thanks to features such as live Q and A, handouts, and polls.
The number of presenters can be as many as you need.
Anyone can join the discussion on screen.
An impressive suite of marketing tools is made available when you host your live events.
They include registration landing pages, custom email invites, and valuable reminders.
If you use CRM software, you can integrate BigMarker, to help drive sales by generating, nurturing, and converting your leads.
The platform is browser-based, so there's no need to download or install anything when people want to access a webinar.
The software is also compatible with laptops, PCs, tablets, and mobile devices.
One final area in which this platform excels is its white-label offerings.
No coding is required if you want to build custom video experiences and embed them on your website.
The complete customer experience is yours to own because you get landing pages, webinars, and emails all live on your own domain.
Key Features
A range of unique live-streaming features is available, including Q&A sessions, one-click meetings, polls, chats, handouts, and much more.
Multiple camera feeds can be streamed to YouTube and Facebook Live.
White-labeled landing pages and seminars are on offer.
You get access to more than 15 different landing page types.
Pros
Requires no software installation.
You can create live, automated, and evergreen webinar series.
You can embed an interactive video player into your presentation using on-demand video.
Allows you to broadcast live events to thousands of people on your website, YouTube, and Facebook pages.
Cons
For an uninterrupted broadcast, you may need a high-speed internet connection.
With so many options, setting up the type of webinar you need can be challenging.
Customer support is only available online via chatbot.
Pricing
You can try the BigMarker webinar service free for seven days.
The free trial includes all features, and no credit card is required.
If you like what you find, there are several plans to choose from.
For example:
Starter Plan is $79/month and includes 100 attendees and one host license.
Elite Plan is $159/month and includes 500 attendees and two host licenses.
Premier Plan is $299/month and includes 1,000 attendees and three host licenses.
White Label Plan is a fully customized webinar marketing stack that includes up to 10,000 attendees. Contact BigMarker for a customized quote.
Compatibility
BigMarker is compatible with all leading CRM, marketing, email, and course platforms such as MailChimp, HubSpot, Heap, Drip, ActiveCampaign, ConstantContact, and SalesForce.
ClickMeeting – The Best Tool for Education Features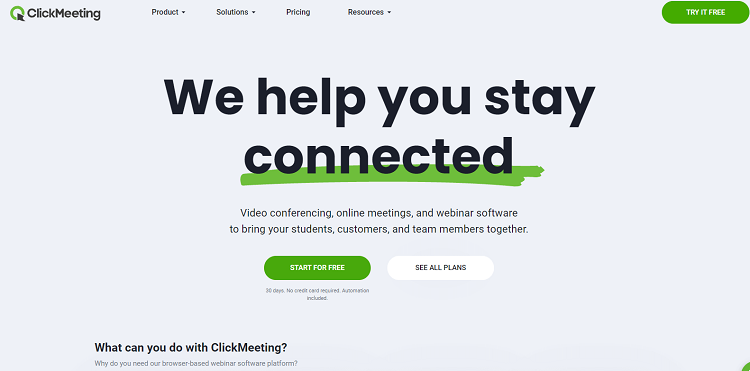 ClickMeeting is a very popular webinar hosting platform because it's so easy to use.
The interface is intuitive and extremely user-friendly, and it's actually a neat tool to use.
If you regularly want to reach out to your customers with training and marketing information or product sales, this platform could be what you need.
Options include customized invites and automated webinars.
This is the ideal platform for medium and small business enterprises, and you don't need any technical knowledge to set it up because there are clear instructions to follow.
Lots of information about your webinars are easy to see.
For example, past and scheduled webinars can be seen on the dashboard.
In addition, how many registered users there are for upcoming events can be found, and analytical reports accessed for all previous webinars.
If you need to set up a live event really quickly, a duplicate feature means you don't need to waste time completing all the fields again.
There are lots of features you can use to keep your audience engaged.
For example, when they arrive at an event early, they can get additional information while waiting inside the "Waiting room with an agenda."
It's also possible for you to share details of the upcoming webinar, and who's presenting it, and include any essential files for the attendees to download.
Key Features
You can use surveys and polls for feedback
You can enhance audience engagement by connecting to YouTube and Facebook.
Both the audio and video of any live sessions can be recorded, stored in the cloud, and then downloaded again quickly.
Multiple presenters can use HD video when presenting their webinars.
Pros
Step-by-step set-up.
Automated and on-demand webinars are available.
Customization options include rebranding the waiting room, webinar room, email notifications, and many other things.
Templates are available for different business types along with type-specific tools.
Cons
Break-out sessions are not an option.
On the registration page, you can't feature videos or images.
There is a whiteboard tool, but it can't be used on a shared screen.
Pricing
ClickMeeting has several pricing plans, including a free trial for 30 days.
Payments can be made monthly, but you benefit from a 20% discount if you choose annual billing.
Plans include:
Live Plan prices start from $25 for up to 25 attendees and $35 per month for up to 50.
Automated Plan prices start from $45.
A Customized Plan is available if you want to organize multiple meetings and huge virtual events for up to 10,000 people. Contact ClickMeeting for a personalized quote.
Compatibility
A range of the most popular applications can connect directly with ClickMeeting.
They include PayPal, PayU, Infusionsoft, Moodle, GetResponse, HubSpot, Zapier, and more.
Get Response– Best Webinar Software Platform for Easy Email Marketing Integration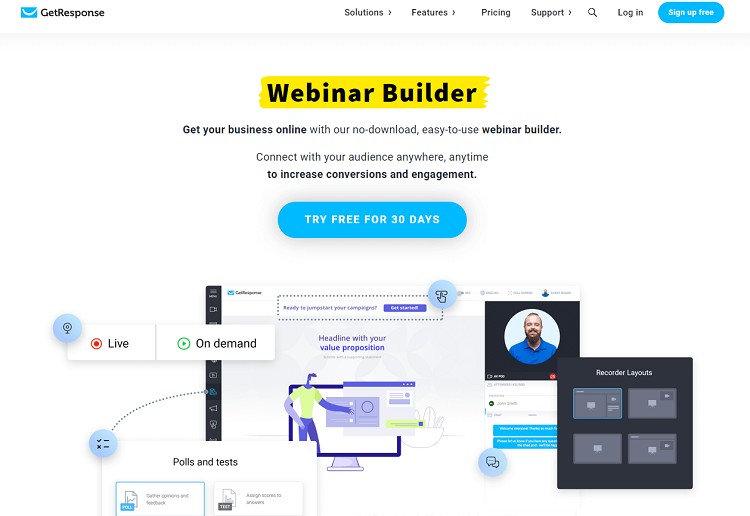 GetResponse is essentially an email marketing platform.
However, it does offer a range of other marketing solutions, including a webinar hosting platform.
Sign up with this webinar provider, and you can have all your marketing tools under one roof.
It's possible to set up a seminar in just a few minutes, frequently even less.
In addition, it's possible to import contacts, so you never miss out on any new ones.
You can also create automated follow-up campaigns and deliver content that engages your audience according to your plan.
To help you track and monitor the success of your marketing strategy, the software's powerful analytics provides real-time metrics.
Dynamic landing pages are included in all plans.
You can use them to help promote special offers or grow your list.
Evergreen webinars are also available, so you're able to share prerecorded webinars that your audience can access from anywhere and at any time they want.
Key Features
You're able to customize your webinar URL.
It provides reminder templates and pre-existing webinar invitations that are pre-filled with all the necessary details.
Webinar recording with one clicks, together with one-click sharing options.
It tracks your conversion stats and gives you detailed audience statistics.
Pros
Integrated whiteboard you can use for drawings and notes.
Instant feedback is provided via surveys and polls.
You can manage your customers at scale using the CRM feature
You can host on-demand and live webinars, and Facebook, and YouTube live features.
Cons
The pricing structure is a little confusing.
No phone support is available.
If you choose the free trial, the number of subscribers you can send messages to is limited to 1,000.
Pricing
GetResponse offers a free 30-day trial so that you can try the complete marketing software solution on offer.
After 30 days, you can choose one of the following plans or stick with GetResponse free, which features a free-forever Website Builder, email marketing, and powerful lead generation tools.
The plans are as follows:
Basic Plan starts from $15 for a list size of 1,000.
Plus Plan starts from $49 for a list size of 1,000.
Professional Plan starts from $99 for a list size of 1,000.
If you choose annual billing, you're entitled to a discount of 18%.
If you choose to pay for 24 months upfront, the discount is 30%.
Compatibility
GetResponse is compatible with all the latest official versions of browsers such as Mozilla Firefox, Safari, Google Chrome, and Internet Explorer.
In addition, a vast range of applications can also connect with GetResponse directly.
These include ZeroBounce, SaveMyLeads, Magento, Prestashop, WordPress, Zendesk, and many more.
Livestream – Best Webinar Software Platform for Educational Institutions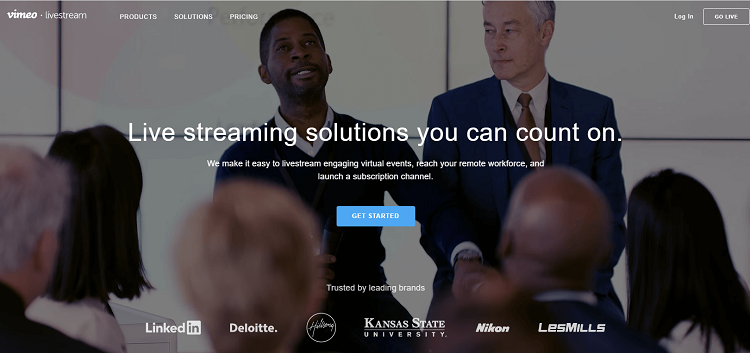 If your organization already has a target audience you've engaged with and built a relationship with, this is the platform for you.
An unlimited number of participants can watch your webinar, and there is no limit to the number of people who attend.
Another essential element for educational institutions is that this platform offers unlimited storage.
All your webinar events are automatically recorded and then stored in the cloud.
In addition, dedicated phone support is offered for all your webinar events, and access to your events can be privatized if you prefer.
To maximize the effectiveness of your events, you can advertise in the strong Livestream community.
Plus, there's the option to stream your events to YouTube and Facebook Live.
There are even Pay-Per-View options with digital tickets if your organization has already reached a level where people are willing to pay to hear what you've got to say.
MEVO is one final feature worth mentioning.
It's Livestream's event camera you can use to record live events hands-free.
The technology used allows the camera to follow the person speaking and can record from different angles.
Key Features
Unlimited viewers plus unlimited storage.
Allows you to privatize events.
The in-built analytics are extensive.
You can embed your webinars into your website or stream to Facebook Live or YouTube.
Pros
Pay-Per-View feature for monetizing events.
No limit to the number of events you can record and store.
Viewers can interact with each other during the live stream using chat poles and QA.
Livestream pricing is affordable.
Cons
Audience engagement features such as surveys or polls are lacking.
The free version limits your webinar to 50 attendees.
Pricing
If you choose annual billing, the cost of Livestream is $75 per month.
There is also a quote-based Enterprise plan that offers additional features such as a dedicated account manager, a Pay-Per-View option, auto-archiving, and more.
Compatibility
Vimeo is compatible with all popular browsers, and operating systems such as MacOS, iOS, and Android, as well as Shopify, Zoom, and several others.
Zoom – The Best Free Webinar Software Platform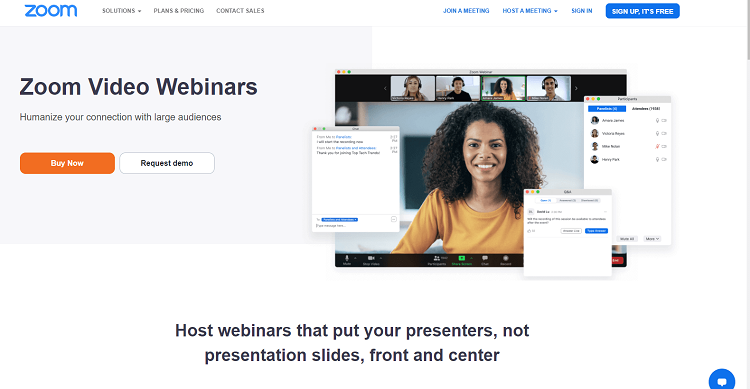 One of the best features of Zoom is that it offers the basic webinar features completely free.
This makes it a great option, not just for small businesses but individuals too.
You can broadcast an online meeting of fewer than 40 minutes, and as long as the number of attendees is less than 100, there's nothing to pay.
It can get away with offering such an excellent free service because it is built for large companies who don't mind handing over big dollars to use Zoom's video conferencing technology.
The video conferencing features on offer include screen sharing, private and group chats, annotations on the screen while sharing, and M4A or MP4 local recordings.
Another feature that makes it a very convenient option for event attendees is that you can create recurring messages using the same link.
Zoom is a popular platform for teaching, but entrepreneurs and corporate users might also find the features very useful.
Pay for a plan, and you get admin controls, cloud storage for your recordings, detailed webinar reports, and a personal subdomain for any of your events.
Key Features
Screen sharing facility along with HD audio and video.
Every online meeting is backed up in the cloud.
Viewers can communicate during any event without interruption, thanks to the private and public chat options.
The Freemium plan provides access for up to 100 participants and a limit of 40 minutes for group meetings.
Pros
Several attendees can enjoy simultaneous screen sharing.
Free application and desktop sharing.
Records your complete events, including any attendee questions made via char, videos from multiple presenters, and attendee Q&A.
Compatible with all platforms and devices.
Cons
Navigating the interface can be a bit confusing.
There have been numerous reports of the hardware not working that well.
No landing page customization options.
Pricing
Zoom offers a free plan for personal meetings, but it can also be used to host up to 100 participants, unlimited group meetings for up to 40 minutes, endless one-to-one sessions with a 30-hour time limit per online meeting, together with private and group chat.
With regards to paid plans, there are three to choose from:
Pro Plan starts from $14.99/month/license and is great for small teams.
Business Plan starts from $19.99/month/license and is excellent for small businesses. You can host up to 300 participants.
Enterprise Plan starts from $19.99/month/license. You can host up to 500 participants, get unlimited cloud storage, and recording of transcripts.
Compatibility
Zoom integrates with Microsoft Outlook and Google Calendar.
This feature means users can schedule meetings and send emails seamlessly.
There's also a long list of apps you can use in Zoom, for example, Google Workspace, HubSpot, Slack, Automate.io, Zapier, and many more.
Google Business Hangouts – The Best Webinar Software Tool for YouTube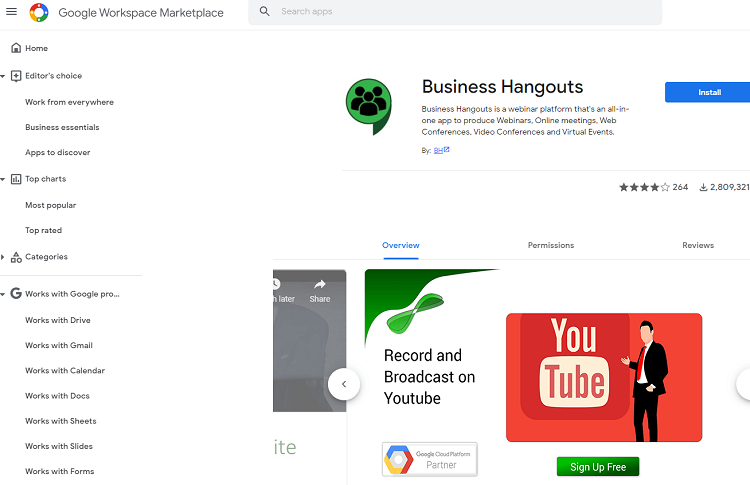 Google Business Hangouts is another free platform, and as you might expect, it integrates effortlessly with Gmail and the Chrome Browser.
In addition, you can host a webinar for up to 30 participants.
Alternatively, you can stream it to YouTube to invite a more extensive audience base.
It's an excellent free software choice because you can use it whatever the size of your business.
Several people can use it to converse and share screens during a webinar, and meetings can be recorded.
All you need to do to get started is signup for a Gmail account if you haven't already got one.
The flexibility of the platform means you can use it on almost every device.
As you might expect with a free platform, there are some downsides.
For example, it's not really suitable for lead generation as there's no option to gate the content and collect emails.
It's more of a tool for video conferencing and 1-on-1 video calls rather than webinars.
Google Hangouts is currently available, but it will soon be switching to Google Chat.
Key Features
Up to 30 people can participate in the chat, and several speakers can speak.
There is no charge to use the platform.
The recording is automatic, and you can upload it to a YouTube channel immediately.
It takes just 10 seconds to create a webinar.
Pros
You can broadcast webinars through YouTube to reach a larger audience.
Easy to set up and free to use.
No software download is required.
Easy screen share features.
Cons
Not ideal if your aim is lead generation.
Members have to have a Google account if they want to take an active part.
There are no marketing features such as paid events and tracking
Pricing
This webinar software platform is entirely free.
Compatibility
You can sync your chats across a range of devices and keep the conversation going wherever you are.
Keep in touch across Android, iOS, and the web.
Intermedia AnyMeeting- Best for Small Businesses and Startups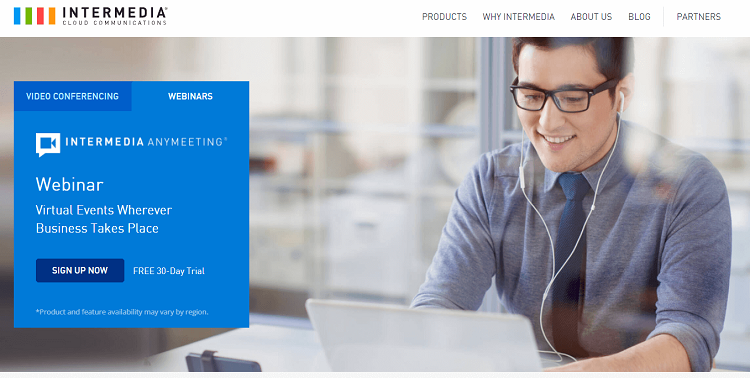 AnyMeeting has all the essential tools for hosting your webinar, plus it has an intuitive and user-friendly interface.
In addition, some powerful features are included in the package, such as screen sharing, HD video broadcasting, in-built surveys, MP4 sharing, automatic webinar recording, and much more.
There is a range of pricing packages, and the maximum number of attendees is 1,000.
If you want to test the platform before you part with any cash, there's a 30-day free trial to take advantage of.
This powerful online video conferencing and meeting tool allows you to have crystal clear face-to-face conversations with people anywhere in the world.
There are also tools such as annotation and screen sharing that you can use the make your collaboration successful.
Key Features
Up to 1,000 participants and six live speakers.
Real-time audience chat is one useful option.
Includes in-built live chat, Q&A sessions, surveys, and polls to engage your audience.
Attendees are followed up with emails.
Pros
30-day free trial to make sure the platform is a good fit.
User-friendly and intuitive interface.
Built-in reporting and robust analytics.
Suitable for small and large audiences.
Cons
Users have reported issues with bandwidth.
You can't record meetings to watch at a later date.
It uses a lot of computer memory which means it can crash on older or slower computers.
Pricing
AnyMeeting has three paid-for plans you can choose, following on from your 30-day free trial.
They include:
Lite Plan starts from $9.99/user/month and includes up to 10 web and 10 HD video participants.
Pro Plan starts from $12.00/use/month and includes 100 web and 30 HD video participants.
Enterprise Plan starts from $17.99/user/month and includes 200 web and 30 HD video participants.
Da Cast- Best Webinar Software Platform for Mid-Tier Seminars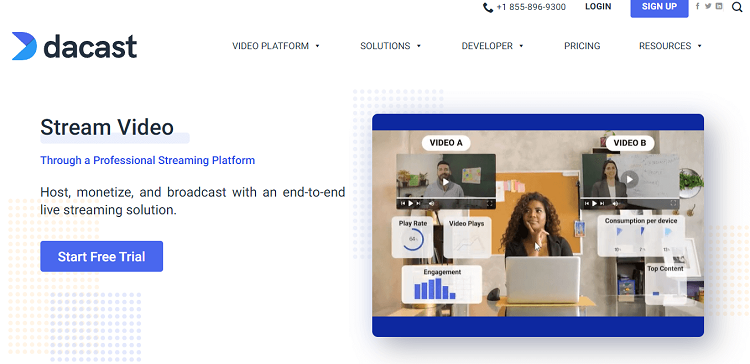 Use the DaCast webinar software platform, and you'll have your webinar set up within minutes.
In addition, the impressive broadcasting features mean you can manage, monetize, and analyze your online video effortlessly.
Secure video hosting is provided, and the service is backed by 24/7 customer support which will be very useful if you happen to get stuck at any point in the process.
Some of this platform's most popular features include video streaming over various social media platforms, including Facebook and live video with API.
Thanks to these features, you can shoot your live webinars and then offer them on-demand later.
With the help of DaCast's features, you might even be able to monetize your conference.
One thing that makes DaCast stand out is that it has a very unique approach to pricing.
Customers can pay on an event-by-event basis, but prepaid bandwidth can also be used should a client need it during the first 12 months.
If you hold webinars regularly, there are also subscription-based plans.
Key Features
No viewer limits.
Real-time analytics.
Live streaming on social media platforms.
User-friendly web conferencing interface.
Pros
Easy and quick to set up.
API-based video integration.
Unlimited channels.
Embedding live video streams.
Cons
It can work out to be expensive if you exceed the bandwidth amount.
Pricing can be confusing.
The stream can also shut off if you exceed the bandwidth.
Pricing
You can start your DaCast experience with a 30-day free trial.
Then, if you like what you find, there are four plans to choose from:
Standard Plan from $39/month billed annually. You get 1.2TB per year and 50GB of storage.
Event Plan starts from $63/month, also billed annually. With this plan, you get 6TB upfront and 50GB of storage.
Scale Plan starts from $188/month and includes 24TB per year and 1TB storage.
A Custom Plan can be organized, depending on your needs. Contact the sales team for a tailored quote.
Compatibility
The DaCast's API feature is a critical element of integration.
It is designed to easily integrate all the platform's features into a wide variety of cloud video applications, services, and digital media workflows.
Adobe Connect – The Best Webinar Software Platform for Large Marketing Agencies and Organizations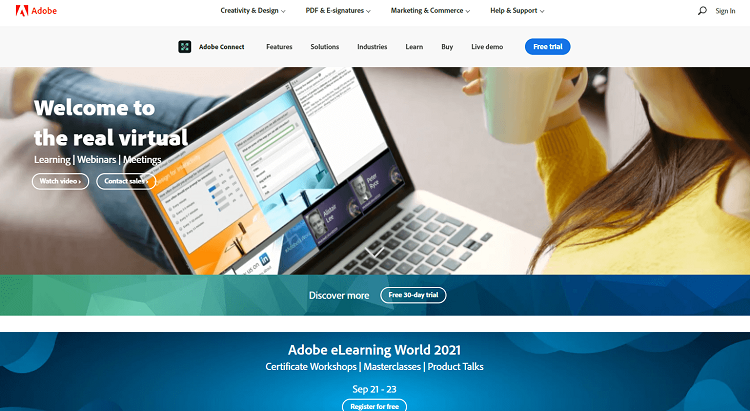 Adobe has long been a forerunner in innovation and technology, so it came as no surprise when it took on the might of webinar software platforms with its own Adobe Connect Webinars.
Not only does it allow you to create webinars, but you also have the option of sharing documents, hosting videos, and hosting meetings, all with the aim of increasing your company's interaction with your customers.
This platform also allows you to customize your hosting room and optimize it as you see fit.
For example, if you're a marketing company, you can use it to help showcase your services and products.
Key Features
Variety of templates that allows you to customize your virtual offerings.
You're able to create unique registration pages.
Use videos, surveys, polls, blogs, and webinars to influence and reach out to your target audience.
Integrates with a range of CRM software, including Salesforce and Eloqua.
Pros
The platform is suitable to use for meetings, webinars, onboarding, training, and much more.
You're able to design and deliver visually beautiful webinar presentations.
You can create interactive and engaging storyboards with customized banners, logos, and colors.
Track your conversions by campaign and leverage the analytics that the Adobe Experience Manager and Adobe Analytics provide.
Cons
There have been reports of video and audio disturbances on mobile.
The plans are pretty expensive.
The desktop application has to be downloaded and installed.
Pricing
You can try Adobe Connect free for 30 days, but once the trial period is over, you have to choose between plans that depend on the number of seats, as follows:
One hundred seats are $130 per month.
Five hundred seats are $470 per month.
One thousand seats are $580 per month.
With each plan, you can host an unlimited number of events.
Compatibility
Adobe Connect integrates easily with CRM software such as Salesforce and Eloqua.
EverWebinar – The Best for Creating Evergreen Content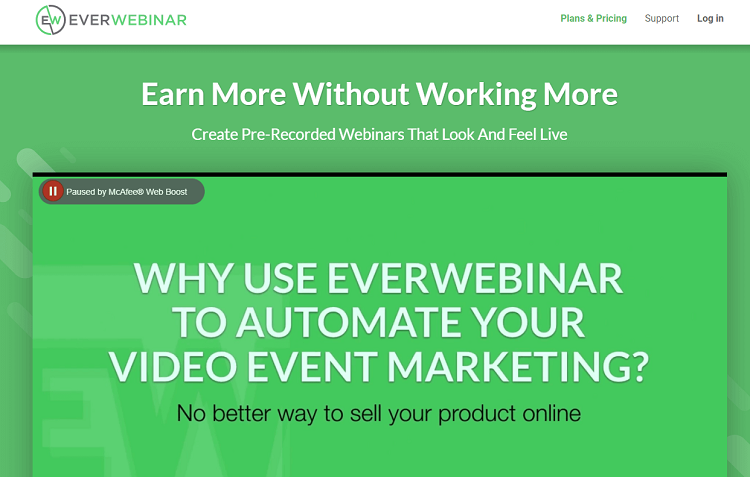 EverWebinar is built with direct integration to WebinarJam.
However, it can also be purchased as a stand-alone product.
It's packed full of features such as fully automated customer-activity-based email connections.
You can easily keep users in the loop, and setting up an EverWebinar presentation takes just a few minutes if you're already a WebinarJam user.
Webinars are recorded automatically, so your audience can replay them at any time, which is valuable for engaging potential leads.
If you want to generate leads and boost your sales, EverWebinar is a valuable tool to have in your marketing box.
Key Features
With just one click, you can switch between WebinarJam and EverWebinar.
Provides performance stats in real-time.
Live events can easily be converted into evergreen events.
Includes a time-zone auto-detection making it easier to use worldwide.
Pros
A 'just in time' option means viewers can attend a webinar that starts in just a few minutes, which can improve attendance rates considerably.
Three types of webinars are offered: automated, live, or hybrid webinars.
Your purchase includes access to the "webinar university," where you'll find lots of information, including how-to guides.
A powerful statistics option is available.
Cons
Streaming issues have been reported on mobile.
On the registration page, there are no custom questions.
Pricing
EverWebinar comes with a 30-day risk-free money-back guarantee.
If you'd like to see what it can do for your business, the paid webinar plans are as follows:
Monthly Plan starts from $99/per month.
The Annual Plan starts from $42/month.
Biennial Plan starts from $34/month.
Compatibility
With EverWebinar, you can integrate a range of autoresponders and CRMs, including GetResponse, AWeber, Zapier, MailChimp, Drip, ConvertKit, and many more.
BlueJeans – The Best Webinar Software Platform for Large Virtual Events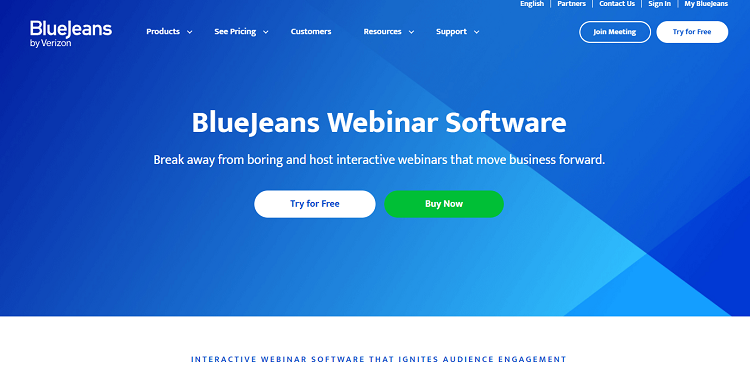 BlueJeans is actually a video conferencing tool made up of four very specific products, one of which is BlueJeans Events.
The Events platform is ideal for hosting live events on a large scale.
You're able to broadcast to audiences around the world using live streams or interactive events.
The most expensive price plan allows you to host up to 50,000 attendees but still take advantage of unique content experiences such as immersive video, live polling, and Q&A.
It can provide your business or organization with an interactive open forum for the purpose of exchanging ideas and information with massive audiences.
Key Features
You can host worldwide events with 150 presenters and 50,000 attendees.
Manage your events using easy moderator controls.
No need to download an app as it works directly from any device.
Post-event analytics reports.
Pros
Participants can join meetings from anywhere.
The experience is enhanced with Dolby's voice audio and HD videos.
Users can join the conference from all room systems, for example, Polycom, Cisco, and Lifesize.
Onboarding experience made easy with 24/7 support.
Cons
The price is relatively high, but it does include a wide range of built-in features.
Pricing
BlueJeans pricing is based on the maximum number of attendees.
If you pay annually, you save up to 16%.
For the BlueJeans Video Webinars/Events package, the prices are as follows:
For a maximum of 100 attendees, the price is $83/month or $996/year.
For a maximum of 200 attendees, the price is $313/month or $3,756/year.
For a maximum of 500 attendees, the price is $499/month or $5,988/year.
There is one more paid option for up to 50,000 view-only attendees, but you have to contact the sales department for a personalized quote.
There is also a free 14-day trial.
Compatibility
You can launch BlueJeans directly from your favorite messaging and collaboration tools such as Slack, Skype, and Workplace by Facebook.
In addition, you can schedule meetings with a single click from calendaring and scheduling tools such as Google Calendar and CalendarHero.
Integration also works with a wide range of other popular apps and tools.
Webex – The Best Scalable Webinar Software Platform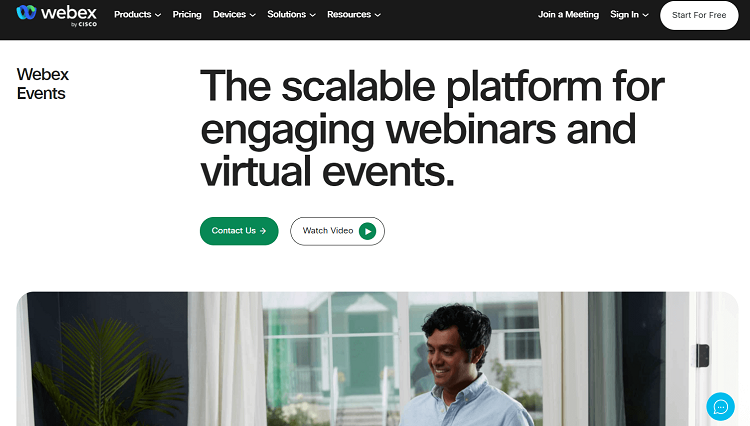 Webex is a Cisco product that provides some impressive pictures, possibly as a result of its parentage.
In addition, a high degree of customization is possible, which means you can tailor the host environment to meet your business requirements.
Features include a host room, HD video and audio services, a cloud-based platform, and the option to host up to 40,000 attendees.
Although it doesn't have a lot of the bells and whistles you find on platforms designed for selling products, it excels for team collaboration.
Webex also has a mobile app, which makes it perfect for on-the-go team collaboration.
It's also possible to record any events so that they can become evergreen.
Key Features
You can host up to 40,000 attendees.
Includes in-built surveys, polls, and Q&A sessions to improve audience engagement.
The audio quality and HD video are excellent.
Integrates with many popular marketing tools.
Pros
The mobile app is a valuable feature.
For large accounts, the support is excellent.
Hardware tools are included for conference rooms to improve collaboration and the quality of video conferencing.
One of the best collaborating tools.
Cons
Not suited for consumer webinars, but more for team collaboration.
Pricing
A free plan is available, but it only allows one user, up to 50 minutes of meeting length, and up to 100 participants.
There are three paid plans with more features:
Starter Plan from $15/month, which allows between 1 and 50 hosts.
Business Plan from $30/month for between 1 and 100 hosts.
Enterprise Plan is fully customizable, and you have to contact sales for a tailored quote.
Compatibility
Webex integrates seamlessly with more than 100 industry-leading apps, including Slack, Twitter, Salesforce, ADP, Bricks, ACTextBot, and many more.
Zoho Meeting – The Best Webinar Software Platform for Beginners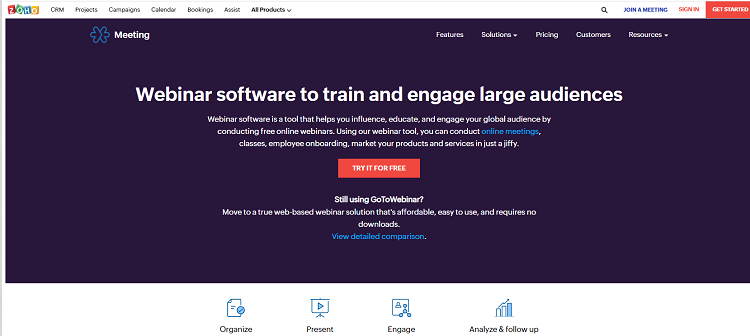 Zoho has an extensive business software portfolio and has now added webinars to the list.
Unfortunately, the introductory plan is limited to just ten attendees, so most organizations will need to upgrade to take full advantage of the service.
It doesn't contain many niceties you might expect from a webinar software platform, such as cloud video recording and smart assistants.
But if all you want is to broadcast no-frills business meetings, Zoho Meeting will be enough.
The introductory price is very friendly, especially for smaller businesses with a tight budget.
However, even the higher-priced options aren't going to make a massive dent in your company budget.
Key Features
Live and on-demand webinars are on offer.
On the registration page, you can customize questions.
Polls can be multiple-choice, star-rating, or open-ended.
Concise analytics dashboard.
Pros
Setup is easy, and the software runs directly on your browser with no download.
Excellent video conferencing features that include moderator controls, live chat, and screen sharing.
You can share online recordings with attendees using a link or a downloadable MP4 format.
You can embed the registration form on your website, and website visitors can join with just one click.
Cons
Reporting lacks detail.
Simple and basic features won't suit everyone.
Pricing
Pricing for Zoho Webinar depends on the number of attendees.
The price for 25 attendees starts at $19/month.
Compatibility
Close integration is provided between Zoho Meeting/Webinar and as many of its other business applications as possible.
Apart from this, integration with other more popular scheduling apps is very disappointing.
Webinar Software Platforms That Integrate with Salesforce
Salesforce is a customer relationship management solution.
Its services allow businesses to use cloud technology to better connect with customers, partners, and potential customers.
If your webinar software platform integrates with Salesforce, it means you'll be able to start and schedule meetings directly with Salesforce and streamline your webinar operations.
Webinar software platforms that integrate with Salesforce include:
WebinarGeek
GoToMeeting
EventMobi
SpotMe
BrightTALK Channels
Leadspace
Zoom Meetings
Best Webinar Platforms with Breakout Rooms
A breakout room is somewhere small groups of webinar attendees can meet privately to answer questions, deliberate, discuss group priorities, and work in teams.
Some webinar platforms provide this function, and they include:
Google Meet
Zoom
Microsoft Teams
Webex
Brella
Hopin
vFairs
GoToMeeting
Facebook Live with Multiple Presenters
Facebook Live is a great tool to use if you want to connect and engage with your webinar audience on a deeper level.
It is a live video streaming feature on Facebook that allows you to broadcast a live video to your audience through a company Facebook page or personal profile.
Once you've created a Facebook Live video, it'll reside on your profile or page for any viewers who missed the live event.
When you use Facebook live on your company page, you can customize and control your audience when it's ended.
FAQ
In this final section, you'll find the answers to some of the most common questions people might ask when they're looking for the best webinar software platform.
What Does Webinar Mean?
A webinar is an online event hosted by an organization, company or individual and broadcast to a select group of individuals.
Speakers from the hosting organization can share presentations, videos, web pages, and a range of other multimedia content with an audience anywhere in the world.
The webinar components are usually visual and audio, and the host can generally interact with the audience, thanks to the webinar software platform used.
What Are Webinars Good For?
There are lots of different webinars you can run, but they have some advantages in common.
For example:
You can keep an audience engaged for hours
Audiences can ask questions and get real-time feedback
It positions you as an expert in your field
They are great for soft-selling products
You can communicate with hundreds of people around the world
It helps you generate new leads
You can qualify new leads and build relationships
You can attract affiliates and invite guests
What is Webinar Software?
Webinar software is a platform you can use to educate, instruct, and sell to an audience.
You might want to include slides, videos, and interactions like chat, polls, or surveys.
Webinar software makes the process much more straightforward, which is perfect if you've very little technical knowledge.
What Are the Benefits of Webinar Software?
The recent COVID-19 crisis has led an increasing number of businesses to explore webinars as a way of communicating with customers.
But there are lots more benefits to reaching out to your audiences digitally.
For example:
Boosts your brand awareness
Generates new leads
Allows you to nurture quality leads
Positions you as an expert in your chosen niche
Increases audience engagement
Allows you to promote your products subtly
Saves you money
You can repurpose webinar content
Boosts your authority and influence
You can earn more revenue
How Do You Effectively Use Webinar Software?
There are three vital elements for an effective webinar: the organizer, at least one presenter, and attendees.
To help you create an effective webinar, you also need webinar software.
However, if you want it to reach your target audience and spread your message, you need to consider the following steps.
Set your objective
Understand your audience
Schedule your webinar
Promote your webinar
Build out your presentation
Rehearse
How to Choose the Best Webinar Software?
Creating a successful webinar can produce a range of benefits for your company, but there are certain factors you need to consider if you want to find the best webinar software.
For example:
It has to be easy to use
Free trials will allow you to get a feel for specific features and check whether it's the right fit for your business.
You should be able to broadcast live and host on-demand webinars because not all consumers prefer live webinars.
You might appreciate the option to edit your presentations
Look for software with the capability to co-present
Webinar metrics will allow you to track the success of your presentations
Hosting webinars on your own site
Options to archive content
Webinar software that supports your audience size
Can audience members participate?
Should be mobile-friendly
Why Use Webinars?
There are several good reasons why you should consider using webinars:
Viewers in 2020 watched three times more webinar content than in the previous year.
76% of marketers say they help them reach more leads.
Communication webinars have the highest conversion rate.
Webinars convert between 5% and 20% of viewers into buyers.
How Much Do Webinar Platforms Cost?
There is a considerable price range depending on the features you need and how many live attendees you plan to have.
Generally, prices range from $39 to $199 per month.
However, on the whole, you should expect to pay less than $129 per month.
And of course, let's not forget that there are entirely free webinar platforms.
Is Microsoft Teams a Webinar Platform?
Microsoft Teams is a software you can use for team interactions.
For example, users can collaborate on documents in the Microsoft Office Suite and engage in virtual meetings with the option to screen share.
And yes, you can also host a very successful webinar for up to 250 attendees using Microsoft Teams as the platform.
Can People in Webinars See You?
When you're hosting a webinar, you can't see or hear the audience during your presentation.
However, during a live session, the audience can type in and submit questions to the speaker.
How Do I Start a Webinar?
If you want to create a great webinar, you should follow these steps:
Brainstorm the right topic: It should be a topic that typically answers questions your audience would ask.
Choose a format for your webinar: It might be Q&As, a single-speaker presentation, interviews, or a panel discussion.
Pick the best webinar software platform.
Assign roles to team members: Four people is a good number to have.
Product the content: It could be a PowerPoint or talking head presentation, live panel, or Q&A
Select the day and time for your presentation: Wednesdays and Thursdays are the best days, and a popular time is 10 AM.
Practice what you're going to say the day before your event
Promote your webinar
Follow up with your audience: Consider sending a thank you email and gathering feedback.
Do Zoom Webinars Have Breakout Rooms?
Zoom Webinars don't have breakout rooms, but they can be a feature of Zoom Meetings.
Choices for Webinar Software according to Reddit:
BigMarker is a good choice, and Webinar Jam is awesome with landing pages and reminder tools. Univid is worth considering due to its ease of use, quick setup, and various engagement tools.
You might be interested to check those related posts as well:
Conclusion
There are a significant number of webinar software platforms on our list, but the right one for you depends on your needs.
I recommend you take a closer look at the options covered and start by taking advantage of a few free trials.