If you are looking for a reliable way to connect with your customers using multiple channels such as phone, text, fax, or messaging, a VoIP, or Voice over Internet Provider, can be an excellent resource.
Many companies find VoIP phone providers to be a better solution than a traditional phone line because they feature improved connections, are more reliable, and are easier to use in today's business world.
What are the Biggest Advantages of VoIP?
The biggest advantages of utilizing VoIP are the versatility and mobility of the systems.
VoIPs are compatible with mobile devices, which makes them ideal for teams that are connected remotely.
They feature the security of a traditional phone line with the versatility of an internet application.
Best VoIP Service Providers 2023
Here is a list of the top VoIP providers in the United States that outlines the strengths and weaknesses of each, as well as the pricing packages available, to help you choose the right VoIP for your current and future needs.
Nextiva – The Overall Best VoIP Provider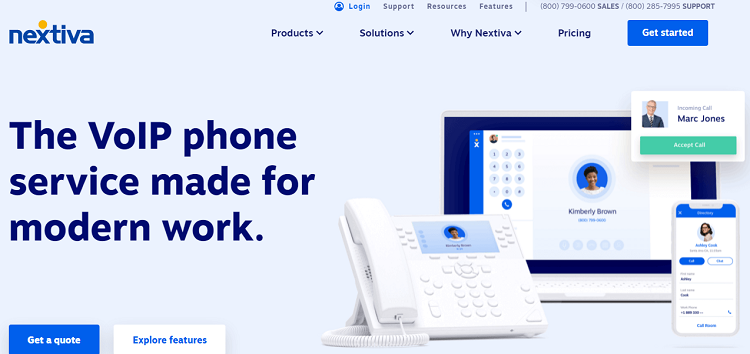 Nextiva is the leading VoIP phone service in the United States.
It was one of the first VoIP systems to utilize cloud-based phone systems and offers features such as:
Call forwarding
Video conferencing
Internet-based faxing
Direct messaging within the team
Pros of Using Nextiva
High-quality, secure calls
You can set a separate alert for business calls to keep them separate from personal notifications
Make use of the SIP trunking to implement and control multimedia sessions
Call screening helps categorize calls and route them to the right department
Cons
Lacks location tracking
Does not work offline
Pricing
Their three-tiered pricing model allows businesses large and small to select the plan with features that fit their specific needs.
Essentials Plan
$18.95/user/month, and comes with the following features:
Unlimited calls
Free toll-free number
1,500 toll-free minutes
Integration MS Outlook and Google contacts
Professional Plan
$22.94/user/month and provides the same features as the Essentials Plan, plus:
Online conferencing for up to 250 participants at a time with no time limits
Direct team messaging
3000 toll-free minutes
Call pop gives agents insight into who is calling and why
Integration with Salesforce, Hubspot, Zendesk
24/7 customer service
Enterprise Plan
As low as $32.95 per month/user and features everything the Professional plan does.
It also provides:
Unlimited conference calls
12,500 toll-free minutes
Video conference recording
Voicemail transcription
Integration with Microsoft Teams, Oracle Sales Cloud, ServiceNow
Ultimate
As low as $57.95/user/month, the Ultimate Plan for Nextiva offers all the features of the previous plans, as well as:
Customer Pipeline
Automated surveys
Employee performance monitoring
More robust analytics analytics
Grasshopper – Best VoIP Provider for Small Businesses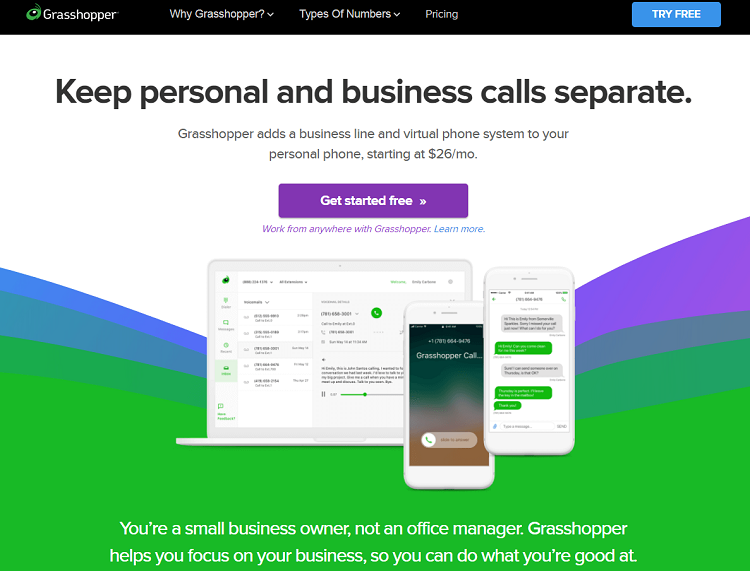 Grasshopper's flexible plans make it a popular choice among individual business owners and small business teams.
It provides customers with:
Toll-free and local numbers
Vanity numbers (numbers that are designed to be easily recognized and remembered)
Porting available for existing numbers
Since it has the option of routing calls to employees' desktops, mobile devices, or desk phones, Grasshopper has slowly overtaken the small-business sector of the VoIP market.
Pros of Using Grasshopper
Timeline view lets you see all customer interactions
Vanity numbers
Change which provider ports your phone number easily
Local and toll-free numbers are available
Capability to text customers
Reliable call management
Cons
Lacks a video conference option
Voicemail transcription can be inaccurate
Pricing
Grasshopper is a popular choice for businesses that are stepping into the virtual communication world from more traditional communication methods because it allows for virtual business phone systems to be added to existing phone lines.
Their plans start at $26 a month, and they offer three different packages.
Each plan offers a free 7-day trial.
Solo Plan
Intended for a single user is available for $26/month and comes with the following features for your business VoIP service:
Mobile and desktop apps
Call forwarding
Internet Fax
Custom greetings
Data Analytics
Partner Plan
At $44/month, the Partner Plan is best for teams of 1 to 3 people and has all the features of the Solo Plan plus:
3 Phone numbers
6 Extensions
Small Business Plan
$54/month, Grasshopper's Small Business plan has all the features of the Solo Plan, with the added benefits of:
5 Phone numbers
Unlimited extensions
RingCentral – Most User-Friendly VoIP Provider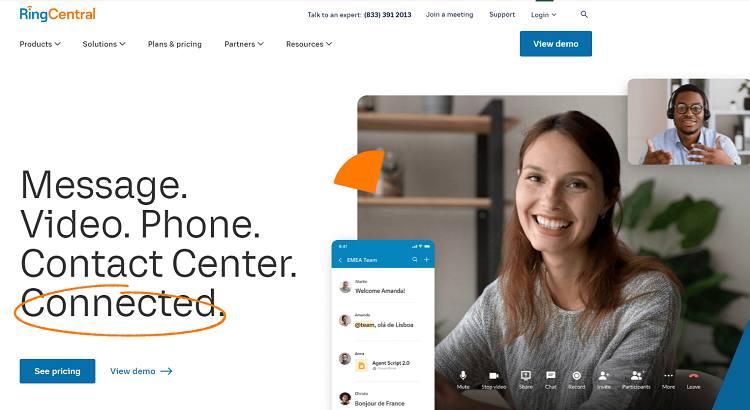 With its strong presence in the US, Europe, and Asia, RingCentral has made its name in the VoIP phone service industry.
RingCentral's extensive features meet a variety of business needs, though it is best for small to mid-sized companies.
All of the plans include:
The Audit Trail allows for easy change tracking
The Business Texting feature helps lower the usage of personal phone lines by allowing employees to text customers from a business number.
Pros of Using RingCentral
Leveraging free global calls reduces costs
Audio conferencing enables connection with up to 1000 participants depending on the selected plan.
Track customer satisfaction and employee performance with live analytics
Cons
Outsourced customer support
Pricing
Because RingCentral caters to smaller-scale businesses, it has an affordable price range.
With four different plans, businesses can decide which one matches their needs best.
Essentials Plan
$19.99/user/month.
Can be used by up to 20 participants:
Business and toll-free phone numbers
Unlimited calls within the US and Canada
Unlimited team messaging
Voicemail transcription
Document sharing
Standard Plan
$27.99/user/month.
Best for mid-sized companies:
International business phone numbers
Internet fax
Phone and video conferencing
Unlimited meeting times
Video conferencing with up to 200 participants
Service reports
Integration with Microsoft 365, Google Workspace, Slack
24/7 Customer support
Premium Plan
At $34.99/user/month, the Premium plan is one of the most popular plans and has all the components of the Standard Plan and:
Call recording
Email and link tracking
Hot Desk
Call handling, including whisper prompts
Unlimited participants for meetings
Real-time analytics
Integrations with Salesforce, Zendesk, Canvas, Smarsh, and more
Ultimate Plan
$49.99/user/month:
Device status reports and alerts
Unlimited storage
Ooma – The Best Small Business and Freelance Phone Service Provider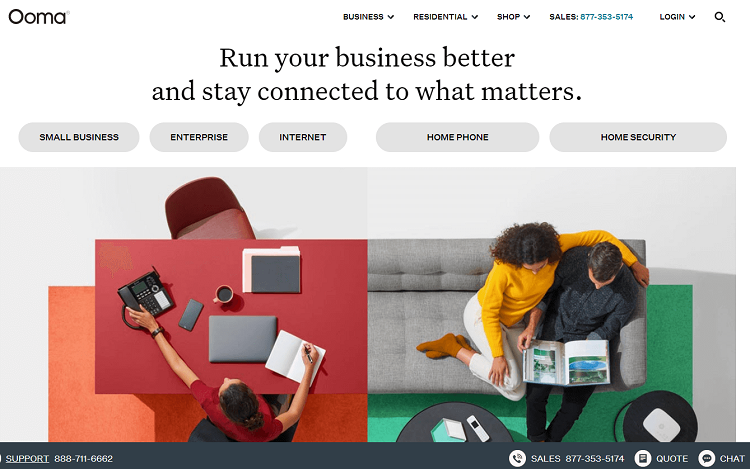 Ooma's scalable solutions offer freelancers and small businesses the opportunity to grow their features as their business grows.
Pros of Using Ooma
Easy installation and setup
Unlimited calls within U.S and Canada
Free porting of your existing phone number
voicemail-to-email transcription
Cons
Limitations on usage capabilities
Costly hardware
Call quality issues
Key Features
Block spam calls and known telemarketers with smart call blocking
The multi-ring option sends calls to multiple devices to ensure they aren't missed
An automated assistant acts as a virtual receptionist to manage your incoming and outgoing calls, routing, and team messaging.
Pricing
Ooma's pricing is very budget-friendly, making it ideal for small businesses and freelancers.
Ooma Basic
Free. Best suited for a residential or single-user VoIP system:
U.S. calling
Call waiting
Call logs, hold, and return
911 Service
Ooma Purevoice
Voicemail
You can get all the basic features you need with a free Ooma VoIP account.
However, for a freelancer or small business owner, the Ooma Premier plan is an excellent choice.
Ooma Premier
$9.99/month, providing all the features of the basic plan, as well as:
Do not disturb setting
Anonymous and spam call blocking
Ability to receive calls on the mobile app
Three-way phone conferencing
Voicemail forwarding
Ooma Office
Best for businesses at $19.95/user/month, featuring:
Hold and transfer music
Conference bridges
Call forwarding
Text messaging
Call flip
Overhead paging
Ooma Office Pro
At $24.95/user/month. In addition to the Office plan's features, it also provides:
Video conferencing
Call recording and blocking
Voicemail transcription
Detailed caller ID info
CloudTalk – Best VoIP for Sales

CloudTalk is the ideal call management VoIP system for businesses that manage sales.
CloudTalk's features are great for managing teams seamlessly, making it ideal for call centers and customer service departments.
Each plan includes a free 30-day trial, so users and companies can take them for a test drive to see if CloudTalk is right for their needs.
Pros of Using CloudTalk
You can use international phone numbers and make calls to over 70 countries
Easily define your business hours to take calls at designated times
Automatically redirect calls to specified employees when others are busy or unavailable
Ability to monitor agent calls
Cons
The mobile app requires improvement
Third-party app integration might cause performance issues.
Pricing
CloudTalk offers a free, 30-day trial so businesses can test what they offer.
Once you're ready to move forward with CloudTalk's services, you can choose from CloudTalk's three packages or opt for a custom plan, where you can get a quote from the company based on your company's specific needs.
Starter Plan
The core features plan is $20/per user/month and includes:
Unlimited inter-company and inbound calls
Click to call the feature
Automated call routing
Mobile app
Call queuing
International phone numbers for over 140 countries
The Starter Plan is attractive in terms of features and pricing, making it a viable option for growing businesses.
Essentials Plan
For $25/user/month, growing businesses can upgrade their plan to unlock these additional features:
Advanced analytics
Client dashboard
Multiple app integrations
Open API
Smart routing and queuing
Text messages
Workflow automation
Trusted by over 2,500 companies, the CloudTalk Essentials Plan is one of the most popular VoIP phone systems in the business.
Expert Plan
$40/user/month buys a company these crucial features:
Salesforce integration
Automated power dialing, smart dial-pad
Call monitoring
Speech-to-text
SQL exporter
Unlimited calls
If your company has more unique or specific needs, CloudTalk also provides the option of a Custom plan.
Phone.Com – Most Affordable VoIP Provider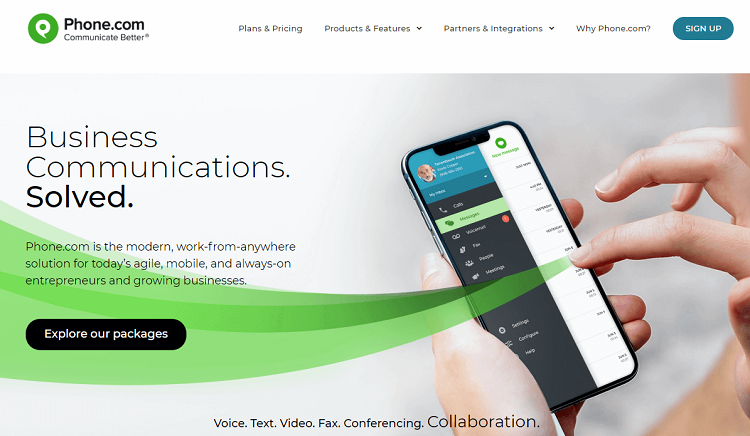 With business-level features and a budget-friendly VoIP system, Phone.com is the solution for small businesses and independent entrepreneurs.
It is the perfect VoIP provider for companies looking for a simpler VoIP phone service.
Phone.com's system also provides a whiteboard and the option of using HiFi transcription.
Pros of Using Phone.com
With a flexible softphone, software that allows calls to be made from the user's desktop, employees can make and receive calls using the cloud regardless of their location
A 30-day money-back guarantee ensures that you're not stuck in a contract that doesn't work for you.
Businesses can incorporate analog phones that they already own into the VoIP network.
Phone.com can provide customers with a pre-configured desk phone if that suits their needs.
High-definition sound ensures high call quality
Cons
There are limitations to video conferencing and app integration in some of their plans.
Pricing
Phone.com has flexible pricing, which is helpful for businesses that expect to grow or consolidate operations within the near future.
Their simple, easy-to-use system is priced lower than some other VoIP providers.
Basic Plan
At $12.99/user/month, this plan includes the company's standard features:
300 minutes to talk on the phone per month, included
A single phone number
1000 texts
Up to10 members video conferencing
Mobile App
Web App
Over 50 voice features
Plus Plan
If your company needs a little more than just the basic features, their Plus Plan offers:
Unlimited minutes
A designated number for each user
Unlimited texts
Up to 25 members video conferencing
Compatible with regular desk phones
HIPAA-compliant call security and video recording
Pro Plan
At $29.99/user/month, the Pro Plan includes the same features of the Plus Plan, and:
Call analytics
CRM integration
Up to 100 members video conferencing
Voicemail transcription
PhoneBurner – Best VoIP Enterprise Phone Service Provider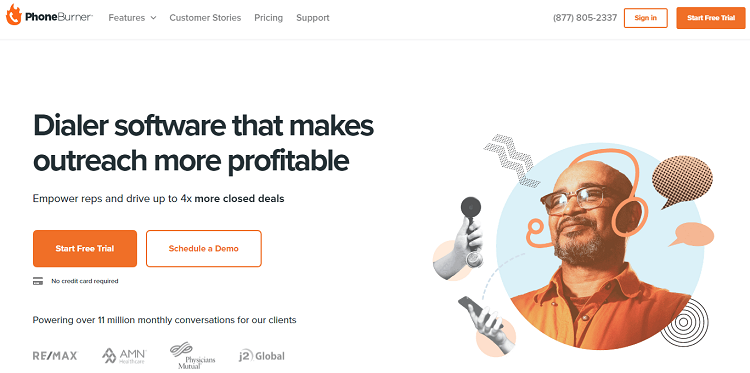 PhoneBurner has a diverse user base, including freelancers and large corporations.
This VoIP service lets users access a cloud-based VoIP system to connect with all types of team members, including those working remotely.
It offers a three-tier pricing option, ranging from $149/per month to $199/per month.
Key Features
PhoneBurner offers many features that help agents manage their calls effectively and remain active on their calls.
Some of these include:
One-touch email commands expedite inbox management
Email tracking allows agents to maintain lines of communication and follow up with clients.
Advanced lead filtering, delivery, and distribution give agents the details they need about calls from customers to be successful
Local ID is the best way to get a trusted business verification
Team Reporting helps streamline workflows and increase overall productivity
Pros of Using PhoneBurner
Power dialing allows PhoneBurner to reach up to four times more clients than when agents dial themselves
No need for software installation, it resides in the cloud
The VoIP service allows users to leave instant voicemails, which is an easy way to increase productivity
With its compatibility with multiple platforms, seamless integration, and lack of delays in connection, it allows users to operate without any glitches
Cons of Using PhoneBurner
The most commonly cited drawbacks reported with PhoneBurner are:
Call lagging is relatively common and can decrease telemarketing productivity
The system cannot identify fax numbers, which is an essential component of lead generation
System downtime can stall productivity
Pricing
Base Plan
At $149/month, the Basic Plan is ideal for telemarketers and larger corporations.
It includes:
Unlimited calls
Call transfer and recording
Call analytics and performance reporting
Email, links, and attachment tracking
Platinum Plan
At $179/month, the Platinum Plan offers all the services of the Base Plan, plus:
ConnectMe
Unlimited power dialing that automatically calls the next number on the list so the user doesn't have to enter numbers one by one
Call tracking and reporting
CRM integration
Voicemail
Custom dispositions to keep track of communication with customers
Email sending and tracking
Lead filtering and local ID
Expert Plan
For $199/month, users will also receive:
API
Auto-dialer
Automatic call distribution
Sales management features
Blended call center
Client management tools
Seamless app integration
Queue management
Search capability with optional filters
Text to speech
Voicemail
Dialpad – Best for Mid-Size Businesses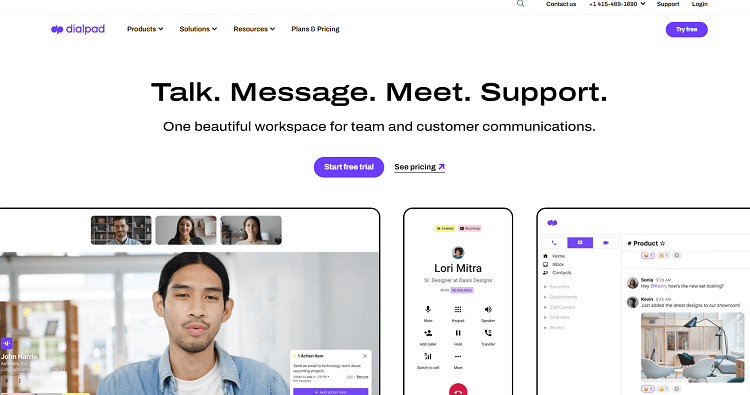 Produced by the team that created Google Voice, Dialpad focuses on better sound and connection regardless of the location of any of the users and places emphasis on powering their features on existing devices.
DialPad is ideal for mid-sized and larger businesses.
Key Features
Despite its name, there is actually no dialing required. Meetings are attended using a standard browser, which allows users to access them from anywhere with an internet connection
HD Video allows for a 720p resolution
Dialpad's voice intelligence helps boost your marketing team's efficiency
Pros of Using Dialpad
One of the best benefits of using Dialpad is its average of 100% uptime and 24/7 connection.
It proves to be a great asset for businesses because of its perpetually available customer service.
Other pros are:
Dialpad is a single platform for your communication needs
Speed does not suffer based on the geographic location of the participants
Its advanced call features help with conference calls, analytics, and collaboration
Cons
Although Dialpad's general reception is positive, some of the drawbacks include:
Lacks its own proprietary storage, but users find that it integrates well with third-party cloud-based storage apps.
Limited meeting times for all package levels
Pricing
Dialpad offers its advanced calling feature and other core services in two great packages.
Free Plan
Perfect for freelancers or small business owners:
Unlimited video meetings and recordings
Screen share
45-minute meetups
Meetings for up to 10 users
Business Plan
At a very reasonable $20/month, upgrading to the business plan facilitates larger meetings and meets the needs of larger teams:
5-hour meetups
Meetings for up to 100 users
Hold music
Recording transcription
Bitrix24 – Best VoIP for Customer Relationship Management

The Bitrix24 VoIP business phone system is designed to make customer management and collaboration between employees easier.
It is a trusted and effective communication solution for both onsite and remote team members.
Key Features
Some of the key project management features that Bitrix24 offers include:
CRM integration offers businesses more centralized information, tasks, activity monitoring, and project management
Better management tools help with tracking time, progress, planning, employee absence, and multiple other avenues of a business
Bitrix24's open API offers users the chance to easily integrate with multiple applications
Pros of Using Bitrix24
Mobile applications integration promotes effective collaboration
Free for up to 12 users, but paid plans can accommodate teams of any size
Flexible plan options allow businesses to customize their benefits according to their needs
Cons
The most common complaint about Bitrix24 is its complicated interface which can be tough for the average user to learn
Pricing
Bitrix24's plans are available in three different pricing tiers.
Free Plan
5 GB of storage is available
Live-chat options
HD video conferencing
Dynamic calendars
Company workspace
Task and project management tools
Contact the center to help keep track of communications with clients
Basic Plan
$39.00/month for up to 5 users:
24 GB of storage available
Video conferencing for up to 48 participants
Company social network
Capability to delegate set reminders and manage tasks
Autofocus filters designed to enhance employee efficiency
Task automation
Multiple app integrations
Customer support
Lead management using CRM component
Standard Plan
At $79/month for up to 50 users, the Standard Plan is perfect for a small company looking for a seamless CRM solution:
100 GB of storage is available
Dedicated customer support
Company drive
Smart search
Call encryption
Unlimited calls
Professional Plan
At $159/month for an unlimited number of users:
1,024 GB of storage is available
Data importing and exporting to assist in building and utilizing a customer base
100,000 outgoing CRM emails a month
PBX Integration
All the plans listed in this article have their unique merits, but Bitrix24 is by far the most generous, particularly when it comes to its Free Plan.
Their plans boast the highest number of inbound and outbound calls, making them one of the most popular VoIP providers on the market.
Verizon VoIP – Largest VoIP Provider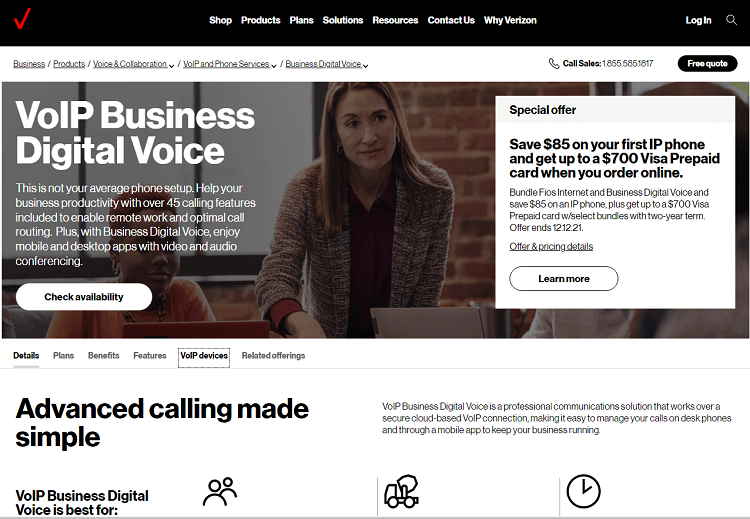 Verizon is one of the biggest cell phone companies in the world, and it is now providing VoIP phone services.
Though it is most well-known for its fiber optic internet within the US, its VoIP packages accommodate businesses of all sizes.
Key Features
An automated IVR routes customer calls directly to the appropriate agents
The Hunt Group feature automatically connects calls to an available line to ensure prompt customer support
With its shared call feature, employees from different departments can step in to take calls on behalf of other employees and departments as needed
A visual voicemail option lets users monitor their devices to see who has left voicemails and on which line
Pros of Using Verizon
Allows better call management and transfer, even while clients are on hold
Verizon VoIP phone can shift between your existing device and an IP phone as needed
It allows you to log an extensive call history
Your account allows you to make changes easily
Cons
Not suitable for smaller businesses
Availability of fiber optics and customer support is limited
Can be difficult to set up
Relies heavily on internet performance and can suffer if connections are not completely stable
Pricing
Verizon promises to boost your business productivity with 45 optimal calling features and to keep both onsite and remote work running smoothly.
Verizon's pricing is based on the speed included with each package:
For $94.00/month, which includes taxes and equipment charges, you can see speeds of 100Mbps with a discount of $85 on an IP phone.
The second plan is available for $139/month, with the addition of 300Mbps and a Prepaid Visa card worth $400 for online services. This plan also helps customers avoid an activation fee.
Verizon's third plan costs $249/month and comes with 940Mbps. It also offers a $500 Prepaid Visa card.
All these offers are applicable for one VoIP phone line. However, additional lines can be purchased at lower rates.
SIP.US – Best On-Demand Sip Trunk VoIP Provider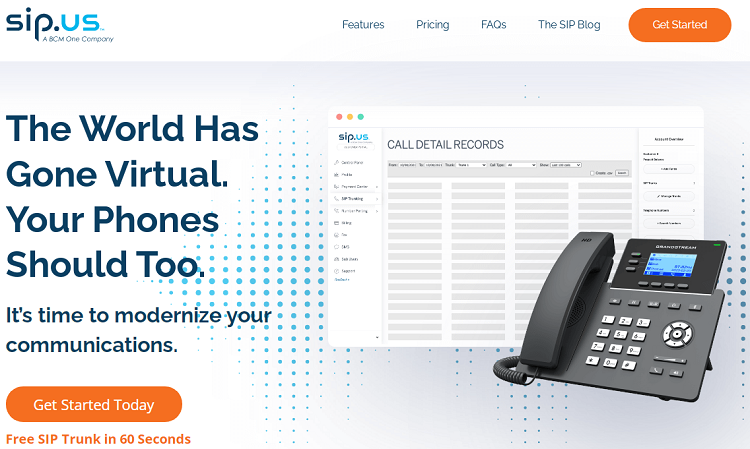 SIP.US is a well-known VoIP service that provides exclusive SIP trunk services to IP-PBX systems and phone adapters.
Key Features
As a Cloud-based VoIP solution, SIP.US provides Session Initiation Protocol (SIP) Trunk services to users.
With a loyal user base, it is one of the most highly regarded VoIP systems on the market.
Additional benefits include:
The control panel allows for shortcuts and easy account management
Due to its bandwidth, it offers flexibility that other VoIP vendors simply cannot
Pros of Using SIP.US
Automated dialing for easy telemarketing in 40 countries
No contract required – terminate service at any time
The free trial allows one hour of outbound calls
Customers find setup and configuration to be simple
Cons
Limited features make it hard to operate at corporate levels
Higher international rates
Pricing
SIP.US offers one flat-rate package to its customers.
It also provides a free trial to help businesses decide whether they wish to invest in SIP.US.
Their pricing model makes it one of the most accessible VoIP systems for smaller businesses.
SIP.US Plan
With a flat cost of $24.95/month, the SIP.US VoIP system offers its clients multiple features suited for mid-sized and growing corporations.
These include:
Toll-free phone numbers
SIP trunk and number management
SIP trunk configuration
Internet fax
AVOXI Genius – Flexible, Affordable, and Agile VoIP Phone System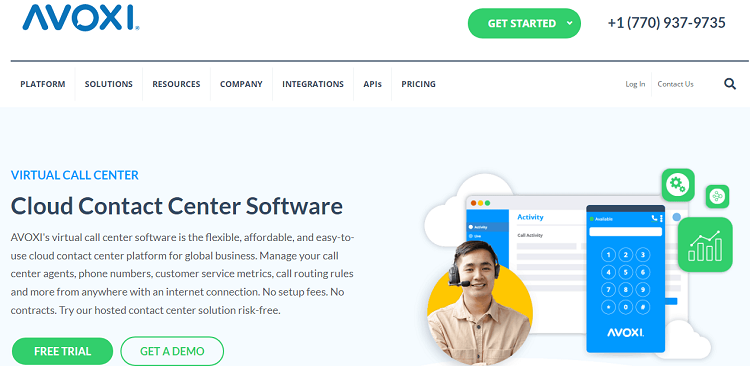 AVOXI Genius is another affordable and efficient business VoIP phone system capable of unifying and managing various company communications and contact centers.
Key Features
Automatic call routing and redistribution help get customers to the right department without losing contact. Agents can make unlimited calls with this VoIP system using their smart call queues
Cloud IVR helps customers reach the best-suited agent for their queries the first time
Available upgrades to a WebRTC Softphone provide customers with better sound and more reliable connectivity
Pros
Offers efficient call monitoring
Whisper prompts help agents with valuable insights into who is calling and why
Virtual phone number activation in over 150 countries
Cons
Steep learning curve
Limited features in the Basic plan can hold growing businesses who aren't ready to invest in the Enterprise plan back
Pricing
AVOXI Genius is a flexible and affordable option, ideal for users accessing a global network.
Their free trial allows users to test its features before committing to a purchase.
It offers two plans:
Basic Plan
$25/month
Unlimited inbound and outbound calling
Automated call distributing
Interactive responses
Call management
24/7 customer care
Quality assurance from the VoIP system that your calls will maintain their high standard of quality
Advanced and customized reporting
Enterprise Plan
At $50/month, the Enterprise Plan features all aspects of the Basic Plan and additional features such as:
CRM data dips
Salesforce integration
Daily and SLA-related reporting
Click-to-call
Personalized agent dashboard
Two-way synchronization
Reporting and integration API
Blueface – Best for Call Centers and Large Enterprises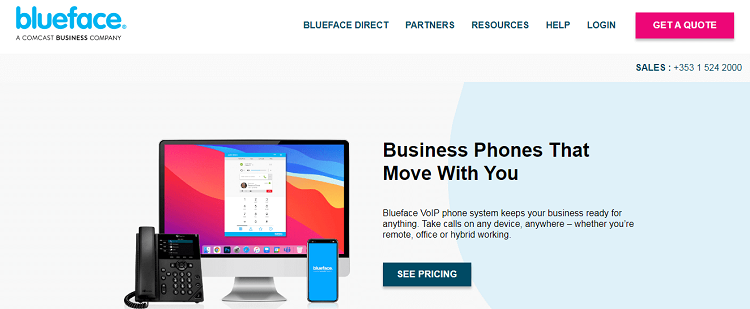 Most appropriate for call centers and large businesses, Blueface offers the best in video conferencing, shared voicemails, and high-quality calling.
Its extensive features make it the ideal software to use to run a business remotely.
Take advantage of their free quote today to find out if they are the right VoIP provider for you.
Pricing
Blueface's pricing is based on the specific needs of each of its clients, so standardized pricing packages are not available publicly.
Key Features
A dedicated 24/7 support team ensures uninterrupted operation
Secure carrier services
Blueface's API makes it possible to integrate with multiple platforms with no problem
With a relatively small footprint when it comes to storage on your mobile device, Blueface's VoIP won't limit the device's capacity to operate other programs.
Users find this VoIP software particularly easy to install
Pros of Using Blueface
The local phone numbers that Blueface provides tend to be trusted more widely than toll-free or non-local numbers.
Blueface's proprietary data centers ensure security and reliability
Cons
Depending on what features your business requires, Blueface can be more expensive than other VoIP systems in the industry
MessageBird – The Best VoIP Provider for International Businesses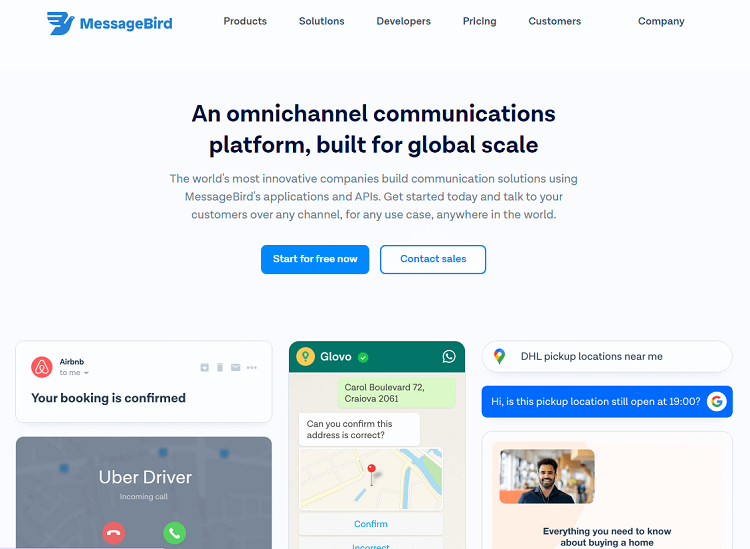 MessageBird's management of the combination of multiple channels on one single platform makes it an easy-to-operate VoIP product.
For companies looking for seamless and efficient integrations with various applications, MessageBird is the best VoIP service in the market.
Pricing
MessageBird is another provider that does not publish pricing for standard packages.
Pricing can be determined by obtaining a quote from MessageBird and is dependent on what features you need.
Key Features
MessageBird has a wide variety of useful features, which include:
International operations to accommodate international clients
APIs allow businesses to scale more effectively
Monitor the customer's journey with a well-equipped dashboard
Reputable and consistent 24/7 customer service
The Flow Builder tool allows users to create personalized communication flows. Other platforms would require the user to code their specific flows manually, but MessageBird's user-friendly platform does not.
Pros
Personalization of profiles for individual customers allows for a more customized approach to each client.
Voice and SMS messaging are prebuilt – making these two pillars of direct communication reliable and effective
Chat thread to improve customer experiences
Global reach ensures MessageBird can accommodate companies that are looking to expand internationally
Cons
Payments are accepted primarily through PayPal, which can require a longer processing time than traditional payment methods
ZoiPer – Most Secure VoIP Provider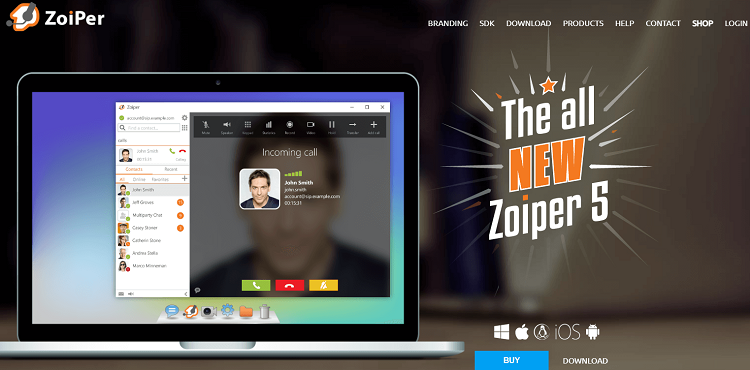 ZoiPer focuses on usability and security.
Their simple business tools allow users of all levels to operate seamlessly, without having to worry if their communications will be secure or not.
ZoiPer is best suited for startups and freelancers who would rather focus on their craft than on the behind-the-scenes technical aspects of their business.
Key Features
Encryption for voice, video calls, and text messages
Compatible with most browsers and operating systems, including Windows, Linux, Mac, etc.
Free calls within ZoiPer VoIP guarantees that you're not wasting money by paying to talk to your own team members
Pros of Using ZoiPer
ZoiPer uses multiple network providers for cheaper call rates
Simple, intuitive interface
The software has a small data footprint on your device's memory
Cons
Must purchase a plan to acquire all the features of the platform
The most frequent complaint is about higher downtime than customers would like to see
Pricing
With their free trial, you can test out ZoiPer's performance and decide if their paid plan is worth investing in.
They only have one plan level:
Premium Plan
Costs $44/month and offers the following:
Mobile access to the platform
API
Chat directly with clients
Contacts management tools
Video conferencing
Live call-recording capability
Weave – Capable VoIP Provider for Customer Support Staff

Weave is a VoIP tool that enables customer attraction, engagement, and retention for businesses of a variety of sizes.
With an intuitive interface and unique software integration, it allows for effective communication between businesses and their clients.
Pricing
Although Weave provides a free walkthrough tutorial to prospective buyers, they do not have a free trial of a free version of their software.
Their pricing is not currently public but can be determined by contacting their office.
As you can see from the trend forming in this article, this method of pricing is common for a lot of VoIP systems.
Key Features
A Weave VoIP phone provides reliable software to help agents assist both new and existing customers.
The dashboard allows access to all the relevant information an agent might need to make the call successful
A separate business line ensures that personal and business calls do not get mixed up
It allows for valuable customer insight using data gathered prior to the call
Call monitoring helps gather customer feedback so users can implement process improvements accordingly
Pros of Using Weave
Easy to send alerts to clients for things such as appointment reminders, payment requests, and invitations to take surveys
Automated messaging allows for effortless customer interaction, for example, sending a birthday message
Easy alerts and notifications for customer inquiries
Secure payment links for customers available
Cons
While automated emails and messaging are available, automated calls are not
Cisco – Best VoIP for Remote Work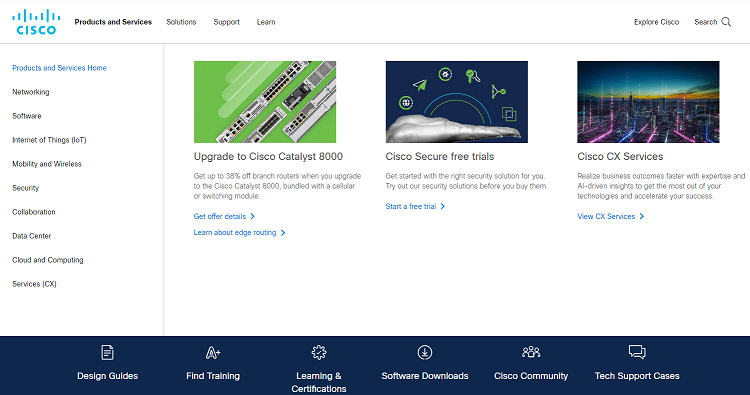 Cisco is a giant among telecommunications corporations, and their VoIP services are as highly trusted as the rest of their services.
They allow for extensive collaboration within a team and keep the customer in contact with the business via multiple streams of communication, regardless of the location or time.
With Cisco's unified communications management system, small businesses can purchase strong VoIP solutions for all their business communication needs.
Pricing
Cisco's customized pricing plans are available upon request.
Key Features
Strict security and encryption ensure data security, which is increasingly crucial for customers in the retail, finance, healthcare, manufacturing, and government sectors
CADI (Custom Application and Development Integration) services help achieve optimum app integration
Cisco's flexible features allow for efficiency, even when working remotely
Pros of Using Cisco
Leading industry standards for information security and privacy
Their platform can support even the largest team
Seamless integrations with multiple applications
Multiple streams of communication are supported so businesses can maintain contact with clients
Cons
Enterprise-level features come with enterprise-level price tags
Has a steep learning curve
GoToConnect – The Best Hosted VoIP Provider
GoToConnect's innovative perspective has made it an increasingly popular choice for both small and large businesses because of the cost reduction it can offer.
It allows businesses to scale their operations, manage IT issues centrally, and allow their employees to work from anywhere.
Key Features
GoToConnect's hosted format allows businesses to receive upgrades without additional fees. Their software also replaces the need for external plugins.
The mobility offered is ideal for remote work, as employees can access the software via a variety of devices
The VoIP system has unmatched flexibility that allows for the accommodation of several teams and agents through phone lines and extensions.
Pros of Using GoToConnect
Some of the benefits, in addition to lower costs and greater connectivity as compared to other IP plans, are:
Responsive to customer feedback: upgrades are made based on customer recommendations
Continuous accessibility – 99% uptime guarantee
GoToConnect does not have hidden fees like some of its competitors do. This allows for an accurate return on investment projections so businesses can plan their budget accordingly, without any surprises
Cons
The extensive and somewhat complicated onboarding process
May require experience or specific IT insight to utilize all of the features
Pricing
There are three plans for GoToConnect, all of which are well within a typical budget for businesses of various sizes.
Basic Plan
For $22.00/month, the Basic Plan is best suited for newer, smaller, and growing businesses.
It features:
Built-in video conferencing
Unlimited extensions
Local, toll-free, and vanity Numbers
Private team messaging
Audio conferencing
A cloud-based system allows for more flexibility
Standard Plan
At $26.00/month, the Standard Plan is targeted toward mid-sized businesses who are more focused on analytics, and offers all the same features of the Basic Plan, plus:
Hot desk
Internet fax
Call management and recording
Paging and intercom
Detailed analytics
voicemail-to-email transcription
International calling included
Premium Plan
At $39.00/month, the Premium Plan has additional benefits that meet the needs of larger, even more, data-driven companies.
It includes the following features:
Inbound and outbound call analysis
Admin controls
Reporting
Queue updates
You might be interested to check those related posts as well:

FAQ
What is a VoIP number?
A VoIP number is essentially a regular telephone number that routes through the internet instead of through phone lines.
Can I keep my phone number if I switch to VoIP?
Yes, a process called porting allows you to transfer your existing phone number to your VoIP system.
There might be a few limitations, but overall anyone should be able to transfer their existing phone number to a VoIP.
Can I use a regular phone number for VoIP?
Since the VoIP system allows you to route calls to different numbers, you can include your regular phone number in the VoIP program.
What equipment do I need for VoIP?
The most important thing you'll need to run your VoIP successfully is a stable internet connection.
You can use any device that connects to the internet to use your VoIP, including smartphones, tablets, laptops, and desktops.
Do you need strong internet connections to use VoIP phones?
Only 3 to 4 Mbps speed is recommended for to use of your VoIP phone.
You may see a better performance at higher speeds, but that is what is recommended for basic operations.
Conclusion
VoIP systems are already a crucial component of telecommunications in business, and an increasing number of businesses are switching to VoIP daily.
This list features some of the best and most popular VoIP providers available and should help you pick the provider that fits the needs of your business best.