Email marketing is one of the top digital marketing pathways with an average ROI of $36 for every $1 spent.
ZeroBounce is a great platform that allows you to maximize your returns.
This article looks at what ZeroBounce is and how it can be used.
What is ZeroBounce?
One of the biggest assets any business has is the number of subscribers on the email list.
However, that isn't always the true value. Some emails that are on a list aren't worth anything.
They could be old emails or invalid or spam traps.
For instance, research from ZeroBounce has found that 22.5% of emails become invalid within 12 months.
How do you avoid these?
You need to regularly check your email lists for these bad email addresses and clean your list.
And this is where ZeroBounce comes in.
ZeroBounce checks email addresses on your list for their validity, allowing you to keep a clean list.
What are ZeroBounce's Most Important Features for 2023?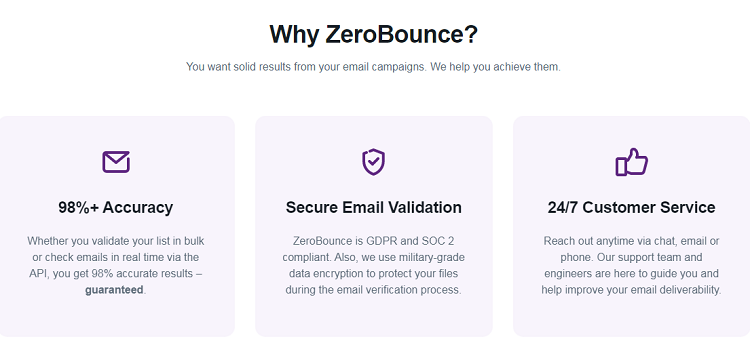 Here is a list of the main features of ZeroBounce.
Email Bounce Validator
ZeroBounce will check email addresses against their lists and check whether emails sent to them will bounce.
You are then able to remove these emails from your list and reduce the bounce rate that you get.
This feature will generally reduce the hard bounce addresses from your website.
It will not eliminate all bounces because some 'soft bounces' are caused by temporary issues.

Abuse Email Detection
Some email addresses have a reputation for causing pain on lists by continually reporting the senders as spam when they're not.
ZeroBounce will identify these on your list and advise you which ones you should remove.
Spam Trap Detection
Spam traps are legitimate companies setting up email addresses to identify marketers trying to push spam.
They can really harm an email reputation and so removing them is a vital task you should regularly be doing.
Toxic Domain Identifier
Some domains are known for being toxic.
These are quickly identified on your email marketing list for you to remove them.
Some of these domains will be known for being bots, abusive, spamming, and more.
Gender Identification
Get more information on your potential customers with the help of ZeroBounce.
In some cases, the tool can identify the gender of the subscriber. If you include the name of your customer when checking addresses, it can use this.
Or it can sometimes find the name for you with its tools.
MX Record Detection
If there is an MX record detection available for the email addresses that you upload to ZeroBounce, this will be included in the return.
This can help you to determine whether any address checked is real or fake.
Real-Time Verification
You can add ZeroBounce to your current website's subscription forms, and when a new email address is submitted, it can be automatically checked.
This prevents emails from ever accessing your website's list.
Real-time verification can be integrated with many of the top email marketing software platforms.
ZeroBounce Pricing: How Much does ZeroBounce Cost?
There are two different pricing options when it comes to ZeroBounce.
Pay-As-You-Go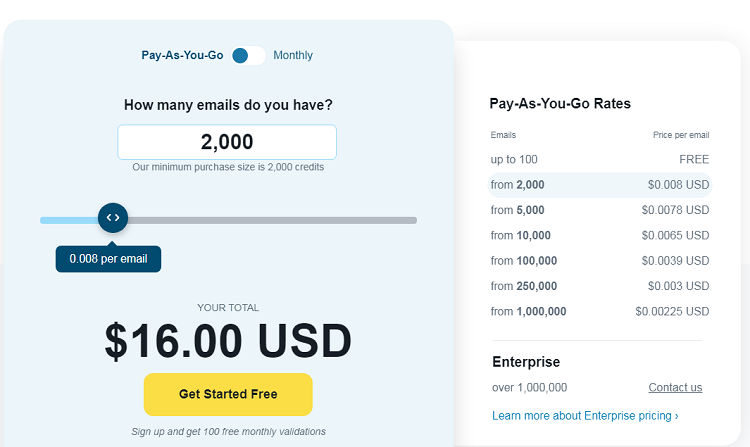 The first is a pay-as-you-go payment option. This is very good for those who are just starting.
You simply upload your list of contacts, and the system will validate the list for you quickly and effortlessly.
The price for this can vary depending on the number of emails you have on a list.
For instance, if you have 2,000 contacts, you will pay $16 or $0.008 per email.
This rate is the same until you have more than 5,000 contacts.
After this, the price of the validation reduces on a per-email basis.
For instance, those who are validating 10,000 emails will only have to pay $0.0065 per email or $65.
Per Month Basis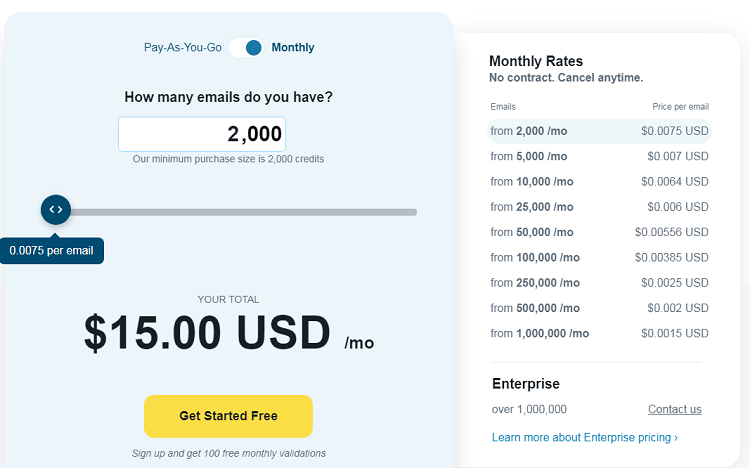 The Per monthly basis is a great way to save money and prevents you from falling into a common trap.
Just over one-fifth of your email list will be invalidated within 12 months, so not doing regular checks can sometimes not be enough.
Instead, you should be regularly checking your email list for those who've canceled their email address since your last check.
The monthly subscription reduces the price on a per-email basis.
For instance, the cost for 2,000 emails verified per month is just $0.0075 per email instead of $0.008 per email.
ZeroBounce Discount Promo Code
Currently, ZeroBounce does not offer a discount promo code.
However, you can still save money on your email validation processing by using their bulk verification options that reduce the cost.
You're also able to reduce the costs by validating just 100 emails.
However, this is very time-consuming for a large list.
The free offer is only really suitable for those who have very small email marketing lists.
ZeroBounce Competitors & Alternatives
ZeroBounce is not the only email verification service that is available.
There are some others.
Here is a comparison of ZeroBounce against some of its competitors.
ZeroBounce vs. NeverBounce
NeverBounce is one of the most used alternatives to ZeroBounce. They are similar, but there are some key differences.
The first difference is that ZeroBounce has one of the top security systems that protect your customer's data.
Another option is the amount that ZeroBounce protects you from. NeverBounce doesn't offer verification against email abuse or toxic domains.
In addition, ZeroBounce offers additional systems like gender identification and more information on the behaviors of your audience.
ZeroBounce vs. Debounce
Debounce is a much cheaper alternative to ZeroBounce, and while they offer 24/7 support, their accuracy is much lower.
A lower level of accuracy can cause significant problems for your email marketing campaigns.
You might also not get your emails verified against spam, abusive or toxic domains.
Debounce doesn't disclose whether they check emails against these elements.
Debounce doesn't offer a money-back guarantee either.
ZeroBounce vs. Emailable
Emailable has some similarities to ZeroBounce.
Their spam detection efforts are not as thorough as you get on ZeroBounce, and there is no indication of whether there is toxic domain detection or email abuse verification.
Emailable has some good support, but their chat services are not open 24 hours.
Nor will you benefit from the money-back guarantee, nor do you get user data like the number of click-throughs and open rates?
One of the biggest concerns with Emailable is that you are unaware of how accurate the verification is.
With so little undisclosed verification, there is no way to determine whether they can beat ZeroBounce's 98% accuracy.
ZeroBounce vs Mailgun
Mailgun is a cheaper alternative to ZeroBounce, but there are some drawbacks.
For one, many users of both systems prefer to use ZeroBounce because it is easier for those who aren't technically minded.
They also prefer the ongoing support that is supplied by Mailgun.
Mailgun does not include spam detection, which can be a massive disadvantage for your business.
Nor can you get further information about the emails, like IP address or gender.
While there are some advantages, the no money-back guarantee and the lack of disclosure when it comes to accuracy are also concerns with Mailgun.
ZeroBounce vs. Hunter.io
As far as alternatives are concerned, Hunter.io is much more expensive than ZeroBounce.
They also don't offer the wealth of services that you require for a healthy mailing list.
Some of the features not included are spam checking, toxic domain checker, email abuse detection, and more.
The accuracy of this competitor is also significantly lower.
Typically, they have just a 95% accuracy rate compared to ZeroBounce's 98%.
Hunter.io also has no support to help you should you need it.
ZeroBounce Support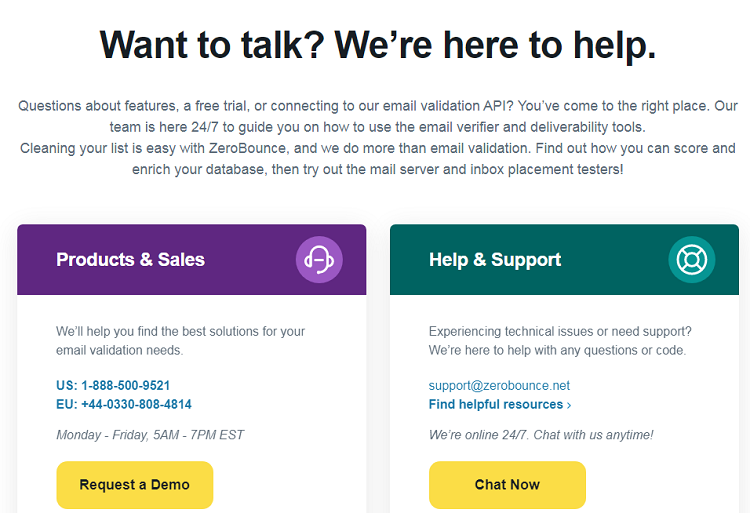 ZeroBounce support is one of the best on the market within the niche.
They offer support by telephone with numbers for North America and Europe.
They also offer online chat support and email support.
All support is available 24/7, so quick responses can be expected from them.
If you prefer support via social media, you can also contact them via some of their numerous social media channels.
You might be interested to check those related posts as well:
FAQ
Here are some FAQs about ZeroBounce that you might find useful.
How do I use ZeroBounce?
I use ZeroBounce to ensure that all email addresses submitted to my mailing list are legitimate.
This includes removing emails that might harm my mail server's reputation, such as spam email addresses, toxic domain addresses, and more.
With a better mail server reputation, I can reduce the risk of my emails ending up in spam folders and improve deliverability with fewer bounces.
What does catch-all mean in ZeroBounce?
A catch-all domain name is a type of email address that will report as good/positive even when it isn't.
ZeroBounce proprietary technology has been designed to detect these domains and email addresses.
Then these can be removed from your mailing list as they have no value.
Can you not email from ZeroBounce?
ZeroBounce does not have the facility to email your customers directly. Their service is based on verification that you have a clean mailing list.
You can export a cleaned version of your mailing list into other software like MailChimp, etc.
What is the best email validation service?
ZeroBounce is the best email validation service that is available.
While it isn't the cheapest, it has the most services that protect you from potentially harmful email addresses on your list.
They have the best technology and support to help you.
Conclusion
Email marketing is one of the best ways to generate income for your business, but bad email addresses can ruin your business' ROI.
Using ZeroBounce for email verification, you can ensure that you're investing in the right email addresses and generating a better profit from campaigns.