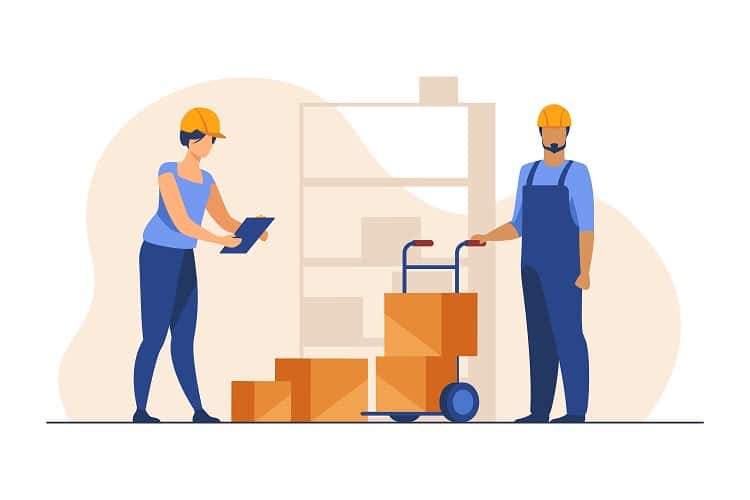 Entrepreneurs making fortunes with Amazon is something we've all witnessed firsthand. And you know what? It shouldn't be a shock when you realize this giant online platform rakes in a whopping $1.29 billion in revenue daily.
The good news is that there is still a chance to strike gold on Amazon, and contrary to all the clichés floating around, you don't have to break your back to make some serious dough on this platform.
So regardless of your skill set and background, there are countless ways you can leverage Amazon's programs to generate a decent income consistently, and that's precisely what we're here to explore!
Whether you're looking for a side gig, something part-time, or even a full-time venture, we've got you covered!
What You Need to Know About Amazon
According to Zippia, Amazon has over 197 million monthly active users, making it the go-to platform for individuals and businesses worldwide. Not only that, Amazon is particularly helpful for newcomers, and it's not hard to see why. Thanks to the massive user base and online buyers at reach, Amazon saves you from the guesswork—so no shooting in the dark, hoping for sales.
Numbers don't lie; over half of American shoppers (51%) believe Amazon delivers the most helpful product information. That's why Amazon established a reputation for being the most reliable and trusted brand for online transactions. So what's the takeaway from all of this? Well, your products become trustworthy in the eyes of buyers just because they're listed on Amazon Playground. Sounds great, right?
And if you thought that's all, gear up! Amazon provides some unique tools and features like customer reviews, quick checkouts, and in-depth product pages to make the selling experience seamless and smooth for all the involved parties.
17 Ways To Make Money on Amazon
Now that you know that Amazon is the way to go for online selling, let's start off with the fun part. In this section, we'll walk you through 13 proven ways to make the cash flow as an entrepreneur on Amazon.
Ready for some hands-on work? Let's dive right in!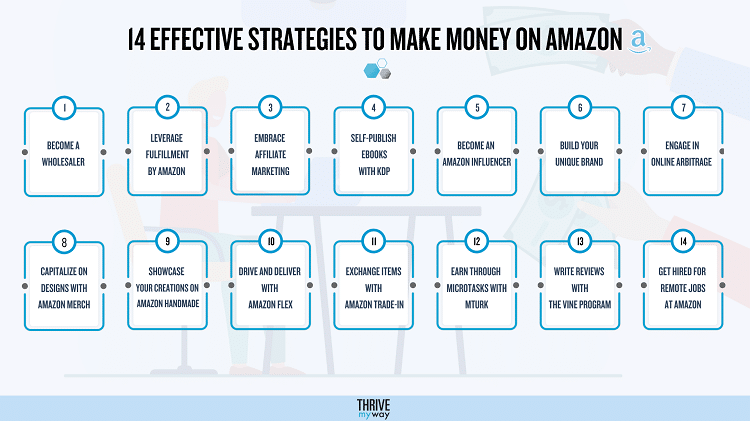 Become a Wholesaler
To kick off our list of methods to make cash on Amazon, we've got to talk about wholesale. This strategy involves buying certain products in bulk at an affordable price to then selling these items on Amazon for a slightly higher margin profit. Let's say you negotiate a bulk deal with a clothing brand to purchase sunglasses for $3 each; you can list those sunglasses on Amazon and sell them for $6. That's a solid profit right there!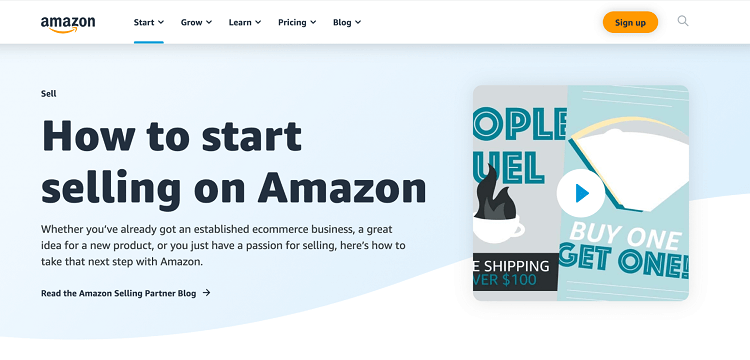 Becoming a wholesaler on Amazon is easier than you might think. All you need to do is create a seller account and select the type of products you want to sell. Once that's done, it's time to get your business license and sales tax permit sorted out, and you're good to go.
Leverage Fulfillment by Amazon (FBA)
Time is money, and so are resources like storing and shipping. Fulfillment By Amazon, AKA FBA, takes away all the hassle by storing your inventory in Amazon's warehouses. This will not only let you purchase as many items as your budget allows, but it also helps you scale up your business much faster.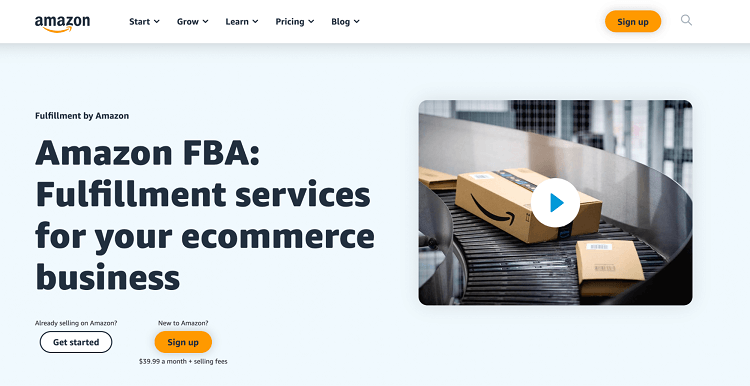 The process is quite simple; you first have to send your products to an Amazon Center, and from there, Amazon handles all the logistics and takes charge of the entire delivery process.
It's worth mentioning that Amazon will charge you based on the size and weight of each unit. You might also pay a monthly fee for storage in case your inventory doesn't sell.
The bottom line is that If you don't have enough space in your apartment or simply don't want your garage overflowing with products, Amazon FBA is definitely your go-to option.
Embrace Affiliate Marketing through Amazon Associates
As the name suggests, affiliate marketing is a program that allows you to earn a commission by linking to Amazon products on your website, blog or even your social accounts.
When someone clicks on your affiliate link and makes a purchase, you get a sale cut. The Amazon Associates program is perfect for all you content creators out there aiming to monetize your traffic.
To join the Associate's program, Amazon needs to review your content's originality before giving the green light, and the commission you receive will vary based on the product category. Once your application is accepted, it's time to promote the products for your audience and start rolling in some cash.
It's important to highlight that the commission income is typically paid out by Amazon approximately two months after the end of the month in which it was earned.
Self-publish eBooks with Kindle Direct Publishing (KDP)
Whether you're a wordsmith or have a team of talented writers by your side, Kindle Direct Publishing will make it a no-sweat to publish your books on their platform and eliminates all the headaches that come with traditional publishing houses.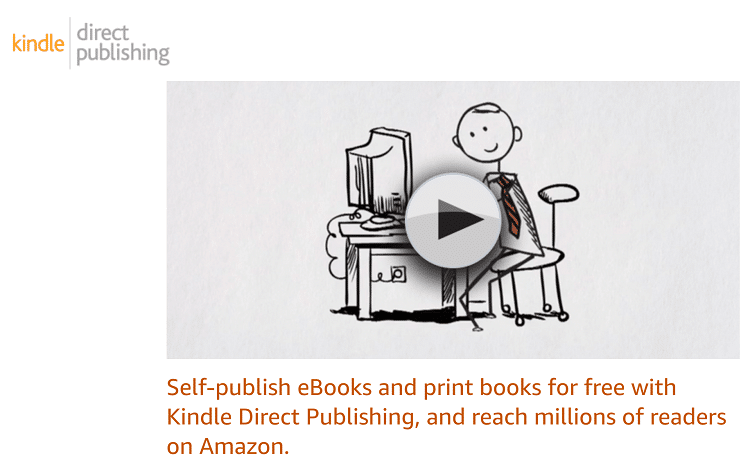 The best part? With the KPD program, you can set your own prices and pocket up to 70% of the royalties. What's even better is that Amazon doesn't stop at digital options—they've got your back with print-on-demand copies too. It's your time to put those words to work!
It's worth highlighting that it's all on you with Kindle Direct Publishing, spreading the word and marketing your work. It's some sort of a winner-takes-all industry. So to maximize your chances of getting through it, make sure your work has that wow factor. That said, if you're confident enough to check off all the boxes, KDP presents an excellent opportunity to make money online.
Become an Amazon Influencer
Another great way to monetize your traffic is by becoming an Amazon influencer. Let's imagine you're a content creator with a massive following on different social platforms like Twitter, TikTok or Youtube, and you often manage to get your audience excited to hit that buy button! Here is the deal: every time they make a purchase, you can earn passive income through commissions on those sales. Sounds pretty cool!
If you believe you hit all the right marks, then it's time to sign up for the Amazon Influencers Program. Upon being accepted into this program, Amazon hooks you up with a personalized URL that you can use to leverage social media promotion, advertising various Amazon products and enjoying the financial rewards it brings.
If this isn't a cue for you to become an Amazon influencer today, we don't know what is!
Build Your Unique Brand Dropship for Profit
Why not bring something new to the table and build your own unique brand? It's simpler than you might think. Just choose a product you love, place the order, and slap your awesome logo on it. Voila! You're now an official brand seller.
The next step is to list your product on Amazon. We recommend starting with a competitive price to gain a considerable market edge and set your brand apart from other competitors. After all, don't forget that Amazon is a fiercely competitive platform.
However, it'll take a little more work than that. Make sure to write insightful product descriptions, snap eye-catching pictures, and, most importantly, deliver a top-notch product, and what better platform to gain popularity on than Amazon?
The great thing about establishing your own brand is the complete control you have over your products. You can legally protect your private label product from counterfeiting by applying to a brand registry with Amazon.
Work as an Amazon Fulfillment Associate
If the traditional 9 to 5 grind suits your style, then you can thrive as an Amazon Fulfillment Associate. These positions primarily involve managing warehousing and shipping operations for Amazon products. Fortunately, Amazon Fulfillment centers regularly hire staff for these positions.
Amazon fulfillment offers positions ranging from floor managers, laborers, and warehouse managers. And if you're a numbers whiz, there's also a chance to work with financial data tracking. After all, skilled jobs have obviously higher earning potential at Amazon compared to hands-on work.
Speaking of pay, according to Glassdoor, Amazon Fulfillment Associates earn an average of $21 per hour in the US. That's a tempting wink that might convince you to join the workforce at an Amazon Fulfillment Center.
Engage in Online Arbitrage
It might sound similar to wholesaling, but online arbitrage works in a slightly different way. It involves buying products online at a discounted price from big retail players like eBay or Walmart. Then, you flip them for a higher value on Amazon.
Contrary to the programs discussed in the article so far, online arbitrage is a longer-term approach simply because It's a method that requires your involvement in multiple stages like sourcing products, listing them and shipping them to clients. But If you're the kind of person who enjoys finding bargains without having to visit physical stores, then online arbitrage will make the whole process easy peasy for you.
Sign up for CamperForce
It's true, not everyone is eligible for the Amazon CamperForce program. But if you are among the lucky ones who fit the bill, it's a seriously cool way to put money aside while living life on the road.
The whole idea behind this program was to hire those living in recreational vehicles (RV-ers) and have them join forces with their warehouse workforce all over the country during busy peak and seasonal periods.
So if you're an RV-er or thinking about hitting the road soon, the CamperForce program is a fantastic option for a flexible lifestyle while earning some "moolah" along the way. What better place to do that than in your own vehicle?
But that's not all. As part of the CamperForce program, you'll receive some fantastic benefits. Not only will you be granted medical coverage, but you'll also have access to a 401(k) retirement plan. And on top of all that, Amazon will even cover your campground expenses by paying you $120 weekly.
Capitalize on Your Designs with Amazon Merch
Let me give you a real-life example of combining fun and profit! If you have a burning passion for design, then you're on the right track to make money with Amazon while having an absolute blast along the way. The program that can materialize this passionate hobby is none other than Merch by Amazon.
Signing up for Merch by Amazon is effortless, just like the programs mentioned earlier, all it takes is uploading your artwork, and different creations and Amazon takes charge of the printing process and everything that comes after, It's a fantastic option, especially if you are a risk-averse and prefer playing it safe.

And if you're aiming to maximize your profit, it's essential to think outside-the-box and come up with unique designs that resonate with your target audience. And don't forget to effectively promote your designs across your different social platforms. Leverage a social media post generator to achieve optimal financial results within a shorter timeframe.
Showcase Your Creations on Amazon Handmade
Suppose you are passionate about creating and selling handmade items like jewelry, clothing, or pottery. In that case, you don't have to worry about all the heavy lifting because Amazon takes charge of most of it for you.
Just like other programs, setting up an Amazon seller account is super easy, and once you have your account up and running, you'll get a unique URL that makes your shop easily accessible to customers. And the cherry on top? Amazon understands the importance of supporting artisans and craftsmen, which is why the fee structure is straightforward. You just pay a 15% referral fee on the total sales price of your items, and the rest goes straight into your pocket. Simple as that!
Drive and Deliver with Amazon Flex
You have your own vehicle, and you're looking for ways to kickstart your journey with Amazon. We've got the perfect solution for you. Just apply for Amazon Flex and start delivering Amazon packages. You have complete control over your schedule, and you get to choose your working hours in advance based on the products you'll be delivering.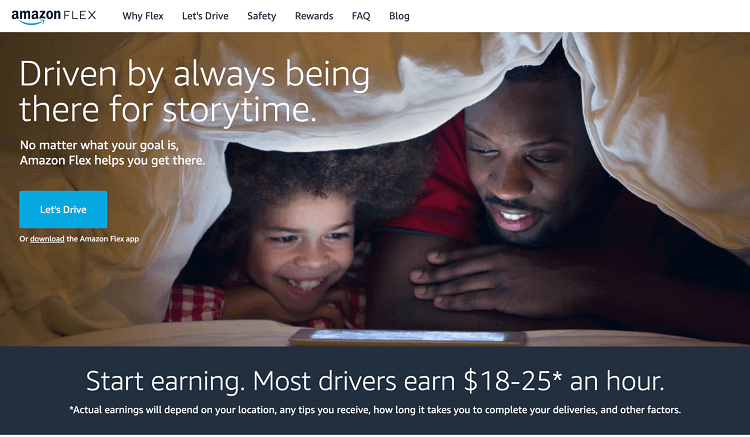 The requirements for getting started with Amazon Flex are pretty straightforward. You'll need a valid driver's license, car insurance, and a well-functioning smartphone, and you're good to hit the road and start delivering those Amazon boxes.
See? Super easy to earn some extra cash with Amazon.
Exchange Items with Amazon Trade-In
Amazon also offers gift cards that allow you to spend on the platform, and the deal is absolutely incredible. You can trade these gift cards with the Amazon trade-in program for anything valuable – whether it's stuff lying around in your basement or used items you find at a meager price at a garage sale or on eBay. It's an intelligent way to turn unused stuff into money in your pocket.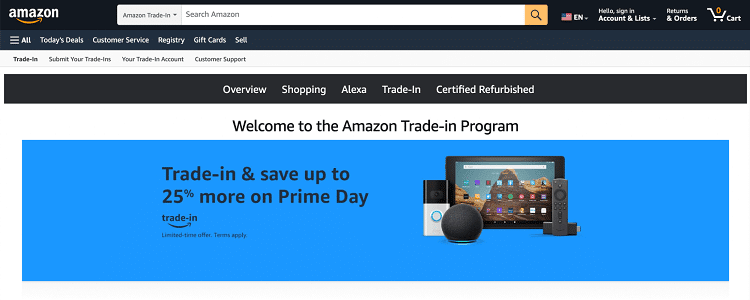 Since Amazon can be picky about the items they accept from sellers, you'll need time to figure out what hits the mark. We recommend you focus on product niches and products with fewer sellers as they tend to be in higher demand and less competition for you.
Join Amazon Services as a Service Provider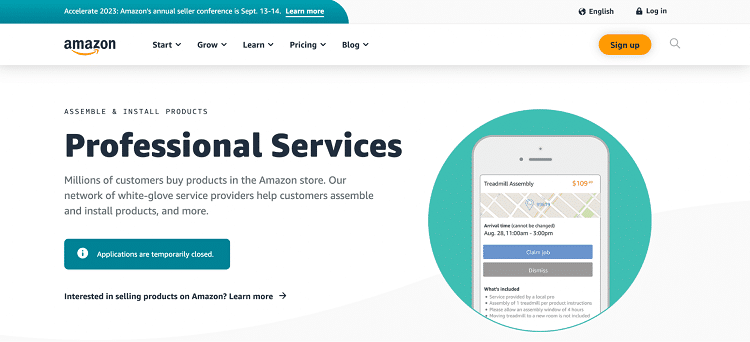 It may sound cliché, but it's safe to say that Amazon is not just your typical e-commerce platform, and they already broke this stereotype left and right by launching the Amazon Services program diving headfirst into the gig economy.
Amazon Services is a game-changer for entrepreneurs looking to offer their physical services online, whether you're a carpenter, a dog walker or a talented yoga teacher, this program will get you in touch with people who are ready to pay for your services and help you take your service-based business to a whole new level.
What you can make will ultimately depend on what you charge, plain and simple. If the client base is willing to pay the price you set, then it's all good news for you.
Earn through Microtasks with MTurk
If you're the type of person that likes doing small and enjoyable tasks like market research, survey data analysis, and video transcription, you name it. Then look no more than the Amazon Mechanical Turk program (MTurk) to earn some extra bucks.
Although the initial profitability may not be sky-high, it's still worth considering it as a side hustle, especially if you complete a good number of human intelligence tasks (HITS) each month. It may require patience to build up momentum and increase your earnings over time.
In order to get started, the first step is to create a worker account on MTurk. Your account will undergo a review process by Amazon, which usually takes a few working days. Once you get the green light, you're ready to roll! Bear in mind that the requestor always sets the final pricing for tasks. So, if you're up for it, give MTurk a shot and see how much you can make in your spare time!
Write Reviews with The Vine Program
Similarly to the Trade-in program, this program doesn't give you cash straight up. Instead, you'll receive gift cards thanking you for your time writing a review.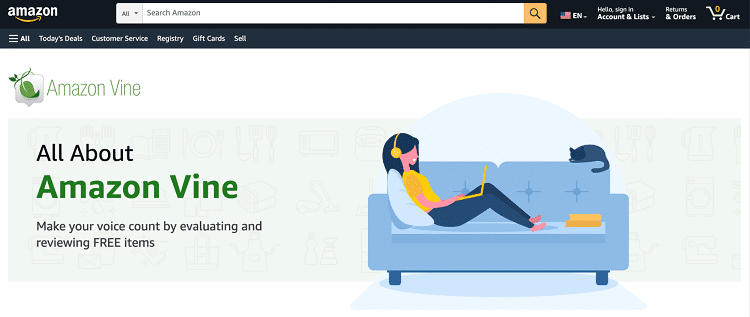 Amazon Vine is an invitation-only program that offers free Amazon goodies in exchange for user reviews. The best way to maximize your chances of joining the Amazon Vine community is by writing clear, unbiased, and helpful reviews on a regular basis.
Amazon tends to have a random selection process with Vine members, and you can't apply for it directly. So, it's more of a "wait and see" situation. Just keep writing insightful reviews, and who knows?
Get Hired for Remote Jobs at Amazon
Not every customer service associate is always stuck in a corporate office, and Amazon is no exception to that! So, if you think you have what it takes to provide top-notch customer service, you can perfectly do it remotely from your comfortable home.
It's true that remote opportunities at Amazon may not be all over the place, but there's still a good chance you can occasionally stumble upon some virtual jobs in their career section. So, whenever you come across a remote position corresponding to your skills and interests, don't hesitate to hit that apply button!
Your chances of landing a customer service representative position at Amazon are particularly high if you happen to speak multiple languages and have knowledge in areas like cloud technology and account management.
Over to you
There you have it! We can discuss the ways of "making money on Amazon" as many times as we want, but it's not going to do much for you if you don't take action. That's why just reading it isn't enough, so look no further, as all you need is in your hands now. The proof is in the pudding, as they say!
Regardless of the business you want to run as an entrepreneur, you'd be amazed at how achievable your financial goals can be with Amazon if you approach it in the right way.