As an author, you're always looking for ways to get your work out there and earn a living from your passion, and with Audible, you can earn money each time someone purchases your audiobook.
But making money on Audible isn't just for book authors.
Bloggers and influencers can also make money from Audible through advertisements on your website, podcast, and more.
In this short guide, we're going to cover everything you need to know to make money on Audible and share our favorite tips for maximizing your payouts.
What is Audible?
Audible sells and produces audio content such as books and podcasts.
It's a platform that book lovers and podcast listeners can visit to purchase new material to listen to in their free time.
What is Audiobook Creation Exchange (ACX)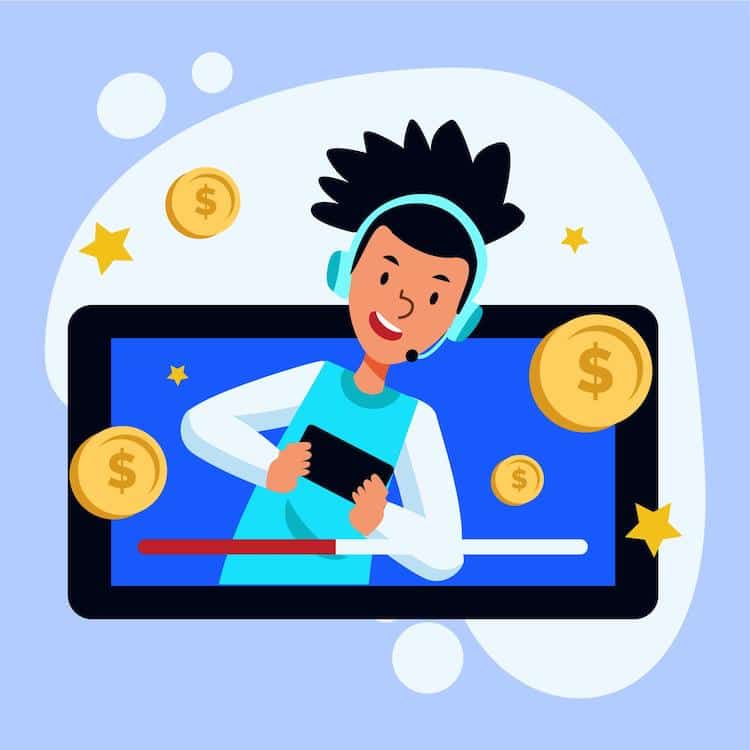 The Audiobook Creation Exchange is an Audible and Amazon company.
It's a place for authors and publishers to get in touch with narrators and producers to make a complete audiobook.
If you already have an audiobook, ACX is also a marketplace for you to sell your audiobook and reach a broader audience.
How to Make Money on Audible
Making money on Audible can be a great source of extra income if you already have, or are building, a target audience to market your books (or the Audible platform) to.
Let's go over some ways you can make money on Audible below.
Creating Audiobooks
The most obvious way of making money on Audible is by creating audiobooks.
This can be a good option if you're already an author or want to get your foot in the door as a professional writer.
That said, it's also the longest path to take, especially if you haven't written book yet.
The good news is that writing a book can be something simple, like a children's book or recipe book. You can even hire a ghostwriter to write the book for you and publish it as your own.
Regardless of whether you've already written a book or will write a book to publish on Audible, the next step is to get the book narrated. You can hire a narrator through ACX, privately, or narrate your book yourself.
When you publish your audiobook through ACX, you'll earn money whenever someone buys your audiobook through Audible, iTunes, or Amazon.
Affiliate Marketing on Audible
Affiliate marketing is for bloggers or influencers that have a steady, sizable audience to market products to.
If that sounds like you, then making money through affiliate marketing on Audible could be your best bet!
Affiliate marketing entails putting Audible ads on your website and advertising free trials and Audible subscriptions to your audience.
Follow the steps below to sign up for the affiliate program:
When a website visitor starts a 30-day free trial with Audible through your affiliate link, you'll get $5. If they get a paid subscription through your link, that pay out doubles to $10.
You can also get 50 cents each time a site visitor purchases an audiobook through your Audible affiliate link!
Selling Audiobook Narration Services
Selling your voice isn't for everyone, but if you have experience in acting or theater and have an engaging, clear voice, narrating books for Audible could be a promising source of income.
The good news is you can get started even if you've never written or narrated a book before. You just need access to a sound-dampened environment, a high-quality microphone, and recording software.
To get started as a narrator for Audible, you'll need to

sign up to ACX

.

Then, submit samples of your voice to your profile. This is a good time to display the range of your voice, including accents and pitch.

Once you're happy with your profile, visit the

ACX Titles Accepting Auditions

page to find available opportunities.

Submit your voice samples to the author(s) of your choice. Keep submitting samples until you land a project.
Narrators can choose to share royalties 50/50 with authors or be paid hourly, depending on their preferences.
Tips to Maximize Earnings on Audible
You've determined that you can make money on Audible. Great!
So how can you maximize the money you earn from Audible? Follow the tips below to get the most out of your audiobook venture.
Choosing a profitable niche to target the right audience
If you're an author, you'll want to write books that are in demand and target an audience that typically listens to audiobooks.
According to LanternAudio, "The age group that makes up 57% of frequent listeners is under 45 years old. It turns out that women ranging from ages 30 to 49 are the most popular listeners.
The most popular genres are Sci-Fi, Fantasy, Mystery, and Romance.
So, based on this info, you'll probably want to target a demographic of young to middle-aged women.
If you're an affiliate, you can market books that are the most likely to grab this demographic's attention, such as thrillers or love stories.
Partnering with brands and influencers for mutual promotion
For authors, partnering with brands and influencers is a great way to reach a broad audience and get your work out to the public.
For example, true crime podcasters and YouTubers may promote your thriller audiobook. Reach out to influencers in your niche to discuss potential opportunities.
Selling audiobooks exclusively through ACX for higher royalties
When you sell exclusively through ACX, you can earn up to 40% in royalties compared to just 25% when you choose a non-exclusive distribution option that sells audiobooks through Audible, Amazon, and iTunes.
FAQs
How To Make Money On Audible As A Narrator?
To make money on Audible as a narrator, you'll need to sign up to the Audible Creation Exchange, build your profile with voice samples, and submit your recordings to Titles Accepting Auditions.
How To Make Passive Income On Audible?
To make passive income on Audible, you'll need to have a website or blog that sees steady traffic. You can then join Amazon's affiliate program to place Audible ads on your site, earn money through affiliate links, and more.
How To Get Audible Affiliate Link?
To get an Audible affiliate link, you first need to sign up for the Amazon affiliate program. Then, visit the offers page to find Audible affiliate links and photos to put on your website.
Conclusion
You can make money on Audible as an author, blogger, or narrator – and it's easy to get started!
If you have a passion for audiobooks and put the time into creating engaging content for listeners, you could make a decent amount of supplemental income.