Spend time researching the gig economy online, and you'll find conflicting information.
In some places, they say it's on the decline, while some say it's booming.
If you want to know the truth behind this phenomenon, the following gig economy and freelance statistics and trends will open your eyes.
The gig economy is a term that people use to describe a specific labor market sector.
The jobs that giggers do tend to be more short-term rather than permanent.
All kinds of contingent work arrangements get grouped under the term including:
Consultants
Freelancers
Independent professionals and contractors
Temporary contract workers (temps)
Outsourced networks and teams
Moonlighters
Now you know what we're talking about, let's dive in with some gig economy stats that paint a picture of what work looks like today.
Key Gig Economy Stats and Trends 2023
More than two-thirds of full-time gig economy participants see gig work as more secure than traditional employment.
31.63% of freelancers say they have experienced a decrease in the demand for their services.
US gig workers bring $1.21 trillion in revenue into the economy.
Predictions are that the gross volume of the gig economy will reach $455.2 billion by 2023.
A 2021 survey revealed that 20% of people are considering becoming freelance workers.
Global Gig Economy Statistics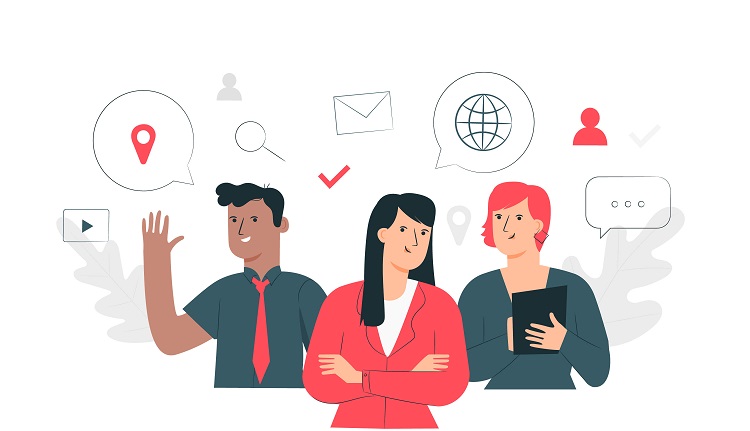 97% of people living in Mexico and India are open to joining the freelance economy.
In Australia, Italy, the UK, and Spain, 90-94% of people are open to gig work.
Up to 93 million working-age people across Europe and the US are part of the gig workforce.
The UK's gig economy, between 2016 and 2019, doubled in size, which equates to 4.7 million workers.
Between 2008 and 2015, the number of independent workers jumped 24% in the European Union, from 7.7 million to 9.6 million.
3% to 10% of workers in mature economies and more than 30% in some developing countries reported using gig platforms as a secondary income source.
Gig Economy Size Stats
According to the most recent and reliable data, in the US economy, there are more than 57 million gig workers, which equates to 36% of all US employees.
63% of the temporary workers in the US are women.
162 million European and American workers have tried freelancing.
In 6% of US companies, 85% of employees are gig workers.
By 2023, the gross volume of the gig economy could reach $455.2 billion.
A study in 2019 by Mastercard estimated that the global gig economy was generating $204 billion in gross volume.
A 2020 report from Intuit put the US contingent workforce at 25-30%.
Popular Sectors and Types of Gig Work Stats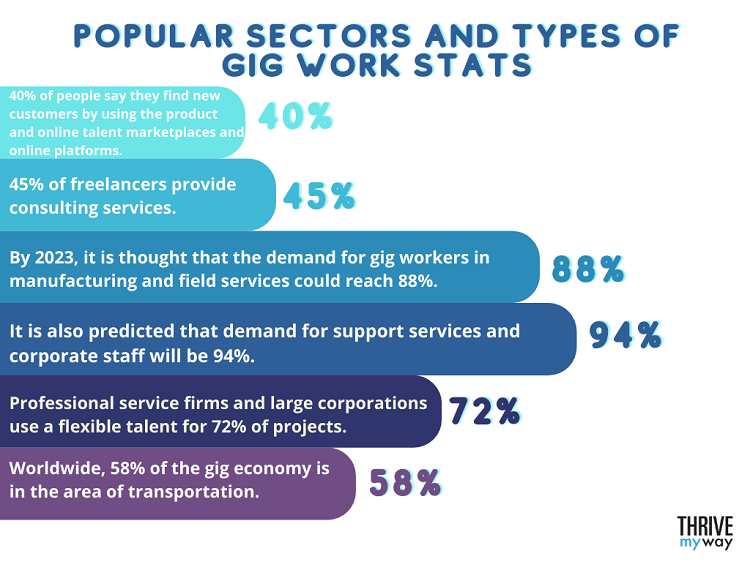 The highest-paid gig economy job in the US is a massage therapist ($27.84 per hour).
40% of people who became independent workers this year say they find new customers by using the product and online talent marketplaces and online platforms.
45% of freelancers provide consulting services.
Gig workers also find construction industry work very popular.
By 2023, it is thought that the demand for gig workers in manufacturing and field services could reach 88%.
It is also predicted that demand for support services and corporate staff will be 94%.
Professional service firms and large corporations use flexible talent for 72% of projects.
Worldwide, 58% of the gig economy is in the area of transportation. In addition, accounting, legal, finance, professional advisory services, and IT are also starting to see a rise in gig workers.
The gig economy has the second-highest number of work opportunities offered.
Gig Work During COVID Stats
Worldwide, 62% of gig economy workers have lost their job because of the coronavirus pandemic.
26% of global gig economy workers say their working hours have decreased.
27% of freelancers say that their level of work has stayed the same.
Since the coronavirus outbreak, the sector that has seen the most significant increase in its hourly rate (54%) is furniture removal.
Other industries that have seen a massive increase in hourly pay rates include warehouse labor (46%), handyman (42%), carpenter (13%), and security guard (14%).
Four-fifths of hiring managers have now used more web, mobile, and software development freelancers since the beginning of COVID.
12% of the workforce in the US started taking freelance jobs during the pandemic.
10% of the US freelance workforce had to put their endeavors on hold due to the global health crisis.
At the start of the COVID-19 pandemic, 52% of worldwide gig economy workers lost their jobs due to the economic downturn.
The number of part-time and full-time gig workers who have consumers as their primary customers decreased by 34% at the beginning of the global health crisis in 2020.
Compared to non-freelancers, people who work independently are better equipped to weather the current pandemic storm.
Gig Economy Labor Statistics
As of August 2021, the US had 24.57 million part-time employees.
The highest number of gig workers in the US is in Florida (22%), along with Texas and California.
The percentage of gig workers in New Jersey, Massachusetts, Pennsylvania, Ohio, New York, and Illinois is 16%.
57% of contract workers work more than 40 hours per week.
On average, gig workers earn 58% less than full-time traditional employees, and more than half have no access to employer-provided benefits.
The highest-paying freelance work is in the fields of Blockchain and AI.
According to the latest data, the largest employer of gig workers in the US is the government/public sector (14%).
In the United States, there are roughly 170 gig economy companies that only hire remote workers.
The largest US virtual companies are AnswerConnect, InVision, Automattic, and Toptal.
Workers' Opinions Stats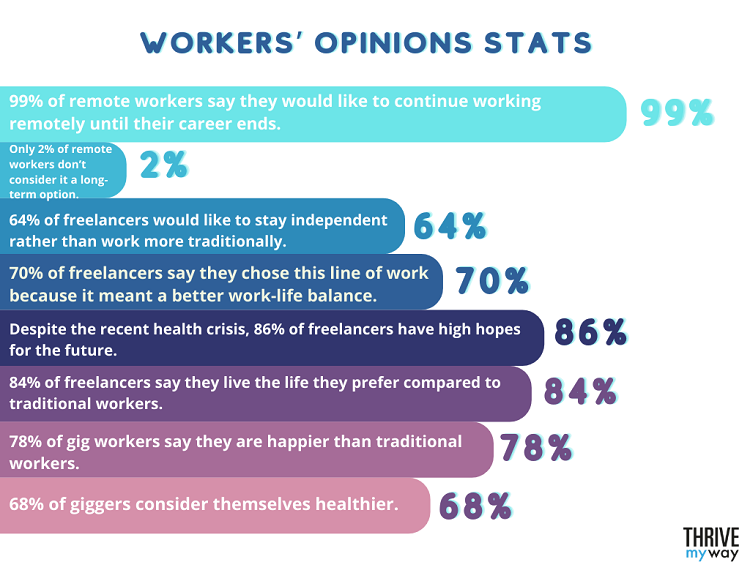 99% of remote workers say they would like to continue working remotely until their career ends.
Only 2% of remote workers don't consider it a long-term option.
64% of freelancers would like to stay independent rather than work more traditionally.
70% of freelancers say they chose this line of work because it meant a better work-life balance.
Despite the recent health crisis, 86% of freelancers have high hopes for the future.
With regard to their employment, freelancers consider job security and medical coverage key concerns.
More than half of freelancers say they would not go back to traditional work for any amount of money.
84% of freelancers say they live the life they prefer compared to just 54% of traditional workers.
78% of gig workers say they are happier than traditional workers.
68% of giggers consider themselves healthier.
One-sixth of traditional workers would like to become independent earners.
Two-thirds of full-time freelancers say they became independent so they could be their own boss.
Demographics of Gig Economy Workers Stats
63% of the part-time labor force in the US are female.
Two-thirds of gig customer service reps are multilingual.
72% of gig customer service workers are university graduates.
44% of millennials freelance.
Generation Z is the most interested in freelance work (50%).
Baby boomers are more skeptical of the gig economy, as less than one-quarter of them freelance.
41% of postgraduates freelance.
Millennials are helping expand independent work and account for one-third of all freelancers.
76% of all contingent workers are white.
Only 17.1% of contingent workers in the US are African Americans.
The percentage of contingent workers of Hispanic and Asian origin is 16.4% and 5.8%, respectively.
53% of full-time gig economy workers participate in political activities, compared with only 34% of full-time non-freelancers.
Job Security and Satisfaction in the Gig Economy Statistics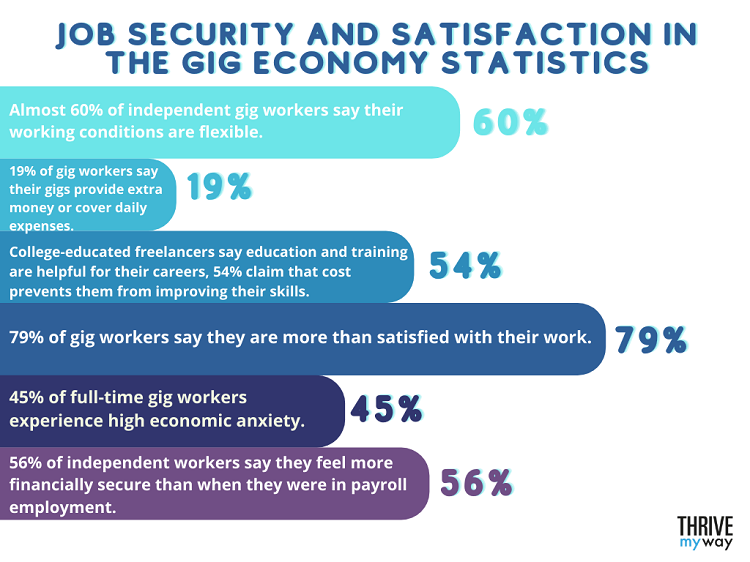 Almost 60% of independent gig workers say their working conditions are flexible.
The main reason people choose to look for gig economy work is to enjoy a better work-life balance.
1 in 6 workers in traditional jobs would like to work full-time on their own business venture.
More than half of gig workers also have a regular or full-time job.
19% of gig workers say their gigs provide extra money or cover daily expenses.
While 50% of college-educated freelancers say education and training are helpful for their careers, 54% claim that cost prevents them from improving their skills.
79% of gig workers say they are more than satisfied with their work.
45% of full-time gig workers experience high economic anxiety.
56% of independent workers say they feel more financially secure than when they were in payroll employment.
Gig Workers' Financials Stats
If you want to be a New York app-based delivery driver, you can expect to earn $7.87 per hour without tips.
In New York City, almost half of a courier's earnings come from tips.
27% of gig economy workers with a gig job as their primary source of income have no retirement savings.
Only 12% of respondents with a full-time job and a side gig have retirement savings.
The tax rate for independent contractors stands at 15.3%, 2.9% for Medicare, and 12.4% for social security.
Around 40% of US workers generate 40% of their income by freelancing.
The mean freelance hourly rate ranges from $10 to $29 worldwide.
Freelancers are not protected by minimum wage and are free to set their own prices for their work.
The Gig Economy and Tech Stats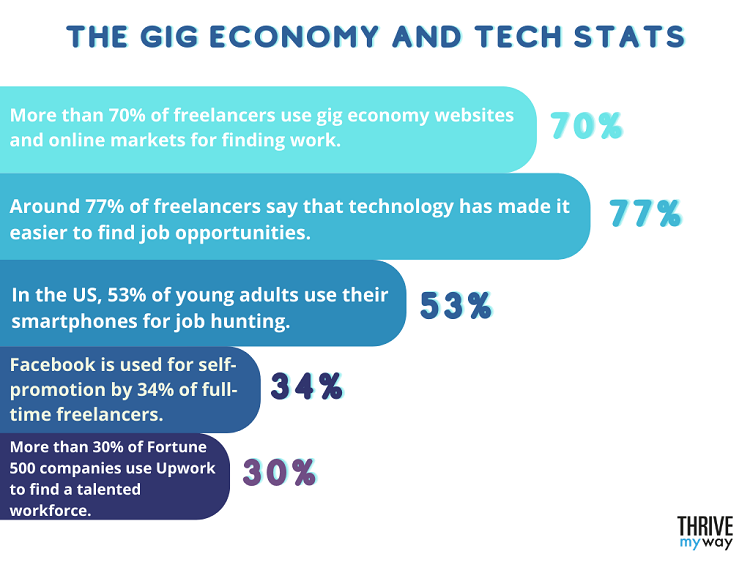 In the latest report from Upwork, two-thirds of hiring managers say they will be increasing their use of tech freelancers over the next year.
More than 70% of freelancers use gig economy websites and online markets to find work.
The biggest freelance work websites include Upwork (15 million users), Fiverr, and Toptal.
Around 77% of freelancers say that technology has made it easier to find job opportunities.
In the US, 53% of young adults use their smartphones for job hunting.
Facebook is used for self-promotion by 34% of full-time freelancers.
More than 30% of Fortune 500 companies use Upwork to find their talented independent workforce.
Current Gig Economy Trends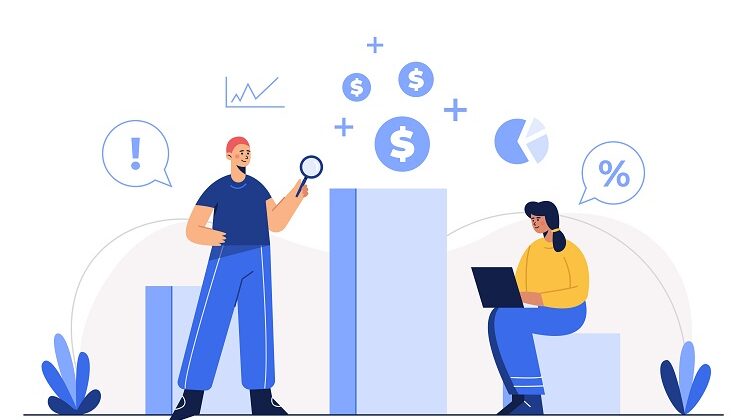 In the US, 36% of workers participate in the gig economy through their primary or secondary jobs.
The type of gigs people take on vary considerably, from graphic design and freelance writing to making Instacart deliveries and driving for Uber.
For 44% of gig workers, their primary source of employment is in the gig economy.
Gig economy apps and platforms such as Upwork and Fiverr aren't as popular in mature economies such as the US.
80% of remote workers usually work from their homes, 9% work from a company office, 7% from a co-working space, 3% from coffee shops, and 0.5% from libraries.
The gig economy is expanding three times quicker than the US workforce.
Future of the Gig Economy Stats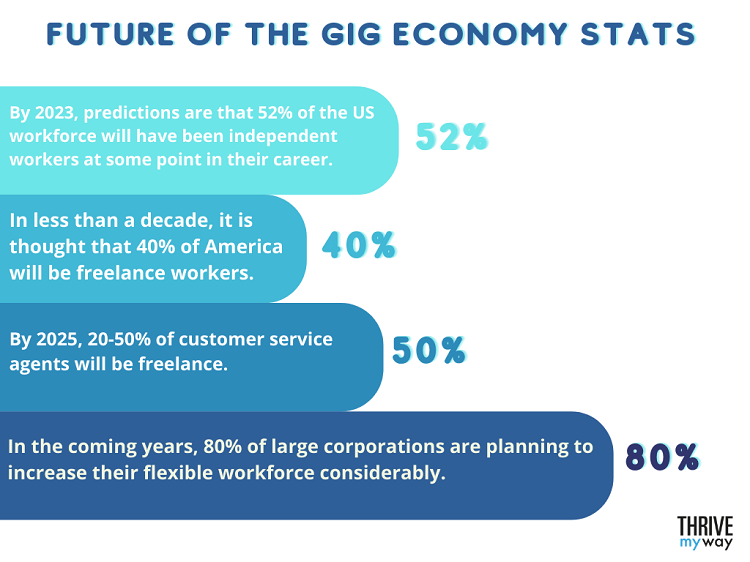 By 2023, predictions are that 52% of the US workforce will have been independent workers at some point in their careers.
By 2027, estimates put the number of freelancers at 86.5 million.
In less than a decade, it is thought that 40% of America will be freelance workers.
By 2025, 20-50% of customer service agents will be freelance.
The freelance platform market could reach $9,192.9 million by 2026.
By the end of 2023, Uber will surpass $35 billion in US ride-sharing sales.
In the coming years, 80% of large corporations are planning to increase their flexible workforce considerably.
You might be interested to check those related posts as well:
Conclusion
We might think the gig economy is something new, but it's been around since the early 1900s.
Jazz musicians conceptualized the term, and gig-type work was promoted to fill workforce gaps during World War II.
Since then, the gig workforce has been growing exponentially, and it doesn't appear to be slowing down anytime soon.
If you were considering becoming part of the gig economy, the statistics we've shared might just convince you that it's worth taking the plunge.
We gathered the data and information from many different sources, including the following:
Gigs Done Right
What to Become
SmallBizGenius
Zety
Fortunly
FinancesOnline