One thing we've all learned during the COVID-19 pandemic is this: working from home is actually quite doable.
With the right setup at home that includes a good computer and other equipment, you can get a lot done over the course of a day without leaving the house.
And in fact, that also means for many of us, we can even give freelancing a try.
The idea of freelancing and hiring freelancers couldn't be more desirable in this day and age, even after the world has recovered from this current health crisis.
Why?
Because some people aim for a nomad lifestyle and want to travel as much as they can, a nine-to-five job at an office doesn't suit.
Others, meanwhile, are extremely busy running a business that they don't have time for lower-priority tasks like accounting, email outreach, and appointment setting.
But thanks to the availability of freelancers and freelance roles, everything can be much more flexible for all of us.
If you're on the hunt for the best place to get started on your freelance career, or if you're keen on discovering the perfect remote worker for a certain area of your business, keep on reading.
This article lists 25 of the best freelance websites for a variety of professionals with all kinds of skills.
What Are the Main Benefits of Choosing the Right Freelance Website?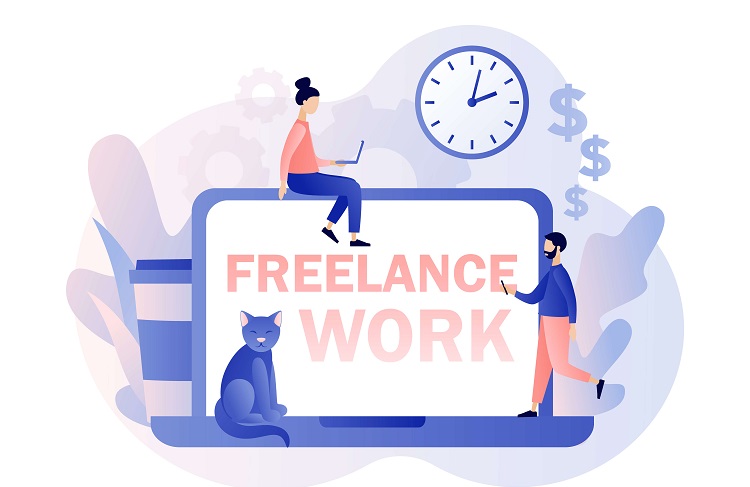 It's easy to join––most of the time, it only takes a few minutes to register on the platform and complete your profile.
The right freelance website regularly puts up postings on the job board, so you don't have to find clients by yourself.
A good website has strict policies in place that protect both freelancers and clients from potential scams, especially through a secure payment system and communication platform (or chat tool) that helps prevent suspicious messages.
Certain freelance websites offer valuable features for freelancers, such as a time-tracking desktop application or work diary that helps you determine how much time you've worked, the total number of words you've written, etc.
As a freelancer, you can use the ideal freelance site to find projects you really want to work on and to accept or reject any assignment after reading the client's description.
Best Freelance Job Listing Websites 2023
Are you unsure of where to find the ideal freelance job website?
Start by checking the list of sites below, as these are recommended for anyone who's either trying to get into freelancing or has given freelancing a try but not very successfully.
These platforms are well-established, having existed long enough to attract both talented freelancers and respectable clients.
Fiverr – Most Popular Freelancing Site
Website access fee: Free
How prominent is Fiverr? For one, the website advertises that it's been used by more than "11 million satisfied businesses" for freelance work.
Next, having a stellar roster of big-name clients which include Google, Netflix, and Facebook really does speak for itself.
Suffice it to say that the opportunities on Fiverr are limitless, as freelancers can take on one-off or ongoing projects that fall under one of 200 different categories.
Pros
Membership at Fiverr is free, and freelancers are able to access 24/7 customer support.
And given its long-standing reputation, there's a lot of potential to land a gig with well-known clients, whose projects you get to be involved in will surely make your resume even more impressive.
Cons
It must be mentioned that Fiverr charges relatively high fees for each project, specifically 20% off every transaction.
The guarantee of being paid once you've accepted a project is also an issue, as buyers are allowed to cancel projects a little further down the track.
And finally, not everybody associates Fiverr with high-quality work. But that's not a concern if the work you put out is legitimately good.
Building a portfolio, especially when starting out in your freelance career, shouldn't be limited by negative opinions of where you've taken on jobs.
Upwork – Largest Freelance Platform
Website access fee: Free (Basic), $49.99/month (Plus)
As the most sizable freelance platform with over three million job posts published annually, Upwork is the best general freelance jobs website.
It's the perfect place to start building a portfolio and seek out all kinds of freelance work. Job seekers could be graphic design students, part-time editors, freelance web developers, or even former tax accountants.
Almost every day, Upwork's job board displays projects that potentially suit your skills and experience.
Pros
You're free to pursue all types of freelance work and choose from fixed rates to one-off projects to short-term or long-term contracts.
There is payment protection also in place, which prevents clients from trying to get you to submit work for free.
Cons
Given the size of Upwork's market, it can take a while to build your reputation and have your profile show a string of previously completed projects and satisfied clients.
Also, Upwork has a substantial service fee for payouts, with the highest being 20% off profits under 500 USD.
Thumbtack – Best Freelance Website With Low Competition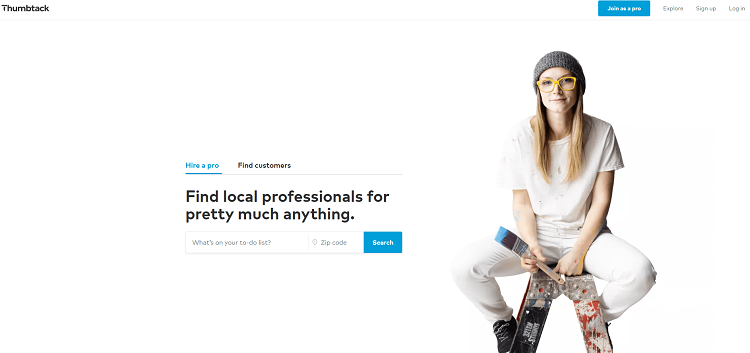 Website access fee: Free
Thumbtack enables instant connections between freelancers and clients. They do things slightly differently by placing focus on local communities and the small business owner segment.
Don't be surprised by the breadth of available jobs on Thumbtack, as they can be anything from a graphic design role to mowing someone else's lawn every weekend.
Pros
Thumbtack's website and mobile app are intuitive, easy to use, and also free. In your searches, you'll be able to set certain preferences so that the right clients find their way to you.
Refunds and protection policies are also in place when it turns out a potential job ends up not being a good fit.
Cons
One notable drawback to using Thumbtack is the fees you pay for client leads. Pricing starts at 1.50 USD per lead and may increase depending on a number of factors like competition.
Freelancer.com – Best General Freelance Jobs Website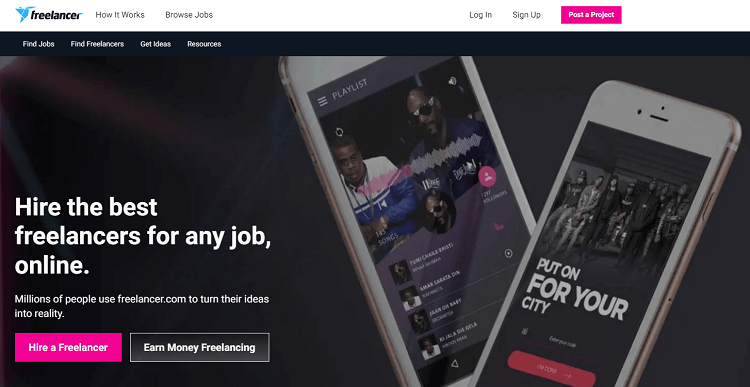 Website access fee: Free
Here's another popular global platform for freelancing.
Clients at Freelancer.com hire for specific projects, selecting from a pool of 50 million freelancers who have as many as 1,800 different skills. For freelancers here, you either go with the free plan or the Preferred Freelancer Program, which grants you reduced fees and priority access to job listings.
Those under the Preferred program are reported to earn about 1,000 USD more in just six months compared to the average freelancer.
Pros
Clients are never in scarce supply at Freelancer.com.
The site has a clean and user-friendly interface, and those who might need to travel for a bit will enjoy the fact there is a mobile app that is just as easy to use.
Video and audio calls are also a feature of their platform, and you can easily contact a staff person via live chat for support.
Cons
Bidding is the name of the game here, unfortunately. It's also worth noting that Freelancer.com takes a 10% fee for projects or contests and 20% off services.
Moreover, commissions are actually charged without the completion of a project you have accepted.
Toptal – Highest-Paid Freelance Website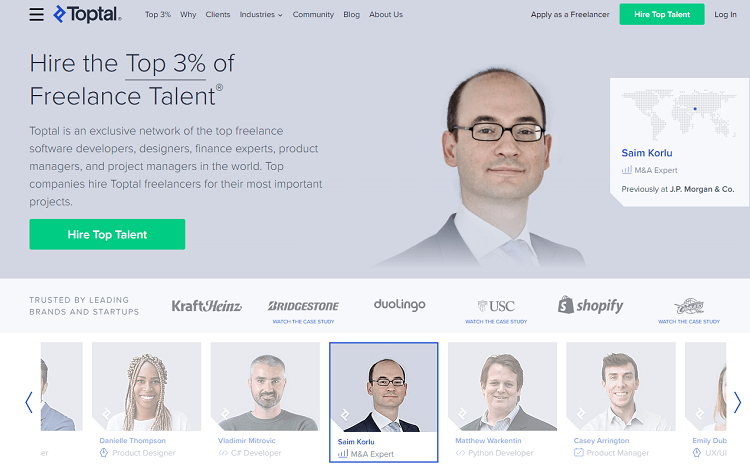 Website access fee: Free
At Toptal, exclusivity is the key ingredient. Their freelancing platform has given itself quite a reputation by only hiring 3% of all freelance talent.
Employers using Toptal are connected with very specific freelance professionals such as experts in finance, product managers, web designers, software developers, etc.
Bridgestone and Airbnb have been among many of Toptal's top clients.
Pros
Toptal is available in over 150 countries and serves 16,000 clients. You'll enjoy the fact that you can take on projects without paying a project fee, and there is considerable flexibility in freelancer pricing.
Cons
Exclusivity is a double-edged sword, especially since you've got to put your best foot forward when you submit your application and hope to be approved.
Also, there aren't any open job searches at Toptal. Opportunities are recruiter-dependent.
Guru – Most Trustworthy Freelance Website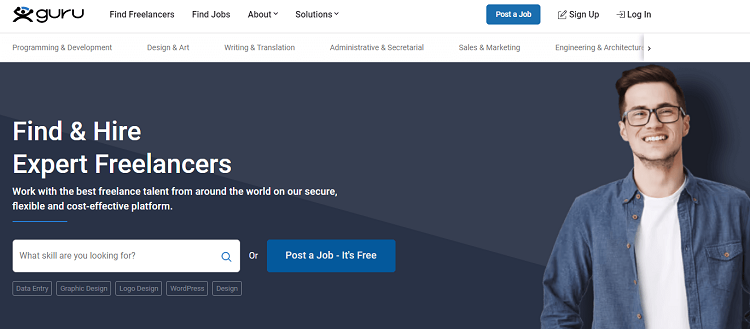 Website access fee: Free (Free Tier), $35/month (Personal Basic), $47/month (Personal Plus)
Guru's freelance marketplace boasts as many as 800,000 clients worldwide. And what's even more impressive is their near-perfect customer satisfaction rate – 99%.
You're definitely most welcome to sign up for Guru whether you're a writer, designer, video editor, expert in web design, or any other creative professional.
If you opt to become a paid member, the best part is you can actually jump queues in grabbing clients' attention by boosting your ranking.
Pros
Guru is great for highly skilled pros and competent beginners alike. Details of clients and employers are always visible.
And furthermore, another unique benefit of the Guru platform is you can use it to collaborate and add members to your freelancing team using a progress-tracking application.
Cons
Although Guru's free membership allows you to send out a maximum of ten bids a month, note that free members are not allowed to contact a potential client to discuss a job ahead of time.
This won't be a problem if you're a paid member, but you'll have to pay 11.95 USD every month for this.
Lano – Global hiring platform
If you are interested in a flexible hiring solution that provides the highest compliance standards and quality service, there is no need to look beyond a german-found global hiring platform Lano.
Backed up by a global network of employment law, tax and payroll experts, Lano is one of the fastest growing European Employer of Record providers in the market.
Key Features
Employer of Record
International Payroll
International payments
Contractor Management
Why choose Lano
Global customer support: 24/7 in multiple languages (EN, DE, FR, ES, PL)
Dual focus: In addition to our business services, Lano offers free features for employees (payslips, document management, …) and contractors (invoicing app, timesheets)
Strong expertise in European compliance (GDPR, employment law etc.)
All employment types: remote employees, contractors and freelancers
SimplyHired – Best Freelance Website For Professionals

Website access fee: Free
SimplyHired is a freelancing marketplace where clients can publish a job opportunity free of charge. It's built to congregate into a single platform countless job offers from all over the web.
It's known for displaying a wide variety of freelance opportunities in the creative fields as well as in marketing, accounting, and finance.
Pros
Searching for a specific job is easy. Fill in the search box with relevant keywords and then narrow it down by entering your state, city, or ZIP code.
Applicants can use SimplyHired to access the profile of a company or client for additional information such as a salary overview, employee reviews, and what benefits they offer. You can also use the site to set up regular email alerts for new jobs.
Cons
SimplyHired generally isn't the place for beginners or fresh graduates.
Also, the website, unfortunately, does have some issues with spam coming from unreliable third-party sites, although they're not that hard to detect and avoid clicking on.
People Per Hour – Best Freelance Startup Jobs Website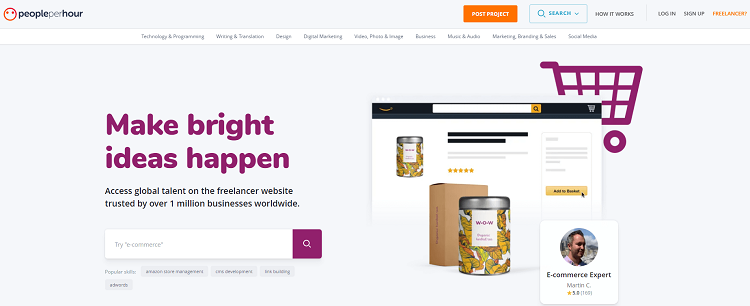 Website access fee: Free
A UK-based freelancing platform, PeoplePerHour to date has connected over 1 million freelancers and clients, notably startups, on both project-based and hourly work around the world.
You must go through an application process and undergo approval by the site's moderators before you can join as a freelancer.
Once you've been approved, it's all about developing your profile, doing your searches for existing opportunities, and creating custom packages to represent the kind of services you offer.
Pros
You'll find People Per Hour's website to be extremely user-friendly and a great place to collaborate with others.
Another big plus is that automatic invoicing is a feature on the platform.
Cons
There is a cut of about 20% for site fees, even though this percentage does slide down the higher the overall cost of a project is.
Behance – Best Freelance Design Jobs Website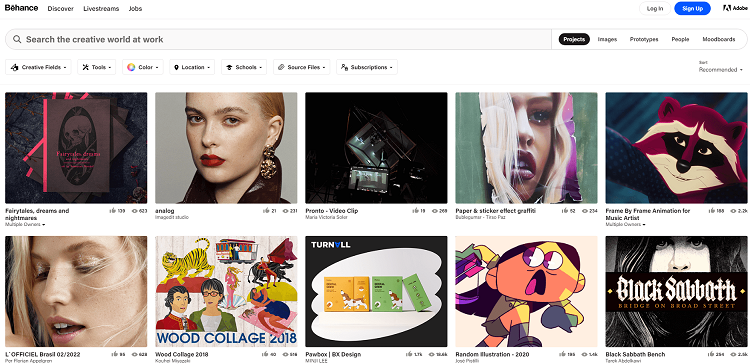 Website access fee: Free
A creative-focused platform that is owned by Adobe, Behance prides itself in having a robust job board for professionals who are skilled in design, illustration, photography, and more.
Over there, you can present your portfolio of works to their 10+ million members, as well as browse hundreds of available jobs that can be filtered by a specific creative category or location (if not remote).
Pros
Behance is free to use as often as you want.
And what also might be beneficial to you is the social nature of the platform, given the way designers and creatives can easily share their works and allow communication between users even outside of a confirmed job.
Connections made here can lead to exciting opportunities later on.
Cons
Note that Behance is a highly competitive platform for a budding graphic designer, particularly one who's just joined it.
Another downside some freelancers have experienced issues with image loading and compressing from time to time.
99designs – Best Freelance Graphics Job Website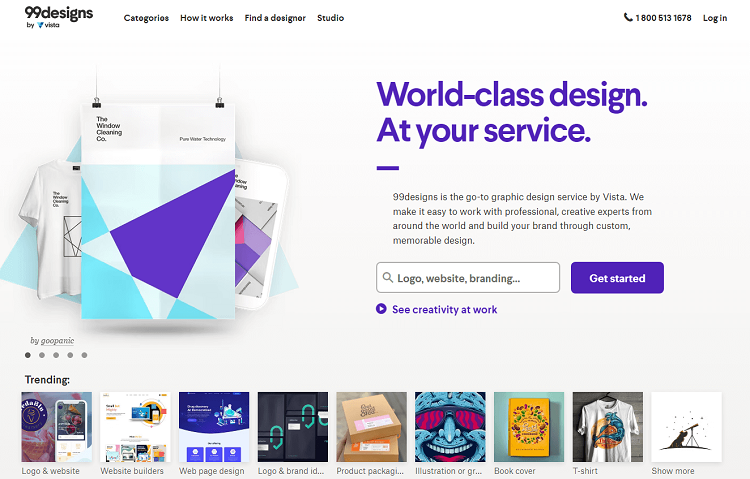 Website access fee: Free
99designs is a well-known graphic design platform connecting freelancers with clients, both local and international, in 90+ different design categories.
To get freelance work here, you have two options to choose from.
First, you can work on one-to-one projects with clients and receive payment upfront, or alternatively, join design contests alongside many other freelancers to win new clients and earn money as prizes.
Pros
The pricing structure at 99designs is designed to discourage lowball offers. Additionally, the platform encourages long-term connections between fellow freelancers and designers.
Whether you took part in a contest or worked on an exclusive project, it's easy to maintain a relationship and continue working with the client on the site.
Cons
Keep in mind the fees, though—there's a $100 introduction fee that's spread out over the client's first $500 charges, as well as sliding platform fees based on your "designer level," which start at 15%.
Solidgigs – Best Paying Website For Freelance Writers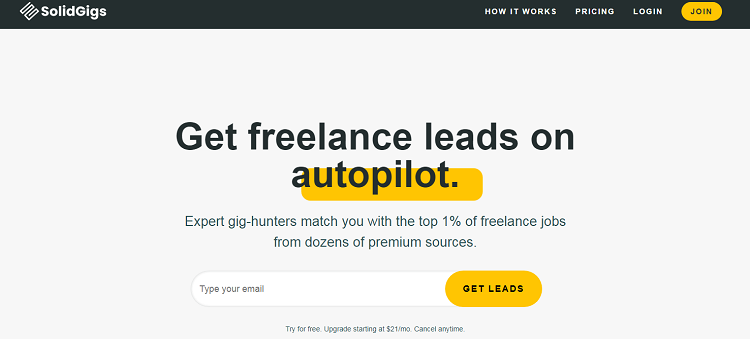 Website access fee: $19/month
What Solidgigs does is select only the best 1% of viable opportunities for freelancers, which are subsequently delivered straight to their inboxes.
There's no need to lift a finger in seeking out your next opportunity, as the options will directly come to you instead.
If saving time matters a great deal to you, consider subscribing to Solidgigs.
Pros
Opportunities are hand-picked, always of the highest quality, and based on your preferences. You can view it straight from your inbox.
Solidgigs also provides comprehensive training to freelancers, particularly with regard to how to make successful pitches and set reasonable rates.
Cons
There is a subscription fee to make use of their freelance service.
Flexjobs – Best Freelance Copywriter Website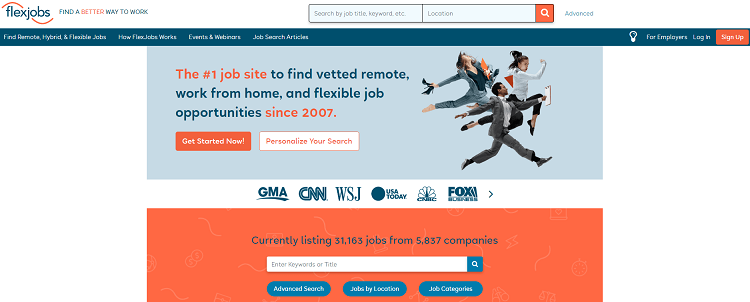 Website access fee: Free (Basic), $14.95/month (Upgrade)
With more than 30,000 jobs available in over 50 different categories, it's hard to argue that Flexjob is anything but a well-established platform for freelancers.
Note that they've got a highly personalized, advanced search tool that helps you come across the perfect opportunities based on your preferences in minutes, instead of having to scroll endlessly through irrelevant postings.
Pros
Legitimacy is guaranteed. Flexjobs diligently hand-screens every single job and potential client to maintain a trustworthy environment for hardworking freelancers.
This, in effect, allows their platform to avoid being as saturated as their rival websites, especially sites for freelance writers.
Cons
Bear in mind that not all postings relate to a remote job (this is a common problem with other freelance writer sites), and those that aren't may not always have it clearly stated in the description.
Furthermore, applicants must pay for a subscription plan that starts at 14.95 USD monthly or 6.95 USD for one week.
Should you be unsatisfied with the platform within the first 30 days, Flexjobs does offer a money-back guarantee.
DesignCrowd – Best Freelance Website For Beginners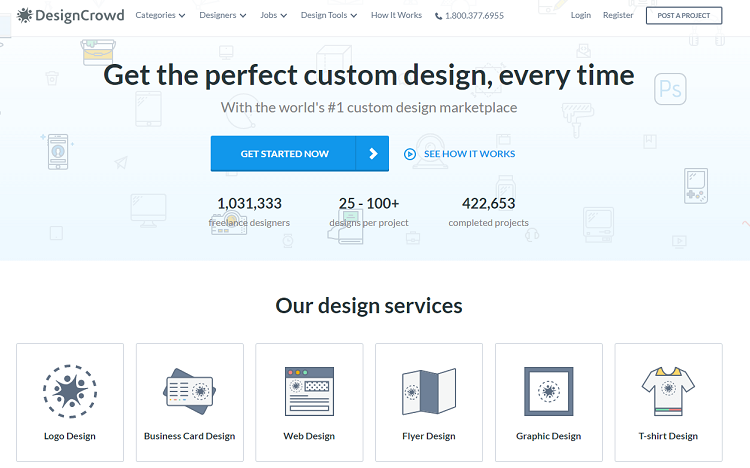 Website access fee: Free
Just like 99designs, DesignCrowd is an online marketplace offering one-on-one creative/design projects as well as crowdsourced design contests.
But how exactly does this one differ from 99designs?
Essentially, DesignCrowd is more contest-focused and even offers participation payments to freelancers joining their contests.
A freelance designer from any part of the world can join and submit samples of their design works based on a given client's brief, and the client themselves will pick the winning entry.
Pros
Along with the perks of contest participation payments, the main benefit is that both beginners and those who lack an extensive design portfolio can use this freelance site to improve their skills and start building their portfolios. Signing up is also free and easy to do.
Cons
As it caters more to beginners, expect lower rates for freelancing at DesignCrowd. Moreover, a 15% cut is taken out of all your earnings.
Aquent – Best Freelance Website To Earn Money

Website access fee: Free
Maybe you'd rather have somebody else in charge of finding you clients that you'll love to work for. If so, then Aquent is surely a great option.
Aquent is a recruitment and staffing agency that utilizes AI to auto-match freelancers with clients who need help in writing, tech, or creative tasks.
Pros
With auto-matching at Aquent, you'll take a lot of comfort from the fact that jobs will be filtered by factors you've set up like your rate, location, available days and hours, and other preferences.
That way, you're more likely to be notified of the most suitable gigs for you.
Cons
While you can also search the job board on your own for a job listing that may be of interest, the Aquent site isn't the easiest platform to navigate.
There also is a lack of opportunity to negotiate rates with clients.
College Recruiter – Best Freelance Website For Students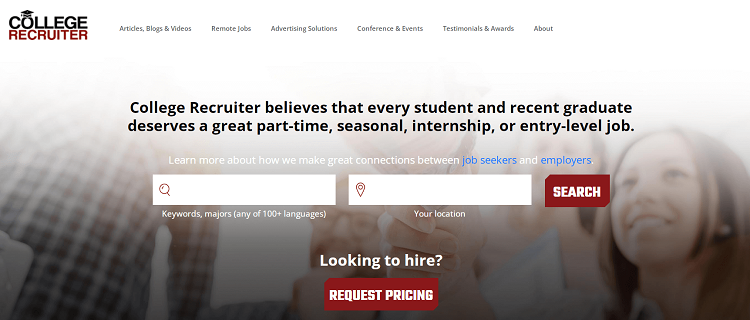 ​​Website access fee: Free
As the name indicates, College Recruiter is an online marketplace for college students and fresh graduates looking to get into freelancing.
Not only does it serve as a great source of part-time work, but also internships and entry-level opportunities.
For college students hoping to have an edge over their peers from the second they finish school, this is the place to do just that.
Pros
College Recruiter has a total of 250,000+ jobs available on average at any point, and it's reputed for freelancers having a high success rate in landing jobs.
The search platform is also easy and intuitive, allowing you to sort jobs available by remote/in-office work and by country, state, or city.
Cons
As useful as the search feature is, there isn't a way to filter results according to salary amount or date of posting. That can make it time-consuming to find the ideal freelance opportunity.
We Work Remotely – Best Freelance Outsourcing Website
Website access fee: Free
Claiming to be the largest remote work marketplace in the globe, We Work Remotely is a website that focuses mainly on remote jobs related to programming.
However, they do have a section for contract jobs that freelancers can browse and from time to time, they'll come across opportunities with leading companies such as Amazon or Google.
Pros
It's free to access and browse. Furthermore, their advanced search feature is quite extensive compared to that of other job boards.
The site also has a learning portal with coaching videos and guides.
Cons
We Work Remotely is not a freelancing platform – just an online job marketplace. That means you cannot be hired and coordinate your payments through them.
Be mindful also that not all job categories on the site are updated with new jobs as often as others.
Freelance Writing – Best Freelance Writing Jobs Website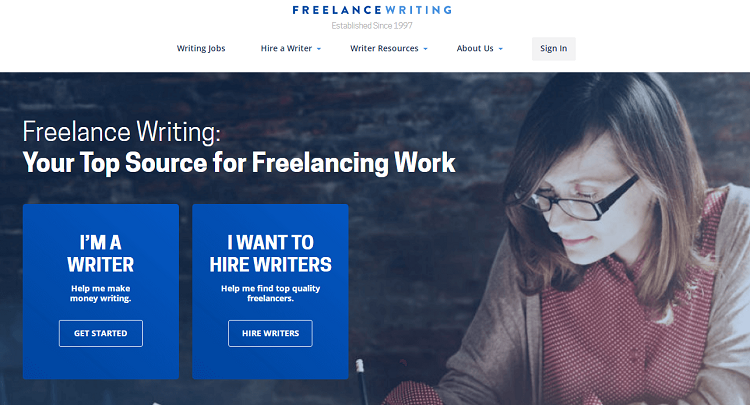 Website access fee: Free
Freelance Writing is different from most other platforms, as it provides real-time access to freelance writing gigs based on information fetched from all corners of the web.
Hence, it's perfect for freelancers hoping to save time while seeking out new opportunities.
Pros
It's absolutely free to use at any time of the day, and you're not required to register and set up an account. As it pulls information from other job boards, it speeds up your job hunting process.
Cons
It is strictly just a job board, which means you're in charge of reaching out, applying, getting hired, and coordinating payments once you've done the work.
Therefore, this platform doesn't provide the same degree of security that a freelancing marketplace does.
ServiceScape – Best Freelance Editor Website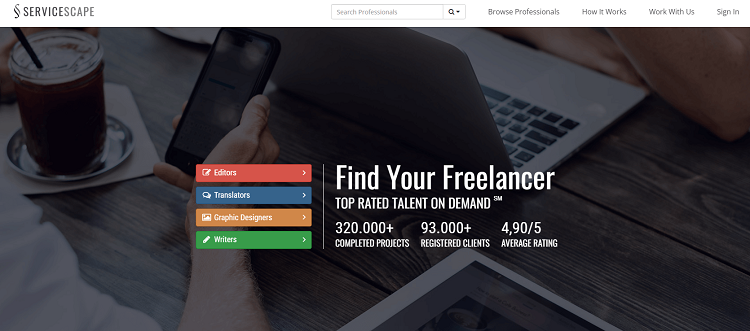 Website access fee: Free
ServiceScape is a platform for specialists in essay and academic writing, document translation, manuscript editing, translation, and other editorial work.
Those who do freelancing on this platform will be able to connect easily with clients through private messaging or conference calling.
One thing that sets apart ServiceScape from others is the hiring process.
Rather than having applicants send a proposal or outbid each other, they simply wait for interested clients to contact them for freelance work opportunities.
Pros
Communication with clients is hardly an issue at ServiceScape. Also, you'll enjoy their custom pricing structure, either project-based or hourly, with income being distributed monthly via check, Gusto, or PayPal.
Choose whichever method works best for you.
Cons
Given that it's the clients who will find freelancers they might want to work with, it's your job to build a profile in a way that highlights all your skills and expertise better than the rest.
Additionally, note that the commission fee at ServiceScape is a whopping 50% per finished work.
Working Not Working – Best Freelance Design And Developer Jobs Website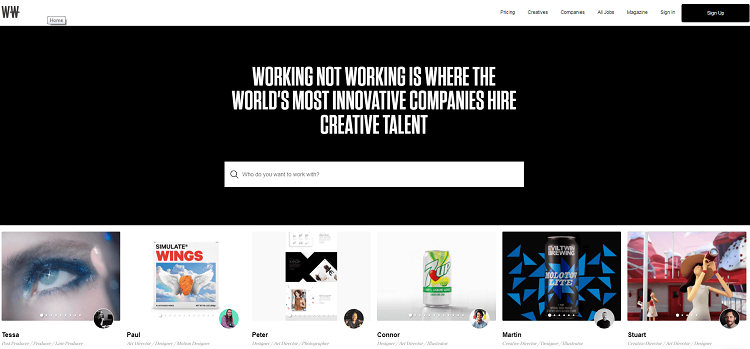 Website access fee: Free
This is one freelancing job board that isn't your typical platform.
On most freelance job boards, you typically get to see the role, further details on the work required, and the amount for completing it. However, Working Not Working goes above and beyond that.
Working Not Working believes that freelancers already have an idea of what to do when they come across a certain job posting, so it's not that important laying out blocks of text describing the job but include links to the client's website and/or social media profiles.
That way, the job seeker is more inclined to believe that they're not potentially applying to scammers.
Pros
Clients are probably some of the best you'll find in the creative industries, including Facebook, Apple, and Google.
You'll find that there is a wide range of projects for art directors, animators, architects, copywriters, editors, developers, UX/type/set designers, photographers, and many more.
And here's the best part: no percentage of payments are taken as fees for using the platform.
You can apply for all sorts of jobs once you've completed your Working Not Working profile.
Cons
Since Working Not Working attracts cream-of-the-crop talent and clients, you can expect applications to be pretty competitive.
It's definitely not the place to start for someone new to the workforce, a less experienced freelancer, or a less qualified freelancer.
CrowdSource – Unpopular But Good Freelancing Website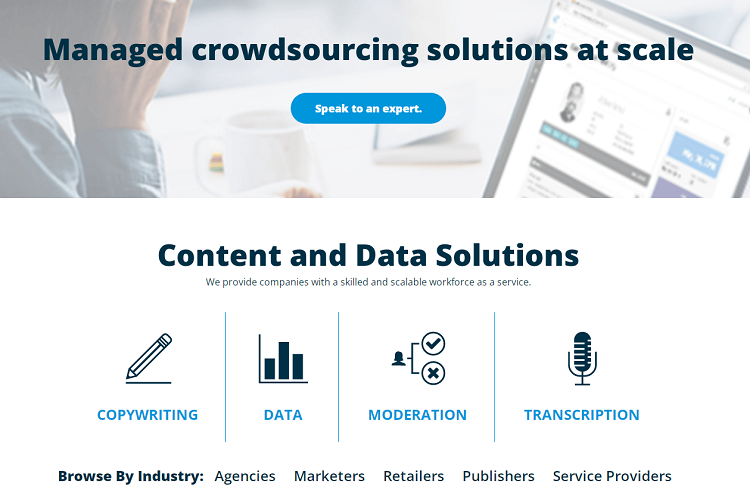 Website access fee: Free
When you apply to become a freelance writer for CrowdSource, you'll be made to select one of two different 'paths':
Writing for money
Doing paid micro-jobs
Each path comes with its own assessment process, but you're free to sign up and undergo both if you want.
Pros
There is a variety of freelance work available that suits all skill levels. Payments are sent through PayPal also.
Cons
It must be considered that CrowdSource is a bid-based platform, and new freelancers there may have to make lower bids early on before they can rank high enough to be able to stand out to better clients.
Konker – Best SEO Jobs Website
Website access fee: Free
Konker's platform is primarily for work related to Search Engine Optimization (SEO).
Jobs you can apply for include writing content with specific formats, keyword research, creating backlinks, site modification, etc.
Online and offline job opportunities are both available.
Pros
If you're a digital marketer, an SEO enthusiast, or someone skilled at website and backend development, you can register at Konker at no cost and potentially encounter lots of interesting projects.
Konker also offers comparatively great margins for earning.
Cons
The Konker interface is not exactly as user-friendly as other freelancing platforms, even though this may be more of an issue for those without a background in SEO or much experience with website terms and tech jargon.
Codeable – Best Freelance Developer Jobs Website
Website access fee: Free
For those who are experienced WordPress freelance developers, you'll be drawn to Codeable.
Not only are they looking for a specific skill set here, but Codeable's model bypasses the "race to the bottom" problem that other freelancing platforms are often burdened by.
There's a special algorithm involved that throws out the undercut and overpriced estimates, which results in a single price estimate shown to clients despite the number of applicants.
Pros
If you freelance at Codeable, you're guaranteed a minimum hourly rate within the range of 70-120 USD.
You also get to network with a hand-picked community of knowledgeable and highly competent individuals.
Cons
It must be mentioned that Codeable does impose 10% fees for each completed assignment, although that's certainly less than other freelancing sites.
However, note that applicants go through a long vetting process and for those newly accepted, you must go through a 45-trial period as well.
ProductionHUB – Best Freelance Website For Video Editors

Website access fee: Free
If you've got valid experience in filmmaking and video production, this is definitely the site for you.
ProductionHUB makes it a smooth process for both film industry freelancers and hirers alike to connect and collaborate.
Pros
It's especially abundant in work that suits professional, highly skilled video editors.
And beyond that, there are also clients eventually looking to hire people for ongoing part-time or full-time roles, and ProductionHUB serves as the perfect platform for filmmakers and editors to make great first impressions with one-off assignments.
Cons
You first need to create a profile in order to respond to or place a bid on projects.
And, like all other sites where bidding is involved, you may be forced to settle with rates that are less than ideal for you.
Fancy Hands – Best Virtual Assistant Jobs Website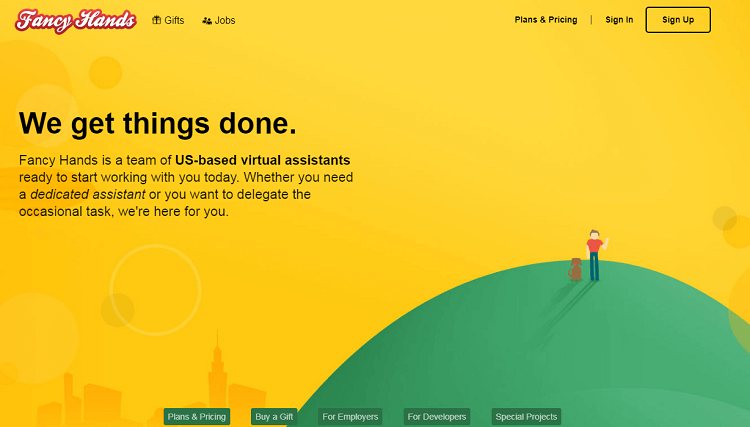 Website access fee: Free
The art of multitasking on a daily basis isn't feasible for everyone.
That's where a website like Fancy Hands comes into play, as plenty of busybodies go there to offer paid tasks that a virtual assistant is accustomed to like making calls, setting appointments, and doing research. By clients off-loading straightforward tasks, they're able to focus on what's most important.
Pros
There is always freelance work available at Fancy Hands. And, unlike similar platforms for this kind of work, Fancy Hands always pays its freelancers in cash for each completed assignment, and you're free to work whenever you want.
You set your schedule and availability.
Cons
Fancy Hands does issue payments only through DWOLLA, which isn't the most popular payment service (especially versus PayPal).
Moreover, it's exclusive only for those who live in the US, which might surely be a disappointment for interested parties who live in other parts of the world.
Testbirds – Best Freelance Testing Jobs Website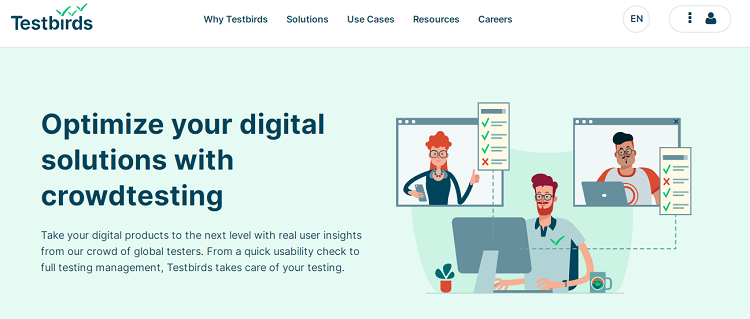 Website access fee: Free
Testbirds is a platform that offers freelancing jobs related to testing a website or app.
Tests can come during the daytime or at night, and there's usually a signup process with screening questions to determine whether you're eligible to take part. You can accept or reject any test invitation you've been sent, but it's usually first come, first served.
Pros
With 300,000+ testers using the platform worldwide, it's easy to tell that Testbirds is a reputable freelancer website for user testing.
You don't need any experience whatsoever to take part in testing projects, as they do offer training guides and videos online.
Payments are also done via PayPal. Finally, you earn points for each test you successfully complete and the more points you've accumulated, the better your chances of being invited to higher-paid projects.
Cons
Note that test opportunities don't always come on a regular basis. Also, the entry test is considerably long – requiring as much as 75 minutes of your time.
Ideas are nothing. Execution is the game. – Gary Vaynerchuk
You might be interested to check those related posts as well:
FAQ
Is a freelance website legit?
In general, a freelance website is legitimate if it has positive reviews, and there is a secure system in place to receive payments from clients without a need for communication off-site.
Additionally, the website should not force freelancers to pay for specific software or courses in order to access the job board.
What are the basic requirements to become a freelancer?
To be a successful freelancer, you need a substantial profile that showcases your skills, expertise, and knowledge of the field you work in.
Having a portfolio with work samples helps tremendously.
And of course, you must be disciplined with your schedule and meet all deadlines that clients set.
What are the different types of freelance website pricing models?
There are two simple pricing models in the world of freelancing. The first is hourly, which means you get paid by the hour each time you work on an assignment.
The other is project-based which, as the name suggests, involves a fixed price for every project you're hired for.
Other models include retainer pricing, package pricing, value-based, and performance-based pricing.
Which 3 skills are best for freelancing?
Every freelance worker needs these skills: professionalism, patience, and discipline.
You must be professional towards each client, delivering projects and communicating in a way that will make them appreciate you and potentially rehire you.
Patience is also key, especially as you go back and forth with the details of a client's assignment.
Finally, you need the discipline to get everything done right while you manage multiple projects with varying deadlines.
Should you register for multiple freelancing sites?
It helps to maintain a strong online presence by having accounts on multiple sites. However, don't overstretch yourself by accepting assignments on all sites simultaneously.
By juggling too much, you're less likely to deliver quality work in each project.
Also, reviews from past clients matter, so one freelancing website on which you consistently please clients is better than several sites on which your profiles lack testimonials.
Conclusion
Ultimately, there are many good freelance websites that help make the lives of freelancers much easier.
As long as you're dedicated to whatever projects you accept––without biting off more than you can chew, of course––it's a matter of time before the work becomes consistent and the most valuable clients come to you.
Have a slow and steady approach to your freelance gig journey, and you'll eventually reap the rewards, both financially and also in terms of flexible work life.