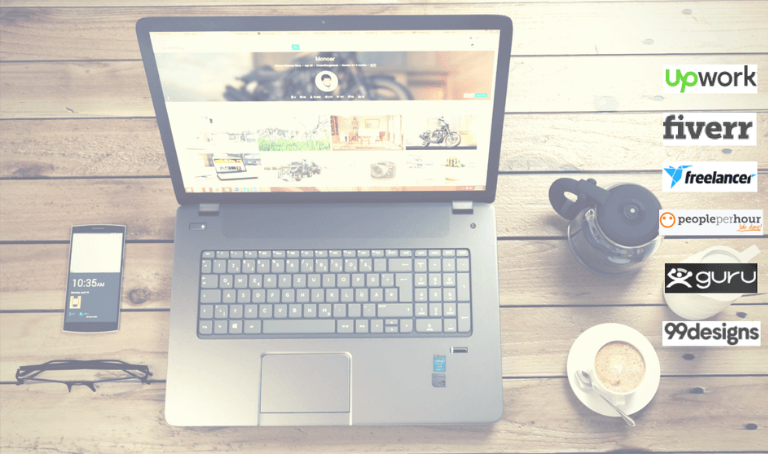 When I got started with my freelance career I was obsessed with reading books on personal development. One of my favorite author was Brian Tracy. He said that making sales has the most important role in every business. Why's that?
Think about it. If you don't have enough clients, you don't have enough business, and you're not making enough money. No matter how good you are at your craft, without enough clients you're a failure.
And if you have too many clients, more than you can serve. You can always outsource to other freelancers, to establish your own team of people and grow from a solo freelancer into an agency.
You can even cancel projects, delay them, refuse to take new projects and you will be okay. But not having enough clients will kill your business.
You can outsource all of your other tasks, such as copywriting, design, accounting but you cannot outsource sales, at least you cannot outsource it to someone who can do it good.
In this article I have put together 12 freelance platforms that you can use to find freelance projects.
There are many freelance sites and I think that could be confusing.
Share this Image On Your Site
1) Upwork
Client fees: 2.75% (for payment processing)
Freelancer fees: 20% (for the first $500 earned with a client, then it's 10%)
Let's begin our list of top freelance websites with the largest platform created to connect employers with freelancers online – Upwork.com.
Formerly Elance and oDesk, Upwork was founded in 2003 and has been growing ever since. Today, the digital workplace caters the needs of 12 million freelancers who complete jobs worth $1 billion each year.
Due to its popularity, you – the freelancer – can also find solid clients there. While it might take some time to build your reputation on the site and get positive feedback, it's worth it. Once the guys from the Upwork team see you're doing a good job, making money regularly and communicating with clients well, you will be able to become a Top Rated freelancer and reap certain benefits, such as a badge on your profile that helps you stand out, premium customer support, exclusive invitations for job offers, and more.
Upwork has plenty of features. Its search engine will help you find the jobs that fit your skills and expertise, the payments are protected with Escrow so you won't need to worry about this, and communication with the client will be clear as long as it's kept on the site.
With so many people at one place, there are also some scams, of course, and that's one of the disadvantages of using Upwork. But as long as you're checking out who the client is first and whether they have good feedback and history on the platform, it will be all under control and each collaboration can turn into a long-term relationship.
Compared to other sites for freelancers, Upwork's fees are a bit higher. They will take 20% of your earnings. At the same time, the job opportunities are so many and most by good clients, that it's worth overlooking this negative aspect.
You can even outsource something niche specific like an insurance website design that you'd normally pay a premium for with Leadsurance or another vendor.
2) Guru
Client fees: 2.5% (invoice fee)
Freelancer fees: 8.95%
Guru is another one of the big freelance websites where you can find talented people to handle different aspects of your business, like mobile app development outsourcing, or job opportunities to monetize your skills as a freelancer.
There are over 3 million freelancers and the site allows you to showcase your previous work and protects your funds with the help of Guru's SafePay service. Depending on the project and the preferences of the client and freelancer, the work can be done and paid in milestones, by task, by the hour or using recurring payments.
For each job, you start a contract with the client and can invoice them whenever you deliver results.
Guru has lower fees compared to other websites for freelancers. The fee depends on your membership level and starts at 8.95%, but can get to 4.95% (which is nothing compared to Upwork's 20%, for example).
3) Fiverr
Client fees: $2 for anything up to $20, and 5% for the rest of the products.
Freelancer fees: 20% (1 out of every $5 you earn)
Fiverr was created with the entrepreneur in mind. It's for the skilled individuals who want to reach the right client anywhere in the world and land a job quickly. For the client, it's affordable and a place to find unique talent. There are professionals who can design your logo, translate or transcribe, optimize your website, create banners or book covers, consult you financially or legally, animate something or edit your promo video, and all that for as little as $5.
Most of the freelancers there are millennials and you can find some pretty innovative ideas and offers.
As you can see, the fee for sellers isn't small. And knowing that most gigs are worth $5, getting $4 and extracting PayPal fees from it, for example, doesn't leave you with much.
That's what makes the beginning in this marketplace the hardest. But once you build your reputation and clients start coming to you and order in bulk, you can earn some significant monthly income solely from there.
4) Freelancer
Client fees: 3% transaction fee
Freelancer fees: 10%
Freelancer is another huge online platform where clients can choose from millions of contractors offering a variety of skills. There are monthly and yearly subscriptions, freelancers can bid for projects, do hourly work or browse jobs as well as contests.
Their payment system makes sure you only get paid when the work is done and delivered. However, there is also a lot of cheap workforce on Freelancer and that might be a problem when bidding for jobs, knowing plenty of freelancers can do the same for a few dollars (even if it's low-quality). If competition isn't in your nature, you're better off visiting one of the other freelance websites in this list.
5) PeoplePerHour
Client fees: 3.5% transaction fee (but 15% for the first $280)
Freelancer fees: 5%
PeoplePerHour is known as the place to find a job quickly, get it done and pay right away. There are also the PeoplePerHouse Hourlies – packaged jobs freelancers offer that are done in 5 days or less and achieve a certain result. It's similar to Fiverr but here the contractors can charge as much as they please. It's a great way to gain new clients and can often lead to more work in the future.
The dashboard of PeoplePerHour includes all features you need at a glance and it's one of the reasons why many professional clients and businesses look for freelancers there. The WorkStream allows the process to be tracked online so progress can be followed and discussed and payments and adjustments can be made safely.
6) FlexJobs
Client fees: N/A
Freelancer fees: Monthly and yearly packages
FlexJobs is a freelance site gathering remote workers and part-time and full-time contractors specializing in 50 different career categories. One of the things the platform is known for is its great job search experience. You won't be bothered by ads and anything you look for will be based on your preferences.
The team behind FlexJobs is always working to make the hiring process faster and smoother, to remove any hassle related to finding your next remote job or hiring your first freelancer, and to provide its users with the tools and resources necessary to collaborate and grow their business.
Clients there must pay to search job listings and that's why you're much less likely to get in touch with a bad employer there. Instead, you'll work with individuals and companies looking for your exact skills and experience and who are happy to pay what you are worth.
7) Twago
Client fees: 12.5% for hourly projects
Freelancer fees: 10%
As we're talking about the largest and most widely know marketplaces for freelancers and employers online, we should include Twago, which is one of the best options for the European market.
You can find beginners and experts in writing, design, programming, online marketing, and more. Together with that, you can land some pretty big clients that can give you recurring work.
The system is set to send you email notifications each time a job that might interest you is posted, so make sure you complete your profile.
8) 99Designs
Client fees: 30-40% of the amount needed to hold a contest
Freelancer fees: 10% for private projects
99Designs is different from the rest of the freelance sites in this list because it's mainly for designers (beginners as well as professional ones) who compete in contests with their work, after which the client chooses the project he likes the most and works with that contractor.
Many designers know this is where they can not only find their first paying client but also build their portfolio before they sign up for more marketplaces or start their own business.
As the seller, you won't be bidding for projects, but will instead be offering your services and often just the concept of your main idea. Only the designer who does the best job and answers the client's vision will be rewarded the job. That might be risky as it's an investment of your time that you won't receive money for every time, but it's worth it if you're looking to hone in on your craft, connect with clients, and are ready to compete and build your portfolio.
9) Craigslist
Client fees: 0
Freelancer fees: 0
While most people associate Craigslist with buying and selling old belongings, the site offers a lot more than that. Freelancers too can find job listings, remotely or locally, negotiate their prices, and even find some pretty decent clients. The competition there is less due to the prejudices of people and the fact that Craigslist is mainly used for items.
Its drawbacks include poor web design, no guarantee as to what the seller or buyer will do next, not really knowing who's on the other side of the screen, and more. However, the advantages are that, for some reason, almost anything could be sold on the platform, it's quick and easy, it's free to use and you can create an account in a few minutes and list your service.
You can also browse local jobs and end up finding an employer who's willing to let you work from home. Anything's possible, it just takes a bit of research and a willingness to negotiate.
10) Toptal
Client fees: N/A
Freelancer fees: N/A
Do you want to be part of the top 3% of freelance talent? Then Toptal is the freelance website for you.
If you believe you're skilled and have been offering your services in the fields of Software Development, Design or Finance for quite some time now, then you have the chance to pass the requirements for becoming part of Toptal's exclusive network.
Apply as a freelancer today to get started with the tests and meeting the other requirements necessary to become a member. Once that's done, keep in mind that important clients will be ready to assign you even more important projects.
Toptal is a great place for big and small businesses who care about finding specialized talent and companies with a big budget for outsourcing. There is an initial deposit of $500 that employers add to their very first invoice, which can be refunded in case they decide not to continue using the site after that.
11) ClearVoice
Client fees: 4%
Freelancer fees: 25%
ClearVoice is a content marketing platform and talent network where employers can find good writers, content strategists, designers, videographers and more.
Freelancers can join for free and showcase their best work. The site provides a free CV portfolio that allows you to receive opportunities based on your previous work. You can customize it and make it look professional.
The jobs on ClearVoice pay well as compared to other websites for freelancers. While landing your first gig might not happen right away, you have an actual chance to set your own rates, share your CV with the world, and improve your personal brand.
You don't apply for jobs. Instead, the specialists match you with potential clients and you can accept or reject offers coming straight to your email. The better and more detailed your CV, the bigger the chance to land a client sooner.
12) Simply Hired
Client fees: N/A
Freelancer fees: N/A
Simply Hired is more than just another freelance website. With 30 million monthly users, it's an online recruitment advertising network and a job search engine. It has some interesting features such as a salary estimator, and you can look for current job openings in a certain location.
New jobs are posted for free which means there are always many opportunities to choose from for everyone who wants to do some freelance work, whether it's digital or something like construction or driving, for example.
You can browse by jobs, companies, salaries or cities and all results are tailored for you.
13) Crowdskills
Client fees: No
Freelancer fees: 20%

Crowdskills focuses on matching companies with students and graduates in London. There are currently 1500+ freelancers offering design, development and marketing skills. Companies are most often looking for local and affordable providers, so students are a good fit. Freelancers get all the usual features – Escrow protection, auto invoices, easy admin etc, plus a few unique features – payment within 48 hours, and the ability to use existing testimonials to boost your profile. The platform charges freelancers a 20% commission.
Final words
Never put all your eggs in one basket. Don't rely just on one freelance website. A bad feedback from unhappy client can ruin your business. You're dependent on that freelance site, and they can suspend your profile for nothing.
Better have well developed profiles in 2 or 3 freelance sites.