You're in the midst of a busy day and have just a few minutes between appointments, so you decide to catch up on some Instagram photos to unwind.
You open the Instagram app and wait for your feed to load.
Nothing happens. Instagram not refreshing.
You try to refresh, and then you see it: the dreaded Instagram "couldn't refresh feed" error message.
It's quite frustrating when social media doesn't work properly.
Now, instead of taking a few minutes to relax and enjoy an Instagram story or two, you have to figure out what the problem is and try to fix it.
Read on to find out why your Instagram feed is not refreshing and what you can do to fix the problem.
Reasons why You can't Refresh your Instagram Feed, Guide 2023
So why is your Instagram not refreshing?
Understanding the issue is the first step to fixing it.
Usually, the problem can be traced to one of the following culprits:
Slow or Overloaded Internet Connection
When you try to refresh Instagram, and it isn't loading, or you receive a refreshing error, the first thing to consider is your internet connection.
Slow or overloaded internet connections will bog down most apps, Instagram included.
Slow internet can be caused by several issues.
You may have too many devices connected to the network, a weak WiFi signal, or it may be that your plan is just too slow.
Instagram Servers Error
It happens to the best companies, but sometimes servers go down.
This can be for many reasons, such as a loss of power, a system update that had a bug in it, hardware malfunctions, etc.
Outdated Version of the App
App updates are continually being released. They often involve new features, bug fixes, or performance improvements.
In this sense, Instagram is no different than any other app.
While you may be able to continue using the outdated version, you will notice it runs slower and with more issues, such as crashing or showing you that "couldn't refresh feed" error.

Your Instagram Account has been Banned
Another reason you may have an Instagram error is that your Instagram account has been temporarily banned.
If you're using third-party apps or acting a little "spammy," Instagram can block your account, in which case you might receive the error message.
However, it's more likely that you will receive a direct message from Instagram and not be able to interact with your account at all.
Keep in mind that you can still see some information without an Instagram account.
Instagram's Cache is Full
One possibility for receiving the Instagram feed error is if the Instagram cache is full on your device.
A cache holds temporary files on your device to make the app run smoothly, but when the cache is full you may find the opposite effect.
A clear cache will free up space so you can continue to use the social media app without issue.
The Device's Date and Time Settings are Inaccurate
If your device's date and time are out of sync with Instagram, the app may be receiving conflicting data, causing the error message when you try to refresh.
9 Simple Fixes for the "Couldn't Refresh Feed" Error on Instagram 2023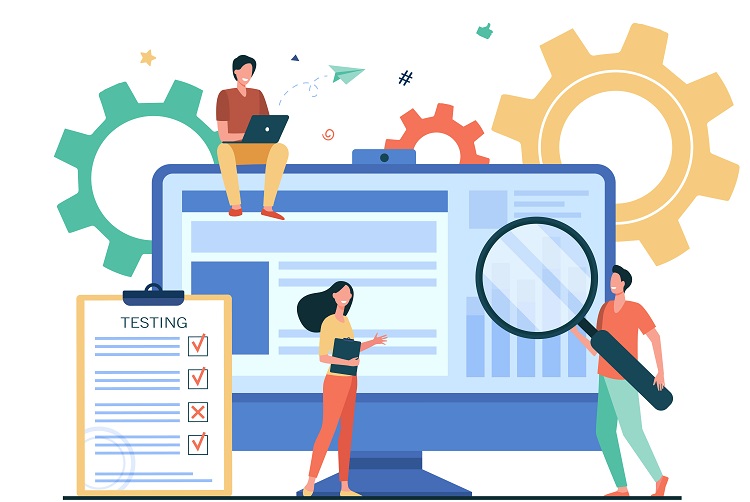 Now that you know what may be causing the issue, here are the simple fixes to get you back to happily scrolling your news feed.
1. Check if Your Wi-Fi/Mobile Data is Connected
Slow Wi-Fi and connectivity issues are the most common reason for your Instagram feed not refreshing.
Check your internet connection, speed, and/or signal.
You can test your connection by opening up a browser on your device and going to a webpage. If it takes too long to load, this is most likely the issue.
If you're using a mobile device, you may try switching between Wi-Fi and mobile data. Android users can follow these instructions to fix internet connection issues on an Android device. iPhone users can also troubleshoot Wi-Fi connectivity issues.
2. Log Out and Back Into Your Instagram Account
Sometimes a simple reset is all you need to get away from that pesky error message.
To log out, go to Instagram settings by clicking on your profile picture. Select "settings" and choose "log out."
Close the app.
To log back in, open the app and enter your Instagram username and password.
3. Update the App
If you have an outdated version of the app, just go ahead and update it.
This will likely fix the feed issue.
Go to Google Play Store (Android) or the App Store (iPhone), search for "Instagram," and click "update."
4. Uninstall & Reinstall the Instagram App
This will allow you to reset and update the app and clear the app cache.
Uninstall the Instagram app.
Android users will open Google Play Store and then tap the profile icon on the top right. Select "manage apps & devices," followed by "manage." Select the Instagram app and tap "uninstall."
iPhone users can tap and hold the Instagram icon until the apps begin to wiggle. Then press the "-" in the upper left-hand corner of the icon. Then select "delete the app."
Reinstall the Instagram app.
Go to Google Play Store (Android) or the App Store (iPhone), search for "Instagram," and tap "install" or "get."
5. Restart Device
When the Instagram couldn't refresh feed error happens, one helpful practice is to completely restart your device. Restarting is like rebooting the app's system errors.
Shut down and restart your phone. Android users will press and hold the power button until they see the "options" menu. Tap "restart" or "power off." To restart after power off, press and hold the power button. iPhone users will follow these instructions for restarting an iPhone, which varies by model.
6. Login from Another Device
If you're still having trouble with the Instagram app after updating and/or restarting, you may try logging in from another device.
This will allow you to see if the feed problem is with the app or possibly the Instagram account itself.
If using a mobile device, attempt to log in from a computer. If you still are unable to log in, the problem is not with the app or your device, assuming you've already checked the internet connection.
7. Check Instagram Servers
Instagram servers do go down from time to time. There are a couple of ways to find out if the Instagram servers are the issue.
Contact Instagram or check on the Instagram webpage directly. If the site isn't working properly, it's likely the servers are down. Or it is possible they have a list of known issues, and you can see if there is a current outage. For this, there is no way to fix Instagram. It's just a matter of patience.
Many websites monitor the statuses of services like Instagram, such as Down Detector.
8. Set your Date and Time to Automatic
If the time and date on your phone aren't syncing with Instagram, your feed may have trouble loading.
To fix this issue, complete these steps:
Android users, tap "settings." Then select "date & time." Turn on auto date & time by tapping the switch or the checkbox, then do the same for the auto time zone.
iPhone user, go to "settings," then "general," then "date & time." Make sure the "set automatically" toggle is on or green.
9. Make Data Usage Unrestricted
Both Android and iPhones may restrict data usage for apps so that they aren't wasting your mobile data.
If Instagram is restricted, it may have trouble updating and loading your feed.
To fix this, you may allow the app to use mobile data without restrictions.
Open the Instagram app. Tap your profile picture to go to settings. Tap "Account" then "data usage." Make sure the "use less cellular data" toggle is off.
You might be interested to check those related posts as well:
Conclusion
Though receiving the error message while perusing social media is frustrating, it's usually a simple fix.
You'll be back to publishing your Instagram stories in no time.