Interior and design expert lovers just arrived at this website! You are welcome, darling beauty lovers. You will agree that when it comes to designs, the more creative and trendier it is, the better.
Although sometimes, you may just want to do you, and design unique stuff; either way, learning what is in vogue can better your designs and make them more beautiful, and quality.
Lately, there has been some trend growth among apartments in residential complexes under construction in the UAE and even among the recently completed projects.
These new trends can greatly inspire your interior designs and spark a train of ideas. Continue to discover them, or read more on the official website Emirates.Estate.
Dope Trends of the UAE Property Market for 2023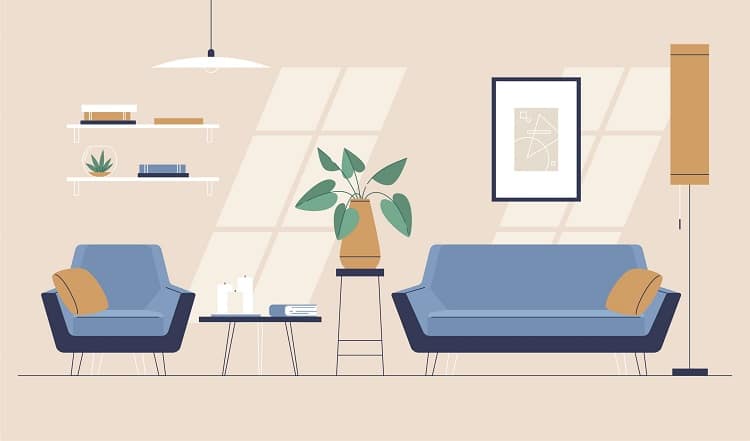 According to design experts, here are some interior trends to try:
Warmer Tones and Color Shades – Chocolate/Brown does it better
Recently, there have being a widespread preference for warmer tones over sharp bright colors pertaining to interiors. These tones come out nicely and look calm, and many people prefer them because it makes your interior look expensive and luxurious.
When picking colors for your interior design, try out warm shades like chocolate, or brown. You can use this for the wall paint, or for the couches and pillows, or rugs.
Fancy Arabian Beddings
These fancy Arabian Beddings seem to have taken over the market in recent times. They are made of rich designs – flowery, made of shapes and symbols, or streaks, some are even made of plain materials with minor designs at the edges.
These beautiful bed coverings are a new trend. In setting up your room, avoid bland bed sheets, fancy bedding are the vogue at the moment.
Leather Items and Home Interior materials
Leather items came back into the design scene with a bang. Since 2022, leather items have started crawling their way back into the design scene. It could be anything – as a symbol as a jar design, or a pillow, or as complex as a cushion and furniture.
You can choose colors based on your preference provided it is made of leather, or designed with one. If you have a compartment designed with any leather, please pay attention to the home temperature as heat may diminish leather faster than a well-regulated air-conditioned room.
Kitchen Design Trends
The ladies will be very in love with this section. Kitchen designs have slightly moved from the bright colorful trend to cooler and darker pictures. Homes tend to favor matte or gloomier colors these days, especially with stone designs such as marble and granite in the various table tops.
Also, kitchens are being de-cluttered to make ample space in the kitchen so the less crowded and full/occupied your kitchen is, the better.
Vintage Walls and Materials
Perfect your home designs with a touch of vintage, somewhat archaic, and somewhat modern items. A quick option could range from curtains to wallpapers, paintings, and even furniture.
Vintage is such a big deal in Emirati interior design. This has got to be the most stable feature because it has also featured in all centuries and years in the past. You can never do wrong with a decent touch of vintages in your apartment.
Floral Wall Paper
If you cannot get something vintage for one reason or another, the next wallpaper alternative is the floral design. This has nothing to do with masculinity, even men can rock these designs in their homes.
These floral wallpapers, preferably the Art Nouveau style of universal style and often blend into parlors, restrooms, balconies, and anywhere you wish.
Round Shaped Sofas and Furniture
Round-shaped sofas are taking over in Emirati interior designs, the ottoman-styled sofas include coffee tables, armless chairs, upholstery, etc. The uniqueness of this design is that they are round, soft, and pleasing to the eye.
You can for any color of your choice and can use them anywhere in the house, even on rooftop relaxation sections.
Do You; Be Comfortable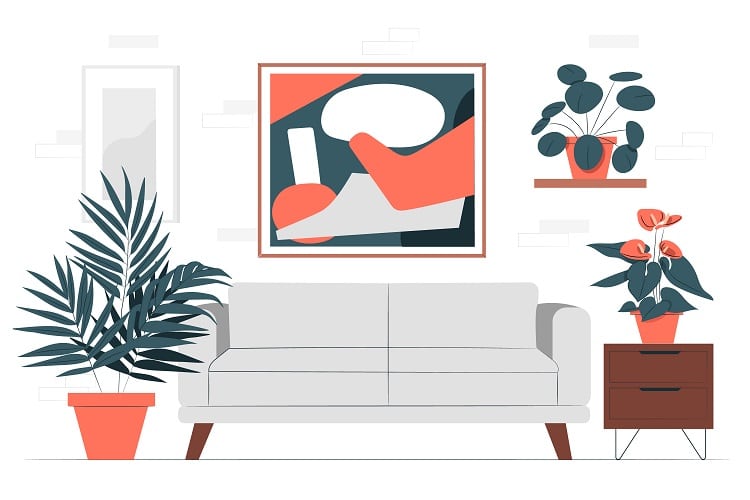 Now, this is the last and most important factor to note. Besides allergies, and strong disgust with any of the recommendations above, endeavor to bring in your personal touch to whichever you desire to apply.
It is essential that you select the colors, styles, and materials that help you relax, and bring a homely feel to your interiors; do not in a bid to look sophisticated, sacrifice homeliness and comfort, fashion is a lot of things, but if it doesn't help you feel at home, it is not worth it. In summary?
Domesticate the ideas and make it more personable by adding a touch of you.