Adding internal links to your content is important for SEO.
However, automating the process can be tricky, especially if you have hundreds of articles to link back to.
Fortunately, installing Link Whisper can help you streamline the entire internal link-building process.
In this article, we'll walk you through how to set up and use the Link Whisper plugin on WordPress.
We'll also cover pricing, features, and if there are any reliable competitors on the market.
How Does Internal Linking Work?
Internal linking is key to increasing traffic to your website.
Not only does it help your Google ranking, but it also improves the user experience by directing them to more content.
But most importantly, it can drastically increase the amount of traffic that comes to your website.
Let's take, for example, this site – ThriveMyWay.com.
After using Link Whisper to add internal links to articles, I saw a dramatic increase in the number of daily visitors from organic searches.
Take a look at the graph to see this increase in organic traffic.
From October to December 2021, over 200 new articles were added to this site.
It would take me days, if not weeks, to go back in to manually add internal links.
But with Link Whisper, I was able to add internal links to each and every article in just a few hours.
What is Link Whisper?
Link Whisper is a powerful WordPress plugin that simplifies the internal link-building process.
Once you publish a post, Link Whisper uses artificial intelligence to suggest relevant links based on your content automatically.
It can also create internal links based on your target keywords.

They also have robust reporting so you can see how many inbound, outbound, or external links you have on your site.
Link Whisper can also identify orphaned content (articles without any internal links) to help you increase your site traffic.
How to Add Internal Links with Link Whisper in 5 Easy Steps?
Step 1: Buy and Install Link Whisper
To get started, purchase a Link Whisper license on the Link Whisper website.
Then, you'll need to download and install the plugin to your WordPress editor.
Once the plugin has been installed, you should see the tool listed on the left-hand side of the WordPress menu.
Click on the plugin, navigate to "Licensing," and enter the license key you purchased.
Step 2: Go to Links Reports
From the Link Whisper dashboard, select "Links Report."

Step 3: Click on Add
Find an article you want to add internal links to and click "Add".

Step 4: Review the Link Suggestions and Approve
The Inbound Links Suggestion page will show you suggested articles for your internal links.
You can choose which ones make the most sense for your readers by checking the box.

Step 5: Click on Add Links
After you have selected your links, click "Add Links."
If it's taking too long to load, then you might have other WordPress plugins that are causing Link Whisper to slow down.
Check which ones you have running and temporarily disable them if needed.

You should see a success message pop-up once they have been added.
That means your article is now set up with your chosen internal links!

Link Whisper Plans and Pricing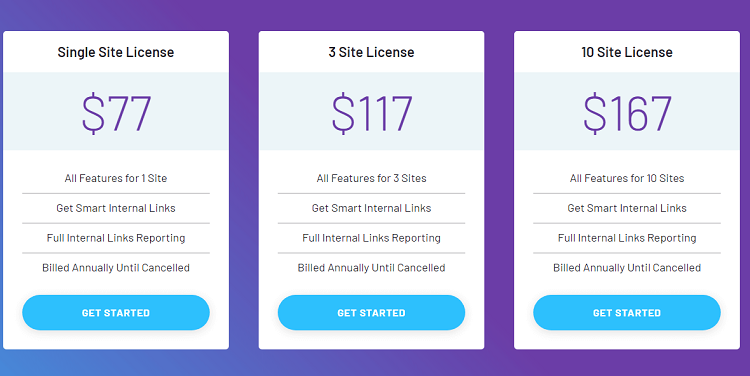 Depending on the number of websites you manage, Link Whisper has multiple pricing plans to choose from.
If you are managing more than 10 sites, you can also purchase a 50-site license for $347 a year.
The features are the same between plans – the only difference is the number of websites you want to add Link Whisper too.
Link Whisper Discount Coupon Code
I got a special discount coupon code for Link Whisper, and I want to share it with you.
Click on this link and use the coupon code ThriveMyWay15.
You'll get a nice $15 discount! That's even a better deal than the Appsumo discount!
Link Whisper Features
Link Whisper has many features that make it a valuable tool for any website owner.
Internal link suggestions: Find which articles are best for internal linking using Link Whisper's artificially intelligent algorithm.
Link reporting: See at a glance how many inbound internal links, outbound internal links, and outbound external links you have for each article.
Auto-linking: Create internal links that apply to all your articles using a word or phrase of your choice.
Broken link identification: Easily identify which articles have errors or broken links.
Target keyword linking: Find internal links based on your desired SEO keywords. Link Whisper can pull in keyword data from other plugins you have already installed, such as Yoast SEO, Rank Math, or All in One SEO.
Links a page that has many influences its rank in Google." — Brian Dean
Link Whisper Lifetime
Looking to save even more money on your Link Whisper license?
You can purchase a 1-year license on AppSumo for $59 a year (that's an $18 saving).
Once the year is over, you have the option to extend your license for the same price you paid earlier.
Best of all, there's no time limit, which essentially means you can get a discounted lifetime subscription to Link Whisper.
Link Whisper Alternative
While Link Whisper is the most intuitive link-building plugin I've tried, there are still a few other options to consider if you're looking for alternatives.
Link Whisper vs. Linkilo
There are many similarities between Link Whisper and Linkilo.
Both plugins are easy-to-use tools for adding internal links and improving site traffic.
However, Linkilo is relatively new on the market, which means it doesn't offer as many features (broken link auditing and content keyword analysis are on the roadmap).
They do offer a 30-day money-back guarantee, which is great if you want to test out a tool before committing to a full year.
Link Whisper vs. Internal Link Juicer
Like Link Whisper, Internal Link Juicer allows you to create, manage, and monitor your internal links.
However, the process is a little different.
For each article, you'll need to add specific keywords in order for Internal Link Juicer to offer recommendations.
This can be cumbersome and time-consuming if you have a lot of previously published articles.
On the other hand, their plugin is free, so it's a decent option if you or on a tight budget.
But if you want to add outbound links or import keywords automatically, you will need to upgrade to their paid subscription, which is $69.99 per year for one website.
Link Whisper vs. Autolinks Manager Pro
Autolinks Manager Pro is an affordable and lightweight internal link builder.
You can easily add internal, outbound, or affiliate links to any of your articles.
They also have reports to track which links are clicked, although it's not as robust as what Link Whisper offers.
However, there is one big downside to using Autolinks Manager Pro.
While you can add internal links, you won't get automatic suggestions from them.
That can be a dealbreaker if you have hundreds of articles to keep track of.
Link Whisper vs. Interlinks Manager by DAEXT
One of Link Whisper's biggest competitors is Interlinks Manager.
In addition to creating internal links, Interlinks Manager also allows you to calculate the link juice for each page.
Interlinks Manager is more affordable than Link Whisper ($33 vs. $77 a year).
Unfortunately, the Interlinks Manager setup process is quite manual.
There's a learning curve to the plugin, which can be a deterrent if you're new to internal link building.
FAQ
How do you link with Link Whisper?
Link Whisper uses AI and your target keywords to provide relevant internal links to add to your content.
With their plugin, you can easily create internal links in bulk with just the click of a button.
How do I make an internal link in WordPress?
To create an internal link in WordPress, you will first need to download and install the Link Whisper plugin.
Then, you will be able to create and monitor all your internal links directly through your WordPress editor.
Is Link Whisper worth it?
Regardless of whether you have 1 or 1,000 articles, Link Whisper is a useful tool to help you build internal links.
Instead of wasting hours of your time, you can create internal links instantly.
For that reason, it's worth every penny.
You might be interested to check those related posts as well:
Conclusion
While Link Whisper isn't the cheapest internal link-building tool for WordPress, it is the best.
It's a time and energy-saving tool that allows you to create internal links for all your content with ease.
By increasing site traffic and improving the user experience for your readers, Link Whisper is well worth the price.