SEO is one of the most important marketing avenues that brands need to do when they run a business. About 90% of the content created on a website will never get a single visit through a search engine. One of the reasons for this is that pages are not often not optimized for audiences.
Introduction
Yet the best-performing websites, which use the best tactics, can generate approximately 70% of their traffic through search engines. And search traffic has one of the best conversion rates, the average is between 1.9% and 4.4%, depending on the source.
To improve the performance of websites there are numerous tools available. These can range from plugins added to WordPress platforms to full-suite independent tools like SEMRush. SEMRush is known as one of the best ways that you can improve a site's performance through a variety of effective tools.
SEMRush is a cost-effective solution perfect for small brands and large agencies alike. The app is not just a tool for keywords and can also help with other aspects of a website's performance. In this article, we will explore SEMRush and demonstrate how to make it the most effective tool for your online marketing.
Semrush: Overview of The Main Features 2023
SEMRush is a fantastic suite of tools for helping businesses, regardless of size, to improve their marketing and ensure that they are getting the most from their content. However, it isn't just one feature.
There are lots of great features within the suite that can help brands. From keyword research to optimizing content and topic research to link building, SEMRush has the tools and the functions to make a website a powerful website.
When looking at SEMRush for the first time, however, it can be very daunting. There are so many features and they look very complex. However, in practice, SEMRush is built for the novice.
Even if you're a small business with limited experience in running an online store/website, you can use the extensive suite to publish a professional, high-ranking website to bring audiences to your website and beat out the competition.
PRO TIP

If you are just starting in your business and on a limited budget, you could test the water. I suggest that you use the Free Plan first and take advantage of its features: 10 credits per day (Keyword Research, Link Building, Advertising), access to tools in "Projects" (On Page SEO Checker, Site Audit), etc.
Here are some of the main features you're going to find in the suite that you can use immediately. Some features will be limited in use, especially when on a free plan, whereas others are going to be much more available.
So what are the main features of the fantastic suite of tools and how can they be used to be more effective?
Domain Overview
Most SEO tools have a basic 'Domain Overview' that will provide a snapshot of how your website domain is performing. SEMRush is no different. However, how they go about it is one of the most effective tools.
The domain overview isn't just about how your website is performing. The tool can be used to assess other websites. Agencies could use the tool to assess ways to improve a client's website or perhaps you can use it to see whether another website is worthy of a link exchange.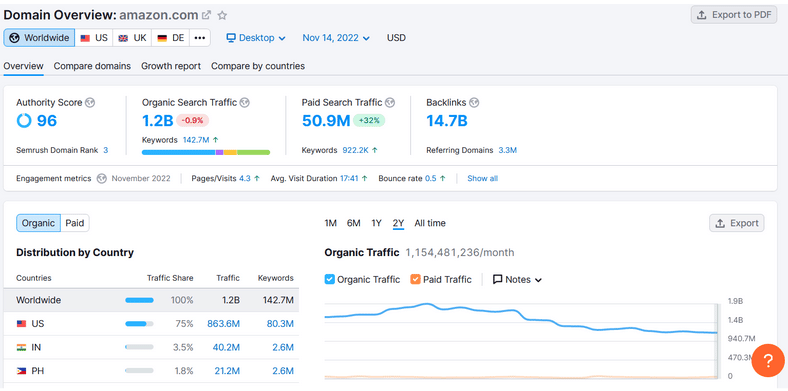 However, the first step is to perform a deep analysis of your website, and see where the critical points for SEO are. Though there might be a time to perform an analysis of competitors to see how you can outrank them.
To perform a domain analysis in SEMRush you just enter a domain URL in the domain overview. Then you will get a report with a series of metrics that include:
An authority score.
How many monthly visitors.
The number of keywords that rank.
Anchor text is commonly used.
Best performing keywords.
Websites competing with them.
The authority score is the most generalized element. The higher this number is, the better the website is performing. Business owners should note that it is hard to get the right data for the traffic figures, so these numbers are normally estimated and not 100% accurate. SEMRush does admit to this.
All this data can be utilized on a generalized or as a 'country' basis.
If you are trying to grow your qualified search traffic, you have to combine your content marketing with your SEO efforts. – Neil Patel
Organic Research
Before you can begin to optimize your website's performance on search engines, you need to have a plan. A plan starts with knowledge and few platforms can perform better than SEMRush for organic research.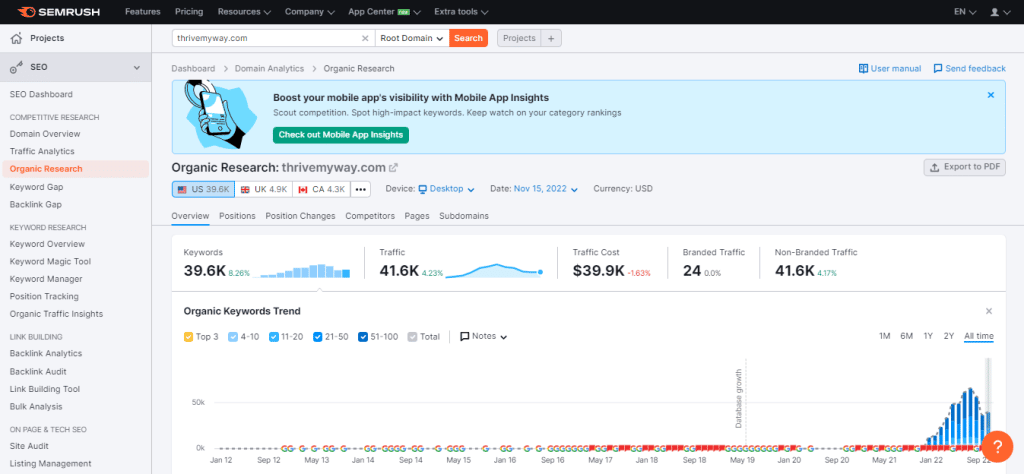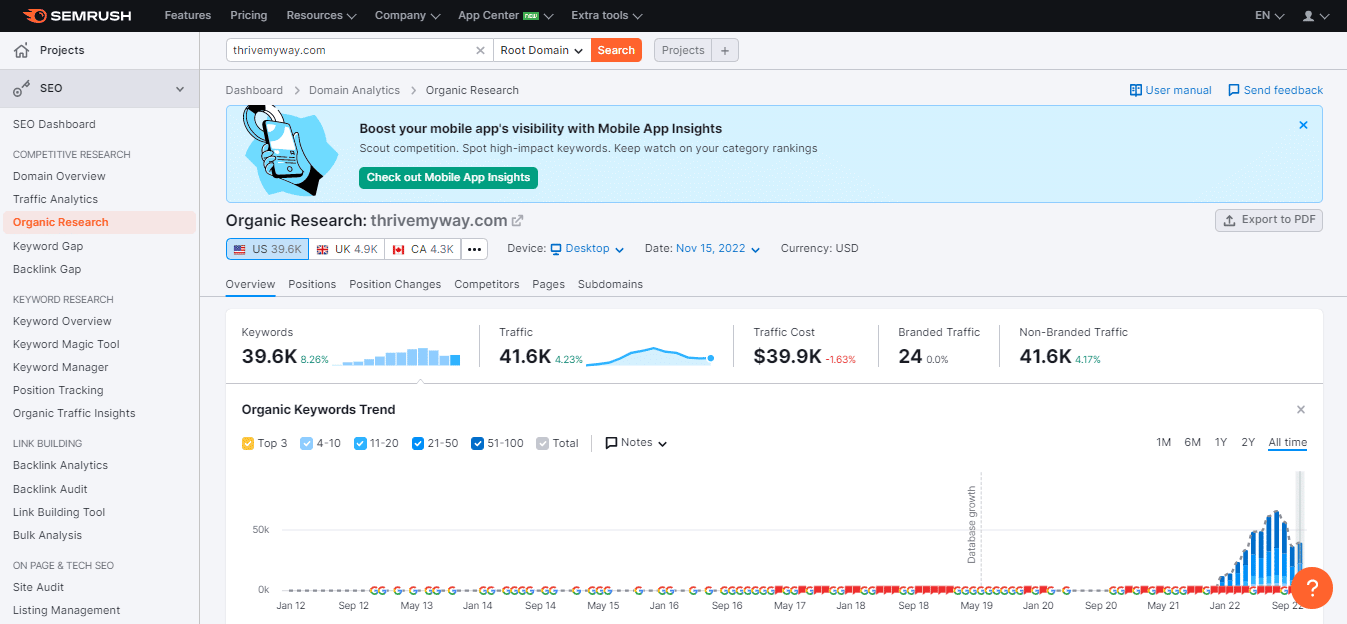 The platform allows you to consider how competitors are performing and what keywords they're using to bring traffic to their stores. You're able to see what keywords they rank for, and where they rank. These rankings aren't generic either, you can assess the ranking based on mobile and desktop searches.
You can see the performance for specific landing pages within the SERPs for keywords you need to rank for. Then you can see the estimated traffic that those landing pages are generating for your competitor.
Using the platform, you might also find how much traffic is being directed to new competitors you didn't know existed. This feature is one of the best because sometimes it isn't the loudest voice in the market that is getting all the search traffic.
And with any competitor, you can keep a close eye on them. See visually where you are performing against them and see changes as keywords, search intent and performances change. The dynamic search engine market can be monitored constantly to ensure you adapt to every changing landscape.
Backlink Analytics
While the power of backlinks has reduced for many people, they're still an important part of SEO and can help brands to jump competitors into top positions. However, backlinks can also be a curse, with poor links harming the potential ranking of a website.
That is why backlink analytics can be an excellent tool for business owners.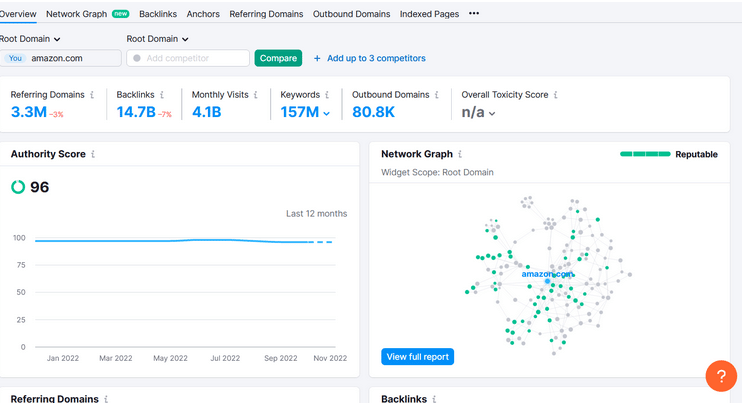 To get this to work, you can enter a domain name and view a list of the number of backlinks found in that domain. Within this report, you can see the anchor text, the top-level domain distribution, and the information on the IP addresses of backlinks.
The information is very clear and allows you to see how many backlinks have been gained or lost with the valuation of the links. Therefore, you can see ways to improve your backlinking tactics.
The analysis is dependent on the quality of the link database that SEMRush has. SEMRush claims to have more than 43 trillion URLs in the link database. This is comparable to Ahrefs and Moz which have 30.8 trillion and 43.1 trillion respectively. Therefore, SEMRush might be one of the largest link databases available.
Some tests of the database have found that SEMRush has a comprehensive list as well. Therefore, it can be fairly accurate. However, different tools will show varied results.
Advertising Research
Google and Bing aren't just about organic results. Some elements are paid if you have the budget. And therefore, knowing how these are performing can be a great way for you to choose your budget and ensure that every cent is wisely spent.
SEMRush is one of the best-performing platforms for analyzing the performance of your website's PPC campaigns.


And this isn't because of technology. SEMRush has just simply taken the time to collect more data than its competitors. However, the advantage is definitely to SEMRush users, who can use a variety of tools that go beyond the most basic CPC data.
In addition to this data, you can see information such as CPC competition, distribution data, what live ads are looking at, and historical ad data and there are PPC planning tools for you to use. Therefore, there is a lot of data that can help reduce ad costs.
Traffic Analytics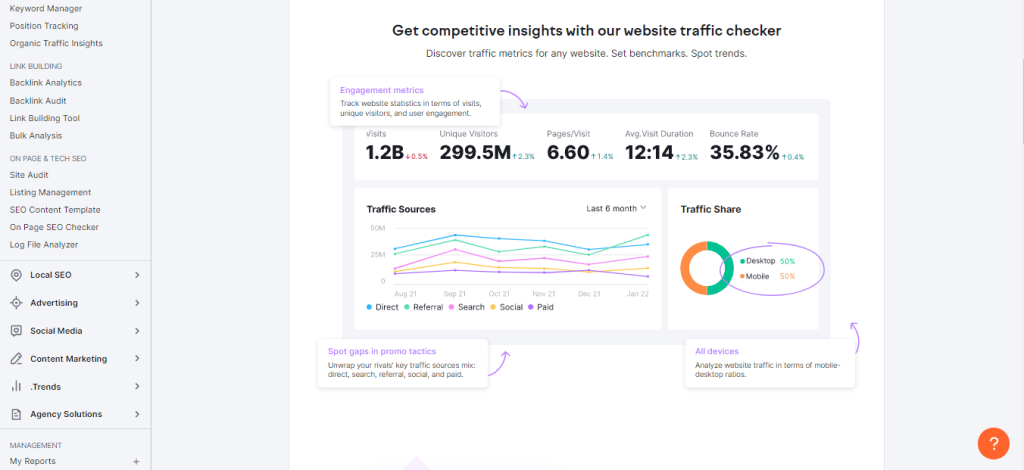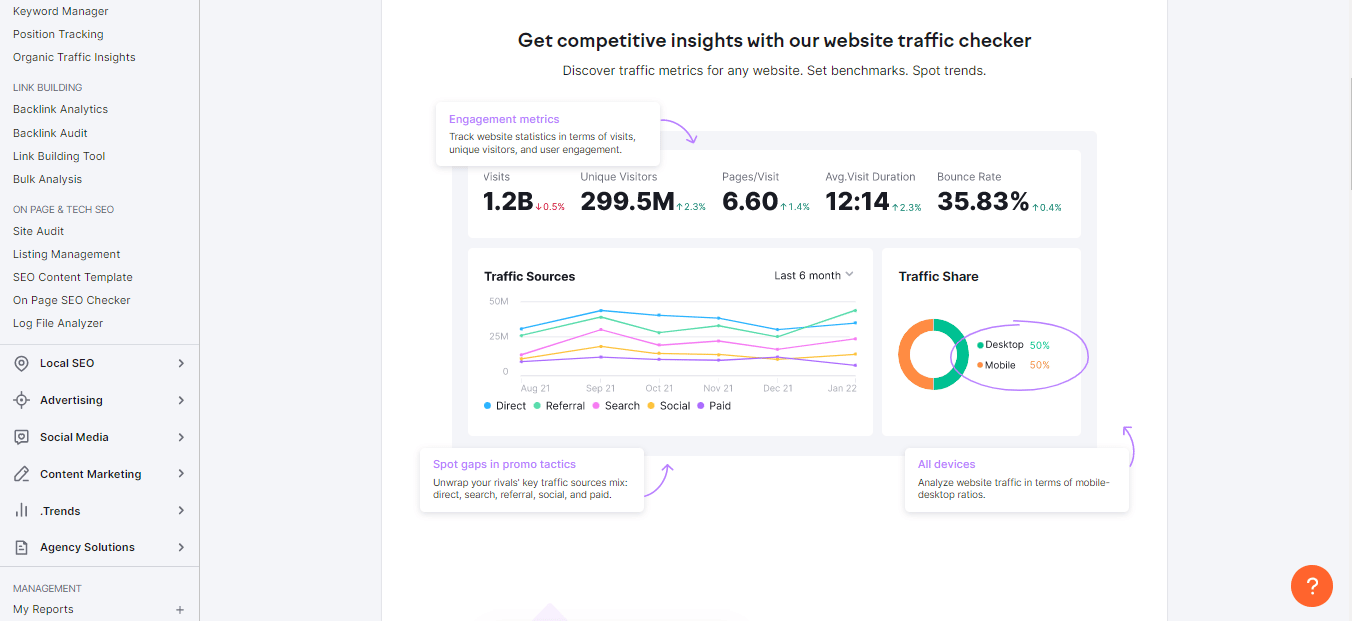 It is one thing to bring in lots of traffic, it is another to bring in lots of relevant traffic. If you're a small New York restaurant, for instance, you don't want to bring in lots of traffic from the UK or Germany. Yet how you're advertising and using keywords can be a significant part of this process.
So one of the most important elements of SEMRush is traffic analysis. Now, this can be collected from other, free, tools like Google Analytics. However, SEMRush makes the data a lot more accessible and displays the information in a more effective layout that allows for better decision-making.
Not only that, SEMRush allows you to assess the traffic of competitor websites, allowing you to spot opportunities that can help you take traffic from rivals and get them coming to you instead.
You can estimate your potential audience by looking at the top five competitors in your keyword choices. Then you can also discover the main interests of the target audience and what platform they prefer.
The tool also allows you to uncover the user's journeys, seeing with which pages and platforms they engage. And you can therefore see bottlenecks and where audiences might be dropping off.
It can also be used to demonstrate certain behaviors, like where audiences are going before and after visiting a competitor's website. This information can be crucial in determining where your want to place new ads.
The traffic analysis can also help brands to see a competitor's best offerings. This can include what products/services audiences want to see.
Keyword Overview
Keywords are still the 'bread and butter' of SEO, so the Keyword Overview aspect of SEMRush often. To use this section, you need to enter a word or phrase and then you can view different metrics on the keyword. These statistics include:
Monthly searches via Google.
The 'Difficulty' rating for the keyword to rank a website.
A list of competitor sites for the keyword.
Other keyword suggestions instead of the entered option.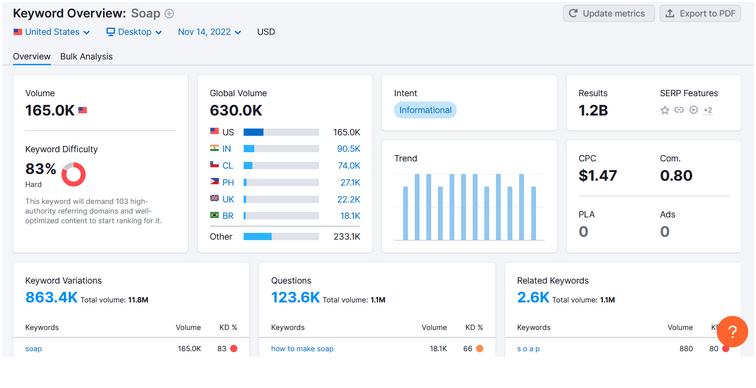 Like many features of SEMRush, you aren't limited to a generalized overview. You can see how the keyword performs well in different countries. So a keyword that performs well in the USA might not perform so well in Canada, Australia, or the UK. If you're an international business, you might need to consider options to rectify this.
The most important metric on the elements is the Keyword Difficulty. This score is based on 100 and demonstrates how hard it will be to rank a page for a keyword. The higher the number, the harder it is.
Numerous factors can contribute to this, including the number of competitors and the strength of the competitor's website. Ideally, you want to target keywords with a low difficulty level but a high search volume.
There are certain keywords out there that match this as many business owners tend to stick to well-known keywords and don't do their research.
Keyword Gap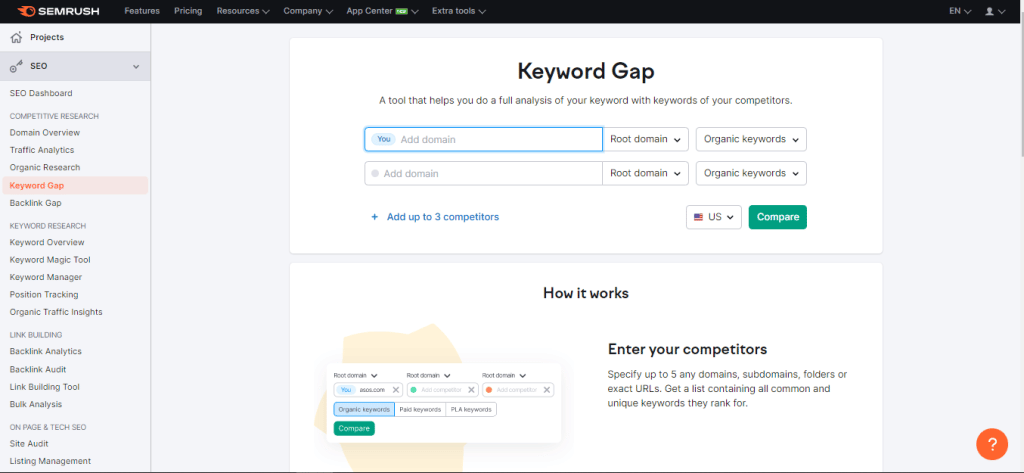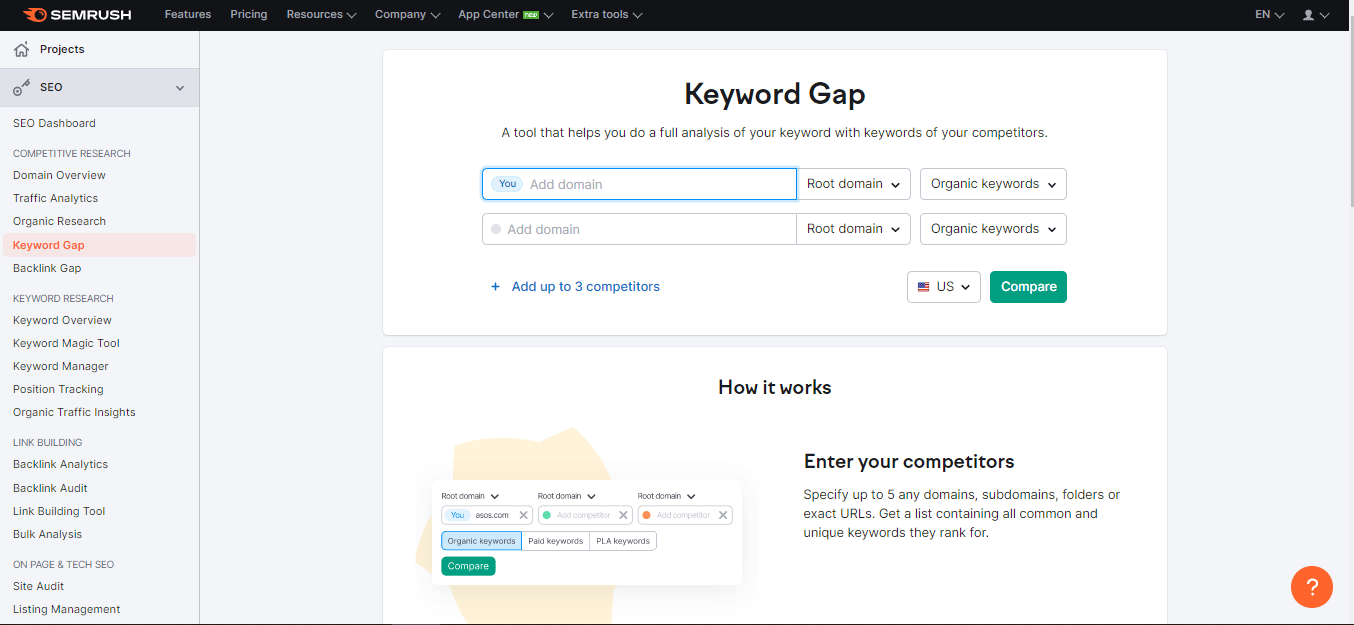 The Keyword Gap tool is an effective option for comparing your website to competitors. You can choose up to five competitors to compare your website side-by-side. All you do is enter the domains you want to compare and then look at the analysis.
The report will show the best opportunities for each site, like the keyword overlap, common keywords (shared by all sites), and more.
Using this information you can see what keywords are being overused and might be challenging to rank for. You might also be able to see keywords that your competitors are completely missing.
There is also the opportunity for your marketing team to see what paid, PLA, and organic traffic there is for any competitors. And you don't have to rely on generic data. You can completely see the mobile and desktop data separately.
Topic Research Tool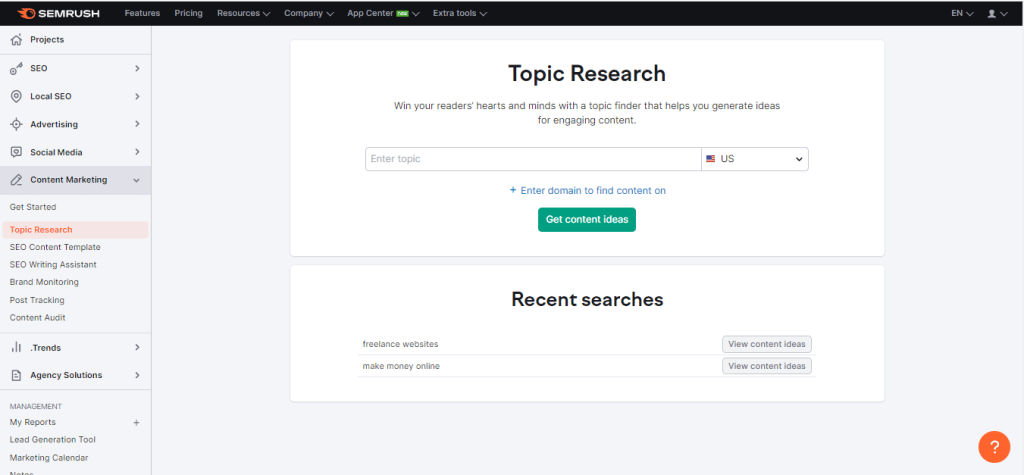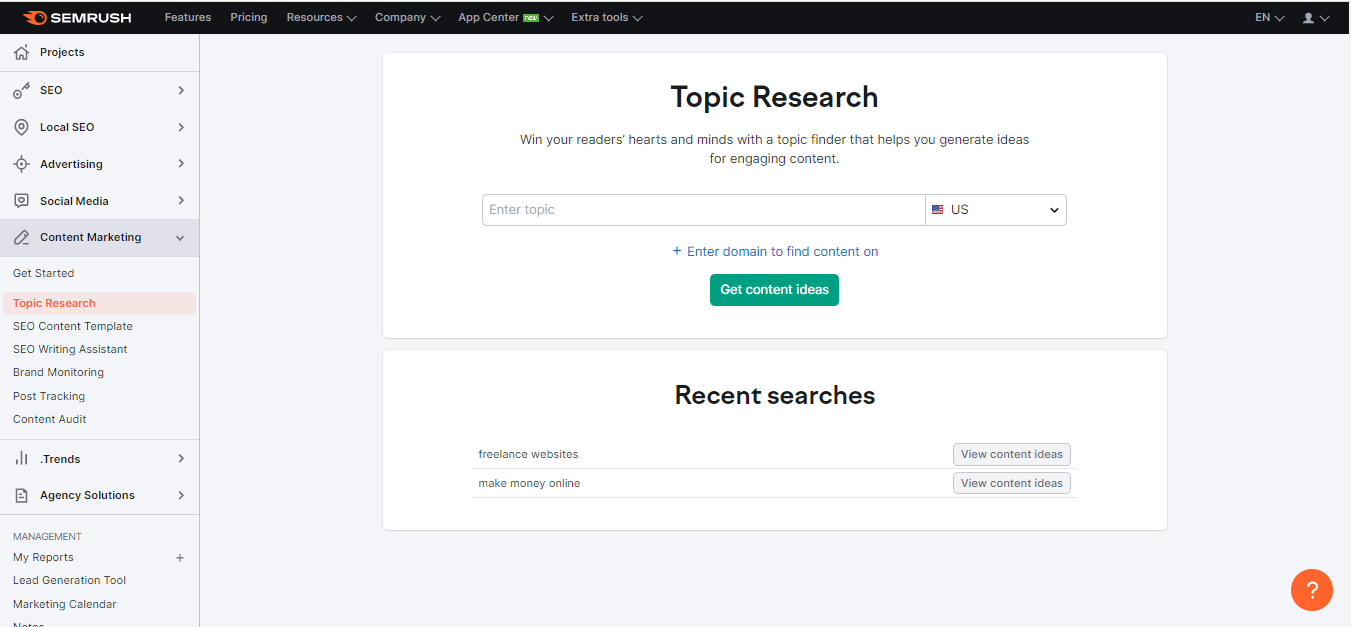 As most successful brands know, content is king. Those brands that publish more than 15 blog posts per month tend to get 70% more traffic and leads than those that publish just one piece of content per month.
However, coming up with enough content can be challenging, which is why SEMRush's Topic Research Tool can be highly useful.
The tool allows you to outrank competitors with unique features that can help reduce topic-creation ideas. For instance, you can add a filter that allows you to see what topics are trending in your industry and then consider these to be written by your writing team.
You can also see what topics your competitors have written and are ranking for. Then you can analyze their content and come up with better content.
A tool is also an excellent option for analyzing the most popular questions and headlines that are related to any topic. Therefore, you can understand the pain points of your audience and create topics or even guide your content creation.
By developing the content with the help of the tool, not only can you rank better, but the content can be more relevant to audiences. The more relevant it is, the better the ROI will be for any content.
Position Tracking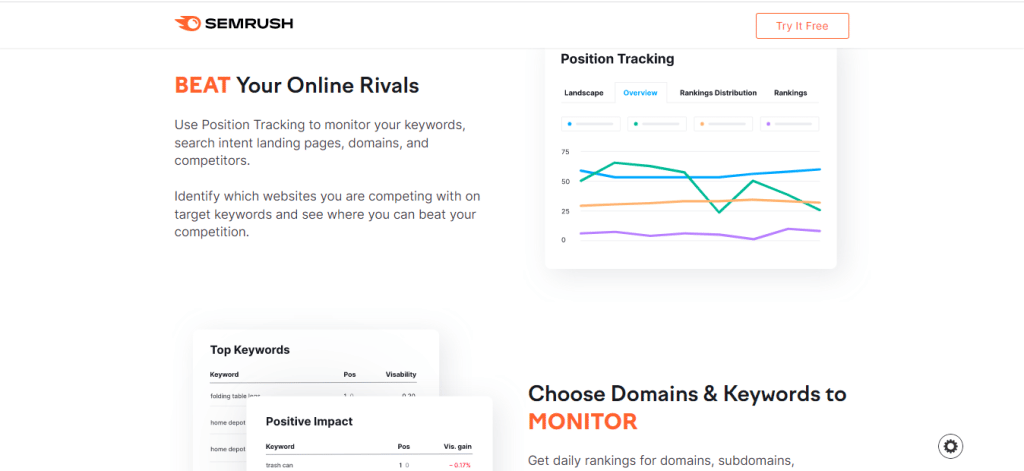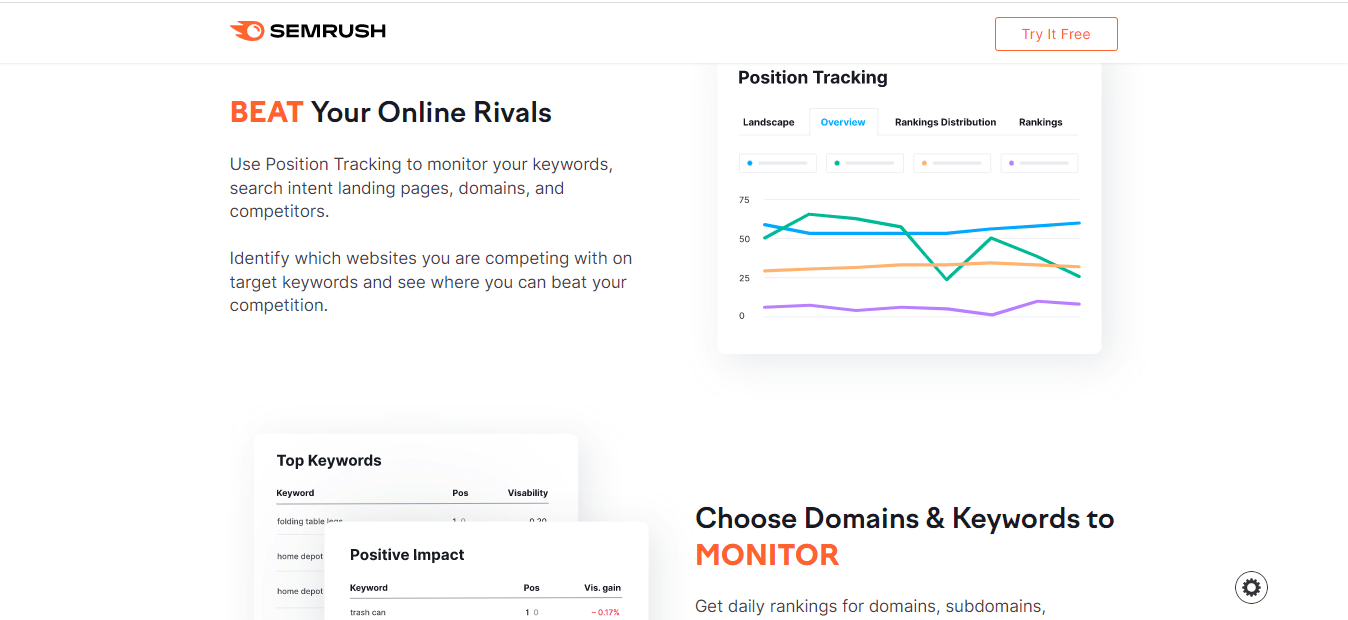 Position Tracking is also sometimes known as Rank Tracking or SERP Tracking. It allows you to track your website's daily rankings for a set of keywords that you want to rank for. You can then target specific locations or types of devices.
The tool comes with numerous features to make it a customization dream for finding the information that is more relevant to your website.
For example, you can tag, sort, filter, and export reports. And the tool is perfect for international, national, and even local SEO tracking.
And for those wanting a simplified set of results, the report can be downloaded in a simplified report.
Site Audit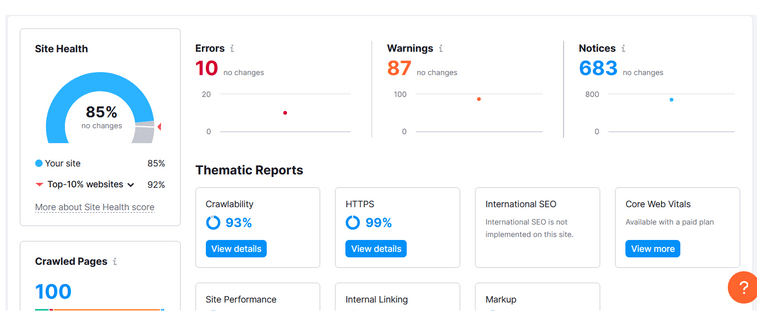 The auditing feature of SEMRush is one of the most effective features. During the audit, the tool will look at several features including elements that many website owners don't even consider. For example, you might find there are some elements you've never thought of before such as:
SSL problems.
Crawling problems.
Core web vitals.
Missing Headers.
When keywords are overused.
The audit will provide you with a to-do list of issues that need to be rectified or added to. The list can be easily exported to Trello, so you can assign tasks to a team.
Some of the suggestions that you might get for the keywords include things like which keywords to add to your websites, step to be displayed in the 'Featured Snippet', improvements to body and meta descriptions, who to approach for backlinks, how to lengthen content, and best internal linking strategies.
However, this is not an extensive list. What makes this so powerful is that it's a list that can be used by anyone. The steps are listed in an easy-to-read and simple format that makes those new to the SEO world comfortable.
And there isn't just the what to do, there is the why. Therefore, you aren't just getting a list of actions, but lessons in how SEO works and why what you're currently doing is not working.
Link Building Tool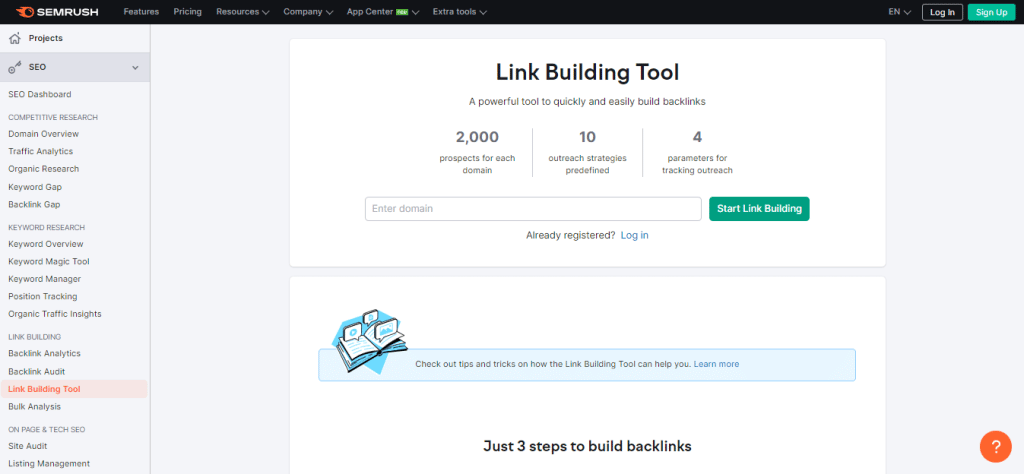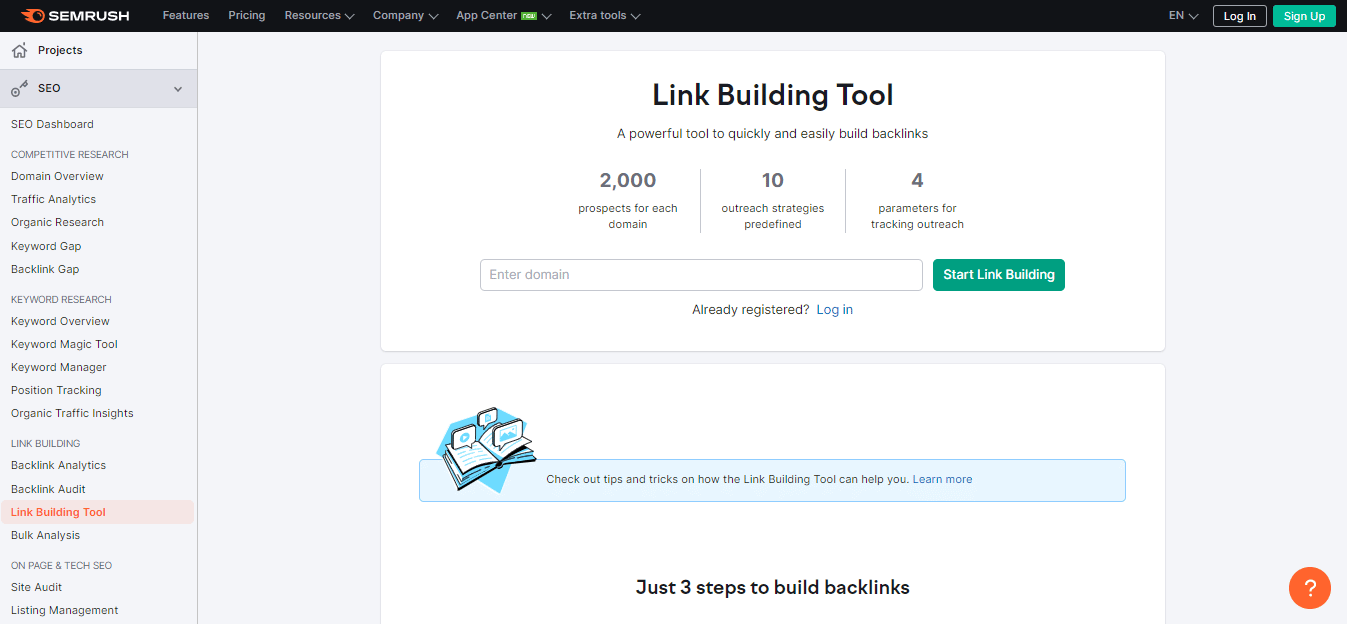 The Link Building tool is an effective way for brands to build the number of inbound links there are to a domain. The tool works in three simple steps. The first thing that you do is to enter your domain, then select the country you want to rank highest in and the keywords for that geographic area.
Then you enter your main competitors. For keywords and competitors, you can enter 10 options to ensure that you have the best mix of options for your campaign.
Then the link-building tool will look at everything and analyze the best websites to link to. The tool allows you to download the list as a CSV and you can get more than 2000 websites to try. However, not all of them are going to be good for your business, so you need to carefully analyze your choices and select the right options.
What Are the Advanced Features of Semrush in 2023?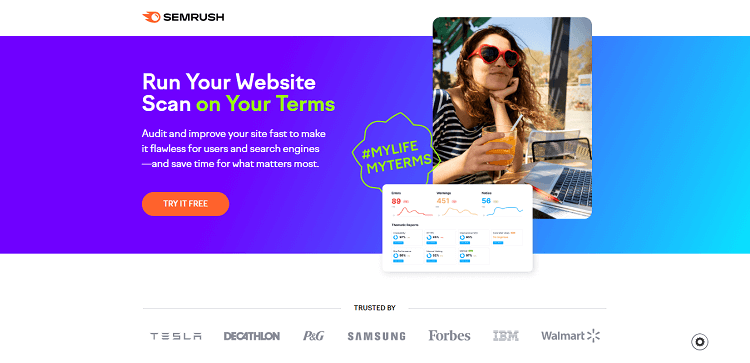 There are numerous advanced features on SEMRush, which have been covered in the areas above. These features make it one of the best tools on the market that can help brands to rise above the competition and generate traffic for their site.
Some of the best features include the link-building tool that can help you direct your time to websites that will help you build an effective link-building campaign.
Another powerful feature is for you to use the SEO Audit. By knowing what you need to do to improve your website to get better traffic, you can be more effective in your approach. You aren't going to be guessing anymore and will learn why certain elements need to be changed and what you might have done wrong before.
Another advantage of the SEO audit is that learning the why will prevent you from making the same mistakes again in the future.
Then there are the content planner tools that can allow you to speed up content creation ideas. And you can be sure that you're creating topics that audiences want to read.
What Are the Benefits of Semrush in 2023?
SEMRush has numerous benefits that many other SEO tools don't have. When it comes to SEO tools, few can come close to the complexity of the data collected but delivered in such a way that makes it accessible to all.
Therefore, when people are looking for an SEO tool, there aren't going to be many people who will be able to ignore the benefits of SEMRush.
The benefits can be set into four sections: ease of use, customer support, reputation, and comparison. In this section of this post, we will look at each section of the benefits for users considering using SEMRush for the first time.
Ease of Use
When it comes to ease of use, few other SEO tools can come close to the simplicity of SEMRush. The tool can be used by anyone as the input elements are simple to understand. Generally speaking, all you need to enter is domains or you might need to add in a few keywords.
However, most of the entry and work will be done for you. The filters that you can apply are simple to use and actions are also simple to understand.
Therefore, few will struggle to use the SEMRush tool for anything. Even advanced SEO elements are put into a simple-to-view and use a feature that makes it one of the best across niches.
One of the more challenging aspects might be getting the information you need to make the most of the tool. However, this is normally because of a lack of knowledge of who your competitors are.
Playing around with the tool can often allow you to enhance your knowledge and therefore get better data to add to SEMRush to see the try niche landscape.
Customer Support
While we mention that it is really easy to use, the truth is that there are always going to be times when someone might struggle with certain elements. That is why any SEO tool, like SEMRush, would require a good customer support team.
SEMRush customer support is one of the best on the market. There are three ways that you can contact their team for help. There is a phone option which can often be one of the quickest options. Another option is to use email, where the support team will be back with you within 24 hours.
Then there is also web chat. Compared to other platforms this is a brilliant option. Moz and Majestic don't offer live chat.
What is good for the brand is that the contact details are easy to find, like much of the tool. Therefore, you can be sure that you will get the best support and that they don't mind you contacting them.
And there are also online support groups that can be very helpful.
Customer Feedback and Reviews
SEMRush customer feedback and reviews are outstanding. They do know how to wow current customers. Therefore, when you are looking online for the best reviews you will often find that they have the best ratings and reviews.
Trustpilot rates SEMRush with a 4.2 with more than 370 reviews. Then there is PCMag which offers a rating of 4 out of 5. You might also want to check TrustRadius which gave the tool a 9/10 rating.
TrustRadius also gave the tool lots of awards for its SaaS service. These awards included Top Rated, Best for Value, and more. In total, there are seven awards in just 2022.
One of the problems that many reviews have is accessibility. The costs for SEMRush are high, very high. However, the potential value that they can add to a brand is often worth it, especially for brands in high-profit or high-margin sectors.
How Semrush Compares with Other SEO Tools
SEMRush has lots of competitors within the SEO tools market. However, when compared to the competitors, SEMRush is certainly one of the best options on the market. Although it is not free, like Google Analytics or Google Search Console.
Some elements make it much more effective. With Google Analytics or Google Search Console, you sometimes have to switch between the two to discover the true picture of what you want. For example, Google Search Console has a ranking position, but Google Analytics has user journeys.
Then there are other tools like Moz and UberSuggest. These tools don't tend to be as effective and are sometimes missing information. They can also be slower to operate on numerous devices. However, their costs tend to be less than SEMRush.
That being said, SEMRush doesn't always have the largest database. Moz for example can be more accurate in backlink directories and Ubersuggest can be more accurate in traffic analysis. But generally speaking, SEMRush is a very accurate tool that can be helpful.
SEMRush Pricing 2023
If there is one criticism of SEMRush, it is that it is an expensive option for SEO monitoring and performance. There is a free option, where you can perform certain actions without a cost. These are limited to 15 interactions per month. Therefore, it isn't suited for any other business other than the smallest options.
Some features are limited to premium users of the tool.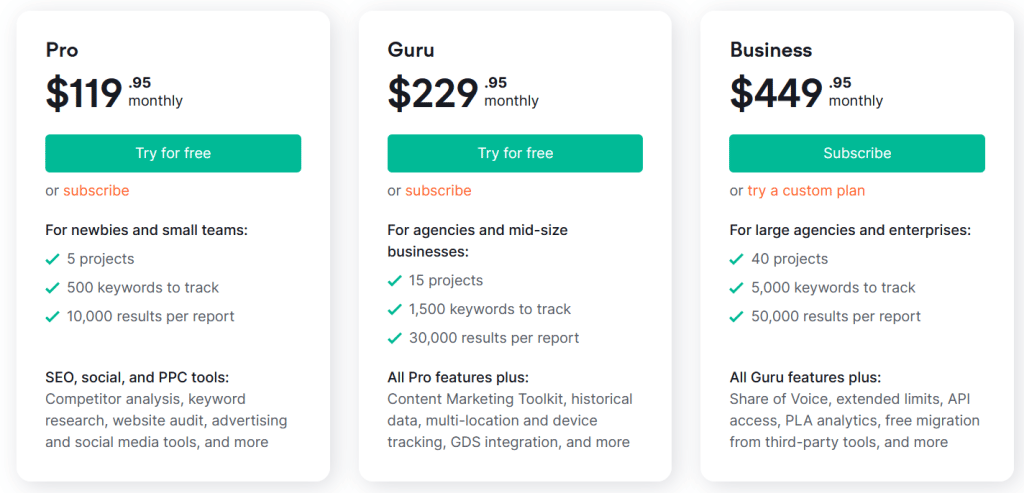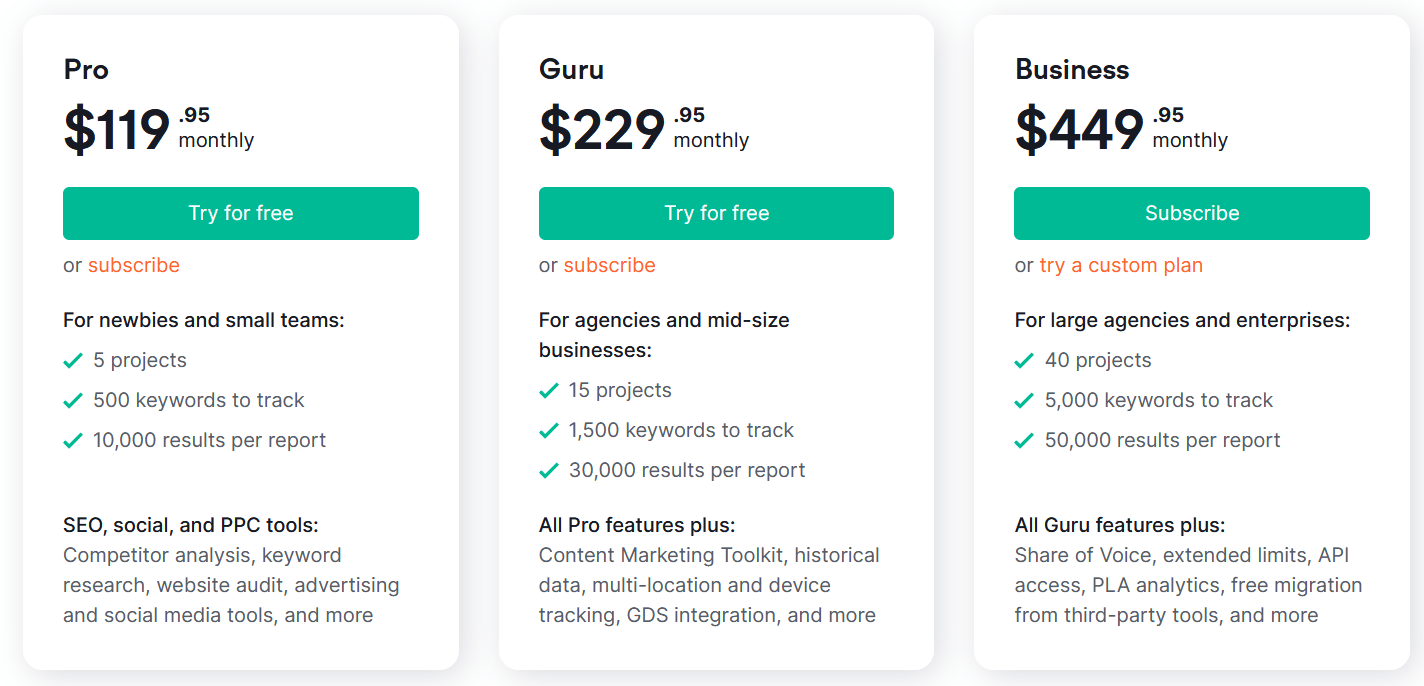 After this, costs are rather expensive. For the basic premium users (known as Pro) the cost is $119 per month. Then there is the Guru level, which is charged at $229 per month. The final, Enterprise level, is more expensive at $449.95 per month.
Each level provides more features and options. For instance, those that are at a Pro level can monitor five projects and track 500 keywords. However, those on the Enterprise level will be able to have 40 projects and track 5,000 keywords.
You might be interested to check those related posts as well:
Conclusion: Is SEMRush Worth It?
SEMRush is a tool you should be using if you're serious about getting your website to rank best in a niche. Even on the basic, free plan, some features can help you find how well your website is performing and how you can improve its performance.
The simple-to-use interface, excellent customer service, and wealth of information certainly make SEMRush one of the best options on the market. And it is a contender for the best SEO tool on the market.
However, there are certain aspects of SEMRush that some don't like. For instance, SEMRush is an expensive option. Though by utilizing the tool, you can build a better website that will generate more revenue and therefore, covers the costs.
So, is SEMRush worth it? Definitely yes! It's one of the best investments for your website to stay on the top of Google searches.