Document sharing, signing, and storage are significant parts of the work. And PDF is one of the top formats for documents.
Usually, Adobe is the main software, but this isn't the only option.
pdfFiller is a great option, and in this article, pdfFiller review, we look at the tool and how it can be used.
What Is pdfFiller?
pdfFiller is a small-medium business automation tool based on the cloud. It offers document automation, including PDF creation, editing, sharing, and storage.
Being cloud-based, the documents can be uploaded and accessed from any device across the world. Therefore, it is an excellent tool in today's modern world with a huge increase in remote work.
The tool is perfect for small to medium businesses that send documents between team members or papers for signing to customers/clients.
pdfFiller Reviews: What Are the Benefits of pdfFiller in 2023?
There are numerous benefits of pdfFiller, including:
There is a 180-day money-back guarantee if you're not completely satisfied.
The cloud-based technology allows access to documents anywhere via the Internet.
Take advantage of the 30-day free trial.
One of the most advanced security systems to protect your files.
Files are sent with high-level encryption.
Data is protected with US Federal and EU compliance standards.
Convert to and from PDF with ease.
Available on desktops and mobile devices with browser functionality and mobile apps.
A highly responsive customer support team to help you when you need it.
What Are the Main Features of pdfFiller in 2023?
There are numerous features of pdfFiller that make it one of the best options for your document needs.
Here are some of the features that you can utilize and that you will find useful.
Form Filling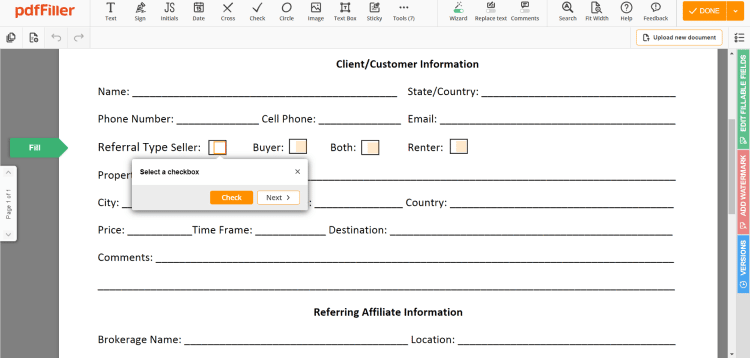 The tool's primary focus is your ability to complete documents in PDF format. You can automatically merge data from any CRM software, database, or Excel spreadsheet with any document you have.
Then you can send these documents to your customers/team members that can be signed and saved into your account.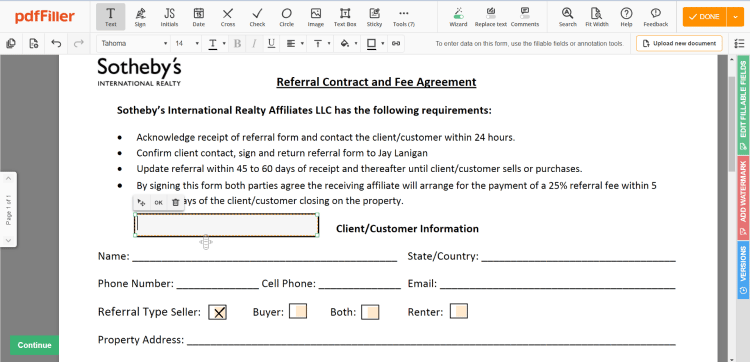 To ensure that you have the right information completed on your documents, you can define the fillable fields for the document. These can then be automatically completed.
To help process documents with speed, the tool allows you to complete 1,000 documents simultaneously as long as the information comes from the same source.
Signing
To help you run your business and get clients to sign-up for your services. All documents that are electronically signed are legally binding, making pdfFiller a fantastic option for your brand when your clients can be based worldwide.
There are numerous ways that clients can sign documents.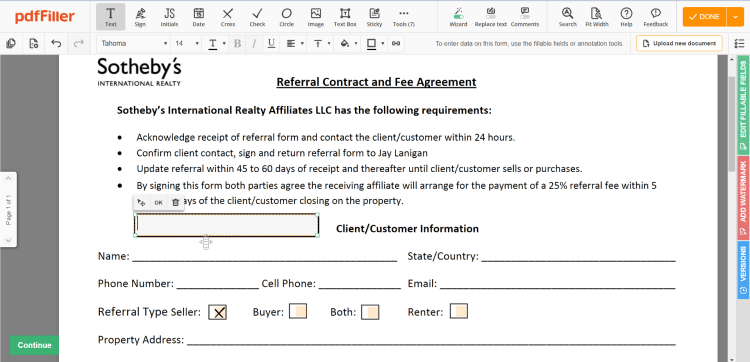 One way documents can be signed is by adding the signature to the document using a handwritten signature with a webcam. Or they can use their mobile device to sign a document. There are also options for typing in a signature on the document.
All signatures are verified with the pdfFiller Stamp. Therefore, managers and document owners know who has signed the document and when they did this.
If users prefer, they can also print the PDF documents and physically sign them to send the documents in the post, upload them to the app or email a copy over to you.
Documents Library
One of the best uses of any eSignature tool like pdfFiller is that you can store your documents online. Using their cloud-based infrastructure, documents can be accessed at any time from any location across the world.
All you need to do is to have access to the internet. There are mobile apps and browser access.
The library for the documents is entirely secure and can be very reassuring.
However, the library features don't stop there. pdfFiller has numerous features that you won't find anywhere else.
For instance, you can attach an instructional/welcome video to a particular document. This can be good if you're sending your customer's complex documents that they need to complete.
To share your documents, there are lots of options. You can give customers access to the documents via simple sharing options like email or sending them a link to the document.
There are also options for you to publish the content on your website for customers to download and sign.
Finally, there are options to share a generated QR code which recipients can use to download the document and sign.
If any documents require supporting documentation, you can add this requirement any time you send a document to your customers.
Scam Allegations
One of the biggest challenges when working online is ensuring that documents remain secure and businesses are not victims of scams. This can be very hard with remote working where documents can be intercepted.
However, pdfFiller has lots of security features to help you protect your documents and keep your business safe from scams. All folders have their encryption and options for two-factor authentication on any folder.
An audit trail allows you to see all activities for any account or document.
To ensure that documents from you can't be stolen and used by fraudsters, you can add watermarks to your documents.
This makes it harder for fraudsters to copy your documents and then use them to steal information or money from others using your branding.
What Are the Advanced Features of pdfFiller?
Numerous advanced features are included on pdfFiller that make it worth the investment. For instance, all PDFs can be edited.
Depending on your needs, you can merge PDF files, split documents into numerous different documents or even convert documents from or to PDF.
PDF document editing is effortless with the tool. You can add text to the PDF and adjust any font, color, or size of the character.
There is also access to lots of legal templates that you can access so that you can adjust these to your specific needs. There are also other elements that you can add to the documents, including your image, logos, notes, URLs, videos, and more.
Documents can also be re-arranged, with pages swapped with ease.
You might also need to duplicate content/pages, add new document pages, or remove those that aren't relevant to your work.
If you're also looking to re-use the document in the future, you can save any documents you've modified as a template. This saves time later on and improves efficiency.
If you're on one of the more advanced plans, there are other options too. You can create the forms you want without having to rely on pre-created documents.
Or you can turn your forms into a revenue-generation option by selling them.
pdfFiller doesn't charge for any sales you make when selling documents, so this is a great way to grow your business.
pdfFiller Customer Service 2023
pdfFiller has one of the best customer support options available online. There are three ways that you can get support.
The first option is to look through their extensive library of help documents that you can access anytime. These are very insightful, and many queries can be solved just by reading these.
If you have another question and need help from an expert, you can complete a support form, and someone will email you back soon.
This is an excellent option for those with a query that doesn't require immediate support.
Finally, there are options for you to contact a member of their technical team instantly through their live chat system.
They are quick to respond and don't use technical jargon to make support challenging. Though this option is only available for those who are on the top pricing plan.
pdfFiller Pricing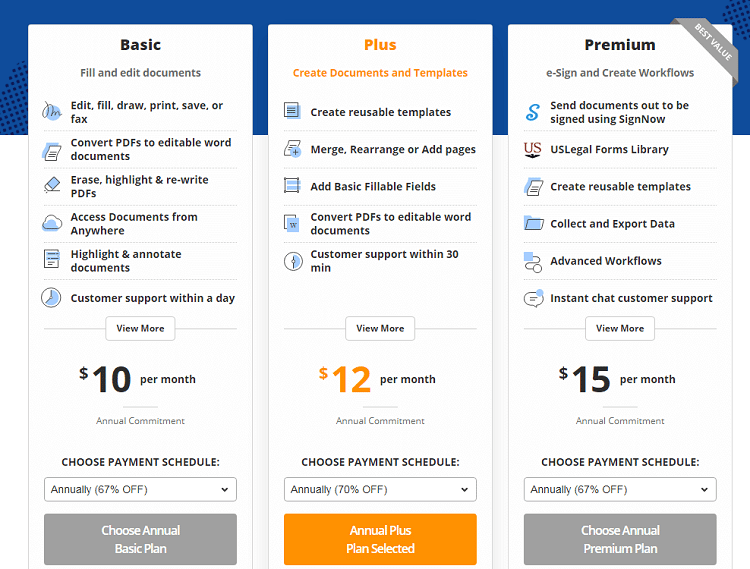 There are three pricing plans for pdfFiller.
On the Basic plan, for $10 per month, you can fill and edit documents with ease. You can also access some conversion tools and create notes on any document before sending them out.
On the next level, more editing features make creating documents for clients and work easier. There is also a guarantee that any support is delivered within 30 minutes. The Plus subscription offers the best value when you're looking for an annual plan, as there is a 70% discount instead of the 67% that you get at other levels.
Finally, there is the Premium option, which costs $15 per month. This level offers you a template library, options to create your own templates, advanced workflows, and more.
This level also comes with instant access to support via live chat.
You might be interested to check those related posts as well:
FAQs
Here are some of the most common questions that are asked about pdfFiller:
Is pdfFiller safe?
pdfFiller comes with several features that allow you to protect your documents. Log-in features keep unwanted intruders from gaining access to your documents.
The file encryption and protection are equivalent to those used by banking brands worldwide.
Who uses pdfFiller the most?
Small and medium businesses are the biggest clients for pdfFiller. According to pdfFiller, more than 56 million users are using pdfFiller.
Some of their clients include Off Duty Blue, Marshall Orthopedics, and others. The company also has good ratings on several review sites.
What are the pros and cons of pdfFiller?
There are numerous pros and cons of pdfFiller.
The pros include the features like easy access, automated filling of documents, and excellent support.
However, some of the biggest complaints of pdfFiller include the complex nature of the software that requires a steep learning curve and the challenges in canceling a subscription.
Conclusion
Adobe is not the only PDF document-sharing and editing tool you can use.
pdfFiller is a great option with some of the best security and features, making it a great option for numerous small and medium brands at a reasonable price.