Are you looking to start your own online store?
Want to expand your physical store into a lucrative online business?
Whatever category you fall into, you'll need a robust E-Commerce platform by your side.
But with so many available on the market, what are some of the best E-Commerce platforms for your business?
There are plenty of things to consider.
You don't want to dive into purchasing the first E-Commerce solution you see, only to find it's not quite right.
This is why this guide should highlight all the features you can expect from each platform.
We'll take a look at their prices, and what types of e-commerce business they're ideal for.
Let's get started.
What are Important eCommerce Platform Features?
So, you're looking for an e-commerce platform for your business.
When doing so, you need to look out for the following e-commerce features:
Multi-channel capabilities – The easier it is to buy your product, the more likely customers will buy it. You should be able to sell your products on a variety of channels. This includes Amazon, eBay, and social media channels.
Mobile responsive – Some ECommerce platforms are not automatically mobile responsive. Most of us are glued to our phones. Meaning your eCommerce site needs to look good and be easy to use on these smaller devices.
Wide plug-in store – The right eCommerce platform will have an extensive plug-in library. Plug-ins allow you to create your dream site and customize every element. For scalability, you want to be able to add new capabilities to your store when needed.
Best eCommerce Platforms 2023
Below are the best ECommerce platforms available in no particular order.
These eCommerce solutions offer the best of the best services to their users.
They can also accommodate a wide variety of niches.
Magento – The Best Customizable ECommerce Platform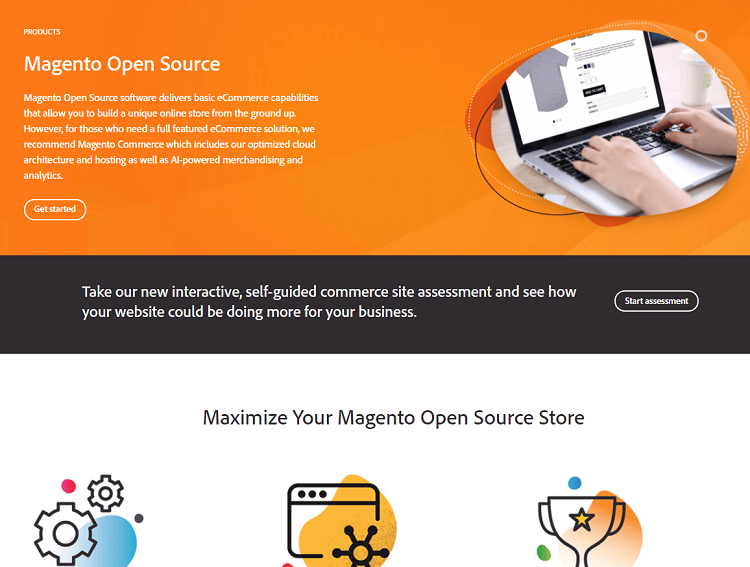 Magento is an open-source eCommerce platform used by renowned brands like Nike and Procter and Gamble.
Coding experience is required, as there are a lot of customization options available.
The platform is also recognized as the best automotive ECommerce platform.
This eCommerce software has a strong community of developers behind it.
If you're struggling with a certain tool or functionality, there are plenty of people around to help.
Features
Extensive catalog management – Supporting virtual and downloadable products such as prints, music, and videos
Automated upselling – To get the most out of your customers
Personalized mobile site – With drag and drop functionality
Supports subscription-based products – So customers can set up recurring payments
Trigger-based email campaigns – Available in the paid version
Benefits
Can choose your own hosting
Lots of customization options
Strong eCommerce tools for SEO
Integrates with Google Analytics
Multiple languages and currencies are available
Perfect for
Developers (you'll struggle to use the platform without a developer)
Large eCommerce brands
Niche markets where customization is key (eg: automotive businesses)
Pricing
Magento is free to use for the most part.
But, larger-scale enterprises may enjoy the premium plan.
Prices depend on revenue or Average Order Value. You'll need to contact sales to get an official cost.
Ecwid – The Best Multi-Channel ECommerce Platform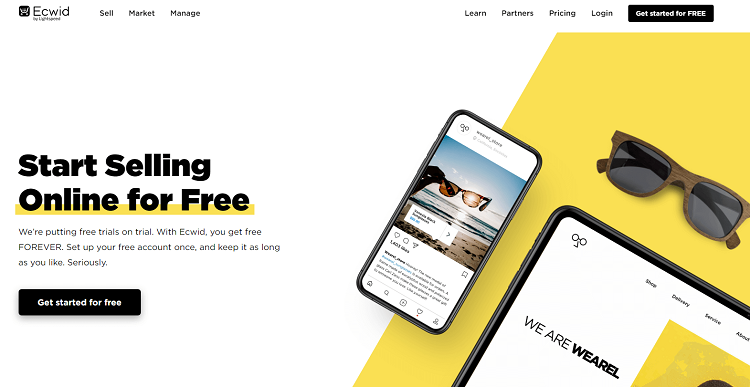 Ecwid is a WordPress plugin that allows you to create an eCommerce store on your site.
It can also integrate into Weebly and Drupal sites. Setting up your online business is incredibly easy: Its out-of-the-box themes are customizable to fit your every need.
You can also use Ecwid with Instagram, Facebook, eBay, Amazon, and other social media.
All in all, this is one of the best multi-channel eCommerce platforms on the market.
Features
Intuitive web builder – Edit your eCommerce site from the sidebar, customize imagery, text, and more
Inventory tracking – Store owners can manage stock across all channels, including social media and eBay
Multi-channel POS – For headless commerce and offline sales
Benefits
Sell from anywhere, any time
Seamless integration with Google and Facebook marketing
Free plan available
SSL certificate, security, and hosting included
Perfect for
Small, medium, and large businesses
Bloggers & Solopreneurs
B2C business
Pricing
Ecwid has a startup plan for free that allows you to see 10 products.
After that, plans start at an affordable $12.50 a month.
There are also no hidden commission charges on top of customer transaction fees.
Salesforce Commerce Cloud – The Best ECommerce Platform for B2B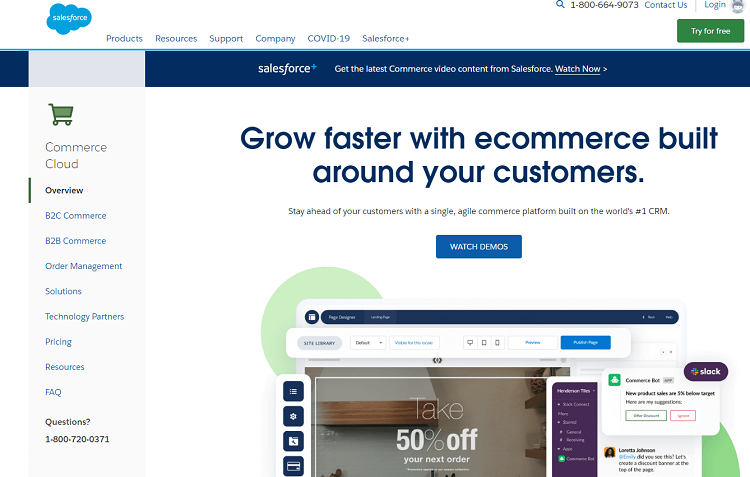 Also known as Demandware.
Salesforce is a popular CRM platform that also has its own Commerce Cloud.
Features
Automatically scales your business – When your online store starts to grow, the platform grows with you, without you needing to plan in advance
Roadmap integration – Works alongside your Salesforce roadmap to help drive sales
Mobile optimization – So your customers can order wherever they are
Benefits
Integrates with CRM
Catalogs on social media are automatically updated
Marketing tools included
Perfect for
B2B eCommerce
Large enterprises
Pricing
Pricing is based on licensing fees and revenue.
Extra services and eCommerce functionality cost even more.
Weebly – The Best ECommerce Platform for Email Marketing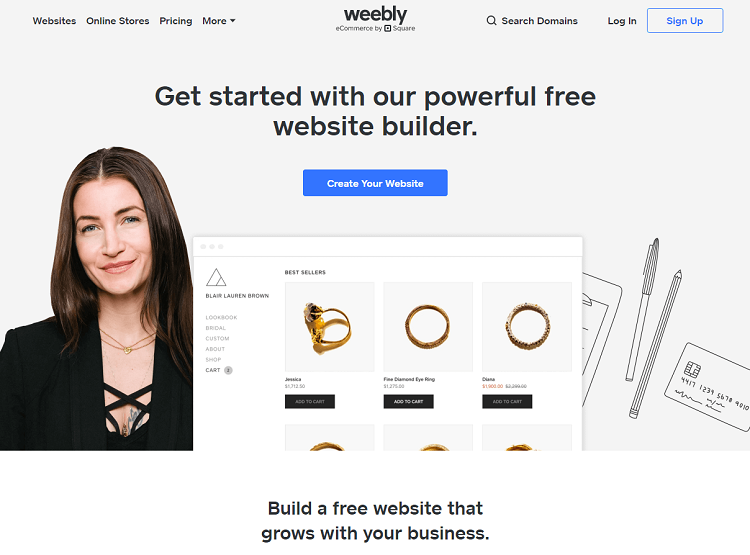 If you want to focus on your marketing automation, Weebly is a great choice.
Weebly is one of the easiest e-commerce platforms to navigate. If you are just wanting a simple e-commerce site, you'll be set up within minutes.
As the platform is late to the ECommerce party, they're still playing catch-up on certain features.
This means their SEO tools are lacking in comparison to competitors.
They also have limited options for larger marketing campaigns.
Features
Drag and drop web builder – Weebly is renowned for its ease of use and user-friendly drag-and-drop website builder
Mobile app for sales – Print shipping labels and monitor sales from your phone
Top-tier email marketing – Tools to help you manage your subscribers and the content they're sent
Benefits
Affordable
Easy to use
No HTML experience needed
Free themes available
Perfect for
Solopreneurs
Small businesses
Note:
The basic plan does not allow you to sell digital products.
You can also only sell up to 25 products on your site. Medium businesses and startups will quickly outgrow the platform.
Pricing
Weebly has a free plan where you'll receive basic features and SSL security.
Premium users can choose from three packages: Personal ($9), Professional ($12), and Performance ($26).
The top two are better suited to ECommerce stores.
They also take a 3% transaction fee.
nopCommerce – The Best Open-Source eCommerce Platform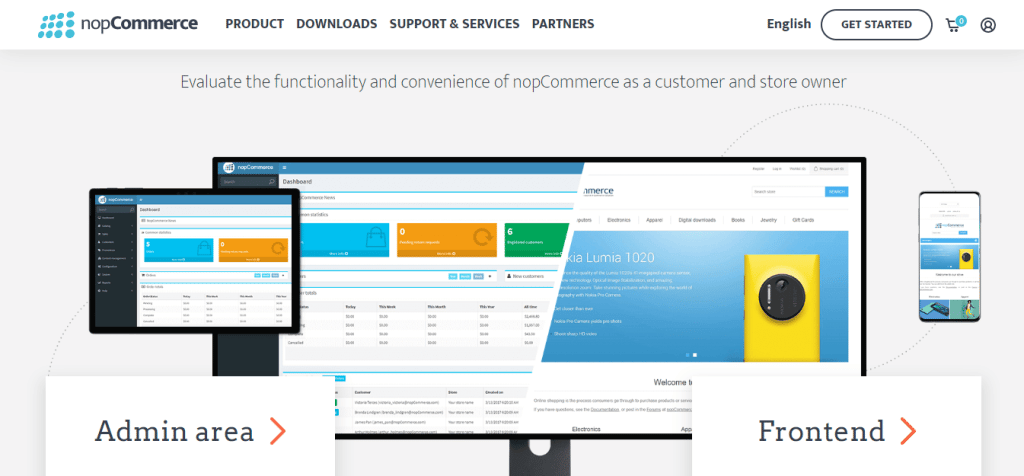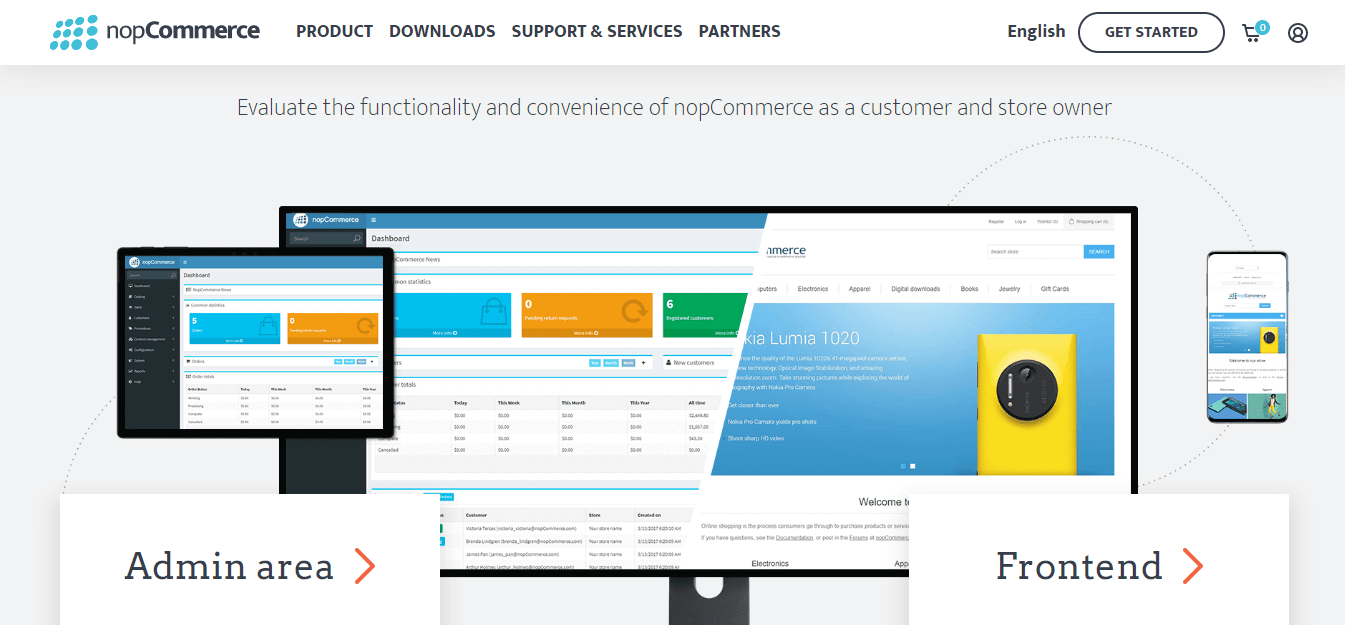 nopCommerce is an open-source eCommerce platform for creating web shops of any size and type, but its functionality better fits enterprise-level stores.
You can integrate the software with major services (PayPal, Amazon, FedEx, etc.) and third-party solutions using 1,500+ extensions (plugins, themes, and language packs).
With nopCommerce, you can create an infinite number of staff accounts and sell unlimited products, manage multiple stores and vendors. It also supports headless architecture.
Unlike other open-source platforms, nopCommerce doesn't have a paid (extended) version and all the major features come out-of-the-box, while plugins and extensions.
Features
High compatibility with any eCommerce POS, ERP, CRM, WMS, PIM systems, and headless approach through Web API
Out-of-the-box features – B2B functionality, one-page and anonymous checkout, mobile-friendly design, stock, and warehouse management, selling downloadable, rental, and recurring products, etc.
Smart product suggestions feature – cross-selling and up-selling, as well as promoting seasonal offers
Instant order formation and inventory tracking – international payment & shipping methods that are best suited for selling perishable products
Benefits
Unlimited customization options
multi-vendor and multi-store, omnichannel
SSL certificate, PCI DSS compliance, GDPR support
Advanced SEO tools, email marketing,
Active community with 250,000 members
Perfect for
Developers
Large enterprises and global businesses
B2B, B2C, B2B2C and D2C eCommerce, dropshipping
Pricing
nopCommerce is completely free to use
No hidden costs or customer transaction fees
Some extensions come at an additional price, including premium tech support.
Shopify – The Best All-In-One ECommerce Platform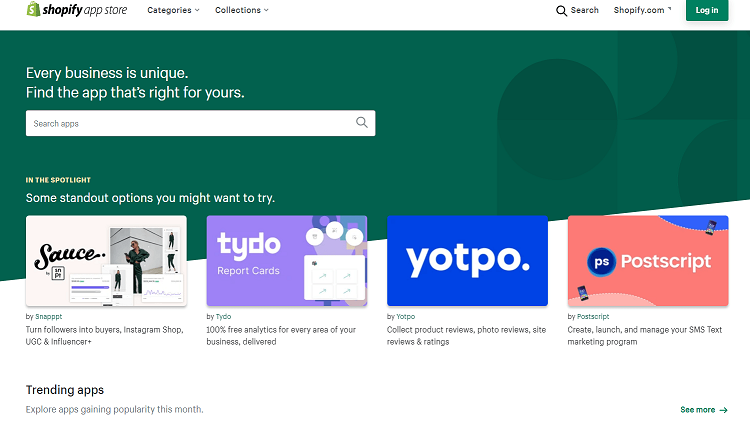 Shopify is one of the most popular and best all-in-one ECommerce platforms.
They're also the best platform for wholesale and mobile commerce.
You can integrate Shopify into Facebook, Instagram, and other social media.
The hosted solution allows you to set up your store within minutes.
Features
Zapier integration – To make email marketing a breeze
Multi-channel commerce -Choose which platforms your products are available on
Automatically mobile optimized
Blogging capabilities – For that all-important SEO
Benefits
Choose from free or premium themes
Sell across multiple channels
Easy to set up and use
Free SSL
Superfast loading
Perfect for
Small & Medium businesses
Physical stores looking to branch out
International brands
Pricing
There is no free plan for Shopify and the platform will take a 2.9%+$0.30 fee per transaction.
There are three plans for choosing from Basic, Shopify, or Advanced Shopify.
These start at $29, $79, and $299 a month. You can also try out Shopify's eCommerce software for free for 14 days.
Smoolis – Best Multilingual ECommerce Platform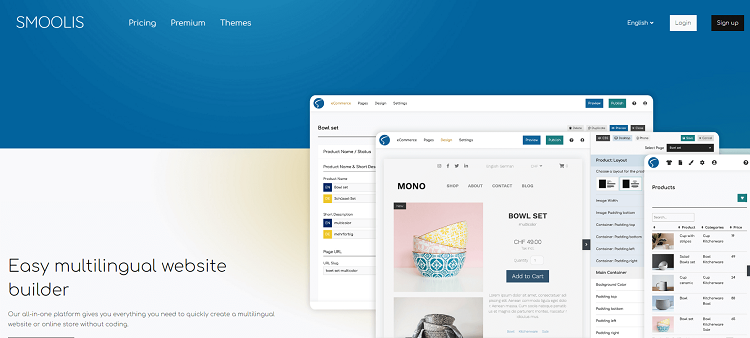 If you're looking for world domination, you should definitely consider Smoolis.
72.4% of people are more likely to buy from a website that is in their own language.
This e-commerce solution makes creating a multilingual website easily – so you don't miss out on any sales.
Features
Multi-currency tool – Supporting 58 languages and 116 currencies. (Only pay for the options you'd like)
Fully integrates with Facebook – Providing more touchpoints for your customers to shop from
Discount code creator – Perfect for tapping into peak shopping times
Benefits
Full translation available
Multi-currency
Free eCommerce themes
Customization tools
Perfect for
B2B E-commerce
International small & medium businesses
Pricing
The lowest plan for Smoolis starts at $12. For this, you'll get a free SSL, no transaction fees, and a shipping simulator.
You can create a basic site with two languages but only one currency.
The medium plan is $24 dollars and allows you to create a store in up to four languages with 4 currencies.
Finally, the large plan costs $36 for 8 languages and a variety of currencies.
A 14-day free trial is also available.
GoDaddy – Best ECommerce Platform for SEO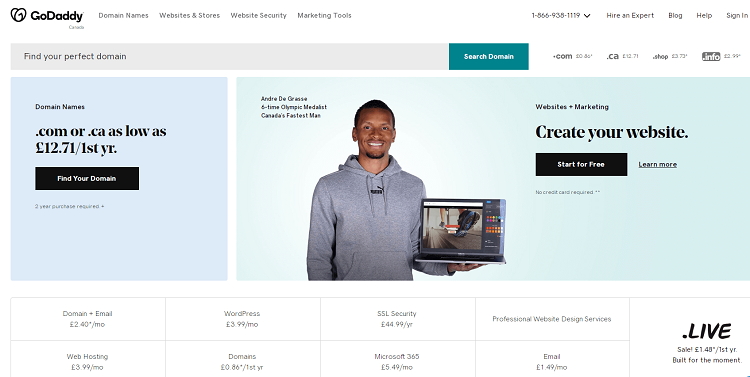 GoDaddy is renowned for its hosting services, domain checker, and SSL certificates.
What a lot of people don't know is that they also offer e-commerce capabilities too. You can create a store in minutes with AI.
The only downside is that the platform does not yet support digital products.
Features
Automatic abandoned cart reminders – Perfect for bringing back potential customers
ADI Site builder – Answer a few questions about the type of e-commerce website you want and GoDaddy will create it in minutes
Marketplaces tool – Allowing you to sell on multiple marketplaces like Etsy, eBay, and Walmart.
Benefits
Templates with industry-specific features
Add up to 5000 products
Sync your store with DHL and UPS
Zero transaction fees
24/7 customer support and live chat
Email marketing tools & analysis
Mobile responsive
Perfect for
Pricing
GoDaddy doesn't focus on e-commerce, so only has one plan available.
It'll cost $24.99 a month. They also offer a 30-day free trial.
Wix – Best ECommerce Website Builder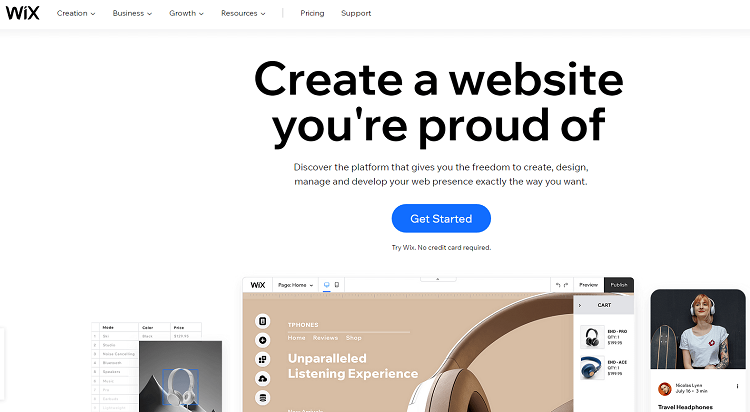 Wix was originally created as a quick and easy website builder.
Now, the brand has added e-commerce functionality; allowing you to launch your store with just a few clicks.
Features
Real-time website builder – Edit your e-commerce website and know exactly how it will look every step of the way
Wix Multilingual – Create multiple landing pages in different languages
Product videos – To give customers a real feel for your products before purchase
Benefits
No coding required
Drag and drop site builder
Allows digital products
Built-in product zoom
Free SSL
Sell across multiple channels
Perfect for
Small businesses
Dropshippers
Pricing
You can create your online store on a free plan with Wix.
But, to launch and take payments, you'll need to upgrade your subscription.
This is ideal as it means you can take your time with the build, without worrying about losing money.
For premium accounts, there are three options: Basic, Unlimited, and VIP. These cost $23, $27 and $49 respectively.
OsCommerce – Best Self-Hosted ECommerce Platform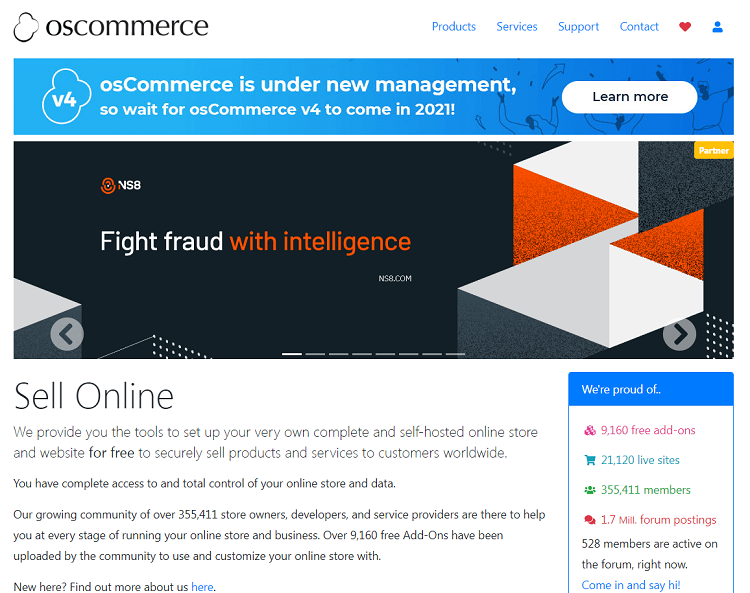 OsCommerce is totally free to use, but you'll need to download the software and upload it to your own web host.
The open-source platform has a keen community that is ready to help you with any issues you're having.
They can also provide great tips for customizing and coding your site.
Features
As OsCommerce is a fully self-hosted and customizable platform.
You can create add-ons to do just about anything – from product management to security checks.
Benefits
Fully customizable
Community and expert knowledge & support
Upload unlimited products
Self-hosted
Perfect for
Small to medium businesses
Developers
Pricing
OsCommerce is completely free.
But you will need to pay for your own hosting, and domain, and use website security tools.
VTEX – The Best ECommerce Platform for Large Enterprises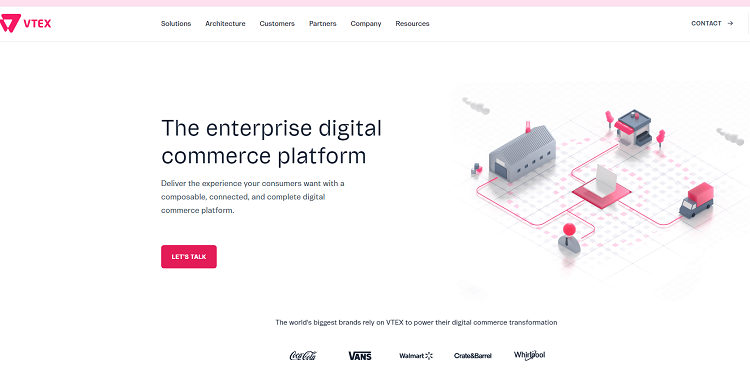 VTEX is used by mega giants like Walmart, Coca-Cola, and Sony.
It's specifically designed for larger enterprises rather than small online stores.
VTEX combines your eCommerce store, marketplace, and order management, and is 100% cloud-based.
It is perfect for headless commerce.
Features
Create site rules based on buyer behavior
Multi-brand site builder – Create different styles, designs, and templates for each brand
Flexible fulfillment – Manage fulfillment from warehouses, stores, dropshipping vendors, and more
Benefits
Quick to implement
Perfect for scalability
Used by the world's most renowned brands
Unlimited products
Perfect for
B2B
B2C
Larger enterprises
SaaS
Pricing
VTEX bases its pricing on revenue share.
BigCommerce – The Best eCommerce Platform Overall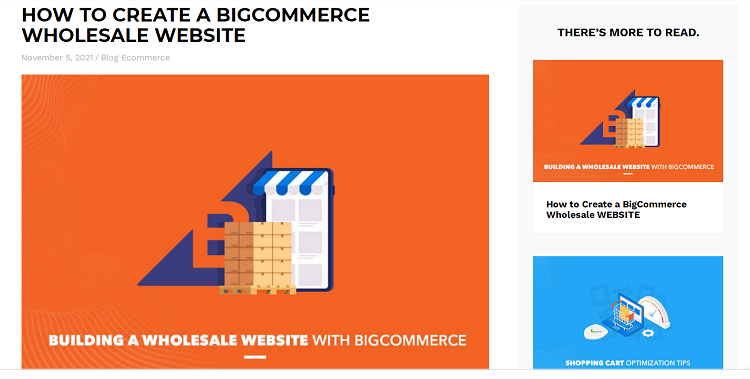 BigCommerce is the best CMS platform for ECommerce.
It's ideal for businesses of any size and unlimited products.
This is thanks to its robust search bar that can make shopping easier for all your customers.
Features
Activity dashboard – Track your marketing success and order trends
Elasticsearch search bar – For more refined searching for customers
Multi-storefronts – Manage several stores from one account
Benefits
Multi-channel selling
Intuitive product search bar
Highly customizable
No code required
Large community for support
Perfect for
Small – large businesses
B2B & B2B
Just about anyone!
Pricing
The lowest subscription for BigCommerce is $29.95/month.
But, for this, you won't get a custom SSL or abandoned cart recovery.
The plus plan is a hefty $79.95/month but has a huge number of perks.
These include subscription management, store credit accounts, and product filtering options.
For even more scalability, the Pro and Enterprise plans can be quoted based on your sales.
Square Online – The Best Retail ECommerce Platform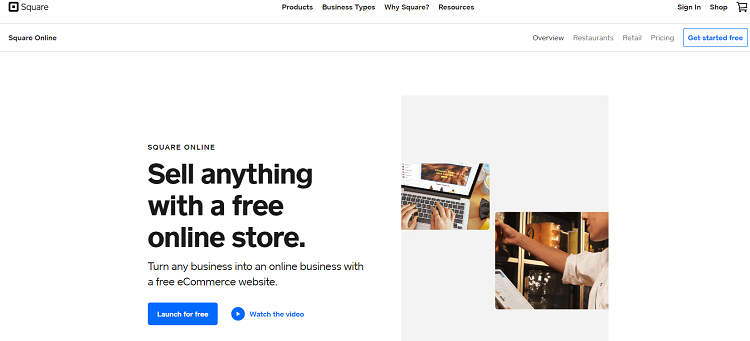 Square is first and foremost a payment gateway. The unique thing about Square Online is just how many industries it can work for.
You can choose to just sell from your social media channels, or create your own eCommerce store.
The platform also has e-commerce functionality for hospitality trades like restaurants and hotels.
Features
Localized shipping options – Like curb-side pickup or local collection
Product-by-product analytics – For detailed information about everything you do
Integrated lightbox tools – For big promotions, events, and information capturing
Benefits
Launch your store for free (with transaction fees)
Sell directly from Instagram
Easy to build your site
Accept donations
Perfect for
Small businesses
Local businesses
Hospitality/food delivery
Non-profits
Pricing
You can actually launch your own business with Square online for free.
However, with this plan, you'll have to pay 2.9% + 30c per transaction.
The Professional and Performance plans start at $12 and $26/per month.
When you upgrade to the Premium plan for $72/month, transaction fees will reduce to 2.6% + 30c.
3dcart (Shift4Shop) – The Best ECommerce Platform for Digital Products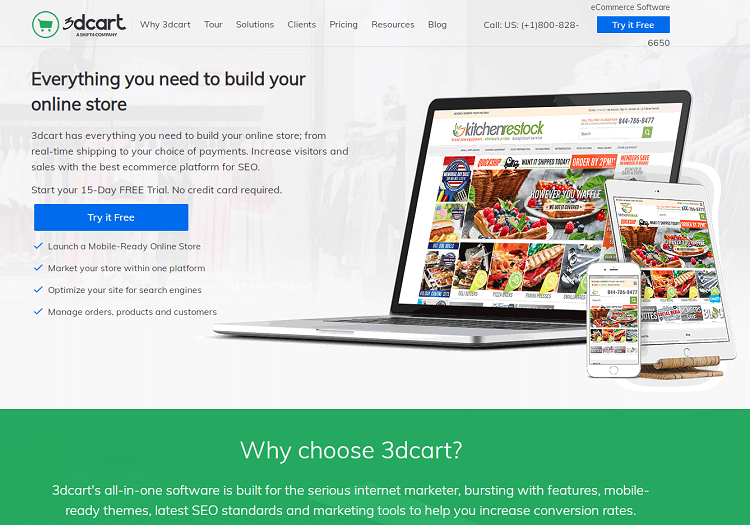 Formerly known as 3DCart, Shift4Shop is ideal for selling digital products.
It's also one of the best ECommerce platforms for wholesale.
They support headless commerce with unlimited storage so you can continue to scale your business.
Features
Built-in email marketing – Send bulk emails for the best offers and promotions
Automatic SEO – Your site is optimized automatically, giving you one less thing to worry about
Offline and online store management – Integrate over-the-phone orders with your online store.
Benefits
Community of developers to hand
No API is required for shipping
24/7 customer support
Accepts most payment processing options
In-depth analytics
Perfect for
Wholesales
Multi-channel sellers
SaaS
Pricing
The lowest plan for Shift4 Shop costs $19 a month.
This allows you to make $50,000 in sales, at which point you will need to upgrade.
Then, you'll have The Basic plan ($29), Plus ($79), Power ($129), and Pro ($229).
Big Cartel – The Best ECommerce Platform for Artists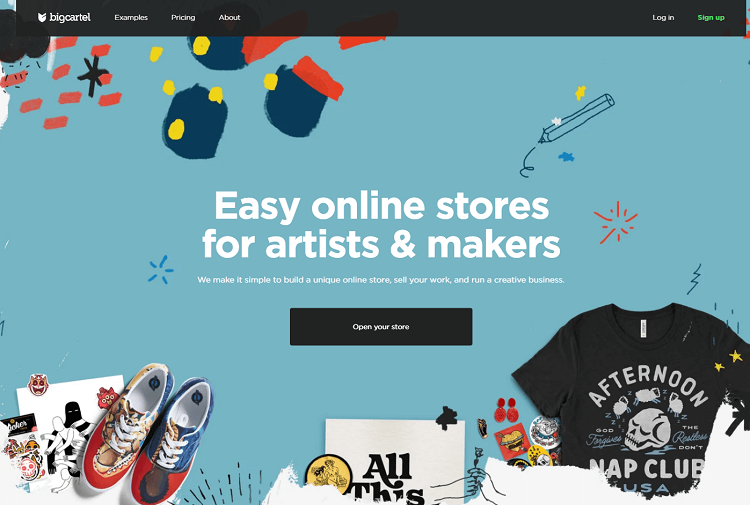 Designed for creatives, Big Cartel is the best platform for selling art.
It's considered a 'light eCommerce platform' and it keeps things simple.
Its best feature allows artists to sell online, at market stalls, and on social media.
Features
Multi-channel selling – Sell from your store, on social channels, or even in person
Google analytics integration
Benefits
Easy to use
Free-forever plan
Simple, set themes
Build and market your business
Perfect for
Small business owners
Artists
Pricing
The best thing about Big Cartel is free forever plan.
For those looking for more features, you can upgrade to a Platinum plan for just $9.99.
There's also a Diamond and Titanium ($19.99,$29.99/month)
Volusion – One of The Best Hosted ECommerce Platforms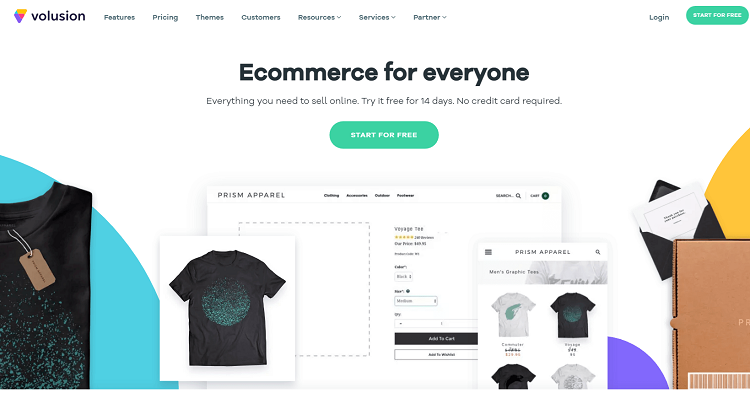 Volusion is great for selling physical products.
The e-commerce site doesn't currently have an option for digital downloads.
Unfortunately, the platform also doesn't offer blogging capabilities.
This makes SEO much harder to maintain.
Instead, you'll need to integrate Volusion with WordPress.
Features
Barcode generator – Create custom barcodes for all your products. Ideal for easy offline and online inventory management
Integrated CRM – For managing customers and support tickets
Customizable firewall – Manage who is able to visit your site at any time
Benefits
Easy-to-understand marketing
Simple inventory management
Drag-and-drop site builder
No coding needed
Advanced search tools
Perfect for
Small-large business
B2B
Dropshipping
Pricing
Pricing is dependent on the number of products you have.
For example, the smallest plan costs $29/month for 100 products.
The second cheapest plan is $79/month for up to 5000 products.
WooCommerce – The Best ECommerce Platform for Affiliate Marketing, Dropshipping & SEO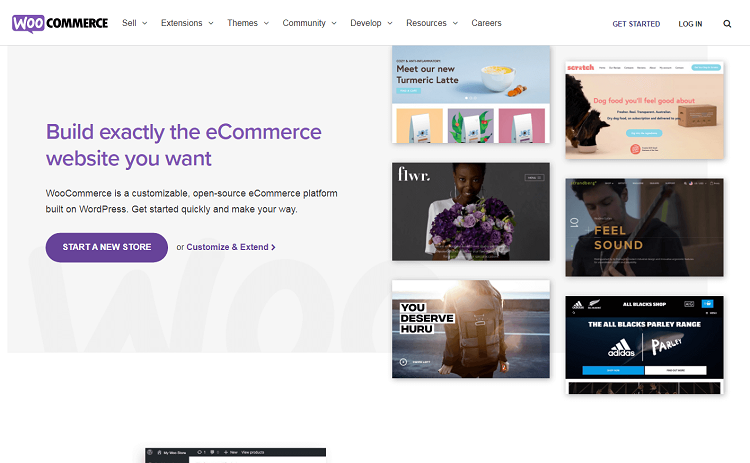 WooCommerce is one of the top ECommerce platforms and with good reason.
The platform integrates into an existing or new WordPress site.
This means you can hone in on the powerful content tools and plugins that WordPress offers.
Features
Live shipping calculations – Pass on the cost of shipping to customers with live shipping calculations from top couriers
Members-only content – Create exclusivity for your brand and products with members-only areas
Google analytics and shopping integrations – For multi-channel commerce and analytics
Benefits
Benefits from WordPress SEO tools
Free to use
1 click selling is available
Highly customizable with free plugins
Perfect for
Small businesses
Dropshipping
SaaS
B2B
Subscription sites
Pricing
WooCommerce is a free integration available with WordPress.
You will, however, need to pay for a Premium WordPress subscription.
Squarespace – The Best ECommerce Platform for Custom Products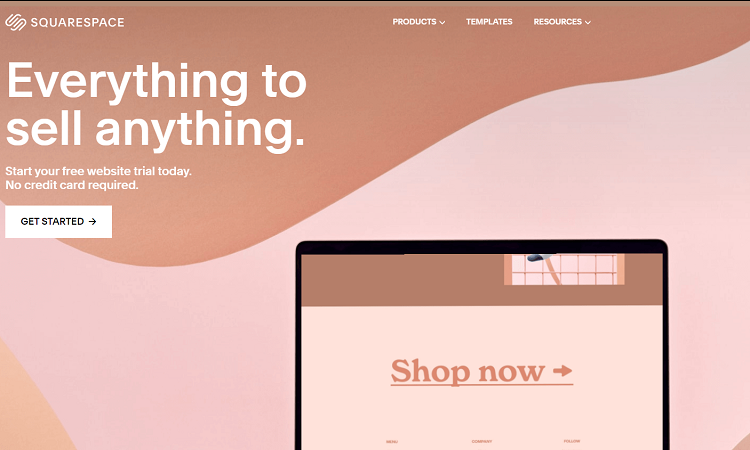 Features
Real-time shipping calculations – From UPS, FedEx, and USPS
Commenting system – Threaded comments, like counts, content moderation, reader feedback, abuse filters, and more
Drag and drop merchandising – Sort and filter product catalogs with visibility scheduling
Benefits
Sleek design templates
Easy to set up
Drag and drop site builder
Perfect for
Small-medium businesses
Print on demand
Starts-up and small stores
SaaS
The first plan with e-commerce capabilities is the Business plan which costs $18/month.
You will, however, also have to have a 3% transaction fee.
As you upgrade, you'll no longer need to pay transaction fees.
These plans cost $26 and $40 respectively. The higher plan offers abandoned cart recovery and subscription services.
PrestaShop – The Best ECommerce Cloud Platform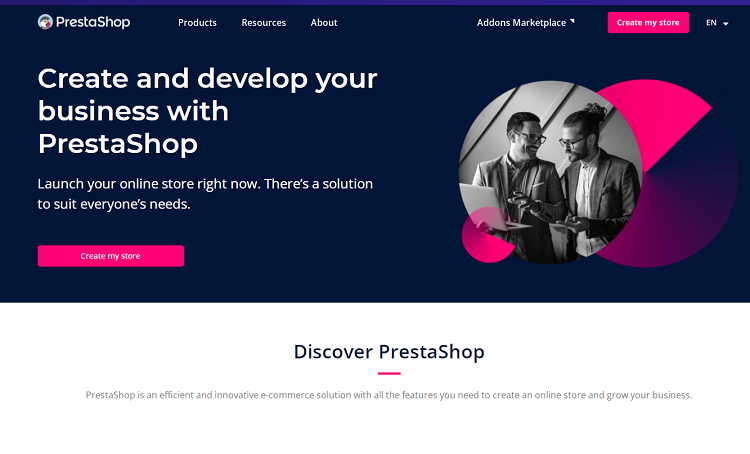 PrestaShop is perfect for print-on-demand businesses.
It has powerful customization tools for customers, and great filtering and variant options.
Features
Image uploader for customers – Allow customers to customize products by uploading their own files
Google map integration – Perfect for locating physical stores local to the customer
Back-in-stock emails – Automatically sent to customers interested in particular products
Benefits
Accepts digital products
Easy to use
Bulk purchases managed through minimum order quantities
Perfect for
Pricing
PrestaShop is free to use, but you will need your own hosting.
Opencart – The Best ECommerce Platform for Dropshipping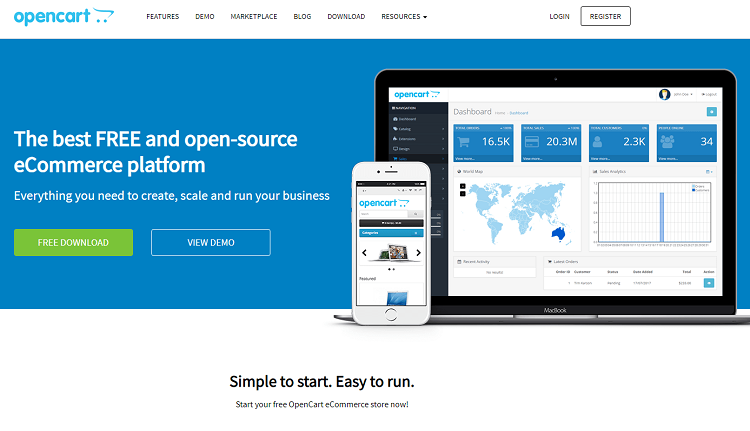 Opencart is home to over 300,000 online stores.
The open-source platform is free to use with an extensive range of free extensions.
Features
Multi-store support – Manage multiple stores from a single dashboard
Reward point system – Reward customers and build brand loyalty
Benefits
Fully mobile responsive
Unlimited products
Digital products
Subscriptions
36 integrated payment gateways
Perfect for
People with developer experience
Pricing
Opencart is free to use.
But if you're looking for priority customer support, you can opt to pay $99/month for a dedicated team.
You will also need to pay for your own domain and hosting.
SamCart – The Best ECommerce Platform for One Product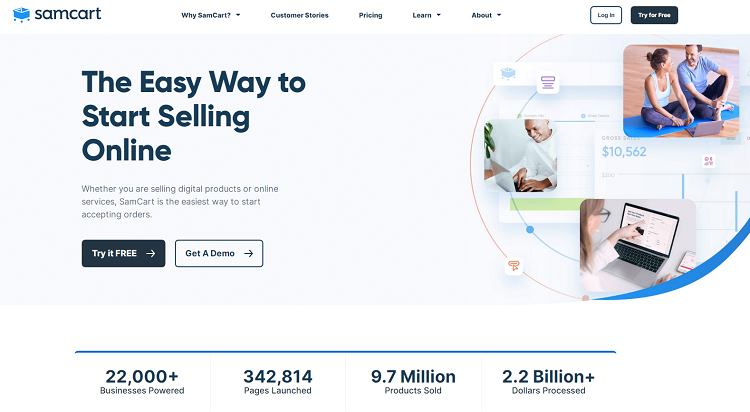 SamCart is first and foremost a web-based checkout platform.
It has built-in marketing tools to help you boost sales and the checkout has taken in over $400 million so far.
Features
Benefits
Integrates with Zapier
Easy to use
Never miss out on income with the subscription saver
Recover sales with cart abandonment
Upselling
Simple pricing
Perfect for
Subscription-based products
Larger businesses (as plans are pricey)
Pricing
SamCart offers two plans, costing $99 or $199/month.
The more premium account is where you'll find the affiliate center and subscription saver.
AbanteCart – The Best ECommerce Platform for Beginners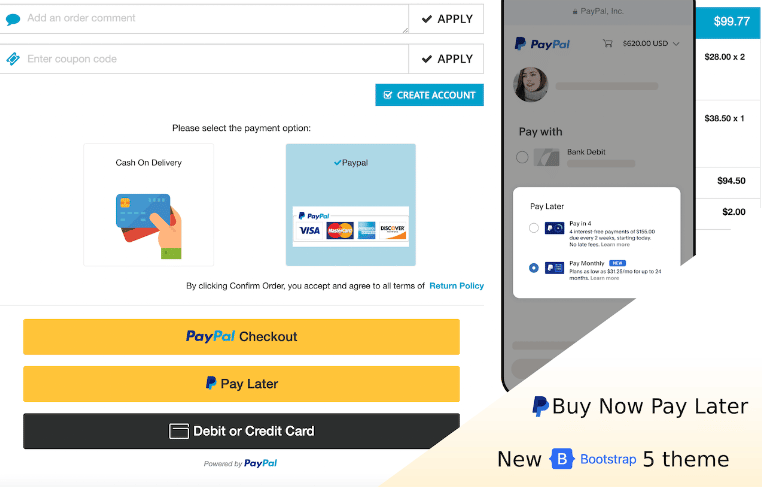 AbanteCart is an open-source eCommerce platform that enables you to create a site for your products and services.
You can import your product data in bulk to immediately get started on the platform. This cart can be set up and used by someone with little to no coding knowledge.
Features
Offer both digital and physical things for sale.
From a single dashboard, you can manage an unlimited number of stores.
SMS text message notifications
Email templates – in multiple languages
Benefits
Everything is unlimited. This covers items such as products, categories, orders, and photos.
Lots of customization options
Integrates with Avalara
Multiple languages and currencies are available
Perfect for
Beginners
Small eCommerce brands
Pricing
AbanteCart is free to use.
But that doesn't mean you won't end up spending money in the process. For example, you'll certainly have to pay for hosting.
Best eCommerce Platforms according to Reddit:
Woocommerce is the best option depending on your needs. Shopify is a great starter tool that suits most requirements. As a user of WooCommerce/Wordpress, I started with Shopify but switched to WooCommerce for its superior functionality.
You might be interested to check those related posts as well:
FAQ
What is the difference between an eCommerce online store and a website?
The difference between an eCommerce online store and a website is that you cannot sell products on a website.
If you already have a website and want to add products, you can use an E-Commerce plugin to make your website a store.
Rather than having to start all over again.
What is the most popular eCommerce platform?
The most popular eCommerce platform is no doubt Shopify.
Some of the biggest and smallest brands use the platform. Also, you can make an easy integration with Shopify.
It is pretty good value for money, and there are plenty of ways to customize your store and grow your business.
Other top contenders are WooCommerce, Magento, and BigCommerce.
What are the largest WooCommerce sites?
The largest WooCommerce sites include brands like All Blacks, Weber, AeroPress, and Airstream.
Conclusion
You should now be equipped with all the best eCommerce platforms to suit your industry.
Although this is a brief guide, it's good to take a deeper dive into each eCommerce solution.
To see just how much scalability and value for money each can offer.