Tech company Adobe specializes in software for creating and editing content. This includes photography, video, animation, and graphics.
Adobe is most known for Photoshop, Acrobat Reader, Illustrator, and Lightroom.
General Adobe Inc Stats and Facts 2023
Adobe was founded in 1982 by Charles Geschke and John Warnock
Their Corporate HQ is in San Jose, California
They were incorporated in 1983 in California but reincorporated in Delaware in 1997
Adobe has the NASDAQ Stock Symbol of ADBE
Their current chairman and CEO is Shantanu Narayen
Adobe User Statistics 2023
Adobe's Digital Media customers include primarily photographers, graphic and experience designers, video editors, content creators, students, and game developers
Adobe apps are used by digital media customers for everything from digital marketing to graphic design, and all other products involving creativity and graphic design
Adobe's Digital Experience customers consist of people like advertisers, publishers, agencies, marketers, merchandisers, developers, data scientists, and other related professions
Adobe Demographics Stats 2023
33.8% of Adobe's workforce are women
Women comprise 27.2% of leadership roles
Between 2017 and 2021, the number of employees identifying as women increased by 58%, from 5,527 to 8,743
In 2021, 10.9% of Adobe's employees were underrepresented minorities
Between 2017 and 2021, the number of US employees that are underrepresented minorities increased by 95.8%, from 746 to 1561
These underrepresented minority employees make up 7% of leadership roles and 9.2% of technical roles

Adobe Usage Statistics 2023
Many of Adobe's customers segment the services that they use and will get some Adobe products but not all. This is typically split between creatives and business.
Adobe Acrobat Reader Statistics
In 2021, Adobe Acrobat was used to opening more than 300 billion PDFs
This is a huge increase of over 50 billion in 2016
Acrobat and Acrobat Reader have been downloaded onto over a billion devices

Adobe Photoshop Statistics
Photoshop is used by over 90% of creative professionals worldwide
It was incorporated into Adobe in 1995 and, prior to 1993, was only for Mac
In 2022, Photoshop released version 23.3 for desktops and version 3.5 for iPad
Photoshop is accessible in 26 main languages
Adobe Illustrator Statistics
180 million graphics are created on Adobe Illustrator every month
Development for Illustrator started back in 1985 for Mac Computers
Version 2.0 of Illustrator launched in 1989, and it failed compared to Microsoft's CorelDraw
In 2003, Illustrator added 3D capabilities
CS6 is considered to be the update with the newest features
Adobe Illustrator can zoom up to 64000%
Illustrator can export graphics in 15 different formats
Adobe Creative Cloud Statistics
Creative Cloud launched in 2012
By 2013, it had half a million users
By 2014, it had 1.4 million
It is estimated that by the end of 2017, Adobe had over 12 million subscribers
Adobe Creative Cloud likely has more than 24 million active subscribers currently
By the end of 2024, they are projected to have nearly 30 million subscribers
Creative Cloud and related apps have been downloaded more than 450 million times
Adobe Creative Cloud brought in $9.54 billion in 2021
Adobe Express Statistics
Express is marketed as free use forever
However, Express memberships give access to the entire Adobe Stock royalty-free photo collection and Adobe Fonts
Compared to other Art & Design Programs, Express is ranked #7 by usage in the US
Adobe Connect Statistics
Adobe Connect allows for a wide range of reports to be made, including everything from curriculum to meeting reports
Over 450k websites use Adobe Connect
More than 84k companies use Adobe Connect
Adobe Spark Links Statistics
11k+ websites use Adobe Spark images and services
Adobe Spark links are used on more than 9k unique domains
18% of Adobe Spark Links are used by Science and Education sectors
Adobe Employee Number Statistics 2023
Adobe has more than 26,000 employees globally
They have had a steady increase of employees for all years since 2014
The one exception to this trend was in 2020 when the global pandemic made it hard to hire new employees
According to projections, they will have more than 28,000 employees by the end of 2022 and close to 36,000 employees in 2024
52% of Adobe's employees are in the US, while 48% are at international locations
This means there are roughly 13,500 Adobe employees in the US
Adobe Salary Statistics 2023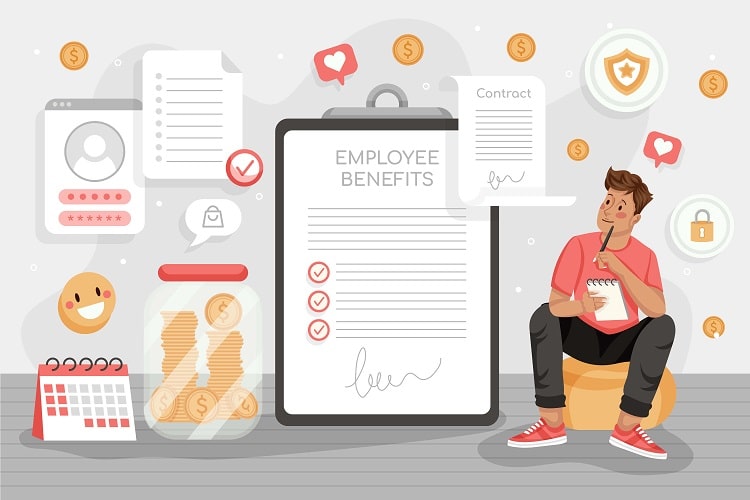 The average salary at Adobe is $125,912
In the communications department, the average salary is $233k
In the engineering department, the average salary is $170k
In the design department, the average salary is $155k
In the operations department, the average salary is $64k
Adobe Statistics on Cyber Monday 2023
In 2021, Consumers spent $10.7 billion on Adobe products
This is $100 million short of 2020 spending at $10.8 billion
Cyber Week saw $33.9 billion spent on Adobe products in 2021
Adobe Financial Statistics: Revenue and Expenses
Adobe's Annual Revenue is $15.79 billion
It is projected that with their growth, they could reach a revenue of $19.59 billion in 2022 and $28.72 billion by 2024
Their Net Income is $4.82 billion as of 2021
This is a decrease of 8.37% from 2020 due to changes in the provision for income taxes and an increase in operating expenses
It is projected that their annual net income will be $5.87 in 2022 and $7.45 billion by 2024
Total Assets are listed at $27.34 billion
It is projected that by the end of 2022, they will have $32.26 billion in assets, and by the end of 2024, they will have $42.5 billion
In 2021, Adobe expressed $8.11 billion in operating expenses:
$2.54 billion in Research and Development
$4.32 billion in Sales and Marketing
$1.08 billion in General and Administrative
$172 million in Amortization of intangibles
Adobe Ownership Stats
81.18% of Adobe is owned by institutional shareholders
18.13% of Adobe is owned by retail investors
0.69% of Adobe is owned by Adobe insiders
Vanguard Group Inc, the largest shareholder, owns 8.23% of Adobe with 38.51 million shares
Adobe Stock Price Statistics
The average price share for Adobe Stock is 550.46
This is up 13.38% from 2020 when the average price was 415.97
In 2019, the stock price was only 279.32 on average
In 2019, the average stock price was 235.03
You might be interested to check those related posts as well:
FAQs
What percentage of PC users own Adobe Acrobat?
Adobe Acrobat is a free-to-use program. Adobe Acrobat Pro can be installed and activated on two computers at once as part of Adobe's suites.
Adobe does not release download information as to who has downloaded it on PC versus Mac versus mobile.
What percentage of sites use Adobe Flash?
Flash was discontinued on December 31, 2020, and now only 1.4% of all websites across the internet still use Adobe Flash content.
The rest of it has been either migrated to other programming languages or has been discontinued entirely.
What percentage of revenue comes from each segment of Adobe?
Adobe Revenue is broken down between Digital Media, Digital Experience, and Publishing.
Digital Media Revenue accounts for 68.2% of Adobe's revenue.
Digital Experience Revenue makes up 29.4% of total revenue.
Publishing Revenue makes up the remaining 2.3%.
Adobe Number of Employees
Adobe has been growing steadily in recent years and currently employs approximately 22,900 people worldwide.
Conclusion
Adobe is a large and growing company, and while they have experienced some dips in expansion and profits, the trend continues to project upwards.
Sources:
Photutorial
Adobe
Expanded Ramblings
Stock Photo Secrets
Blog Adobe
Amra and Elma
The Tech Top 10
Similar Web
Helpx Adobe
Trends
Enlyft
Similar Tech
Comparably
Wall Street Zen
Trefis