In today's internet age, data is everywhere. There is likely more data than you know how to comprehend. Data visualization tools can help you understand the various layers and patterns hidden within the data.
What are the Main Reasons for Using Data Visualization Tools and Software?
Annual Reports
Analytic reports
Charts
Dashboards
Investor slide decks
Sales and Marketing
Software Testing
Templates
Visual Summaries
Showing trends, patterns, and relationships
Any other situation in which data needs to be broken down and demonstrated visually
Best Data Visualization Tools and Software this 2023
There are plenty of data visualization software tools out there to use but knowing which one is best for any situation is important. Below is a list of some of the best data visualization software to choose from.
1. Tableau Creator – Best Presentation Visualization Software
Tableau is famous for taking in large data sets and producing visualizations within a short period of time. It can also be used to create actionable insights that can be shared with teams, other professionals, and on the web. It has a desktop app, an online version, a mobile version, and a free public option: Tableau Public.
Their gallery of infographics and visualizations is a great starting point for any sort of quantifying data. Tableau is also easy-to-use. It is great for either a single data analyst or a corporation looking for a built-in data visualization solution. The suite of products is ideal for secure collaboration throughout the analytical workflow.
It also runs at least 10x faster than other data visualization tools when it comes to producing graphics from data, regardless of whether you are working on your phone, a tablet, the web server, a laptop, or a desktop computer. Tableau recognizes that in many situations, we are now a mobile-first society.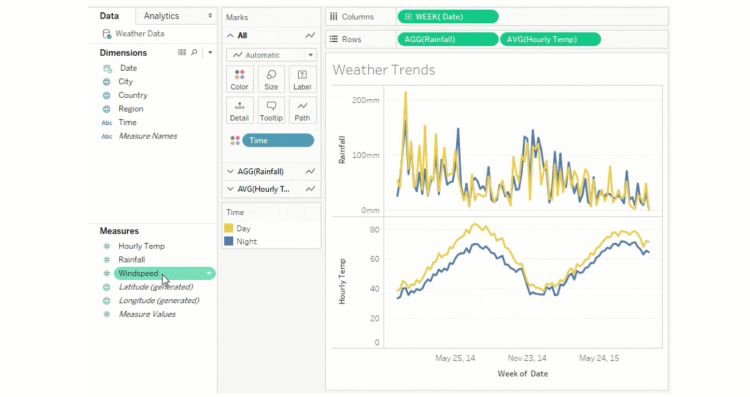 Pros:
Variety of data import options
Robust mapping capability
Sharing and collaborating securely
Video tutorials and how-to's
Extensive customer support
Cons:
The public version does not allow analyses to remain private
No option for automatic refreshing of reports
Column table formatting is known to be difficult
Pricing:
When you fall in love with the process rather than the product, you don't have to wait to give yourself permission to be happy. You can be satisfied anytime your system is running. – James Clear
2. Looker – Best Interactive Data Visualization Software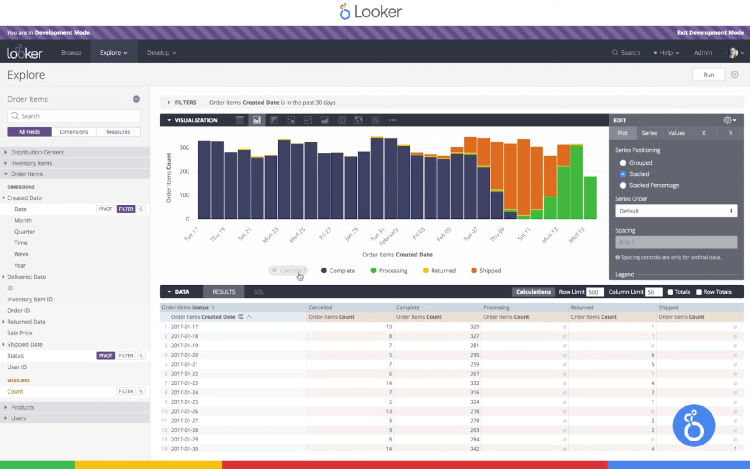 Looker is a team-oriented BI platform that provides real-time interactive dashboards and more in-depth data analysis for faster decisions. The dashboards are both interactive and dynamic. Looker can point out changes and irregularities in the data so that issues can be caught early. Looker can also be connected to more than 50 SQL-supported dialects, allowing it to connect with multiple databases.
Looker is designed to be as user-friendly as possible to maximize an efficient workflow. A single dashboard can be filtered dynamically and provide the best sort of information to a variety of people. The visualizations can be shared across many tools and exported in any format instantly.
This data visualization software offers a library of options for data. If what you need isn't there, you can build your own. Looker can take on large data sets and break the big data into whatever data visualization solution is necessary.
Pros:
Easy-to-analyze dashboards
Filter by individuals or groups
Ease of combining charts
Fast learning curve
Easy queries in the data
Cons:
LDAP integration setup is complicated
Limited help documentation without contacting customer service
The dashboard lacks some visualization options
Pricing:
$3000/month for 10 users
However, this is an estimate, Looker requires quote inquiries for an accurate price
3. Zoho Analytics – Best Data Visualization Tool for Enterprise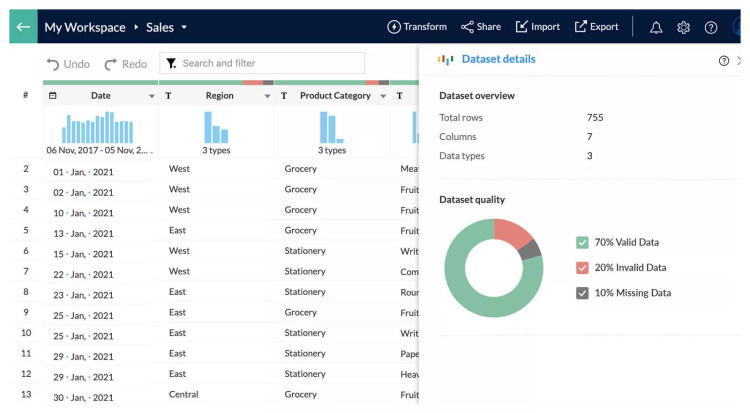 Zoho Analytics is both a business intelligence tool and a data analytics software. The smart assistant Zia is created using artificial intelligence, machine learning, and natural language processing; and it can help you with any questions you may have or help augment data analysis. Zoho is also accessed via a web browser, so all updates are instantaneous.
Zoho allows visualizations to be modified easily with an edit design tab. The dashboard design can be customized to whatever your company needs at the time. Filters enable collaborators to access data in a straightforward manner. One report will have multiple views which streamlines efficiency. Each visualization can also show up on the dashboard as a separate slide.
Zoho Analytics also offers a free trial and a free version for you to test out prior to committing. Zoho's price also puts it at a reasonable data visualization software for what you are paying.
Pros:
Smart assistant Zia
Easy-to-follow interface
Good customer support
Ideal for general business users
Strong security policies
Cons:
Steep learning curve
Reporting features can be frustrating
Plans can get pricey, especially when adding additional users
Pricing:
Basic plan: $24/month, billed yearly
Standard plan: $48/month, billed yearly
Premium tier: $115/month, billed yearly
Enterprise edition: $495/month, billed yearly
4. Sisense – Best Cloud Data Visualization Software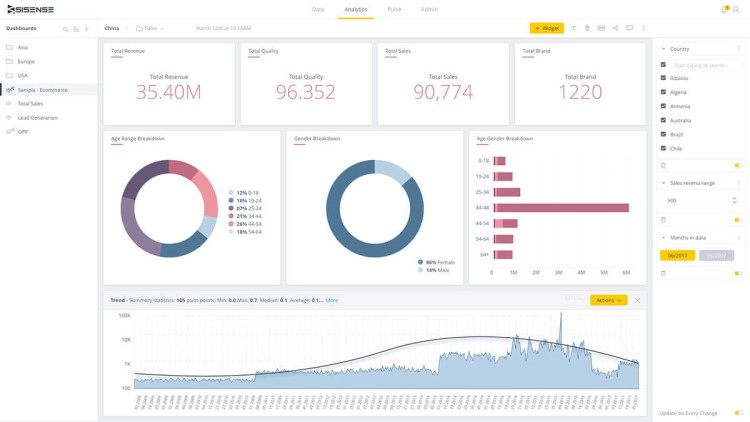 Sisense is a data visualization solution that is business intelligence-based and allows data scientists to take complex data and acquire actionable insights from it. It connects easily to third-party applications such as Skype or Slack and data can be pulled from those apps intuitively. It also touts itself as the leading cloud analytics platform.
Sisense is easy to set up and learn. Data can be pulled from multiple sources and results are near-instantaneous. The user interface is intuitive and the data visualization capabilities are broad. Files can be exported in a wide variety of formats and shared easily.
While Sisense lacks a data visualization library as large as other data visualization software and tools, Sisense instead offers a broader range of insights and data analysis. The analytics can then be embedded into other apps and locations for easy access.
Pros:
Natural language query in third-party applications
Integrates well with other analytics and apps
In-chip processing enables it to run faster and pull data from more places
Work can be deployed through the cloud
Role-based security
Cons:
Unnecessarily complex in areas
Limits on the natural language features
Not a good starter program for people who do not already have a basis in BI or data analytics
Pricing:
5. Qlik Sense – Best AI Data Visualization Software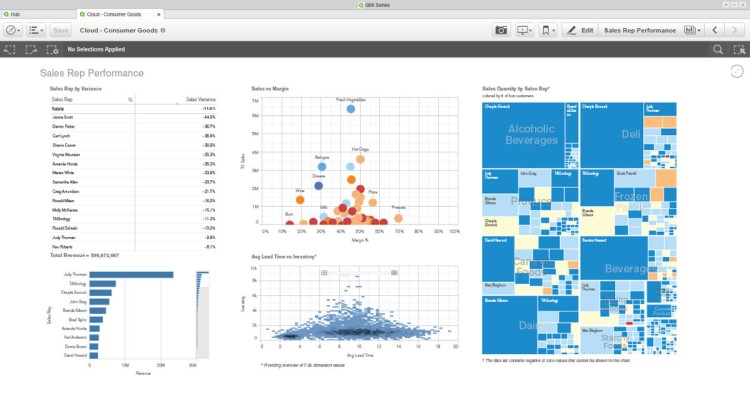 This data visualization software provides an associative data analysis engine bolstered by an Artificial Intelligence machine learning system. The software is big on associations and tries to mimic human brain thinking patterns. The longer you use Qlik Sense, the more it can provide relevant insights. It is a modern data analytics platform for a modern BI solution.
Regardless of the size of the data set, or how many sources the data is coming from, Qlik sense will allow you to visualize and explore your data with interactive data visualization and interactive charts. The data charts are updated in real-time to give you accurate and current data. The data integration and analytics can then be turned into actionable insights.
Qlik allows for interactive visualization, customizable dashboards, advanced data analytics, and the ability to view data from multiple devices. With integration with Qlik Cloud, the data can be hosted in any combination of public cloud, private cloud, and on-premises sites.
Pros:
Various forms of data presentation
Maintains data association automatically
Fast integration of data from multiple sources
End-to-end cloud platform in real-time
Fast data modeling
Cons:
Steep learning curve
Requires prior knowledge
Costly for larger companies
Pricing:
$30/user per month, billed annually
Enterprise plan requires a quote from their sales department
6. Microsoft Power BI – Best Windows Data Visualization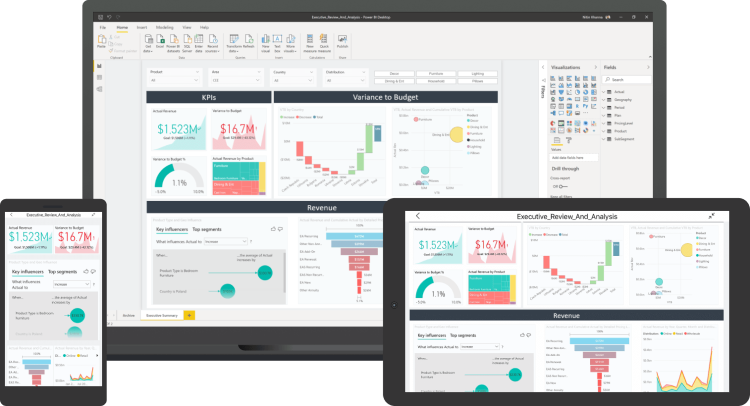 As Microsoft owns Power BI, it is the easiest one to use and integrate with Windows. Microsoft's business intelligence data visualization platform is actually very cost-effective at only $9.99 a month per user. It offers a big library of data visualizations, artificial intelligence capabilities, and integrations with other Microsoft products, namely excel.
Power BI's analytic tools make it easy to analyze and aggregate data meaningfully, allowing you to create interactive dashboards, charts, and reports. There are plenty of stock visualizations but more can be purchased from the Office Store for no additional cost. The visuals are easy-to-follow and do not get congested easily.
There number of connectors and servers and that number is only growing. Power BI can be accessed from the desktop version, web browser, or mobile phone. The community is not only helpful for creating visualizations for you to use, but it also offers support if you are stuck. Plus there is a lot of documentation to help you get started.
Pros:
Easy-to-use
Integrates seamlessly with other Microsoft Office Products
Excellent data visualization capabilities
Real-time updates on the dashboard
Community-driven visualization options
Cons:
Certain features are split between desktop and web versions
The free version does not allow a decent refresh cycle
Sometimes hangs with large data sets
Pricing:
Professional plans beginning at $9.99/user per month
7. SAP Analytics Cloud – Best Real-Time Analytics in Data Visualization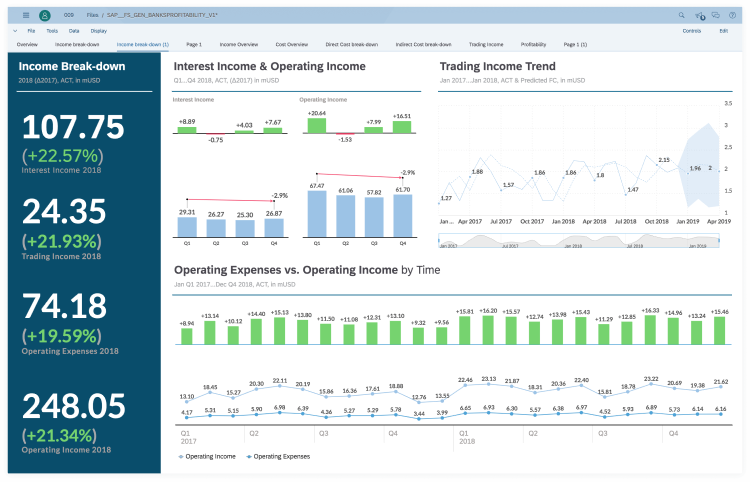 SAP Analytics has created a data visualization tool that is a BI solution to help evaluate big data, create visualizations, and predict business outcomes. It has augmented and predictive analytics built into its cloud. SAP Analytics Cloud has a competent error-flagging alert system, conversational artificial intelligence, and natural language technology. The analytics are a hybrid of machine learning artificial intelligence and gleaning from the community.
SAP Analytics Cloud is perfect for data scientists and data professionals. It does require some previous knowledge, but it is a powerful data science solution. It also has competitive pricing that makes it a viable option for larger businesses. The data visualizations can be customized to a variety of people and purposes.
This data visualization software has apps for both mobile and iOS, as well as the desktop version. Publishing to mobile is very easy with SAP Analytics Cloud. They tout being a single solution for a business or enterprise.
Pros:
Real-time analytics
Easy mobile publishing
Storytelling paradigm with templates
Centralized and consolidated view options
Easy customization of visualizations
Cons:
Toolbars can be confusing
Underwhelming data prep features
Steep learning curve
Pricing:
Business Package starting at $22/month
8. Infogram – Best WordPress Data Visualization Plugin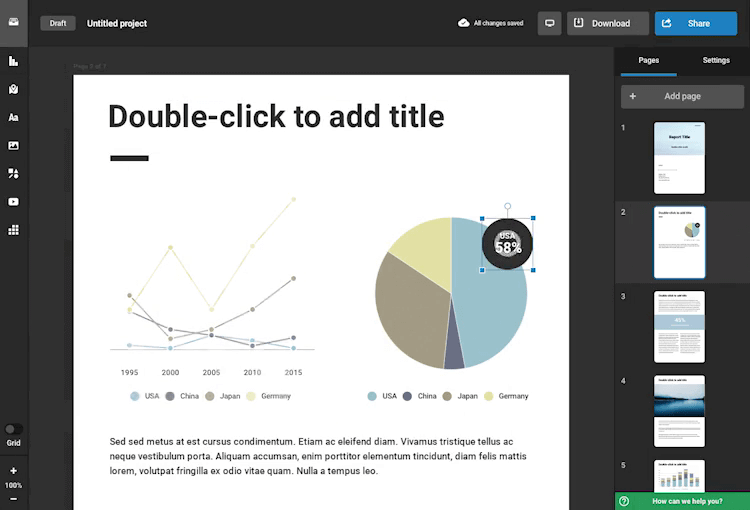 This is an easy and interactive data visualization tool because the data can be dragged and dropped into different areas that help even the most inexperienced person create effective visualizations in the form of infographics, maps, and charts. The visualizations can then be exported to a wide number of formats.
Inforgram also allows for interactive visualizations for websites or apps, and there is a specific WordPress plugin to streamline the process of exporting to WordPress. Infogram is web-based, so there is no software to download.
While higher tiers of Infogram are ideal for corporations or even the government, there are student-friendly options or even casual designer options. The key features are highly intuitive and there is no coding skill required. The platform can also handle complex data even at the free level.
Pros:
Reasonably tiered pricing
The free plan comes with basic features
Variety of chart and map types
Drag and drop editor
API allows for easy import of additional data sources
Cons:
The free version does not allow rich text editing and the Infogram logo is mandatory in free designs
Navigating the data can be challenging at times
Lacking certain data integrations and sources
Pricing:
Most essential features are included in the free plan
Pro version: $19 per month
Business version: $67 per month
Teams version: $149 per month
Enterprise version: contact Infogram
9. ChartBlocks – Best Free Big Data Visualization Software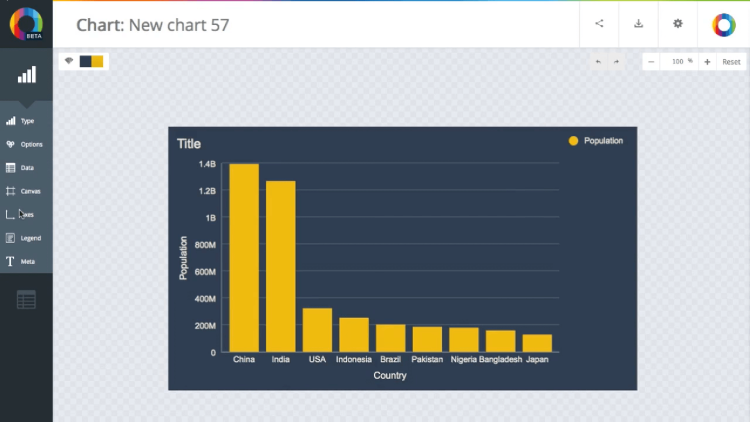 This visualization tool offers any type of chart you can think of, and it also helps you pick the right data for the right chart before the final visualization. ChartBlocks claims it can import data from anywhere within a few clicks. Whether you are using the software or the app, you can update your data easily.
Charts can pull data from multiple sources and the data import wizard will walk you through the steps if you are new to the process. This is a great data visualization software for people who do not have any previous coding experience.
There is a big library of different charts, and you can create multiple charts per data set. Once you have created your chart, you can embed it on a website or share it on social media without any hassle. Alternatively, you can export them as editable vector graphics.
Pros:
Easy importing
Robust free plan
Excellent customer support
Social media tools built-in for direct sharing and posting
Adapts seamlessly to screen size
Cons:
No mapping capabilities
The free version has limited export quality
Limited space for data upload
Pricing:
A free plan that includes all key features for up to 50 charts
Paid plans starting at $20/month
10. Datawrapper – Best Open Source Data Visualization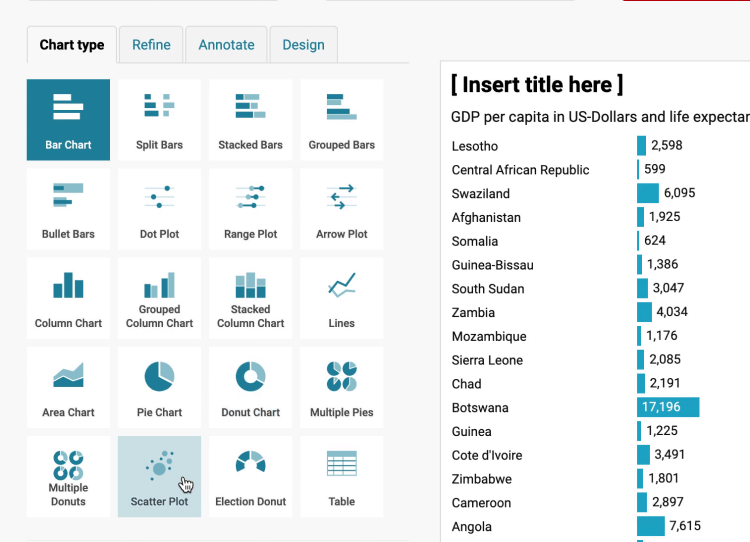 Datawrapper is a web-based data visualization tool that allows you to create interactive charts, maps, and tables to embed on websites or integrated with Google Products. Once all your data is in, the charts are created in a matter of a few clicks. Datawrapper easily generates bar charts, pie charts, scatter plots, and plenty of other graphs for your needs.
Datawrapper makes it as easy for readers to view and understand the data the visualization is trying to convey as it does make it easy to create the data visualization, to begin with. It is highly suitable for students, small organizations, and newsrooms.
Datawrapper is also an open-source tool that is supported on Windows, Mac, and Linux. And regardless of whether you have the free plan or the paid plan, all visualizations and other data are private until you publish the finalized visualization.
Pros:
Designed for newsroom data visualization
The free plan is excellent for smaller-time users
Tools include a color blindness checker for ease of understanding the visualizations
Visualizations are automatically scaled to the screen size of the device
No need for coding skills
Cons:
Limited data sources, all data must be copied into the tool
Paid plans get pricey quickly
Customizations are limited in the free version
Pricing:
Paid plans starting at $39/month
11. Grafana – Best Free Dashboard Data Visualization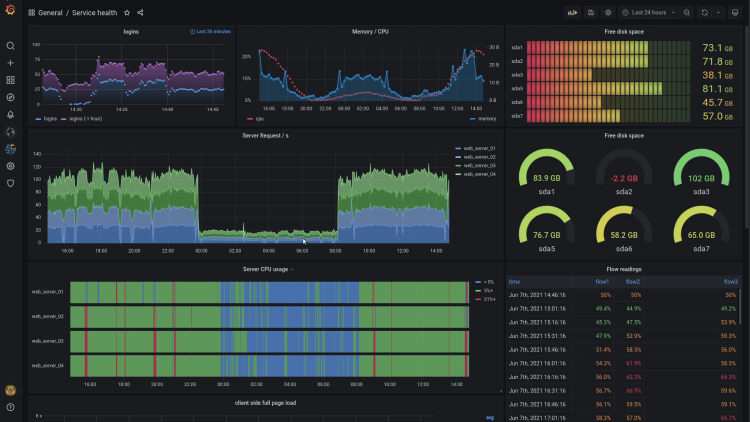 Grafana is another open-source data visualization software. It has a free downloadable option as well as a limited free cloud-hosted option. Grafana also has paid plans with more features but the free features are nothing to scoff at. It is one of the best options out there for creating and working with dashboards.
The dashboards are dynamic and Grafana supports annotations, customizable alerts, and mixed data sources. Data scientists can share snapshots of the dashboards, or invite others to collaborate. There are plenty of plug-ins for more data sources.
Grafana prides itself that the downloadable version is forever free and remains useful. The open-source capabilities keep the software competitive. There are paid support options for enterprises should you need some more assistance and features. Otherwise, the open-source self-managed options are still robust and workable for administrators.
Pros:
Robust free version
Large selection of data sources
Simple creation of dynamic dashboards
Easily work with multiple data feeds
Variety of charts and dashboards to choose from for visualization
Cons:
Lacks certain customizable features
No embed option for websites
The software can be overkill for simple visualizations
Pricing:
Cloud-hosted version for $49/month
12. Databox – Best Ad Data Visualization Software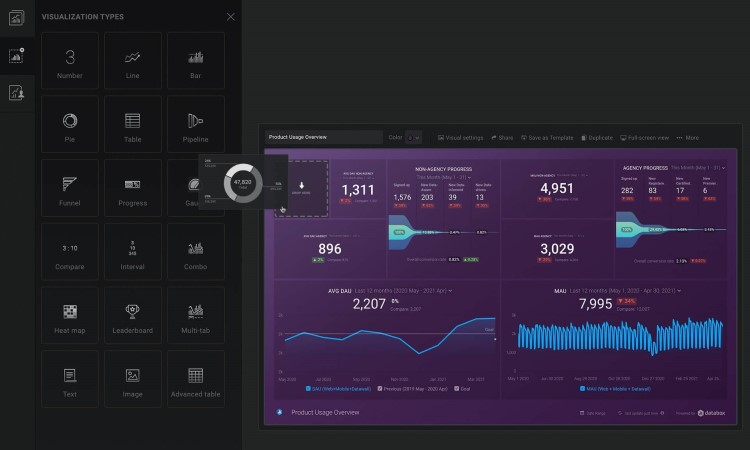 Databox is perfect for putting all data into one place and updating visuals in real time. There's no coding experience necessary to get stunning and effective dashboards. It is easy to use and can be deployed to marketing teams quickly.
It integrates easily with Google Analytics and other google products. It is also great for working with ad data, both with Google Ads and Facebook Ads. Data can be tracked from any device and Databox's dashboard designer allows you to customize the look and presentation of your dashboard, pull the metrics you need for any situation, and visualize your KPIs in whatever manner you need.
In addition to dashboards, Databox allows you to create performance scorecards, set alerts and notifications for different metrics, and create comprehensive reports from multiple connected dashboards.
Pros:
Large library of data sources
Easily customizable dashboards
At your fingertips KPI tracking
Easy to set up and minimal learning curve
Great for automating reports
Cons:
No individual plan for those who need more than 3 data sources
Plans can get disproportionately pricey
Hard to cancel a subscription
Pricing:
The free plan allows 3 users and 3 data sources
Paid plans range from $49/month to $289/month
13. Juicebox – Easiest Data Visualization Tool to Use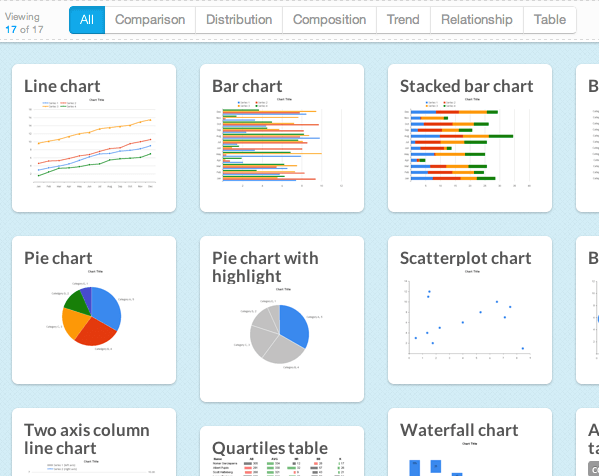 Juicebox is an easy-to-use data visualization tool with no learning curve. It is the perfect design tool for users with no previous technical experience. Juicebox allows you to pull from multiple sources to create the visualization. Then it walks you through creating whatever interactive data visualization or presentation you need.
Dashboards can be customized within an organization, for shareholders, or for the public. Regardless of who the audience is, Juicebox offers an option for data visualization. You can make interactive infographics, interactive dashboards, and interactive charts, as well as exploratory analytics, executive dashboards, and survey analytics.
Juicebox allows for an easy transition from Excel, PowerPoint, Google Sheets, and Slides into data visualization software with no coding experience required. If you do require extra assistance, Juicebox offers video tutorials, documentation, and a Help Center.
Pros:
Interactive data visualizations
Simple but professional styling options for visualizations
Adjustable layout for mobile viewing
Easily distill data into actionable insights
Import and export data easily
Cons:
Web-based only
No ability to make changes at the code level
Can be frustratingly simple for some technical users
Pricing:
The free plan allows unlimited apps for up to three team members
Team plans start at $49 per month
14. Whatagraph – Best Marketing Data Visualization Tool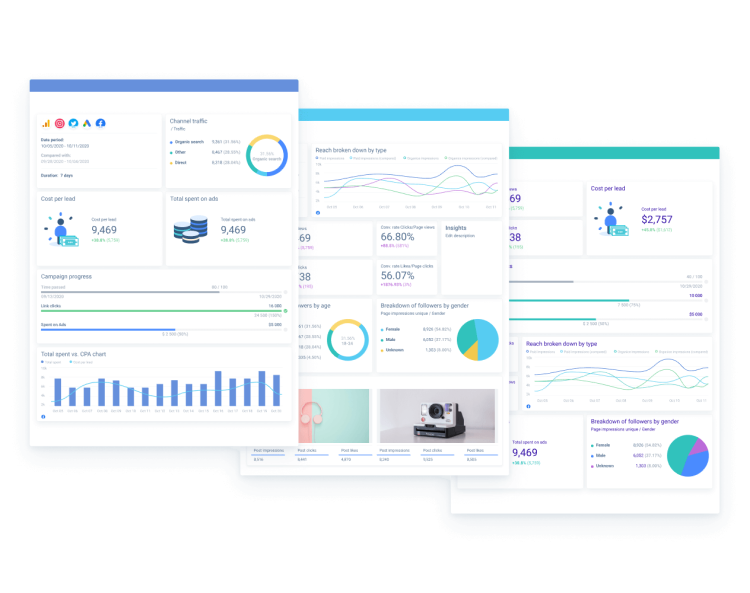 Whatagraph is a data visualization tool for comparing and monitoring data. You can transfer custom data from Google Sheets and there are custom API plug-ins for more data streams. Whatagraph charges based on the features you need, so you will not need to pay extra for some features when you are not using others.
The data visualizations are easily customizable for the different audiences your corporation may need to present to. Whatagraph has automation features that will help cater the data to the correct client. The automated performance reports can be scheduled to come out on whatever basis you want and will then go out without further input from you.
Whatagraph is ideal for marketers and digital marketing agencies. It integrates with social media platforms and other digital marketing tools. If they are lacking an integration that you desire, you can put in a request for it and they will try to add that in the future.
Pros:
Ready-to-use templates
Easy collaboration
Pay by the feature
Robust automated features to save time
Get easy-to-read insights
Cons:
Prices can get very steep for more users
Occasional issues with Whatagraph not pulling the right data
Visualization layouts lack customization
Pricing:
Professional plan: $119/month for one user
Premium plan: $279/month for five users
Growth plan: $699/month for unlimited users
15. Adverity – Best Data Visualization Software for a Pro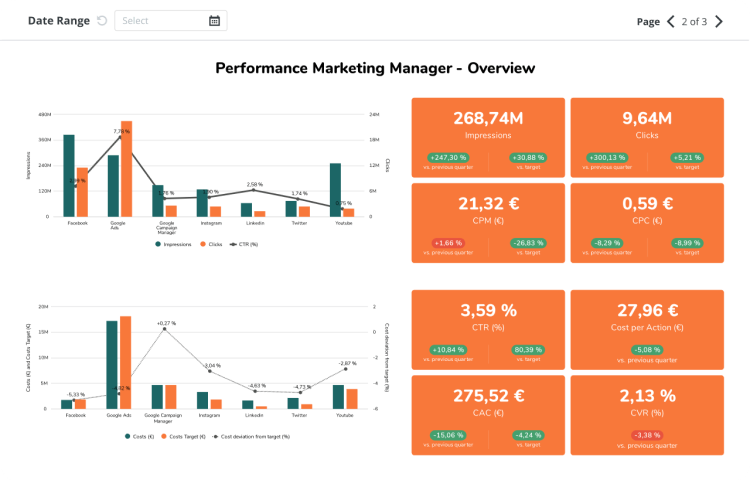 Adverity is perfect for reducing manual data collection and instead automating as many processes as possible. They have over 600 connected data sources for you to pull from and integrate into your dashboards. They also have a plethora of templates to choose from in order to maximize the efficiency of data visualizations.
The visualizations can then be customized and scaled to whatever purpose and whatever screen size they are being presented on. Adverity allows you to easily change the visualization or chart type, as well as table formats or filters. You can also effortlessly create individual data streams for whatever purpose you need.
Adverity is perfect for consolidating large data sets, providing peak data analysis, showing actionable insights, identifying opportunities, and generating more revenue. The data visualization software's ability to pull from so many sources makes it ideal for tracking data from anywhere. And if you have any questions or concerns about how to make Adverity work, they have customer support that will answer questions around the clock.
Pros:
Strong security
Process big data sets quickly from multiple sources
Built-in predictive analytics
Good customer support
Personalized dashboards for any occasion
Cons:
Steep learning curve
No task logging
Data extraction can sometimes lag
Pricing:
Contact Adverity for pricing
16. HubSpot – Best Sales Reporting Data Visualization Software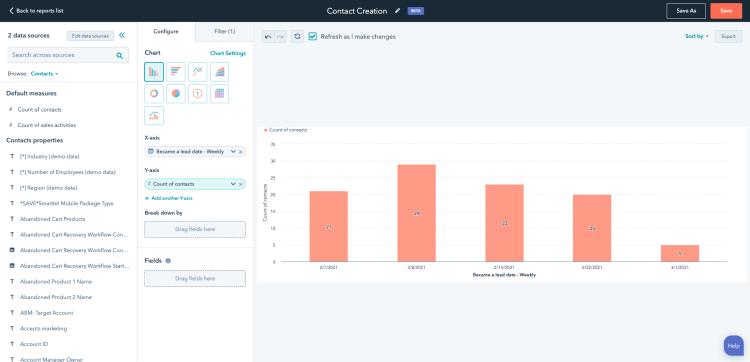 HubSpot is a visualization tool designed with reporting sales in mind. You can track your sales process including Deal Forecast, Sales Performance, Productivity, Deals Closed in relation to Goal, and Recent Activity. The dashboards are incredibly customizable, allowing you to choose exactly what shows up in the data range.
HubSpot also comes with a custom report builder where you can create customizable reports based on your data. These can then be easily shared amongst your team or with outside viewers. The user interface is streamlined and relatively easy-to-learn. HubSpot's free and starter plans are aimed at small businesses with cost in mind.
Their free data visualization tools include ad management, email marketing, live chat, basic bots, data sync, App Marketplace integrations, ticketing, a shared inbox, and many more. If you need to remove the branding or want more marketing contracts, you can take a look at their licensed plans.
Pros:
Easily customizable dashboard
Flexible and powerful report builder
Resize individual reports based on priority
Dashboards that fit up to 10 reports
Many features are free
Cons:
No segmented traffic reports
The free version requires HubSpot branding on all products
Plans can get prohibitively expensive
Pricing:
Robust free version
Starter: $45/month
Professional: $800/month
Enterprise: $3200/month
17. Venngage – Best Infographic Maker


With its vast template library, Venngage is an infographic maker that helps you create all kinds of data sets. Whether you want to create graphs, or pie charts, or present your reports, Venngage offers all under one roof. Hence, whether you have to analyze a single data set or work on multiple data sets, Venngage helps you do it all with just a single click.
Once you have created the graphical data sets, you can easily share them with teams and present them online too. Therefore, you can easily share the reports via emails, newsletters, and on other social sites too.
Whether you want a data analysis solution for sharing healthcare data, the financial status of your company, or real estate data, all you need to do is sign up on Venngage and get the data analyzed in no time.
Pros:
Hundreds of customizable templates
You can host webinars, design courses, and publish blogs
Offers all kinds of data analysis tools
You do not need any experience to start working on Venngage
Share your data on various channels or even download it in pdf form
Cons:
Some templates require you to buy the business plan or premium plan
The free signup option is limited to only 5 designs
Limited customization in free version
Pricing:
The premium plan is $16 per month.
The business plan is $39 per month.
The enterprise plan is $499 per month.
18. Storydoc – Best Business Report Visualization Software

Storydoc is an interactive business report creator and data visualization software. Moving away from the traditional static reading experiences such as PDF and PowerPoint, Storydoc proposes a scroll-based story-like presentation of reports and many other business documents including one-pager, pitch deck, proposal, white paper, case study, and more.
Storydoc takes your business documents from static and boring to interactive engaging stories.The tool allows you to narrate complex infographics and provides immersive live graphs and charts readers can interact with.
Getting your data into your report is extremely easy through the tool interface and can also be pulled in from your CRM or an Excel sheet.
Pros:
Engaging, uncluttered business reports
Pre-built templates for long-form data stories and an array of other business use cases
Interactive charts and infographics
Integrations with CRMs and other sales solutions
A built in document engagement analytics suite that lets you optimize your content to perfection
Cons:
For best esthetic outcome a designer should be involved in document creation
The tool provides only the most common data viz use cases as interactive content
Tool does not provide the ability to manipulate live data
Could be expensive for a one-off project
Pricing:
Starter – $30/month per user (cheaper with annual subscription)
Pro – $45/month per user (cheaper with annual subscription)
Team plans – open to discussion
Best Data Visualization Software according to Reddit:
Tableau, qlik, power bi, tibco spotfire, etc., are similar tools. Learn one, and you can apply most knowledge to others. Focus on creating compelling visualizations and dynamic stories. Treat BI as having both a design and data component.
You might be interested to check those related posts as well:
FAQ
What is the role of data visualization in data analytics this 2023?
Data visualization and visual analytics help paint pictures via graphs, charts, and tables. It enables the data points to be put in a form that we can easily read, rather than just strings of numbers and other data. Data visualization enables us to both analyze what it means, and what the next steps are.
What is interactive data visualization in 2023?
Modern data visualization software enables us to directly manipulate and explore the data in real time. Data can be identified, scaled, and linked to any number of data sources and then put into a form where it can be adjusted right in front of you, without waiting on updates.
What is big data visualization?
Raw data comes in many formats and usually needs to be transformed into a usable form. Big data visualization is the process of transforming the raw data into charts, graphs, maps, and other forms of visualization for the purpose of understanding what it all means and highlighting observations from the data points.
What is dashboard data visualization?
Dashboards are a type of data visualization tool that does a combination of track, analyzing, and displaying the data. This data can be software KPIs, metrics, data points, and any other number of usable data. Data analysts can turn this data into actionable insights, highlight decision-maker data, and see benchmarks.
What are the key components of data visualization?
For data visualization to be clear and concise, the best elements to have include: clear headings, highlighted purpose, summaries of key points, relevant comparisons, obvious trends, and simple analysis. The best way to display this data can vary, but common options include, bar charts, line charts, area charts, pie charts, scatter plots, and bubble charts.
What are the different types of data visualization?
Here are some of the most common data visualization types and their uses:
Column Charts or Bar Charts are used to compare data along two axes, one of which is numerical
Pie Charts represent parts of a whole, with each wedge representing a relevant section of data
Donut Charts are a subtype of Pie Charts, but you can have more sections without losing readability
Line Charts or Line Graphs showcase changing data over time
Scatter Plots analyze the correlation between variables
Flowcharts visually describe a process or map
Tables display comparative features
Bubble Charts or Mind Maps are a web of shapes organized by concept and how they connect
Conclusion
There are plenty of data visualization software tools for you to choose from based on your business needs. The sixteen listed in the article above are an excellent place to start.