Using a time management app is one of the easiest ways to manage your productivity. It's easy to get overwhelmed with tasks, from to-do lists and calendars to meetings and shopping lists. A time management tool allows you to keep track of everything in one place. As a result, you can save time while reaching goals faster.
Time Management Apps and Tools 2023
Today numerous time management apps can help you be productive. Here you can find the list that covers some of the best tools with functionalities for personal and professional use.
1. Best overall: Todoist
This is a popular time management app used by millions of people around the world. It is considered the most comprehensive time management app, as it helps prioritize your tasks and manage your time. In addition, this app integrates with other tools such as Gmail and Slack.
Features
Effectively prioritize your tasks to help you work smarter
Simplifies your workflow and helps organize all your tasks easily
Personalizes your task views to match work methods and workflow
Import tasks from a template with the app
Available platforms
Todoist is available on every device, including iOS, Android, and Windows. You can seamlessly transition between your phone and computer while keeping everything up to date.
Price
Free plan for beginners with core features
The pro plan starts at $3 per person per month billed annually or $4 billed monthly
The business team plan starts at $5 per person per month billed annually or $6 billed monthly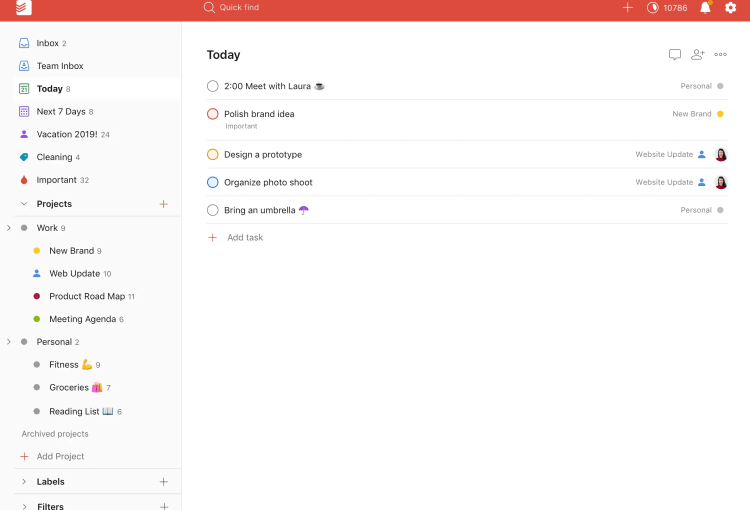 2. Best for work schedule: TogglTrack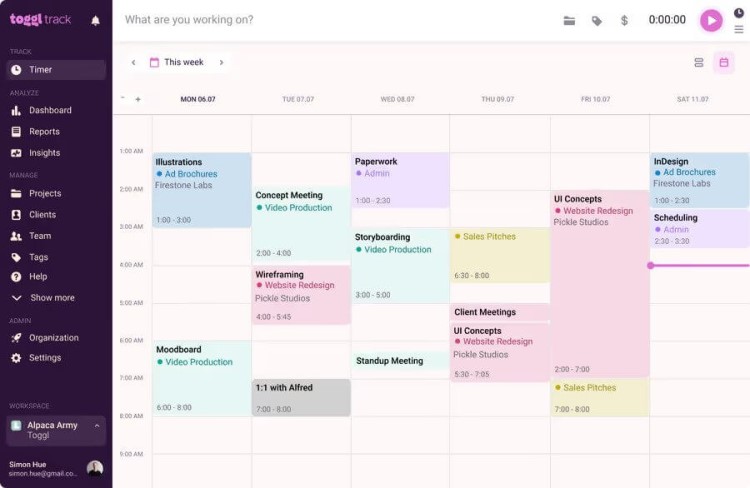 TogglTrack is a time-tracking software that serves many other purposes as well. You can use it to track your time on tasks and run reports to see which activity takes most of your time for more efficient management. Larger teams can also use the tool to see everyone's activity and the time left to finish the tasks. Everyone can use it, including small businesses, corporate teams, and freelancers.
Features
Uses an easy-to-read interface
Comes with a calendar functionality to help you plan your day
Third-party application integrations
Easy to plan projects with the software
Pros
You get detailed weekly reports to summarize performance
There is a browser extension for tracking time in multiple teams
Email reports help get insights into your inbox
Cons
The packages are expensive
Availability
Android, iOS, and the web
Price
Free for 30 days
Team plan: $10/user/month
Business plan: $20/user/month
3. Best time management app for multiple people: Trello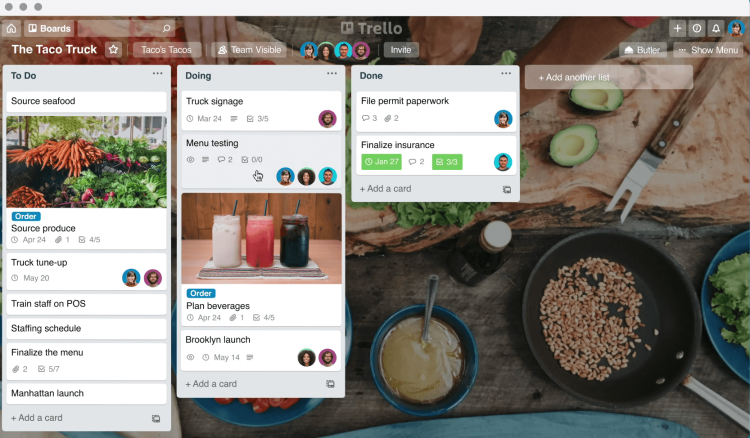 If you are looking for ways to manage projects and tasks with ease, Trello is the answer. This is a time management tool made for teams. It allows you to monitor and view tasks assigned across teams. For example, you can know who is working on a specific task.
Features
Dashboard and calendar
Task assignment
Checklist management
Can sync between mobile, web, and desktop apps
Customizable and integrates with other tools such as DropBox.
Pros
This tool is especially handy for brainstorming
Comes with an easy drag-and-drop function
You get email notifications and reminders
Cons
The iOS app is a bit confusing
Pricing is high
Availability
Android, iOS, and the web
Price
Free for core features with unlimited boards
Standard plan: $5/user/month billed annually or $6 billed monthly
Premium plan: $10/user/month billed annually, or $12.50 billed monthly
Enterprise Plan: $17.50/user/month billed annually
4. Best for personal life: TimeTree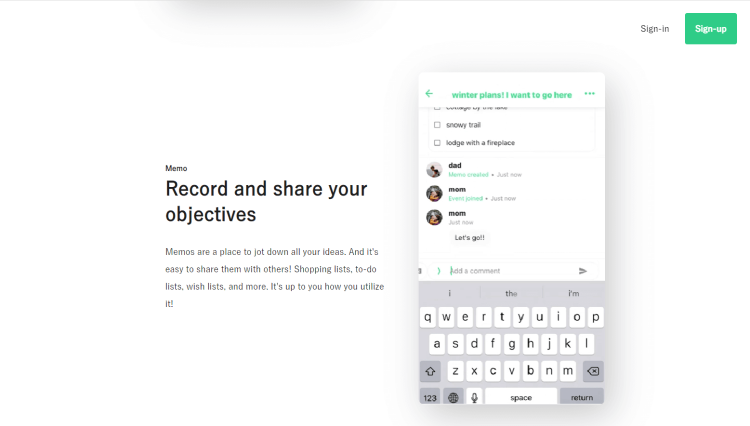 TimeTree is a time management app that puts different functionalities in one place. You can easily share calendars with your coworkers to ensure you do not miss out on any significant events.
Features
Has the added functionality of memos to replace the traditional pen-and-paper to-do list
Create and edit events for all members
Reminders are delivered to everyone in the group
See what's coming up in your day
Check out the full-month view that has upcoming events at a glance
Pros
Time tree helps you and your team be up-to-date with events on the calendar
It helps organize your work by merging all your teammates' calendar
The event booking calendar is also a chat room for your team
Cons
Limited integration
You can only work on one project at a time
Price
This app is free, meaning everyone can get on board
Availability
5. Best task manager for multiple platforms: Remember the Milk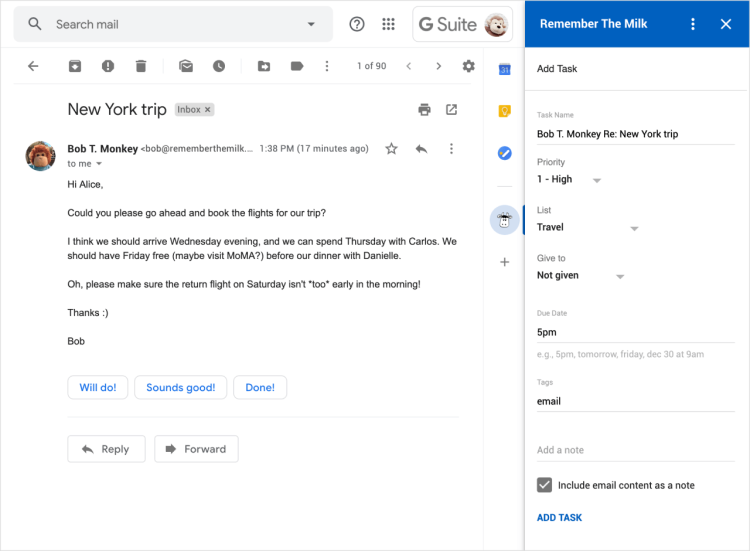 This is a to-do list app designed to help to organize tasks. It comes with built-in themes that keep things visually appealing. The app has been around for over 15 years helping people manage their busy days.
It comes with extra features that allow you to determine how you receive reminders and tasks. For example, you can attach files to your tasks to keep everything in one place.
Features
Integrates with other tools such as Siri and Alexa
Works with Google Assistant.
Connect to your Dropbox or Google Drive account
Pros
This is a simple-to-use time management app
You can display tasks on calendars
It's great for busy people who want to avoid forgetting things and mismanaging time
Cons
It is hard to find the different functions on each list
There's no concept to view multiple lists in a single view
Availability
Android and iOS platforms
Price
Free
Pro: $39.99 per year
6. Best for additional resources: Calendar App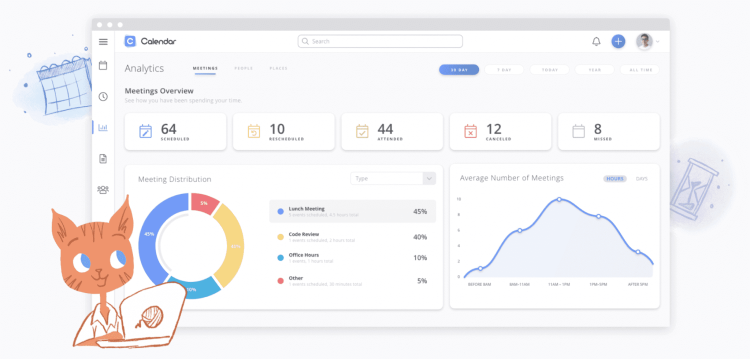 Calendar is a time-management tool that can help you determine where you spend most of your time. It comes with extra functionalities to help you see how much time you spend in meetings or at the office and adjust your time based on your goals. You can integrate it into current workflows for more efficiency.
Features
Customizable visualization
Intuitive dashboard
Information Sharing
AI integrations
Pros
It gives you multiple ways to gauge how you are spending your time
Powerful browser extensions
Multiple plan levels, including a free version
Cons
No multiple language capability
Availability
Android, iOS, Web, and browser extensions
Pricing
There is a free trial available, and a premium plan for $8/user/month
7. Best for time tracking and scheduling capabilities: Time Doctor
This is one of the best time management apps for easy time tracking and scheduling. You can access reports in real-time with clear dashboards to manage how many hours employees work. This tool is useful to all team types, whether remote, office-based, or hybrid to increase productivity.
Features
Automatic time tracking
Website monitoring
Alerts and notifications
Payroll management
Pros
It is pretty convenient to install and work with.
It allows to track time and improve productivity
It shares team member activity by sending screenshots.
You can access reports in real-time
Cons
It is geared towards teams rather than individuals
Sometimes the syncing of time can be incorrect when switching between multiple computers
Price
Free trial for 14 days
Basic plan: $7/user/month
Standard plan: $10/user/month
Premium plan: $20/user/month
Availability
8. Best app to organize thoughts: Evernote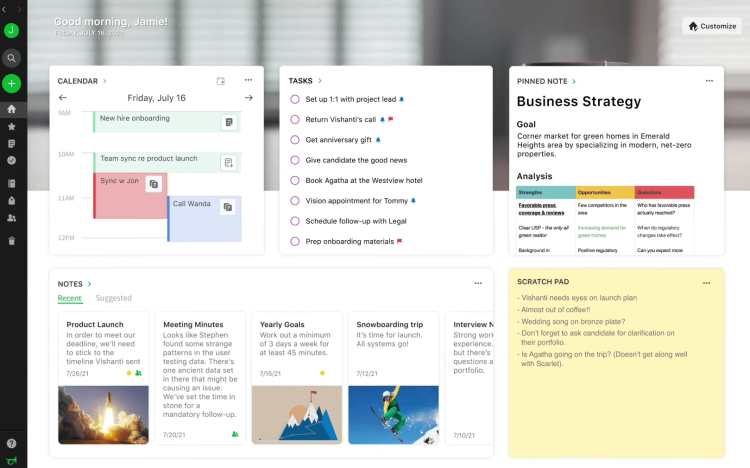 Evernote is one of the more widely used mobile apps for efficient time management and worker productivity. It is a great app for keeping your thoughts and assignments organized.
You can synchronize personal checklists and notes across devices, meaning you can work on a task on one device and then later switch to another without losing anything.
Features
Easy-to-use interface
Supports multimedia files stored as notes
Good organizational capabilities
Cross-platform syncing
The free plan is limited in storage
Pros
The app allows you to collaborate with others and share ideas, plan events, or set reminders
Simple organization and use
Comes with tons of integrations
Cons
Only a few devices available for free accounts
The premium plan is expensive
Availability
App Store and Google Play store
Formats
You can take notes in several formats, including photos, text, audio, videos, and web clippings.
Price
Evernote Free
Evernote Personal: $7.99/user/month
Evernote Professional: $9.99/user/month
Evernote Teams: $14.99/user/month
9. Automatic productivity tracker: Rescue Time
This is a great automatic time tracking software that helps users with being more productive. It compiles reports of what you are doing with your time. The app runs securely in the background of your computer or mobile device.
Features
Activity tracking
Time tracking
Website and app blocking
Goal setting
Center dashboard to view progress
Pros
This is a free productivity app that helps you stop wasting time
It helps you stay on top of your game by monitoring your goals
You can choose from several reports around the time spent on different apps
It's a bit more automatic to track than other apps
Cons
The app has an outdated interface
You can't assign work to projects or clients
Availability
Windows, Mac, iOS, and Android
Price
The tool offers a free plan and a premium plan from $6.50/per month
10. Best app to plan your day perfectly: Fantastical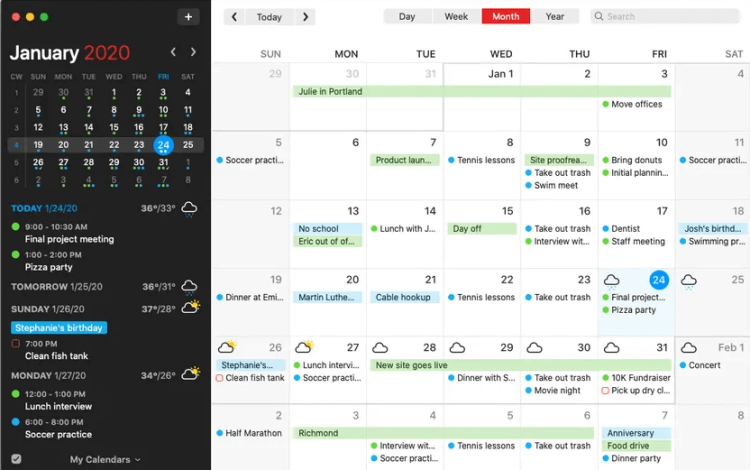 Fantastical is a multiple award-winning calendar app with powerful features. It is one of the best iOS calendar apps on the market, which works seamlessly across all Apple devices. You can import your event or meeting from the calendar to a neatly organized list.
Features
A full calendar window with day, week, month, and year views
Ultra quick access mini window
Time zone support
Task management
Pros
The app offers daily, weekly, and monthly
It is a user-friendly application
It comes with an intuitive natural language parsing
You can add your existing calendar accounts directly to the app and keep your tasks in sync
Cons
The app is only available on iOS and Mac devices
Availability
iOS for mobile and Mac for desktop
Price
Offers a free trial and a premium individual plan for $4.99/user/month and a family plan at $7.99/month
11. Best to manage daily tasks for productivity: 1-3-5 list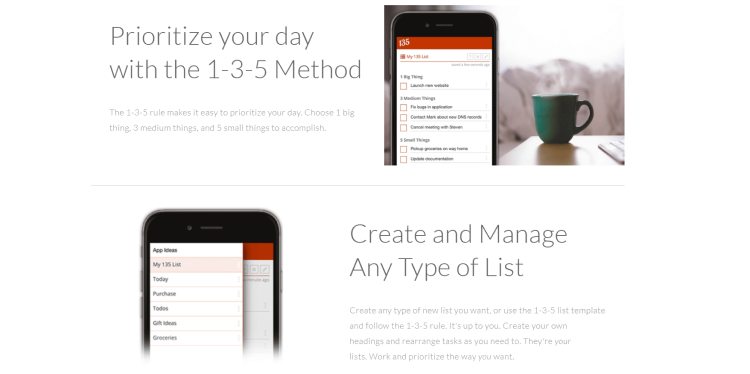 This app makes it easy to prioritize your day and boost your productivity. It is based on the 1-3-5 rule, which states that you must commit to accomplishing one major task, three medium tasks, and five small tasks. You can plan your daily tasks and organize your priority with ease.
Features
You can create your own headings and rearrange tasks as you need
This app allows you to work anywhere on any device
It has an easy-to-understand help section within the app
Pros
The organization within this time management app is easy. Just drag and drop tasks from one list to another using the tap-and-hold option.
Provides a place for miscellaneous tasks
Removes clutter from daily or weekly lists
Quite affordable
Cons
Doesn't have critical project management features like agile kanban board
Availability
Android, iOS, Windows, Mac, and Linux
Price
Free basic account
Premium Monthly plan at $2.50
Premium Annual plan at $25
12. Best to increase focus: Serene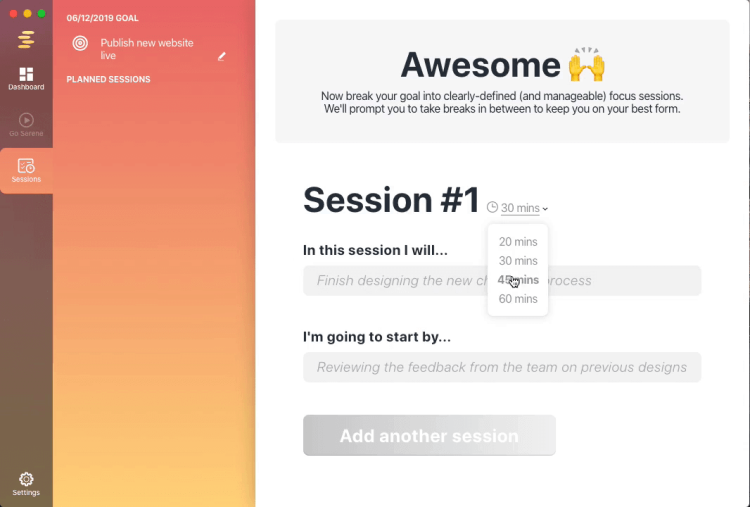 This time management tool can help you get organized and improve your working habits. It can also help you increase focus. Serene is a fresh new member of the focus-boosting app family. It helps you focus on what matters while shielding you from any digital distractions.
Features
Comes with a built-in website and app blocker that automatically blocks distracting sites during work sessions.
Uses the Pomodoro technique, a widely accepted time management principle
Enhances your concentration with music to promote focus
Track productivity and trace common distractions
Pros
Creates the optimal environment to help you focus deeply
The app prompts you to set one clear goal per day
It blocks distracting websites and notifications
Cons
It has a simple interface that's easy to crack
Needs an onboarding process to work
Availability
Mac, iOS, Windows, and Android
Price
There is a free version and a pro version at $4 per month billed annually
13. Free time-tracking software: Clockify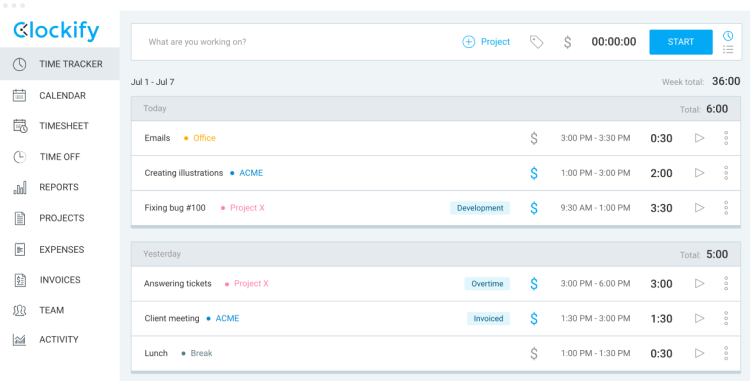 This app helps you enhance the productivity and profitability of your projects. You can show your clients how much time you spend working on their projects. It provides an easy way to monitor working hours.
Features
Time tracker as you work
Dashboard
Project tracking
Analyze your time use in the reports section
Pros
It offers the best way to track your project progress and compare it to your projected project estimate
You can track and manage time with a Pomodoro timer
Integrates with over 50 popular project management and productivity tools
Cons
The mobile app can be glitchy
Not a user-friendly interface
Availability
Windows, Android, iOS, and Linux
Integrates with Trello, Google Calendar, and Jira
Price
Clockify is absolutely free plan, but with the following optional upgrades:
Basis: $3.99/user/month billed annually or $4.99 billed monthly
Standard: $5.49/user/month billed annually or $6.99 billed monthly
Pro: $7.99/user/month billed annually or $9.99 billed monthly
Enterprise: $11.99/user/month billed annually or $14.99 billed monthly
14. Best tool to get more work done: OmniFocus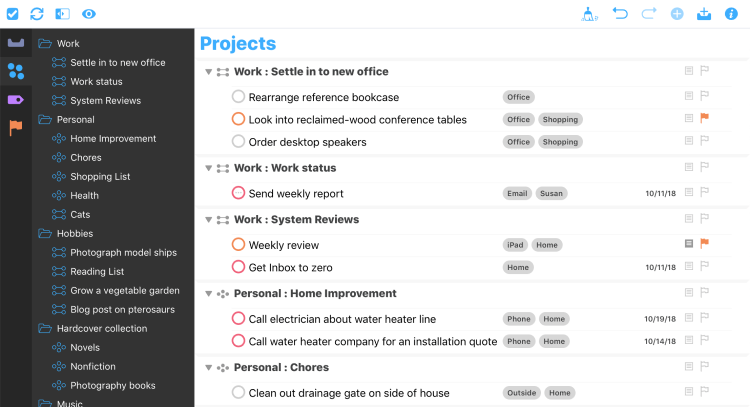 OmniFocus is a comprehensive productivity system designed to help get more work done every day. It brings together all your plans. At the core of this tool is a to-do app that allows you to create projects and tasks.
Features
Use perspectives to plan your day
Review your projects and actions from time to time
Easily track your progress
Get notifications to remind you when something is coming up
Quickly create tasks from anywhere on your device
Pros
This is a simple app with an impressive track record
It offers deep integration across all Apple devices so you don't miss a deadline
You can set different projects and view them in six preset views
Cons
This app is made only for Apple products
Availability
A web app and native apps for iOS and Mac
Price
A traditional license for $99.99
A monthly subscription plan for $9.99
15. Best communication platform: Pumble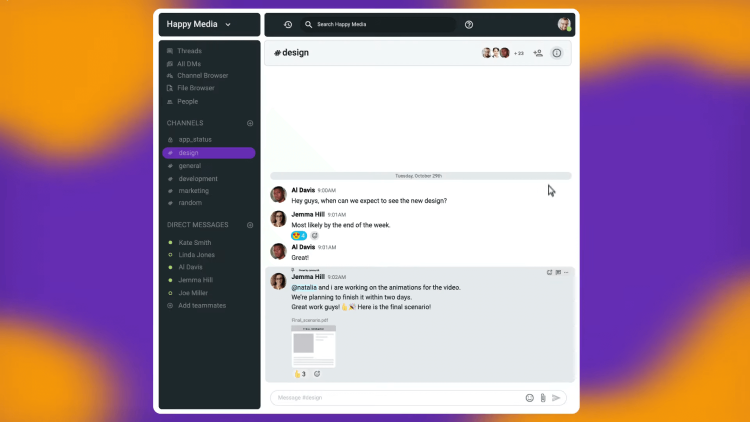 Pumble is a communication tool designed to help businesses chat with members across departments and multiple locations. You can create public or private channels with custom names and descriptions to collaborate on projects.
Features
Real-time communication
Workspace administration
File sharing
Document management
Collaboration tools
Pros
This app is user-friendly
The UI of the app is outstanding
It's affordable compared to other apps
Cons
Can't integrate with external systems
Availability
iOS, Android, and the web
Price
Free with no restrictions on the number of users
Optional upgrades for $1.99/month or a custom server subscription plan
16. Best meeting scheduler: Clara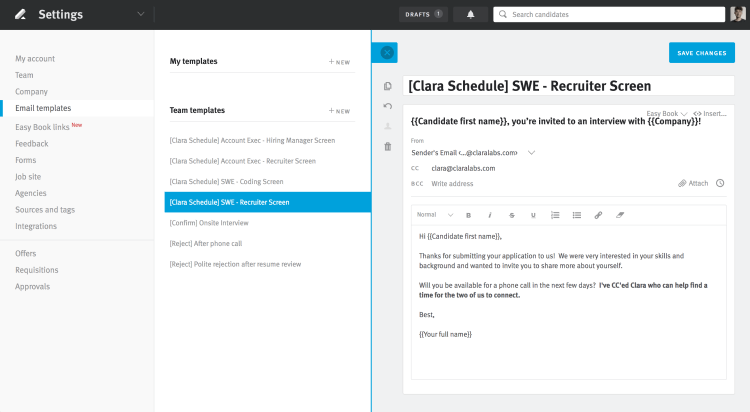 This is an app developed to help people and small businesses manage their money. Its personal finance is designed with simplicity and flexibility in mind. You can record your income and expenses, and then organize them into categories
Features
Dashboard with relevant status information
Status overview
Planning overview to make task management easy to implement
Tool overview with information on using special tools
Organization of operators
Pros
It makes it easy to control and monitor all functions
The app enables rapid implementation of all relevant management functions
This is a user-friendly and versatile app
Cons
Availability
Android and iOS platforms
Price
Clara Essential: $99/user/month
Clara Professional: $199/user/month
Clara Executive: $399/user/month
17. Best focus app: Forest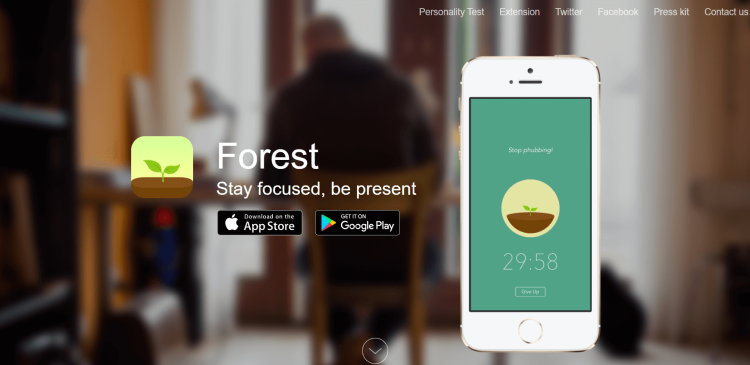 This is a powerful mobile tool that encourages users to avoid wasting valuable time. It helps users stay productive by growing a digital garden over time while the user is not using their phone. It is a popular productivity app for anyone who wants to do work that is more intensive.
Features
Comes with one of the cutest gamified timers
Creates a digital garden to stay away from your phone
Comes with a simple interface
Pros
Can be used to manage your personal life in addition to projects
Helps reduce addiction to your phone
It's a great visual stimulation to help you stay focused on work
Cons
Price
You can purchase the app for $1.99
Availability
iOS devices and browser extensions
18. Best note manager: Nimbus Note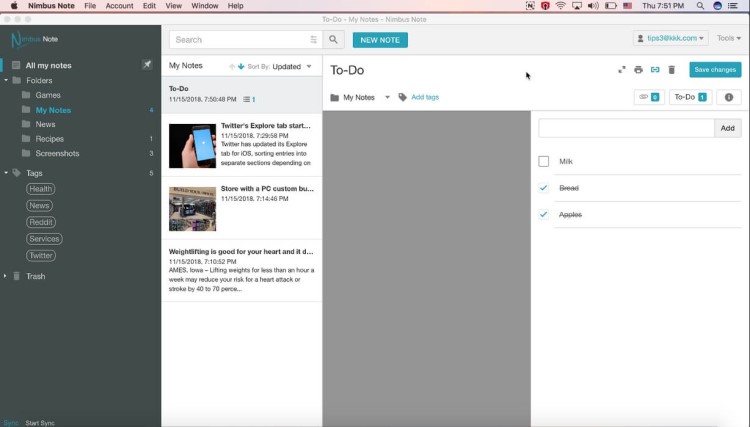 This is a cloud-based note-taking application that enables you to create notes, documents, tasks, and lists. You can use the tool to organize and share notes while collaborating with team members. The app supports teams of up to 55 members. It allows users to create and edit notes, customize screenshots, and save web pages.
Features
Collaboration tools
Task management dashboard
Document authoring
Content management
File sharing
Alerts and notifications
Pros
The app has a whitelisting feature
It fully synchronizes Android and iOS systems
This is more than a note-taking app
Cons
Availability
Android, iOS, and on the web
Price
Free Plan
Pro Plan: $4/user/month
Business Plan: $6/user/month
19. Best team organizer: Asana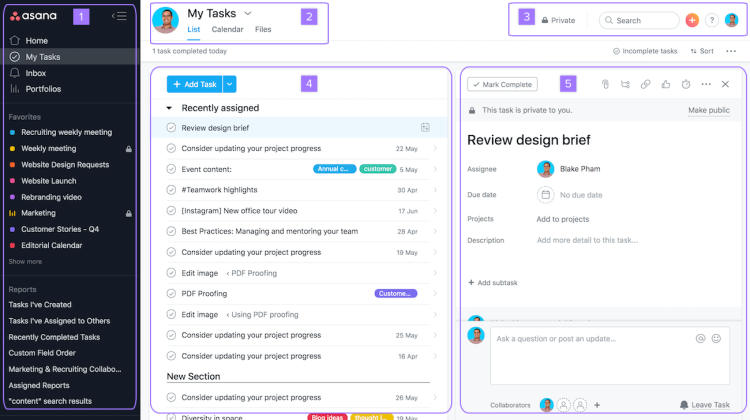 This is one of the best productivity apps that can help break down tasks into a list or calendar. It helps you see exactly when something is due on a calendar and tackle it. It's designed to help you monitor progress and organize your tasks. This is the tool to stay on top of your projects and grow your business.
Features
Task-oriented
Calendar feature
Team management
Integrations with Microsoft Office to make tracking easier
Pros
Easy-to-use interface
Fast and efficient tool to use
Fully functional Android/iOS applications
Cons
Not flexible in terms of visualization options
Availability
iOS, Android, Chrome extension, and web
Price
Basic Plan: Free
Premium Plan: $10.99/user/month billed annually or $13.49 billed monthly
Business Plan: $24.99/user/month billed annually or $30.49 billed monthly
20. Best noise generator: My Noise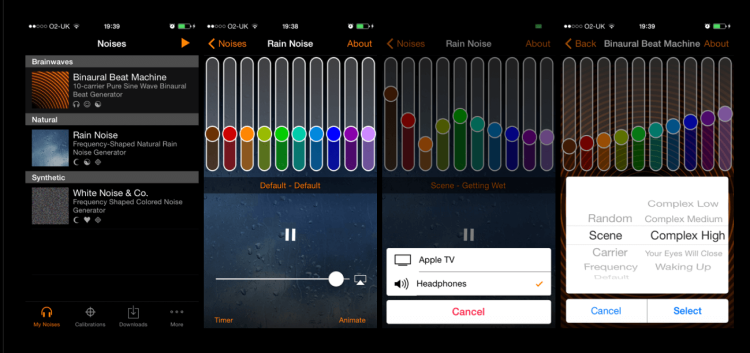 Poor time management can be attributed to surrounding noises. This application helps mask distracting noises with ambient background sound to improve your focus.
Features
The tool offers high-quality and realistic sounds
Variety of sounds to choose from
Choose presets from multiple curated playlists
Mix unique sounds to create your perfect work environment
Pros
It's an incredible tool you can use for free
You can use the app without the internet
It comes with some bonuses such as an alarm, timer, and several animation modes.
You can name and store your own Presets
Cons
The premium package is pricey for an ordinary user
Availability
Google Play, iOS, and desktop
Price
Free
$10 per month for personal use
$24 per month for business teams
21. Best simple task organizer: Google Tasks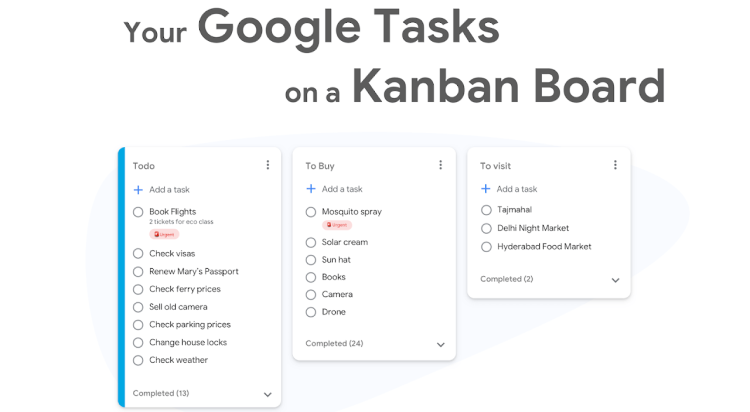 The app is meant to help you capture, edit and manage all your tasks. Every task created is automatically synchronized across all your devices. For example, your time management efficiency will benefit from integrating with Gmail and Google Calendar.
Features
Set and track due dates for tasks
View your to-do list
Create multiple lists for one or more accounts
Create subtasks
Receive task notifications
Pros
Organize your tasks by priority based on the due date
Break down your tasks into small subtasks for easier management
Create specialized task lists to show your most important to-dos
You can set due dates and times that sync with the google calendar
Cons
It's difficult to work offline
Limited support from the help desk
Availability
Android, Windows, iOS, web, Mac, Linux, Firefox, and Chrome
Price
Google Tasks is free to use
22. Best app to automate your workflows: Workflow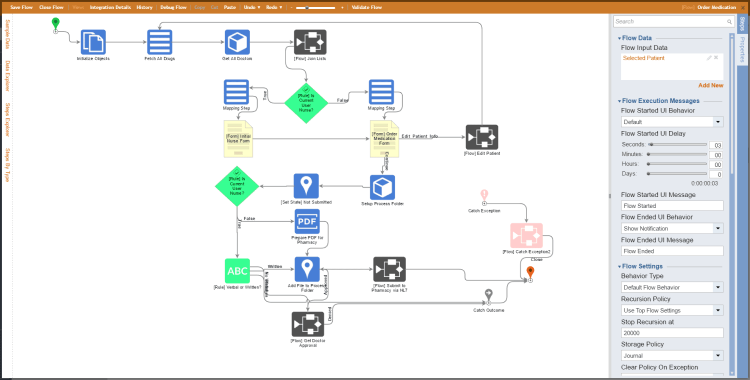 Use this app to automate your workflows by grouping all your apps and managing them from one place. Workflow allows you to select specific actions from each app and activate the action with just a few clicks. For example, you can add Facebook, Twitter, and Dropbox and carry out simple actions from one place.
Features
This is a simple time management app that focuses on tracking projects and tasks
Offers the ability to customize your screen and get your most-used app functions front and center
Build workflows with a simple drag-and-drop interface
Pros
The app will make your life easier
It allows you to mix and match different actions to create shortcuts and share content
You will have a great overview of your projects with the timeline
Cons
Has database storage limitation
Availability
It is available on Android and iOS platforms
Price
23. Best daily planner app: My Daily Planner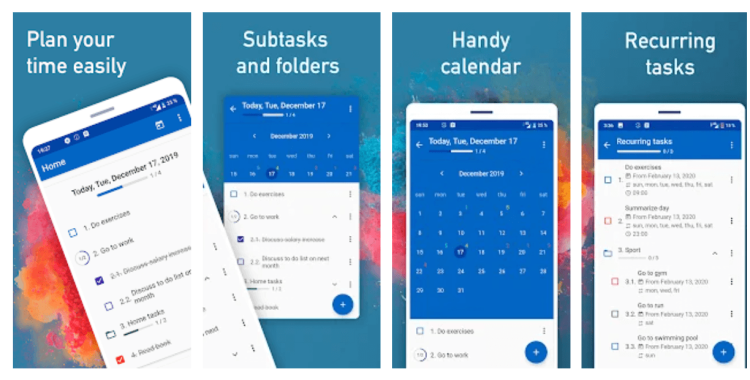 This is a daily planner app that focuses on simple basics to help organize and plan your day. It helps streamline and speed up your workflow. For example, you can split tasks into subtasks for easy management and handle your assignments in two calendar modes.
Features
To-do planner
Calendar
Reminders
Creating subtasks
Auto calculate progress
Auto-move tasks to the next day
Pros
Define your priority tasks and cross them out when completed
Define and keep track of all tasks' progress
Stay on track with your work through timely reminder alert
Cons
You can't integrate it with your Microsoft calendar
Availability
Price
The app is free, but the in-app products range from $2.9 to $19
24. Best email manager: Sanebox
Sanebox is email management software that helps businesses analyze email history and organize messages across different folders. You can filter unimportant messages and move them to the trash folder using AI-enabled tools. It suits all business sizes and freelancers.
Features
Inbox management
Third-party integrations
Activity dashboard
Alerts and notifications
Response management
Pros
You can create your own rules to keep the inbox neat and clean
Users find it easy to incorporate into their routines
Provides an affordable solution to organize your inbox
Cons
It is not available on Android devices
Availability
Apple devices and the web
Price
Snack Plan: $7/month or $59/year or $99 paid biyearly
Lunch Plan: $12/month or $99/year or $169 paid biyearly
Dinner Plan: $36/month, or $299/year or $499 paid biyearly
25. Best online meetings scheduler: Join.me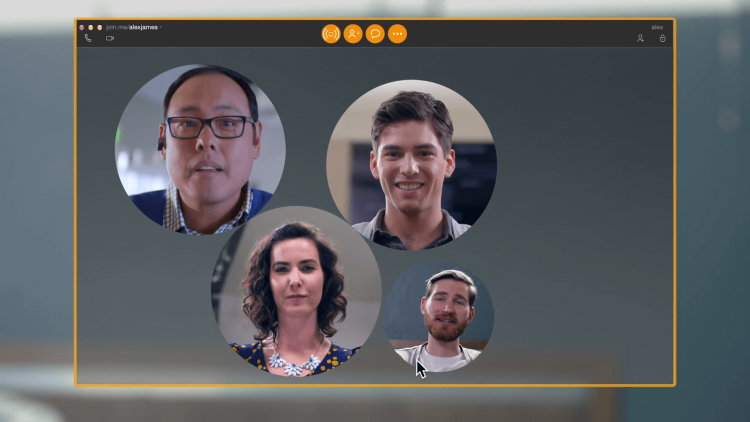 This is an online conference and meeting tool that allows multiple people from different locations to connect simultaneously. It offers a host of collaboration tools and features. It suits freelancers, small businesses, and midsize businesses.
Features
Meeting scheduling
Call recording
Screen sharing
Text and live chat
Mobile access
Video conferencing
Pros
You can connect from anywhere and join a meeting or discussion
Keep a record of all your online meetings in one place for easy referencing
Share recorded meetings with those who couldn't make it
Cons
The whiteboard feature is difficult to use on smartphones
It's a bit expensive
Availability
Price
Lite Plan: $10/month
Pro Plan: $20/month
Business Plan: $30/month
26. Best task manager and collaboration tool: Taskade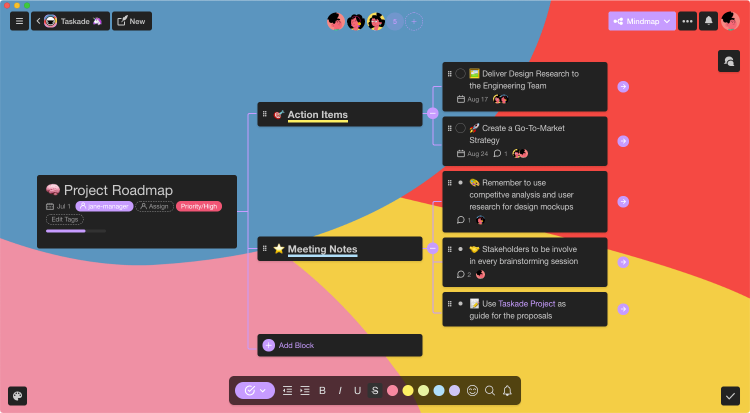 Taskade is a comprehensive task management tool offering powerful collaboration features. You can create a team calendar and roadmap for your project in no time.
Features
Project planning and workspace customization
Visual task management
Real-time collaboration
Deadlines and reminders
Recurring tasks
Pros
This is a simple to-do list and task
It comes with additional collaboration features
It's flexible, with unlimited hierarchies for task organization and management
You can quickly create tasks and assign them to others
Cons
There are no key bindings for moving entries up and down
Availability
iOS, Android, Windows, Mac, browser extensions, and the web
Price
Basic Plan: Free
Unlimited Plan: $5/user/month
Organization: $20/user/month
27. Best mobile habit tracker: Loop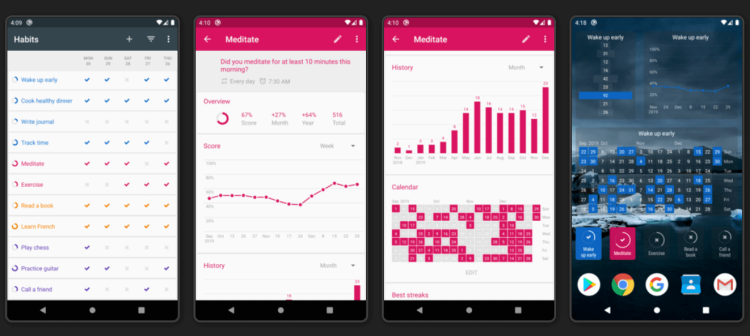 This is a popular free habit-tracking app. It has a simple habit-tracking interface where you can view all your habits at a glance to see how you performed in the last few days. You can know if your habits have become stronger or weaker over time. It helps create and maintain good habits to maximize your time to achieve your goals.
Features
Simple and effective
Free and open source
Nice and clean UI
Pros
It will track your progress and present it in a net graph
It uses an advanced formula for calculating the strengths of your habits
It's completely ad-free so you won't get any annoying notifications
This time management app is not available on iOS, web, or Windows
Cons
The UI doesn't allow you to view everything on one screen
You can't group habits
Price
This is a free app, available as an open-source repository on Github
Availability
Loop is available for Android devices
28. Best project and team manager: Flow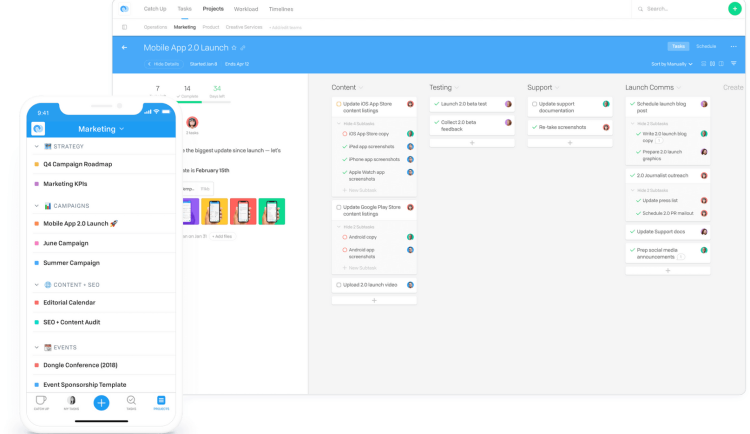 This is a modern task and project time management app for teams. It helps you get organized, stay on track, and achieve more. The app gives you insight into what's happening at every level while combining everything you care about into a single stream.
Features
Updates on tasks assigned to you, tasks delegated, and tasks you're following
Offers an option to connect tasks to deadlines
You can track your progress
It breaks down your tasks into subtasks
Pros
This is a beautiful Pomodoro timer
It's a simple time management app
It helps you work on a task, keep focus and reduce stress
Cons
The mobile app has limited features
Availability
iOS, Android, Mac, Windows, and the web
Price
Basic Plan: $6/user/month
Plus Plan: $8/user/month
Pro-Plan: $10/user/month
29. Best note-taking app: Bear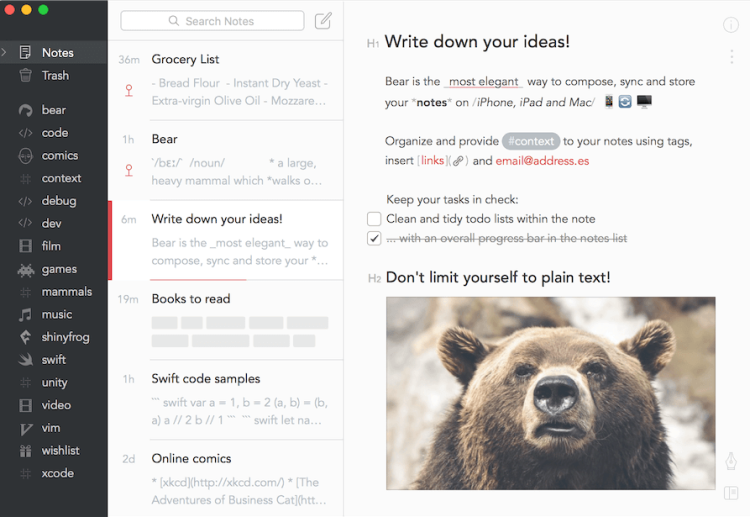 Bear is a cloud-based note-taking app that can help capture your thoughts and ideas. It turns your thoughts into a to-do list that you can tackle more efficiently. You can add tags, notes, and attachments. You can link notes to each other and be more organized.
Features
This app offers a focus mode you can use when you want to concentrate on your tasks
It allows hashtags to label and organize tasks and notes
Helps with better time management
Offers rich text editing with impressive design and diverse typography options
Pros
This is an excellent tool for taking notes
You can make lists, create checklists, and add detail to your tasks
Premium users can import content into the app and add notes by talking to their Apple watch
Cons
Bear is not available on Android devices
Availability
iOS, Chrome, Mac, Safari, and Firefox
Price
The app is free but the pro subscription is priced as follows:
Monthly subscription: $1.49
Yearly Subscription: $14.99
30. Best for blocking distracting websites and apps: Freedom
This app blocks any website or application that causes you to lose your focus and break your concentration. While it's not built as a time-management app, it can significantly improve your daily planning. The app helps you track time, get into your workflow, and stay on task by blocking any distractions.
Features
Advanced scheduling
Option to schedule recurring tasks
Unlimited sessions and devices
Focus music and other ambient sounds
Pros
This is one of the simplest time management apps to use
An affordable tool
It helps track time, block websites, and schedule sessions
Cons
The app shows a few glitches here and there
Availability
browser extensions such as Chrome, Windows, Android, iOS, and Mac
Price
There is a free plan, and a premium plan of $2.50/month billed annually. You can also pay a one-time payment of $129.
31. Best bookmarking service: Pocket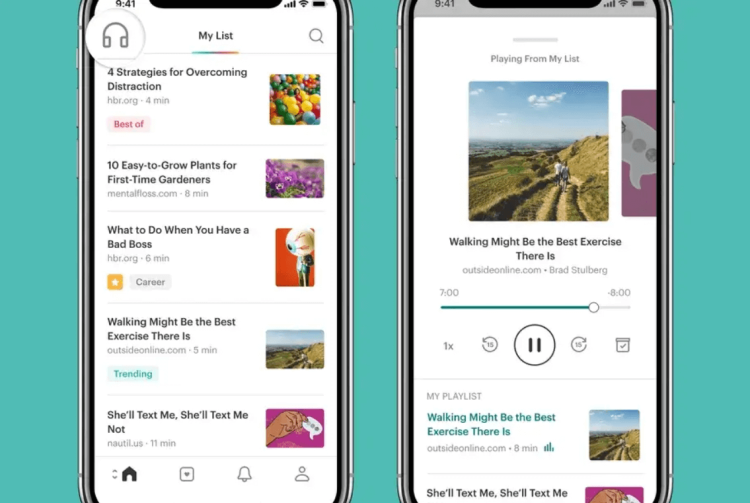 Use this tool to save anything online for later. It provides a place to save articles you want to read later. It allows you to save images, text, or videos from the web. It's an excellent app for when you spot something interesting and don't have the time to address it.
Features
Advanced search operators
Offline access and viewing of articles and WebPages
Backup of articles and WebPages saved
Automated sync with your phone and tablet
Pros
Pocket helps you save links, articles, videos, and pictures by getting data for you and displaying it on its interface.
You can save from multiple resources in your browser and mobile applications
Cons
The premium package is expensive for an average user
Availability
Android, iOS, Chrome, Mac, and Web
Price
It is free for core features
Monthly Membership: $4.99
Annual Membership: $44.99
32. Best collection of neuroscience-based music:

[email protected]
This is a time management app that helps people improve focus, productivity, and avoid distractions. It uses a collection of music from different genres to put your mind in a state of flow and helps you retain information when working or studying.
Features
You can choose playlists based on what you are doing
It provides 25 channels, each with many hours of unique tracks
Works with and without headphones
You can cancel the subscription anytime and get a refund within 30 days
Pros
This is a scientifically designed music service
It can boost productivity up to 4 times
Cons
The app is not on Windows or Mac
Availability
mobile platforms such as Android and iOS
Price
There is a free trial
One-Year Membership: $52.49/year
Two-Year Membership: $45/year billed every two years.
33. Best RPG game-style task manager: Habitica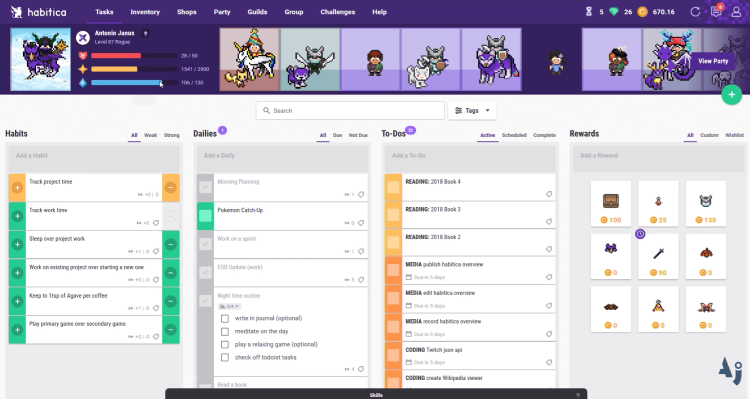 Habitica is a free productivity app that allows you to gamify your habits and get stuff done while having fun. Millions of people use Habitica to improve and manage their tasks better. It is an online task management and productivity app that uses role-playing games to inspire you to complete your tasks. This is a fun and creative tool.
Features
To-do list management
Task assignment
Checklist management
Habit building and tracking functionality
Kanban boards
Pros
It offers a strong social network to inspire and motivate you
You remain accountable by tracking your goals and tasks
In-app rewards for your goals
Cons
The app has limited features
You can only implement habits
Availability
IOS and Android mobile apps and the web
Price
This app is free for individuals, with a team plan starting at $9/month
34. Best unconventional alarm clock: Kiwake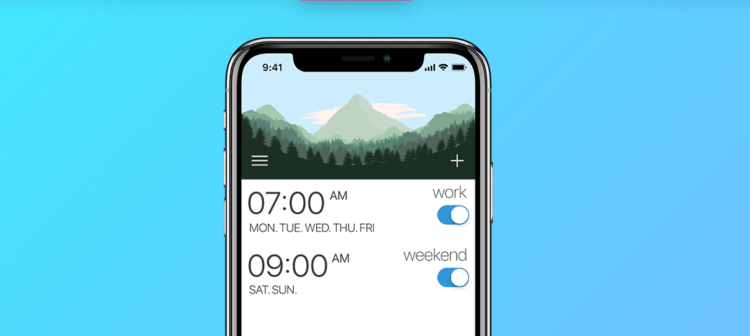 It is a smart alarm clock that makes waking up easy. Kiwake doesn't have a snooze button; instead, it makes you jump through hoops to prove you're awake. The alarm clock has a three-step wake-up process split into body, brain, and motivation sections to get you ready for the day.
The app uses image recognition to disable the alarm. The app won't stop ringing until you take a matching snapshot to prove you are awake.
Features
Custom alarm tones
Optional soothing sounds to help you nod off in the first place
Options to set different alarms for different days of the week
Pros
Has decent alarm clock features
Solid brain-teasing mini-games
Cons
Someone can easily trick the image recognition feature to cheat the alarm to stop ringing
Availability
Price
The app is freely available for download
35. Popular time management tool: Tweek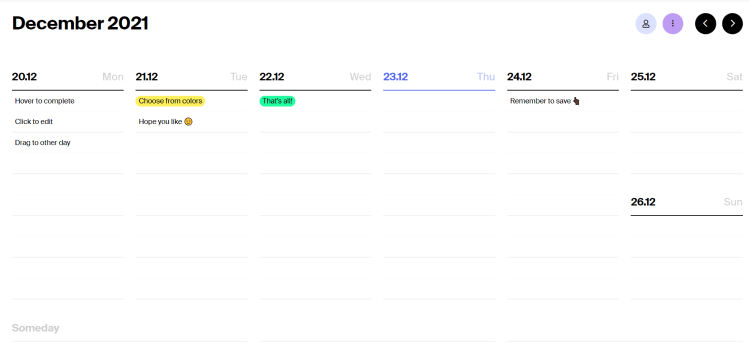 This is a task management app that will boost your productivity. This tool is built around a weekly calendar view without hourly scheduling. It's the best way to organize your life and work without stress. It is a minimal weekly planner and to-do list application.
Features
Weekly view of your tasks
Checklists and subtasks
Recurring tasks
Planner stickers and color themes
Google Calendar synced
Pros
It's a simple weekly paper planner that will enhance your productivity
It automatically moves your unfinished tasks to the next day
Allows you to run several calendars simultaneously
You can share your personal and work calendars with others
Cons
You can't create group or folder lists
Availability
Price
The app is free, but there is a premium option for $2.83 per month.
36. Best online mind mapping software: Mind42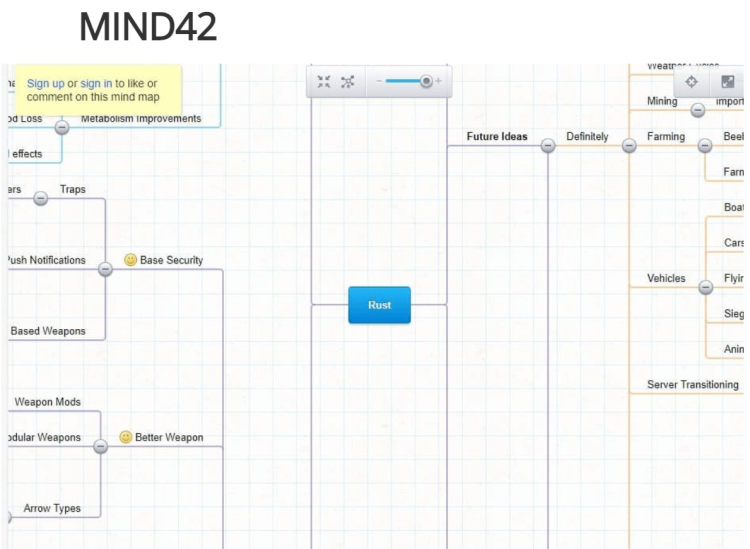 Time management tool. Mind42
This is a useful app to organize your thoughts by creating mind maps. You can synchronize to your Google Drive or Dropbox and share with others. This app allows you to enhance your mind maps with photos, videos, and voice memos. You can create mind maps for projects, events, and other purposes.
Features
The browser-based mind map tool
Mind maps are private by default
Optional sharing
Compatible with browsers launched from mobile devices
Pros
Scalability is simple
Easy-to-use interface
Easy installation
Totally free
Cons
It requires an internet connection to access the platform
Availability
Windows, Mac
Compatible with browsers launched from mobile devices
Price
This is free online mind mapping software.
37. Best GTD task organizer and manager: MyLifeOrganized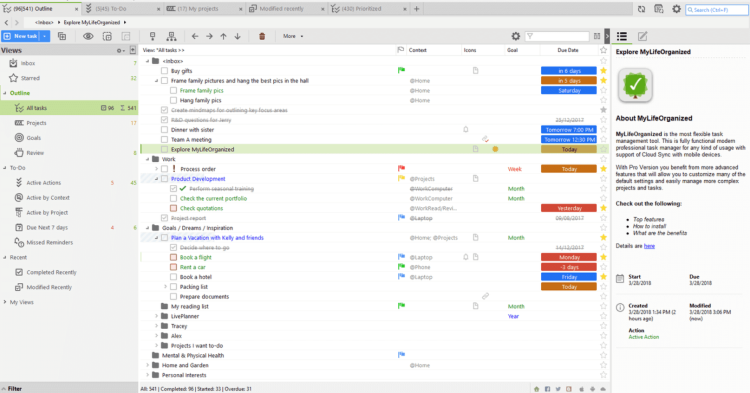 You can use this tool to manage tasks, projects, and habits. It's designed to balance the simple and complex. After loading your information, the tool will generate a simple list containing only the next actions that require your immediate attention. It best suits business owners, project managers, and IT specialists.
Features
To-do list
Time tracking
Mobile access
Create subtasks
Pros
This is a great-looking app with a ton of features
It comes with optional contacts, tags, reminders, and tasks
You also get customizable filters and views to suit your needs
A great way to stay organized for tasks, projects, and more
You can break down a project into smaller tasks
The software is well organized, which facilitates anybody to use it effectively
Cons
The app is expensive for an ordinary user
You have to pay for the android app separately and pay for the service to sync them separately
Doesn't have a calendar feature
Availability
Android, iOS, and Windows
Price
Professional Plan: $59.95 per month
Standard Plan: $49.95/month
Standard to Pro upgrade: $10
38. Best app to stay organized and creative: Tick Tick

This productivity app comes with intelligent task creation using Siri. Leading organizations trust this productivity app to create tasks and access them anywhere. It can help you save time by converting emails into tasks.
Features
Task management for single and recurring tasks
Convert emails into tasks
Pomodoro timer to track task duration
Customizable themes and backgrounds
Pros
You can keep your information protected at all times thanks to data backup and synchronization
Comes with a powerful calendar view
Multiple reminders for schedules
Cons
The app is a bit expensive
Availability
Android and iOS mobile location systems
Price
While the tool is available for free, the premium plan retails at $27.99 annually.
39. Best app to control your events and tasks in a single view: Any.do
This is a free productivity app that gives you a set of options to get you through most of your tasks swiftly. You can create personal or work-related tasks or customized lists. The app has the option to add reminders, create subtasks, and share the created tasks with your team. It offers a calendar feature with a basic to-do list.
Features
Task management
It has a beautiful design
Customize backgrounds
An option to switch tasks between the existing list
Pros
This is a fun, easy-to-use, and efficient tool
It helps organize your time at work
You can easily sync my tasks with Google Calendar
It's compatible with almost every device, including Alexa and Google Assistant
helps keep track of important daily urgent tasks
It is available on multiple platforms
Cons
You lose data if the app loses connection and you loses data
Problems connecting the app correctly with my calendar
The premium plan for this software is quite expensive compared to the other software in the same niche
Customer service issue as the response time is too long, and no option for a quick chat with the customer service team
Availability
Mobile devices such as Android and iOS
Chrome and Firefox browser extensions
Windows and Mac on desktop
Price
Any. do is free but comes with the following premium plans:
Biyearly Plan: $4.49/month billed every six months
Yearly Plan: $2.99/month billed yearly
Monthly Plan: $5.99/month
40. Best touch-based to-do list app: Clear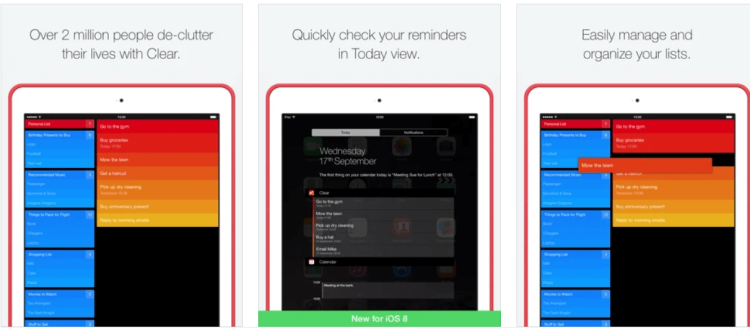 This is a simple to-do list application that allows you to cross off items on your list. It removes noise and distractions in your task to make you feel more productive.
Features
This is a beautiful iPhone-specific interface
It's product-focused
It excludes all necessary feature
Pros
This is a simple app that will upgrade your basic pen and paper list
It gives you a simple way to cost items on your to-do list
Cons
There are no shared to-do features
It only works on iOS products
Availability
Price
The premium plan starts at $4.99
41. Best app manager: Shift
Shift is a logical solution for managing everything about business tasks. It streamlines your workflows to get things done more efficiently. Users enjoy single-click access to over 1000 popular applications and extensions on the web. This is the workstation for productive people.
Features
Integrates with 1000 popular apps on the internet
It supports all the best extensions on the internet
Notification muting
Unified search
Pros
Customizable workstation
Single-click across all your account
Streamlined account management
Cons
There is no support for mobile
Availability
It's available on the web and browser extensions
Price
The basic plan is free
Advanced Plan: $119/year
Teams Plan: $119/user/year
42. Best email marketing service: SendInBlue
This is an automated marketing platform designed to help personalize your email marketing strategy through audience insights. It helps speed up and improve your communication with clients and customers. SendInBlue is a well-priced solution for businesses and individuals with large volumes of emails daily.
Features
It offers unlimited contact storage
Email bank online marketing
Numerous email templates
Ability to test dynamic content
There is a CRM tool to help work on your customer relations at the same time
Pros
You can send up to 300 emails per day to over 2,000 contacts on a free plan
Build customer relationships with the integrated CRM
You can engage with your contacts and build better customer relationships through meaningful communication
Cons
It has expensive packages
Availability
Windows, Android, iPhone, Web, and Mac
Price
The basic plan is free
Lite: $25/month
Premium:$65/month
Enterprise: Customized
43. Best app for digitizing your handwritten notes: Otter.ai
This app helps you spend less time scribbling down meeting notes. It records audio and then transcribes the content in a process that takes only 40 minutes to complete. This is a great solution for individuals and businesses that spend most of their time in meetings doing interviews or negotiating with clients.
Features
Audio recorder
File attachments
Integration with zoom
Shareable voice notes
Audio importer
The search filter to find specific notes
Pros
This tool improves collaboration by generating notes for meetings
The AI helps spend less time writing notes to increase productivity
It is easy to use and comes with a smart transcription capability
Cons
Takes time to upload a file
Can get your words wrong when transcribing
Availability
Android, iOS, Windows, Mac, web, and browser
Price
Basic: free plan
Pro: $8.33/month billed annually
Business: $20/user/month billed annually
Enterprise: Customized
44. Time management app with a 3D interface: ZenDay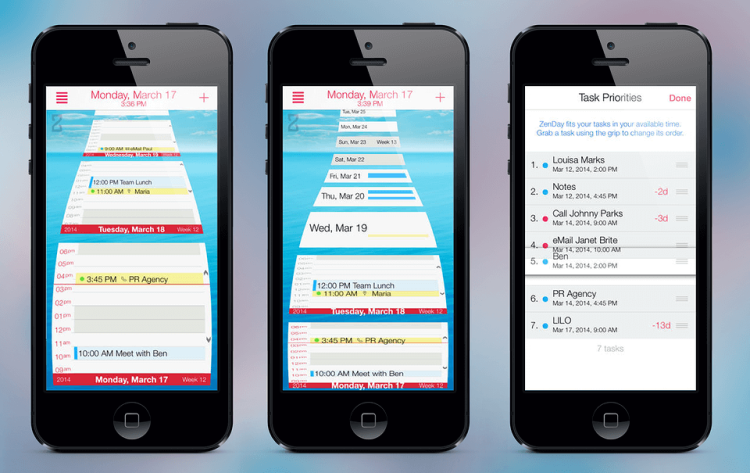 This tool improves time management by combining calendars and tasks from multiple sources into one centralized timeline.
Feature
Has a unique 3D slider interface
It synchronizes with all your calendars
Comes with a scrollable timeline interface
The calendar timeline depicts the date on the left hand and the hourly time slots on the right.
Pros
This is an attractive application to use
There is dynamic scheduling that enables your tasks to follow the flow of time
The colors of events change to indicate the urgency of the task
Cons
You can't search through your tasks to find a particular task
Availability
Android and iOS platforms
Price
Zenday is a free day planner app
45. Best app for time management skills and productivity: Focusmate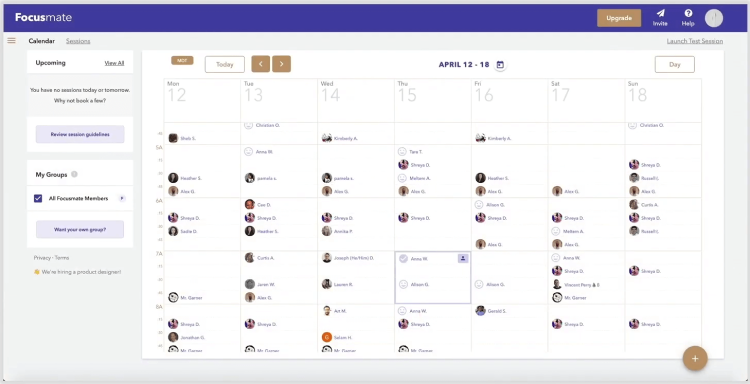 This time management tool helps build your focus alongside your team. There can be many times during the workday when you lack motivation. This time management app helps fight procrastination. You can work with your team to get important work done.
Features
It uses virtual co-working to boost productivity
You can choose the time you want to be productive
It's based on the principles of the Pomodoro technique
Pros
The app will help lower the number of distractions
It gives you a way to have accountability
It's a great choice for freelancers who work with multiple clients
You will enhance focus and remove the anxiety that comes when facing incomplete to-do lists
Cons
You can't set daily or weekly goals within Focusmate
Availability
Safari for iOS and Chrome for Android
Price
The app is free for three sessions of 50 minutes each every week
For unlimited sessions, you must upgrade to turbo for $5 per month
46. Best app for completing tasks and syncing your team: I Done This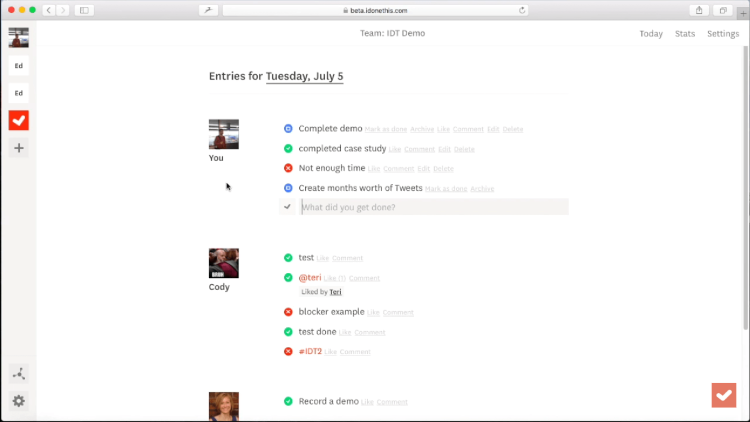 This productivity app logs tasks done by specific users. Your team members sort the list where you see what has been done and what still needs to be done. It provides an easy way to track team progress and monitor how everyone on the team is doing.
Features
Portfolio supervision
Detailed reports
Daily status update
Integration with other management tools
Pros
Simple and effective to-do app for tracking tasks
Creates a healthy competition
A timely reminder to keep up with tasks
Cons
No Android or iOS mobile app
Availability
This tool is available on the web
Price
The price starts at $9/user/month, $22/user/month, and $3/user/month that's billed annually.
47. Best app to get things done: Nirvana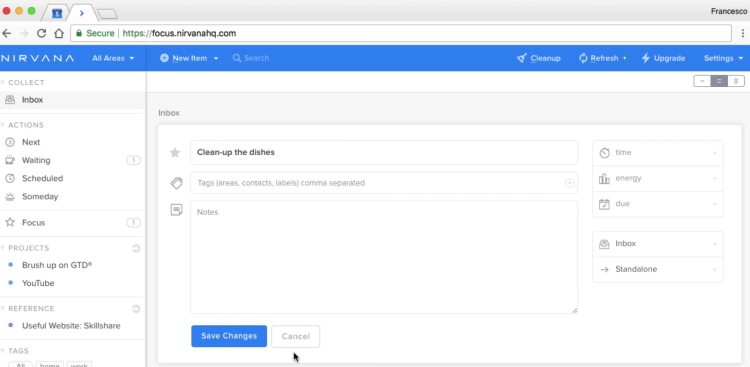 This time management application helps you focus on the tasks that matter the most. As task management software, it pushes you to finish the priority tasks on time.
Features
Flexible structure for simple to complex usages and workflows
Electronic and manual trading workflows
Task organization and prioritization
Data management and SaaS on the cloud
You can create lists and due dates on tasks to stay on schedule
Pros
This app has a visually pleasing and user-friendly design
It offers real-time viewing with several ways to tailor a portfolio
You can create checklists using both the desktop version and the mobile app
Use the Nirvana pro for order management, accounting, and reporting purposes
Cons
There are currently no native apps for Windows or OS X
Availability
IOS and Android platforms and on the web
Price
The pricing starts at $5 per month after paying a one-time payment of $49.
48. Best app to automate your time tracking: Timely
This is a time-tracking application supported by artificial intelligence. It helps you know where you stand with specific projects or tasks while helping you organize your work. The app runs in the background on your Mac or PC and privately tracks the breakdown of what apps you are using and for how long.
Features
You can use it to create billable time if you forget to start a timer
Create a new timer with one click on the calendar
Project time tracking
Task process tracking
Pros
This is a well-designed application and easy to use
It has good reporting features
Can help you know which apps you are using the most
Cons
The software requires access to the internet
Availability
Web, Android, iOS platforms, Mac, and Windows systems
Price
The prices for the Timely app are $6 for the basic plan, $12 for the premium, and $20 for the advanced package.
49. Best app to track your time and expenses: Harvest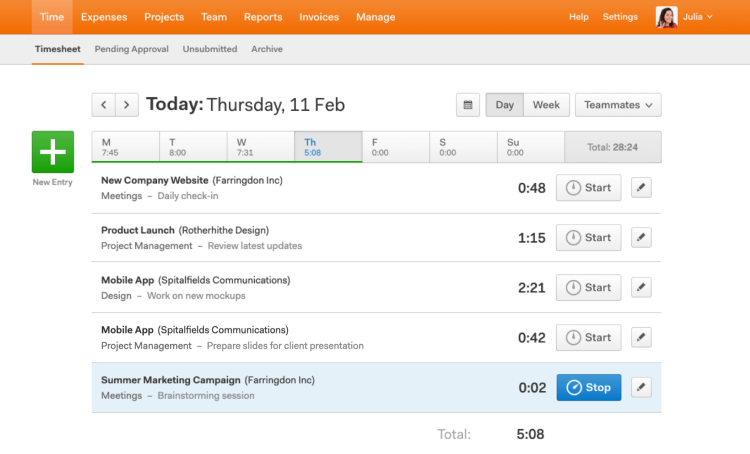 Harvest is a time-tracking tool that generates timesheets to track time spent on each task. It is a standard time tracking and billing app that offers visual reports on spending your time and money. The app suits larger teams and businesses because it's robust but expensive.
Features
Time and expense tracking
Invoice management
Automatic reminders
Multiple third-party application integration
Pros
It enables you to track time and expenses spent on a particular task
The tool comes with notes on tasks
You can manage time tracking through simple button presses and mouse clicks
Oversee and update time data on timesheets
It's currently compatible with Mac, Windows, Android, and iOS
Alert automatic notifications to employees for the time records to help them focus more on productive tasks
Cons
The pro version is a bit costly
Slow to add new features
Availability
Android, iOS, Windows, Mac, and Web
Price
There is a free version and a premium version that starts at $12/user/month.
50. Best app to track and change your habits: HabitMinder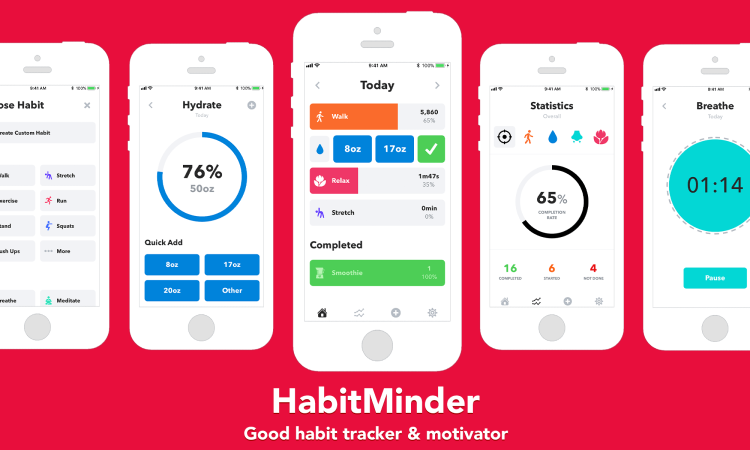 Use HabitMinder to change and form healthy habits to keep you accountable. You can swipe left on a goal to reveal quick actions and check statistics for an overview of your progress.
Features
This is a beautifully designed habit-tracking app
It allows you to set goals and start or stop the timer when you are working on your habit
The app logs the progression of your habits and ensures you stay on track
Pros
The app is unobtrusive and easy to use
It will help you form healthy habits
You can track your tasks and events
It will notify you in time to complete your task
Cons
Only three habits at once unless you go Premium
Availability
iOS and Android platforms
Price
There is no free version. The premium plan starts at 5.99 dollars per month.
51. Best for employee engagement: Blink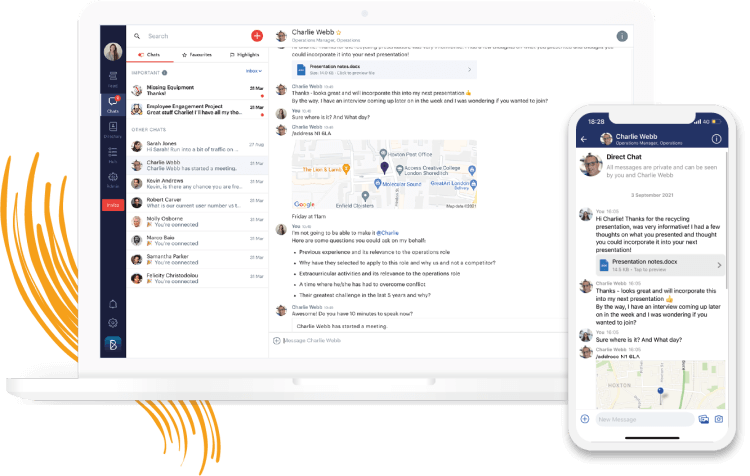 Blink is an all-in-one employee engagement app that helps your organization connect with its frontline workers and remote employees. It improves the employee experience in meaningful, everyday ways, giving employees mobile access to the communications and applications they need to do their job and feel part of the company.
This creates a culture of productivity, retention, and conversations, where the frontline is engaged, gives feedback, and feels valued.
Features
Personalized feed
One-to-one & group chats
Employee recognition
File sharing
Employee hub & directory
Pros
Easy to use
Everything in one app: every system, conversation, contact & content in one place using Single-Sign-On (such as updates, mandatory reads, chats, stories, timetables, and holiday requests)
Integrates with hundreds of other workplace systems such as Microsoft 365 as well as more niche tools like GreenRoad
Democratizes content creation, putting it in the hands of staff rather than just the internal comms teams
Cons
Designed for frontline workers rather than desk-based office workers
Availability
Price
There are four available pricing plans, ranging from the basic Essential plan starting at $3.40 per person per month, through to the Enterprise Plus, suited for large organizations. Full details of the pricing are available on request on the Blink website.
52. Bonsai – Best Time Management App for Online Contract Work
You can use Bonsai's time tracking function to ensure you're accurately recording the time spent on a project and then billing clients accordingly. However, Bonsai is so much more than that.
Bonsai includes everything you need to help you run your business, from invoices and proposals to contracts, reporting, and of course time tracking.
Features
You can bill your hours by setting a project's hourly rate
Track time on various projects with your collaborators
Easily check how many hours are left to bill on individual projects
Create real-time reports on where you spend your time
Keep all your timesheets in one easily accessible place
Pros
Creates professional proposals and invoices for clients
Multiple payment and payout options
Useful for expense tracking and doing taxes
Cons
The Bonsai app is currently only available in English
Automated expense tracking only works in Canada and the US
You have to pay for the whole package of services which can be expensive if all you want is help with time management
Price
When you pay a yearly subscription, you benefit from 2 months for free. There's also a 7-day free trial to take advantage of and check whether Bonsai is the right fit for you. There are three packages available:
Starter @ $17/month or $24/month when billed monthly
Professional @ $32/month or $39/month when billed monthly
Business @ $52/month or $79/month when billed monthly
Availability
You can download the app on iOS, Android, Mac, and Chrome
53. Best for Time Management Across Teams: WebWork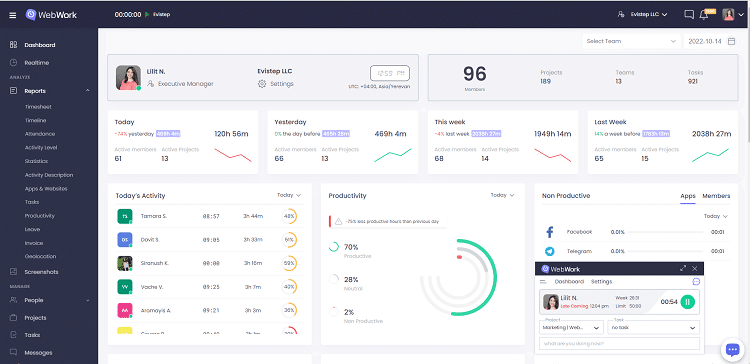 WebWork is a time-tracking, employee-monitoring, and productivity-boosting tool. You can use it to track your team's working hours, see how much they spend on tasks and improve their productivity levels. Other than time, WebWork also tracks app and website usage, attendance, and activity levels. It also has a Task Management system, where you can organize your team's tasks and manage the process, including how much time they take. At the same time, you can hold discussions on WebWork's Team Chat or through Video Calls.
Features
App and website usage monitoring
Productivity and activity monitoring
Task Management
Communication
GPS tracking
Integrations with a number of other tools
Pros
Automatical and accurate time tracking
Built-in task management and communication tools
Affordable price for the value
Cons
Available only in English
No free plan
Availability
Windows, MacOS, Linux
iOS, Android
Chrome Extension
Price
Free trial for 14 days with complete access
Basic plan: $4.99 per user/month
Enterprise: custom price for large teams
You might be interested to check those related posts as well:
FAQ
What are four Time Management tools?
The four essential time management tools are:
To-do List. Use a to-do list to plan your tasks
Calendar. This tool helps in planning and scheduling your time
Address Book. A good address book helps capture all address info you come across
Notebook. A notebook keeps all your notes together to retrieve when needed
Does Google have a time management tool?
Chrome for Android has simple time tracking and an easy-to-use time tracker. You can use the tool to project budgets and track progress. However, Google does not support other operating systems for their time management tool.
What are five-time management strategies?
Know how to spend your time
Set priorities
Get organized
Schedule appropriately
Use a planning tool
What are the three methods of time management?
The three methods of time management are planning, prioritizing, and performing. It involves planning and controlling how much time should be spent on activities, and prioritizing tasks based on importance and urgency.
What is the 80/20 rule in time management?
The 80/20 rule states that the relationship between input and output is never balanced. When applied to work, it means that 20% of your efforts should produce 80% of the results. Learning to recognize and focus on the 20% is crucial to making the most effective use of your time
Conclusion
There are many time management tools and apps for personal and professional use. With the right combination, you will stay organized, work more efficiently, and be more productive. You can find an application that suits your needs and seamlessly integrates into your daily habits. These are some of the best time management tools that will improve your productivity.