Pinterest hashtags can make or break your Pinterest marketing strategy. When used correctly, Pinterest hashtags can help your posts get seen by more people who are interested in your brand or product.
You need to know exactly how hashtags for Pinterest work and consider a Pinterest strategy, in order to use hashtags effectively.
Whether you're just getting started or you already have some knowledge, this article will provide you with everything you need to know.
How to Find Trending Hashtags for 2023 on Pinterest
Before you start using hashtags on Pinterest, you need to know which ones are trending. Trending Pinterest hashtags are those that get the most attention on the Pinterest algorithm, giving you the biggest chance of getting your posts seen.
Step 1: Check the Pinterest search bar
Pinterest users use the hashtag search bar to search for hashtags associated with posts they want to see.
For instance, if somebody was looking for kitchen decor inspiration, they may search for the hashtag #kitcheninspo.
When you search for a hashtag on Pinterest, you'll be able to see how many posts are listed under this hashtag in the hashtag search result. Trending keywords will also be suggested first as you type your search.
So, for instance, if you started searching for #kitchen, hashtag suggestions could be #kitchenideas, #kitcheninterior, #kitchenremodel, and so on.
The Pinterest search bar gives you an idea of what other users are searching for in a particular niche, which can be helpful in guiding you on what to post and which of your pins will perform best.

Step 2: Look for popular hashtags when using the Pinterest save button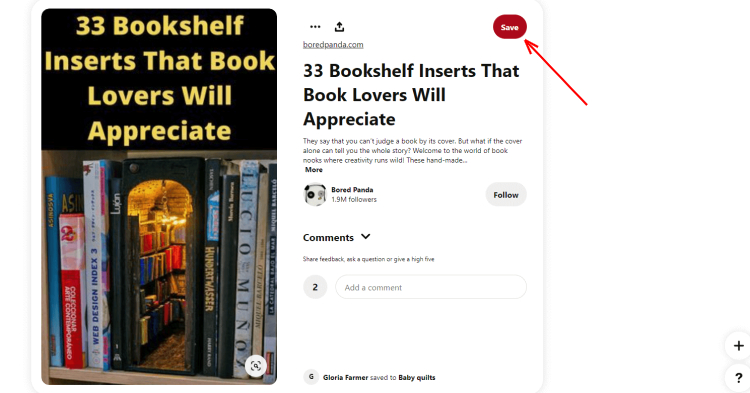 Another option is to find hashtag recommendations when directly pinning items from a website. You'll be able to see how many pins each hashtag has, which will give you some idea of its popularity.
When you click the Pinterest save button to pin an image from a website, you will see a pop-up appear that lets you click to save the image to Pinterest. You can type into this pop-up's search bar, and this should generate some good suggestions for hashtag ideas.
Note these suggestions for future use. That way, instead of having to decide which hashtags to use at the last minute, you can simply copy and paste a pre-written list into your Pinterest description when you come to make a post.
How to Add Hashtags to Pins
Hashtags only work when they are added to the Pinterest pin description of your pins, so, although you can add them to titles on the Pinterest website, you should stick to descriptions only.
Read on for the step-by-step process of how to add hashtags to pins.
Step 1: Create a fresh pin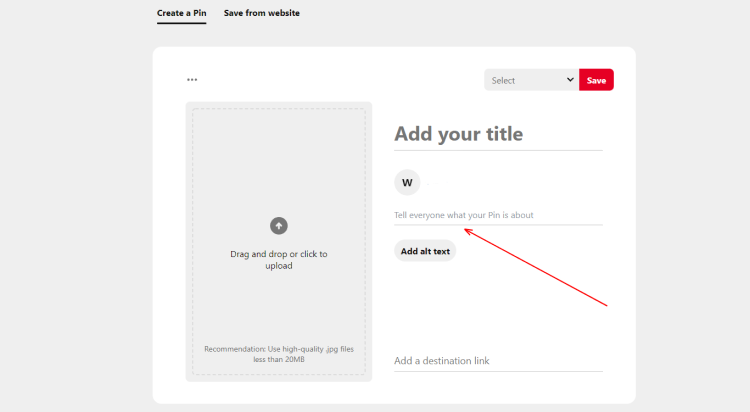 Follow the usual process to create a pin. You will be taken to a page that lets you add details for the pin, including a title and pin description.
Start by giving your new pin a title. Remember, don't add your hashtags here.
Step 2: Add your hashtags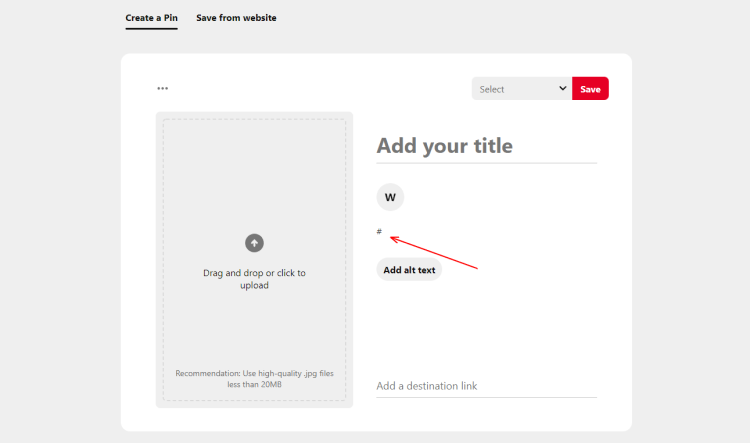 Underneath the "title" section, you will find a box for "description."
Here, you can type in your hashtags one by one, making sure to use the hash symbol (#) before each one. This will automatically convert your words into hashtags when the image is posted.
It's best to write your pin description, followed by your hashtags, which will allow the reader to learn more about your pin before skimming over the hashtags.
If you still need some specific hashtag inspiration, type # followed by your relevant keyword into the description, and Pinterest will generate a list of hashtags to choose from.
Step 3: Post your image
Once you have added your hashtags, simply click "next" and follow the steps to post your image.
Pinterest doesn't recommend using more than 20 hashtags per post, and you'll be limited by the 500-character description limit, anyway.
If you haven't titled your post, the first few hashtags in the description (or the description itself, if you've written one) will automatically appear in the title. However, this won't get your post seen by more people.
Your image will then post to Pinterest with your chosen hashtags in the description.
Strategies for Using Pinterest Hashtags
If you're using Pinterest to market a brand or business, it's best to think carefully about the Pinterest hashtag strategy.
Rather than using hashtags sporadically, you can consider how best to use them to attract the most viewers to your posts.
Here are some Pinterest tips to follow for hashtag use:
Keep them relevant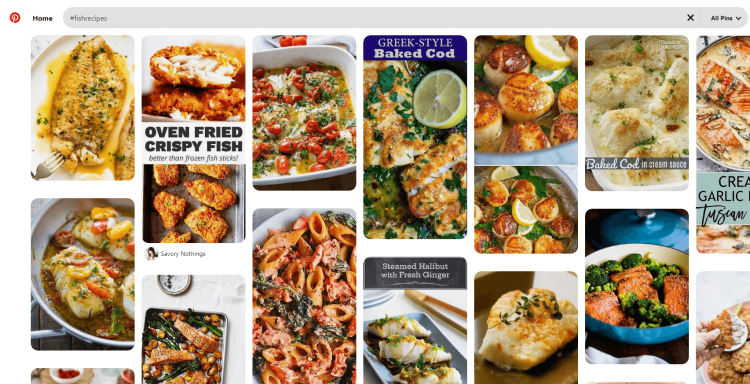 If you're going to use a trending hashtag, make sure it's a relevant hashtag for your post. Targeting the wrong Pinterest audience won't help you to attract genuine interest.
Stick to hashtags within your niche, and use a few generic hashtags that still relate to the image you're posting. The occasional branded hashtag is fine, too.
Mix them up
When deciding on which hashtags to use, it's best to combine multiple broad hashtags with more specific ones.
For example, if you've posted a picture of a salad, you could post #salad – the broad hashtag – and #veganbeansalad – the more specific one.
This means your content has the potential to dominate both broad and specific search terms within your niche, helping you to reach a wider audience.
Use seasonal hashtags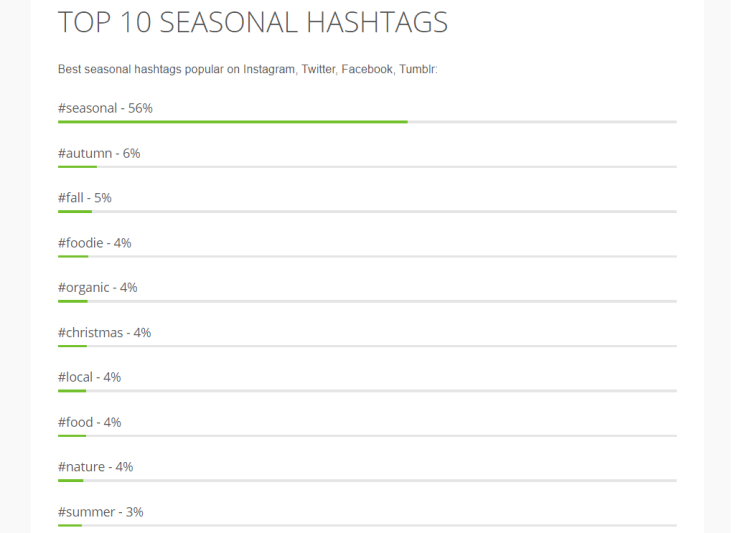 Source: http://best-hashtags.com/hashtag/seasonal/
Using seasonal hashtags is one of the best ways to get your content to go viral on Pinterest. There are trending and seasonal hashtags that can be added to content in all niches.
Many people who don't use the Pinterest social platform regularly will search for seasonal or special occasion content as inspiration in the run-up to a holiday. The extra views from an extended audience will help you to gain popularity in the long term.
Use evergreen hashtags
There are certain hashtags that are known as evergreen, meaning that they never go out of trend and are always relevant. Even people with minimal knowledge of your niche will search for these hashtags.
For instance, #kitchenwaterfallisland might be a trend you're showing off in the home decor niche, but it isn't an evergreen hashtag. #kitchendesign, on the other hand, is a hashtag that should stick around forever. You're guaranteed more views with this one, whereas the first hashtag will generate fewer views from a more interested audience.
Avoid using too many hashtags
As on all social media platforms, too many Pinterest hashtags can look spammy. Pinterest doesn't prohibit you from using a certain number of hashtags, but because of the maximum character count, you naturally have to stop after so many hashtags, anyway.
While using a lot of different hashtags within your character limit is unlikely to get you penalized by Pinterest, you may end up with spammy-looking content that dissuades people from looking at it. The ideal number of hashtags is between 5 and 8 per pin.
Switch up your hashtags often
Using the same hashtags, again and again, can also make you look spammy. It rarely makes sense to use the same hashtags for all your pins, too, unless you're posting virtually the same content over and over again (which is a little boring).
It's worth creating a pool of 50 or so hashtags, half of the popular hashtags, and half of the more specific ones. When you come to share a pin, you can simply choose several hashtags from your pool, making sure they're not the same as those shared on your last pin.
Place hashtags at the end of your description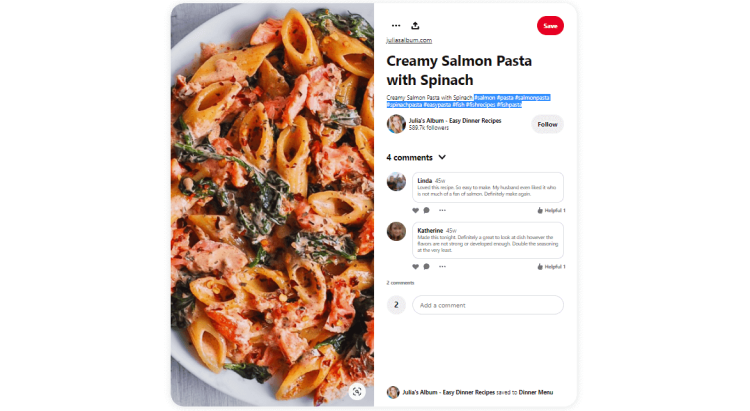 Although your target audience may find your posts through your hashtags, they're more interested in what you have to say.
That's why you should make sure the post description comes first, before the hashtags. This gives users the time to read your description, skim over the hashtags, and scroll on. If you begin with hashtags, people are less likely to read your description at all.
Use branded hashtags
A branded hashtag is a hashtag that relates to your own brand or business and is used for promotional purposes.
You want users to associate your pins with your brand, so it's best to start with one or two branded hashtags, ensuring that they're the first hashtags people see after viewing your pin.
It doesn't matter if nobody has heard of your brand before. The more of your pins they see, the more familiar they will become with your branding.
Get your timing right
Posting at popular times on Pinterest will get your pins seen by a bigger audience. With Pinterest's hashtag system, when you click on a hashtag, you will see the latest posts under that hashtag. So if you're posting at 6 am when your audience is most active at 5 pm, you're missing out on potential views.
The best time to post on Pinterest is from 11 am-1 pm and 7 pm-9 pm. It's worth considering your own audience, their habits, and when they're most likely to make time for Pinterest.
Best Pinterest Hashtags
If you're looking for hashtag inspiration, this section of the guide is for you. Below, you can find some of the most popular Pinterest hashtags based on niche.
Most popular Pinterest hashtags
The most popular Pinterest hashtags for any niche are as follows:
#pinterestinspired
#pinterestideas
#pinterestwin
#pinterestmom
#pinterestproject
#pinterestquotes
#pinterestsuccess
#pinterestwedding
#pinterestaddict
#pinterestworthy
10 Most popular hashtags relating to
#pinterest
#pinterest
#instagram
#aesthetic
#photgraphy
#instagood
#love
#art
#vlog
#ipad
#study
Pinterest Hashtags based on fashion
Being a creative platform, Pinterest is a great place to bring fashion enthusiasts together. Pinterest is particularly popular amongst fashion designers and people who make or start their own fashion trends.
For pins in the fashion niche, consider using some of the following popular hashtags:
#fashion
#pinterestfashion
#ootd
#kidsfashion
#womensfashion
#mensfashion
#outfitoftheday
#style
#outfitinspo
#fashioninspo
#trendsetting
#fashionoutfits
#fashionicon
Pinterest hashtags for food bloggers & food photography
With the right hashtags, you can skyrocket your Pinterest food blog to fame. Because of Pinterest's visual element, it's a popular platform for sharing mouth-watering food photography shoots with a keen audience of foodies.
The hashtags below are ideal for food bloggers and food photography:
#pinterestfood
#pinterestrecipes
#foodie
#recipe
#foodblogger
#foodphotography
#baking
#mealplanning
#foodanddrink
#foodrecipes
#healthyrecipes
#foodblog
#startafoodblog
#foodinspo
Pinterest hashtags for gift
What do you do when you don't know what gift to get for your partner's birthday or your daughter's wedding anniversary? You take to the internet, of course – and a search engine usually directs you to Pinterest.
If you sell items that fit well into the "gift" category, here's how to promote them with hashtags on Pinterest:
#gift
#gifts
#presents
#giftsforhim
#giftsforher
#giftidea
#hamdmade
#gifting
#giftideas
#uniquegifts
#birthdaygift
#christmasgift
#weddinggift
#specialgift
#jewelry
Health-related Pinterest hashtags
Pinterest is becoming an increasingly popular source of inspiration for health enthusiasts. If you're into all things health and fitness, you can share health-related infographics on Pinterest with a like-minded audience, using the right hashtags.
Below are some of the best health-related hashtags to use in your pins:
#fitness
#workouts
#health
#healthandfitness
#fitnessinspo
#workoutinspo
#fitnessinspirarion
#diet
#healthyfood
#weightloss
#training
#workout
#bodygoals
Art & Design Pinterest hashtags
If you're looking for art and design posts, Pinterest is the first place you'll head. Creatives with their own Etsy or Shopify stores can share their work with an interested audience on Pinterest. With the right hashtags, they can get their pins seen by potential customers.
The best hashtags to use or follow on Pinterest in the art and design niche are as follows:
#art
#design
#artshop
#artinspiration
#crafts
#craftideas
#diycrafts
#craftswithkids
#artwork
#sketches
#interiordesign
#designideas
#pinterestart
Pinterest hashtags for quotes
Pinterest is still the go-to social media platform for quotes. Whether you're looking for quotes about love, loss, joy, or inspiration, you'll find plenty to keep you going on Pinterest.
If you share motivational or inspirational content on Pinterest, here are some hashtags to use alongside your quotes:
#inspo
#quotes
#pintetestinspiration
#inspirationalquotes
#truequotes
#motivationalquotes
#motivation
#inspiration
#pinterestquotes
#believequotes
#lifequotes
#positivevibes
#faithquotes
#bestquotes
Hashtags for Business & Ideas
Marketing your brand or business on Pinterest will help you reach new audiences and ultimately make more sales. The best way to promote your brand is to create a Pinterest board for your product or service and fill it with relevant pins. It's important to use the right hashtags in these pins to connect to a like-minded business audience.
Hashtags to use for business and ideas include the following:
#entrepeneur
#pinterestmarketing
#smallbusiness
#businessideas
#successstory
#marketingtips
#businessmarketing
#growthmindset
#successfulbusiness
Pinterest hashtags for Moms & Parents
Parenthood can be an exciting but lonely experience, and many new moms and dads turn to bloggers who have been there, and done that, for support and inspiration on their journey. Pinterest is a great place for mom and parent bloggers to share relatable stories, tips, and advice with an audience that just gets it.
Use the hashtags below if you're looking to grow your audience as a mom blogger on Pinterest, or you're a parent looking for relatable pins:
#momblogger
#parentingblogger
#momblog
#parenting
#parentingtips
#pregnancy
#momproblems
#pregnancytips
#parentinghacks
#newborn
#babies
#parenthood
#dadblogger
#motherandbaby
Pinterest hashtags for pets
The social media pet world is booming, with pet owners all over the world making dedicated accounts to show off their pets. Pinterest is a fantastic source of inspiration for pet owners, offering hacks, tips, and ideas for your favorite furry friends.
If you're a pet store owner, you can use your Pinterest account to market your products and services.
To attract the biggest audience of pet lovers to your Instagram posts, use the following hashtags:
#pets
#pinterestpets
#petlovers
#dogs
#cats
#doglovers
#catmom
#petshop
#petstore
#petcare
#petgifts
#petcostumes
#cutepets
#petlover
Pinterest hashtags for photography
Pinterest is all about visuals, so it's no wonder that photography is such a popular niche on social media platform. Amateur and professional photographers can use Pinterest to share their work and promote their photography services to local crowds.
To get your photography pins seen by the right people, consider using the hashtags listed below:
#photography
#photographer
#pinterestphotography
#photoshoot
#portraitphotography
#weddingphotography
#engagementshoot
#weddingshoot
#camera
#canon
#travelphotography
#photostudio
#snapshot
Breakfast hashtags for Pinterest
For some people, breakfast is whatever they have time for on their way out the door – or nothing. For others, breakfast is an art form, a masterpiece, and the most well-thought-out meal of the day.
If you fall into the second category, you should certainly consider sharing your breakfasts on Pinterest. You'll appeal to a hungry audience looking for breakfast inspiration.
Use the following hashtags with your breakfast pins on Pinterest:
#breakfast
#breakfastinspo
#healthybreakfast
#eatbreakfast
#oatmeal
#smoothie
#morning
#fruits
#tastybreakfast
#cheatbreakfast
#highproteinbreakfast
#summerbreakfast
#winterbreakfast
#breakfastinspiration
Pinterest hashtags for Interior Design
Interior design businesses are some of the most successful on Pinterest. If somebody searches online for interior design inspo, there's a good chance that they'll end up getting funneled into a Pinterest hashtag feed. If you own an interior design business, you can share inspirational pins of your own products and hopefully make more sales.
The best hashtags to use for interior design pins are as follows:
#homedecor
#homedesign
#interior
#interiordesign
#designinspo
#bathroominspiration
#kitcheninspiration
#bedroomdesign
#interiorlovers
#decor
#bedroomdecor
#moderndesign
#homeinspo
#minimalistdesign
Workout Pinterest hashtags
If you're a personal trainer or gym enthusiast keen to share your workout tips with other keen gym-goers, Pinterest is the place to be. You can offer advice on how to get the most out of a workout, or even create your own workout plans for people at different levels of fitness.
Try these workout hashtags to reach an interested audience with your workout pins:
#workout
#fit
#getfit
#fitspo
#gym
#training
#gymlife
#trainer
#nutrition
#running
#strengthtraining
#gains
#weightloss
#loseweight
Daily hashtags for Pinterest
Posting daily to Pinterest can be a hashtag drain. But sharing content with your audience on a daily basis is essential for brand awareness. There are certain daily hashtags that can be used in your pins, depending on what day you're posting.
This can help attract a Pinterest user base looking for daily inspiration.
Some of the best daily hashtags for attracting Pinterest traffic include:
#monday
#newweek
#mondaymorning
#tuesday
#wednesday
#wellnesswednesday
#humpday
#thursdaythoughts
#friday
#friyay
#fridayfeeling
#weekend
#weekendvibes
#saturday
#sunday
#sundayspecial
#selfcaresunday
#happysunday
Lifestyle-related hashtags for Pinterest
If you're posting lifestyle-related content on Pinterest, you have the easiest job finding hashtags to use. Your pins likely span across several different niches, so you can pick and choose the hashtags from many of the lists shared above, depending on the content you're posting.
However, there are some exclusively lifestyle-related hashtags that are worth using alongside your pins, too.
Use the following hashtags to get your lifestyle content seen by the right people:
#lifestyle
#dailylife
#goodmorning
#goodevening
#lifehacks
#lifestylechanges
#positivity
#habits
#lifelessons
#mylife
#everydayhacks
#everydaycounts
#thedaily
Hashtags for bloggers
Pinterest makes it easy for bloggers to share snapshots of their blog posts and is one of the most popular social media platforms for bloggers. Many bloggers use "Pin on Pinterest" buttons in a blog posts, to make it even easier for users to share their posts and help them achieve Pinterest fame.
If you're a blogger looking to promote your blog on Pinterest and bring in more blog traffic, save the below list of popular hashtags:
#blog
#blogging
#blogger
#lifestyleblogger
#bloggerstyle
#dailyblog
#influencer
#bloggerlife
#blogosphere
#bloggers
#myblog
#todaysblog
You might be interested to check those related posts as well:
FAQ
Can you add hashtags to Pinterest comments?
Yes, you can. Hashtags in Pinterest comments are just as valid as hashtags in descriptions. Some people prefer to put their hashtags in their pin comments because they think it looks less spammy.
However, putting hashtags in your comments won't help your pins get any higher in the search results, which are ordered by date.
Should you add hashtags to old Pinterest pins?
Pinterest's hashtag system shows pins chronologically by date, with the newest pins first. So, there's no point in adding hashtags to an old pin, as they're likely too far back in the timeline to be found via hashtags, anyway.
If your old pins only reached a small audience, you could repost them with hashtags.
Are board hashtags important on Pinterest?
Pinterest has a lot of history with hashtags. Currently, in 2021, hashtags aren't essential. Pinterest said that hashtag use was "optional", and some users noticed that non-hashtagged posts were still showing up on hashtag feeds.
However, using board hashtags will only help, not hinder your Pinterest marketing efforts, so they're still important.
Conclusion
Using hashtags on Pinterest is easy, and has the potential to drive your pins to a wider audience. But good hashtag use on Pinterest doesn't guarantee your marketing success. You should also make sure that you're posting high-quality, relevant content that inspires your target audience.