Peloton is an at-home fitness service that first appeared in 2014.
What started out as a connected exercise bike that provided access to fitness classes on-demand has blossomed into a company that now has more than 2 million connected subscribers.
The pandemic helped the company gain significant market traction but this fitness brand is still growing strong.
Find out more about Peloton with these statistics, facts, and figures, some of which you might find truly astounding.
Key Peloton Stats 2023
Peloton started life on the crowdfunding platform Kickstarter and was able to raise $307,332 which was more than its goal of $250,000.
Every quarter, Peloton members compete in 134.33 million workouts.
The Peloton service has over 50 instructors.
The number of quarterly workouts has decreased since March 2021 by 10.17%. At that time the total number of quarterly workouts had peaked to reach 149.54 million.
Peloton subscribers complete almost 20 workouts per month which is actually a decrease from the previous year of 19.43%.
Peloton instructors are big on Instagram and with over 51 accounts, they have a following of 9.62 million.
Of the active Instagram instructors, more than 50% have over 100k followers.
In 2017, the brand achieved a Unicorn valuation. And in 2019 IPO.
According to figures from 2019, 400,000 Peloton bikes have been sold.
You can take part in up to 48 live classes every day or choose from 10,000 on-demand classes.
Peloton Subscribers Statistics 2023
The Peloton platform has almost 6 million subscribers. This is a growth of 9.25% on the quarter previously.
The Peloton brand's connected fitness service has 2.33 million members.
Since September of 2019, new memberships have grown on average by 549,000.
Since 2021, the number of active Peloton fitness subscribers has increased by 12%, from 2.08 million to 2.33 million.
Two-thirds of US Peloton bike users are aged 22 to 44 years.
The smallest percentage of bike users are in the age groups 18-24 and 65+.
In the United States, 62% of Peloton bike users are in the income bracket of $50k to $150k.
21% have a household income of $200k+, which is a decrease of 41% from 2014.
In March 2021, over 149 million workouts were completed.
In Canada and the US, there are 78 Peloton showrooms.
90% of Peloton members keep their membership going for more than a year.

Peloton Digital Subscribers Statistics 2023
In 2021, Peloton has a whopping 176% increase in the number of its digital-only members, from 316,000+ members in 2020.
Peloton has over 874,000 digital subscribers as of June 2021.
Peloton increased its digital membership by 557,000+ over the last 4 quarters.
Key Peloton Stats and Figures
Peloton has over 5.9 million members on the platform.
2.33 million people subscribe to Peloton's connected fitness membership.
Peloton has more than 874,000 paying digital-only subscribers.
134.33 million workouts are completed quarterly on Peloton.
Peloton's quarterly revenue is $937 million.
Peloton has 51 instructors.
Peloton Revenue Statistics 2023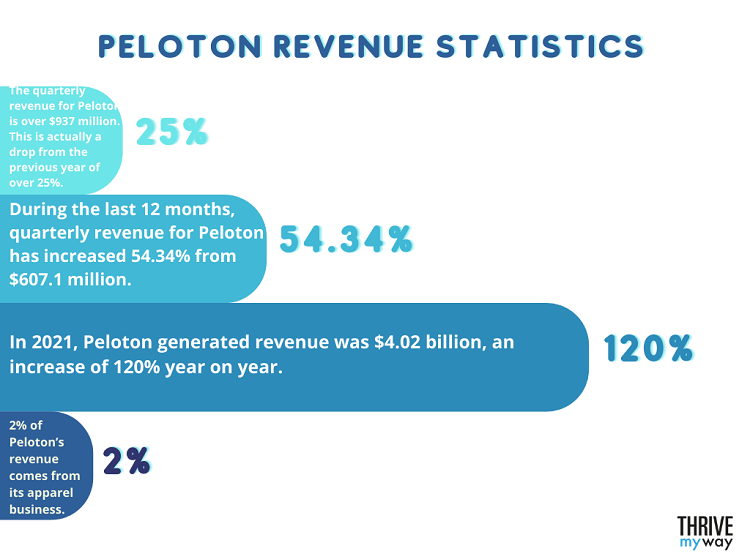 The quarterly revenue for Peloton is over $937 million. This is actually a drop from the previous year of over 25%.
During the last 12 months, quarterly revenue for Peloton has increased 54.34% from $607.1 million.
In 2021, Peloton generated revenue was $4.02 billion, an increase of 120% year on year.
However, net loss figures in 2021 were $189 million compared to $117 million in 2020.
To access Peloton's library users have to pay $39.99, or $12.99 via the app.
2% of Peloton's revenue comes from its apparel business.
In 2020, apparel sales were 20 million.
Peloton Content Statistics 2023
In Peloton's library of classes, there are eleven fitness disciplines.
Five disciplines were added recently, in the last five years.
The cycling workout was the first to launch in January 2014, closely followed by Scenic Cycling in March 2014.
The latest workout concept is Dance Cardio which launched in March 2020.
The most popular Peloton activity is cycling, which makes up more than 50% of workouts.
In 2017, 97% of Peloton workouts were related to cycling.
Tags help members stay connected and since their introduction, members have created more than 100,000 tags.
Themed workouts (Peloton Artist Series) have become a recent addition and they are built around famous artists and their music. Currently, 74 artists are featured.
Peloton has the largest audio catalog globally and it consists of 2 million songs that are under license.
The largest turnout for a live Peloton class was 23,000 members in April 2020.
A Peloton Guide costs $495.
Peloton Employee Statistics 2023
The number of people employed by Peloton is 7,866 and they work across six countries including the UK, the US, Australia, Germany, Taiwan, and Canada.
The average salary Peloton employees earn is $119,337 annually.
Employees who are classed as foreign citizens, (H-1B visas), earn an average salary of $152,500.
You might be interested to check those related posts as well:
FAQs
What is a good Peloton average output?
150 to 200 watts is considered a good Peloton average output.
What is the most popular workout on Peloton?
Cycling is the most popular Peloton workout.
How much do Peloton instructors make?
Peloton instructors can make anything from a six-figure sum to over half a million.
Conclusion
As you can tell from these Peloton statistics, this home-based exercise service has rapidly taken off to become one of the industry leaders. New members are consistently signing up and the company continues to invest in new products. Peloton is proven to serve as a great alternative to some good fitness blogs and bloggers.
It looks like Peloton is all set for long-term growth and its recent acquisition of a fitness equipment manufacturer only backs up this prediction.
When compiling this list of Peloton statistics, we used several websites for reference:
Backlinko
Business of Apps
Statista
DMR
The Small Business Blog