There's been a massive shift from traditional in-class instruction to digital learning.
Thanks to technology and the internet, individuals, and businesses can now take advantage of eLearning.
COVID-19 has played a part in fast-tracking the growth of the online learning industry.
Social distancing and lockdown have required an innovative approach to training and education.
The benefits of online learning include more independence, flexibility, improved self-motivation, and better time management.
However, there are some downsides that include the need for lots of self-drive, less social interactions, and more work for students.
The following statistics about online learning will show you how powerful online learning solutions can be and how efficient they've become.
State of Global Online Learning Stats and Facts 2023
Estimates are that the worldwide eLearning market will be worth $325 billion by 2025.
77% of US corporations used online education in 2017, but by 2020, 98% were incorporating it into their learning program.
Between 2020 and 2024, the US online learning market will grow by $12.81 billion.
Retention rates are increased by 25% to 60% when eLearning is available.
Between 2020 and 2024, the corporate e-learning market could increase by $38.09 billion.
42% of US organizations attribute an increase in income to eLearning.
When 2,500 companies were surveyed, it was found that those with "comprehensive training programs" have 218% higher revenue per team member and 24% higher profit margins.
When IBM switched to eLearning, it was able to save approximately $200 million.
In 2019, 67% of US companies offered learning opportunities via smartphones.
Global Online Learning Industry Statistics
The massive open online course (MOOCs are free learning online platforms that allow for unlimited participation from students worldwide) market could be worth $25.33 billion by 2025.
The MOOC market is currently worth $5.16 billion and is projected to grow at an annual rate of 32.09%.
The eLearning sector will be driven forward over the next couple of years by the key trends of augmented and virtual reality (AR/VR).
The largest section of the global eLearning industry is located in the US and Europe (70%).
The European frontrunner in the eLearning industry is Germany, which has the highest market share in Europe.
Only 47% of students are aware of MOOCs in many parts of the world.
A study of 2,700 randomly selected medical students found that only one-fifth of them knew about MOOCs.
40% of the most popular MOOCs belong to categories that are easy to monetize such as business and technology.
Germany's eLearning market is growing by 8.5% each year.
The online education market in India is expected to grow by $14.33 billion by 2024.
The fastest-growing eLearning market in the Asia Pacific region has a growth rate of 17.3% while the global growth average is 7.6%.
In China, the K-12 online learning market has grown by 20% since 2017.
99% of students taking US online degree programs are physically located in the US.
More than 30% of American students enroll in at least one online program.
39% of American undergraduate students consider online college-level education to be superior to classroom learning.
Nearly all top US universities offer eLearning courses.
48% of K-12 students globally have online classes available to them.
eLearning and COVID-19 Impact Statistics
China's school system relied heavily on distance learning during the 2020 pandemic.
97% of college students have switched to online instruction as a result of COVID-19.
Since the outbreak of COVID-19, 41% of students say their opinion of their current school has worsened.
In the US, more than 1200 colleges and schools in over 50 states have been affected by the pandemic.
21% of colleges in the US have adopted a hybrid model of learning.
44% of US institutions have adapted fully to online learning platforms and tools, and online education has become their primary mode of learning.
The COVID-19 pandemic prompted exponential growth in the eLearning industry, with demand rising by as much as 400%.
Traditional vs. Online Learning Statistics
eLearning increases learning retention rates by between 25% and 60%, compared to traditional learning retention rates of 8% to 10%.
Online students have more control over their learning process than traditional face-to-face team member training.
The biggest motivators for employees to choose online education rather than traditional classroom-based learning are individual learning pace (95%) and reduction in travel (84%).
85% of learners say that the online learning experience was better, or at least equally satisfactory compared to traditional face-to-face classes.
Corporate Online Education Statistics
The corporate eLearning market could increase by $38.09 billion between 2020 and 2024.
Compared to traditional learning, corporate distance learning takes 40% to 60% less time to complete.
Around 40% of all Fortune 500 companies use online education for training.
41.7% of Fortune 500 companies use some form of technology for training employees.
57% of learning and development professionals spend more time with online education than they did three years ago.
By 2026, the corporate eLearning industry is expected to be worth $50 billion.
In 2018, distance learning was used by 82% of companies for conducting at least some of their compliance training.
In the same year, 28% of companies were delivering all their compliance training online.
25.6% of corporate training hours were delivered via eLearning in 2018.
62% of companies use online education and development programs to close gaps in team member knowledge.
In 2020, microlearning, the usage of bite-sized lessons that take only 5 minutes to complete, usage was up by 700%.
The average microlesson completion time is 5 to 7 minutes.
The average number of microlessons per microlearning course is 4-5.
The average retention rate from microlearning is 70% to 90% vs. 15% from traditional learning.
The benefits of microlearning are improvement in learning transfer (17%), improvement in engagement (50%), increase in development speed (300%), and reduction in development costs (50%).
Online Education Statistics and Business Impact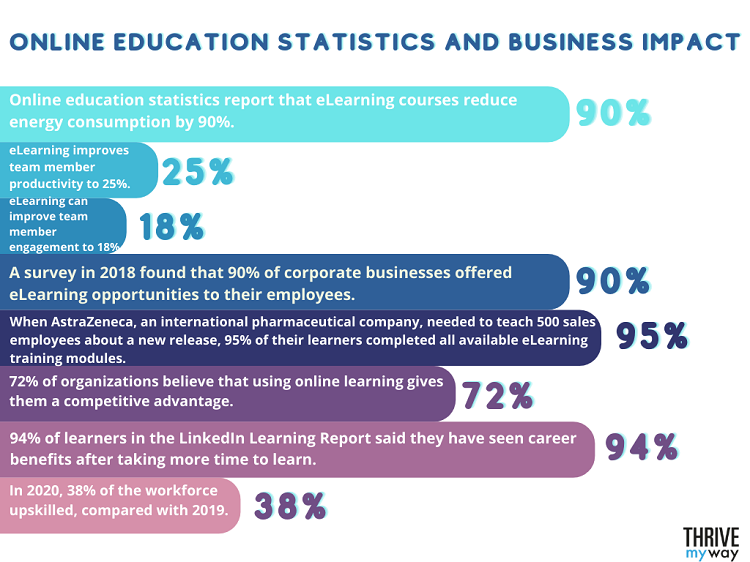 Online education statistics report that eLearning courses reduce energy consumption by 90%.
eLearning improves team member productivity by 15% to 25%.
eLearning can improve team member engagement by up to 18%.
A survey in 2018 found that 90% of corporate businesses offered eLearning opportunities to their employees.
When AstraZeneca, an international pharmaceutical company, needed to teach 500 sales employees about a new release, 95% of their learners completed all available eLearning training modules.
Another company that experienced amazing team member engagement was Hendrick Automotive Group. It is one of the largest privately owned automotive dealerships in the US and decided to replace its old-fashioned LMS with an engagement-focused platform. As a result, the organization saw more than 750,000 visits to the LMS (learning management system) in the space of just eight months.
72% of organizations believe that using online learning gives them a competitive advantage.
94% of learners in the LinkedIn Learning Report said they have seen career benefits after taking more time to learn.
In 2020, 38% of the workforce was upskilled, compared with 14% in 2019.
Educators' Attitudes Towards eLearning Statistics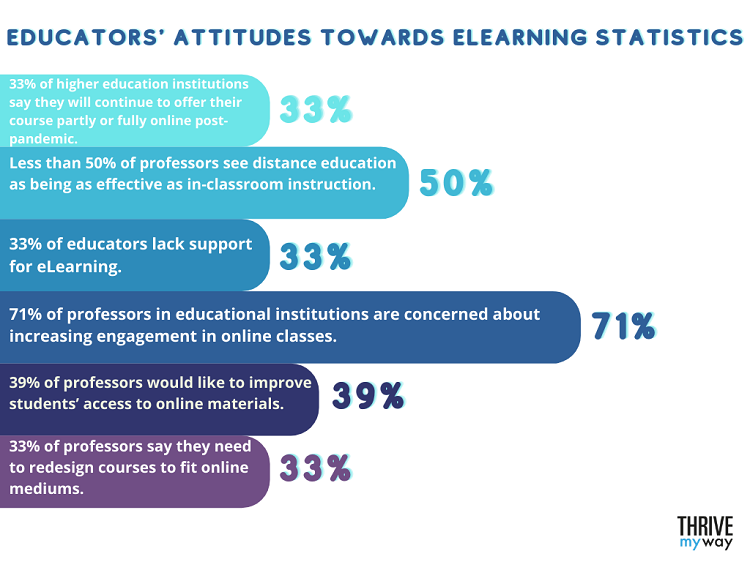 eLearning is the fastest-growing market in the education industry.
33% of higher education institutions say they will continue to offer their course partly or fully online post-pandemic.
Less than 50% of professors see distance education as being as effective as in-classroom instruction.
33% of educators lack support for eLearning.
71% of professors in educational institutions are concerned about increasing engagement in online classes.
39% of professors would like to improve students' access to online materials.
33% of professors say they need to redesign courses to fit online mediums.
eLearning Effectiveness Statistics
With eLearning, participants can learn almost five times more material compared to traditional methods, without increasing the time they spend training.
Every dollar invested in online training results in $30 in total productivity for the company.
72% of organizations believe that digital learning helps them increase their competitive edge because it provides opportunities for them to keep up with industry changes.
42% of online college students compared to 30% of undergrads prefer online education to in-classroom learning.
With eLearning, online learners can retain 25% to 60% more information compared to just 8% to 10% when in the classroom.
The number of D and F grades is increasing by 30% for some middle school students with online learning.
In some regions, failing grades for online education has increased by as much as 70%.
Barriers to eLearning Statistics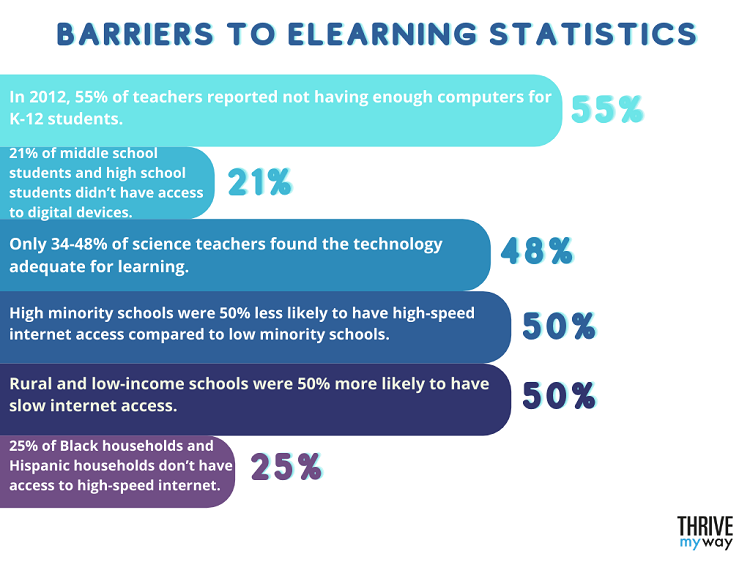 In 2012, 55% of teachers reported not having enough computers for K-12 students.
In the same year, 21% of middle school students and 13% of high school students didn't have access to digital devices.
Only 34% to 48% of science teachers found the technology adequate for learning.
In 2020, one in three elementary school students used a mobile device instead of a computer to complete classwork.
One in three families report not having enough space for a good learning experience.
High-minority schools were 50% less likely to have high-speed internet access compared to low-minority schools.
Rural and low-income schools were 50% more likely to have slow internet access.
25% of Black households and 23% of Hispanic households don't have access to high-speed internet.
Nearly one-quarter of 15-year-olds from disadvantaged backgrounds don't have access to a computer.
eLearning Growth Statistics
At the end of 2019, the global virtual learning market had a market value of $187,877 billion. By the end of 2020, it had reached over $200 billion, and estimates are that it could rise to $376 billion by 2028.
The online learning market is growing at a compound annual growth rate of 9.23%.
The eLearning market in the US could grow by $12.81 billion between 2020 and 2024.
Worldwide, mobile learning could reach $80.1 billion by 2027.
Since 2000, the eLearning industry has grown by more than 900%.
By 2022, the eLearning industry could be worth $243 billion.
By 2026, the open online course industry is expected to be worth $374 billion.
Mobile learning is one of the fastest-growing markets within the remote learning industry, with an annual growth of 23%.
European EdTech companies saw a 540% increase in venture capital investments between 2014 and 2018.
Recent data reveals that the vast majority of online course users are highly educated with a traditional degree.
eLearning Platform Statistics
Udemy is the number one course platform for eLearning, and it has more than 20,000 content creators and 12 million students.
The Udemy platform plays host to more than 150,000 distance education courses on a range of professional subjects, including finance, personal development, accounting, software, IT, data science, and many more.
The second most popular eLearning platform is Teachable, with more than 3 million students and 20,000 individual online learning courses.
Course creators have earned $1 billion using Teachable and Thinkable to date.
In India, the most popular course platform is Tata Interactive Systems.
An estimated 73.8 million people use learning management systems.
The most popular independent course categories are marketing, self-habits, food, and drink.
The most popular course on the Teachables platform is email marketing.
EDX passed 110 million international student enrollments in 2020, up 29 million year-over-year.
MOOC providers also gained 60 million new learners led by Coursera (which enrolled half of them).
Udemy saw more than 1,000% year-on-growth in its course consumption related to mental health and wellness skills, including anxiety management, resilience, and stress management.
There was a 3,210% increase in the consumption of listening skills in the software and technology industry compared to 2019.
eLearning Financial Statistics
eLearning has helped increase income for 42% of US organizations in 2021.
According to studies, almost half of the companies that were questioned report at least some increase in revenue after switching from traditional training methods to eLearning.
Companies that offer eLearning report a 26% increase in revenue generated per team member.
The cost of creating an online course can range from $144 to $10,800, depending on several factors, such as the certification it provides and the number of modules.
The average cost of creating an online course is $177.
You might be interested to check those related posts as well:
Conclusion
The future of education is most definitely eLearning.
The industry is booming, as these statistics clearly show.
It's such a convenient way to train employees and for individuals to hone their skills and knowledge.
Not only that, but it also has the potential to rewrite the rule book when it comes to the way we think about knowledge transfer.
We'd like to thank the following sources for their contribution to the list of online learning statistics: