Looking for some DIY inspiration?
Whether you're new to the concept of DIY or not, we've found some great blogs to check out.
Get crafty with some new ideas!
It's been a crafty year for many of us!
With isolation periods and national lockdowns, people have been getting crafty with the materials they already have in their homes.
It's taught many of us that we actually have the skills to get the job done for ourselves!
Even though most of us have gotten used to doing more DIY, it's always good to get more inspiration!
Best DIY Blogs and Bloggers 2023
Whilst DIY isn't for everyone, these blogs have tips for beginners and more complex projects for advanced DIY-ers.
Check our top blog picks for some great DIY ideas and tips.
1. Remodelaholic – Best DIY Home Interior Blog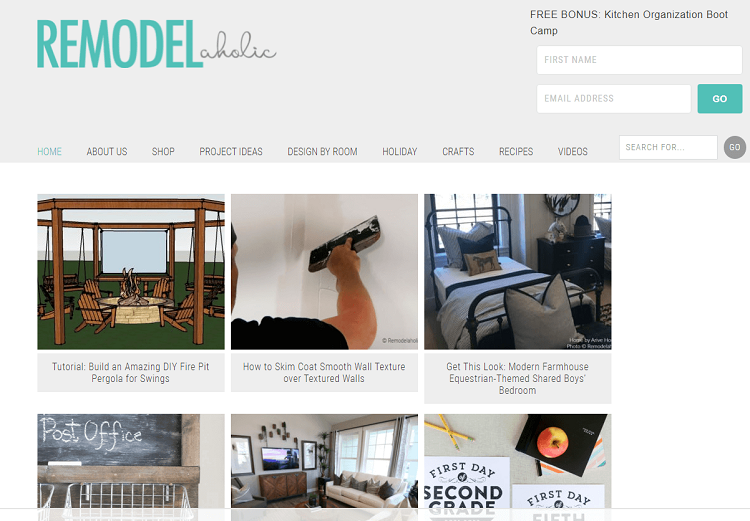 Created by Cassity, the Remodelista blog was created to show readers how to DIY in their homes.
Cassity loves to focus on recycling and sustainable ways to remodel and create DIY projects in her home.
Alongside her husband, she has remodeled five houses and you can view all of these on the Remodelaholic blog for some serious inspiration.
The pair also run a side family blog to show their audience additional family tips and fun stories about their family life.
On the Remodelaholic blog, readers can find project ideas full of exciting and different crafts.
You can find DIY project plans to help you recreate her pieces in your own home.
There are many family-friendly crafts, so any readers with kids should check this blog out.
Alongside DIY projects, you can also find recipes, videos, and a holiday section that includes every celebration you can think of!
Find the blog online here and on Instagram here.
2. The Craft Blog – Best Child-Friendly DIY Blog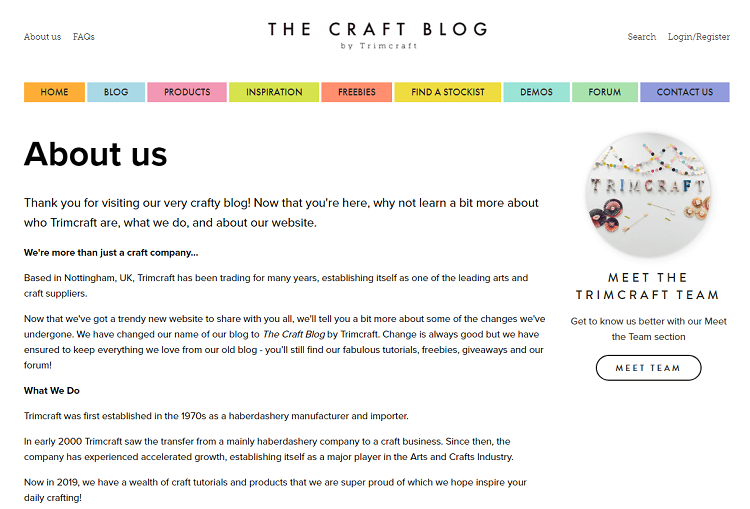 While some may think of DIY as a way to create new furniture or remodel a home, it can also apply to arts and crafts projects for kids.
This blog is great for moms who need inspiration for rainy-day activities or teachers who want fun art projects for their classes.
The blog, run by the company Trimcraft, is a leading UK arts and crafts supplier.
They've been established since 1970, giving the team over 50 years in the industry – they know everything about DIY art projects!
On the blog, readers can get daily inspiration for card making, scrapbooking, baking, and even upcycling.
If you like high-quality photos and videos to guide you through projects, try the ones on The Craft Blog.
This blog gives DIY projects and tips to keep busy – perfect for when the kids are home for the holidays!
Find the blog online here and on Instagram here.
3. Addicted 2 Decorating – Best Female DIY Blog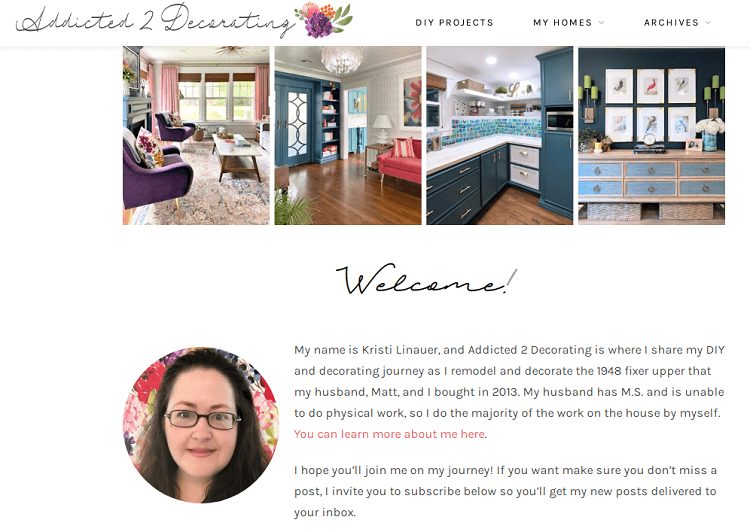 Addicted 2 Decorating was launched by Kristi Linauer so she could share her decorating and DIY journey.
Kristi was initially working on a 1948 fixer-upper house in 2013.
As her husband has M.S., Kristi needed to do the majority of the work on her own and started sharing her experiences online.
This blog smashes the stereotypes that women aren't the best at DIY jobs and gives great tips to ladies that are unsure about getting into home projects.
Within the blog, you can view the two homes that Kristi has worked on for some interior decor inspiration.
Kristi lists her paint colors and other resources so readers can go out to find good-quality materials.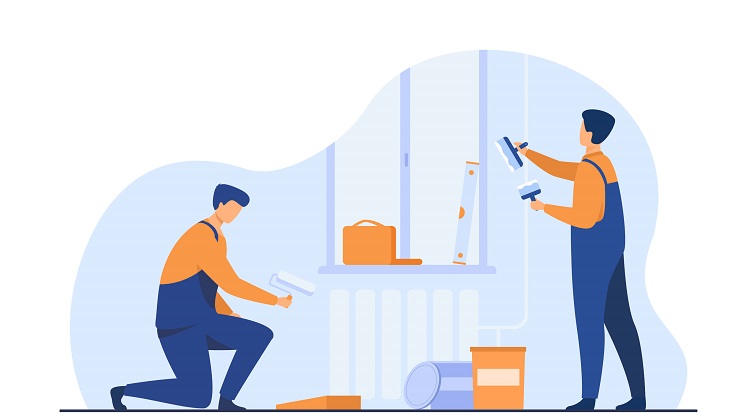 The DIY projects on the blog include outdoor projects, home accessories, home improvement, artwork, before and after photos, furniture, walls and floors, window treatment, room makeovers, and even lighting projects.
There's a category for everything home-related!
Find the blog here or on Instagram here.
4. Oh Happy Day – Best DIY Lifestyle Blog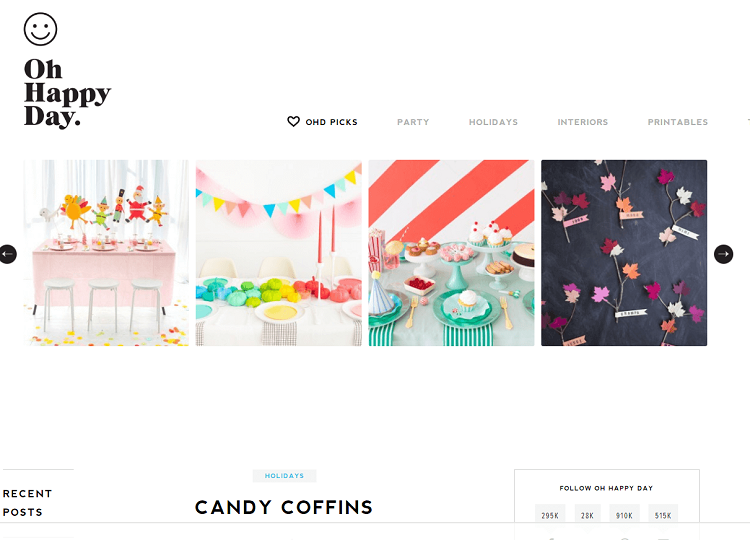 The Oh Happy Day blog was created in 2006 by event planner Jordan to showcase party design ideas online.
The blog found an audience and became a popular DIY party planning blog, including accessible DIY guides, interior design, DIY art, practical party information, and general on-trend decor.
The blog is full of great photography, so if you're after an imaginative creation to copy – visit this blog.
This blog is now also a lifestyle blog, as alongside interiors and parties, you can also view travel and holiday blogs too.
Within the travel section, readers can learn more about travels to Brazil, Europe, China, Paris, and Los Angeles too.
If you like blogs with a personal touch, this is a great one to start reading.
The brand also has a very aesthetically pleasing Instagram, so if you want constant DIY inspiration, give it a follow!
Find the blog here or on Instagram here.
5. Ana White – Best DIY Furniture Blog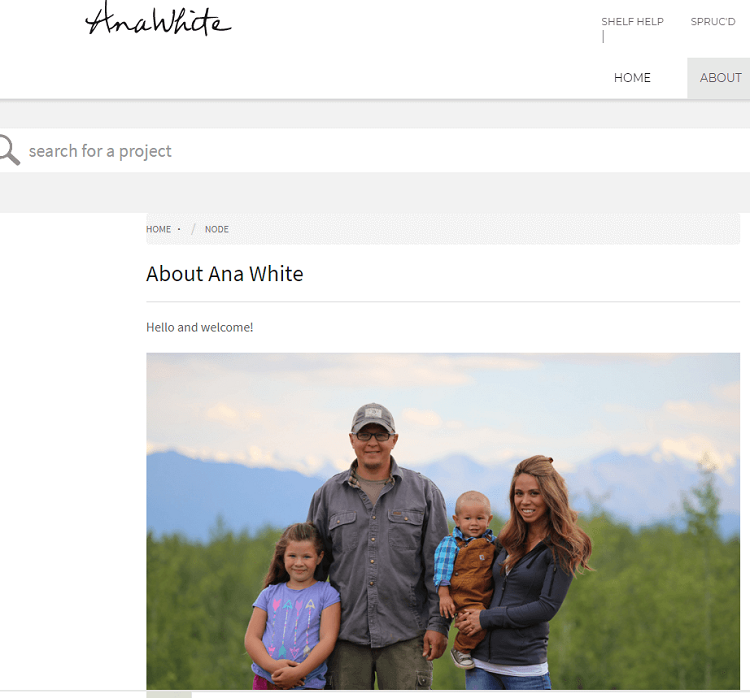 Ana and her family have spent over a decade creating furniture from scratch and sharing it online.
She strives to show readers that they don't need to rely on IKEA for great furniture – with a few simple tools you can be the designer!
For their DIY projects, Ana and her family use basic power tools.
These include a drill, a brad nailer, a miter saw, and a sander.
If you're handy with tools, or you're trying to learn, you can get some great DIY tips and tricks on this blog.
The Ana White blog contains a section for beginners called a "Woodworking Guide".
If you are starting with little or no skills, this is a must-read.
There are also helpful Youtube videos from Ana which are great for visual learners.
The blog also contains furniture plans (to guide you whilst you're creating) and a "brags" section that details the reader's creations.
This is a community of readers that have taken Ana's plans and brought them to life!
Find the blog online here or on Instagram here.
6. Garden Therapy – Best Outdoors DIY Blog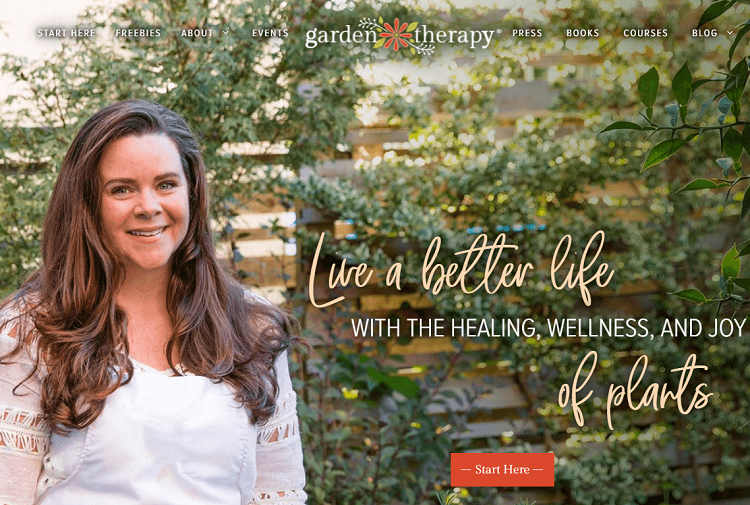 Stephanie created the Garden Therapy blog to share how gardening healed her from a debilitating illness.
If you are looking for DIY to de-stress or relax, gardening is a perfect solution.
Stephanie found that gardening projects changed her life and now she is a Permaculture Designer, Herbalist, and also an organic gardener who shares her experiences to help others.
Whether you want a pretty garden project or an outdoors DIY guide, this is the blog for you.
Within the blog, you can find simple garden crafts to add some detail to your space.
You can also view general gardening tips, herbal guides, and DIY plant-based beauty projects – the blog benefits your skin too!
Stephanie also teaches readers how to grow their own food, create garden furniture, great DIY gardens indoors, and how to live green generally.
If you want tailored advice you can even take a personal cause with Stephanie or read her book.
Find the blog here and on Instagram here.
7. P.S. – I Made This – Best DIY Fashion And Accessories Blog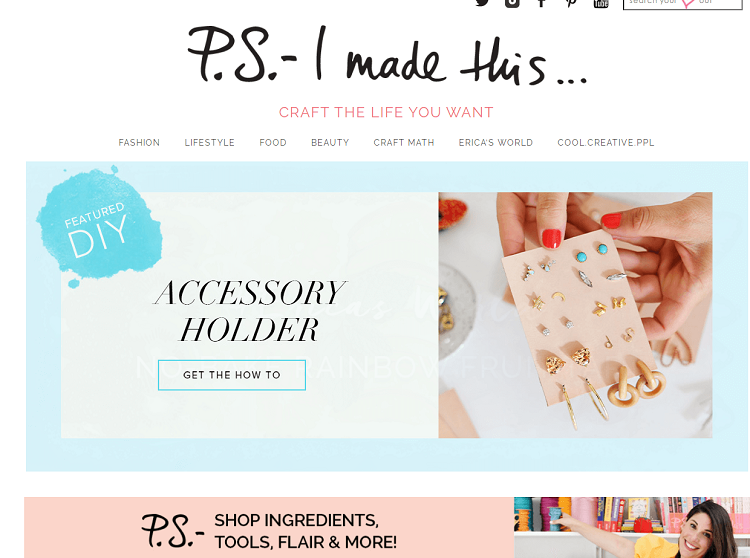 Perhaps you want to spruce up your wardrobe without buying any new clothes, does this sound familiar?
If it does, check out the P.S. – I Made This blog for the ultimate lifestyle and fashion inspiration.
Founder Erica created the blog to empower women worldwide by showing them how to create their own accessories.
Homemade can be fashionable too!
The fashion section of this blog teaches readers how to make accessories like statement earrings, headbands, clutch bags, sliders, bags, bracelets, and more!
Following these guides will help you create a unique wardrobe in no time.
On the blog, you can also find lifestyle, beauty, and food DIY guides too.
Erica also shares stories from her life in the "Erica's World' tab, these contain more craft inspiration and great pictures.
Find the blog here and on Instagram here.
8. Vintage Revivals – Best Vintage DIY Blog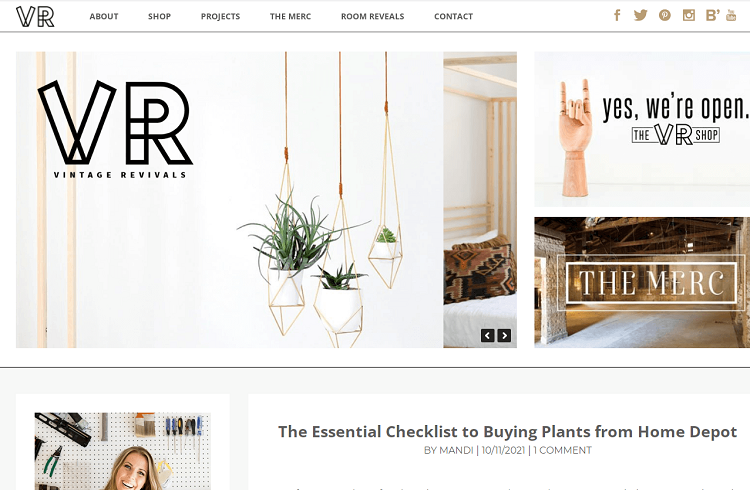 Vintage Revivals was created so the owner could get over her fear of decorating and just jump into the creative DIY scene.
With a focus on making your house look unique, the Vintage Revivals blog often features retro and vintage designs.
This blog is great for beginners or anyone with little DIY knowledge as this is where the owner started too.
The blog features room makeovers, furniture upcycling, wall makeovers, and more.
If you want home decor inspiration this is a key blog to explore, it's full of modern and creative palettes.
Color is always embraced on this blog, but it always looks tasteful and never too "over the top".
Vintage Revivals also features a shop where you can purchase prints, handmade hardware items, and planters to add a unique touch to your home.
Find the blog here and on Instagram here.
9. Pretty Handy Girl – Best DIY Home Blog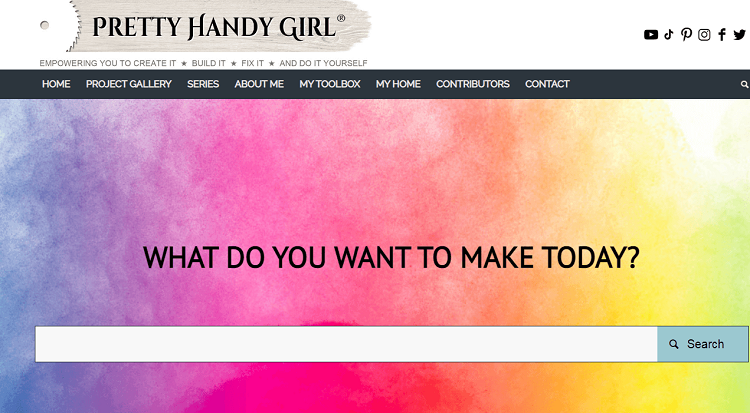 Brittany Bailey created the Pretty Handy Girl blog to show women that they can take on home DIY projects too.
Brittany is an artist, licensed general contractor, web designer, graphic designer, and photographer too.
She knows how to get a project done well without professional help.
If you want to learn how to remodel your home, the Pretty Handy Girl blog has lots of home improvement and repair tutorials to help you on your journey.
Within the blog's project gallery, readers can explore a wide range of projects.
From simple arts and crafts ideas to electrical and auto maintenance, Brittany has all areas covered.
You can find decorating projects, home maintenance tips, landscaping or gardening tools, helpful techniques, and even gift ideas on her blog.
This is a diverse blog that can give simple tutorials and complicated home renovation guides – great for any level of experience.
Find the blog here and on Instagram here.
10. How Does She – Best Mom DIY Blog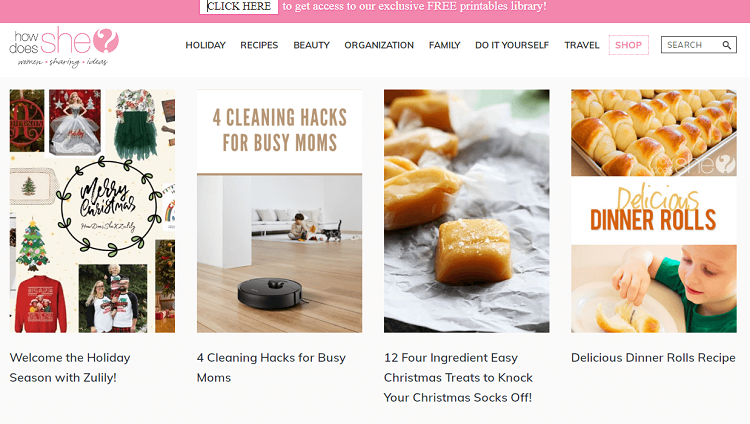 Being a mom is a busy life!
Sometimes you don't have time to trawl through DIY blogs to find one right for you.
If you're living a busy mom life, try the How Does She blog for DIY projects from other women.
This is a great community website where ladies give tips to each other for a smoother stress-free DIY experience.
The DIY on the blog focuses on crafting, sewing, decorating, gardening, gifts, and baby gifts too!
Alongside easy-to-follow DIY tutorial posts, readers can also explore family-oriented blogs too.
These detail everything from parenting and babies to romance and traditions.
There are also handy organization guides, beauty tips, and a wealth of recipes for you to try!
Not only that, but the How Does She blog also includes a holiday section, as well as a travel section, and a shop.
Everything you need as a mom on one blog!
Find the blog here or on Instagram here.
11. Lia Griffith – Best Floral DIY Blog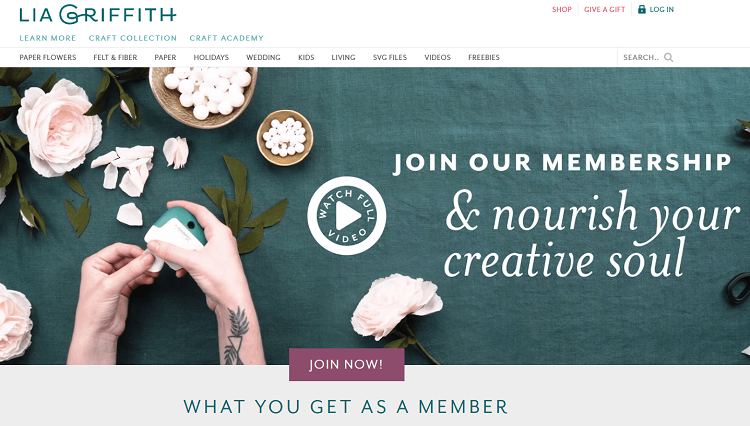 Are you a fan of all things floral?
The Lia Griffith blog is probably perfect for you!
Lia started her DIY journey with a paper rose tutorial in 2013, and she's not looked back since!
With the help of her team, Lia now creates DIY templates that are 100% original.
You can find thousands of SVG cut files and tutorials on her blog too.
If you like to make and create, check out her blogs and start creating your own delicate art.
The blog features a video library to help those who prefer visual content and this also spans Lia's Youtube channel.
Lia also has helpful resources including a material resource list, a paper flower glossary, and a felt flower glossary.
These DIY flowers are great for home decor, parties, weddings, and any special events!
Find the blog here and on Instagram here.
12. The Merrythought – Best Minimalist Homeware Ideas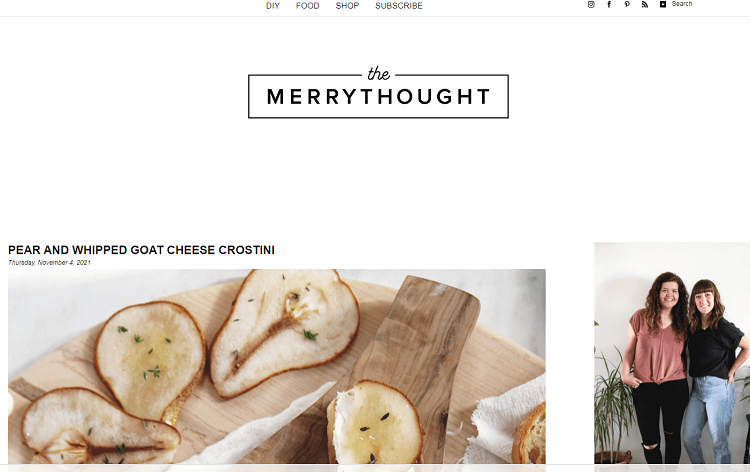 The Merrythought has been bringing homes great minimalist DIY ideas since 2013.
This New York-based blog focuses on a range of lifestyle topics, however, the blog is home to a helpful DIY section too.
From organization and room makeovers to prints and cleaning products, this DIY archive is full of everyday solutions.
While this isn't art or decor-focused, there are many great home improvement hacks to find.
The lifestyle blog is also home to a food section.
This page details the writer's favorite recipes and how you can recreate them easily at home.
If you're also a foodie, this is worth checking out as there are some unconventional dishes on offer.
The founders have curated a "Shop Our Faves" page to let readers know what the best home decor, clothes, kitchen, and DIY supplies are.
Find the blog here and on Instagram here.
13. Fall For DIY – Best Pottery DIY
Fall For DIY was created so the owner could show projects that she found useful and made her happy.
As soon as you visit this blog you'll be pleased with how aesthetic all of the project photos are.
If you like pretty pictures on blogs, this is one to visit.
All of the DIY tutorials here are affordable and easy so that all budgets and skill levels can learn something new.
This is a great option for anyone who's a fan of pottery as many of the listed blog articles feature pottery that can be completed without a kiln – ideal for beginners!
From candle holders to earrings, you'll be a clay expert in no time.
There are also cool rope techniques to help you make bags, earrings, and hanging plant holders too – all hot trends this year!
Find the blog online here and on Instagram here.
14. Lovely Indeed – Best DIY Holiday Decoration Blog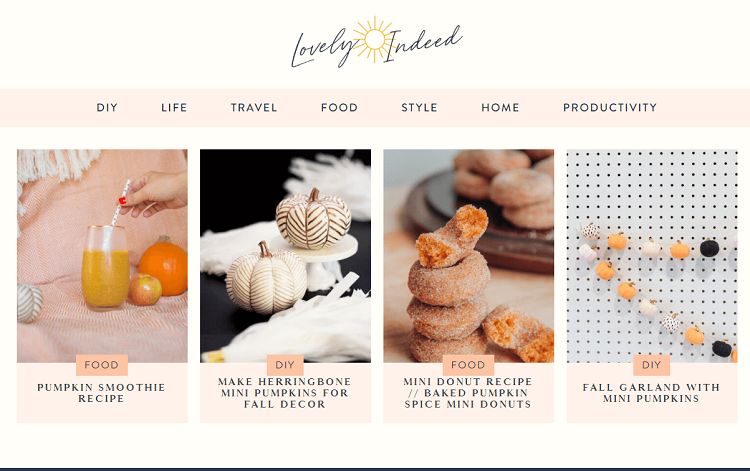 The team at Lovely Indeed has been creating cute and feminine DIY projects since 2010, giving them over a decade in the crafts industry.
The blog strives to empower women with its tutorials and general inspiring lifestyle content.
The Lovely Indeed blog has grown large enough to host consulting, creating workshops, brand ambassadorship, digital courses, and speaking engagements too.
If you're looking for a community of DIY-loving girls – it's on this blog.
Alongside the many great tutorials and home crafts on Lovely Indeed are their many holiday posts.
Whether you want Christmas content, Halloween, Valentine's Day, or Easter treats, they've got a project for them all.
Their most recent is a DIY mini pumpkin in herringbone patterns and a DIY fall garland decoration.
They always have great home decor hacks for any party or event.
Find the blog here or on Instagram here.
15. Wellness Mama – Best Family DIY Blog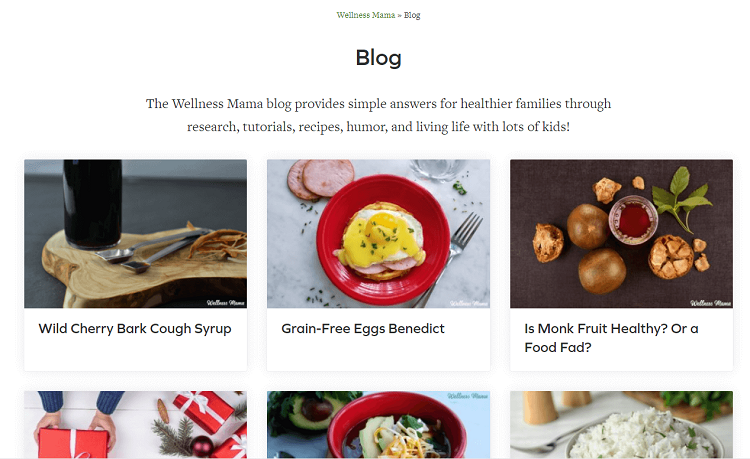 When you've got a family you know how hectic it can get.
The Wellness Mama blog strives to help all families reach for healthier and happier life habits through their blog posts.
Katie, the founder, works with a team of medical advisors and researchers to give great parenting, health, and natural product tips alongside DIY tutorials.
Find natural DIY articles from tried and tested methods.
This is a great blog to browse if you want to learn something new.
This blog contains many recipes for fun and healthy kids' meals, so if you need food tips as well as crafts try reading the Wellness Mama blog!
You can also find a podcast, newsletter, and shop on the website.
Find the blog here or on Instagram here.
16. HomeMade Modern – Best Affordable DIY Blog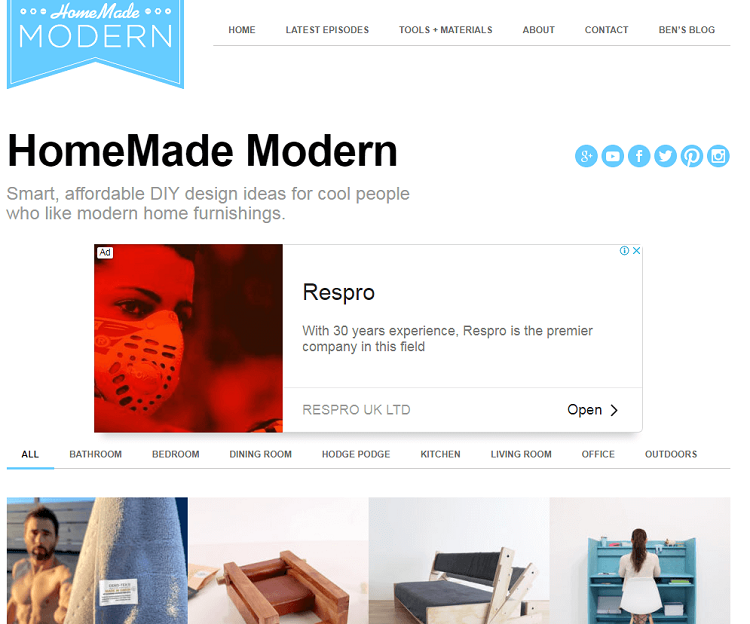 If you want high-quality methods for a low budget, try the HomeMade Modern blog.
This blog focuses on modern furnishings and general home improvement DIY.
All of the ideas are affordable and accessible for most budgets.
All of the articles are easy-to-follow and simple too.
The blog focuses on using good quality materials that last longer than store-bought particle board and plastic home furniture.
If you're new to home improvement, visit the HomeMade Modern tools and materials section.
This will give you an all-inclusive list of the best tools that the DIY experts recommend.
Check out the "Latest Episodes" tab to see all of their projects.
There are currently 150 to browse and this number will only go up.
Unlike arts and crafts blogs, you can find out how to build real furniture here like beds, desks, and more!
Find the blog here and on Instagram here.
17. Refashion Nation – Best Sewing DIY Blog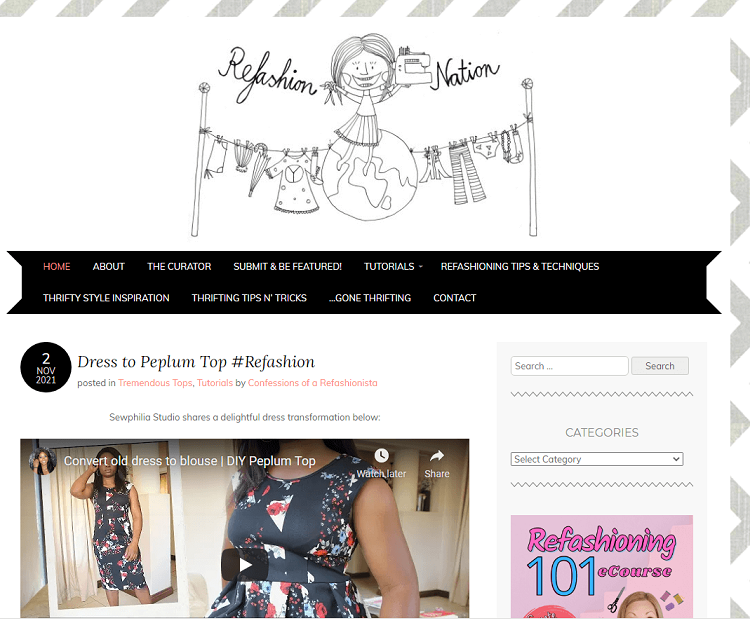 DIY often refers to home improvement or art projects, but it is also a great way to change your clothes!
If you have old clothes or fabric scraps lying around you can upcycle them at home and create something new and unique.
The Refashion Nation blog was created to help fashion fans update their wardrobe affordably and sustainably.
On the Refashion Nation blog, stylists can read tips and techniques to help them create some at-home fashion staples.
This includes sewing tutorial videos on all aspects of making clothes, how to embroider garments, and more.
On the blog, readers can also get thrifting tips, and inspiration pictures, and you can submit your upcycled creations and be featured on the blog!
Find the blog here and on Instagram here.
18. Ugly Duckling House – Best DIY Woodwork Blog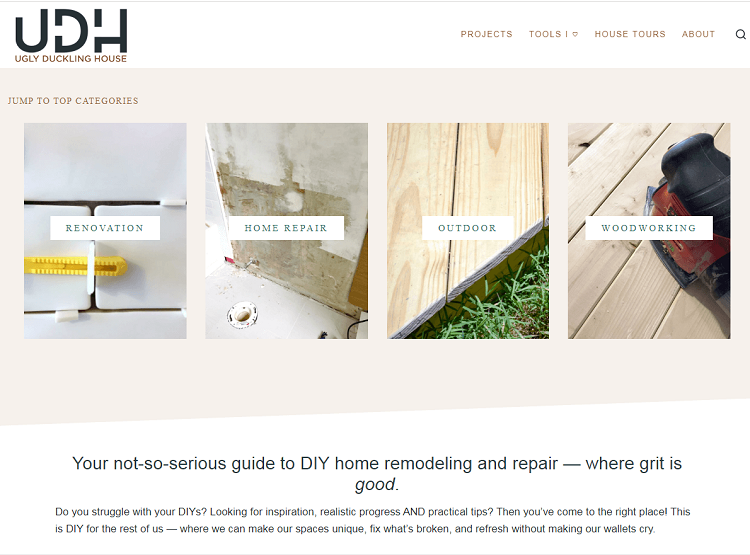 For those who love to create unique furniture and home decor items with their hands, it can be tough to find online DIY guides.
The Ugly Duckling House blog was established by Sarah in 2010 when she started renovating her home.
Sarah managed to go from a 9-6 desk job to a full-time DIY blogger as her website reached thousands of fans.
On the blog, DIY fans can browse through her extensive woodworking plans library.
This collection contains lots of special furniture and home improvement ideas that you can access when you sign up for her newsletter.
The blog also provides cross-stitch patterns for those who love sewing and embroidery too.
Find the blog here and on Instagram here.
19. Dans Le Lakehouse – Best DIY Renovation Blog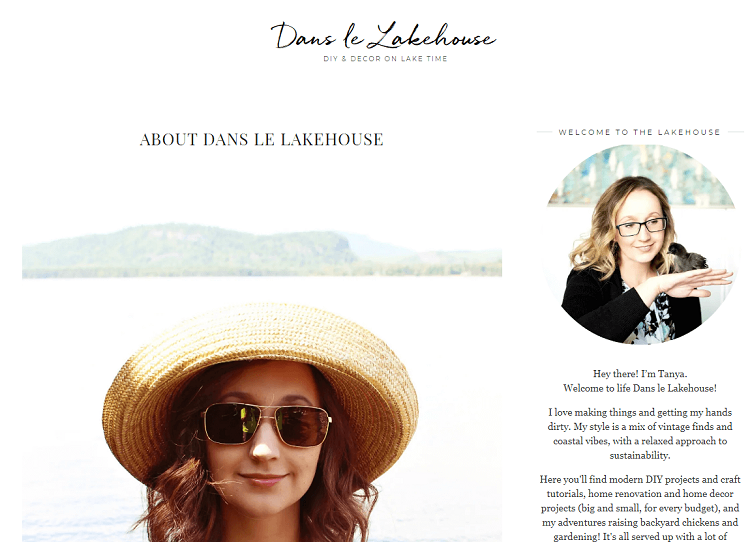 If you have a house that needs some improvement, the Dans Le Lakehouse blog is certain to give you some renovation ideas.
Owner Tanya fills the blog with budget-friendly home renovation ideas, tips for finding secondhand finds, upcycling advice, home decor ideas, and even handmade gift guides.
Browse through the blog's lake house and townhouse tours to get some contemporary home inspiration.
You never know what you'll find that will spark ideas for your own home!
The blog also has a "shop the look" page and additional project galleries so you can get the lakehouse to feel in your home.
You can also find bespoke recipes, sources, and lifestyle posts too.
Find the blog here and on Instagram here.
20. Upcyclist – Best DIY Styling Blog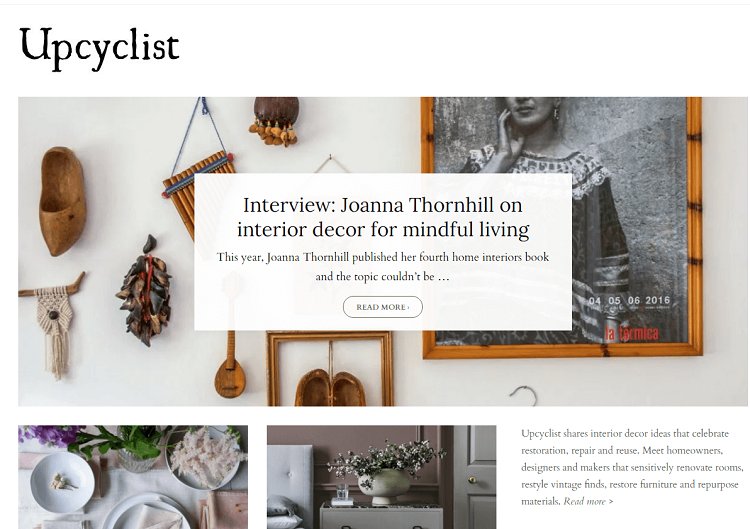 The Upcyclist blog was launched in 2011 so owner Antonia could share her reports of beautiful rooms, buildings, furnishings, objects, and more.
Many of her favorites were made from recycled materials, making Antonia focus and learn to love sustainable DIY projects.
Many of the tips on this blog are geared towards home improvement, however, you can also find a wealth of DIY home styling ideas too.
The blog has posts on artisans, interviews, home tours, styling, decor, furnishings, and even curiosities.
Alongside these home improvement blog posts, Antonia also authored two books about the perks of creating home furnishing from pre-loved materials.
Find the blog here and on Instagram here.
21. Craft Gossip – Best Textile DIY Blog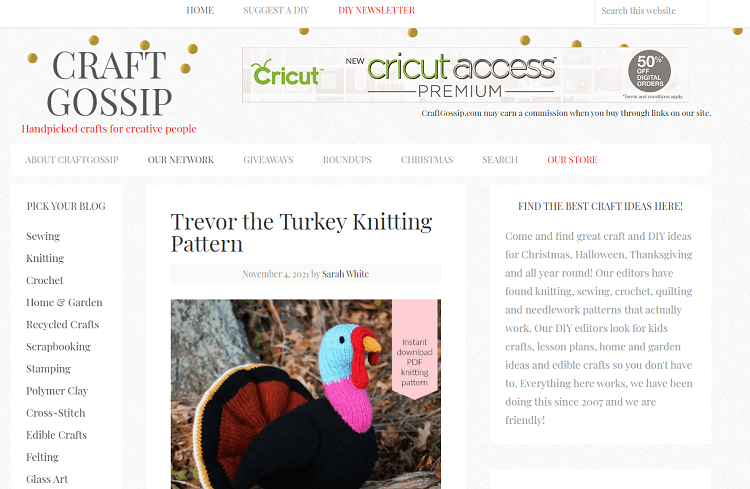 Do you prefer textiles to woodwork?
If yes, visit the Craft Gossip blog for more DIY textile ideas!
This DIY blogger focuses on the medium of fabric and all the wonderful items you can make with it.
The bloggers on this website have been sharing their knitting, sewing, and crocheting knowledge since 2007 and know the craft industry well.
With a sewing needle and a glue gun, you can create wonderful decor!
The blog is divided into subtopics including sewing crafts, scrapbooking, recycled crafts, edible crafts, bath and body, jewelry making, cross-stitching, felting, and more.
They even write about DIY wedding projects too.
This is an interesting blog to browse and you'll leave it with a new hobby – or two!
Find the blog online here or on Instagram here.
22. Man Made DIY – Best DIY Blog For Men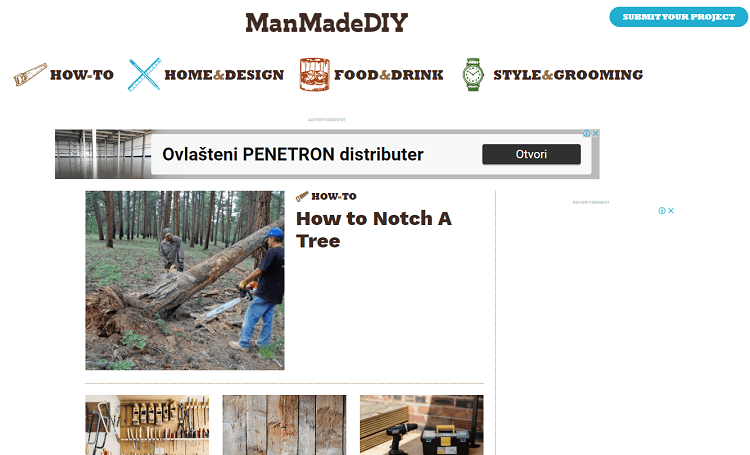 Many blogs on this list are focused on female readers, so if you want a more masculine take on DIY projects check out the Man Made DIY website.
Created by editor James, this blog is dedicated to anyone looking to take their home projects into their own hands.
They know the good feeling of completing a project and being proud and they want their readers to feel this too.
Man Made DIY is separated into three sections – home and design, food and drink, and style and grooming.
While you can find many great home improvement DIY projects, the blog also gives new recipes, drinks, and style advice too.
All you need to know about being a modern man can be found in one place!
Find the blog online here or on Instagram here.
23. Paper & Stitch – Best Mid-Century DIY Blog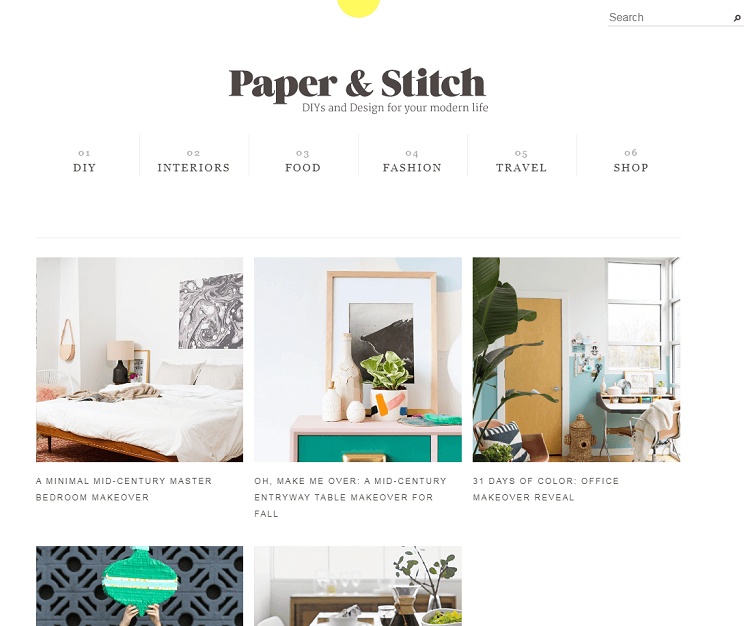 While the Paper & Stitch blog features many DIY challenges, they have a range of great articles on mid-century design and ways to renovate your home decor in this style.
We know there are many retro fans out there, so if you want to add some vintage spice to your home, try these methods out.
It's interior design heaven!
Alongside the mid-century elements, the blog focuses on a wide range of DIY projects.
From room renovations to gift wrapping, you can find almost every subject covered on this blog.
There are also gift guides, food recipes, and travel guides online too.
Find the blog online here or on Instagram here.
24. Bead Table – Best DIY Jewelry Blog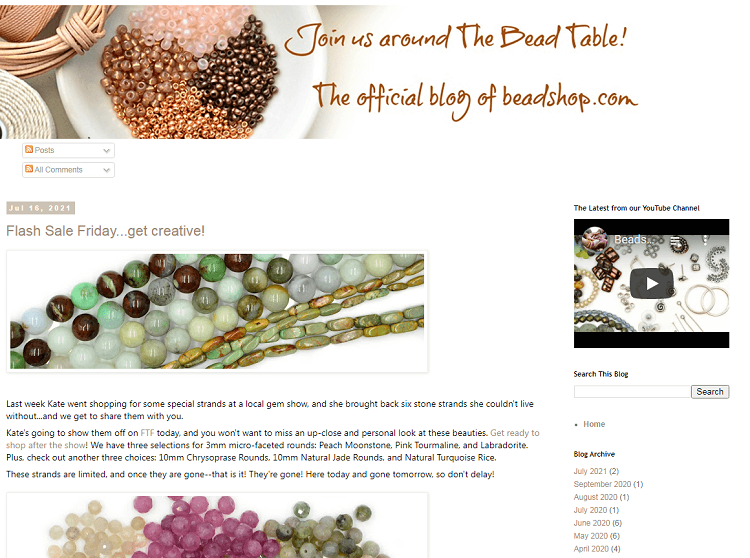 For those looking for jewelry-specific blogs, try visiting the Bead Table for some fresh ideas.
This blog specifically focuses on beaded jewelry and the many different styles you can create.
This is perfect for anyone beginning to make their own jewelry, as the articles are simple and easy to follow.
Each how-to article lists exactly what you'll need and where you can source the exact beads.
Many different and intricate methods are used on this site, including macrame, infinity stitch, seashore style, and more.
Create handmade jewelry with this craft blogger!
Find the blog online here or on Youtube here.
25. Hello Glow – Best Natural DIY Blog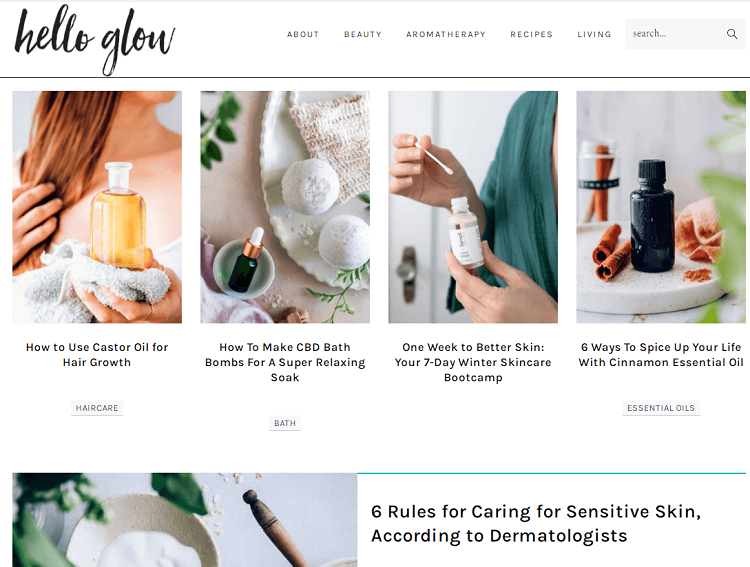 Created by Stephanie, Hello Glow celebrates natural DIY methods that promote wellness and healing.
The DIY and craft projects on this blog are all easy and budget-friendly to ensure everyone can take part in them.
From herb racks to handmade gifts, there's a natural solution to all DIY problems.
The blog also focuses on eco-friendly cleaning tips, natural haircare, and fresh recipes.
Natural beauty ideas and makeup is also promoted, alongside essential oils and aromatherapy to promote health in every area of life.
Find the blog online here or on Instagram here.
26. DIY Income Investor – Best DIY Finance Blog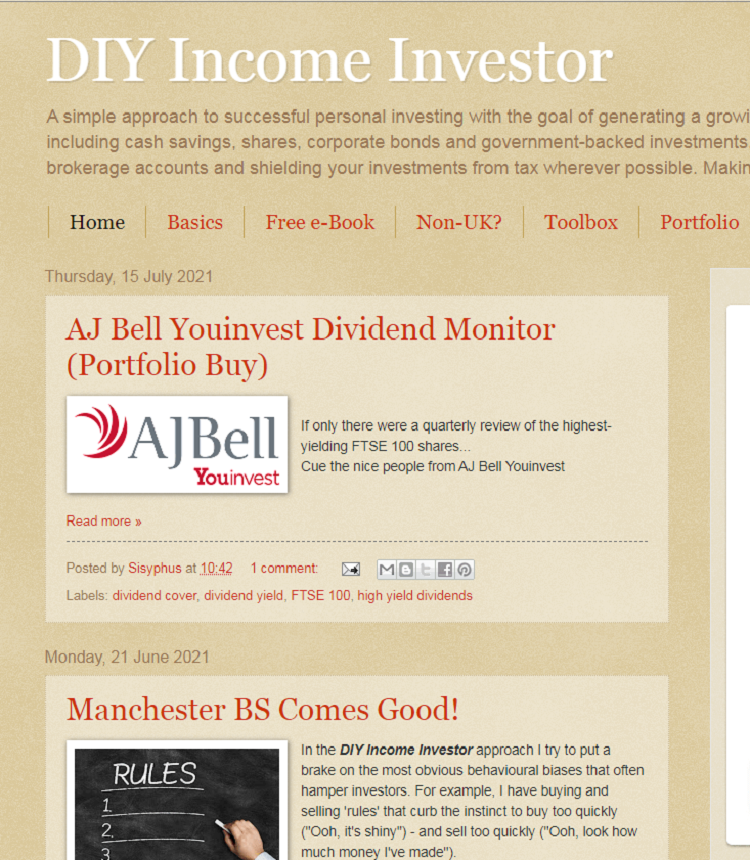 Need financial tips but want to find a reliable source?
The DIY Income Investor blog strives to provide readers with a simple approach to personal investing and saving methods.
This is advice from one human to another, without any bias or interference.
Though this blog is UK-based, they offer advice for all nationalities on its "Non-UK?" tab.
Readers can explore the large archive of posts and find blog articles on every subject imaginable.
If that's not enough you can also download the blog's free e-Book to learn even more.
Find the blog here.
You might be interested to check those related posts as well:
FAQ
Here are some frequently asked questions about DIY bloggers!
Who is the highest-paid DIY blogger?
One blogger that is reported to be making over $31,000 per month is Abby from Just A Girl And Her Blog.
Though not featured on this list, this blog features a range of home decor, DIY, and home organization projects.
The blog has only been running for three years, making the high earnings even more impressive.
How much does the average DIY blogger make a month?
Though DIY is a large niche, finding earnings for a DIY blogger is difficult.
This source states that the average blogger that uses good monetization tactics earns around $3,500 to $15,000 monthly.
This isn't average and is still a large range, but even at the lower end, it's a good amount per month!
What DIY blog topics are most common?
From this list of popular DIY blogs, many popular topics are DIY methods focused on females that are just beginning or busy moms.
As women don't tend to learn much DIY these websites offer easy tutorials to help them get started without any extra help!
This is a great niche to start in as it's always searched.
Conclusion
There's always something new to learn when you read a DIY blog.
Whether you prefer to make jewelry or furniture, there's a blog on our list to give you new ideas.
Do you like DIY blogs? If you feel inspired and you want to start your own DIY blog, read this guide on How to start a blog and follow the steps.