More and more companies are starting to give employees the opportunity to work remotely.
As teams become more agile, it's crucial to find the right remote work tools that allow employees to stay connected and be just as productive as they would in an office.
In this article, we'll share the best products that can increase communication, efficiency, and productivity for remote working teams.
Trello – Best Remote Project Management Software
Trusted by some of the biggest businesses in the world (including Google, eBay, Costco, and Kickstarter), Trello allows remote teams to manage projects, create goals, and assign tasks all on one platform.
Not only is their Kanban-style dashboard fully customizable, but it's also intuitive and incredibly easy to learn and use.
Key Features
Virtual team collaboration tool – share files, comment on tasks, and send notes
Hundreds of integration partners – connect Trello with Slack, Dropbox, Outlook, Gmail, Salesforce, etc.
Board and card system – to track individual and team tasks
Live workflow tracking – see updates in real-time
Pros
Fully customizable setup
Attractive and eye-catching design
Optimized for mobile
Ideal for both start-ups and large enterprises
Free plan available
Cons
Limited storage
No offline working mode
Prices & Packages
Free plan available
Standard: $5 per user per month
Premium: $10 per user per month
Enterprise: $17.50 per user per month

Slack – Best Remote Working Communication Tool
One of the biggest challenges for remote employees is finding a way to stay in constant communication with their teammates.
Thankfully, Slack's user-friendly chat and messaging system make it possible to communicate with anyone in real-time.
It's one of the most popular remote work tools used by start-ups, small businesses, and large enterprises.
Key Features
Multiple channels – create different spaces for different conversations
Messaging, voice, or video calls – choose how you communicate with your team
Integrations with over 2,000 apps – monitor your progress right from your Slack channel
Pros
Works on the web, desktop, or mobile
Intuitive interface
Customizable to your team or organization
Secure data protection
Ideal for individual or group communication
Free plan available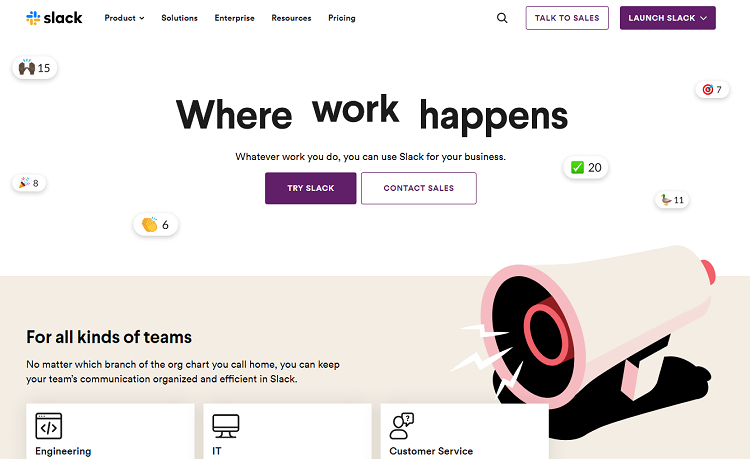 Cons
Prices & Packages
Free plan available
Pro: $8 per user per month
Business: $15 per user per month
Enterprise: contact Slack for pricing
Zoom – Best Video Tool for Remote Work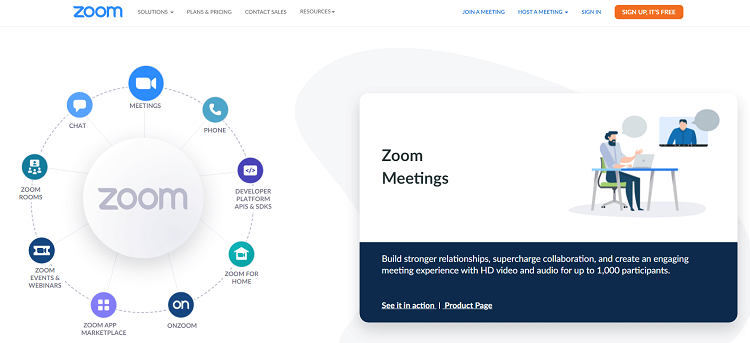 Whether you're having a quick 1:1 virtual meeting or hosting a group webinar, Zoom is recognized as the best video conference tool for remote workers.
With live HD video and crystal-clear audio recognition, you won't even notice that you're not in the same room as your teammates.
And while Zoom is primarily known for video conferencing, it also has other communication features like dial-in calling and chat messaging.
Key Features
Chat anywhere – on desktop, web, or mobile
Zoom App Marketplace – integrate your CRM, analytics, and other apps into Zoom
Multiple communication tools – video, audio, or chat messaging
Event hosting – create or attend live webinars
Video recording – rewatch, save, and share videos
Breakout rooms – create different sessions for attendees
Pros
Customize backgrounds for video conferencing
Free plan available (limited to 40 minutes per meeting)
Customizable packages for meetings, phone, or events
Large audience support
Google Calendar integration
Cons
Restrictive free plan
No end-to-end encryption
Prices & Packages
Free plan available
Zoom Meeting Pro: $14.99 per user per month
Zoom Meeting Business: $19.99 per user per month
Google Drive – Best Cloud Storage Service

Keep all your documents, files, and spreadsheets safely stored in one space with Google Drive.
Not only can you access your own content from any mobile device or computer, but you'll also be able to share and edit files in real time with your team.
When it comes to sharing and organization, Google Drive is one of the best pieces of remote working software.
Key Features
Cloud storage collaboration – easily share and edit documents and files
File converting – integrates with Microsoft Office, Adobe, Salesforce, DocuSign, etc.
Data Loss Prevention (DLP) – prevent teams from sharing sensitive content
Offline access – work anytime, anywhere
Pros
Free 15GB of storage
See real-time changes and edits
Auto-saving prevents information loss
Different access levels for user
Integration with a single Google account
Cons
UI can be complicated to learn at first
No password-protected files
Prices & Packages
15GB: free
100GB: $1.99 a month
200GB: $2.99 a month
2TB: $9.99 a month
Time Doctor – Best Time Tracking Software
Time Doctor is a simple and straightforward productivity tool that is key to managing remote teams.
Not only does it log work hours, but it can also track mouse and keyboard movement and which websites were visited.
As a result, employees can accomplish more in a single workday by focusing on projects or tasks without having unnecessary distractions dragging them down.
Companies can also have valuable insight into exactly how time is spent during the workday.
Key Features
Accurate time tracking – easy start and stop functionality
Robust reporting – see stats and patterns for each employee
Over 60 integrations – manage all your projects on one site
Distraction alerts – encourage workers to avoid Facebook or other poor-use sites
Payroll timesheets – pay your employees for their time
Screen capture ability – view activity levels
Pros
Intuitive and easy-to-understand interface
Allows you to see a breakdown by project and budget
Customizable distraction website monitoring
Increases team member productivity and engagement
Cons
The activity bar is always on display and can be distracting to users
Prices & Packages
Basic: $7 per user per month
Standard: $10 per user per month
Premium: $20 per user per month
NordVPN – Best Security Tool for Remote Working
While working remotely, it's important for companies to set up a safe and secure virtual environment for all their employees.
That's where NordVPN comes in.
As a Virtual Private Network (VPN) provider, NordVPN provides an encrypted channel to protect files, personal information, or sensitive data from unsafe public Wi-Fi networks.
Key Features
Secure internet – keep your data private and safe
Fast speed – won't slow down your work schedule
Thousands of VPN networks – choose a secure network in over 60 countries
Dedicated and masked IP – prevents others from tracking your activity
Pros
Bypass geo-blocks and access country-specific sites
Helps with bandwidth throttling
Protects data and online privacy
Cons
Prices & Packages
1 month: $11.95 per account
12 months: $119 per account
Krisp – Best Business Phone Solution
When the entire team is on a conference call, the last things you want are distracting sounds and background noise distorting your voice.
But when you use Krisp, you can instantly remove any unwanted noise (like crying babies, barking dogs, or ambulance sirens), so you can have crystal clear voice quality for the entire duration of your call.
It's a necessary product for any team member who spends large chunks of their day holding meetings in coffee shops!
Key Features
AI-based noise cancellation – remove noise from both ends of the call
Option to record – save and share your online meetings
Virtual backgrounds – ideal for video conferencing
Pros
Works with over 800 apps, including Zoom, Microsoft Teams, and Slack
Can be used with headsets, microphones, or built-in computer speakers
Free plan for personal usage
Cons
Prices & Packages
Free plan available
Personal Pro: $5 per month
Teams: $5 per user per month
Enterprise: contact Krisp for pricing
Timezone.io – Best Tool for Managing Remote Teams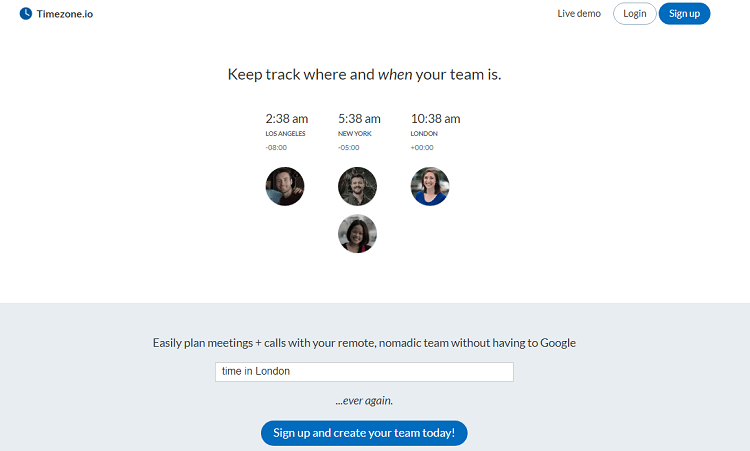 If your remote team is spread across the world, then keeping track of who is in what location can make scheduling meetings and calls a real pain.
However, Timezone.io allows you to see a visual representation of people in your remote company, along with where they're located and the current time.
Key Features
Cloud storage app – see your teams wherever you are
Visual representation – place the face to the name
Pros
Keep track of team members from different time zones
Helpful when dealing with an international workforce
Cons
Little to no customization
Prices & Packages
Contact Timezone.io for pricing and packages
Evernote – Best Note-Taking App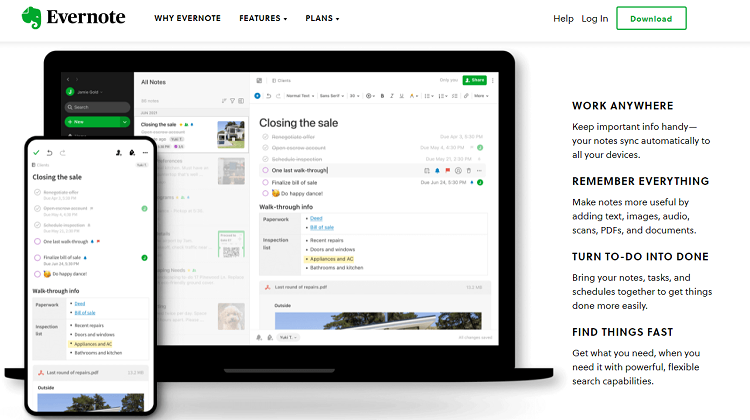 Evernote is more than just a virtual sticky note.
This piece of remote work software has many different uses that can be helpful in all aspects of task management.
For example, save images from websites or PDFs, organize your projects into different spaces, or simply create a universal dashboard with all your important notes and details.
Key Features
Create spaces – stay organized by separating work by projects or goals
Full editing ability – annotate, sketch, or make tables in any of your notes
Intuitive search – easily find notes by searching for keywords
App integration – sync your notes from other file-sharing tools like Google Drive, Slack, and Outlook
Evernote Teams – share and sync notes with other remote employees
Pros
Available on the web, desktop, and mobile
Combine notes with images, drawings, audio recordings, or documents
Ability to create handwritten notes
Syncs to calendar
Free plan available
Cons
A free plan is limited
Can be slow to update across devices
Prices & Packages
Free plan available
Personal: $7.99 per month
Professional: $9.99 per month
Teams: $14.99 per user per month
WooBoard – Best Employee Rewards Tool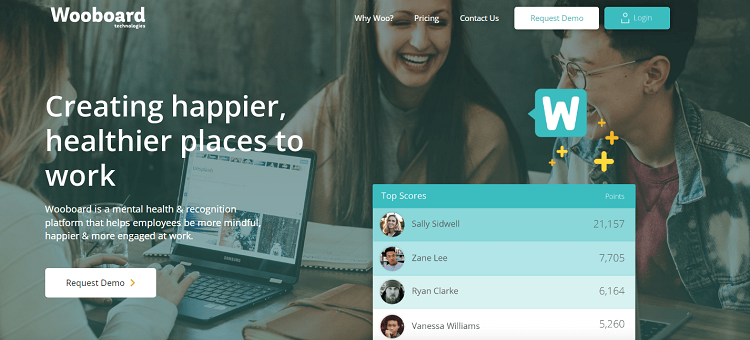 Even if your employees are working from different locations, it's important to create a positive remote work culture by rewarding hard work and success.
WooBoard is a platform designed specifically to keep your remote workers happy by giving them merit-based points and badges that they can later redeem for real-life gift cards.
Key Features
Peer-to-peer recognition – encourages remote collaboration
Leaderboard – see where all remote employees stand
In-depth reporting – create custom reports so you can monitor achievements
Redeem for gift cards – allow remote workers to trade their points for over 350 different gift cards
Pros
Increases team member happiness, well-being, and productivity
Incentivizes good work and collaboration
Can be white-labeled and customized
Cons
No 3rd party integrations
Prices & Packages
Contact Woodward for pricing and packages
iDoneThis – Best Quick Feedback Tool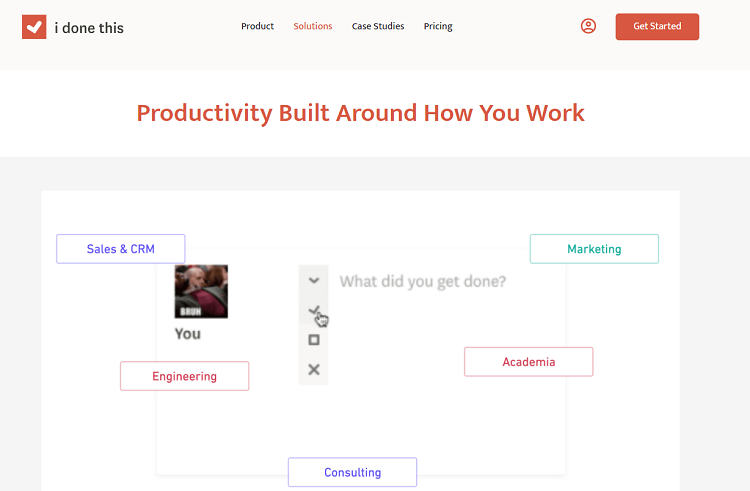 An alternative to the daily stand-up meeting, iDoneThis is a time-saving remote work tool that can immediately increase productivity.
Each team member can submit their daily status so that others can identify what has been done or what needs to be unblocked.
And best of all, it only takes a few minutes out of everyone's day to complete!
Key Features
Daily status submission – direct input or by email
Visual reporting – show progress and identify improvements
Reminders and notifications – never forget to submit your daily status update again
Pros
Simple yet effective interface
Keeps progress and workflow moving within teams
Slack integration
Cons
Reporting could be more customizable
Prices & Packages
Standard: $12.50 per user per month
Plus: $25 per user per month
Enterprise: $40 per user per month
airSlate – Best Remote Document Workflow Automation Solution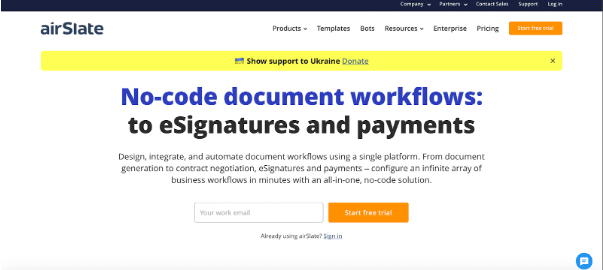 airSlate is an all-in-one solution for automating document workflows that promotes remote collaboration by making teams more engaged and efficient. Work smarter not harder with airSlate's spectrum of features – from document generation and no-code automation to online redlining and seamless third-party integrations – meets the needs of start-ups, small businesses, and large enterprises.
Key Features
Remote collaboration tools – within the airSlate Workspace, teams can use drag-and-drop workflow visualization, convenient document generation, eSigning, web forms creation, and more.
Enterprise-grade eSignature – secure and compliant electronic signature functionality.
No-code workflow automation – airSlate's no-code bots allow for automating document-based processes.
Integrations with third-party apps – airSlate offers teams built-in integrations with popular productivity apps, CRM and ERP systems, and more.
Pros
A variety of functionality and integrations
A vast range of no-code bots available to fit multiple business needs
Robust and intuitive interface
Cons
Documentation for specific functionalities can be improved
The free plan limits full access to each Flow to 30 days after account creation
Prices & Packages
Free plan
Basic: $30 Creator/month
Business Cloud: $50 Creator/month, 5 users minimum
WebWork Time Tracker – Best Tool To Boost Your Remote Team Productivity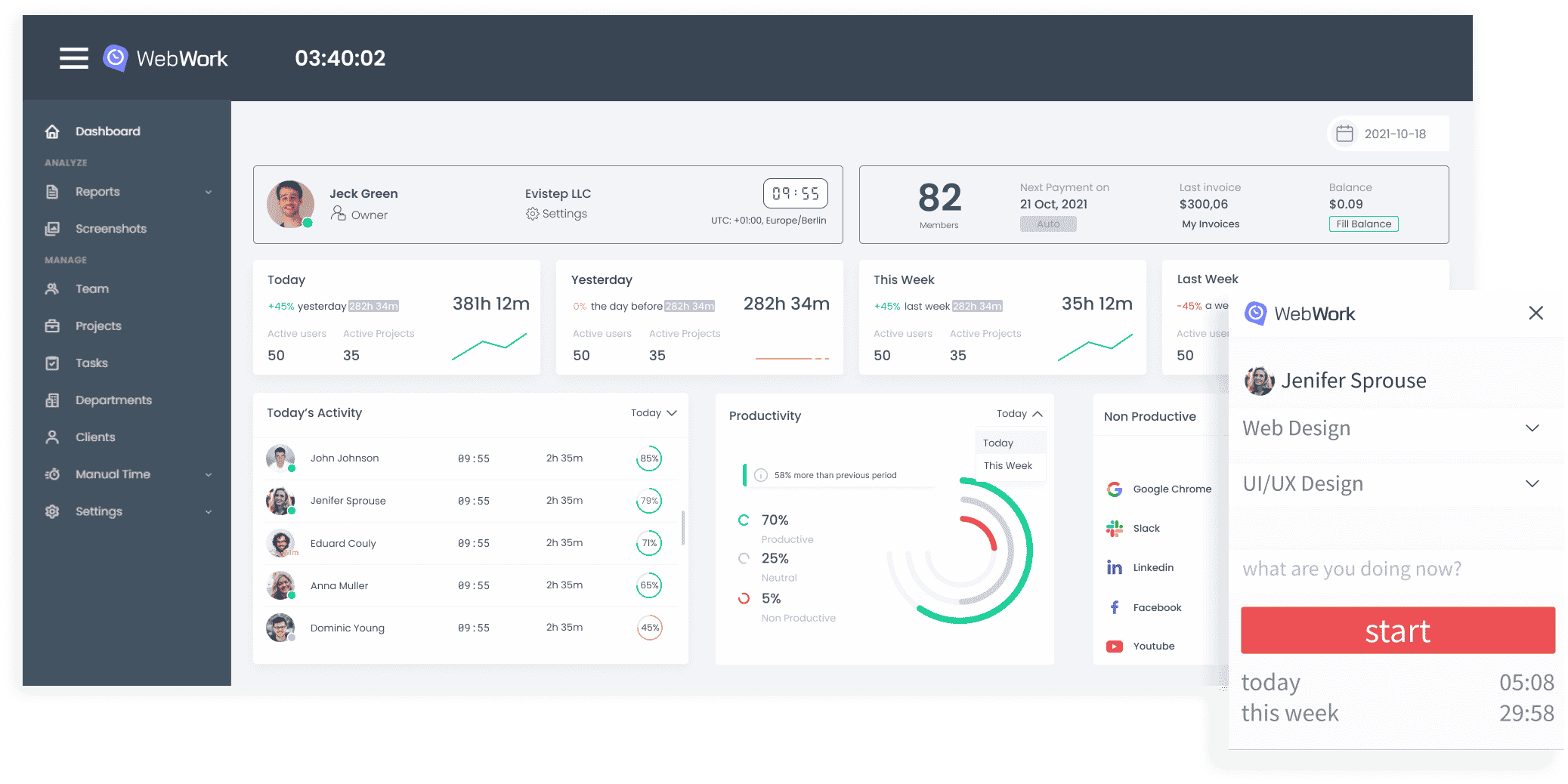 WebWork Time Tracker is a software excellent for time tracking, project management, task management, productivity improvement, and employee monitoring, offering a wide array of features to stay connected and work in an effective way.
What makes WebWork a real productivity tool for remote teams is the feature of activity monitoring. Based on the user's activity on a given device, and their usage of apps and websites, WebWork measures productivity. Keep in mind that the right settings need to be set for the tracker to work as accurately as possible.
Users can also get detailed reports on tracked time, attendance, app & website usage, and much more.
Key Features
Time Tracking – track the time you spent on work
Productivity Monitoring – measure your productivity on a daily basis
Task Management – keep your tasks organized
Team Chat – stay connected with your team members
Billable Hours – generate invoices to get paid
Pros
The affordable Basic version, without any damage to quality: most of the key features that make WebWork special are available in the Basic version
Availability: WebWork Time Tracker can be used through a Web App, a Mobile App, a Desktop App, and a Chrome Extension
Intuitive and easy-to-use design
Cons
One pricing plan
No permanent free version
Prices & Packages
14-day free trial and a Basic plan which costs $2.99 per user/month. There is also an Enterprise plan for larger teams at a custom price.
LiveWebinar – Best for Live Streaming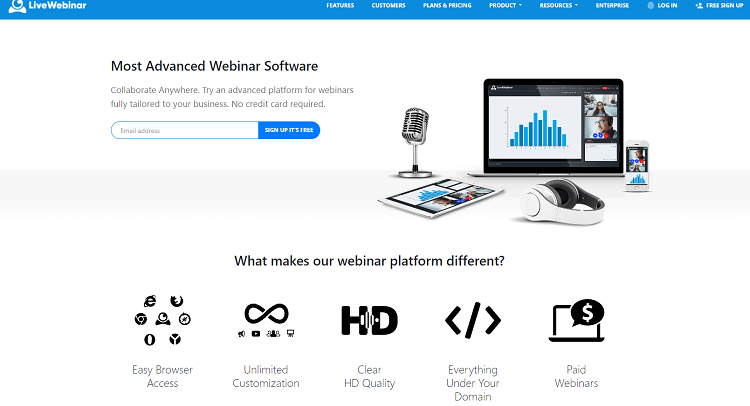 LiveWebinar is a cloud-based webinar tool you can use for hosting webinars, sharing screens, recording your screen, streaming live video, broadcasting social media, and a whole lot more.
It has the capability to host more than 1,000 participants, over 99% SLA, and more than 42 data centers.
You don't need to download or install anything if you want to join and conduct webinars.
Instead, access the application directly from your browser, whether you use Firefox, Chrome, Opera, or other browsers.
If you want to embed webinars into your website, it's not a problem which means you can conduct or display webinars straight to your visitors.
You can also stream live on any social media platform, for example, Vimeo, YouTube, or Facebook.
The platform can also be connected to and worked on from any device, including your mobile phone, Smart TV, or PC.
Lightning-fast business communication is a given, and you can customize the layout, select from a range of visual and audio settings, and decide how the webinar attendees can participate.
Key Features
The Whiteboard feature allows you to express your ideas by drawing on videos and documents. Visitors can draw as well.
You can split your main room into smaller breakout rooms, even when the meeting is live.
It allows you to host up to 1,000 attendees.
A freemium option is available for up to 5 attendees.
Pros
You can record live webinars in full HD and store them in your own cloud space.
You can easily share content by showing your desktop in real time.
Webinars and meetings can be broadcast to external sources and social platforms such as Facebook and YouTube.
Elevate the experience of your presentations with the LiveWebinars Whiteboard feature.
The registration page has design options.
Cons
Takes a little getting used to in the beginning.
There is no analytics dashboard, only exports.
Pricing
LiveWebinar has a free option, which is a good webinar solution for small teams.
You get up to 5 attendees, two hours of recordings, screen sharing, tests, polls, and surveys, and marketing automation included in the plan.
The remaining paid plans come with a 20% discount if you decide to pay annually.
Prices are as follows:
Pro Plan is $11.99/month and includes up to 100 attendees
Business Plan is $95.20/month and includes up to 500 attendees
A Custom Plan is available with up to 1,000 attendees and more. You have the option to choose what features and capacity you want and customize the plan to your needs. Price is available on the application.
Compatibility
LiveWebinar is compatible with many email marketing tools such as MailChimp, CampaignMonitor, AWeber, GetResponse, and many more.
You can also automatically subscribe your webinar leads to marketing automation tools and CRMs.
Parallels – Best for Running Windows on Mac
Parallels is an app that allows you to use your Mac as a virtual computer, which means that you can run Windows applications on your Mac without having to install the Windows operating system. It's great for people who need access to Windows-only software while they work remotely.
You can also run Parallels on your iPad or iPhone, which is great if you want to use your phone or tablet as a remote control for your computer.
Key Features
Office 365 Integration
Run over 200,000 Windows apps on your MC
More than 40 one-touch tools
Retina Display Support
Remote access to your Mac from any iOS device, Android device, or browser
Instant Access to Windows applications right from the Mac Dock.
24/7 Support via phone and email
Pros
Runs Windows on a Mac
An excellent graphics performance
Installs macOS from the recovery partition on Intel-based Macs
Cons
Pricing
Standard Edition: $99.99 per year
Pro Edition: $119.99 per year
Business Edition: $149.99 per year
EndNote – Best for Managing Citations
EndNote is the best tool for managing citations, references, and bibliographies. It organizes your research into a library of sources and automatically formats papers based on any citation style, allowing you to focus on writing instead of formatting.
Key Features
Insert in-text citations while writing
6,000+ Reference Styles
Improved PDF Reading
Improved Search
Kopernio Integration
Pros
An efficient tool for conducting research
Intuitive user interface
Perfect for researchers
Cons
Steep learning curve
Complex interface
Can run slow
Pricing
Upgrade License: $99.95 one-time purchase
Full License: $249.95 one-time purchase
Student License: $115.95 one-time purchase
Engelmann – Best for Malware Protection
Engelmann software has everything you need in one place for data recovery, forensic system investigations, and anti-spying.
Engelmann Software provides professional data recovery services in case of a virus attack or accidental deletion. It's an advanced forensic tool that allows you to investigate your computer's past and builds a forensic trail of evidence so you can take legal action against any offender who tries to harm your business.
Key Features
Engelmann offers different tools for different purposes, such as:
First Aid Kit
Forensic System
Format Converter
Anti Spy
Pros
10 million users
Over 250,000 downloads per month
Over 20 years of experience in the market
Cons
Only for Windows
Multiple poor reviews on Trustpilot
Pricing
The price depends on the tool of your choice.
Engelmann offers some of its tools for free.
Nitro – Best for PDF editing and eSignatures
Do you need ready-to-use tools for PDF documents or digital signatures? Nitro helps you save time by offering convenient tools for creating and editing PDF documents and signing them digitally. It's a workflow platform that lets you automate industry-specific document-related tasks for real estate, healthcare, manufacturing – and much more!
Key Features
Create PDFs and combine files
Convert files to and from PDF
Apply and request electronic signatures
Edit PDF files
Keep PDFs secure
Build and fill PDF forms
Review, mark up, and annotate PDFs
Pros
User-friendly interface
Drag and drop function
Integrated Microsoft Office toolbar
Works on iPhone and iPad
Cons
Limited features in free mode
Pricing
Nitro PDF Pro Essentials for Mac: $103.99 one-time license
Nitro PDF Pro for Mac: $143.99 one-time license
Nitro PDF Pro for Windows: $143.99 one-time license
Survio – Best for Creating Surveys
Survio is a new kind of interactive survey software. With Survio, you can create your own online surveys, run them on your website, and track the results in real-time. Survio is perfect for businesses that want to collect customer feedback, learn more about their audience, and improve their products, services, and marketing campaigns.
Key Features
Filtering & segmentation
Real-time results evaluation
Survey dashboard statistics
Mobile-ready surveys
Multimedia in questions (image, video)
Charts exporting (column, bar, pie)
Pros
Surveys 100% responsive on mobile devices
Great chart design
Quality surveys
Easy to use
Excellent customer support
Cons
Limited responses on the free version
Limited tools
Slightly overprices
Pricing
Mini: $18 per month billed annually
Standard: $37 per month billed annually
Plus: $73 per month billed annually
Book Like A Boss – Best for Automated Appointment Scheduling
Book Like A Boss is a platform designed to make your events simple and effective. Book Like a Boss offers everything from simple appointment scheduling to custom email marketing features so you can build your brand on a foundation of professionalism.
Key Features
Booking pages creator
Booking calendar
Online payments management
Email reminders
SMS messaging
Attendance tracking
Discount/coupon management
HIPAA/GDPR compliance
Pros
Seamlessly integrates with a number of popular tools
Easy-to-use interface
Support via email, help desk, and chat
Live online training & webinars
Free trial
Cons
May be difficult to set up at first
Limited integrations
Pricing
Espresso: $7.50 per month billed annually
Mocha: $10 per month billed annually
Cappuccino: $15.83 per month billed annually
Latte: $24.16 per month billed annually
Company plans start at $35 per month for 3 team members
Airalo – Best for eSIMs
Do you want to travel abroad and stay connected at an affordable rate? Airalo provides local, regional, and global eSIMs for travelers. With a support team available every day across all time zones, Airalo is the ideal prepaid service for your travels.
Key Features
Local eSIMs
Regional eSIMs
Global eSIM
Access to multiple SIMs
Pros
Global coverage in over 190+ countries and regions around the world
Instant connectivity
No hidden fees
24/7/365 customer support
Cons
Connection may be slow
Poor reviews on Trust Pilot
Pricing
Pricing depends on the type of SIM, country, and plan you choose.
The Events Calendar – Best WordPress Tools for Event Management
The Events Calendar is an easy-to-use WordPress plugin that helps you manage the events on your website. The Events Calendar puts all your events in one place, so you know how many spaces will be filled or sold.
With a simple drag-and-drop interface, you can organize your events into custom categories, customize how they look, use multiple calendars on any page or post, and more.
Key Features
Events manager
Subscribe to your calendar
Time zone support
Multiple views
Featured Events
Recurring events
Shortcodes and blocks
Advanced widgets
Venue & organizer pages
Pros
A category leader in WordPress Google Calendar Plugins
Great features
Integrates with Elementor
Offers a free forever plan
Cons
May have security issues
Poor reviews on Trustpilot
Pricing
Free Forever: $0
Pro: $99 for one site per year
SEO agencies, professionals who do SEO, and website owners all use SEO tools. One of those tools is Pro Rank Tracker – a simple, powerful tool that helps businesses track their rankings across multiple websites by providing accurate and timely reports.
Key Features
Daily updates
Multi-lingual interface
Reporting
Rank tracking
Two mobile apps
Local and mobile tracking
Sub-accounts
Keywords suggestion tool
Full SERPs (Top 100)
Ranking discovery tool
API Access
Pros
Accurate results
Offers a free plan limited to 20 terms and basic tracking
Excellent customer support
Cons
Can be overwhelming due to the vast number of features
Overpriced compared to other SEO tools on the market
Pricing
Starter Plan: Starts at $11 per month, billed annually
Pro Plan: Starts at $71 per month, billed annually
Agency Plan: Starts at $144 per month, billed annually
USlegalforms – Best for State-Specific Legal Forms
US Legal Forms is an online legal document provider that provides a variety of customizable legal documents, contracts, and agreements. If you are interested in getting married, buying or selling a home, or need to get divorced, then US Legal Forms has all the legal forms you need.
Key Features
Over 85,000 state-specific legal forms and packages
Business legal forms
Personal legal forms
Pros
Over 3 million users
Over 20 years of providing professional legal help
Clean design
Affordable plans
Excellent customer support
Cons
No free trial or free plan
Limited training resources
Pricing
Basic Plan: $8 per month, billed annually
Pro Plan: $15 per month, billed annually
Lano – Global hiring platform
If you are interested in a flexible hiring solution that provides the highest compliance standards and quality service, there is no need to look beyond a german-found global hiring platform Lano.
Backed up by a global network of employment law, tax, and payroll experts, Lano is one of the fastest-growing European Employer of Record providers in the market.
Key Features
Employer of Record
International Payroll
International payments
Contractor Management
Why choose Lano
Global customer support: 24/7 in multiple languages (EN, DE, FR, ES, PL)
Dual focus: In addition to our business services, Lano offers free features for employees (payslips, document management, …) and contractors (invoicing app, timesheets)
Strong expertise in European compliance (GDPR, employment law, etc.)
All employment types: remote employees, contractors, and freelancers
Pricing
Lano Employer of Record pricing varies per country, however, the approximate cost for one employee is approximately €550 with no other hidden/setup fees.
FAQ
Besides having a computer and reliable internet, it's important for remote teams to be equipped with software that can allow them to work seamlessly together from different locations.
A project management platform, video or audio conferencing software, and a reliable instant messaging or chat service are just a few products that can help virtual teams.
How can I be a good remote worker?
Working from home requires a different skill set than working in a traditional office setting.
Not only will you need to be diligent with your time (avoiding distractions at home can be challenging), but you'll also need to be more communicative with your teammates and remote team management.
How can I monitor my own work from home?
Although some companies might ask you to use a monitoring remote working tool, there are other steps you can take to stay on track yourself.
Create a routine work schedule to stay focused, establish a dedicated workspace, and limit unnecessary websites or distractions.
And don't forget, taking breaks and practicing good self-care is also vital to your remote job!
You might be interested to check those related posts as well:
Conclusion
Now more than ever, employees rely on innovative remote work tools to help them stay connected. A geographically distributed team doesn't have to be a disjointed team.
Thanks to these products, employees all around the world can continue working together successfully in teams.