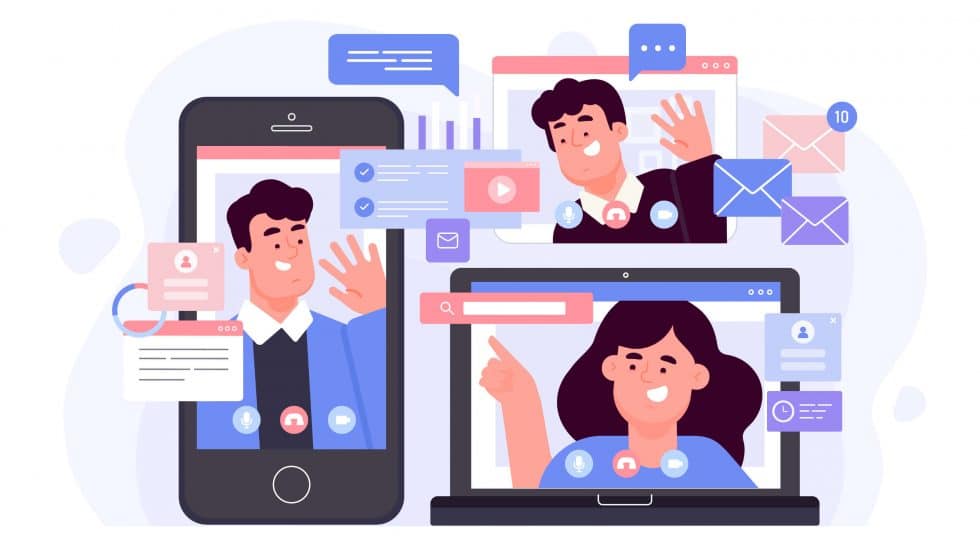 In an era of making things easier, many believe that the future of work is in working remotely. The wake of the COVID-19 pandemic made this even more sensible, accelerating the trend at a magical pace. Notably, not all industries can transit to remote working such as clerk jobs in supermarkets and workers in the health industry. However, for industries that can afford to make a transition, the number of companies making the transition is rising day by day, increasing demand for freelancer workers and in particular for verified marketing talent.
The major problem with working remotely is that some companies, especially those new in remote operations, have no know-how on the most productive way to collaborate with their employees and clients. The following is a collection of remote work tools to aid anyone to achieve their work goals optimally regardless of working remotely.
Essential Tools for Working from Home/ Remotely
Tools for working remotely can be classified in several brackets including:
Team collaboration tools
Presentations and meetings tools
Project management tools
Time management tools
Productivity tools
Cloud storage tools
Content creation and design tools
Below is a review of some of the top tools in each category
Team Collaboration Tools
According to Toptal's CEO, Taso du Val, "freelancers find us in different countries as we are generally the best source for them to get good jobs remotely, especially within the United States and with Fortune 500-type companies, companies that are doing more serious engineering work and are longer-term engagements. Communication is the greatest asset an enterprise that allows for remote working can have. The following are some of the common remote work tools for communication.
#1 – Slack
Loved by many, Slack makes one of the greatest messaging tools for remote working. This digital space allows for communication amongst team members, idea sharing, and commenting in real-time making communication happen seamlessly. With such a tool, you can have your workers accessed communication-wise in a single place wherever they may be.
Slack brings all your team members to a single place hence making management of remote workers in a firm a possibility. Notably, Slack comes in fully native applications for both Android and iOS. To make Slack even more appealing, there are over 2,300 Slack integrations listed on the App Directory.
#2 – Microsoft Office Teams
Unlike G Suite that can be operated entirely within a single platform, with Microsoft Office Teams you can download applications such as PowerPoint, Word, Excel, and Outlook, all on your mobile devices. You can also use this general suite of tools for the management, sharing, storage, as well as editing of documents within the team's folders.
You will note that Microsoft Office Teams allows one to communicate with team players through emails, video calls as well as a discussion platform where colleagues can formulate, post, or ask any burning question.
#3 – LEAD
LEAD helps your workforce build trust and friendships whether they are in the same office or working remotely. LEAD makes it easy to launch virtual coffee or group lunches, encourages peer to peer meetups for learning opportunities, and helps build internal networks for new hires and existing employees.
LEAD works right within your company's Slack or Teams. Just install LEAD.bot and it will start matching people for coffee meetups, speed mentoring, or virtual happy hours. LEAD also provides organizations with the ability to customize their matching, allowing them to speak to their organization in their own voice, on their preferred schedule, according to their preferences.
#4 – Timezone.io
With remote working comes the possibility of working in different places of the world that might differ in time zones. Companies might have workers in America. Asia, Europe, Australia, or Africa implying that people don't share the same time. Timezone.io can come in handy when it comes to having co-workers working remotely in places that share not the time zones.
It is even easier to schedule meetings through this platform and also collaborate on projects while offering feedback. The platform also helps visualize every team player at any given time. With the platform offering a free sign-up and setting up a profile, teams can maximize what the platform has to offer. Here, workers can use their work emails and names in setting up the profiles or their personal as per the liking of the managers.
#5 Together
Together's mentorship software helps organizations improve their retention rates and employee engagement through internal employee mentoring programs that can be run at scale. They make it easy to register all employees as either mentors or mentees, create a profile and begin getting matched with each other. For companies that are serious about improving company culture, engaging their remote workforce, championing diversity and inclusion initiatives, and much more, mentorship programs are a cost-effective way to meet those goals.
#6 Hey.Space
HeySpace is a team task manager with a chat feature. The application helps teams collaborate remotely and hold one source of truth for all projects. In HeySpace you can plan tasks, share files, collaborate with guests, update progress and much more. It is a very good solution for small and medium teams.
Presentations and Meetings Tools
For most of the teams, idea generation moments, and briefings happen mostly during the meeting. The following are some of the best remote work tools for presentations and meetings.
#7 – Zoom
The pandemic period had many people come across Zoom. Notably, Zoom refers to a video conferencing tool that aids in having meetings online. The meetings can be between, team members, customers, and even clients. Probably the most used tool for presentations and meetings, Zoom can have PR managers host VIP tours with clients while the marketing manager might use this as a chance to conduct sales meetings with potential collaborations and prospects.
Additionally, the platform can be used by the customer experience team members in conducting meetings with new clients that have a problem getting accustomed to the enterprise's dashboard. On the other edge, content managers can use this as a chance to conduct interviews for case study subjects.
You will realize that this video conferencing tool offers one a chance to record the information for later use. Here you can replay it and even send it as a link where any participant can watch it at their leisure. While Zoom offers a free plan for a lifetime, one can subscribe to any of the paid plans to access an array of features and capabilities of this video conferencing tool.
#8 – Taskeo
Taskeo is an online business management platform for teams that want to do more with fewer tools. Designed by a remote-first team, this feature rich toolkit solves the most common issues of remote workers and allows you to successfully collaborate on tasks, meetings, and clients.
Taskeo consists of several separate yet mutually integrating products that include project management, appointment scheduling, time tracking, customer management, and email marketing. It integrates with external tools such as Slack, Zapier, Zoom, Stripe, GitHub and BitBucket.
Products in Taskeo's suite are paid per solution but each of them includes a free plan for you to try out.
#9 – VirtualOffice
Video conferencing never gets better than having an application where you can create a virtual office background. After all, we have to admit that most of us have indecent, not trendy and tidy home offices. Even though it might be fun also to have those corporate meetings from the beach or outer spaces, you might get bored at some time.
VirtualOffice is a virtual office creating tool that offers a large library of video backgrounds that imitate a perfect home office. What puts the cherry on top is that you have full capability of customizing the look of your office not forgetting the business' logo in the most natural way. While this tool remains free to use, its users can have the backgrounds to work with Skype, Zoom, Google Meet, and Microsoft Teams.
#10 – Nextiva
Also, a great remote work tool for presentations and meetings is Nextiva. This is a cloud phone system engineered to aid in communications between remote workers and customers. Notably, the platform offers myriad features such as call forwarding, mobile application, live chats, and call groups to name a few.
Nextiva is designed to offer your remote team the ability to connect with people imminently on the go from their mobile devices. Owing t its array of features, the platform was rated the best business phone service by the U.S News and World Report.
Project Management Tools
The following remote work tools have been the best as rated by users in terms of project management.
#11 – Basecamp
In a technological world predicated on big market plays and major funding rounds, Basecamp remains to be a great anomaly as a company. This web-based project management tool had its evolution from an in-house communication suite designed by 37Signals. While the spinoff company has taken quite a little funding, it remains the best-known project management tool.
Its core functions include messaging, file sharing, reporting, task management, collaboration, scheduling, as well as a universal search function that makes everything retrievable on need.
#12 – Trello
This project management tool allows one to create a dashboard that highlights your projects and tasks it relates. Each of the smaller tasks, normally called a card, can be labeled using a colored text and tag. You can also assign cards as well, as deadlines to your enterprise's remote members and track the progress of each from the comfort of your home office.
#13 – Airtable
When it comes to Airtable, there are myriad ways you can use it depending on your project approach and team structure. Some use it majorly as a development-side directory for cataloging product ideas, project cycle dates, and projects as per the individuals working on them. With Airtable, you can also view the same content from a varying perspective implying that all team members can organize as well as see their work as they find easiest.
Time Management Tools
Time management is by far the greatest asset in any corporate function. While the number of people skilled in time management doesn't match the need, there is a need to outsource some help from productivity apps. The following are some remote work tools best for time management.
#14 – Google Calendar
One of the greatest time management tools is the Google calendar which helps one in keeping their personal schedules both straight and coordinated with that of other team members. With each member maintaining their Google calendar, there is great visibility of what plans are scheduled for what day hence achieving better time management. This might include corporate birthdays, work anniversaries. With such a schedule it's hard that there will be collisions of schedules for the remote workers.
Easy to use yet powerful automatic free time tracker. It tracks time and computer activities in the background, so you can stay entirely focused on what really matters at work. Tired of filling timesheets manually? TimeCamp will do all the dirty work. With just a few clicks, you can fill them with time entries and daily activity. What is more, you can then create invoices with billing rates, ready to send them straight to the clients. Don't forget to analyze the time results with a wide range of predefined and custom reports! Plus, there's an attendance module that helps the organization manage the employees' absences. And the free plan now includes unlimited users, projects, and tasks.
#16 – Toggl
This makes one of the best free time trackers that allow one to label how they have spent every moment of their day. It also makes a great tool to measure your overall productivity as an individual. Notably, the reports by the application are useful and can be used by the company as the key reference tool in accounting for remote workers' time.
#17 – Apploye
With Apploye, you can easily track your remote employee's working hours and generate payroll based on hours. It has advanced employee monitoring features to give a complete overview of your employee's activity during working hours. The Pomodoro break feature helps you stay productive while working remotely. Apploye comes with more affordable pricing for you, and you can have 10 days free trial.
#18 – Time Doctor
Also, a time tracking application, Time Doctor helps in tracking time for every remote worker hence easier accountability of their working hours. With the application comes some alerts and other features in avoiding distractions for extra productivity. While the application is premium, you can have 14 days of free trial and make the decision of whether to use it.
Productivity Tools
#19 – Asana
This project management tool allows for the creation of projects, the addition of collaborators, and the writing of comments on projects and tasks. For easy follow-ups in this application, tasks can be assigned to different team players with deadlines offered for each. The applications come in free and premium subscriptions whereby one can choose on either as per their ability and preference.
#20 – Hubstaff
With Hubstaff, time tracking and productivity monitoring abilities are optimal. The application also comes with GPS tracking hence can offer the real-time location of team members, hence raising transparency. Hubstaff also integrates other productivity applications to help keep tasks and operations further organized. With Hubstaff comes a free plan but one can go with the premium plan for extra abilities that will result in even better productivity levels.
#21 – Loom
Productivity is guaranteed for your team with Loom thanks to its screen recording ability. The app records the team members too hence a perfect tool for showing the progress of every member, especially while working as a unit on a project. Loom also offers top-notch communication with quick video sending ability enabled. Here workers can also share ideas.
#22 – Bloobirds
Bloobirds is the all-in-one solution for remote sales teams. The sales engagement platform assists remote sales reps through every step of their workday and helps sales leaders make better decisions at scale. Transforming your current CRM from a database into a smart sales assistant, Bloobirds creates consistency in remote sales processes and tactics. Plus, the ability to build your sales strategy into the platform helps to measure and fine-tune your approach for optimal success.
#23 Teamwork
Teamwork is a task management platform that makes it super easy for remote teams to collaborate and enhance productivity. With Teamwork, everything you need to be super productive is included in one platform. Features include time tracking, project management, live chat, task lists, templates, and board view, all allowing for greater transparency across remote teams and increasing productivity. Teamwork also has a ton of integrations and other interesting features.
Cloud Storage Tools
#24 – Google Drive
Almost known by most Android users, Google Drive is a perfect cloud storage platform where one can store files. Notably, it offers a centralized and secure location for your remote work. Here, workers can store and share their documents including spreadsheets, presentations, and word documents too.
#25 – Xtensio
This application helps teams in the creation of effective business content as a unit. Here, workers can create internal guides, sales desks onboarding templates, and presentations for external use while still ensuring all content on the platform is on-brand. Notably, its documents are easy to collaborate having all changes and revisions synched in real-time across all devices.
#26 – Dropbox
Yet another popular and effective cloud storage tool is Dropbox. Here, workers can share large files that cannot be shared with well-using emails. For freelancing needs, Dropbox makes the perfect tool to upload documents in folders having messages sent to you when work is done.
Content Creation and Design Tools
#27 – Grammarly

Grammarly is an online writing assistant that takes your writing to the next level. Notably, the platform corrects your spelling and grammar errors making sure that your work is on point. This aids in increasing the clarity of your writing.
#28 – Visme
In the corporate world, training templates, proposals, and presentations are increasingly important, having them added to telecommuters impulse-poor each day. Visme is a design solution that offers help in both creative and non-creative works for a stunning design. With its templates, the application can offer your work some of the greatest designs and outlooks.
#29 – Canva
This application makes the best online graphic design tool that can be used by business owners in creating professional and quality designs in a seamless way for their work. Notably, Canva's library is obtained from the best illustrators, designers, and photographers.
#30 – ContentStudio
ContentStudio is a platform that does an incredible job when it comes to discovering engaging and trending content. It's an all-in-one social media management and content curation tool that ensures you can become part of, influence, and even generate thought leadership around a topic that is of interest to you or your business.
Final Thought
We all need our work done within the stipulated time and in the best way possible. The above remote work tools might come in handy for remote workers in improving the quality of their work. While one remote work tool might offer great productivity, you might need to couple several to get the maximum out of them.