Twitch is one of the top platforms for those wanting to stream live videos to audiences. Statistics can help those looking to make money from the platform to improve results.
Here are numerous Twitch stats for you to consider.
Twitch Key Statistics 2023
Twitch made an estimated $2.8 billion revenue in 2022
In 2022, Twitch had an average of 2.58 million concurrent viewers
7.6 million Twitch users stream on the platform once a month
22.4 billion hours of content was consumed on the platform in 2022
4.9 billion hours of video were watched on Twitch in the first quarter of 2020. This is up from 3.6 billion that were watched in the same period of 2019.
67% of children aged 7-9 and 78% of children aged 10-12 will watch video game streams on at least one platform in the US.
Twitch grew by 10% during the Covid-19 pandemic. In comparison, YouTube grew by 15% during the same period.
The average active user on Twitch will spend about 95 minutes a day watching content on the platform.
On average, there are 2.2 million broadcasters streaming every day on Twitch.
Alexa rates Twitch as the 34th most popular website in the world. Some notable websites are below them in the rankings, including eBay, Apple, and Adobe.
Twitch is well known for eSports with 21.3% of minutes spent viewing eSports on the channels.
Interesting Twitch Statistics and Facts
Twitch was launched in 2011.
Twitch generates more than 86% of its traffic through direct traffic (i.e. the user enters the exact address in the browser).
There were on average, 56400 channels streaming live at any given time in 2020.
Twitch's Partner Program has grown by 68% since 2017.
The revenue that Twitch made in 2020 was approximately $2.3 billion. This was mostly made from subscriptions.
'Just Chatting' is one of the most popular categories on Twitch.
The average streamer has approximately 25.1 viewers.
In August 2014, Amazon bought Twitch for $970 million.
Twitch has more than 1800 employees working for them.
The average employee at Twitch has an annual salary of $124,380.
Twitch accounts for 70% of eSports viewing across the world.
When a stream title contained the keyword 'Covid' or something related, there was a 133,000% increase in the number of hours that were watched on the video.
The number of channels that streamed with Covid-19 related keywords in their title increased by 542% from the beginning of March 2020 to the middle of the same month.
In 2017, Twitch raised more than $30 million for charity.
Twitch Usage Statistics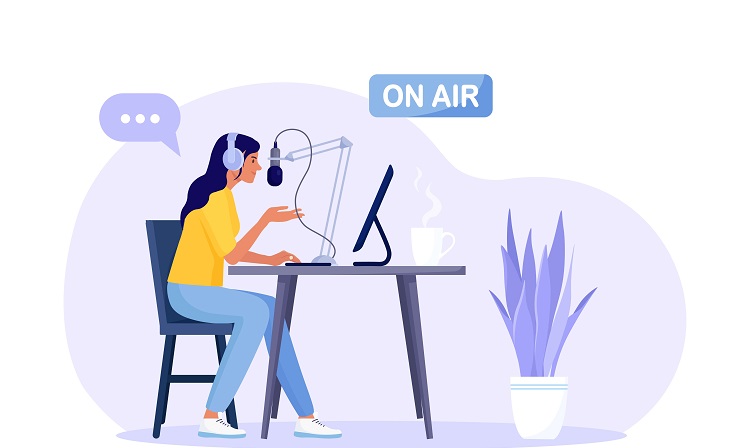 In 2017 there were 750,000 eSport viewers on Twitch, by 2023 there will be 3.24 million eSport viewers on Twitch.
By 2023 there will be 187 million live stream viewers across the world. This is up from 42.3 million in 2017.
Sunday is the most popular day for people to watch content on Twitch.
Before being banned in 2018, Twitch was the third most used app in the Chinese iOS market.
The peak of viewing on Twitch is at 4 pm EST.
The lowest viewing time on Twitch is 4 am EST.
Twitch Audience Demographics Statistics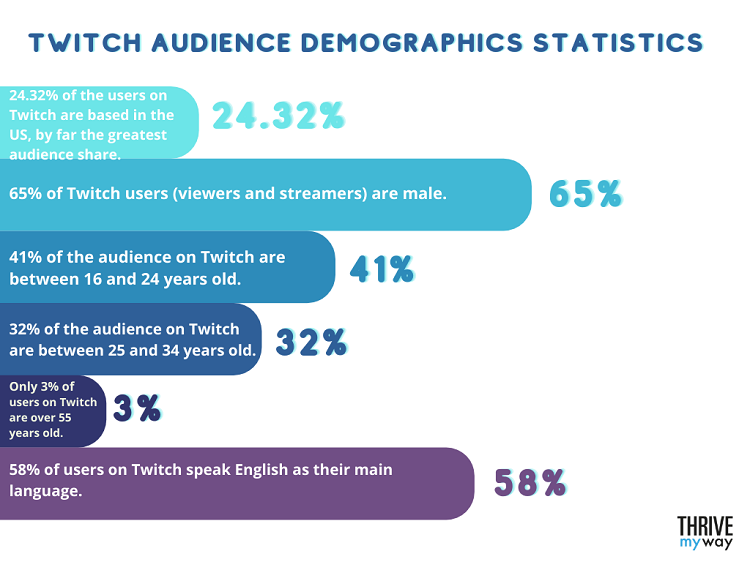 Denmark has 19,000 daily users of Twitch (October 2020). However, this is down from the peak of use, which was 50,000 in April 2020.
Norway has 16,000 daily users on Twitch (October 2020); this is much lower than the peak of use, which was 33,000 in April 2020.
In Italy, there were 280,000 downloads of the Twitch app in May 2020. In June 2020, this was slightly lower at 270,000 downloads.
24.32% of the users on Twitch are based in the US, by far the greatest audience share. The next largest audience is based in Germany, with 6.66% of the audience.
65% of Twitch users (viewers and streamers) are male.
41% of the audience on Twitch is between 16 and 24 years old.
32% of the audience on Twitch is between 25 and 34 years old.
Only 3% of users on Twitch are over 55 years old.
58% of users on Twitch speak English as their main language.
Twitch Streaming Statistics
On average, there are between 2.15 and 2.34 million viewers on Twitch at the same time.
By 2017, Ninja was one of the most popular gamers on Twitch. He was watched for a total of 151,096,501 hours before he switched to Mixer. When Mixer closed down, he switched to YouTube before moving back to Twitch.
Most Twitch streamers will create content on a Saturday.
Pokimane is the most popular female Twitch streamer and has more than 5.9 million followers. 41. This also makes her the sixth most popular streamer on Twitch.
Twitch Viewership Statistics
Rubius is the most viewed Spanish-speaking Twitch streamer, with 6.17 million subscribers in 2020.
At the beginning of January 2020, the average daily hours watched was just 13 million hours. 44. By the end of March 2020, the number of hours being watched was between 45 million hours.
35% of the US audience who watch game streams will do so on Twitch.
While Sunday is the most viewed day on Twitch, Monday is the worst day for views.
Twitch Usage by Device
Typically 35% of users on Twitch are using a mobile device. In comparison, more than 70% of YouTube viewers come from mobile devices.
On the Play Store, Twitch has been downloaded 100 million times.
Twitch Stats on Channels and Games
Among Us had the most gaming content being streamed on Twitch in September 2020, with 147.1 million hours being broadcast.
Fortnite only had 77.8 million hours streamed in September 2020 on Twitch.
Fortnite has the most channels dedicated to it, with 8734 channels. Call of Duty: Warzone has the second-highest number of channels, with 5507 channels.
41 million hours of games played on Apex Legends were watched during November 2020.
The number of hours watched for Counter-Strike: Global Offensive peaked in April 2020 when 86 million hours of videos were watched. On average, 35 to 40 million hours are watched each month.
August 2018 and August 2019 saw the biggest viewership of Dota 2, with 70 million hours watched.
May 2020 saw the most hours watched of games that are played on Fifa 2020, with 40 million hours watched.
In October 2020, less than one million hours of Fifa 2020 were watched.
League of Legends' viewership increased significantly in 2020, with more than 170 million hours watched in October 2020.
In 2012 there were 3,400 Twitch partners, but by 2020, there were 40100 partners.
ELEAGUE TV had the most concurrent viewers at the same time during its 2018 season, with more than 1.13 million viewers watching their channel at the same time.
Twitch Statistics for Marketers
One million people can watch a single event on Twitch.
Twitch ads can cost the marketer between $2 and $10 for 1000 impressions, which is the number of times when the advert is shown.
Adverts can be shown on a Twitch channel every 20 minutes.
In addition to displaying adverts on a channel, marketers can sponsor streamers.
Twitch is one of the most cost-effective platforms to market on at the moment because there are fewer marketers on the platform compared to YouTube.
Twitch Monetization Statistics
Twitch has a 23% share in online revenues when comparing video streaming services for video games.
Twitch partners can earn a share of the available subscription packages.
Twitch streamers who can stream more than forty hours a week of games can earn from the affiliate schemes. The average income for these streams is between $3000 and $5000 per month.
In addition, for every 100 followers that a creator has, they can earn $250 per month.
Twitch Revenue Statistics
Twitch earned approximately $231.8 million in annual advertising revenue in 2020.
In 2017, the advertising revenue that Twitch earned was approximately $102.5 million.
Twitch earns very little of Amazon's advertising revenue. The retail giant earned more than $13 billion in advertising revenue in 2020.
Twitch Growth Statistics
In 2016 there were a total of 292 billion minutes watched on the platform. By 2020, the number of total minutes watched was 840 billion.
Between 2020 and 2021, there was a 16.5% growth in audience growth on the platform.
Since creating a new 'Music' category on Twitch in July 2020, there have been more than 230 million hours watched on the platform.
The 'Sports' category on Twitch has grown by 82% between the first quarter of 2021 and the second quarter of 2021.
Non-gaming categories on Twitch are seeing some of the highest growth on Twitch.
In 2020 there was a 55% growth in the number of streamers.
The Future of Twitch Statistics
There is expected to be growth in Twitch Clips in 2023 and beyond. Clips are videos that are between five and sixty seconds long.
Clips are being used by current streamers in many different ways. One of those is that they are being used to promote content that they have on their channel.
Twitch is expected to reach 40 million monthly active users on the platform in 2023.
Streaming games on platforms like Twitch will be worth approximately $295 billion globally.
Twitch will have the most viewers of any major league sports broadcaster by 2023, with more than 84 million viewers.
You might be interested to check those related posts as well:
FAQ
What is the success rate of Twitch?
Streaming on Twitch is fairly easy. All you need to do is to create a Twitch account and then you can start to stream your game. However, there are very few Twitch streamers who can make a living out of their gaming. The success rate is considered to be approximately 10% of all accounts.
What percentage of Twitch streamers are partnered?
There are approximately 46,000 Twitch partners on the platform. Considering the number of streamers on the platform, this means that approximately only 1% of the content creators are considered to be Twitch partners, which means it can be very hard for a new content creator to become a partner.
How much does a Twitch streamer make per sub?
When a viewer subscribes to a streamer on Twitch, there are three different levels: $4.99, $9.99, and $24.99. The streamer and Twitch then share the income from subscriptions. Initially, this is done on an equal split, but those who have larger audiences can receive higher shares, with some at 100%.
How much does Ninja make in a year?
Ninja is a famous Twitch streamer who is known as one of the most prolific Twitch gamers. He is best known for playing Fortnite. His net worth is estimated to be between $25 million and $40 million. On average, he can earn somewhere between $500,000 and $1 million per year.
How many viewers does Twitch get a day?
There are more than 15 million Twitch viewers every single day. In comparison to other video streaming services, this is about 15% of what YouTube gets per day. But it gets five times the amount of viewers as Vimeo per day. The most users that are on Twitch at any one-time peak are 6.5 million.
How many active Twitch streamers are there?
Twitch has a very large group of active streamers who are regularly creating content or streaming live feeds from their games on the platform. Twitch reckons that there are 9.2 million streamers on the platform. However, others estimate that there are only 8 million Twitch streams every month.
Conclusion
Twitch is one of the most popular live-streaming video channels that is available. There is a lot of potential for gamers and other businesses.
Above you can see the high value that it can bring to your business.