If you consider yourself a creative, tech-savvy person, you may have considered becoming an Instagram influencer.
For people who enjoy snapping photos and sharing them online along with catching slogans, getting paid to do just that sounds like a dream.
But how profitable is the Instagram influencer role?
And how much do Instagram influencers make – this guide will share everything you need to know.
Most Profitable Ways to Make Money on Instagram 2023
Instagram influencers can make money online in several different ways.
The most profitable ways to make money on Instagram are listed below.
Sponsorship
Quick info:
Average payment: $500 per post for influencers with $100,000+ followers
What's included: typically a content package, featuring photo or video posts, stories, reels, etc.
The "traditional" Instagram influencer makes their money from brand sponsorships. Brands partner with influencers to promote their products to new audiences in a natural, non-advertorial way. Most brands have a marketing budget for influencer work nowadays.
A sponsorship usually includes a package of curated content, including Instagram posts, ads, videos, or stories. The deal may also entitle the brand to use the influencer's content on its own social channels.
The higher your follower counts and the better your audience engagement, the more money you can make through brand sponsorships on social media.
To begin with, when your follower count is lower, you may offer sponsorship deals in exchange for a free product.
Eventually, you may reach the point where you can charge upward of $500 per post if you can offer a brand a high level of value.
IGTV Video
Quick info:
Average payment: potentially up to $100 or more per video
What's included: IGTV content of your choice
IGTV, or Instagram TV, is a relatively recent Instagram feature that has proven particularly beneficial to Influencers who produce video content.
In early 2020, IGTV monetization was introduced, allowing content creators to earn influencer income by featuring short ads within their videos on IGTV.
The concept works similarly to YouTube, which plays ads in some video content (though creators have to have a certain number of monthly views before they can earn in this way).
Unlike sponsored content, IGTV monetization doesn't limit a creator in what they can produce.
Creators can make videos about whatever they want – whatever appeals most to their target audience. The more people view their content, the more money they can make through monetization.
You could potentially make hundreds of dollars from IGTV monetization, though you could also make very little money at all. It depends on whether your content is viewed by hundreds, thousands, or millions of people.

Affiliate Marketing
Quick info:
Average payment: anything from $50 to $5,000 or more per month, depending on follower count & interest
What's included: Simply share affiliate links to products and receive a commission when you make a sale
You may notice that some influencers are affiliates – but you can also be an affiliate without needing to be a social media influencer.
Affiliates work with partner brands to drive sales. For every sale an affiliate makes as a brand ambassador, they'll receive a commission.
Typically, in an affiliate marketing scheme, an affiliate will have their own dedicated link or promo code that their followers can visit to receive a product discount. When people purchase the product through this link, the affiliate will be rewarded.
You can share affiliate marketing links in various places on Instagram, including in your bio, in your stories as a "swipe up" option, or even on stickers. You can't add links to your posts, so many affiliates simply put their link in their bio and share a promo code in their posts, which their followers can use when they follow the link.
If you have a big, interested audience on social media, you have the potential to earn thousands per month of Instagram income with affiliate marketing.
Merchandising
Quick info:
Average payment: $0-$1000+. You could easily make thousands of dollars, depending on your audience
What's included: Create your own merch and sell it through your own Instagram shop
You don't necessarily have to work with brands to make money as an Instagram influencer. If you'd rather focus on building your own brand on social media, you should look into selling your own merch.
Merchandising is a lot less hassle than opening your own store and making your products from scratch.
Most influencers who choose to sell their own merch will work with a print-on-demand company, which will print their logo onto t-shirts, mugs, badges, and more, usually for an upfront fee.
Some websites will allow you to sell your merch through their platform, so the company will only manufacture (and charge you for) products that your customers have purchased, helping to keep up-front costs low.
Once you have an interested audience on Instagram, you can start making money from marketing and selling merch.
You have the potential to earn thousands of dollars with high-quality merch products on social media.
Promoted Content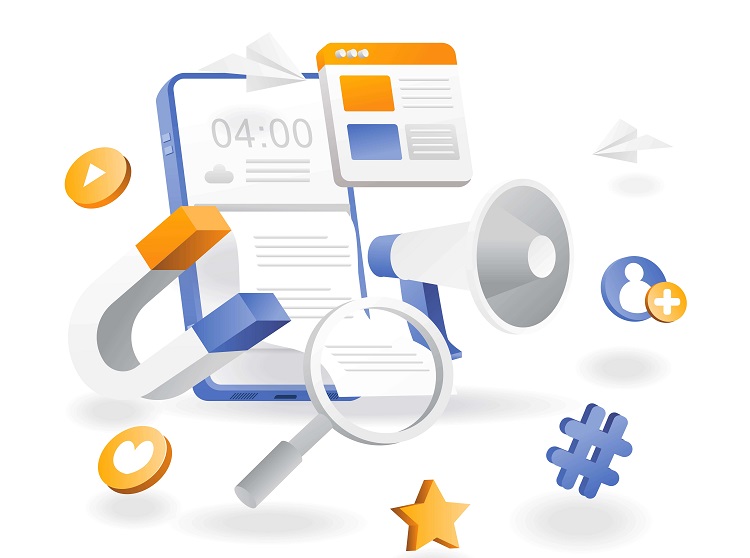 Quick info:
Average payment: $10-$300, potentially more, depending on the quality of your post
What's included: Pay to promote your affiliate content or brand deals to a wider audience and make more money in sales
You might wonder how paying to promote your content can make you money on Instagram. Not every Instagram post you promote will make you money – it depends on what you plan to share.
Promoted content can earn you the most money if you're an affiliate on Instagram.
When setting up your promoted post, Instagram lets you choose your preferred audience based on location, interests, and more.
You can use promoted posts to appeal directly to the audience that your affiliate products are intended for. Perhaps you already have that audience: your followers.
But paying to promote your posts can get your products out there to people who might be interested but don't follow you.
Promoted content is also a good option for brand deals, where the brand has given you a discount code to share with your followers.
The more people who use your code, the more money you'll make from this type of brand promotion.
To ensure that you make money from sponsored content, rather than losing it, your post needs to be as interesting to your social media audience as possible. Videos work particularly well for promoting products.
Show your content to an honest friend before you post it on Instagram, and ask them if they'd be tempted to buy the product based on what they see.
When done right, sponsored posts can bring in hundreds, even thousands of dollars.
Partnerships with Brands
Quick info:
Average payment: $500-$5,000+ per year, depending on the deal you agree on with the brand
What's included: Receive products & payments in exchange for promoting brand awareness on a long-term basis.
A variation of brand sponsorships is brand partnerships. In this scenario, a brand reaches out to you and proposes working with you on social media on a long-term basis.
In a brand-influencer partnership, a brand will usually send you a selection of their new products to try out throughout the year. You'll promote the brand to your followers, helping them to make more sales.
There are two ways that you can get paid in a brand partnership:
Directly through the brand
Through affiliate sales
The brand may pay you a rolling monthly or yearly fee for a predetermined level of exposure on your Instagram account. You will typically also have a discount code that you can share with your followers, and you'll make money every time someone purchases a product using your link.
For a brand partnership to be successful, you need to have a genuine interest or passion for the brand in question – and so do your followers. There's no point in promoting pet toys to your audience of travel lovers – that's not good influencer marketing practice.
You can potentially earn thousands of dollars from a brand partnership deal alone, without considering the extra costs that you may make through your discount code.
How Much Instagrammers Earn Based on the Number of Followers 2023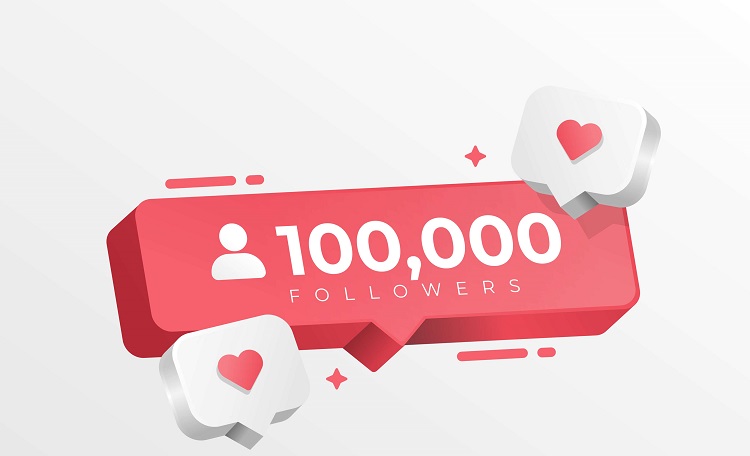 Keep in mind that good engagement on Instagram is equally important as how many followers you have, as it's pretty easy to buy fake followers nowadays. But don't worry; you can fix this with a tool like Ghost Hunter.
It's the first intelligent cleaning and monitoring service that works against spam activity on Instagram.
Ghost Hunter will block all unwanted followers, as well as unwanted comments from spammers and your foes.
Your posts will be shown only to the real users, and as a result, you will receive more likes and comments.
This will increase your popularity, and even those without an Instagram account will know about you through positive word-of-mouth.
However, assuming that your engagement is in line with the average influencer engagement for your social media follower count, here are the influencer rates you can charge for Instagram influencer marketing at different stages of Insta-popularity:
10k Followers
Per post or Instagram story: up to $100
Per package (including images, stories, reels, etc.): up to $300
Per year (including affiliate schemes etc.): $10,000+
100k Followers
Per post or Instastory: up to $1,000
Per package (including images, stories, reels, etc.): up to $3,000
Per year (including affiliate schemes etc.): $100,000+
300k Followers
Per post or Instastory: up to $3,000
Per package (including images, stories, reels, etc.): up to $9,000
Per year (including affiliate schemes etc.): $300,000+
1m Followers
Per post or Instastory: up to $10,000
Per package (including images, stories, reels, etc.): up to $30,000
Per year (including affiliate schemes etc.): $1,000,000+
3m Followers
Per post or Instastory: up to $30,000
Per package (including images, stories, reels, etc.): up to $90,000
Per year (including affiliate schemes etc.): $3,000,000+
These are the peak earnings you can expect if you have the engagement that brands are looking for.
The general rule is that you can charge $10.00 for every 1,000 followers you have.
How Much Instagram Influencers Earn Based on Industry 2023
There are currently no statistics online that indicate exactly how much influencers earn in different industries or niches.
It's difficult to give an exact figure, as there are influencers with different levels of fame in each industry.
The below estimates are based on follower count and estimated earnings of some of the top influencers in these niches.
Fashion Industry (Fashion Models)
The fashion industry has taken off big time on Instagram in the past five years. Many Instagram fashion models started off as everyday people with interest in fashion.
A famous Instagram fashion model can make upwards of $100,000 per post, depending on their exact follower count.
Celebrity fashion models can make double, or even triple, this amount on Instagram.
Beauty Industry (Beauty Influencers)
Beauty influencers were some of the first influencers to hit peak Instagram fame, gaining popularity for their #grwm posts and inspiring makeup looks. Beauty influencers can also set trends for hairstyles, like these pixie cuts showcased by influencers on Instagram.
Some of the most famous beauty influencer stars, including Huda Kattan and James Charles, earn more than $110,000 per Instagram post.
Again, earnings depend on your engagement and following. Smaller (but still successful) beauty influencer accounts make between $10,000 and $35,000 per post.
Fitness Industry (Fitness Models)
Fitness models will always have their place on Instagram.
These influencers appeal to people who are embarking on their own fitness journey, whether with the aim of getting leaner, losing weight, or building muscle.
A popular fitness influencer with 5 to 10 million followers, you can expect to earn upwards of $50,000 per Instagram post.
Aside from Instagram marketing, many fitness influencers also earn revenue from their own YouTube channels, where they post their workouts.
Travel Industry (Traveling Influencers)
Being a photo-sharing app, Instagram is the ideal social media platform to evoke escapism – and nobody does that better than a travel influencer.
Some would say that travel influencers are already living the dream, as many are paid to travel to destinations that the average customer would pay hundreds per night to stay at.
But a popular travel influencer or blogger will earn a hefty chunk on top of that – usually around $10,000 per post.
Sports Industry (Sportsmen Influencers)
There are many professional and semi-professional athletes and sportspeople who have become Instagram influencers in their own right.
Depending on their celebrity outside of Instagram, sportsmen influencers can earn more than $200,000 per Instagram post, mostly through branded campaigns.
Food Industry (Food Influencers)
Many people turn to Instagram for inspiration on what to cook or simply to get hungry by looking at shots of mouth-watering foods. Here's where food influencers can really shine.
Celebrity chefs can make upwards of $100,000 per post.
Food influencers with millions of Instagram followers and their own successful food blogs earn between $30,000 and $50,000 per post, on average.
All of the above niches have the potential to put a lot of money in your pocket.
Choosing a niche you are passionate about, therefore, is smarter than choosing a niche simply because you think you'll earn the most from it on social media.
Many Instagram influencers started with a passion, then decided to share it with the world as an afterthought.
The goal is not to be good at social media, the goal is to be good at business because of social media. – Jay Baer
The Top Well-Paid Instagram Influencers 2023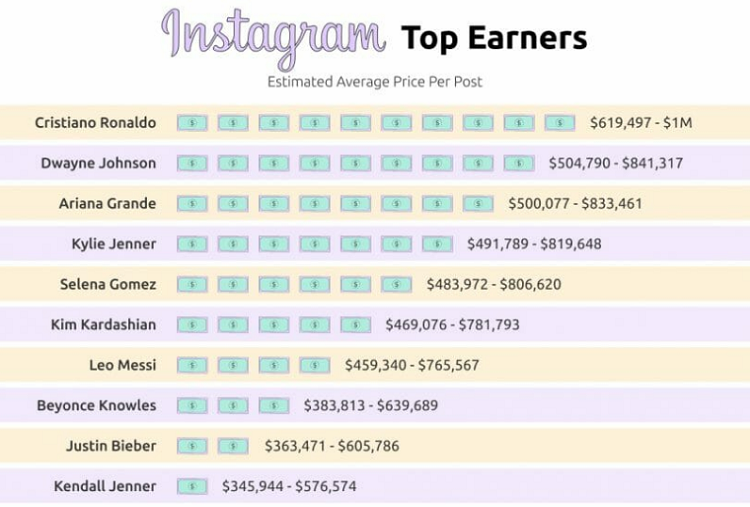 Cristiano Ronaldo – Best Well-Paid Footballer
Many footballers enjoy their spot at the top of the Instagram-rich list, but Ronaldo is the best-paid of them all.
With more than 354 million Instagram followers, Ronaldo reportedly scoops in more than $1.6 million per Instagram post.
On his grid, you can see him promoting eyewear and hair care products, as well as his own perfumes and his hair transplant clinic.
Ariana Grande – Best Well-Paid Singer
Pop stars can also scoop on the financial rewards of their Instagram fame, and Ariana Grande is one of the most Insta-fortunate.
Ariana has 270 million Instagram followers, so it's unsurprising that brands are happy to pay her so generously for her sponsored content – approximately $995,000 per post.
Ariana has recently worked with an online therapy provider, a beauty brand, and a gaming company.
Dwayne Johnson – Best Well-Paid Actor
Dwayne Johnson, known as The Rock on Instagram, has a dedicated following of 274 million. He's thought to command more than 1 million on his influencer marketing campaigns.
It's rare to see Dwayne promoting other brands on Instagram – he's probably rich enough already – but in the past, he has worked with Disney Plus and Under Armour.
He also promotes his own alcohol brand.
Virat Kohli – Best Well-Paid Batsmen
It's unusual for cricketers to make it really big on Instagram, but, being such a famous name beyond his sport, Virat Kohli has amassed more than 160 million followers on Instagram.
When he's not sharing cricket updates and flashbacks, Virat produces sponsored content for mobile phone companies, nutrition and fashion brands, and more.
He's apparently paid well for these posts, too, taking home approximately $700,000 per post.
Kevin Hart – Best Well-Paid Comedian
Kevin Hart is as much of a celebrity on Instagram as he is in real life. He has more than 120 million followers and is estimated to earn up to $500,000 per post.
Some of Kevin's recent brand collaborations include work with Fabletics and C4 Energy.
Like many of the stars on this list, Kevin doesn't fill his grid with collaborations – most of his content is related to his family or his job.
How Much Influencers Make according to Reddit:
In my role, I handle influencer recruitment, and the rates can vary greatly. Even on the lower end, it's feasible to generate $300,000. However, I'm reducing content fees in 2023 and allocating more budget for "paid boost."
You might be interested to check those related posts as well:
FAQs
Who is the highest-paid Instagrammer 2023?
The 2023 Instagram rich list isn't out yet, but according to data from Influencer Marketing Hub, Cristiano Ronaldo topped the list in 2021.
He reportedly earns up to $1 million per post – and that's on top of all his other streams of revenue.
How many followers do you need to get verified?
Getting verified on Instagram doesn't happen when you hit a certain follower count. That's why you may see some people with as little as 10k followers who have verified accounts.
You can actually request Instagram to verify your Instagram account nowadays – just tap "settings", "account", then "request verification".
What happens when you have 1000 followers on Instagram?
Nothing magical or life-changing happens when you hit 1,000 Instagram followers, sadly!
You usually need a higher follower count for brands to take notice, at least 3,000 to 5,000.
On a positive note, hitting 1,000 followers is a sign you're doing something right with your content.
Who is the person with the most followers on Instagram?
Unsurprisingly, given that he's the best-paid star on Instagram, Cristiano Ronaldo has the most followers on Instagram, with more than 350 million at the time of writing.
Reality star Kylie Jenner is a close second, with more than 275 million Instagram followers.
Which celebrity has the least followers on Instagram?
There is no official documentation of the celebrity with the least amount of followers on Instagram – it would be quite hard to detect, as there are many celebrities who simply aren't as famous as others.
Try searching for actors who have only played secondary movie characters, and you'll find their follower counts aren't huge.
How long does it take to reach 1000 followers on Instagram?
For some people, reaching 1,000 followers happens in a matter of weeks. For others, the process takes longer.
Generally, if you're posting interesting content and working on attracting a new audience, you can expect to go from 0 to 1,000 followers within a month.
Does Instagram pay per post?
Instagram doesn't pay per post – unless you work with Instagram on a sponsored Instagram post, which is very rare!
You can only use Instagram as a platform on which to make money from brand collaborations. So while Instagram won't pay you per post, brands will.
How many followers do you need to get a blue tick?
You don't need a certain number of followers to get a blue tick. Instagram has its own secret process for deciding who gets verified.
If you want the blue tick, you can request it from Instagram. Keep in mind that even some big influencers don't have a blue tick – it's hard to get.
Do you get paid for being verified on Instagram?
No, you don't get paid for being verified on Instagram.
The only thing that changes is that you'll have a blue tick on your Instagram account going forward. This can be handy for famous influencers and celebrities, as many Instagram users will create fake accounts and attempt to impersonate these people.
How much do you earn per month as an Influencer on Instagram?
How much money you earn per month on Instagram depends on how many followers you have. If you're just starting out, you might earn nothing per month.
As you begin to grow your following, you can expect to earn a few hundred dollars per post, which can quickly add up to thousands of dollars per month.
Conclusion
It is evident that Instagram influencers make a considerable amount of money. However, the amount an influencer makes varies depending on their following, engagement rate, and other factors.
Although some may think that becoming an influencer is a quick and easy way to make money, it is actually a lot of hard work.
So, if you are thinking about becoming an Instagram influencer, be prepared to put in a lot of time and effort.