The sheer number of web hosting services in Norway can make choosing the right one for your website a difficult process.
Based on user reviews, bandwidth statistics, customer experience with support, and pricing, this article reviews the pros and cons of some of the best web hosting Norway.
Top 13 Web Hosting Providers in Norway 2023
A good website host should serve as a reliable connection between your business and potential clients.
However, not all providers can offer all the features large businesses require to keep up with their customer's needs and the lower prices that smaller businesses are looking for.
In this article, we will examine reputable web hosts in Norway that have great customer reviews.
This list will help you choose which company of the best hosting in Norway that is right for your business's unique needs.
Hostinger – Best Value-For-Money Hosting in Norway
Hostinger is one of the best-rated web hosting providers in Norway.
Although it offers VPS hosting, Cloud hosting, and even Minecraft hosting, it specializes in shared and managed WordPress hosting.
At first glance, it may seem that its low-cost plans are too good to be true.
Still, Hostinger provides all the necessary features you might need and offers excellent performance. The company has servers located all around the world, now in France and India too, so you can choose the closest one and enjoy the best performance.
In addition, Hostinger has multiple data centers around the world, which guarantees a fast and reliable service no matter where in the world your target audience is located.
Hostinger currently has data centers in the UK, the USA, Europe, Brazil, Indonesia, and Singapore.
Pros
Low-cost plans with excellent features
Helpful customer service is available 24/7
99.9% uptime guarantee
The very fast average loading time of a full website (1.56s)
Free SSL certificate included in all plans
Advanced plans come with a free domain, unlimited bandwidth, unlimited email accounts, and unlimited websites
30-day money-back guarantee on all plans
Apart from all major cards and PayPal, Hostinger also accepts payments in cryptocurrency
Cons
No automatic daily backups (аvailable in Business plans)
No phone customer support
Customer support response waiting time can be long

Pricing plans
Web hosting plans start at $1.99 per month if paid quadrennially
Cloud hosting plans start at $9.99 per month if paid quadrennially
VPS hosting plans range from $5.99 to $21.99 per month if paid quadrennially
BlueHost – Best Overall Hosting
BlueHost offers shared and dedicated cloud hosting, which makes it stand out from the rest of the web hosting providers.
After it was one of the top web hosts in the world, it was sold to a different company and has faced its fair share of challenges.
BlueHost is trying to make a comeback so we will wait and see what happens.
BlueHost is useful as they are advertised, as a cloud host, so you know what to expect from them.
They can be a great option for companies that are small but looking to expand in the future or for big businesses.
Pros
Offer shared, cloud, WP, VPS, and dedicated hosting
High disk space
Cons
Since being sold, quality has gone downhill
No servers near NZ yet, so customers need to use Cloud Share to improve the speed
Customer Support
Quality – Good
Channels – Phone, live chat, tickets
Hours – 24/7
Refund Policy
Money-Back Guarantee Policy – Yes
Number of Days – 30 days
Speed
Space

Uptime
Pricing Plans
Website
SiteGround – Best Hosting Deal Now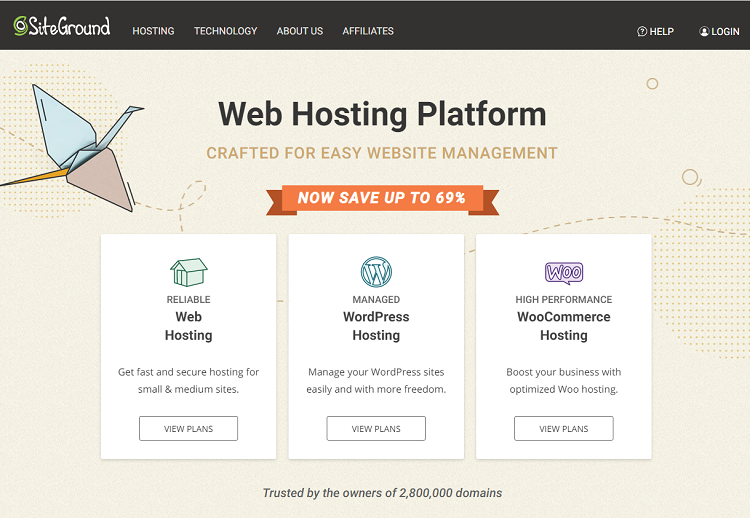 SiteGround is a leading web hosting company with over 600 employees, servicing more than 2,800,000 domains worldwide. SiteGround offers premium hosting services at an affordable price and is internationally recognized for its unique approach to hosting.
They offer services most hosting companies wouldn't even consider possible.
With a focus on performance, security, and unmatched customer service, SiteGround's in-house solutions protect you from hacks and can make your website run over 100x faster. They have fast, experienced, and super-friendly support staff available 24/7.
You will love the top speeds and extra features like free SSL, CDN, backups and restore, automatic software updates, built-in caching, staging tools, collaboration tools, GIT integration, data centers on 4 continents, and more.
We highly recommend SiteGround for its quality hosting service packed with features and special tools.
Pros
A good number of hosting types
Offers many performance-enhancing tools
Lets customers choose their server locations (great for privacy laws)
Free backup every day
Collaboration tools
Cons
No VPS, dedicated, or Windows servers.
Low storage
Customer Support
Quality – Excellent quality customer support
Channels – Phone, live chat, tickets
Hours – 24/7
Refund Policy
Money-Back Guarantee Policy – Yes
Number of Days – 30 days
Speed
Great speed in testing (651 ms)
Space
Uptime
Good uptime in testing (99.9%)
Pricing Plans
Website
A2 Hosting – Best Cheap Hosting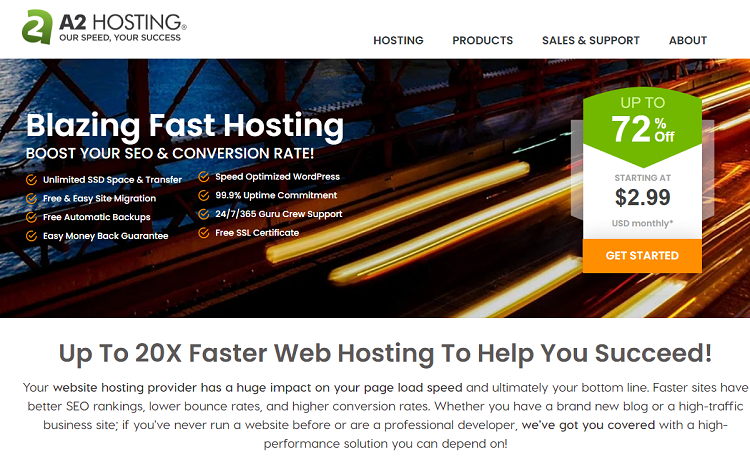 We have chosen A2 Hosting as the best overall web host on the list.
They have tried to be free from limitations and offer as much to their customers as possible.
They offer a multitude of services with their hosting plans and unlimited bandwidth, which is a great bonus.
A2 Hosting is the best overall host for your website for the following reasons:
Pros
Unlimited SSD space
Unlimited bandwidth
Fast servers in top e-Commerce leading countries
Support for Python, Laravel, Php, and Perl
1 click installation for WordPress
Free automated backup
Free SSH tool
Gives an alert in the event of downtime
Cons
Lots of features require the top tier web hosting plans
Customer Support
Refund Policy
Money-back guarantee – anytime
Number of days – anytime
Speed
Very fast. They say they are 20X faster than other leading web hosts.
Space
Uptime
Pricing Plans
Website
Arahoster – Most Trusted Web Hosting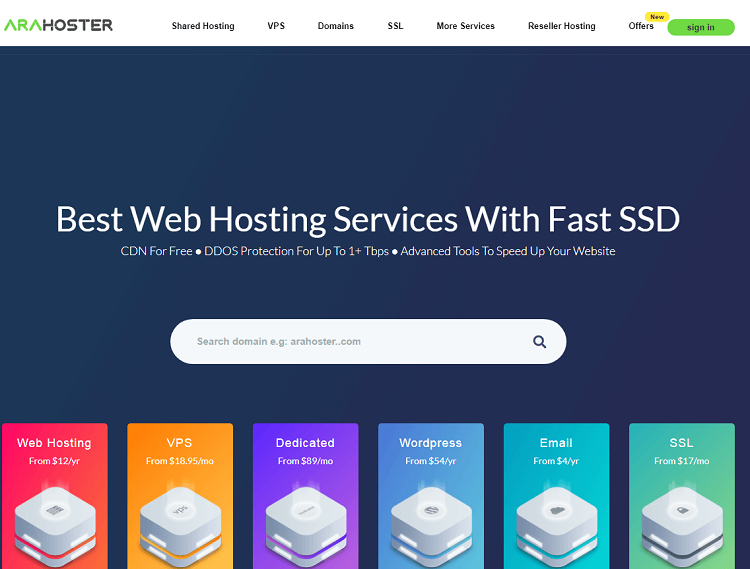 Arahoster is one of the most widely used web hosts in Norway, with over 730,000 domains hosted since its launch back in 2001.
Initially offering only shared web hosting, they have since branched into Virtual Private Servers.
Their loyal customer base has grown with them, which makes Arahoster one of the most experienced and trusted shared and VPS hosts available in Norway.
Arahoster offers easy-to-install scripts, top performance, and excellent uptime – to make sure your website is always available for visitors.
This web host uses cPanel's open-source software for content management, which allows you to manage all your files, databases, and email accounts easily through a visual interface.
Pros
Utilizes cPanel, open-source software for content management
Linux- and Windows-capable website builder is easy to use
Also offers VPS, reseller hosting, and SSL certificates
Cons
Limited to two domains per account under the Basic plan and 10 domains under the Plus plan, but unlimited domains are available for the Pro and Ultimate plans
Only basic support is offered for new customers who are using the free trial
Customer support
Customer support is available via online chat 9 am-5 pm Central European Time.
For more complicated issues, users can open up to two tickets at a time, which can be submitted 24/7.
Uptime and reliability
Arahoster's virtual server has an excellent uptime of 99.9% for all packages
Strict firewalls keep your site safe.
Pricing plans for their shared domains:
The basic plan for $12 per year
Plus plan for $65 per year
Pro plan starts at $130 per year
Ultimate plan – a fully customized plan that comes with a fully customized price
DomainNameShop – Best for Cheap Web Hosting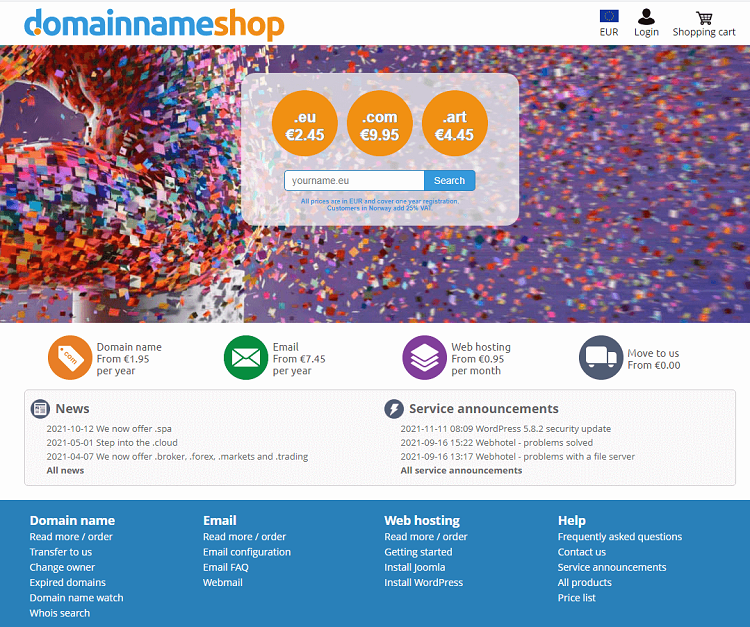 With its main server location in Oslo, DomainNameShop is one of the best web hosting providers available in Norway that is physically located in Norway.
Their website boasts over 600,000 domains hosted for over 100,000 users.
DomainNameShop offers SEO, premium DNS service to secure your IP address, and domain forwarding.
Pros
Available domain name extensions are .com, .au, and .cloud
No setup fee for any of the web hosting plans
CGI scripts (Perl, Python, Ruby, etc.) are supported on all plans except the Mini
All plans come with website traffic statistics to help you develop your marketing strategy
Cons
No free domain option
The caching system can be more of a hindrance than a help sometimes.
Customer support
Helpful FAQ page
Email and phone options to contact the support team
Uptime/ Reliability
Their uptime is 99.9% for every web hosting package.
Strict firewalls
Pricing plans
DomainNameShop offers 4 shared web hosting plans:
Mini for $0.95 per month
Medium for $2.45 per month
Large for $3.95 per month
Extra Large for $5.95/month
None of the plans include a domain hosting fee in their package, so you should evaluate that additional cost before committing to a plan.
PRO ISP- Best VPS Hosting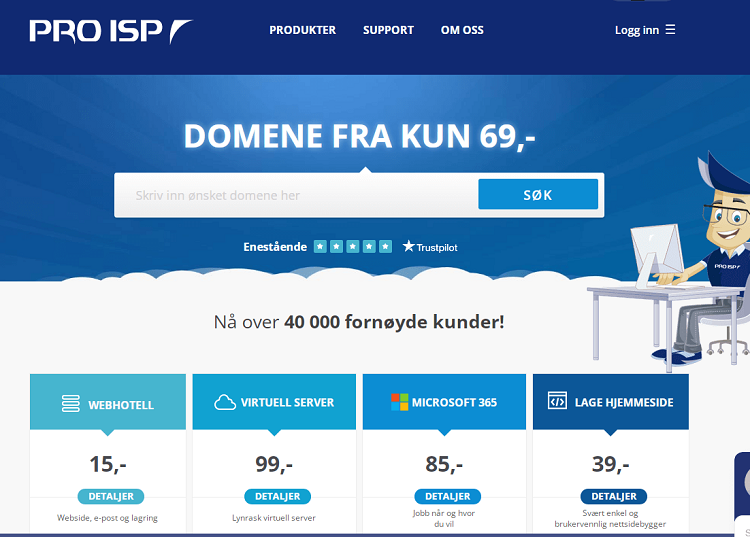 PRO ISP is the best web and VPS hosting provider in Norway with over 18 years of experience in domain management and website hosting services.
The company provides its services under an unbranded hosting environment with high-end security.
Pros
They'll help you move your existing domain to PRO ISP for free
One-click installation of more than 400 scripts
The News section on their website will keep you updated on any upgrades or new services that become available
According to their website, they are the fastest-growing provider of VPS servers and domain names in Norway
Cons
The Price List section of their website is only listed in Norwegian Kroner and British Pounds, so prices might require manual conversion for customers who use a different currency system
Although have the widest variety of domain labels of any of the hosts on the list, some of their options, like .horse or .shoes, might not be as widely trusted as the more traditional .com or .no
Customer support
Support, billing, and sales departments each have one dedicated email address where they can be easily reached.
Uptime/ Reliability
Follows the EU's General Data Protection Rules (GDPR) for their SSL certificates
Automatically backs up and upgrades your scripts
Their VPS servers guarantee 99.9%
Pricing plans
PRO ISP offers an enormous range of plans with an equally large range of prices, and they can't all be listed here.
This makes PRO ISP the best option on the list if you're looking for multiple billing options
The most important thing to know about their plans is that you're not committing to a contract. You can cancel at any time.
Keep in mind that each domain label carries its own price, and there can be one-time charges for setup, changes to domains, and specific types of customer support assistance.
Webhuset – Best Overall Web Host and Best Local Hosting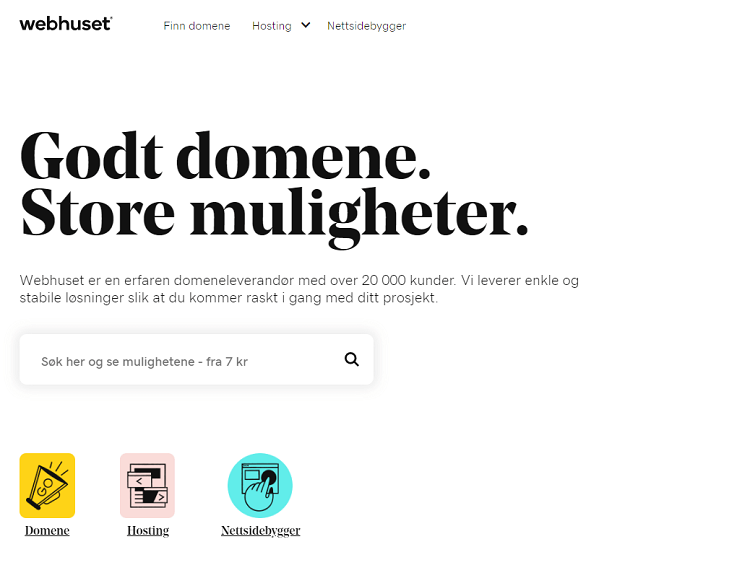 Webhuset is one of the best overall web hosts in Norway, providing web hosting services since 1999.
It's a subsidiary of TDC Group, Norway's largest telecommunication, and IT services provider, so it provides top-grade virtual private servers, web hosting services, and domain names.
Pros
The hosting company has been awarded for being the best web host in Norway by the "Tomodens" vote several times since 2011
Simple, easy-to-understand options for shared, dedicated, and cloud servers
The user interface makes setup super easy
One-click installation of WordPress, Joomla, Drupal, etc.
Free and unlimited subdomains and databases for every plan level
Cons
One of the smallest companies on the list with only 20,000 customers
No exclusive benefits are available for premium plans, which means that large businesses may miss some of the features they need
Customer support
LiveChat and phone service are available during business hours in Norway.
Uptime/ Reliability
Webhuset offers 99.9% uptime on its shared web hosting plans.
Servers are protected from physical threats like fires or a power outages.
Pricing plans
Webhuset offers 3 shared web hosting plans. The company runs sales often, so prices may vary:
Home Office for 29kr/month (3.38USD/month)
StartUp for 34 kr/month (3.96USD/month)
Ultimate for 49kr/month (5.71USD/month)
UNIWEB – Most Secure Hosting and Most Reliable Hosting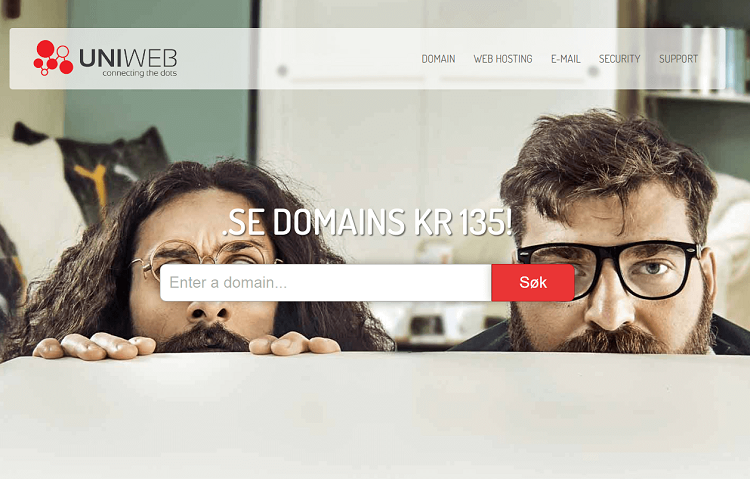 UNIWEB was established by students and has over 10 years of experience in website hosting services.
They are the go-to host for simple, uncomplicated web hosting.
What they lack in a variety of options they more than makeup for in reliability and security.
Pros
Their business web hosting is the most secure on this list – achieved by mirroring your dedicated server that will take over if the original server goes down
Highest guaranteed uptime on the list. Because of the mirrored servers, you can expect 100% uptime
Their "What should you choose?" page helps walk you through the process of selecting the perfect plan for your needs.
Email exchange available
Cons
CGI scripts, databases, and traffic statistics are not available
Few services beyond basic shared domain hosting and VPS are available
Customer support
Articles about common problems are provided on the website
If their self-help articles don't answer your question, you can contact a live agent by phone or email.
Uptime/ Reliability
Uptime on shared hosting plans is 99.9%, but mirrored servers make business hosting plans bulletproof
SSL certificates offered on all plans
Pricing plans
UNIWEB often runs sales on their packages, so prices may vary. They offer 3 shared web hosting plans:
Small 19kr/month (2.22USD/month)
Large 29kr/month (3.38USD/month)
XL 39kr/month(4.55USD/month)
They also offer 3 business web hosting plans:
Small Business 235kr/month (27.40USD/month)
Large Business 470kr/month (54.81USD/month)
XL Business 940kr/month (109.61USD/month)
Host1 – Best Long-Term Web Hosting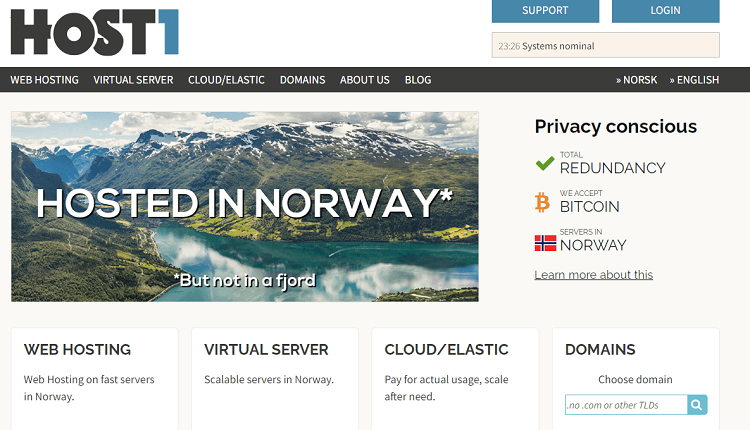 Host1 is a Norwegian-based web-hosting company with locations around the world, including Mexico and the Philippines.
Their commitment requirement is longer than the other plans on this list, but if you know you want to commit to web hosting for at least a year, this might be the host for you.
Pros
All packages include free unlimited domains if you pay upfront for 12 months
VPS, dedicated servers, and elastic Cloud hosting are also available
Data centers have redundant power and cooling to prevent malfunctions
MySQL databases and FTP account included with all packages
Cons
Significant year-long commitment is required to get the most out of the plans
14 day cancellation period does not apply to domains
Free domains are limited to .com, .org, .net, and .no
Customer support
Support is available only with customer login – presumably through the same chat or ticketing options as other hosts on this list
Uptime/ Reliability
Host1 offers 99.9% uptime of all shared web hosting plans.
Pricing plans
There are 4 shared web hosting plans:
Mini – 29kr/month (3.38USD/month)
Standard – 39kr/month (4.55USD/month)
Premium – 49kr/month (5.71USD/month)
Pro – 79kr/month (9.21USD/month)
FastName – Best Basic Shared Web Hosting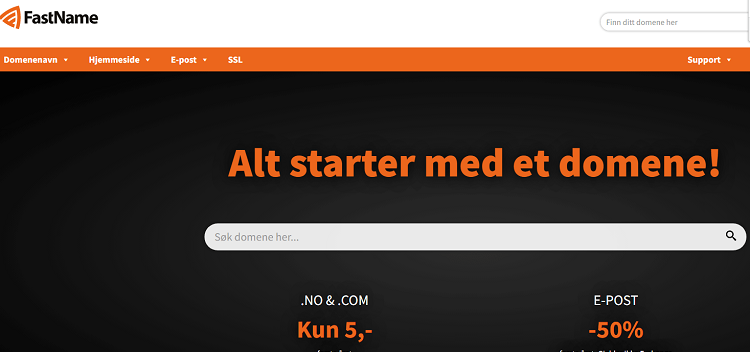 FastName is not hosted in Norway but is a good option for individuals residing in Norway whose target audience resides elsewhere.
Although it does not offer VPS or dedicated servers, it is one of the strongest shared web hosts on the list.
Pros
Great for eCommerce web hosting
Strong FTP (file transfer protocol) features
iPhone control panel allows website management on the go
Windows, Linux, and Reseller hosting are available
Premium tier SEO plans including website hosting
Super easy drag-and-drop website builder
Schedule tasks to be executed at a specific time
Strong support for CGI scripts with one-click installation
Cons
Web hosting packages only come with one free domain name, no matter what level you purchase
Although Windows web hosting is advertised, if you try to purchase a Windows hosting package the website glitches and takes you back to the home screen. Currently, only Linux is actually available.
Customer support
The Searchable Knowledgebase page acts as an FAQ
If Knowledgebase doesn't have an answer, you can submit a ticket directly to the specific department you need help from.
Uptime/ Reliability
FastName doesn't make any claims on its website about its uptime. If you're looking for a guarantee, FastName might not be the web host for you.
Pricing plans
FastName offers 3 shared web hosting plans:
Bronze – 4.08GBP/month (5.51USD/month)
Silver – 8.25 GBP/month (11.14USD/month)
Gold – 12.42GBP/month (16.76USD/month)
ProperHost – Best eCommerce Hosting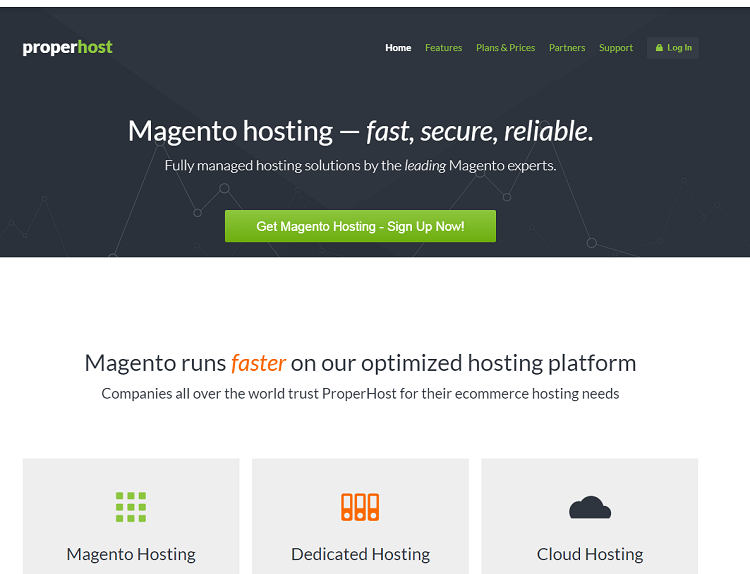 ProperHost is a subsidiary of Magento, a widely trusted eCommerce platform under the Adobe umbrella.
ProperHost is optimized to host Magento on, and for customers in Norway already using Magento, it's an obvious choice.
Pros
Targeted specifically to eCommerce
Instant scalability grows with business needs automatically
LiteMage Cache further streamlines Magento hosting
Options for shared, dedicated, and business cloud hosting
Cons
The automatic and instant scalability can mean a drastic increase in your bill without your consent
Magento website themes are not included and cost upward of $150USD
Only supports hosting Magento
Customer support
ProperHost also has a searchable Knowledgebase page that acts as an FAQ
If more help is required, customers can use the ticket system to request support
Uptime/ Reliability
Software engineers constantly monitor server performance
Detailed performance stats available in easy-to-understand graphics
ProperHost does not give an estimate or guarantee of uptime
Pricing plans
ProperHost has 4 shared web hosting plans:
Mini for 9.95USD/month
Basic for 25USD/month
Professional for 75USD/month
Enterprise for 150/month
NetPower – Best Managed Web Hosting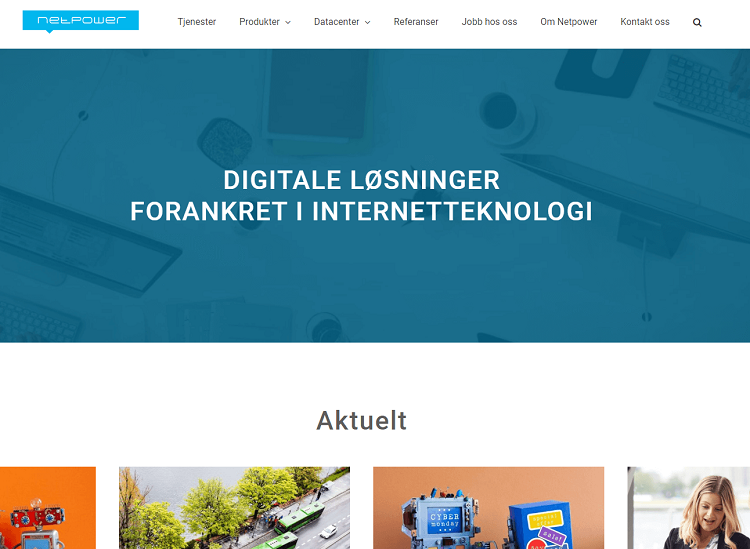 NetPower is primarily an IT company that also offers website building.
They use Magento, so it's safe to say that they use ProperHost to host their websites.
However, for Norwegian business owners or those who need insight into Norwegian eCommerce and don't want to fuss over the details of web hosting, the Oslo branch of NetPower could be an invaluable partner.
Pros
Bespoke solutions for any kind of website – including eCommerce
Mobile app development and recruiting for software development teams also available through NetPower
Potential for branching out from shared web hosting to VPS into managed hosting or cloud hosting.
Cons
No statistics readily available on their website
No insight into their specific web hosting methods
You're signing on to work with their team and may not have control over the specifics like you would with other web hosts.
Customer support
As this is essentially a consulting team, you would have access to the team during Norwegian business hours
Uptime/ Reliability
No statistics available on their website about the reliability
Since they are using a third-party web host they can't guarantee uptime
Pricing plans
NetPower does not offer packages for purchase.
You would be hiring an IT consulting team to develop online business solutions, not hiring the company for its web hosting itself.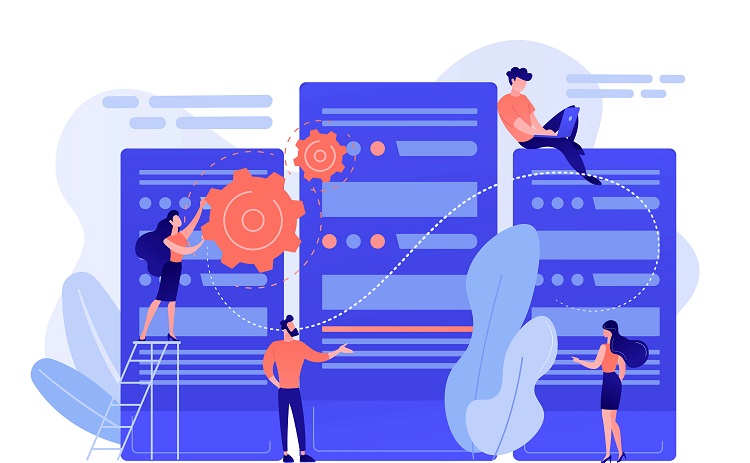 FAQ
Which is the best web hosting for a small business in Norway?
It depends on what exactly you're looking to get out of your web hosting experience.
The hosts on this list are all ranked among the best in Norway in some aspect or another.
Take a look at the list to decide for yourself which is right for you.
Are there any web hosts that offer 24/7 support?
Although none of the web hosts on this list offer 24/7 live customer support to talk to, ProperHost does have engineers monitoring and fixing any issues with servers around the clock.
What are the benefits of purchasing SSL certificates?
SSL certificates encrypt the connection between the web server and the website, so users can trust that their information will be protected.
This is particularly important for eCommerce sites dealing with sensitive financial information.
An SSL certificate automatically makes the website rank higher in Google search results, and customers are more likely to trust and use the website if it is secured.
What are the most common factors to consider when choosing a web hosting provider?
The following are some important factors to consider:
The type of services you're looking for. The best-shared website host may not offer the ideal VPS or cloud hosting, and vice versa.
Your pricepoint
How do you prefer to contact customer service? Are you comfortable sending an email or submitting a ticket, or would you prefer to speak to someone on the phone?
Where your target audience is located
How important security is to you
How do you check a shared hosting plan's uptime?
There are free websites that will allow you to copy and paste the website URL into their search bar which will tell you what the historical uptime has been for that site.
If you're looking to verify a host's uptime guarantee before signing up, this is a good way to do it.
Existing users can check their website's uptime by logging into the host's site and viewing the statistics there.
A majority of web hosts boast uptime guarantees, so you would not have to check your website's uptime manually.
You can also read reviews on third-party platforms – if there are issues with uptime, you'll be sure to hear about them there.
What are caching systems?
Caching systems allow you to serve pages quickly by storing frequently accessed parts of a website temporarily so they will not have to be regenerated every time a request comes in.
This results in a faster page loading time for users.
What is the safest web hosting in Norway?
The most secure and reliable web host in Norway is UNIWEB because of its unique server mirroring system, combined with its firewalls to prevent any data privacy threats.
How much does a domain name cost?
Depending on which web host you use, your domain may be included in your hosting plan for free!
However, if your web hosting plan does not include a domain name, it can be purchased separately.
Costs for domain names vary widely – for example, PRO ISP offers domains for 19kr/year (2.22USD/year) up to 24990kr/year (2914.12USD/year).
There may be additional costs associated with registration or relocating your domain.
Should you choose a non-EIG hosting company?
First of all, EIG is a company called Endurance International Group.
When EIG acquires a web hosting company, the existing companies often see a decline in quality and customer service.
You are certainly welcome to take the risk by choosing an EIG company to host your website, but it seems that lots of users are moving toward non-EIG companies for a better experience.
Which is the best web hosting provider in Norway?
The best web hosting provider in Norway is Webhuset.
It has won numerous Norwegian awards and is widely trusted by users.
Which is the cheapest web hosting provider?
DomainNameShop is the cheapest web hosting provider on this list.
Norwegian web hosting providers are as reliable, if not more than web hosting providers in other countries.
Some of them feature 99.9% guarantees of uptime, and one could reasonably assume that UNIWEB's uptime would be 100% because of its unique mirrored servers.
What email service do most people use?
Gmail has more than one billion users worldwide, making it the most popular email service globally.
You might be interested to check those related posts as well:
Conclusion
Your choice of web hosting service is going to depend on what is most important to you.
No matter your web hosting needs, this list is sure to have something that will suit anyone with any budget.
Find what you need.
Check out some of our other useful lists!