Since it launched in 2003, Steam has become one of the largest gaming distribution platforms in the world.
Besides buying and selling games online, users can also engage with developers and other players, adding to its extreme popularity.
Key Steam Stats 2023
There are over 120 million active players on Steam.
62.6 million people play every day.
In general, there's an average of 24.8 million people playing on Steam at one time.
Over 2.6 million purchases are made through the Steam shop each month.
Steam saw a big increase in usage during the pandemic (March 2020). It gained over 4.5 million users that month.
In 2020, Steam used 25.2 extra bytes of data.
The average VR session on Steam is 32 minutes.
Over 10,000 new games were released on Steam in 2021.
In 2021, over 38 billion hours were played on the platform.
Steam Demographics Statistics 2023
English accounts for 38.8% of Steam's user base. This is followed by Chinese (19.8%), Russian (11.3%), Spanish (5.25%), and German (3.87%).
19% of traffic on Steam comes from China. The US only accounts for 16.8% of all activity.
The most games owned by one Steam user (Sonix) is 24,601.
The top player on the site has reached level 5,000 (St4ck). The 2nd place player is only level 3,914.
The longest continuous game player has been on Steam for over 18 years.
71.34% of users use Intel processors for their PC gaming.
48 million people use game controllers (vs. keyboard and mouse).
Steam Games Statistics 2023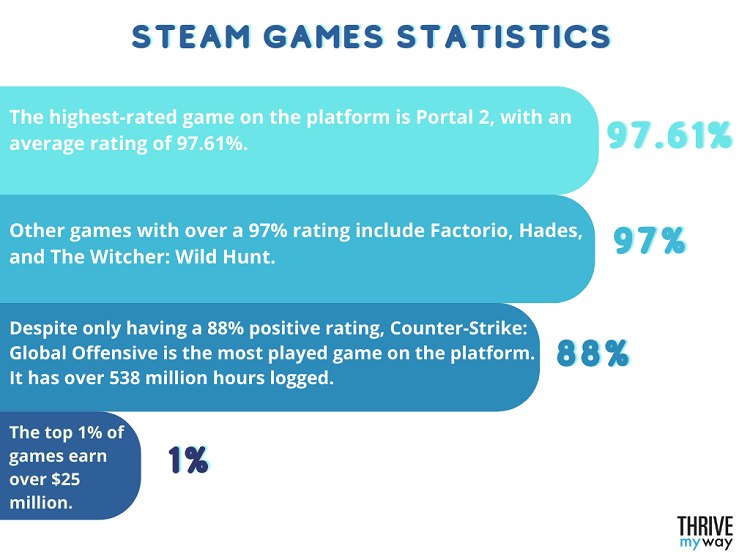 The highest-rated game on the platform is Portal 2, with an average rating of 97.61%.
Other games with over a 97% rating include Factorio, Hades, and The Witcher: Wild Hunt.
Despite only having a 88% positive rating, Counter-Strike: Global Offensive is the most played game on the platform. It has over 538 million hours logged.
The second most popular game is Dota 2, with over 290 hours of playtime.
Valve is the highest-rated game developer with an average score of 8.8. Other popular developers include Supergiant Games, Klei Developers, the Behemoth, and Free Lives.
There are 12 games with a Platinum rating on Steam, including Dota 2, Among Us, and Grand Theft Auto V.
The top 1% of games earn over $25 million. However, more than half of all games haven't even made $5,000.

You might be interested to check those related posts as well:
FAQs
Is Steam in decline?
Although it had a retention rate of 13.5% in 2016, Steam saw a huge peak in users during the COVID-19 pandemic in 2020.
At the moment, Steam remains the largest gaming platform with over 120 million monthly active users.
However, other competing platforms like Epic Games are becoming increasingly popular, which could impact how many users continue to use Steam in the future.
How much money does Steam make?
Steam takes anywhere from 20% to 30% of all game sales. In 2017, this resulted in $4.3 billion for the company.
Half of all revenue made was just from the top 100 best-selling games.
What is the most played game on Steam right now?
As of 2021, the most popular game on Steam was Counter-Strike: Global Offensive.
On average, there are over 750,000 concurrent players, although it once logged over 1.1 million players during its peak time.
Conclusion
The video game industry wouldn't be where it is today without Steam.
This gaming platform isn't just for players but also for indie and big-scale developers, who use the service to reach millions of users around the world.
Sources:
Statista
Finances Online
CompareCamp
Game World Observer