SoftBank, a Japanese-based conglomerate holding company, is a great business that invests in small businesses within technology, energy, and financial sectors across the world. However, not many people know some of the smaller details of the brand.
So in this article, we look at some interesting, important, and fun facts about SoftBank.
General SoftBank Stats and Facts 2023
The company is headquartered in Minato, Tokyo.
Masayoshi Son is the brand's founder and its largest shareholder.
SoftBank was founded in 1981.
SoftBank operates Y!Mobile and Line Mobile.
Son Masayoshi works every day between 8 am and 10 pm assessing tech entrepreneurs.
Son Masayoshi has a 300-year plan for SoftBank that makes it the most valuable brand in the world.
SoftBank has invested in 333 companies in its history.
SoftBank Market Share Statistics 2023
The company is the third-largest wireless carrier in Japan.
In March 2021, the company had 45.621 million subscribers to its wireless services.
In 2021, SoftBank made a loss on investments but saw a growth in assets.
The company is ranked 13th in the world among the top 100 digital companies on Forbes.
They are currently ranked 44th on the Global 2000, according to Forbes.
The revenues in 2021 were $70.3 billion.
In 2022, the revenues for the year are expected to be $96 billion, a 37% increase.
The profits from 2022 are expected to be $20 billion.
SoftBank is the third largest brand in Japan.
SoftBank Number of Employees and Customers Stats 2023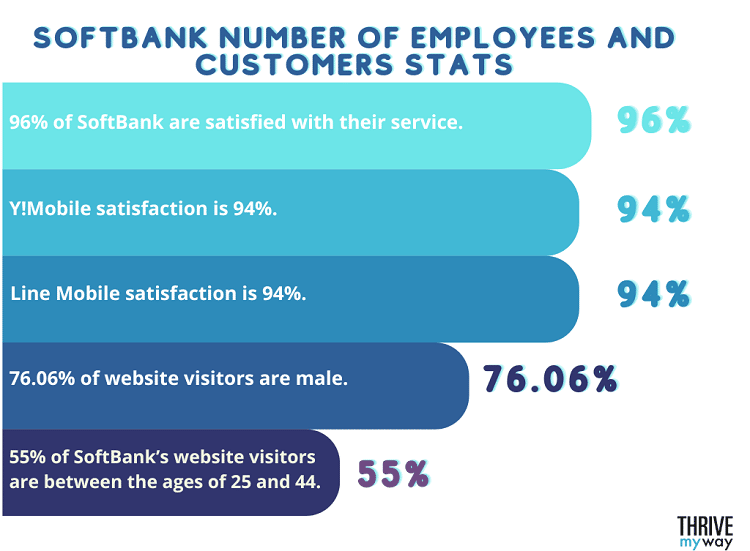 SoftBank has 58,786 employees.
96% of SoftBank are satisfied with their service.
Y!Mobile satisfaction is 94%.
Line Mobile satisfaction is 94%.
76.06% of website visitors are male.
55% of SoftBank's website visitors are between the ages of 25 and 44.
SoftBank Usage Statistics 2023
96.31% of traffic is from Japan.
Users from China make up 1.07% of SoftBank's traffic.
Their website is the 119th most visited website in Japan and 1,358th in the world.
The website has 34.9 million visitors a month.
The average bounce rate is 41.46%. This is lower than the average bounce rate of all websites.
4.25 is the number of website pages that the average session includes.
The average user is on the SoftBank website for two minutes and fourteen seconds.
54% of traffic to the SoftBank website comes through a search engine.
29.14% of traffic to the website comes direct.
Less than 1% of their traffic is generated by social media.
SoftBank Mobile Statistics 2023
The customer churn rate every quarter is 1.28%. This means that for every 1,000 customers, 13 are lost a quarter.
According to PayPal stats, which is owned by SoftBank, it has 4.3 million users in Japan, mostly using their mobile app.
The usage of PayPal mobile in Japan has tripled in the past 10 years.
30% of SoftBank's Linemo customers are over 50 years old.
Linemo is considered one of the best brands in Japan for customer satisfaction.
Most customers on Linemo have a 10GB download plan.
Tiger Global vs. SoftBank Stats and Facts 2023
In 2021, Tiger Global invested more money in more companies than SoftBank.
Tiger Global was launched in 2001 by Chase Coleman III.
Tiger Global is known to be press-shy. Often they will not announce much at all.
The companies that Tiger Global tends to invest in include enterprise and SaaS startups.
SoftBank is known for its due diligence after announcing possible deals. However, Tiger Global tends to do its due diligence before announcing anything.

SoftBank Stock Price Stats 2023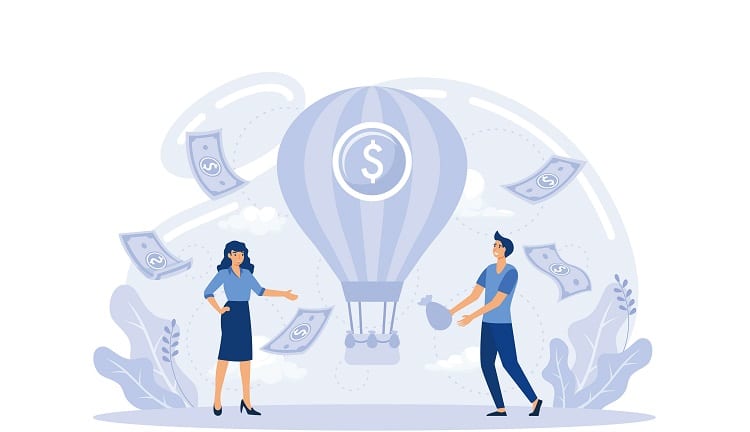 SoftBank had lost half its stock value by August 2022 from its May 2021 value.
When SoftBank announced it was going to sell its share in Uber, it lost 6% of its share value.
SoftBank's share value is double what it was 10 years ago.
In May 2022, shares of SoftBank increased by 12% when they said they might spend more on share buybacks.
Additional SoftBank Statistics and Facts 2023
Ranked as the 36th largest public company in 2017.
Employees who have children while at the company can receive a bonus, ranging from $400 for the first child and $40,000 for the fifth.
SoftBank invested in Uber, Slack, and WeWork, which have all gone on to achieve huge success.
SoftBank has 30 registered trademarks.
Dog walking brand, Wag gained an investment of $300 million but gave up on the brand.
SoftBank has a partnership with the University of Tokyo.
SoftBank Vision fund is $93 billion.
By 2018, SoftBank Vision has invested in 29 companies.
The company owns 83% of Sprint.
You might be interested to check those related posts as well:
FAQs
What percentage of Alibaba does SoftBank own?
SoftBank originally invested $20 million in Alibaba. This is approximately 25% of the company. The investment is now worth approximately $82 billion. Therefore, Alibaba is one of its biggest successes. When Alibaba registered a US arm of the business, SoftBank's shares increased by 6%.
What is the average investment for SoftBank capital?
When SoftBank invests in a company, it is usually for at least $221 million. The average valuation that SoftBank puts upon a company is more than one billion dollars. But some companies have lots more funding. In 2019, the company invested the most money into other enterprises. On average, the company invests in 8 companies a year.
How many customers does SoftBank have?
If you do not include all the customers which are with the investments that SoftBank has made and look at their wireless customers, SoftBank has 45.621 million subscribers. This is approximately one-third of the Japanese population.
Conclusion
SoftBank is one of the largest brands in the world, and its CEO and founder have plans for the brand. While 2021 was a bad year for the company, the rest of its history has been full of good investments and high profits.
With a 300-year plan, this is likely to continue.
Sources:
Wikipedia
Statista
SoftBank
Forbes
Reuters
Balancing Everything
Investopedia
Expanded Ramblings
Content Square
Similar Web
Protocol
iPhone Wired