Cold outreach and lead nurturing are crucial parts of sales and marketing funnels. They help in building connections, finding growth opportunities and onboarding new customers. But it's difficult to get hold of email addresses of leads without violating their privacy or wasting hours of your time.
One of the reasons marketing and lead gen teams breathe easy these days is because of one tool: Hunter.
Today we'll look into Hunter.io and explain how it can help you be productive at work.
How does Hunter work?
Hunter is THE tool to find email addresses. If you're building a lead database and doing cold outreach, you can search emails by company URLs, or if you're not sure an email address is valid, you can verify that as well—all within seconds.
Even though it saves marketers from daily hassle, enriching lead databases is not the only thing Hunter offers. It has a full-fledged cold email campaign tool, CRM integrations, and browser extensions. In a way, it's a swiss army knife for email marketers.
Seeing how seamless the idea behind Hunter is, you might be asking "how does Hunter work?"
Hunter bot crawls the web and finds publicly available email addresses. For example, if you're looking to reach someone at HubSpot, you can search the domain and find the addresses of employees.
The best part is Hunter includes the email sources which supports its argument that it gathers data only from public sources and even when it can't find an address, it will guesstimate one from the domain pattern. Just like most people, we were also interested to know how Hunter stands with GDPR. We have explained that in another section of this article.
How much does it cost?
Hunter has one of the most competitive pricing tiers in its segment. It offers 75 credits (25 email searches+50 email verifications), and 1 email campaign account with 500 recipients per month for free. For Georges Thébault-Dagher, Director of eComm & Paid Ads at Maddle, this is a USP. "At Maddle, we use Hunter.io for our link-building campaigns.
The fact that they offer a free basic plan is greatly appreciated by small growing businesses like ours".
But if you want to launch lead generation and cold outreach campaigns at scale, you'd want to hop onto one of its premium tiers.
The Starter plan is priced at $49/month for 1500 credits (500 email searches+1000 email verifications), 5 email accounts for campaigns, and 2500 recipients per campaign.
The Growth plan is priced at $99/month for 7500 credits (2500 email searches+5000 email verifications), 10 email accounts for campaigns, and 5000 recipients per campaign.
The Pro plan is priced at $199/month for 30,000 credits (10,000 email searches+20,000 email verifications), 10 email accounts for campaigns, and 7500 recipients per campaign.
The Business plan is priced at $399/month for 90,000 credits (30,000 email searches+60,000 email verifications), 40 email accounts for campaigns, and 10,000 recipients per campaign.
You can always contact the sales team for an enterprise plan if the highest tier is not enough.
Pros
There's a lot to like about Hunter, so we'll try to keep it short.
Seamless search
The best part about Hunter is that it makes time-consuming and error-prone processes seamless and fast. Finding email addresses from a domain requires a couple of clicks, and so does finding the email address of specific employees within a company (as long as they have it publicly available). Hunter takes seamlessness a notch higher by integrating with Google Sheets.
Transparent sources
Getting contact details of decision-makers is so straightforward that users often worry about the legitimacy of it. That's why the sources are game changers. For publicly available addresses, Hunter will tell you where it pulled the data from. This brings much-needed transparency to a process that otherwise feels like magic.
Confidence score
Hunter hits more than it misses. It's one of the most accurate email finder tools we've tested, and it also does a great job with a confidence score. The confidence score is Hunter's way of telling how likely you're able to land on the inbox.

According to Ruben Gamez, the CEO of SignWell, this is a competitive edge. "While no system can validate every single email address, the confidence rating gives me an easy probability that the email will work. For example, if Hunter's score is under 60%, I weigh whether or not the efforts are worth the potential for the email to bounce. On the other hand, a 90% or 95% Confidence Score gives me the green light to go – literally."
Full-fledged email ecosystem
Rarely will you find email marketers working with just one tool. Hunter, apart from offering the core features, also offers a campaign management tool, add-ons, and third-party integrations which makes the job of email marketers extremely easy.
Cons
So far we haven't come across any major red flags while using Hunter. Tools like these try to edge ahead of competitors in terms of data accuracy, and Hunter does a fair job at that. But since it doesn't pull data out of thin air, there's a bit of crowdsourcing going on at the backend. In case you come across a rare failure, you can reach out to the team, and they'll notify you if and when an address is available.
But if you're planning to use Hunter's Chrome extension to scrape addresses from LinkedIn profiles, you're out of luck. A few years back LinkedIn banned automated tools from logging the contact details of its users and Hunter obliged.
Key features
Now that you understand what Hunter as a cold outreach tool can do, let's look at the specific features that will help your use cases.
Email Finder
The poster boy of Hunter's cold outreach tools—email finder is a simple and easy-to-use search box that lets you find lead contacts in seconds. All you have to do is enter the person's name, and the company they work for, and Hunter will pull up the correct email address along with web sources(if available), a confidence score, verification status, and sometimes, tentative job profiles.
From there you can save them as a lead in your leads manager dashboard or pass them along to one of the integrated CRMs. It's minimal, it's fast and it gives you all the information you need. Here's an example of Hunter guessing an email address based on domain pattern:
Email Verifier
Marketing folks know that having an email address is only the first piece of the puzzle. Email service providers (ESPs) use domain reputation and deliverability metrics to determine sender relevancy and authenticity. If you have a history of high bounce rates, your cold emails will fail to reach the recipient's inbox.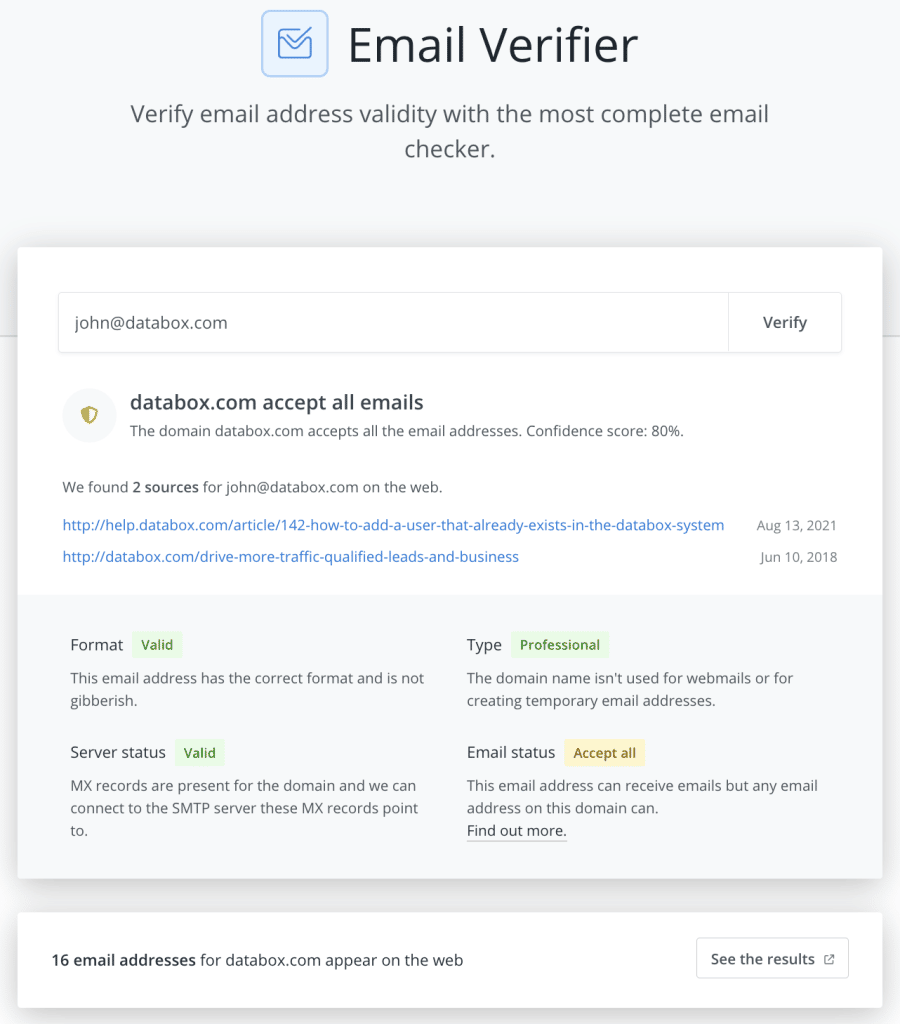 Hunter devised a solution with the email verifier tool. If you have a lead's address, you can enter it in Hunter's search box and verify the correct format, type, server status, and email acceptance status. This way, you can steer clear of spam filters and stay on the good side of ESPs.
Hunter Campaigns
If you're ready to scale your cold outreach campaign but don't have the budget for an email platform, you can use Campaigns, Hunter's version of cold email software. It's free and works great with Google Workspace.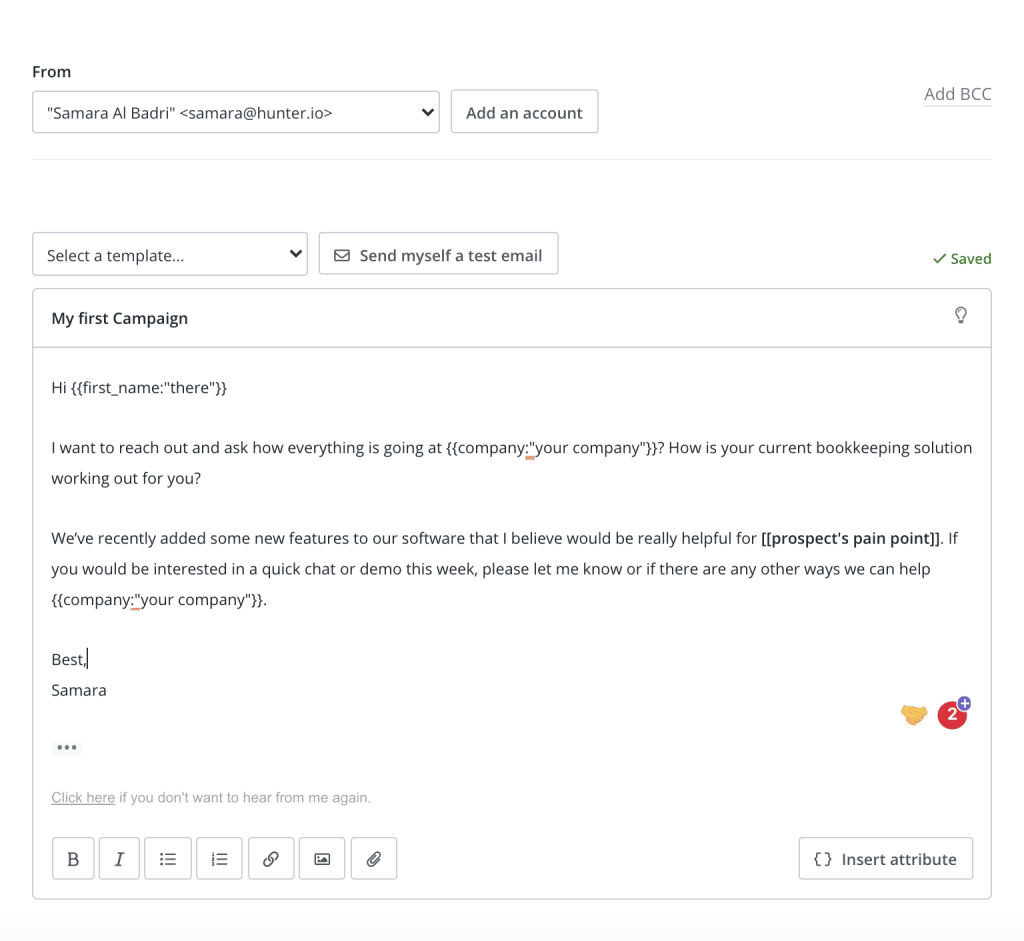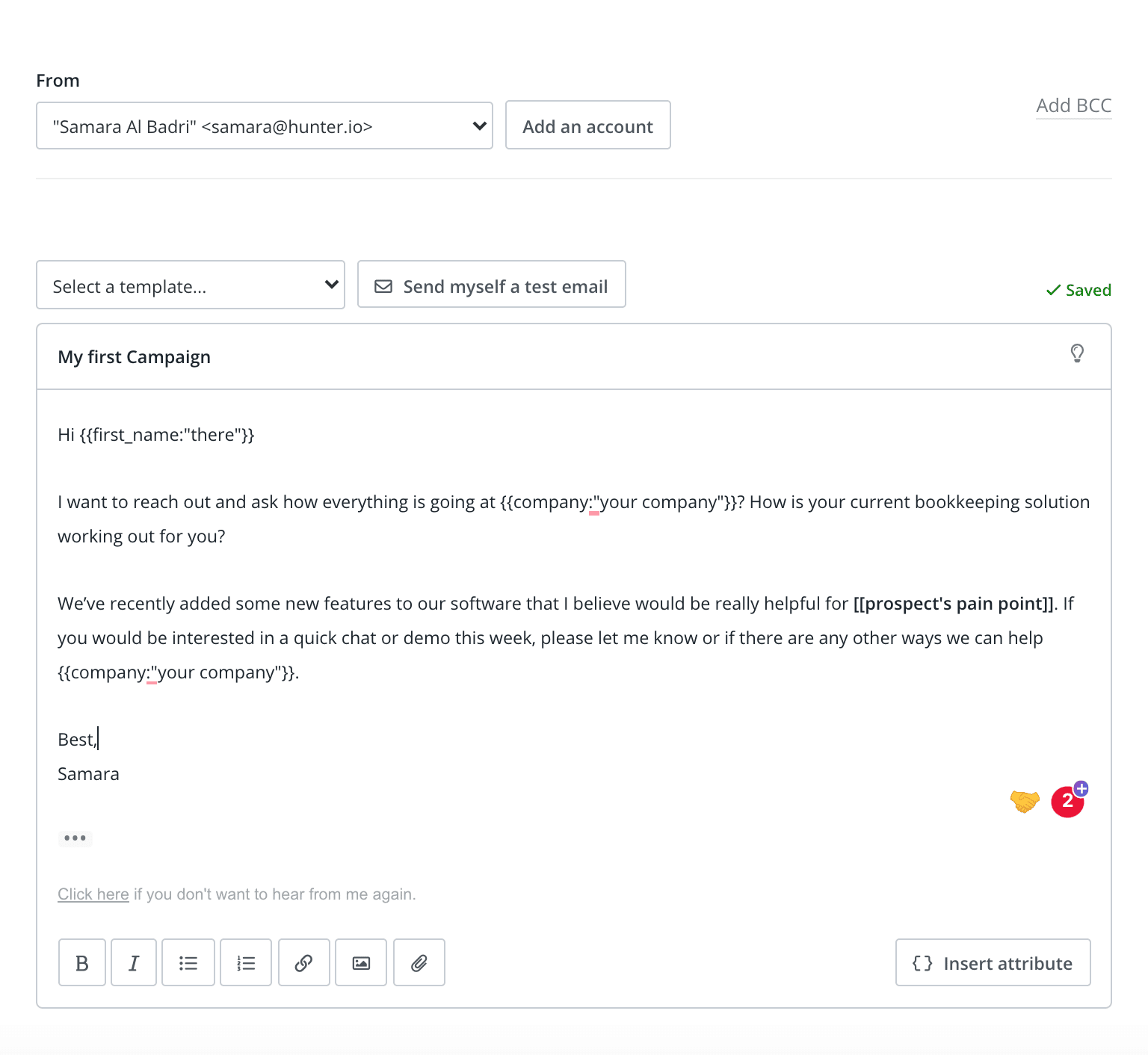 With Campaigns, you can track email opens, add custom attributes, schedule emails and follow-ups and use and save your own email templates. The paid plans come with increased functionalities such as more Gmail or Outlook accounts, click tracking and attachment support but it's impressive to see the free value Hunter provides to email marketers.
Bulk Tasks
Apart from our own testing, we also asked a few Hunter users to share their feedback and one phrase that surfaced repeatedly was "Hunter saves countless hours of user time". It's designed to automate time-consuming chores but the bulk tasks are where it shines the most.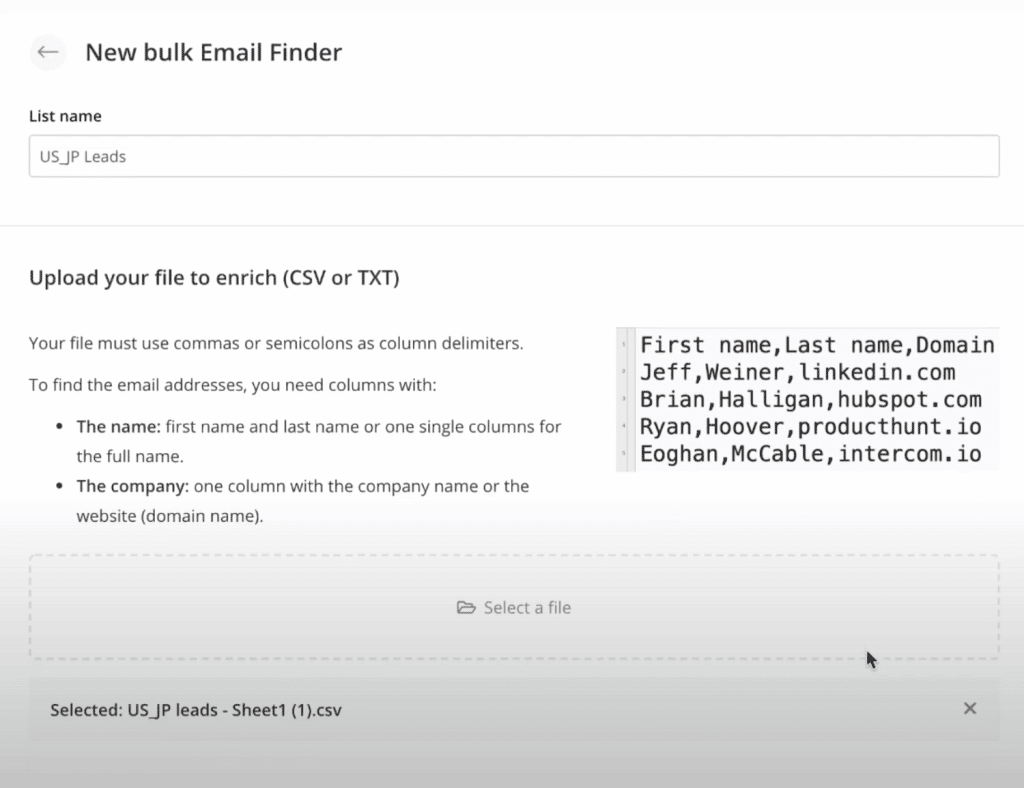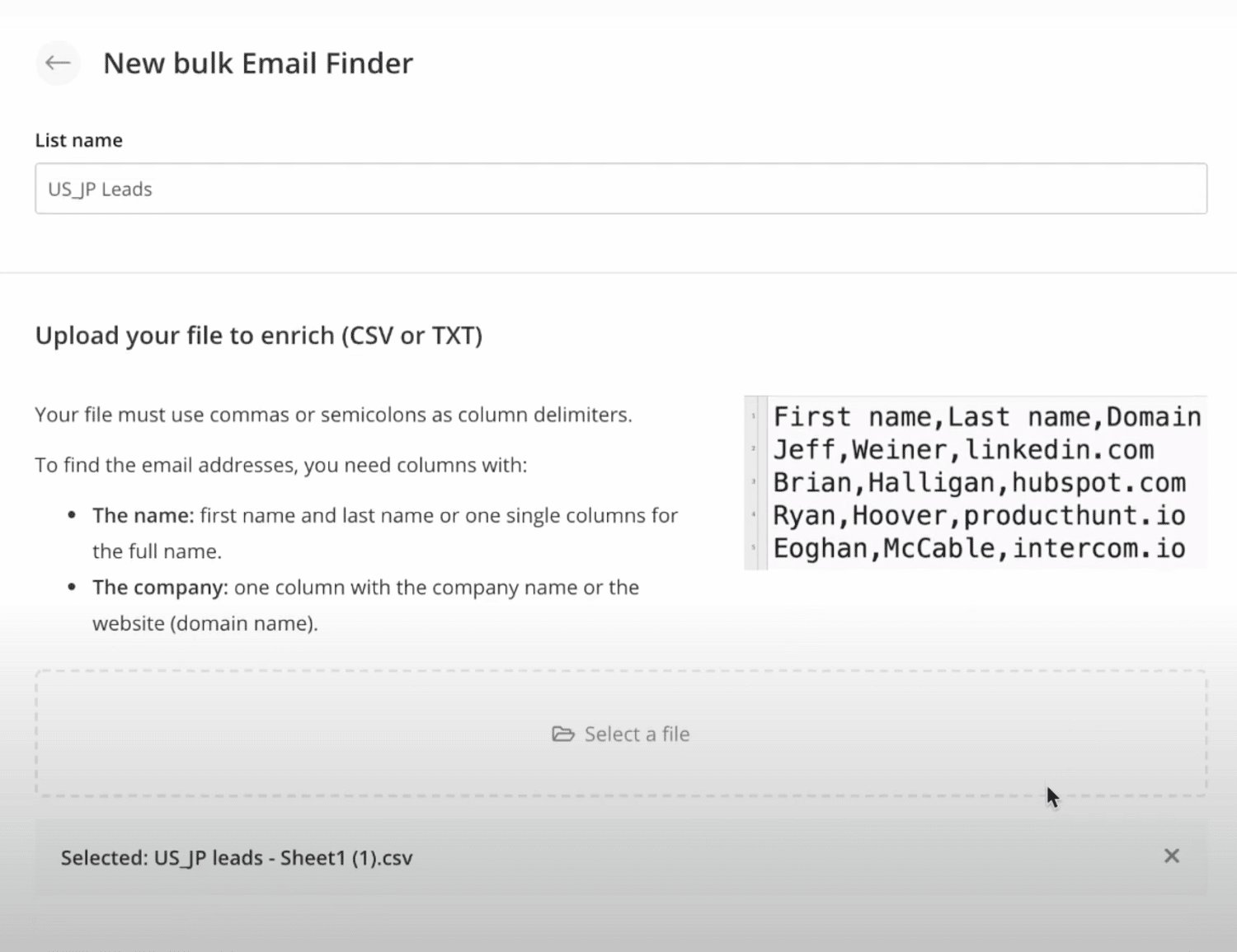 If you have a bulk of domains to find email addresses from or a string of email addresses that need to be verified, just add the .CSV file to get the results immediately. Hunter segments the data in separate columns and can filter the results and export .CSV files.
Leads
A great lead management dashboard is a staple of cold outreach tools so we took a closer look at it. As mentioned previously, Hunter's Domain Search and Email Finder pages include lead lists to save new leads. The same can be done with Chrome or Firefox extensions and by importing CSV/TXT files. Once the leads are added to the system, you can tell Hunter to verify them.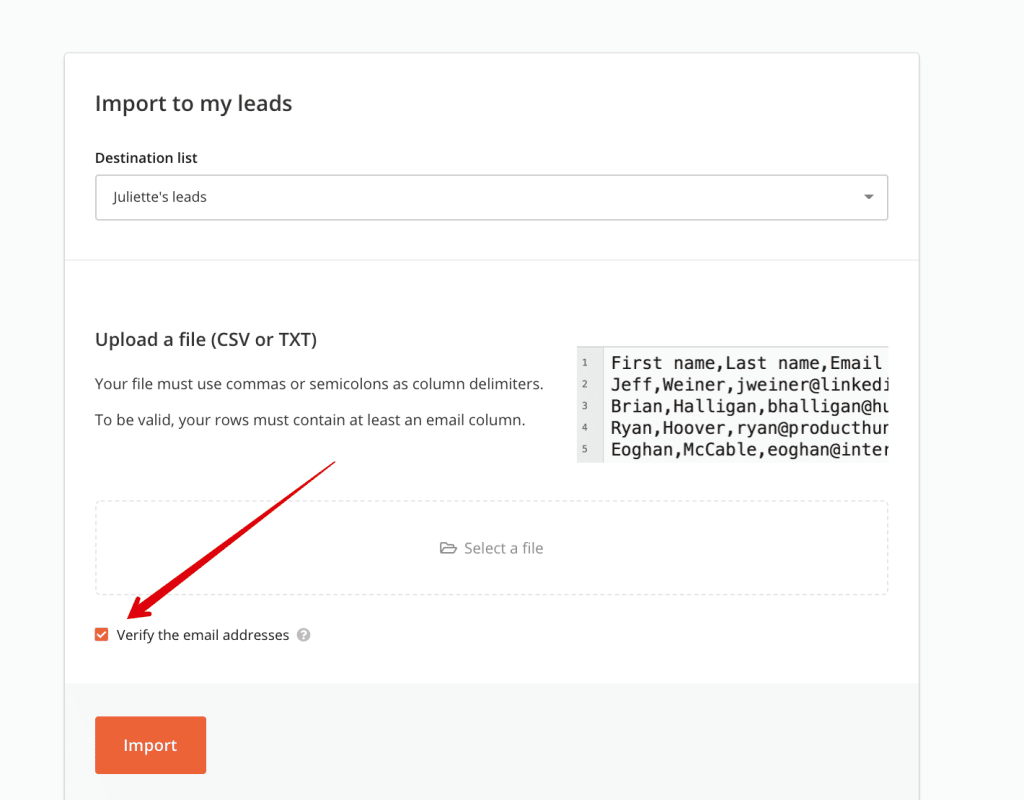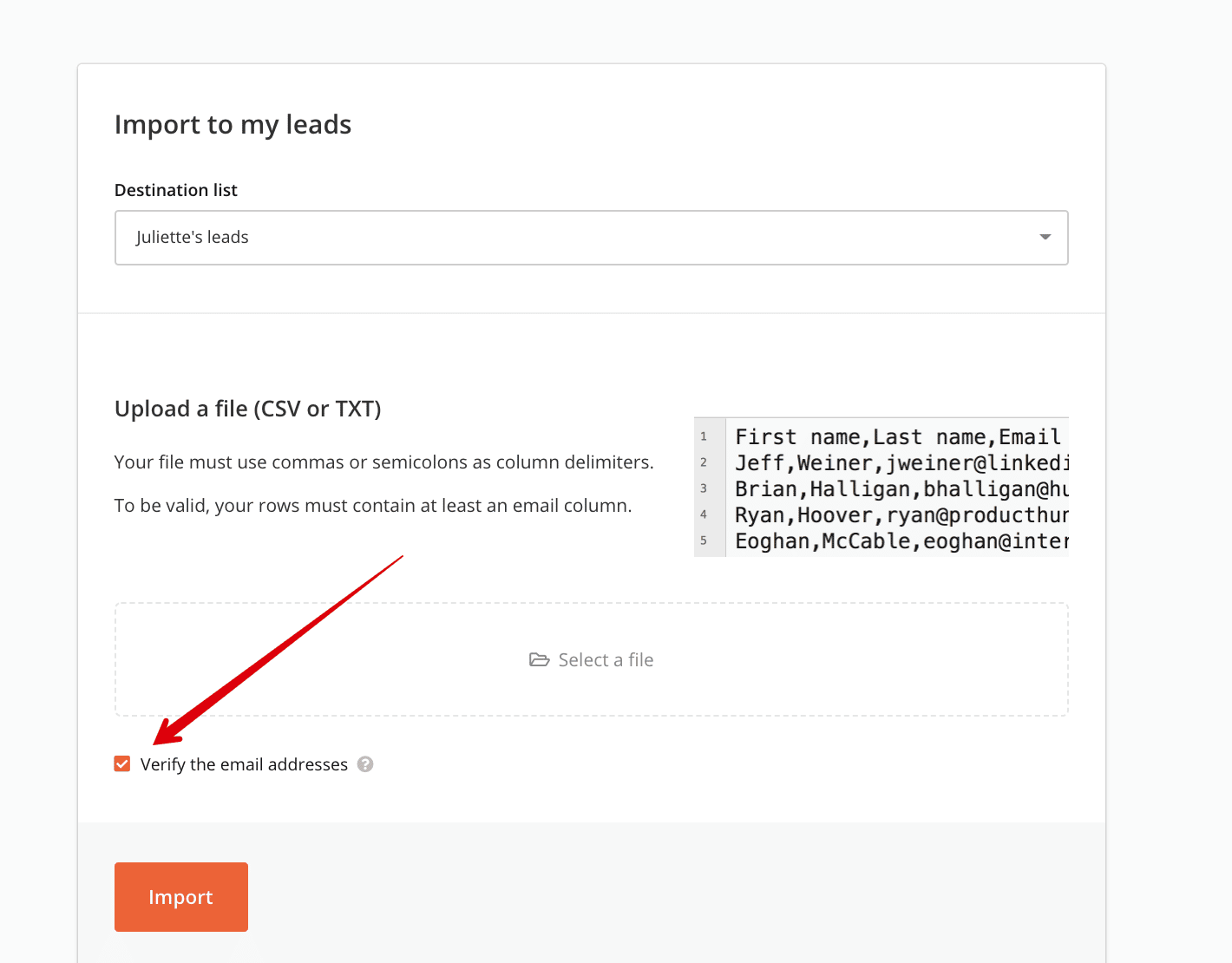 One of our personal favorites has been the lead filter feature. Hunter gives us several company and ESP status filters to narrow down the lead performance and make better decisions. You can also play around with different lead lists, import to a CRM, and set up Google Workspace accounts to start new campaigns. The fact that Hunter is as good at finding and validating IDs as managing leads makes the job of cold outreach specialists a lot easier.
Hunter for Chrome
Hunter's Chrome add-ons work as advertised. The email finder extension kicks in as soon as you visit websites and it starts pulling publicly available email addresses of the employees along with job profiles and web sources. You can directly save them as leads without opening Hunter. Email Finder is also available as a Firefox add-on.


But most lead generation tasks are done in Google Sheets and Hunter has paid due attention to that. We tried a few rows with the Google Sheets add-on and the contact enrichment worked flawlessly. You can find and verify addresses individually or in bulk without leaving Sheets.
We tried Hunter's MailTracker as well, and it was able to track email opens for free. It doesn't read email content, and our favorite thing about the extension is that it doesn't add an email signature.
Is Hunter reliable?
Tools such as Hunter cannot claim 100% accuracy since they're offering information often not clearly presented by companies. As such, there might be a couple of failures, but that's by design. During our extensive testing, we found that Hunter does a better job than the alternatives discussed below.
But reliability concerns accuracy as much as security.
Since speed and seamlessness is the game's name, many tools try to brush security under the rug. We pulled out the rug and looked underneath. Hunter doesn't use standard databases (hinted by the couple of seconds it takes to retrieve data) and it adheres to global security standards thanks to GDPR. It mainly works as a data processor instead of a data controller (you need to sign a Data Protection Addendum), follows the right of erasure, retrains logs, and runs a bug bounty program.
Available integrations
We've discussed Hunter's email ecosystem, but we were curious about how it plays with other software. Apart from Gmail and Outlook, Hunter can be integrated with Salesforce, HubSpot, Zoho, and Pipedrive, along with other tools such as Sparktoro, Woodpecker, Integry, and Automations.io.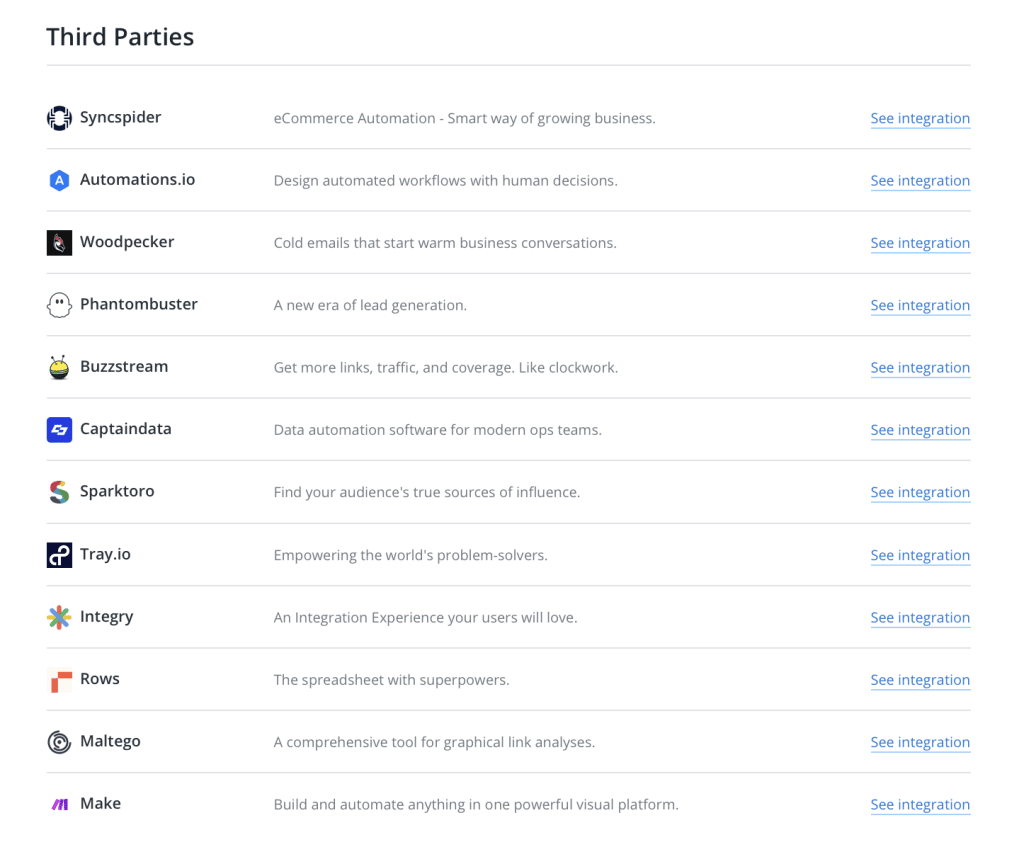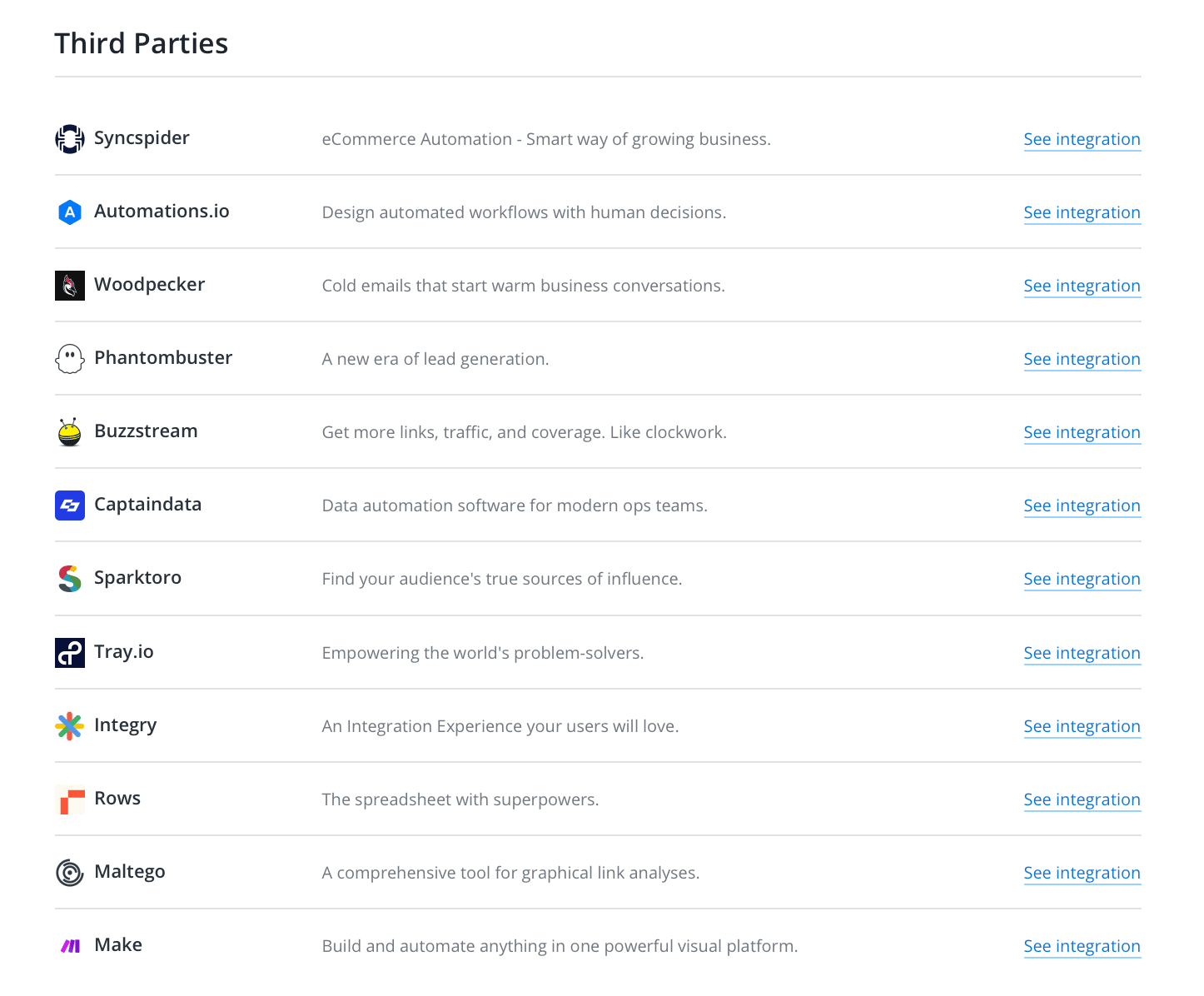 Since these integrations make a huge difference to everyday workflow, we asked agency owner Ryan Turner about his use case. "Having the integration directly in Buzzstream makes the process so much easier and means we can contact verified people about link opportunities directly within the Buzzstream dashboard. This is our favorite feature unique to Hunter.io and not available with other email verification tools."
We wanted to see if Hunter could be integrated with Zendesk and even though we didn't find it in the list, we found something better. Hunter integrates with Zapier, meaning you can connect the tool to thousands of apps. If you're looking for something custom, there's always the Hunter API.
Hunter alternatives
No SaaS review is complete without talking about the competitive landscape. This time, we also looked at Hunter alternatives to see how it holds up against the competition.
Hunter vs. Snov.io
Snov.io is not only a close competitor of Hunter, but it might look like a replicate at first glance. But you need a closer look to find the differences.
It offers an email finder, verifier tools, and a slate of cold outreach and marketing ecosystems. Just like Hunter, it offers integrations and REST API. Snov.io does all of this while being a tad cheaper than Hunter as well.
But we had fewer successes with Snov.io than with Hunter. The tools come with all the bells and whistles, but we came across some odd and very annoying problems that show it lacks the polish and execution of Hunter.
Hunter vs VoilaNorbert
VoilaNorbert is another niche but effective email finder tool that competes against Hunter. It's a bit cheaper than Hunter which is its core differentiating factor. You do get a one-time free credit of 50 leads when you first sign up but unlike Hunter, it doesn't have a free plan.
We put it to the test and found that although it's good at finding emails, its verification is shaky. Verified emails often bounced and we got quite a few errors. VoilaNorbert tries to keep it simple but misses out on a lot of features and extra tools which ultimately makes Hunter a better deal.
Hunter vs UpLead
UpLead is one of the biggest B2B cold outreach tools in the market so we thought it'd be interesting to see how Hunter holds up against it. UpLead lives up to its reputation by finding and verifying email addresses fast. But we faced some issues with the industry filters as they wouldn't return the desired results. Overall UpLead has a strong team and a thriving community going for them but it's also a lot costlier than Hunter.
Final words
Hunter is gradually becoming the go-to cold outreach tool for most SMBs, and for good reasons. It's cheaper than ZoomInfo SaleOS, Lusha, UpLead, or Apollo, and not only does it return reliable results but helps you get started with email marketing as well. After a deep analysis and a lot of market research, we can safely say Hunter.io is the best cold outreach solution in 2023.