Are you short on money and need to make some fast cash? Are you trying to supplement your existing income for some spending money? This article will help get you started.
How to Make $100 in a Day
Making this much money in one day almost seems fake without working a full-time job. However, there are plenty of legitimate ways to do this.
Setting the Goal: Making $100 in a Day
A decade or two ago, making this much in one day might not have been feasible without a lot of extra work. However, setting the goal of $100 in one day is completely reasonable at these times.
Importance of Earning Extra Money
It is very likely that something has zapped your extra cash flow. Or perhaps you are looking for a way to make more money with less work. Having that safety net will help you be better prepared for unexpected future events.
#1 Utilize Your Skills and Knowledge
Take note of what knowledge and skills you already have. That way, when you start looking for ways to put more money in your wallet, you have a starting point of what you know you can do well.
Leverage Networking at Work for a Raise or Promotion
Never overlook the possibility of a raise or a promotion at work. In the United States, it is illegal for your boss to tell you to be quiet about your wages. Ask around, gather some information, and make sure you are being paid what you are worth.
Consider Online Tutoring or Teaching to Earn Extra Income
There are many sites out there looking for tutors or teachers of specific subjects. If it's a subject you know well, you could spend your afternoons and evenings tutoring students for an extra buck.
Share your Expertise by Creating and Selling Online Courses
There are plenty of adult learners too who want to learn new topics and trades. You could create a course about a subject you are passionate about or on a skill you are knowledgeable about and sell it for extra side money.
#2 Take Part in Paid Surveys and Research
Plenty of places are dying for public opinion and by taking a few surveys a day, you can make decent money. Other surveys will give you a month's supply of one product or another, meaning you do not have to purchase it for yourself.
Join Reputable Survey Companies to Earn Cash
Places like Branded Surveys, Swagbugs, and Survey Junkie are all great places to look to earn that cash. Some of them offer sign up bonuses, even. You can generally claim your earnings through PayPal.
Participate in Focus Groups or Research Studies for Higher Payouts
These ones can take a bit more effort to find, but if you are willing to participate in a focus group or research study for science, they will often have higher payouts than the survey companies. Pinecone Research is a great place to start.
#3 Monetize Your Creativity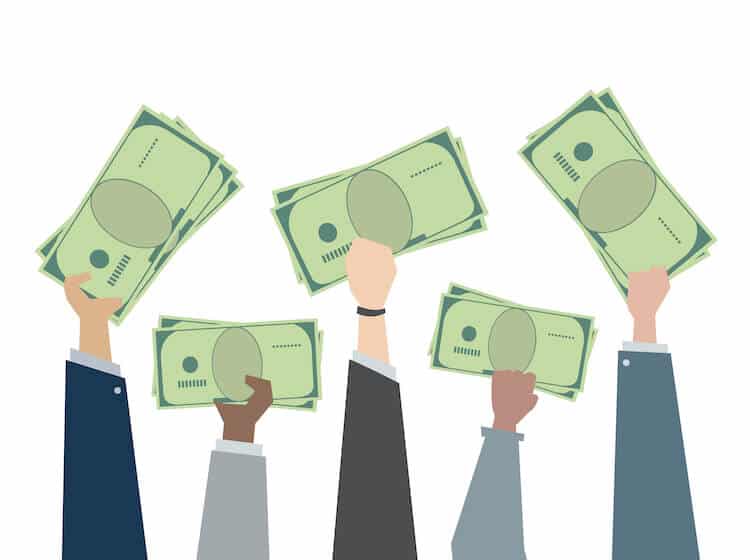 It's the side hustle! Are you good at any sort of crafting? Do you have talents that you can market for a paycheck?
Sell Crafts or Handmade Items on Platforms like Etsy
Etsy is perfect for selling crafted items made out of yarn or needlework. You can also sell patterns for the items, or design stickers to sell for a pretty penny.
Utilize your Talents for Freelance Gigs on Fiverr or Thumbtack
Fiverr and Thumbtack are great for if you want to find jobs related to writing blogs, editing resumes, reading books, and plenty else. You can get connected to clients looking for all sorts of gigs there.
#4 Online Opportunities
There are plenty of opportunities for money without even needing to leave your home. The internet is full of ways to make money.
Start a Blog and Monetize it Through Advertising or Affiliate Marketing
Do you know a lot about a niche topic? Have a lot to say about one subject or another? Consider starting a blog. Monetize it with ads or affiliate marketing and see the cash start flowing in.
Explore Opportunities to Earn Money Through YouTube
If you don't want to write about your topic and would rather talk about it instead, you could start a YouTube channel. This is also great for doing Let's Play videos, showing off science experiments, or crafting montages. Monetizing your YouTube channel is simple and many people make their entire living off of YouTube alone.
#5 Clear Out Unused Items
Another way to make some cash is to get rid of items in your home that you no longer use. Bonus, your house ends up cleaner!
Sell Items You No Longer Use on Platforms Like eBay or Facebook Marketplace
You don't need to host a weekend yard sale to get rid of those items either. Instead, you can list them on Facebook Marketplace or eBay to get rid of them with less hassle.
Consider Hosting a Garage Sale for Quick Cash
That said, never underestimate the power of a garage sale for getting rid of items that might be frustrating to ship on eBay or relocate via Facebook Marketplace.
#6 Cashback and Shopping Rewards
There are a lot of apps that give cash back just for doing your regular shopping online and in person.
Use Cashback Apps Like Fetch Rewards for Online Shopping
Apps like Fetch Rewards make it easy to shop the places you already shop and get cash back from them. You get points for every receipt you take a picture of. Then you can redeem the points for gift cards.
Utilize Swagbucks for Cashback on Searches and Online Purchases
In addition to surveys, Swagbucks will also get you cashback on your searches and online purchases. Plus, other browser extensions like Rakuten and MyPoints will do similarly. Shop the places you already shop and get that money back.
#7 Get Paid for Listening to Music or Watching Videos
There are even apps and websites that will pay you to listen to certain music or watch certain videos.
Participate in Platforms that Pay for Listening to Music
Slicethepie will pay you to listen to music and write a review on it, with the average payout per review being 0.10 cents. Current Rewards utilizes a point system where you earn points by listening to their curated radio stations and then you can convert your points to gift cards.
Explore Opportunities to Earn by Watching Videos Online
InboxDollars pays you to watch videos and complete surveys on them. Ad Wallet sends you personalized ads to watch and then you get paid once you've watched them.
#8 Offer Your Services
You can also do gigs that get you out of the house for a bit of extra money.
Run Errands or Offer Task Services Through TaskRabbit or Gigwalk
TaskRabbit connects "taskers" with people who need help with home repairs, furniture assembly, cleaning, and more. Gigwalk pays you to walk around and shop, usually in places you were already planning on going.
Provide Caregiving Services Through Platforms like Care.com
Care.com connects families with caregivers who can help babysit children, tutor students, or care for elderly parents. There are also petcare options through Care.com.

FAQs
How To Make $100 In 30 Minutes?
Some of the fastest ways to make $100 involve completing surveys, being a virtual assistant, becoming a mystery shopper, and selling stickers on Etsy. You can also look at becoming an Uber Driver or picking up Freelance Gigs.
How To Make $1,000 Dollars A Day?
Through a combination of surveys, cash back rewards, gigs, and selling items and services, you can easily make $100 in a day.
How To Make $100 Dollars A Day As A Kid?
Kids can look into petsitting or babysitting as ways to make $100. Some survey sites will even let kids have accounts there so long as they are managed by a parent.
Conclusion
Now you know of many ways to make some extra cash and get an extra Benjamin or two into your pocket. Good luck on your ventures!