A good customer relationship management (CRM) system is essential to a myriad of business operations. The main goals of CRM systems are to help manage customer relationships and, naturally, to increase sales and profit. Therefore, a CRM system can be extremely helpful to your business.
But most importantly, it can help to keep valuable information about your customers. The data provided by your CRM can help you retain current customers and entice prospective ones to come back to shop with you.
To help you better understand CRM, we have prepared a list of the 113 latest CRM stats, trends, and facts.
Key CRM Stats 2023
The value of the global CRM market in 2020 was estimated at around $52.64 billion.
It is estimated that the global CRM market's value will grow by over 245% by 2028.
On average, the global CRM market grows at a rate of 12% per year.
In 2019, the overall CRM technology usage grew by around 18% from the previous year, which is higher than the average growth.
The global mobile CRM market grew to $15 billion in 2020.
92% of businesses claim that CRM plays an important role in achieving their income goals.
47% of CRM users state that CRM technology has an immense impact on their customer satisfaction rate.
By 2028, the global CRM market size is expected to grow to around $128.97 billion.
92% of customers say they would leave a company altogether after two or three negative interactions.
85% of marketers play a huge role in decision-making last 2022.
CRM Adoption Statistics
When a company implements CRM, it's used by sales teams (80%), marketing (46%), and by customer service departments (45%).
91% of companies with ten or more employees use a CRM to handle conversations with customers.
Sales teams using CRM confirmed that job satisfaction increased by 17%.
64% of companies believe CRM technology to be very impactful.
Top-requested CRM features are contact management (94%), track integrations (88%), and scheduling/reminders (85%).
82% of companies use CRM for reporting sales.
CRM adoption enhances the quality of communication among sales reps and executives by 56.9%.
65% of companies invest in a CRM system within the first five years of business.
The use of AI by digital marketers has increased by 190% over the last two years.
92% of sales representatives state quality customer reference data is crucial for CRM adoption.
70% of organizations plan to invest in email marketing by the end of 2021.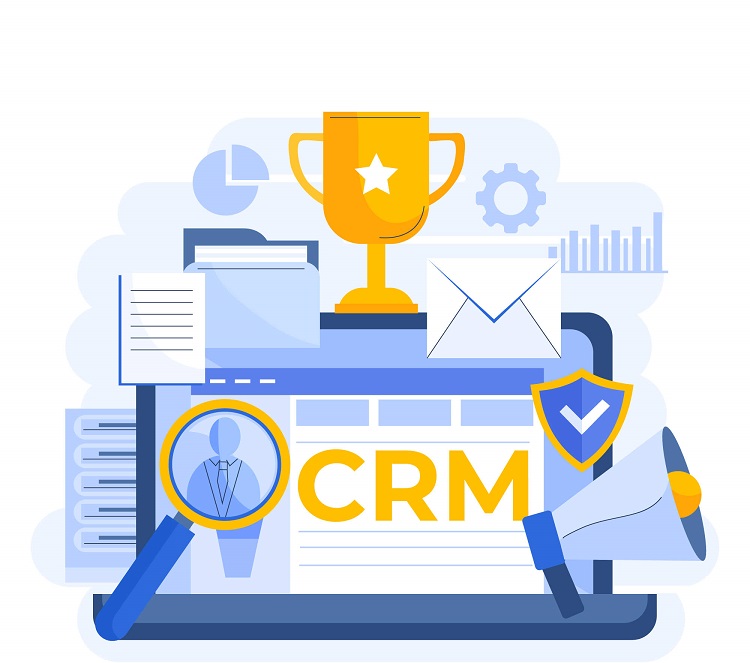 CRM Benefits & Features Statistics
CRM Benefits Statistics
72% of businesses say that the use of CRM offers them access to better customer data.
Conversion rates may increase up to 300% using a CRM.
CRM systems enhance customer retention rates, leading to a profit gain ranging from 25% to 85%.
CRM systems have the potential to increase revenue by 29%.
74% of CRM users stated that their CRM provided them with essential customer data.
Access to improved data can reduce the sales cycle by 8-14%.
47% of companies stated that CRM had a massive influence on the satisfaction of their customers.
Companies can slash lead costs by 23% by using CRM.
The CRM system can boost the reports' accuracy by 42%.
CRM has an impact on work performance – the productivity of employees is increased by 15%.
CRM Features Statistics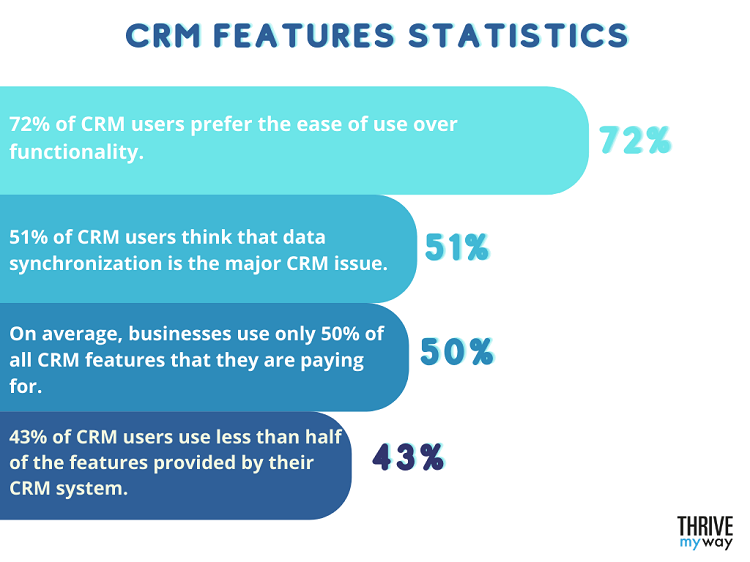 72% of CRM users prefer the ease of use over functionality.
51% of CRM users think that data synchronization is the major CRM issue.
On average, businesses use only 50% of all CRM features that they are paying for.
43% of CRM users use less than half of the features provided by their CRM system.
ROI Benefits Experienced by Businesses Using CRM Systems
A well-implemented CRM system can have a return on investment of $45 per $1 spent.
The average ROI for CRM is $8.71 for every $1 spent.
The average ROI after adopting CRM software takes 13 months.
13% of businesses claim that investing in a CRM system is one of their primary sales goals.
Email marketing brings 360% ROI.
Income from CRM can rise by up to 41% per salesperson.
CRM Technology and Customer Experience Statistics
73% of customers state they are prone to switch brands if consistent service cannot be provided.
68% of customers think that a critical factor for customer service employees is to know about their service history.
52% of companies think that CRM can help them create more effective teamwork between their departments.
52% of loyal customers will go above and beyond to buy from their favorite brands, even if that means spending more money.
88% of service teams found gaps in their technology solutions during the pandemic
Following the pandemic, 81% of companies advance their digital initiatives.
By the end of 2021, 87% of digital solutions are supposed to be set up in the cloud.
47% of users stated that customer satisfaction and retention drastically improved when using a CRM system.
CRM users experience a sales revenue increase of up to 45%.
Using a CRM system can help increase cross-selling and upselling revenue by 39%.
Customers are inclined to pay a premium price ranging from 13% to 18% for luxury services.
49% of customers were impulse-buying after receiving a greater customized experience.
72% of satisfied customers will gladly share experiences with six or more people.
13% of unhappy customers will share their negative experiences with 15 people or sometimes even more.
80% of people value customer service as much or more than the company's products or services.
In 2021, 60% of interactions between a company and a customer were online, with 40% being in-person.
84% of customers state that a business gains their trust and loyalty if it sees them as a real person instead of just a number.
84% of consumers are more loyal to companies that have strong data security controls.
91% of customers who are Millenials and Gen-Z generation members are prone to trust organizations with their personal information if they know how it leads to a better user experience.
Social CRM Statistics
68% of customers are likely to participate in online chat rooms or forums.
78% of salespeople who interact in social selling outperform their peers.
92% of businesses tweet at least once a day.
21% of customers follow their favorite brands on various social media platforms.
Social CRM can enhance customer retention by as much as 27%.
The growth in Twitter interaction has reached 250% in the last two years.
Because of the COVID-19 pandemic, digital sales increased by 18%, and 14% of buyers now trust social media for their purchases.
The gain in productivity related to social CRM functions is 8%.
64% of Twitter users count on a reaction from organizations within an hour.
Social marketing use among businesses increased from 63% in 2018 to 83% in 2020.
Depending on the context, 76% of customers require to have interaction on different channels.
CRM Challenges Statistics
Only 28% of organizations are satisfied with their tools to create a shared, centralized view of customers across business units within organizations.
Uses of artificial intelligence (AI) in CRM are predicted to grow more than 250% in the following few years.
32% of sales reps spend more than 1 hour each day on manual data entry, due to the lack of CRM adoption.
On average, 63% of companies struggle with a CRM system-related problem.
On average, 69% of CRM implementation fails to meet its goals because of a lack of planning for the whole implementation process.
Sales and advertising departments lose about 550 hours in a year due to insufficient data.
22% of salespeople still do not understand what CRM is.
Less than half of sellers use their CRM daily.
To this day, 40% of salespeople use informal techniques like Excel spreadsheets and email applications to save purchaser data.
72% of sellers must have multiple displays or windows open at once to coordinate a sales process.
The leading CRM risk factors are lack of cross-functional coordination (50%), no CRM business strategy (48%), and lack of process change (45%).
85% of sellers admit having made likely embarrassing mistakes due to incorrect CRM data.
Mobile CRM Statistics
Adopting mobile CRM solutions contributes to an increase in sales productivity by 14.6%.
Companies with mobile CRM are more efficient, achieving 65% of sales quotas, whereas companies without mobile CRM meet only 22% of sales quotas.
81% of companies operate their CRM with the use of multiple devices.
61% of organizations think that mobile CRM is now a mainstream method for connecting with their customer base.
In Europe, only 34% of companies use mobile CRM.
On Cyber Monday in 2020, 54% of buyers used their mobile devices to browse and buy products.
Half of the sales teams reported that their productivity was strengthened thanks to the use of mobile CRM.
A poorly designed website on a mobile device can cause 57% of customers not to recommend this business to their peers.
If a website is not mobile-friendly, 50% of customers will stop visiting it, even if they like the business.
52% of all the traffic on the internet now occurs on mobile devices.
CRM Sales Statistics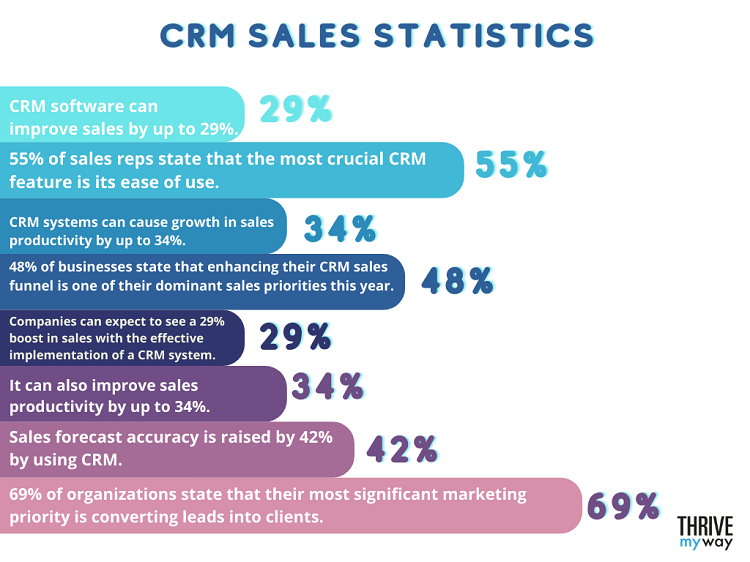 CRM software can improve sales by up to 29%.
55% of sales reps state that the most crucial CRM feature is its ease of use.
CRM systems can cause growth in sales productivity by up to 34%.
48% of businesses state that enhancing their CRM sales funnel is one of their dominant sales priorities this year.
Companies can expect to see a 29% boost in sales with the effective implementation of a CRM system.
It can also improve sales productivity by up to 34%.
Sales forecast accuracy is raised by 42% by using CRM.
69% of organizations state that their most significant marketing priority is converting leads into clients.
Small Business CRM Statistics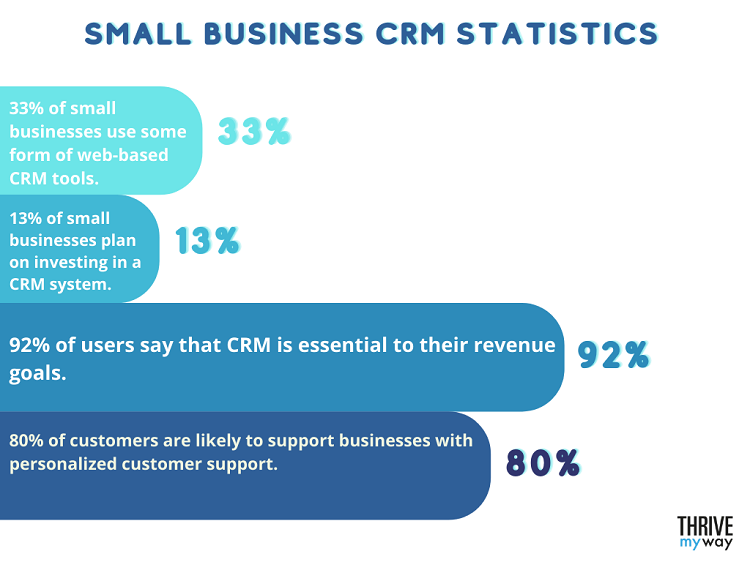 33% of small businesses use some form of web-based CRM tools.
13% of small businesses plan on investing in a CRM system.
92% of users say that CRM is essential to their revenue goals.
80% of customers are likely to support businesses with personalized customer support.
Small businesses were most likely to say they were very satisfied (37%) or somewhat satisfied (33%) with their CRM System. The results were similar for big companies.
CRM Systems Statistics
Salesforce Statistics
In 2020, Salesforce was the leading CRM with 19.5% of the CRM market share.
Salesforce's current market value is estimated at $177.28 billion.
Salesforce is two times bigger than its main competitor, SAP.
Salesforce has a loyal customer base of 150,000 people.
SAP Statistics
In 2019, SAP's revenue was calculated at $27.98 billion.
As of 2021, SAP holds 4.8% of the total CRM market share.
In 2018, SAP was the second most-used CRM system worldwide.
Currently, SAP has over 425,000 customers in 180 countries around the world.
Companies need CRM more than ever to be profitable and successful. It is anticipated that through 2023 CRM technology will be the greatest expenditure in enterprise software. Using spreadsheets and manually entering data is starting to become obsolete. If you are still utilizing these methods, now is the right time for you to start directing your focus toward CRM. This will help you automate tasks that can significantly increase the performance of your employees.
You might be interested to check those related posts as well:
FAQs
Which CRM has the most users?
Currently, Salesforce is the most prominent CRM system globally, holding 19.5% of the total CRM market share. After Salesforce, the next biggest CRM systems are SAP and Oracle, holding around 4.8% of each of the total CRM market share.
How big is the CRM industry?
In 2021, the global CRM market revenue was estimated to reach $64.5 billion. Given that the CRM market is growing at an annual growth rate of around 12.5%, it is expected to reach approximately $116.1 billion in revenue by 2026.
How much time does CRM save?
It is estimated that the entire process of CRM implementation can last between one week and one year, depending on the size of the business. Therefore, the implementation process may seem to be excessively time-consuming. However, in the end, it will prove to be a massive time-saver in the future of the business.