Wix is a free online tool that helps users with all levels of technical skills create websites and launch them online.
Below, you will find top Wix stats to take a deep dive and learn more about the website builder.
Key Wix Trends, Facts, and Stats 2023
The Wix company was founded in 2006. However, their website building software was launched in 2008.
In 2009, the company acquired 1 million ​​​​new users. In ten years since the customer base has surpassed the 150 million users milestone.
In 2021, the company surpassed the 200 million users milestone.
Users can create a Wix account for free. However, they cannot remove Wix ads, connect visitor analytics, and attach a domain name without purchasing a plan.
The company has built its own site using the Wix website builder.
More than 5,000 people work for the Wix company all around the world.
84% of sites on the Wix platform have more than one page.
16% of users utilize the Wix platform to create landing-page sites.
Wix spends more than $100 million per year on marketing.
Wix Customer Demographics Stats 2023
Users from 190 countries can access the Wix editor and create websites.
New York is the #1 location where Wix sites are created from scratch.
Orlando has the fastest rate of growth of new Wix websites published online.
The Wix website builder supports 17 languages.
Wix Traffic and Usage Stats 2023
There are more than 350 million active domain names that have a Wix website.
The Wix website creation app powers more than 600,000 online stores.
Analytics says that there are 7 million active sites launched on the internet that are run on Wix.
5.5 million Wix users have a premium plan. Unlike WordPress, it's required to be a paid subscriber to get full access to all features of your website. However, only particular categories of subscribers get unlimited bandwidth.
Wix powers 1.9% of all the websites that a search engine can find.
2.9% of all sites created with the help of content management systems have the Wix dashboard.
12% of Wix users publish at least one blog post online. In contrast, 54% of WordPress site owners publish blog posts online.
49% of Wix site owners add a live chat widget to their websites.
There are only 70 active sites on the internet created with the help of Wix Adi, an AI-powered website builder.
The Business Name Generator is the best backlink-providing site.
51.8 million unique website visitors reach the Wix website monthly.
6.3 pages are visited during one session, on average.
According to Wix stats, the bounce rate on the company's site is 39.9%.
25% of visits come from organic traffic. A third of the keywords are "Wix."
Wix and Social Media Stats 2023
46% of online stores launched using the Wix app use Instagram to promote their businesses on social media.
Facebook is used by half of the online stores that are run on Wix.
Only one of ten stores use Twitter to boost social media presence.
Roughly 6% of sites that have the Wix store functionality use YouTube.
Less than 2% of websites launched with the help of Wix are presented on TikTok.
Wix Revenue Stats 2023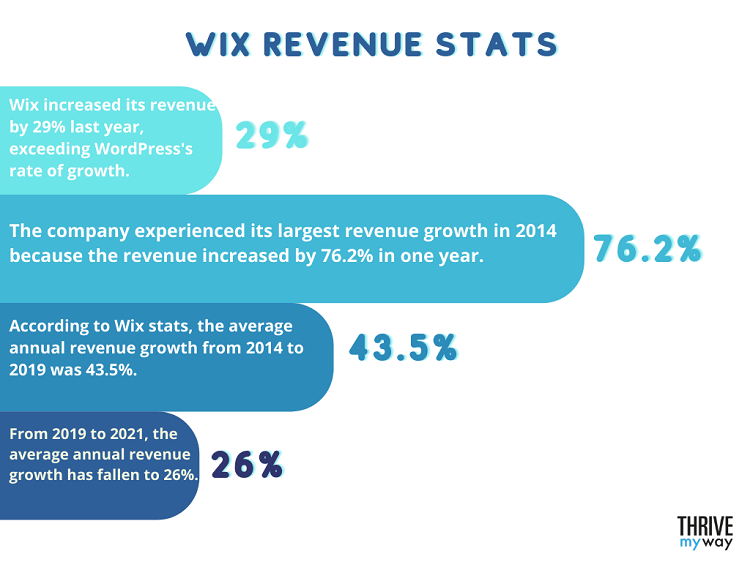 Wix increased its revenue by 29% last year, exceeding WordPress's rate of growth.
According to financial analytics and reports, the company has already gotten $1.15 billion in revenue in 2021.
The company experienced its largest revenue growth in 2014 because the revenue increased by 76.2% in one year.
According to Wix stats, the average annual revenue growth from 2014 to 2019 was 43.5%.
From 2019 to 2021, the average annual revenue growth has fallen to 26%.
Wix Market Share Stats 2023
Wix is the second largest website builder technology in Australia, with a 26% market share.
The Wix app takes up 5% of the eCommerce software market in the US.
Wix is the leading website creation tool in Indonesia, holding a 24.8% market share.
Wix is the #1 site-making technology for end-users in Singapore. It holds a third of the market in the country.
9.6% of all eCommerce websites in Norway are launched on Wix.
Every user can change a site's appearance with a click by applying a new template. According to Wix stats, there are more than 800 templates available.
The Wix pricing is tailored to the users' needs.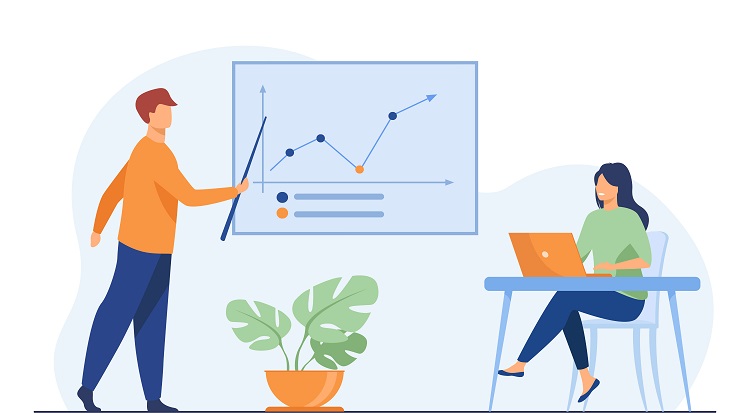 Wix Growth Stats 2023
Wix's market share has increased from 0.6% to 2.3% in the last four years. Squarespace is Wix's only direct competitor that shares such a rapid rate of growth.
The price of Wix has increased by 840% from 2013 to 2021.
Wix stats say that the company increased its market value three times within three months in Spring 2020.
The market value of the Wix company has fallen by 45% within the last three months.
According to business analytics, the company experienced a 120% revenue growth in 2020.
2021 is the first year the company experienced a 34.6% fall in its market value.
You might be interested to check those related posts as well:
FAQ
What is the number of mobile sites using Wix?
Wix offers the opportunity to create mobile sites, which is in demand because most traffic comes from smartphones. Recent stats say that there are more than 30 million Wix mobile sites on the Internet. They are well-optimized to load and arrange the content properly on devices of different screen sizes.
What is the rate of new daily users sign-up in Wix?
According to Wix stats, more than 45,000 people sign up for Wix daily. Most new users start with the free plan to examine all the builder's features and create a test website. All free sites are launched under a Wix subdomain. Regardless of whether they use the free version or a paid plan, all users can reach the knowledge base and support agents.
What is the number of Wix apps installed daily?
More than 44,000 Wix applications get installed from the app market every year. In addition, all users can download third-party applications from the Wix app market to enhance the functionality of their sites. For instance, a Wix app can help add a plugin to get metrics, add the Wix booking functionality, or set up Wix events on a site.
Conclusion
According to Wix stats, the company had a great start at its launch. The pandemic forced many people to create sites online, which helped the website builder grow. Even though this year isn't as successful as others for Wix, the company keeps developing its website builder at a fast pace.