Snapchat is a way of sharing videos and photos, and while it took a while to get off the ground, it now holds its own against the likes of WhatsApp, Instagram, and Facebook.
The following statistics show just how much it continues to grow its market share and increase in popularity.
General Snapchat Stats and Facts (Snap Inc) 2023
Every minute, Snapchat users create 210 million snaps.
Snapchat recently announced it had increased the total number of quarterly snaps to 3.5 billion.
The longest Snapstreak is 1,756.
The number of Snapchat downloads in Q1 2019 was 53.5 million.
Snapchat founders failed 34 times before the app was successful.
It would take you 10 years to view all the photos shared in one hour on Snapchat.
Google tried to buy Snap Inc in 2016 for $30 billion.
3,863 people work for Snapchat full-time.
When it comes to Snap Inc salaries, the average is $110,642.
Since its first launch in 2011, Snapchat has launched 101 product features, including Spectacles, Stories, Bitmoji TV, voice filters, and Spotlight.
Top-performing Spotlight Snaps are paid more than $1 million daily.
Worldwide, Snapchat is the 12th most popular social media platform.
In the US, Snapchat received a 70 rating for customer satisfaction.
As of Q1, 2021, more than 1 million lenses have been created.
Four billion photos were sent via Snapchat on average every day in 2020.
Snap Inc benefits include paid maternity, paternity, and family caregiver leave, comprehensive medical coverage, gym perks and discounts, meditation and yoga classes, and a 401(k) plan.
Snapchat Statistics: User and Snapchat Demographics 2023
Snapchat users in the 65+ age group are estimated to reach 4% by 2023.
95% of users claim that using Snapchat makes them happy.
The number of Americans of all ages who use Snapchat is 107.95 million.
In India, there are 144.35 million Snapchat users.
France is number three on the list of countries, but there are just 24.7 million users.
48% of 15-25-year-olds use Snapchat.
35.30% of 26-35 years olds use Snapchat.
The most dominant Snapchat demographic is males in their 20s.
Just over half of millennials check their Snapchat at least once daily.
In the household income bracket of $100k-$250k, 20 million use Snapchat.
Snapchat downloads doubled when new filters were released in 2019.
Around 180 million Snapchat users have engaged with AR (Augmented Reality) via the platform.
Snapchat Statistics: Usage 2023
In the first quarter of 2022, Snapchat had 332 million active users every day.
Snapchat is considered one of the top 10 most popular apps.
Snapchat has 557 million active users monthly.
The number of Snapchat users has increased from 46 million in 2014 to 332 million in the first quarter of 2022.
32% of Snapchat respondents use it when they're on the move.
29% use Snapchat for messaging while commuting.
Snapchat is ranked number two in terms of overall mobile users globally.

Snapchat Statistics: Revenue 2023
Financial year-over-growth reached $982 million in Q2 of 2021.
Snapchat's annual revenue in North America reached $1.775 billion in 2020.
Snapchat's European annual revenue has grown 3.91 times since 2017.
Snapchat's (ARPU) Annual Revenue Per User in 2020 was $10.09, an increase of 116.99% from three years earlier.
Snapchat (Snap Inc) Advertising Statistics 2023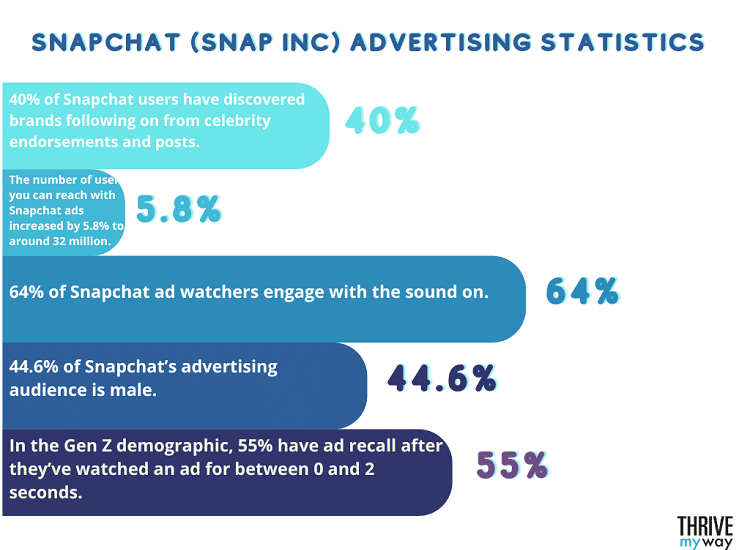 Advertising revenue is expected to increase to $5.87 billion in the next four years.
Advertising revenue for 2022 is expected to be $3.63 billion.
40% of Snapchat users have discovered brands following celebrity endorsements and posts.
Some brands pay $750,000 to advertise on Snapchat.
The number of users you can reach with Snapchat ads increased by 5.8% to around 32 million by the end of April 2022.
64% of Snapchat ad watchers engage with the sound.
44.6% of Snapchat's advertising audience is male.
In the Gen Z demographic, 55% have ad recall after they've watched an ad for between 0 and 2 seconds.
Snapchat ads can be run for just $5 per day.
Snapchat Statistics for Business
Users of Snapchat have more than $4.4 trillion in "spending power."
$1.9 of the Snapchat user's "spending power" is in North America.
Millennials and Gen Z Snapchat users have more than $1 trillion in "Spending power."
Snapchat users return to the platform more than 30 times every day.
39% of Snapchat users ask friends and family before making Snapchat purchases.
35% of Snapchat users send snaps to other people while they browse the platform.
Snapchatters are twice as likely to share their purchases on the platform.
Snapchat Stats for Stock Price
The 52-week high for Snapchat stock was 83.33.
The low in the last 52 weeks of Snapchat stock was 9.34
Price forecasts for Snapchat have a median target of 46.63.
Snapchat stock price changes between July 2022 and August 2022 was a decrease of 25.17%.
Snap is the most expensive stock to buy among its peer group of social media companies.
Snap trades at a price-to-sales ratio of 5.4.
You might be interested to check those related posts as well:
FAQs
What percentage of people use Snapchat?
According to the latest figures, 7.4% of people around the world use Snapchat.
What are the average minutes spent on Snapchat each day?
The average time Snapchat users spend on the platform every day is around 30 minutes.
What percentage of Snapchat users are female?
More than 54% of Snapchat users are female persuasion.
What is snapchat's largest age demographic?
Snapchat's largest age demographic is 18-24 year olds.
Conclusion
Snapchat has enjoyed great success since it was first launched, as you can now appreciate after reading the statistics. Not only is it a great way to share stories, but it also has its advantages as a powerful marketing tool for business.
While it's a great platform for connecting with family and close friends, it's also very effective when it comes to building strong relationships with your audience.
When compiling these statistics, we used the following for reference:
Omnicore
Business of Apps
The Social Shepherd
Hootsuite
Statista
Backlinko
DataReportal
Wallaroo
Truelist
The Motley Fool