It's no secret that getting food delivered to your door is convenient. With a variety of restaurant options at the tip of your finger, you can eat your favorite lunch without leaving your home or the office.
While DoorDash is a win for customers, is Doordash worth it for the drivers that deliver?
If you're thinking about driving for DoorDash, you're in the right place. In this article, we'll cover everything you need to know about being a Dasher, including how to maximize your earnings.
Is DoorDash worth it for drivers this 2023?
If you were to ask DoorDash drivers if it's worth Dashing, some would tell you it's a great way to make extra money while others would say the reward for the hours spent driving is sub-par.
In bustling cities, there are plenty of drivers that can actually make a comfortable living driving for DoorDash, but that's not to say your area will offer anything more than supplemental income.
Overall, DoorDash is worth it if you want a side hustle for more spending money, but most people would agree that it isn't a lucrative full-time career.
DoorDash Driver Pay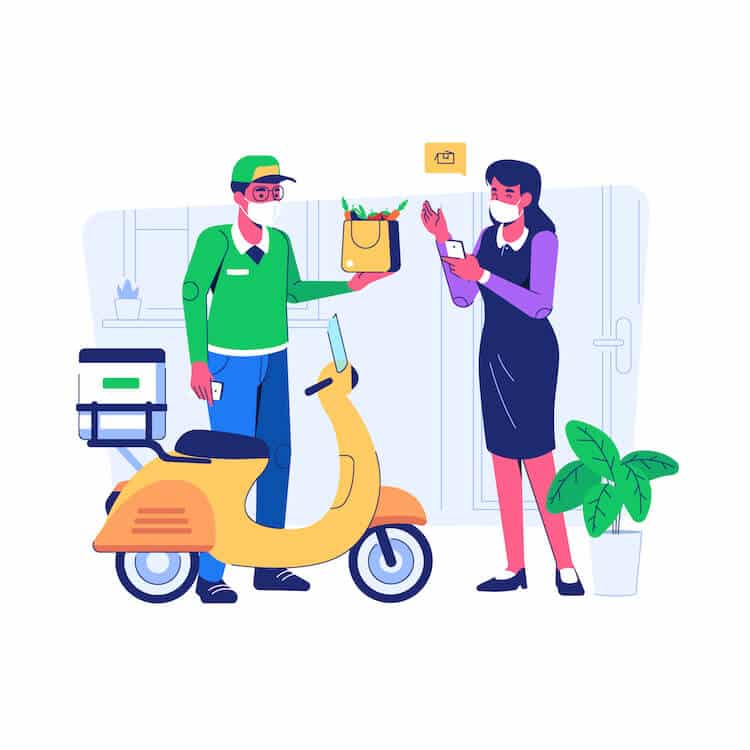 So how much do DoorDrash drivers make on average, what do tips look like, and how does DoorDash compare with other delivery services?
Base Pay, Tips, Promotions
DoorDash's Base Pay
The Base Pay for DoorDash is generally between $2 and $10 per delivery and is calculated based on how long the trip is estimated to take, the distance you have to travel to deliver the order, and the desirability of the delivery.
"Desirability" refers to how likely other Dashers are to deliver that order. If it's a low-paying order, the trip is less desirable to drivers, and therefore, DoorDash will increase the Base Pay for that delivery.
Does DoorDash pay hourly? You might be surprised to find out the answer to that question is yes.
DoorDash recently launched an hourly pay option for drivers, so how much does DoorDash pay per hour? Well, that depends on your location and the deliveries you make.
You can expect to be paid anywhere from $10 to $19 dollars per hour driving for DoorDash.
Tips
When it comes to tips, drivers receive all of the tips given to them by customers. Even though tips are never taken by DoorDash, that still doesn't guarantee that drivers will be tipped.
DoorDash doesn't have a policy that requires customers to tip drivers, so while it's common courtesy to tip 15%-20% for deliveries, that doesn't mean you'll always get that.
Promotions
As far as promotions go, there are a few that new drivers can take advantage of:
DoorDash Referral Bonus:

Refer a friend to drive for DoorDash. If they complete a certain number of deliveries, you'll get a bonus from DoorDash.

DoorDash Drive:

Get paid more to deliver large orders for restaurants and catering.

DoorDash Rewards:

The more you drive, the more points you get from DoorDash. Points = rewards, such as higher pay, DoorDash credit, and gas cards.
Keep in mind that base pay, tips, and even promotions can vary depending on your location. The highest-paid Dashers are located in big cities like New York and San Francisco.
Comparison Of Doordash Pay With Competitors
According to SmallBizTrends, "Most DoorDash drivers' average earnings are between $15 and $25 per hour."
So how does DoorDash's pay compare to other delivery services?
Let's look at other popular delivery companies and how their average pay compares to DoorDash's.
Uber Eats –

Around $17.31 per hour before taxes and expenses, such as gas.

GrubHub –

Around $20 per hour before taxes.
Of course, the pay for competitor companies is still based on your location and can range widely depending on where you live.
Added Incentives During Peak Times
During peak delivery times, DoorDash will give drivers incentives to earn more money on deliveries.
If you complete a certain number of deliveries in a specific timeframe, you'll earn extra money. For example, say there's a challenge to make 15 deliveries in a week for an extra $20.
If you make 15 deliveries before the week is up, DoorDash will reward you with another $20.
Challenges are available every week and can be found under the "Dash Now" panel in the DoorDash app.
That said, if other drivers in your area are also doing challenges, you may miss some every now and again. DoorDash will alert you to challenges that are available for you to take on.
DoorDash Payment Options and Frequency
Now that you know how much you can earn with DoorDash, let's cover how drivers are paid and how often.
Direct Deposit
With direct deposit, all of the money you earn within a week is deposited directly into your bank account. Funds are released within 2 to 3 days.
DoorDash Fast Pay
The DoorDash Fast Pay option lets drivers receive their money instantly whenever they want it. Drivers don't have to wait for the weekly payday with Fast Pay.
The downside to Fast Pay is that each transaction carries a small fee of $1.99.
DasherDirect
According to DoorDash, "DasherDirect is a prepaid Visa card that allows US Dashers to get their earnings after every dash."
When you opt for DasherDirect, you'll get a DasherDirect account. Your money will be transferred to this account and available within a couple of hours with no fees.
Timing for weekly payments
Drivers are paid weekly for the deliveries they made the previous Monday through Sunday. The money is deposited in their bank account within 2 to 3 days.
Option for daily or instant payments
You can use DoorDash Fast Pay to cash out daily for a $1.99 fee. To use Fast Pay, you must have a debit card.
DasherDirect can also be used for instant payments and funds are available within a few hours with no additional fees.
Earning Potential and Factors Affecting It
What factors affect your earning potential? We'll cover that in the sections below.
Time, distance, and desirability
The time it takes to deliver an order, the distance you have to travel to reach the delivery location, and the desirability of the delivery all play a part in how much you can earn with DoorDash.
The further away a delivery is from your location, the more money you'll earn from DoorDash for the time you spent delivering the order.
If a delivery isn't desirable by other drivers (because it's far away or it isn't a large order), and you take it on, DoorDash will reward you for delivering the less-desirable order.
Potential for high earnings during peak times and promotions
Peak times are the times that DoorDash sees the most deliveries in your city. It's during these times that you can maximize your earnings.
DoorDash will also give drivers challenges during peak times to incentivize them to make more deliveries within the peak hours.
Tips to Maximize Earnings
If you made it this far, you're probably considering giving DoorDash a shot. What can you do to maximize your earnings and make this side gig worth it?
Follow the tips below to make the most of your deliveries:
Choose peak hours to deliver.

Peak hours include breakfast (6-9 AM), lunch (11 AM -1 PM), dinner (5-9 PM), and late-night (after 10 PM).

Book your dashes.

Scheduling your dashes in advance can get you ahead of the competition.

Stay close to a variety of restaurants.

If your city has a hotspot of restaurants, stay within the radius so you're nearby when a delivery comes in.

Avoid deliveries under $7-10.

This will make trips worth your gas money. Never take deliveries that are less than $2 per mile.

Give good service.

If you follow instructions from customers well and provide excellent service, you're more likely to be tipped higher.

Update customers on their deliveries. This goes hand-in-hand with good service. People often wonder where their food is at. Keep them updated on when you pick up, if you hit any delays, and when you arrive.
By following these tips, you can ensure that you get the most out of your experience driving for DoorDash!
FAQs
How to make $500 a week with DoorDash?
To make $500 a week with DoorDash, you'll likely have to drive 20+ hours, depending on the area you're in. To earn more, consider taking on batched orders, working during peak delivery hours, and staying in busy areas.
How much does Doordash pay per Hour?
Hourly pay depends on the area you drive in. You can expect to earn $10 to $19 dollars per hour driving with DoorDash.
Is Uber Eats better than DoorDash?
According to Gridwise, DoorDash drivers receive higher tips than Uber Eats, though the base pay for both companies is roughly the same. If you're banking on good tips, consider DoorDash.
Conclusion
After all is said and done, is DoorDash worth it?
Most Dashers will tell you that DoorDash is worth it if you're in a bustling city with lots of opportunities for deliveries, but if you're in a small town that doesn't have much going on, you likely won't make more than some spare pocket change.