According to recent research, 97% of people who enter a website for the first time leave it without purchasing or taking action.
Fortunately, you can bring them back with the help of retargeting. Below, you will have the best retargeting statistic to help you understand how it can impact marketing and brand awareness.
Latest Retargeting Stats and Trends 2023
Retargeting statistics reveal that around 97% of visitors that leave and never return to a website.
70% of marketers use remarketing ads to increase brand awareness.
An effective search retargeting strategy can increase the conversion rate by up to 150%. Search retargeting refers to reaching users based on their keyword searches.
Facebook Pixel and Google Ads are the most popular tools in the retargeting niche.
46% of marketing specialists state that remarketing is the most underestimated strategy.
On average, a potential customer returned by a remarketing campaign tends to spend 67% more on their next purchases.
Frightening Retargeting Statistics 2023
Facebook took 99% of the remarketing market share in Norway in 2020.
89% of Internet users feel uncomfortable that almost any marketing agency can access their sensitive information.
Facebook Custom Audience is the most popular retargeting technology, used by 42% of the top websites.
60% of users in the US state they see personalized ads for products they previously searched for.
The Global Display Network (GDN) can reach 90% of users online. For instance, Facebook has an audience of 2.7 billion active users that retargeting social media ads can reach.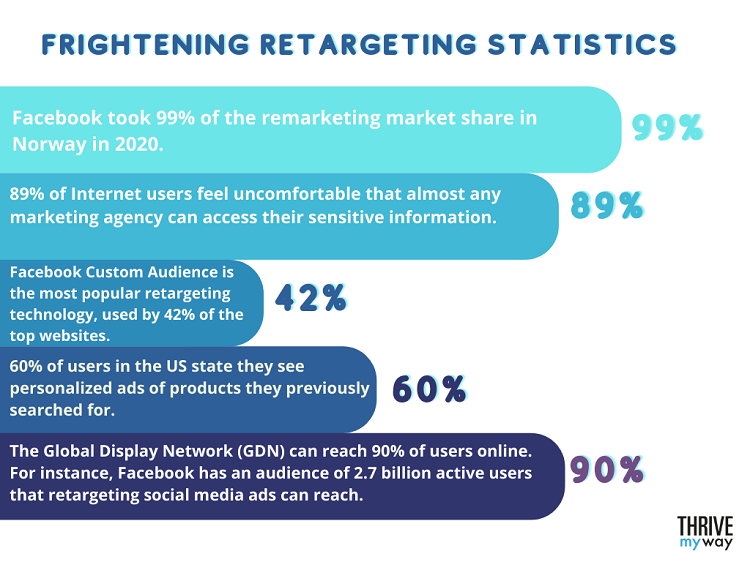 Retargeting Effectiveness Stats
Search retargeting is the most effective advertising solution in Russia.
The blend of retargeting and Artificial Intelligence is the most popular tool that helps entrepreneurs cope with cart abandonment in France.
70% of the retargeting audience is more likely to make purchases on a retailer's website than they were before they were retargeted.
Dynamic remarketing ads can increase revenue by 40%.
Retargeted ads published on LinkedIn have a 30% larger CTR (click-through rate), compared to other social media.
68% of marketers are satisfied with the way retargeting works.
Retargeting Strategies Statistics
One in five marketing specialists has a dedicated budget to run a remarketing campaign.
88% of marketers use or want to start utilizing AI to enhance their marketing strategies.
54% of content marketing specialists state that social media platforms are the most effective for retargeting.
79% of businesses claim that remarketing is a standard practice to attract more customers and increase sales.
Retargeting Benefits Statistics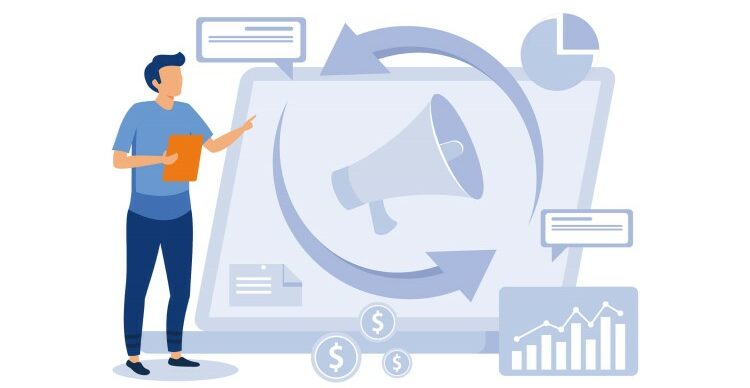 The average click-through rate for a retargeting ad is ten times higher than for a regular display ad.
A retargeting campaign can reduce cart abandonment by 1100%.
Retargeting beats all other ad placement strategies on the Internet.
Retargeting Challenges Statistics
One out of every four entrepreneurs in Italy finds that retargeting is an effective marketing strategy to increase sales.
47% of marketing specialists are not satisfied with the quality of customer care offered by their retargeting platforms.
One-third of marketers believe that their remarketing campaigns helped them achieve their goals.
Retargeting Spending Stats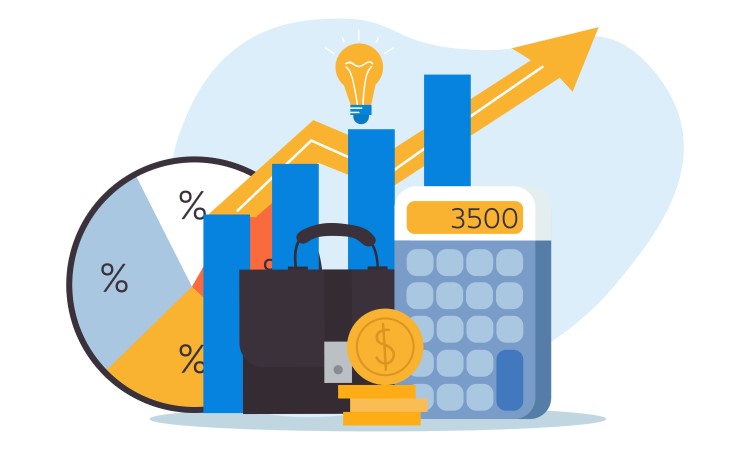 Half of the digital marketing specialists state that their budgets for retargeted ad placement will increase in the next six months.
On average, the cost-per-click of a retargeted ad in Google varies from $0.60 to $1.20.
According to retargeting statistics, 41% of display ad budgets for the search network are spent on remarketing.
Mobile Retargeting Statistics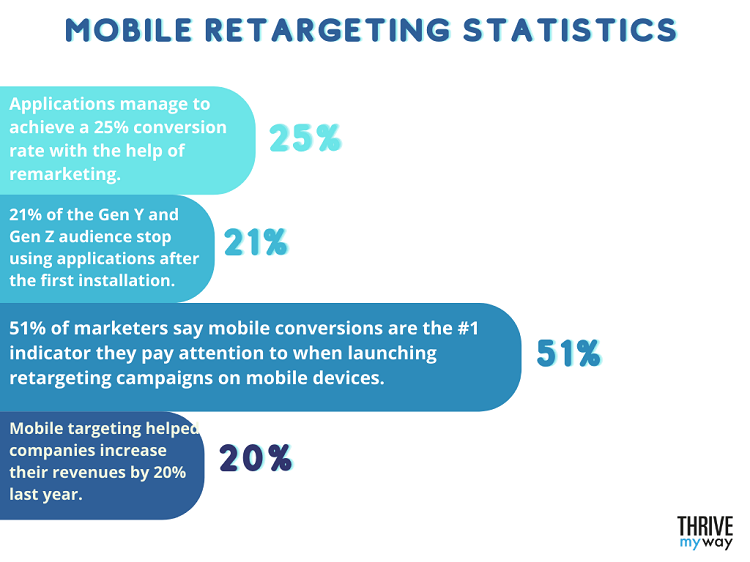 17% of applications manage to achieve a 25% conversion rate with the help of remarketing.
21% of the Gen Y and Gen Z audience stop using applications after the first installation. However, the trend is decreasing year-to-year thanks to remarketing campaigns.
51% of marketers say mobile conversions are the #1 indicator they pay attention to when launching retargeting campaigns on mobile devices.
On average, mobile targeting helped companies increase their revenues by 20% last year.
Retargeting Based on Consumer Behavior Statistics
24% of the customer audience tends to return to websites with the help of a retargeting platform.
One-third of customers consider the visual appeal of a retargeting ad important.
25% of retargeted customers enjoy the ability to receive ads to return to a website.
47% of survey respondents say they are ready to trade their privacy for the ability to get great deals on social media or in search results.
Facebook ad remarketing is the most effective for the audience who visited a website two to three weeks ago.
Remarketing conversion strictly depends on the number of Google ad impressions.
Retargeting Statistics for B2B Marketers
52% of business-to-business vendors in tech niches increased the use of social media platforms like Facebook for digital marketing.
Only one out of every nine respondents stated that retargeting is a marketing strategy with higher ROI (return on investments) in the B2B niche.
The use of a retargeting strategy is the 11th most popular procedure to enhance a marketing funnel in the B2B industry.
On average, B2B retargeting ad campaigns are four times more effective than B2C campaigns.
You might be interested to check those related posts as well:
FAQs
What is the most important retargeting statistic?
Some of the most important retargeting statistics include:
Retargeting stats confirm that Conversion Rate can increase up to a staggering 150%.
Retargeting increases the likelihood of consumer conversion by 70%.
Visitors who clicked on a retargeting ad are more likely to convert by up to 70% compared to non-retargeted users.
eCommerce businesses generally report an average growth of conversion rates by 128% with retargeting, though the actual conversion rates can vary based on the industry or niche.
What is a good retargeting conversion rate?
Retargeting helps reach website visitors who have left without making a purchase, helping increase the conversion rate significantly. Retargeting statistics say that it can boost the conversion rate by 147%. According to recent stats, a good conversion rate ranges from 5% to 6.5%.
What is a reasonable ROI on retargeting ads?
There is no particular value that all companies have to strive to achieve. Nevertheless, a properly designed retargeting campaign can increase ROI (return on investments) up to six times. In exceptional cases, the ROI can increase up to ten times when launching a retargeted advertising campaign.
What is the average cost for retargeting ads?
The cost of retargeting ads depends on the platform that is used. For instance, the average cost of a retargeted ad on Google ranges from $0.60 to $1.20 per click, almost half the price for Google search ads. Facebook charges from $0.75 to $1.25 per click on remarketing ads.
Conclusion
In a nutshell, retargeting can help reach the target audience who have visited a website but haven't purchased anything. According to retargeting statistics, it is one of marketing managers' most effective and underestimated tools.
Retargeting ads can help increase revenues and boost sales significantly.