Founded in 2010, Ezoic has quickly become one of the most popular publishing tools and platforms for ad monetization. However, they are way more than just an ad partner.
In this article, we will have Ezoic Review. Learn how Ezoic is also focused on helping you improve your website and to increase the amount of money you can earn from displaying ads.
What Is Ezoic?
Ezoic is an entire suite of tools designed to help publishers improve their sites and increase ad revenue. Their platform has numerous features, although their primary product is their Ad Tester. Using artificial intelligence, Ezoic can identify the best ad experience for every user that lands on your site, resulting in an average of 50 to 250% growth in revenue and 90% year over year growth in traffic.
Ezoic Review: What Are the Main Features of Ezoic in 2023?
Ezoic isn't just an ad network. They offer multiple products to help you optimize every aspect of your site.
Website Monetization
Ezoic uses artificial intelligence to find the optimal placement for your ads on a website. Their automated ad tester runs thousands of tests against thousands of variables, including publishers, ad size, location, time of day, etc.
Not only does this improve the user experience for visitors, but advanced testing of ad layout also increases the value of your website to advertisers over time. Testing for user experience means reduced bounce rate, longer time on site, and higher engagement overall. Over time, advertisers will bid higher for the ad slots on your website.

Levels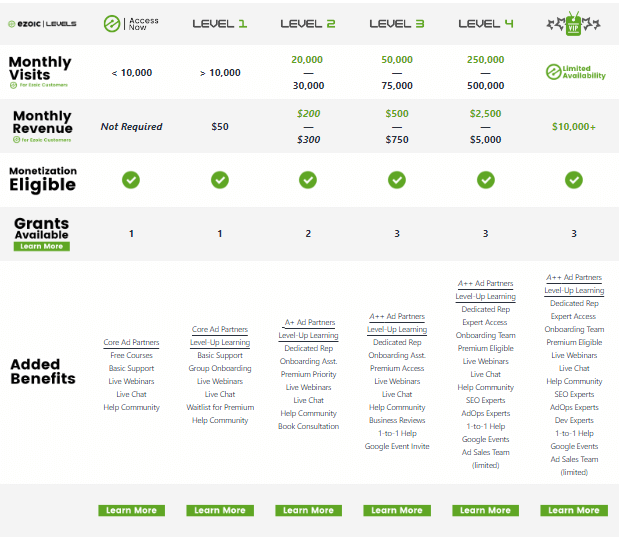 Publishers have different needs. What works for a medium-to-large business might not work for a one-person start-up. Thankfully, Ezoic has developed Levels, which is a way to provide different services and products based on the publisher's size and needs.
There are currently six different levels – Access Now, Level 1, Level 2, Level 3, Level 4, and VIP. Each level has certain requirements, including the number of site visits and earned income.
Access Now: Less than 10,000 visits and no required monthly revenue
Level 1: Over 10,000 visits and $50 revenue per month
Level 2: 30,000 visits and $300 revenue per month
Level 3: 75,000 visits and $750 revenue per month
Level 4: 500,000 visits and $5,000 revenue per month
VIP: $10,000+ revenue per month
Site Scores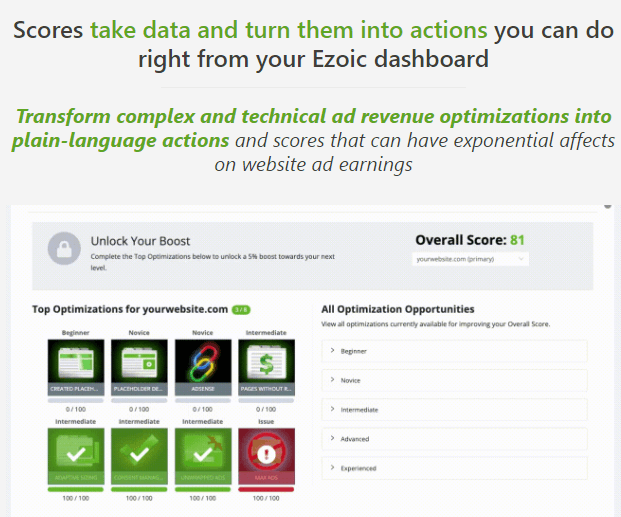 Not sure the best way to optimize your ads, and ensure your site is earning the most it possibly can with Ezoic? With Site Scores, you'll learn best practices for increasing revenue and site traffic. It's essentially a list of tasks and actionable steps that can help you improve your earnings. The more tasks you complete, the higher your score – the higher your score, the better your chance of changing Levels.
SEO Tag Tester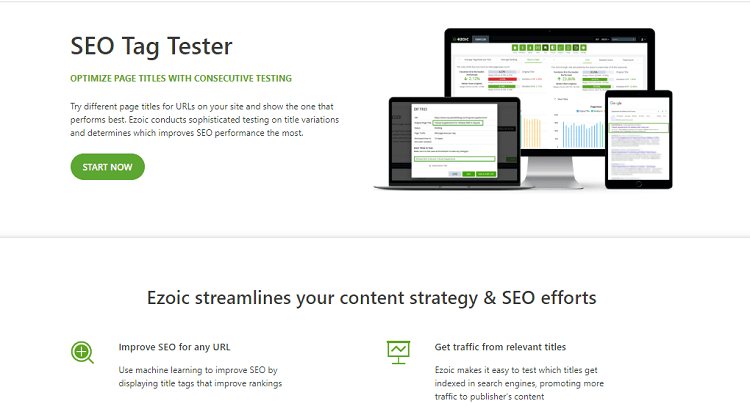 Having a good page title and URL is crucial to SEO, as it impacts how your site appears in Google search results. However, the process of figuring out the best strategy can be time-consuming and tedious. Ezoic has developed a feature that uses machine learning to pinpoint which title tags will improve your SEO ranking.
All you have to do is add the title you want to test to Ezoic. The Tag Tester will then run the titles to see which ones had the most pageviews, sessions, click-through rate, bounce rate, and search result ranking. You can also run tests for meta tags and page descriptions. After 1 to 2 weeks of testing, you'll get the results and Ezoic will automatically show the winning variable.
Ezoic's Video Player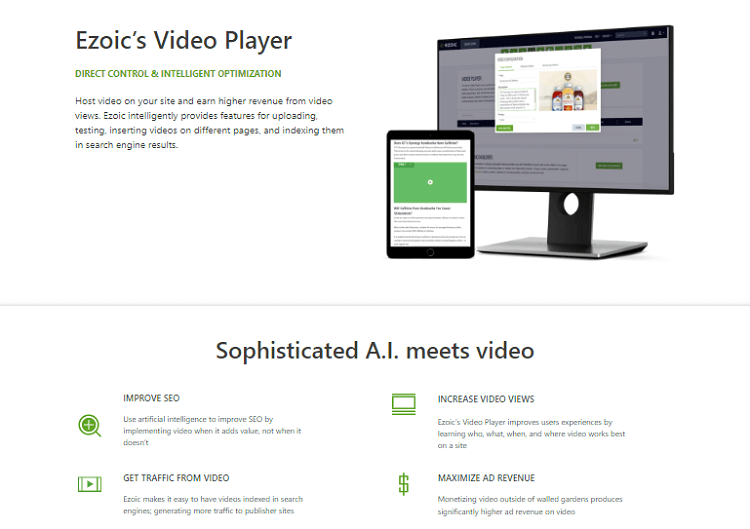 Video content is an important strategy for improving user experience, brand loyalty, and revenue. If you want to add a video to your site, you can use Ezoic's Video Player. With their tool, you can upload, test, and analyze how well your media is performing. They will even index your video so it can be easily found in search.
Ezoic also uses its artificial intelligence technology to ensure your videos earn as much as possible. You'll learn about the best placement and location that appeals most to visitors based on a variety of different ad factors. It's an excellent alternative to YouTube, which requires a certain number of followers before you're allowed to make money.
Ezoic Cloud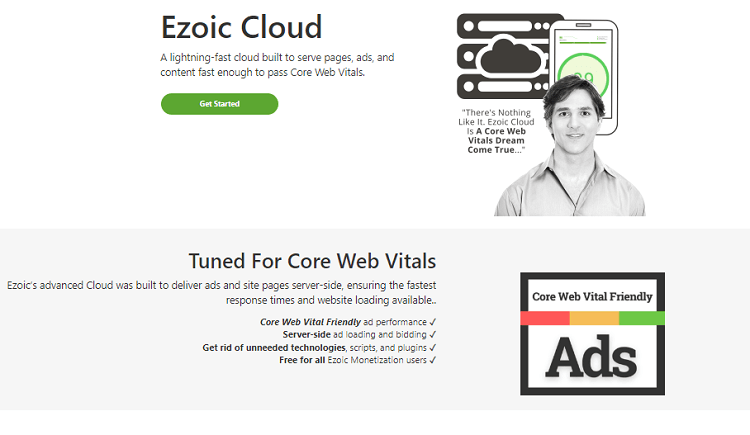 The Ezoic Cloud is a server-side solution that allows publishers to serve ads and pages without long loading times. It's also Core Web Vital Friendly, the Google standard for measuring the level of a user's experience.
In addition to faster load times, you'll also be protected by Intelliprotect. This is Ezoic's AI security protection against click fraud, hackers, and bots. This way, you can worry less about site safety and more about increasing user experience and financial revenue!
Leap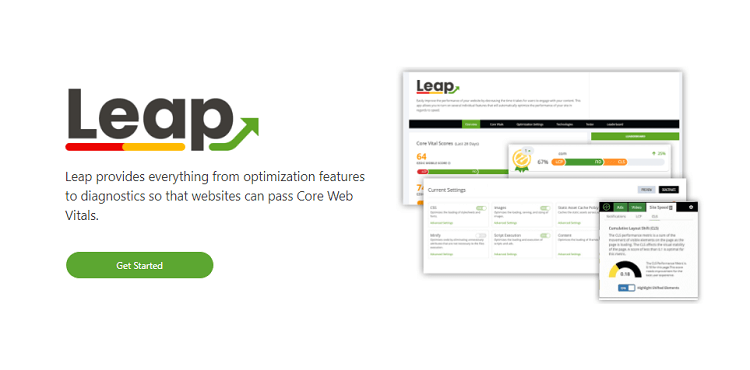 If you want to learn how to serve Core Web Vital friendly ads, then it's important to use Leap. You'll have access to real-time metrics as well as actionable diagnostic tools to help you improve your page performance. Based on the recommendations, you can change your settings or have Leap do the setup automatically.
Best of all, it's completely free for Ezoic Monetization users, so you won't have to rely on other expensive tools or plug-ins to monitor your site. It's a one-stop shop that allows you to improve your site's UX while also knowing the exact steps needed to pass Core Web Vitals.
Data Analytics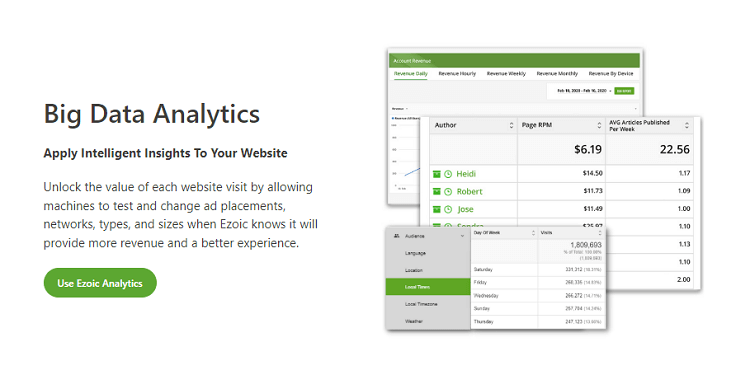 One of Ezoic's most useful features is its Big Data Analytics tool. You'll gain deep insight into everything you want to know about your ads, including the success of each placement, network, type, and size. You can also see the impact of changing these ads, so you can make more informative decisions moving forward.
In addition to basic reporting, Ezoic also provides revenue data based on word count, categories, and even specific writers/bloggers.
What Makes the Ezoic Unique in 2023?
At first glance, it may seem like Ezoic is similar to many other tools and platforms on the market. But unlike its competitors, Ezoic uses artificial intelligence to automatically test and identify the best ads to use on your site. There's no manual adjustment or testing needed on your end! As a result, you can increase revenue and engagement while also improving the end-user experience with just a few clicks on their site.
Ezoic Pricing 2023
For everything you get, the cost to use Ezoic is extremely affordable, especially when you realize the return on investment it provides.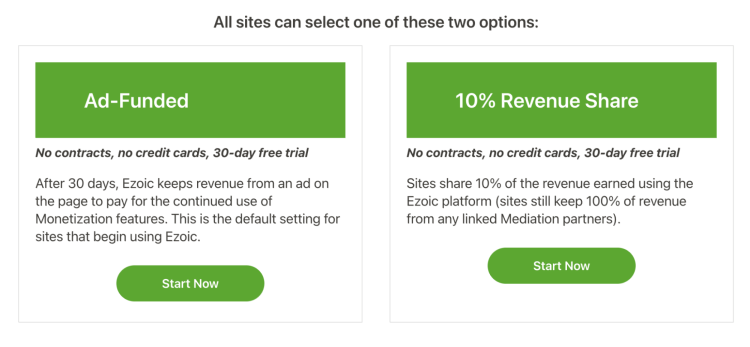 To use their Monetization features (Ezoic Ad Tester, Video Player, Big Data Analytics, etc.), you'll have two options for payment. You can choose the Ad-Funded option, which means Ezoic will place an ad on your site and keep the earned revenue it makes.
The other option is to agree to a 10% revenue share, which will give 10% of your revenue to Ezoic. There are no contracts, no required credit card info, and a 30-day trial when signing up for either payment option.
Ezoic also has a paid monthly subscription which gives you access to more UX and audience growth features. This plan is currently offered at $5.99 per month or $49.99 annually.
Ezoic Alternatives and Competitors
There are many other platforms and networks that are similar to Ezoic. Here are a few of its competitors and the major pros and cons of each.
Ezoic vs. Mediavine
Although Ezoic and Mediavine are both ad management platforms, Ezoic gives you more flexibility and control of your ads and is backed by technology and testing While Mediavine allows you to control the density of your ads, they do not let you manage the placement, and no testing takes place. With Ezoic, you are given full customization over your ads and are delivering a unique ad experience to every user.
Another big difference is the barrier to signing up. Ezoic allows all publishers, regardless of their size, to sign up and utilize the monetization features. On the other hand, Mediavine requires that you have at least 50,000 monthly sessions. Mediavine also has a 90-day contract, while Ezoic is contract-free.
Ezoic vs. Media.Net
Media.Net is often thought of as an alternative to Ezoic, but they are actually the primary ad network for the Yahoo! Bing Network Contextual Ads Program. They also have a machine-learning algorithm to identify which ads to show on your site while also giving you control over different optimization aspects.
But unlike Ezoic, Media.Net is not a Google Certified Publishing Partner. That means you'll only be working in the Yahoo! Bing network. Ezoic also has a wide variety of other helpful features, including Tag Tester and Site Scores.
Ezoic vs. AdThrive
AdThrive is a popular ad network for many publishers, bloggers, and websites. However, there are some stark differences between them and Ezoic. For instance, AdThrive is an exclusive partner, which means you won't be able to display ads from other networks. They also require that you have 100,000 monthly page views and that the majority of your traffic comes from the USA, UK, Canada, Australia, and/or New Zealand.
Ezoic is more flexible in terms of who can sign up, which is great if you're still growing your site. However, AdThrive is known to have one of the highest revenue payouts out of any network. According to Ezoic, a website will earn just as much if not more with Ezoic than it did with Adthrive.

You might be interested to check those related posts as well:
FAQs
How much can you make from Ezoic?
The amount of money you make from Ezoic will depend on numerous factors, including your site niche, number of displayed ads, and location. However, Ezoic publishers have reported making anywhere from $3 per 1,000 page views up to $50 or $60 per 1,000 page views.
How can I increase my Ezoic earnings?
If you want to increase your revenue with Ezoic, there are a few things to consider. First, make sure your ads are adaptive, responsive, and in a variety of sizes. You can also enable the Leap feature, which will improve site speed and ad performance. Finally, it's worth signing up for Ezoic Premium, an invite-only subscription that allows you to keep 100% of your ad earnings.
How long does Ezoic take to approve?
Getting started with Ezoic is incredibly easy. Once you complete the integration and set-up, you'll be notified within 24 to 48 hours if you've been accepted. To prevent delays or interruptions during the approval process, make sure your site has disabled ReallySimplle SSL and any caching plugins.
Ezoic is one of the most powerful tools publishers can use. Whether you're looking to improve user engagement and site traffic, or simply make more money from ads – Ezoic can help. But don't just take our word for it. There's no contract or commitment to sign up, so give them a shot and see for yourself!