Roblox is one of the most popular gaming platforms for kids and teens.
Since it was founded in 2006, it has grown exponentially in terms of revenue, developers, and players.
Read the following Roblox stats to learn more.
Key Roblox Stats 2023
The company paid more than $328 million to 38,000 developers through the developer exchange program.
In 2020, 32 developers made over $1 million.
The majority of developers (99.47%) make less than $1,000 a year.
Adopt Me! is the most popular world on Roblox, with 20.5 billion users.
On average, there are around 40 million games on the platform.
72% of people play on their mobile devices.
Roblox Usage and Active Users Statistics 2023
Over 202 million people play Roblox each month.
There are 43.2 daily users that play on Roblox.
28% of daily active users (12.1 million people) are based in the US and Canada. 11.8 million daily active users are located in Europe.
An estimated 50 million users signed up for Roblox in 2020 during the pandemic.
Roblox has over 9.5 million game developers.
67% of Roblox users are under the age of 16. Only 14% are over 25.
51% of players are male.
In Q2 2021, over 9.73 billion engagement hours were played on Roblox.
Users spend, on average, 156 minutes playing each day.
In 2020, 75% of mobile downloads (328 million installs) were on Android devices.

Roblox Revenue and Growth Statistics 2023
When Roblox went public on the New York Stock Exchange, its valuation was almost $38 billion. At the end of 2021, it was worth $43 billion.
In 2020, it made over $920 million, an increase of 111% from the previous year.
Users spent more than $568 million on the platform in Q4 2021 – the highest amount in company history.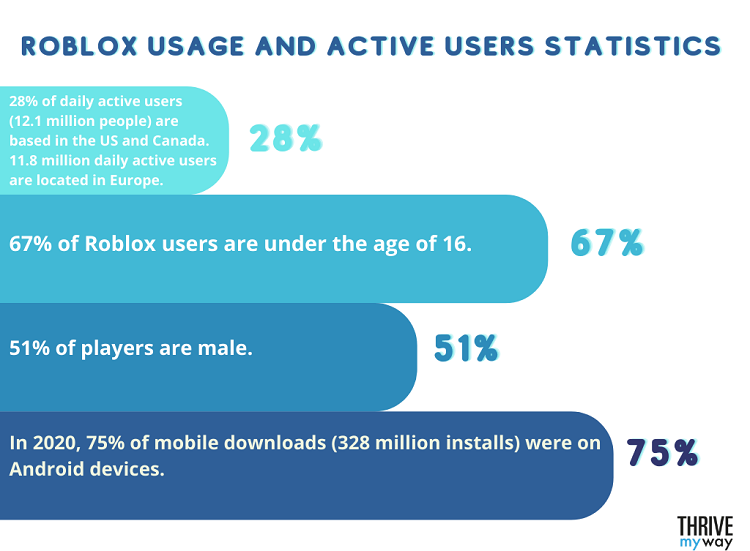 You might be interested to check those related posts as well:
FAQs
How many games does Roblox have?
Although it changes each month, Roblox is believed to have around 40 million different games.
Many of these are user-generated (there are over 9.5 million developers creating games on Roblox).
How many active Roblox players are there in 2023?
Roblox has continued to see exponential growth over the last few years.
While we won't have an average number of players until 2023 is over, it's believed that anywhere from 210 to 225 million people play Roblox each month.
How much money does Roblox make each year?
In 2021, Roblox made over $1.9 billion in revenue.
In addition, it saw its highest earnings in Q4 that year, raking in over $568 million (up from $509 million the previous quarter).
Conclusion
With the ability to play unique games and make money doing so, it's easy to see why Roblox is so popular for kids and amateur developers.
Based on these Roblox statistics, it doesn't seem like the company is slowing down, which means we can expect to see more from them in the future.
Sources:
Backlinko
Business of Apps
Statista