As the internet becomes a dangerous place for your personal information, especially with the usage of public Wi-Fi and the need for remote work, VPN service is becoming crucial to protect your personal and financial data.
Let's explore VPN stats.
General VPN Stats and Facts 2023
Worldwide use of VPN services is nearly one-third of the population (31%).
The majority of VPN users are male, about 62%.
Streaming services are popular to use through a VPN and Netflix is used by more than 56% of all those individuals that use a VPN.
Internet users between the ages of 16 and 24 make up 39% of VPN users.
43% of the population worldwide feel that their personal information online is at risk and that they lack control over it.
VPN services founded after 2005 are the majority of companies that offer their services at 90%.
VPN Usage Stats 2023
Users under the age of 37 make up 75% of VPN users. That means 25% of users worldwide are 38 and older, and 16% of that group are older than 55.
By 2027, it's projected that the market will reach a value of $107.5 billion. That's a big price tag for privacy.
In terms of income, 21% of VPN users have an annual income of $25,000 to $49,999.
When asked what purpose a VPN served for them in particular, users stated the following factors in justifying their VPN usage:
51% of users said it was to protect their privacy on public Wi-Fi
44% said anonymous browsing
37% said it was to secure communication
23% said it was for accessing restricted sites
22% for accessing entertainment
22% use it at work to access sites
21% for bandwidth throttling
21% to keep their browsing activity from the government
18% for accessing censored content
18% for online shopping discounts
A large majority of VPN users state that they buy digital content, and about 77% of users say that they do so each month. This makes sense since it can help to protect a lot of payment information that would otherwise be at high risk.
In many countries, the usage of a VPN is illegal, including Belarus, Iraq, North Korea, and Turkmenistan.
There are also heavy restrictions on VPN usage in countries like Oman, Iran, the United Arab Emirates, and Turkey.
China was once very restrictive when it came to VPNs, but it lightened restrictions in 2017, although unauthorized usage there could result in a fine as high as $2,200.
When it comes to high usage, Indonesia is high at the top with 61% of its internet users employing a VPN.
Of those in the US that don't use a VPN, about 22% state that it's too expensive, 22% say they just don't need one for work, and 57% believe that they don't need one for their own personal use.

VPN Use During COVID-19 Pandemic
VPN usage saw a dramatic increase due to the pandemic. With the rise in remote work, usage jumped up 27.1% during that time period.
IT companies saw a large increase in work-from-home agreements – about 88% said they enacted these measures in 2020.
There is a prediction that this amount with drop as the pandemic comes to a close and that the annual growth will come back down to around an average of 17.2%
Mobile VPN Stats 2023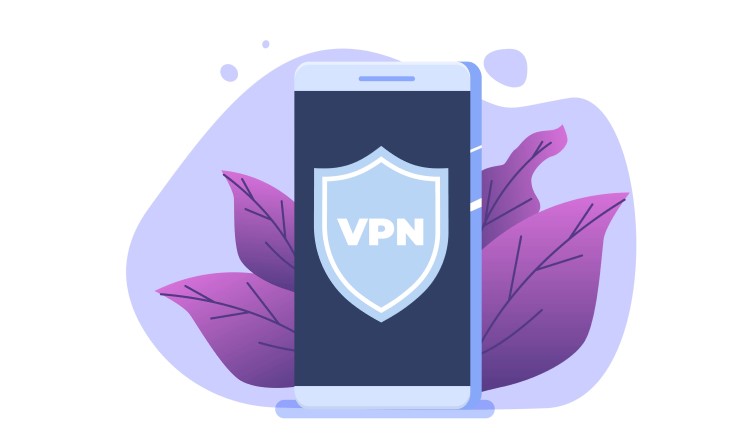 64% of daily VPN users state they use it primarily for their mobile devices. This is sometimes in conjunction with their desktop usage since 62% of total VPN users state using it for their desktop.
Mobile usage through smartphones is beginning to rise with monthly usage at 15% and tablets at 7%, rising to take over computer and laptop usage.
VPN users are also keen to use their VPN when going to other countries, and 47% of users say that they utilize it while traveling abroad.
VPN Trends 2023
Many countries are seeing a huge boost in the VPN market. Slovakia is leading the trend, and in the last year saw a 300% growth in interest.
Other countries with an interest in growth include Japan, the Dominican Republic, Spain, South Africa, Iceland, and Costa Rica.
You might be interested to check those related posts as well:
FAQs
What percentage of people use a VPN?
This can be a difficult stat to find since different people can use the same VPN, but about 68% of American adults use a VPN for personal use or work.
Which VPN has the most downloads?
The most downloaded VPN is Private Internet Access with over 32,696 servers. Behind them with 7,000 servers is CyberGhost, and then at 5,500 servers is NordVPN
However, NordVPN is the most searched on Google with about 1.8 million a month followed by ExpressVPN (1.1 million) and Hotspot Shield (1.04 million)
What is the percentage of remote workers who don't use VPNs?
According to a poll from YouGov, 15% of remote workers never use a VPN, while 15% rarely use them, 14% said sometimes they use them, and 52% say they use them all of the time.
Conclusion
As the pandemic comes to a close we may see the usage of VPNs decrease, however, with rising concerns about internet privacy and data it's still a crucial tool in the day-to-day lives of many workers and internet users alike.