With millions of people worldwide shifting to home offices in 2020, the remote work landscape has changed dramatically. In 2021, employers and workers see huge benefits, including saving costs, increased productivity, and healthier lifestyles.
Plus, as a business, offering remote positions helps considerably with recruiting new employees and retaining them. Job seekers see the possibility of choosing the work environment as a key factor when evaluating career opportunities.
However, despite the benefits, the idea of transitioning your team to remote can seem scary at first. Those who've always worked in a traditional, in-office environment may feel skeptical about whether remote work will truly pay off.
This post will share 106 remote work stats that you need to know as your team moves remote and home offices become more permanent.
General Remote Work Statistics 2023
Across the U.S., Canada, the UK, and Australia, the main benefit for companies with remote workers in 2020 were scheduling staff flexibly.
In 2020, 37% of companies introduced a hybrid model where half of the office worked remotely, and the other half worked in the office. Research shows that smaller, less established companies are the least likely to implement a hybrid work model. These businesses are less likely to consider implementing a hybrid work system that incorporates both remote and in-office work.
Men and women have different reasons for preferring working from home. 27% of men say it's their personal preference, and 26% of women like it to finish or catch up on work.
Global spending on collaboration tools doubled from 22.4 billion USD in 2009 to 47 billion USD in 2019.
Online searches for home office setup and remote work surged worldwide, peaking in March 2020.
One-third (36%) of people working remotely use Zoom, and 19% use Microsoft.
If offices were to mandate workers back to the office, 45% of people would like to continue working from home at least two days per week.
Research shows that if everyone continues to work remotely at least one day per week, global emissions could drop by 24 million mtCO2 a year.
In April 2020, Cisco accumulated 25 billion hours of video conference time.
23% of people would be willing to take a 10% cut from their pay to continue working from home.
Working remotely saves 40 minutes per day of commuting for the average commuter.
Around 18% of people work remotely full-time.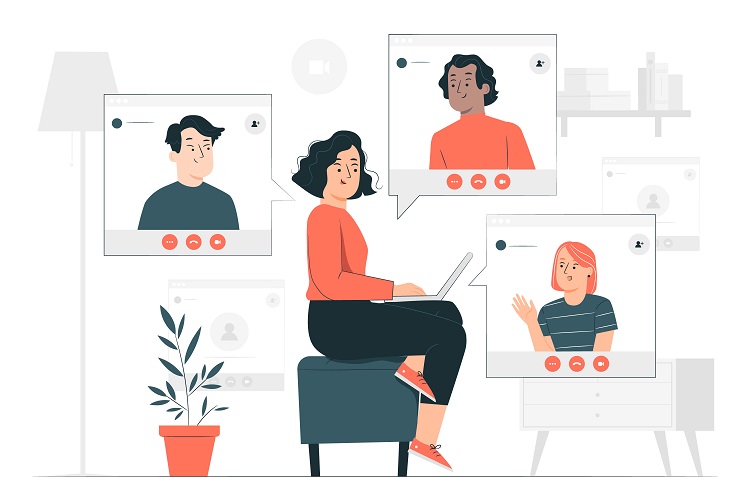 Working From Home Productivity Statistics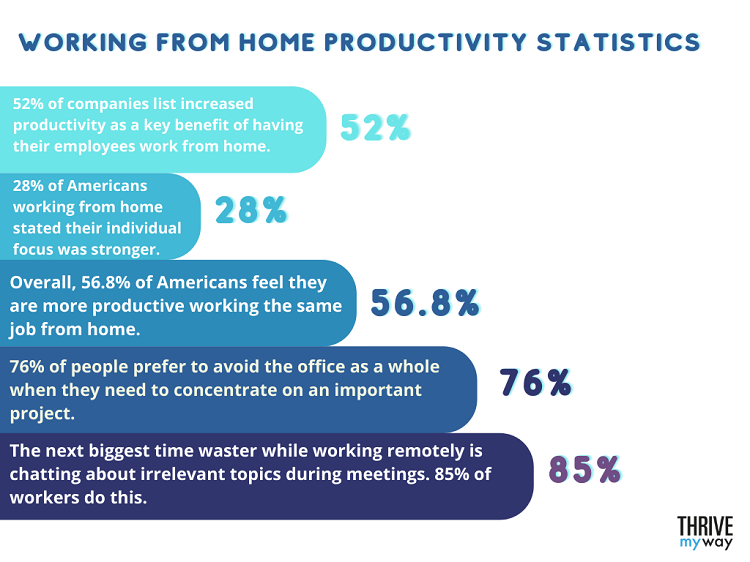 52% of companies list increased productivity as a key benefit of having their employees work from home.
In March 2020, 28% of Americans working from home stated their individual focus was stronger. Only 9% said they are more creative in the office.
Overall, 56.8% of Americans feel they are more productive working the same job from home.
Businesses lose $600 billion per year on workplace distractions.
76% of people prefer to avoid the office as a whole when they need to concentrate on an important project.
The most time-consuming activity in an employee's workday is checking email (3.2 hours spent on average daily).
The next biggest time waster while working remotely is chatting about irrelevant topics during meetings. 75% to 85% of workers do this.
Working From Home Mental and Physical Health Statistics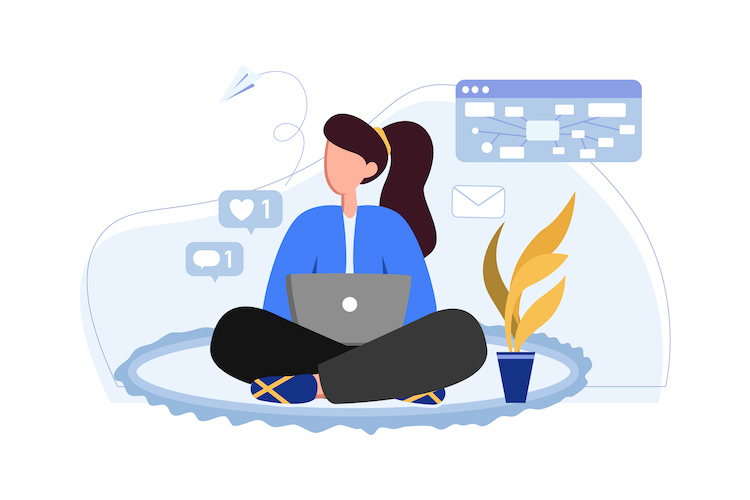 Around 29% of people see a drastic shift in their mental health when working from home.
Musculoskeletal health has affected 39% of people working from home.
Other top physical and mental health issues include less exercise (46%) and sleeping fewer hours (37%).
One in four people working from home does not have a desk and works either from a bed or a sofa.
Isolation is felt stronger among women, with 44% of women feeling isolated compared to 29% of men.
While remote workers struggle with mental health, only 34% have been offered support from their employers.
41% of people with roommates find working from home was worse for their mental health and well-being.
Over half of Americans (53%) have increased stress and anxiety since working remotely.
42% agree that their employer gives them breaks when they need it.
78% of employees who call in sick aren't actually ill. They take work off because of family issues, stress, and personal needs.
Remote Work Saving Money Statistics
Almost half of the people say working from home allows them to save more money.
The typical employer can save an entire $11,000 per year on each employee with a remote team.
Employees can save an estimated $2,500 to $4,000 per year by working from home at least half of the time.
Gas is one huge expense when commuting to the office. It's estimated that people who commute spend at least $629 per year on gas alone.
However, if working from home even two days per week, workers can lower their gas consumption considerably and cut their expenses almost in half ($374.40 per year).
In New York, on average, people spent $119.88 per month on public transportation alone.
Globally, people who relied solely on public transportation in 2017 spent between 3% and 4% of their average annual income on transportation.
In 2018, the average household spending on professional wear per year was $1,866. This includes buying clothing and cleaning expenses involved.
Also, in 2018, the average household spent $3,459 on eating out.
92% of employees are concerned about the cost of fuel and how much they spend commuting to work.
73% of employees believe their employers should help reduce commuting costs.
During COVID-19, people working remotely saved an average of $479.20 per month on overall expenses.
Remote Work Recruiting and Job Retention Statistics
Over the past year, 42% of young hiring managers felt the recruiting and hiring process to be more difficult compared to 18% that find it easier.
81% of employees agree that the flexibility to work remotely is a major benefit that increases their job loyalty.
Depending on the type of role, employee turnover can cost up to five times or 30% of the position's annual compensation.
1 in 2 people will not return to jobs that don't offer remote work after COVID-19.
Likewise, 1 in 2 people would move states for a job that offers remote work.
81% of people believe their job will support remote work after the pandemic.
If employees were no longer allowed to work from home after the pandemic, 66% would stay but be less happy.
54% would stay but be much less willing to go the extra mile.
44% would expect a pay increase if their jobs no longer allowed them to work from home.
88% of people say health insurance is a critically important factor in deciding which job they will apply for.
Remote Work Per U.S. State Statistics
Texas
Over half of Texians (52.27%) living in major cities (Dallas, Houston, San Antonio, and Austin) have jobs that have always allowed them to work remotely, while just under half are used to working in an office.
An impressive 48.6% of people in Texas work on the weekends while working remotely.
On top of that, 56.7% say their work hours have increased significantly since starting to work from home.
71% of men in Texas claim to hold strict office hours, while 64% of women do.
Women in Texas tend to check their emails while off work more often than men (81%/78%).
57% of men feel that working remotely has a positive effect on their mental health compared to only 50% of women.
50% of men say they would leave their current job for one that offers a better mental health plan, versus 35% of women.
California
Most people in California (72.8%) described feeling an increase in loneliness since starting to work remotely.
While people are more lonely, 72.8% report spending more time with their families while working from home.
As for work boundaries, 83.6% of Californians find themselves checking work emails during resting hours.
63% report to work instead of asking for time off when feeling sick because they work remotely.
67% say their workload has increased since the beginning of working from home.
64% admit working remotely is responsible for increased stress levels.
Despite increased work hours and more stress, 62% agree that working remotely has positively impacted their well-being.
Illinois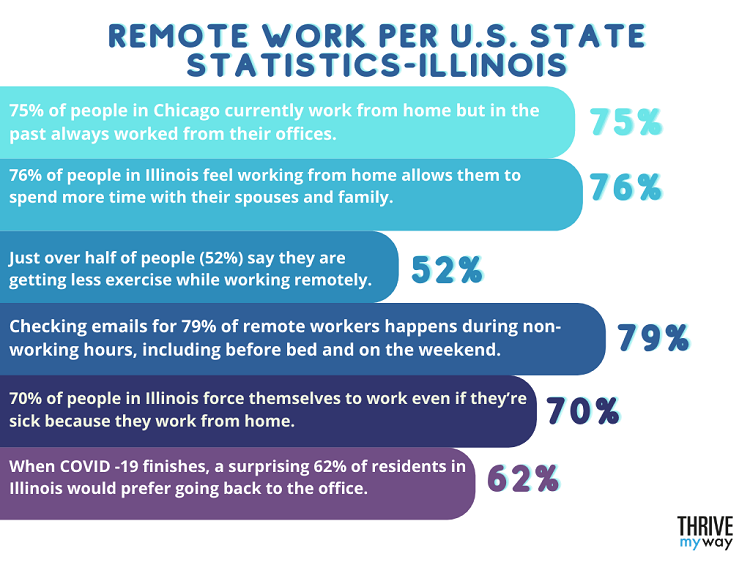 75% of people in Chicago currently work from home but in the past always worked from their offices.
76% of people in Illinois feel working from home allows them to spend more time with their spouses and family.
Just over half of the people (52%) say they are getting less exercise while working remotely.
Checking emails for 79% of remote workers happens during non-working hours, including before bed and on the weekend.
70% of people in Illinois force themselves to work even if they're sick because they work from home.
When COVID-19 finishes, a surprising 62% of residents in Illinois would prefer to go back to the office.
New York
29% of New Yorkers say watching a series after working remotely is the best way to relax and unwind.
People in New York (36%) say that their relationships with colleagues and friends have stayed the same despite working remotely, while 35% even said they got stronger.
41% of people experience more anxiety when working from home.
63% of people say their exercise routines have gotten more consistent since starting remote work.
69% of New Yorkers say they spend their time working remotely efficiently.
Pennsylvania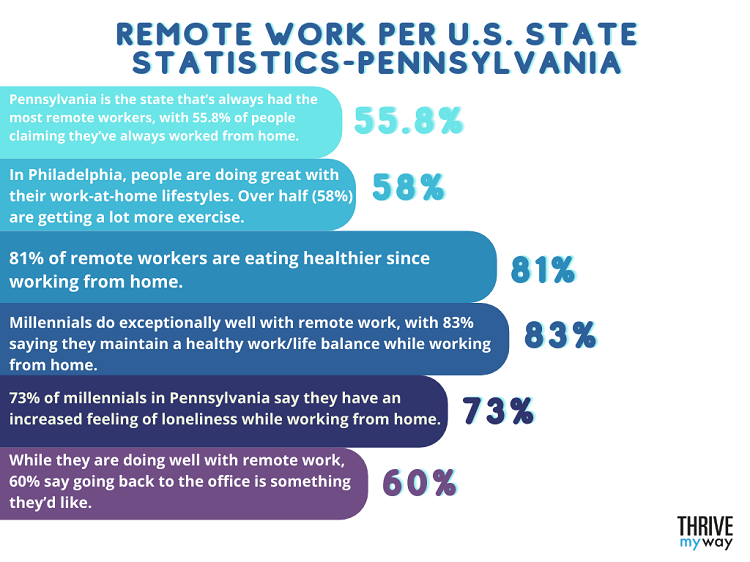 Pennsylvania is the state that's always had the most remote workers, with 55.8% of people claiming they've always worked from home.
In Philadelphia, people are doing great with their work-at-home lifestyles. Over half (58%) are getting a lot more exercise.
81% of remote workers are eating healthier since working from home.
Millennials do exceptionally well with remote work, with 83% saying they maintain a healthy work/life balance while working from home.
73% of millennials in Pennsylvania say they have an increased feeling of loneliness while working from home.
While they are doing well with remote work, 60% say going back to the office is something they'd like.
Arizona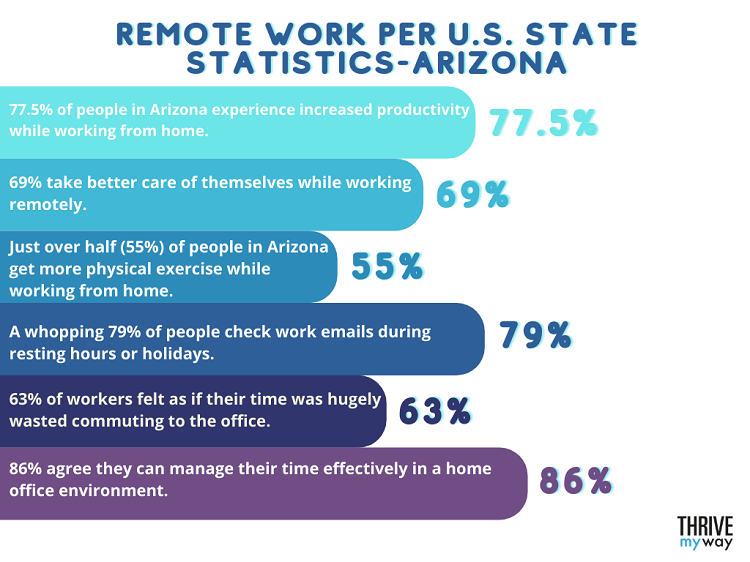 77.5% of people in Arizona experience increased productivity while working from home.
69% take better care of themselves while working remotely.
Just over half (55%) of people in Arizona get more physical exercise while working from home.
A whopping 79% of people check work emails during resting hours or holidays.
63% of workers felt as if their time was hugely wasted commuting to the office.
86% agree they can manage their time effectively in a home office environment.
Only half of the people have experienced burnout while working from home in the past year.
Work From Home Challenges Statistics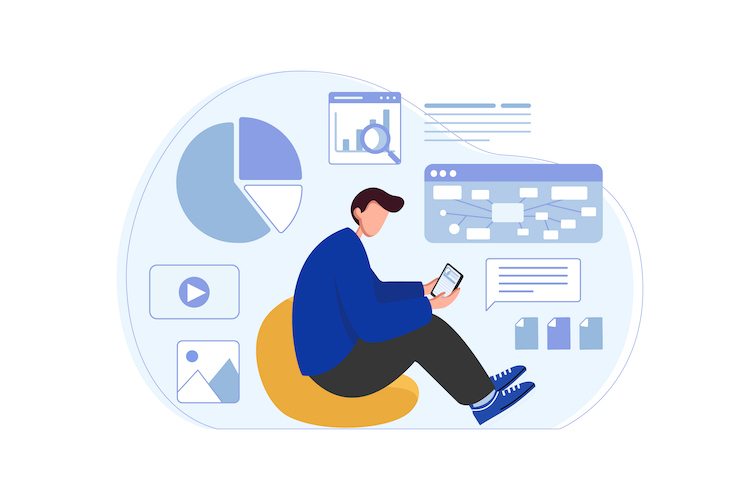 Almost half (47%) of all remote workers in the U.S. say their biggest challenge in working from home is distractions.
61% of employees are distracted by social media, 53% by smartphones, and 42% by binge-watching series.
In 2020, 38% of people spent an average of at least two hours on their phones during work hours at home.
The second leading remote work challenge is collaborating with colleagues for 35% of people.
In 2020, 56% of people working from home were frustrated due to fewer social interactions with coworkers and friends.
67% of employees working from home stated their work hours were affected by technology issues in 2020.
Most of all, heavy phone usage was the largest reason for altered work hours in 2020 for 72% of people.
62% of people believe their top challenge during virtual conference calls is not being understood/being talked over.
Work From Home Statistics by Industry
In 2018, the management, business, and financial industry had the biggest share (51%) of remote workers.
The industry with the lowest share of remote workers in 2018 was transportation and material moving.
While many workforces cannot work remotely, up to one-quarter of careers in financial management, market research analysts, and statisticians in advanced economies can work from home at least three days per week.
Remote Work Trends Statistics
The size of the information security technology market hit 125.2 billion in 2020 and is expected to reach 174.7 billion by 2024.
Spending on collaboration tools, IT services, and cybersecurity is predicted to reach 252 billion USD by 2023.
While spending on digital tools is on the rise, spending on on-premise IT services is expected to have little to no growth over the next five years.
By 2028, 73% of businesses will have remote workers.
Younger generations will make up 58% of the workforce by 2028, up from 38% in 2020.
More Baby Boomers are reentering the workforce by telecommuting. Almost half of Babyboomers (45%) don't have retirement savings at all, and about 55% barely have any funds, leading to many choosing work-from-home jobs.
Video conferencing technology will get stronger, as 94% of people use it much more than ever before.
You might be interested to check those related posts as well:
Final Thoughts
These remote statistics give us an idea of how the workforce has shifted and how employers and employees alike handle the changes. Workers are experiencing the benefits such as living a richer work/life lifestyle, spending more time with their families, and saving money.
From an employer's point of view, remote work for the team is also proving to be beneficial. Employers can allocate office costs towards more important aspects of the business and retain quality employees that lead teams and help drive the company.
So, after reading these remote work statistics, is leading a remote team right for your company? Of course, taking the leap doesn't make sense to every industry.
Suppose your industry isn't fully adaptable to online work. In that case, you can always have the employees that don't necessarily need to be in the office (e.g., accountants, marketers, etc.) go remote.
We got our stats from the following sources:
RSPH Global WorkPlace Analytics The Points Guy FlexJobs McKinsey HubSpot Global Workplace Analytics Upwork LiveCareer Investopedia Atlassian Owl Labs