JD.com is a Chinese B2C eCommerce platform and logistic service provider. The company has achieved incredible success over the past two decades, and many online retail lessons can be learned from its success.
In this article, we look at the facts and figures of JD.com to see what can be learned.
General JD.com Stats and Facts 2023
JD.com was founded in 1998 as jdlaser.com as an online electronics retail platform.
They started trading online in 2004.
They've also been known as 360buy.com.
In 2007, the name changed to jd.com, refocusing on general merchandise.
In 2007, JD.com started to develop its own logistics system.
JD.com is the world's second-largest online store and the largest retailer in China on the Fortune 500 (in terms of revenue).
JD.com was founded by Liu Qiangdong, who served as the chief executive until July 2022.
Beijing, China, serves as JD.com's headquarters.
The Website Authority for jd.com is 87.
JD.com Number of Employees and Customers Statistics 2023
The active number of users in 2021 was 569 million.
In 2020, the active number of users was 441 million.
There are 250,000 active merchants on the website.
There are 179,000 employees at JD.com.
The most popular items on jd.com include electronics and media.
The average visitor looks at more than eight pages in one session on the website.
The average session duration on the website is five minutes and one second.
92.89% of the website's visitors are from China.
Only 0.92% of their website visitors are from the United States.
1.77% of their website visitors are from Taiwan.
72.35% of the website's users are male.
42.03% of the website's users are between the ages of 25 and 34.
Those aged between 18 and 24 make up 23.12% of their website audience.
Only 2.12% of the audience is over 65.
On Glassdoor, JD.com has an employment rating of 3.7.
The average sales assistant is paid $19,000.
"Work-life balance" is the main complaint of past employees.
A good working environment is one of the biggest benefits according to past employees.
62% of those who've worked at JD.com would recommend working there to a friend.
JD.com Usage Stats 2023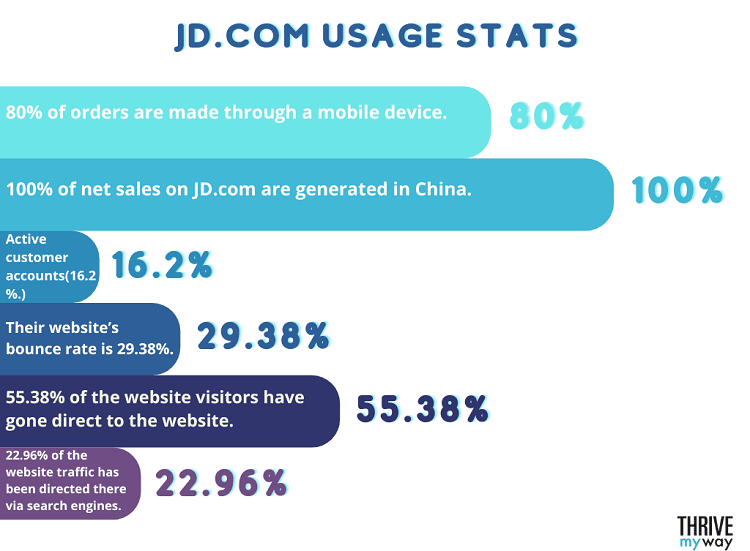 Daily active users on JD.com is 88 million.
80% of orders are made through a mobile device.
100% of net sales on JD.com are generated in China.
Active customer accounts in Q1 2022 increased by 16.2%.
There are 179 million visits to their website every month.
Their website's bounce rate is 29.38%.
55.38% of the website visitors have gone direct to the website.
22.96% of the website traffic has been directed there via search engines.
The website's active monthly usage doubled between 2017 and 2021.
JD.com Revenue Statistics 2023
The 2021 revenue for JD.com was $149.3 billion.
Their 2021 revenue was 30.7% higher than in 2020.
Their 2018 Singles' Day campaign earned them $28 billion in revenue.
The Q1 in 2022 saw revenues increase by 18%.
JD.com Stock Price Statistics 2023
JD.com's stock price stays around the 58.84 mark.
The all-time high stock price was 104.39, achieved on February 17, 2021.
The 52-week low stock price was 41.56.

Little Known Facts About JD.com 2023
JD.com operates 1,400 warehouses.
There are warehouses in 61 different cities.
JD.com has 3539 delivery stations.
Their warehouses have total footage of 25 million square meters.
Orders placed before 11 am on any given day are liable for same-day delivery.
90% of orders are delivered on the same or the next day.
They own a research and development center in Silicon Valley in the USA.
The operating margin for JD.com in Q1 2022 is 3.6%.
Weibo (46.74%) and YouTube (32.76%) offer the most traffic from social media sites.
68% of past employees would recommend Liu Qiangdong as a good CEO.
In 2018, the company planned to open 1,000 new stores daily.
There is a complicated algorithm that helps run their delivery network.
During the pandemic, JD.com delivered essential medical supplies to remote areas through drones.
The three biggest owners of JD.com are Liu Qiangdong, who owns 15.8%, Walmart, who owns 10.1%, and Tencent, who owns 2.3%.
In 2019, JD.com acquired the Jade Palace Hotel in Beijing. The investment cost them $400 million.
In January 2022, Shopify and JD.com partnered to help sell Shopify's brand via JD.com.
The company launched a credit card, in partnership with Ping An Bank, in October 2019.
In January 2018, the company opened its first locations in France and the UK.
You might be interested to check those related posts as well:
FAQs
How many orders are placed on JD.com daily?
Considering there are 88 million daily active users on the website, there are two million, three hundred and seventy-six thousand sales per day. Nine in ten orders are delivered on the same day as made, meaning that on an average day, the company completes more than two million orders worldwide.
How many monthly active users does JD.com have?
The JD.com website has more than 441 million users every month. Every day there are 88 million users, so many of these users will visit the jd.com website four or five times a day. The website also has a low bounce rate, with the percentage of people leaving after just one page as low as 29%.
What percentage of JD.com customers write reviews?
JD.com does not get many reviews. On TrustPilot, they only have 22 reviews, with an average score of just 1.6. On SiteJabber, the site only has nine reviews, and the average score is 2.44 stars. On Facebook, they have 43 reviews with an average score of 3.5 stars.
Conclusion
JD.com is one of the biggest online retailers worldwide and the largest in China. Their continued growth is due to an aggressive growth plan and good customer service.
They plan to open up worldwide and become one of the largest brands, offering an alternative to Amazon.
Resources:
Statista
Expanded Ramblings
JD.com
Market US
China Net Watch
Similar Web
SEM Rush
Glassdoor
Seeking Alpha
Trust Pilot
Site Jabber
Facebook