It took a little while for Instagram to catch up with the short video trend, but thanks to Instagram Reels, this popular social media platform is fully onboard.
Instagram users tend to prefer using their mobile phones to upload reels but you can also upload videos to Instagram from your PC.
This is also a way to share YouTube video on Instagram story.
Find out how to Upload Video to Instagram from PC here.
Instagram Video Specifications 2023
Before you can upload any video to Instagram, it has to meet a list of specifications. Here is a list of the latest specifications and video sizes you must follow:
The preferred format should be MP4.
The size of the file can be no more than 4 GB.
The playback is capped at 60 seconds.
The frame rate must be 30 FPS or less.
The maximum dimension of your video must be 1080 or less.
The vertical aspect ratio must be 4:5.
The square aspect ratio must be 1:1.
The landscape ratio must be 1:91:1.
How to Upload Video to Instagram from PC 2023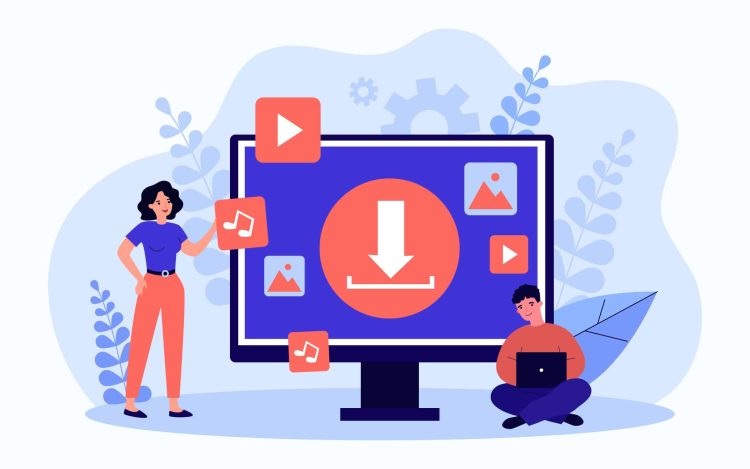 With all the basics out of the way, it's time to turn to the bit of this post that you're really waiting for. If you want to upload video content and Reels from a computer or laptop rather than a mobile phone and the mobile app, there are a few workarounds to choose from.
How to Upload and Post Video to Instagram from PC Directly
To upload your video to Instagram from your PC, follow these steps:
1. Launch any browser and type in Instagram.com. From there you must sign into your account.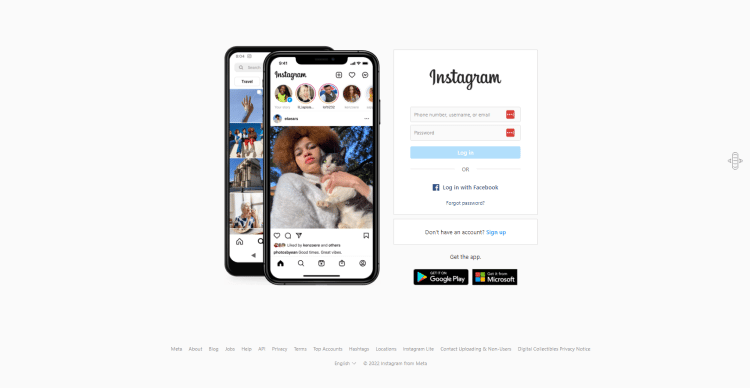 2. In the icons along the top, there is a "+" icon that you must click on.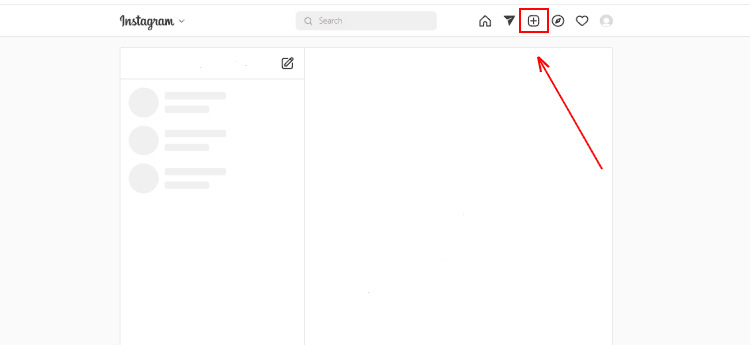 3. In the separate window, click the "Select from computer" option.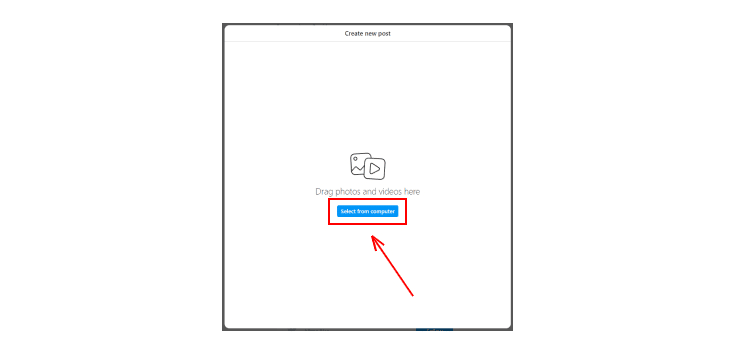 4. Next, you must choose your video to upload on Instagram Reels. Remember it must have an aspect ratio of 9:16.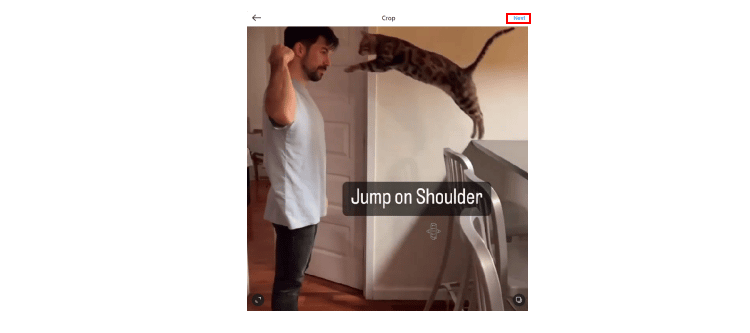 5. You'll be given some prompts to help you trim your video, select your cover photo, choose a caption to write, and add a location for the upload.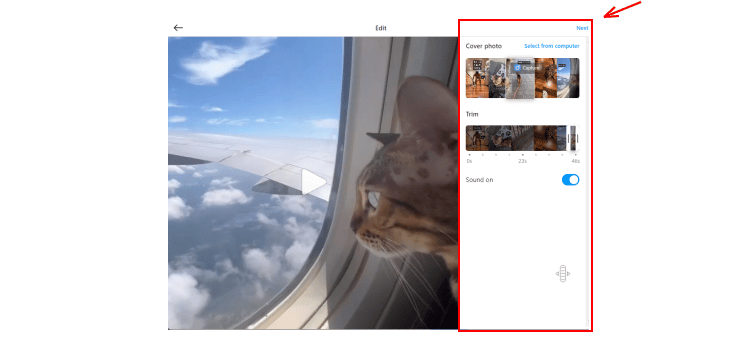 Important note: Uploading directly from your PC doesn't give you the option of choosing audio, which is different from uploading using your phone. If you want audio, you should edit the video and add music to your story separately before posting.
PRO TIP

The easiest way to upload videos from your PC to Instagram is to create an account on Dropbox or use Google Drive. Using Instagram, you can drag and drop the content you want to publish.
How to Upload Video to Instagram from PC via a Chrome Extension
There are Google Chrome Extension tools you can use for publishing your Instagram story. One of these is called Inssist. It comes free and you can use it to publish not just Stories, but IGTV videos, and Videos as well.
You can feel safe when you use Inssist because it doesn't send data from your computer or spy on you.
If you want to use this Chrome Extension, follow these steps:
1. Launch Google and perform a search for Inssist. Once you've found it, download the tool and add the extension to your browser.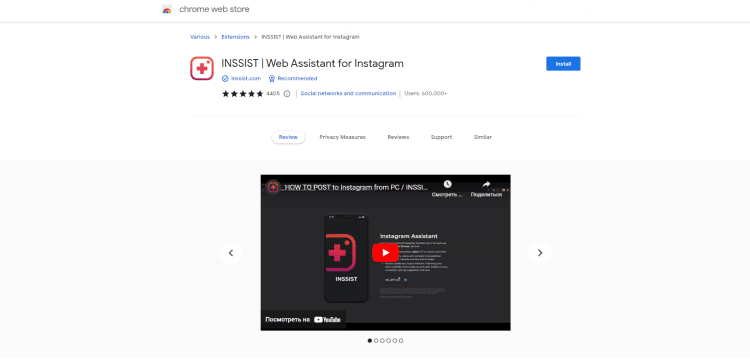 2. Find the tool and click on it, then log into your Instagram account. You might have to add a security code at this point.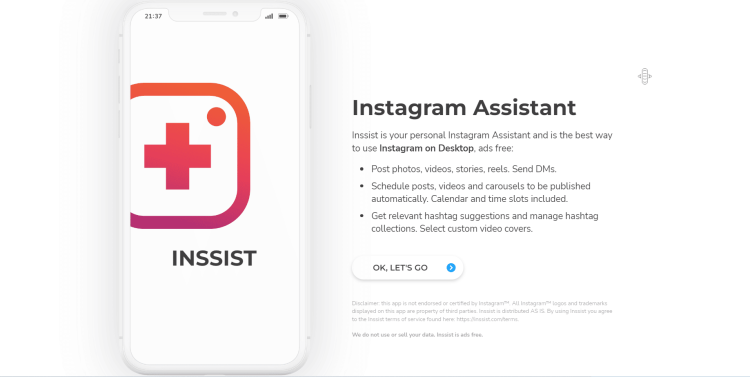 3. Click the "+" icon and choose Reels from the drop-down list. Then choose the video you want to upload from your computer.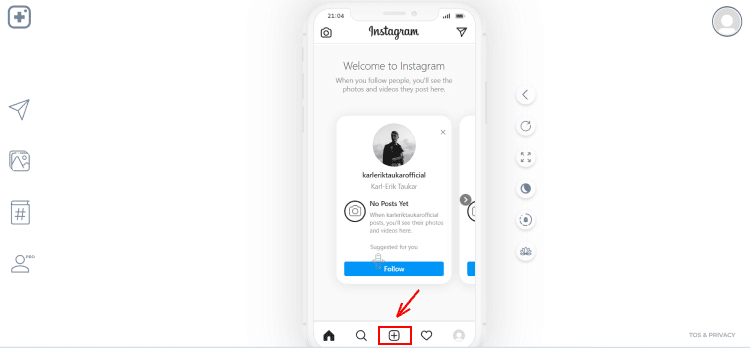 4. The next step involves picking a cover for your Instagram Reel, adding a description, and any hashtags you think are necessary.
5. Finally, you're ready to share your Instagram Reels.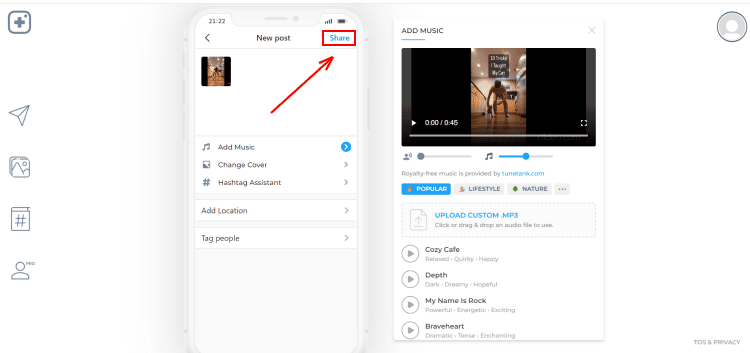 Other Chrome Extensions you might want to consider are:
Deskgram for Mac: This extension integrates seamlessly with Chrome and you can use it to upload various types of content. The downside is that it's only for Mac.
Desktopify for Windows and Mac: Mac and Windows users can use this extension to upload videos, engage with other accounts, and download Instagram Reels. Video content can be uploaded from Google Drive, your desktop, or Dropbox.
How to Upload Video to Instagram from Facebook Creator Studio
From August 2019 onwards, it became possible for businesses and creators to link their Facebook Business Page with Instagram. This allowed content to be uploaded via the Facebook Creator Studio. To use this tool you must do the following:
1. Sign into the Facebook Creator Studio using your Facebook Credentials.
2. Find the Instagram Icon and click on Instagram Studio.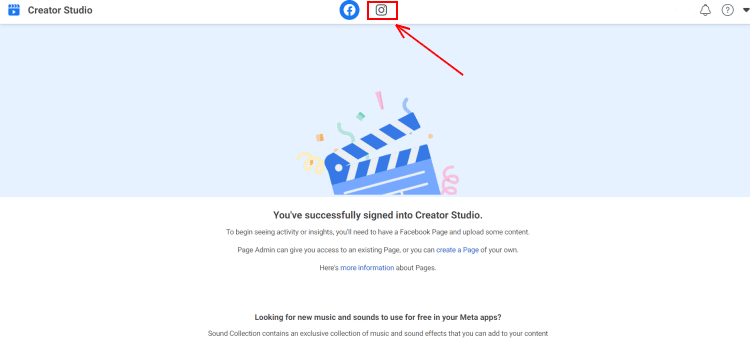 3. In the studio, you can upload, schedule, and publish your posts. To upload content, click in the top-left corner and select what you want to upload.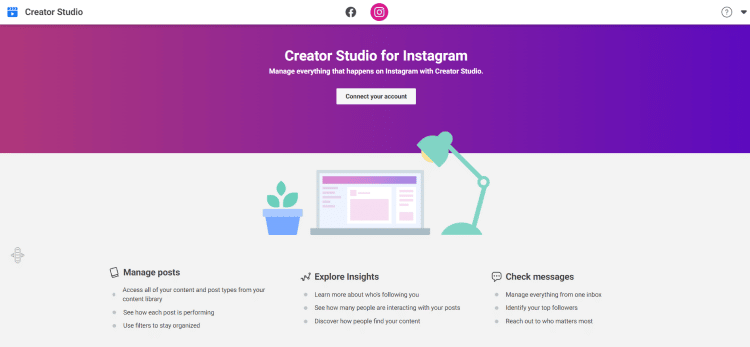 The studio also allows you to check on the success of your content. Unfortunately, at present, you can't upload Reels to the Facebook/ Instagram Creator Studio. In addition, you can't edit your content, upload stories, or create carousel posts.
How to Upload Video to Instagram Using a Third-Party App
The most popular third-party app and Instagram Scheduling tool is Sked Social. You can use it for uploading your Reels, getting alerts to tell you it's time to post, and turning on Notifications.
Post Video on Instagram From PC: 6 Best Practices 2023
It hasn't taken long for Reels to capture the hearts of Instagram users. Businesses and creators have also grabbed the opportunity to wow their audiences with both hands.
However, with millions of people using Instagram, is it possible to stand out from the crowd? Luckily, there are some best practices you can learn if you want to up your Instagram Reel game.
Tell a story: If you haven't got a story to tell, share your expert knowledge instead and create informative Reels. Consider sharing industrial news, hot tips, or a recent success story.
Don't forget audio: With audio, you can take your audience on a journey they won't forget. Pick the right audio and it'll help you paint a picture.
Content must be evergreen: this means it shouldn't go out of date and will always be relevant whether your audience is reading it today, next week, or next year. Alternatively, use content that can be repurposed at a later date. FAQs and How-to-guides are good evergreen content.
Discover your niche: Find your niche and you'll be able to create specific content.
Keep a close eye on the competition: Watch your competitors and use them for inspiration.
CTAs are important: With a clear Call To Action, you're leaving your audience with a decision. Use the Call to Action to direct them to your website, profile, or DMs.
Upload to Instagram From PC: Top 3 Tools to Prepare Your Video for Upload 2023
When it comes to getting your video ready to upload on your Instagram, there is a range of software options to choose from. Use one of the following tools and you'll improve the professionalism and quality of your Instagram content.
Here are the top three tools for Instagram Reels, in no particular order. Choose one of the following and you'll be creating engaging, fun, and crisp Reel videos in no time at all.
Adobe Premiere Rush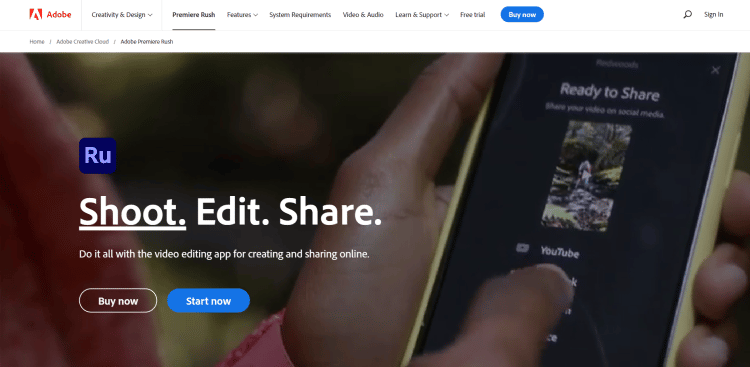 This is a simpler version of Adobe's principal software that allows you to easily trim and then splice videos together.
Other functions include adding motion graphics, titles, audio, and other graphic elements. It's a tool that's part of Adobe's Creative Cloud Suite that you can get for free. Alternatively, you can purchase it as part of a larger package for $9.99 monthly.
Filmora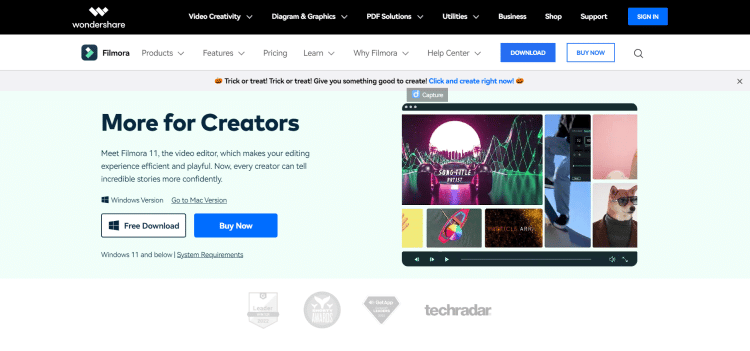 This all-in-one video editing software for desktops comes from Wondershare. Filmora has an interface that's easy to use and lets you create amazing reels for Instagram. Options include color grading, video stabilization, speed control, scene detection, split-screen, audio equalizer, and much more.
Filmora is available for Mac or Windows and there are free and paid versions, depending on your needs. For individuals, plans start at $49.99 per annum.
iMovie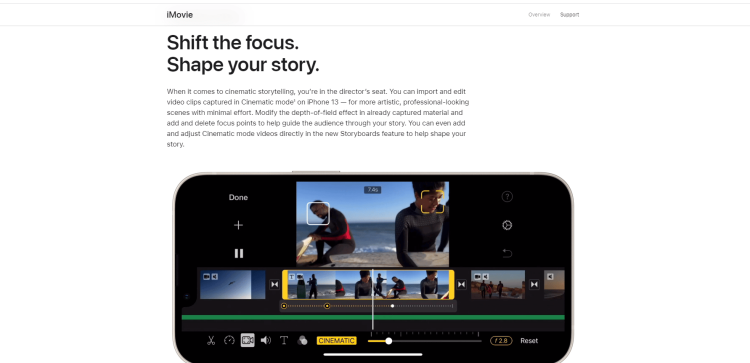 With this video editing software, you get a selection of high-quality features including 4K videos. For beginners, it's a perfect choice because it's easy to use and costs nothing. Use it to splice together your Instagram Reels and benefit from the clean interface, video transition, and audio editing software tools.
Upload to Instagram From PC according to Reddit:
From my observations, I have noticed that using the VLC method allows me to save a random 10MB MP4 file to the camera roll successfully. However, when attempting to transfer my actual video, which is a larger 250MB MOV file, to the camera roll using VLC, I do not have the option to do so as I did with the MP4 file.
You might be interested to check those related posts as well:
FAQs
Can you post videos to Instagram from PC?
Yes, you can and it's easier than you think.
Does Instagram Reels support 4K video?
Instagram does not support 4K videos at present.
Conclusion
So, there you are. Some of the ways you can load Instagram Reels using your PC rather than a smartphone. Time for you to try them and see which works best for you.