Before the COVID-19 pandemic, an epidemic was already rapidly infecting the workplace: burnout. In 2019, the World Health Organization classified burnout as a "syndrome" that is caused by "chronic workplace stress."
Not to be confused with a medical condition, burnout is specifically described as an "occupational phenomenon," but it can lead to serious physical and mental health concerns.
Key Burnout Stats, Trends, and Facts 2023
Most employees have felt overworked and exhausted at some point in their careers. But when those feelings are chronic, employees are at high risk for developing burnout. How prevalent is burnout in modern-day society?
Two-thirds of full-time employees say they have experienced burnout at some point in their careers.
Workplace burnout is becoming increasingly common.
36% of workers state that their organizations have nothing in place to help stave off employee burnout.
Employee Burnout Statistics 2023
Who is most at risk for burnout, what causes it, and what can be done about it? Virtually any worker can suffer from burnout, but the most common factors include working with people, working in high-stress situations, and not maintaining a work-life balance.
Demographics Statistics
Women are more likely than men to suffer from burnout. In 2020, 32% of women said they were consistently burned out at work, while only 28% of men reported feeling burned out.
More than 50% of women in leadership positions consistently feel burned out.
Having young children is additional stress that can contribute to burnout. 47% of working mothers and 38% of working fathers are often burned out.
As of February 2021, Millennials (59%), Gen Z (58%), and Gen X (54%) shared similar burnout rates, whereas Baby Boomers (31%) had significantly lower rates.
Income levels make a slight difference in burnout rates among employees. The highest rate of burnout was reported in mid-level incomes, with 44% in the $30,000 to $60,000 bracket. The lowest rate of burnout was 38% in the $100,000 and above bracket.
Causes and Effects of Burnout Statistics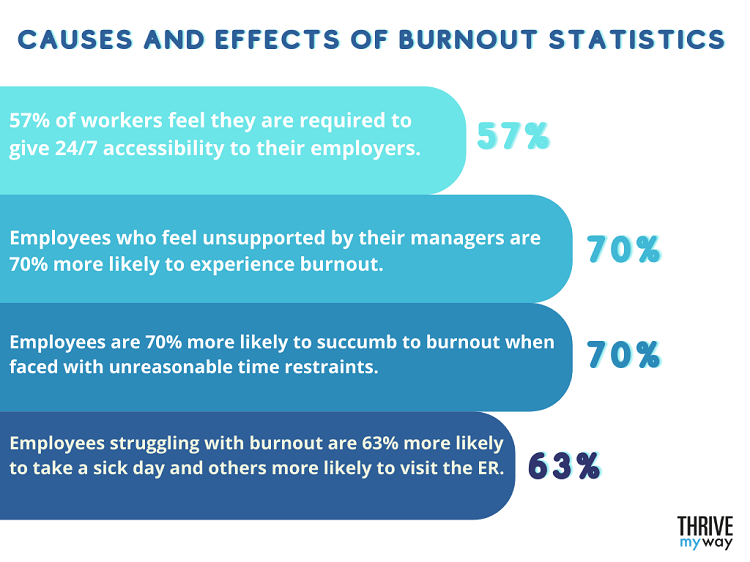 57% of workers feel they are required to give 24/7 accessibility to their employers.
Employees who feel unsupported by their managers are 70% more likely to experience burnout.
Employees are 70% more likely to succumb to burnout when faced with unreasonable time restraints.
Employees struggling with burnout are 63% more likely to take a sick day and 23% more likely to visit the ER.
Solutions to Burnout Statistics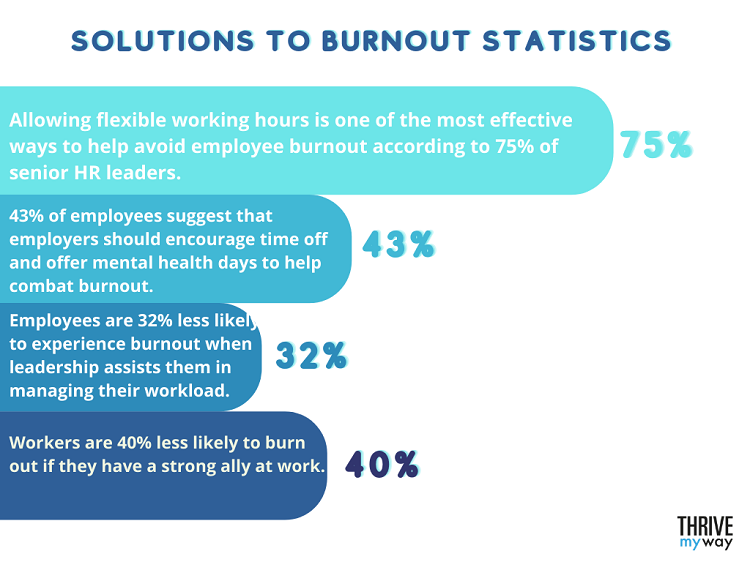 Allowing flexible working hours is one of the most effective ways to help avoid employee burnout, according to 75% of senior HR leaders.
43% of employees suggest that employers should encourage time off and offer mental health days to help combat burnout.
Employees are 32% less likely to experience burnout when leadership assists them in managing their workload.
Workers are 40% less likely to burn out if they have a strong ally at work.
Remote Work Burnout Statistics
The COVID-19 pandemic shifted how the world works. 40% to 60% of the United States workforce worked remotely throughout 2020, muddying the line between work and life.
Before COVID-19 Shutdowns
22% of remote workers indicated "unplugging" from work was a struggle.
During COVID-19 Shutdowns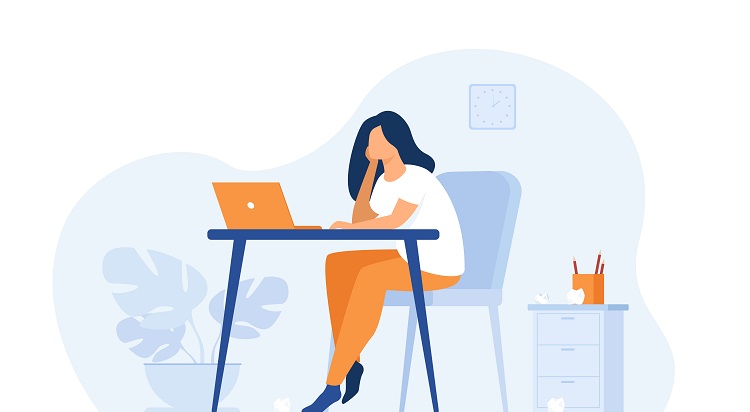 During the pandemic, 61% of remote workers found it difficult to "unplug" during non-work hours.
Worry and stress levels were significantly higher for remote workers than non-remote workers throughout 2020.
70% of remote workers said they were also working weekends.
Burnout Statistics by Industry
Each industry offers unique challenges and stresses, and it's no surprise that high-stress jobs have higher burnout rates.
Social Work
Compassion fatigue and coping with secondary trauma lead to a lifetime burnout rate as high as 75% for social workers.
Law
73% of lawyers surveyed in the UK were concerned about burnout. A lack of work-life balance, difficult clients, strained working relationships, and constant interruptions were some of the driving factors.
Business Development and Sales
A study found that 67% of workers in business development and sales were close to experiencing burnout because of long working hours, a dense workload, and feeling required to always "be on."
Retail
In a survey of 2,500 retail workers, nearly half planned to quit in the summer of 2021. 58% of the employees leaving their jobs indicated that burnout was the number one reason, thanks to low wages, long workdays and unusual schedules, and minimal recognition.
Tech
Poor leadership, work overload, and toxic workplace culture all contribute to burnout in the tech industry. Of 30 large tech companies surveyed, 25 had an employee burnout rate of 50% or more.
Medicine
44% of physicians feel burned out. Among the most common reasons are too many administrative duties, long working hours, and the increased use of electronic health records.
Emergency Response
Emergency response teams often witness human suffering, cope with negative outcomes, and may even be regularly put at risk for personal injury. Studies show this high-stress industry has a burnout rate ranging from 15% to nearly 40%.
Education
One in four teachers indicated they were considering leaving teaching at the end of the 2020-2021 school year. Prior to the COVID-19 pandemic, the number was closer to one in six. Under normal circumstances, things like insufficient funding, high emotional demands, and challenging teaching situations were the main considerations. The pandemic added technology complications and modes of instruction to the list of stressors.
Cost of Burnout Statistics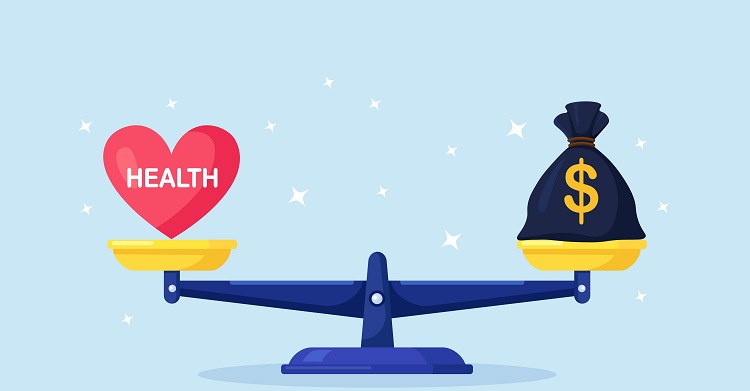 Turnover, absenteeism, and disengaged employees are all effects of burnout that come with a cost.
Job-related stress contributes to 550 million workdays lost each year.
The U.S. economy loses an estimated $500 billion due to workplace stress.
Absenteeism and lost productivity due to depression cost the U.S. $51 billion annually.
Latest Employee Burnout Statistics
The latest employee burnout statistics indicate that burnout continues to be a major issue in the workforce.
67% of workers in the U.S. believe the pandemic made burnout worse.
In a pre-COVID survey by Indeed, 43% of respondents said they were burned out. That percentage increased to over half, 52% in 2021.
You might be interested to check those related posts as well:
FAQs
What career has the highest burnout rate?
Social work tends to consistently have higher burnout rates than other professions. With high emotional demands and work overload in an oftentimes thankless job, it's no wonder that burnout rates in social workers continue to increase.
Which country has the highest burnout rate?
The United States and Canada had some of the highest levels of workplace stress, according to a 2020 Gallup world survey, putting North American employees at high risk for burnout.
What are the top 5 most stressful jobs?
The 5 most stressful jobs include enlisted military personnel, firefighters, airline pilots, and police officers. and broadcasters.
How common is academic burnout?
Like workplace burnout, burnout amongst college students has taken a huge leap over the last few years. An Ohio State study found that burnout rates increased from 40% of students in August of 2020 to an astonishing 71% in April of 2021.
Conclusion
Burnout isn't just a buzzword; it's an increasing problem. But, it doesn't have to be. A happy and healthy employee is best for business. It's up to employers to promote work-life balance and find solutions such as flexible work hours and highly skilled managers to help employees burn bright instead of burning out.
Stats for this article were gathered from the following sources: