Since the recent pandemic, the travel and tourism industry has started to bounce back, but how people travel and make their travel bookings has changed significantly.
More and more people now plan, book, and manage all aspects of travel online, and the following statistics, facts, and trends will give you a peek into today's travel industry.
General Online Travel Booking Stats and Facts 2023
Online travel sales worldwide have grown by 15.4%
The global travel industry is worth $1.2 trillion
Monday is the most popular day for travel purchases, while Saturday is the quietest day
In 2021, revenue generated by the online travel industry was worth over $800 billion
In the global tourism and travel market, online sales revenue is 66%
On average, travelers visit 38 sites before finalizing and booking their travel
45% of travelers prefer to use one website for booking a trip from start to finish
Most online travel bookings happen around 10 am, while the quietest time is 6 am
Booking.com is the most used travel site with more than 443 million monthly active users
When it comes to holiday packages, 80% are booked online
60% of online holiday bookers say it is their most expensive online purchase
Online Travel Booking Statistics for Industry and Market 2023
In 2019, online digital travel sales were worth $755 billion globally
Every year, 148.3 million travel bookings are made online
The region with the highest growth potential is the Asia-Pacific region
The worldwide online travel market is expected to reach $690.71 billion by 2026
Only 44% of online traffic is converted to sales
Travel booking comes in at number 4 in the easiest online buying experiences
In 2018, digital worldwide travel sales amounted to $694 billion, a year-on-year increase of 10.4%
In the US, the online travel booking market is worth $190.4 billion annually in sales
Online Booking Statistics vs. Travel Agency Statistics 2023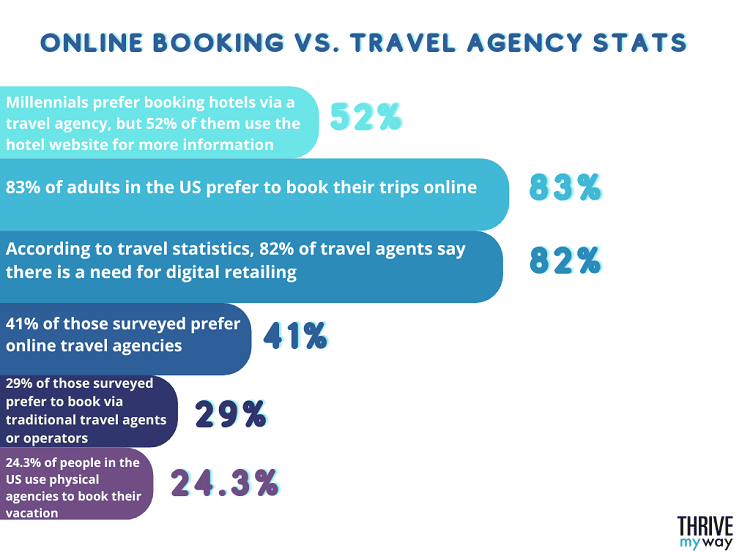 Millennials prefer booking hotels via a travel agency, but 52% of them use the hotel website for more information
83% of adults in the US prefer to book their trips online
According to travel statistics, 82% of travel agents say there is a need for digital retailing
41% of those surveyed prefer online travel agencies
29% of those surveyed prefer to book via traditional travel agents or operators
24.3% of people in the US use physical agencies to book their vacation

Online Travel Booking Statistics for Hotel Reservations 2023
It is expected that 700 million people will choose to book their hotel rooms online by 2023
Online hotel bookings have grown by 10.3%
People under 35 are more likely to book hotel rooms using an OTA
Many hotels report online sales to have a conversion rate of 2.2%
Two-thirds of online hotel bookings are made directly from the hotel's website
The worldwide market volume for online hotel bookings is expected to exceed $174 million by 2022
57% of hotel bookings are made online
In the US, one-third of leisure travelers stayed in privately owned accommodation
App Usage Stats 2023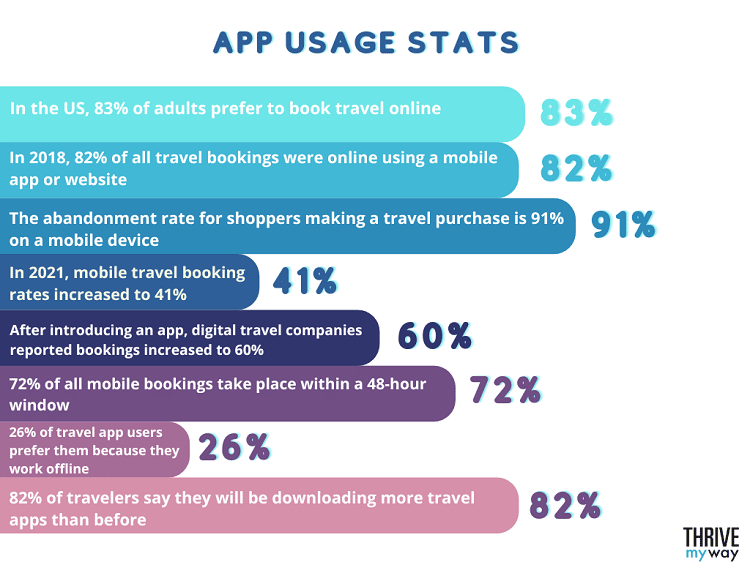 In the US, 83% of adults prefer to book travel online
In 2018, 82% of all travel bookings were online using a mobile app or website
The abandonment rate for shoppers making a travel purchase is 91% on a mobile device
In 2021, mobile travel booking rates increased to 41%
According to a recent survey, mobile users prefer apps rather than a mobile web page
After introducing an app, digital travel companies reported bookings increased from 41% to 60%
Around half of the users delete a travel app within a month of downloading it
72% of all mobile bookings take place within a 48-hour window
Conversion rates for apps are five times better than mobile website booking
26% of travel app users prefer them because they work offline
82% of travelers say they will be downloading more travel apps than before
Online Travel Booking Trends 2023
70% of travelers use their smartphones to research travel options
One-third of consumers report using a virtual travel assistant for organizing and planning their next trip
According to Google data, the number of travel-related searches that include "tonight" and "today" have increased by over 519% during the last five years
What do travelers use their mobile phones for? 70% search for things to do, 66% look for destinations, 58% finalize accommodation plans
87% of corporate travel managers and business travelers want the booking process to be made simpler
More than 90% of travelers want a personalized online experience
Beach vacations are 2.5 times more popular than city breaks
Consumers spend 5 days on average researching their vacation
More than half of global travelers now try to make more sustainable travel choices
You might be interested to check those related posts as well:
FAQs
What percentage of worldwide travelers read online reviews before booking?
A good online reputation can significantly influence bookings, which is backed up by the fact that 95% of respondents read reviews before booking.
What percentage of online booking is mobile?
21% of travelers in the US book using a smartphone.
Globally, 31% of travelers booked using a mobile device in 2019, which rose to 37% the following year.
What percentage of airline booking is done online?
It is estimated that 63% of airline bookings are done online.
Conclusion
The statistics above clearly show that online travel booking is here to stay. For travelers, it makes managing travel plans much easier.
An increasing number of people are looking to travel now that the pandemic is over, which means there is likely to be an interest in traffic and interest in making travel bookings online.
The following resources were used to help compile these travel booking stats, facts, and trends:
Condor Ferries
Travel Perk
Stratos Jet Charters
Statista
Jersey Island Holidays
Salecycle