TikTok is undoubtedly one of the most popularly-used apps currently, and many people love the features that it offers.
The app has grown into a major platform for many users to create content and express their talents.
As users continue to utilize the app's features, many may run into problems or just need general feedback from TikTok itself.
If you're struggling to contact TikTok, we've created a simple guide to help you with that.
3 Helpful Ways to Contact TikTok 2023 Guide
How to contact TikTok according to TikTok Support:
All of the above methods should help you get in contact with the TikTok support team.
You can choose the one that is most convenient and helpful to you and go from there!
Tiktok HelpDesk Support Channels
The primary support channels for TikTok are the in-app Help Center, the TikTok website, and social media accounts. The Help Center can be accessed from the app's main menu and includes a range of frequently asked questions and answers.
The TikTok website also includes a help section with more detailed information on topics such as account safety, reporting content, and privacy. Finally, TikTok has multiple social media accounts that users can contact for help and support.
TikTok has very few support channels:
Report a Problem On the App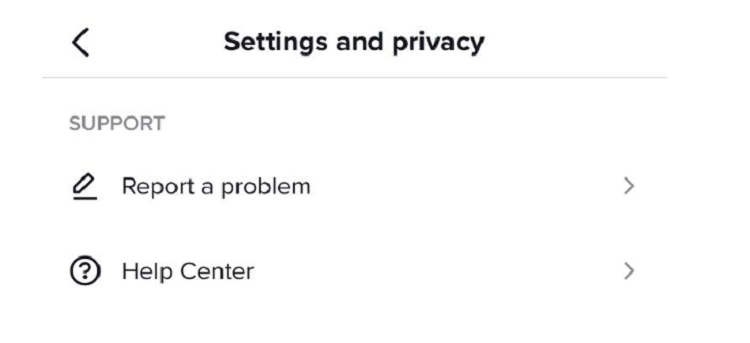 If you'd like to save the trouble of entering a different app or website to report a problem to TikTok, you can simply report it right through the app!
Here is a step-by-step process on how to do it according to TikTok Support:
Click the "Profile" icon in the bottom tab.
Click on the lines in the upper right-hand corner.
Click on "Report a problem" in the "Support" category.
Select from the given topics to find the problem you're trying to resolve.
If you can't seem to find the solution to the problem you're looking for, you can simply tap "No" under the "Is your problem resolved?" option.
Once you've done this, you can tap the "Still have a problem" button and you'll be directed to the TikTok support team.
Email TikTok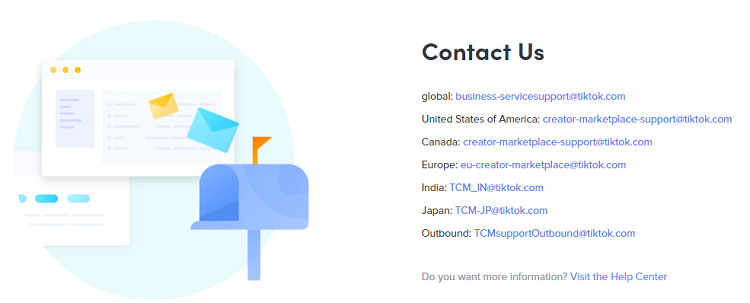 There are many ways you can get in contact with TikTok's support team, and one of the best ways to do so is through TikTok's email addresses!
Here are multiple email addresses that you can use depending on your situation, according to TikTok:
Emails For General Situations
Creator Marketplace Email Locations
Using TikTok's Feedback Form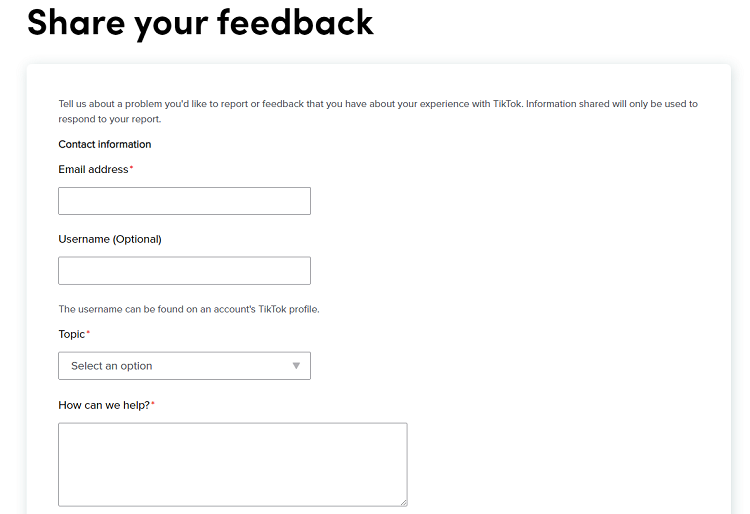 Not only can you email TikTok to send them feedback, but you can also use their Feedback Form.
If you're interested in using this feature, here's what TikTok will have you fill out:
Fill out your email address and username.
Next, select from the given topics that your situation involves.
Tell TikTok how they can help you with your situation under "How can we help?"
(OPTIONAL) Upload and send screenshots of images related to your problem.
After all of the above steps are completed, TikTok will have you confirm that your information is true and all you have to do is click submit.
Contact TikTok via Social Media Channels

Getting in touch with TikTok's support team can also be done through different social media platforms.
If you want to contact TikTok through this method, we've provided you with their information on the other social media below:
Twitter
To contact TikTok on Twitter, you can simply tweet them @tiktok_us, or you can go to their TikTok Twitter profile and find the links to their support page in their Twitter bio.
Both of these methods can be used through the Twitter app or on the Twitter website.
Facebook
To contact TikTok via Facebook, simply go to TikTok's Facebook page and go to their "About" section.
Here, you can find links to their website and email address to contact them.
Instagram
To contact TikTok on Instagram, simply go to the TikTok Instagram profile and find the links provided in their Instagram bio.
You can do this method through the Instagram app or on their website.
Report Abuse On TikTok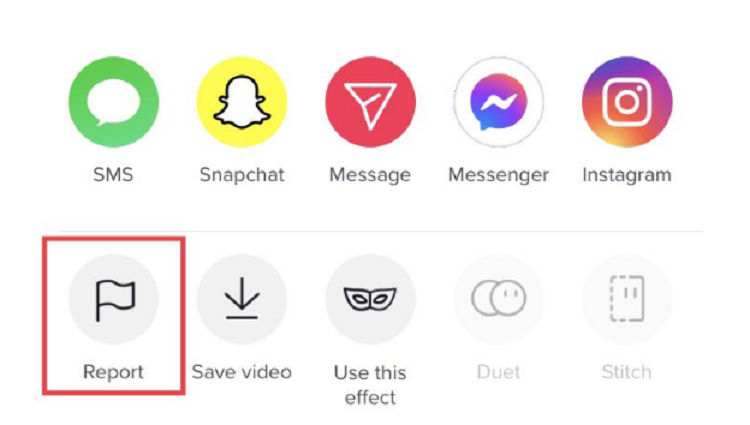 If you see any abusive or offensive content while using TikTok, it's highly encouraged that you report it to TikTok's support team so that they can review it and take it down.
Here's how to do so according to TikTok Support if you stumble upon any abusive content on the app:
Go to the TikTok video that you've found offensive.
Press down and hold on to the video, and a "Report" button should appear below.
Select the "Report" button and follow the instructions given.
TikTok's support team should receive your request to take it down, and they will act accordingly.
You should also make sure that the video is completely against TikTok's guidelines before reporting it.
Use a Phone Number to Report Copyright Claim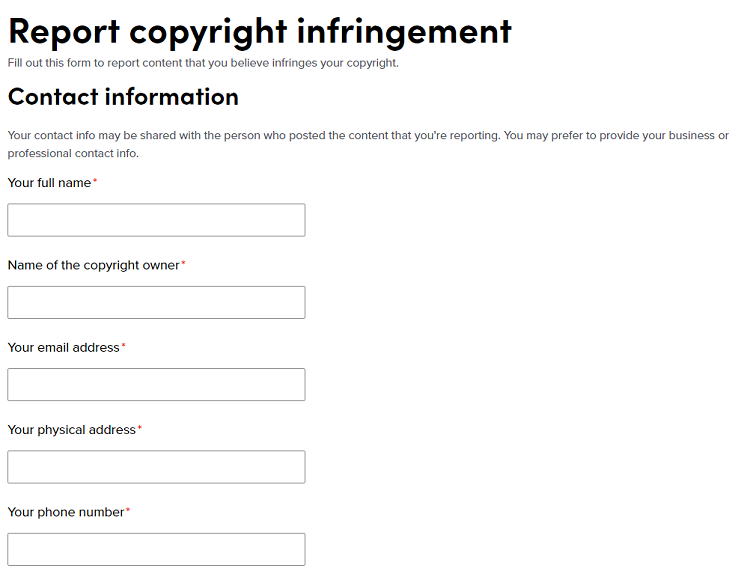 If you seem to stumble upon any content that seems to be breaking copyright laws, TikTok's support team has a form you can fill out on their website to help report it.
Here are the steps on how to do it according to TikTok:
Fill out your basic information, including your full name, email, and phone number.
Select your relationship with the copyright owner.
Upload your evidence of authorization to prove ownership.
Select the type of work it is. For example, video, music, photos, etc.
Once all of this is completed, TikTok will have you select a statement to choose from, and the form should be sent to them once you've signed it and clicked "Send."
You might be interested to check those related posts as well:
FAQs
There can be a lot of confusion when trying to contact TikTok, especially when it's become one of the biggest social media apps out there.
If you still have concerns about how to go about getting in touch with them, here are just a few other answers to your possible questions:
What Can You Do Before Contacting TikTok?
Before trying to contact TikTok directly, you can always go to the TikTok Help Center for more information on certain features.
Whether it's profile information or safety concerns, you should find quite a bit of insight involving your situation without having to get in touch with TikTok.
Does TikTok Have A Phone Number To Report A Problem?
Unfortunately, TikTok does not have a phone number for people to call or text with a problem.
Instead, TikTok's support team offers their website forms and email address for people to contact them with issues directly.
Does TikTok Have Live Chat Support?
TikTok does not offer live chat support, unfortunately.
Emailing TikTok is one of the best ways to get in touch with the popular social media app.
What are the Other Ways and Means to Contact TikTok?
If reporting does not work, you can always try tagging TikTok in any video you find inappropriate.
If nothing else seems to be getting through to TikTok, then you can always wait a couple of days until you get the feedback you're looking for.
Any of these methods should help you get in touch with them.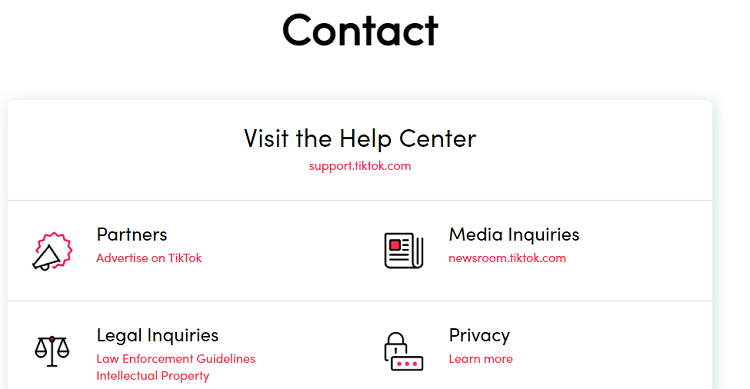 Conclusion
Contacting TikTok can help you resolve any issues you have and provide you with more information on anything you need.
There are many ways to get in contact with the TikTok support team, and any of the methods mentioned in this article should help you do just that!