Yandex is widely known as the #1 search engine in Russia. But it's more than just a search engine. It's a large international corporation that offers many different services like advertising, taxis, food delivery, e-commerce, navigation, and car-sharing.
So let's examine some Yandex stats to discover how large this corporation is.
General Yandex Stats, Facts, and Trends 2023
31% of Internet users in Russia use the Yandex search engine to find news content daily.
Yandex music is the #1 online service used by Russians to listen to music.
Yandex is the 3rd fastest growing brand in Russia. It adds 31% to its value year-to-year, on average.
Yandex stats say that 104 million users visited the site in October 2021.
The name Yandex is formed by the words "yet another indexer." It was portrayed as a Google and Bing competitor at its launch.
The company spent $10,000 to launch the platform in 1997.
The company was launched on IPO (Initial Public Offering) in 2011.
Yandex was banned in Ukraine in 2017.
The Yandex app offers a widget for almost every application they own.
Google refused an offer to purchase Yandex in 2003.
The corporation offers access to an SDK (Software Development Kit) to help developers integrate games from third-party developers to the Yandex Game service.
In 2021, Yandex reported they were working on developing a contactless payment service.
The corporation is developing self-driving technology for vehicles to fix the most widespread issues with autonomous cars.
The Russian government bank owns the majority of the corporation.
The corporation approves 78% of the Russian government's requests to access sensitive and personal data of users.
On average, every month, 55,000 users request for Yandex to delete all the data related to them.
Yandex offers webmaster tools with a dashboard that offers an outstanding user experience to help site owners manage their websites. To export statistics, every user needs to get a ​​Yandex OAuth Token.
Yandex Market Size, Share and Growths Trends and Stats 2023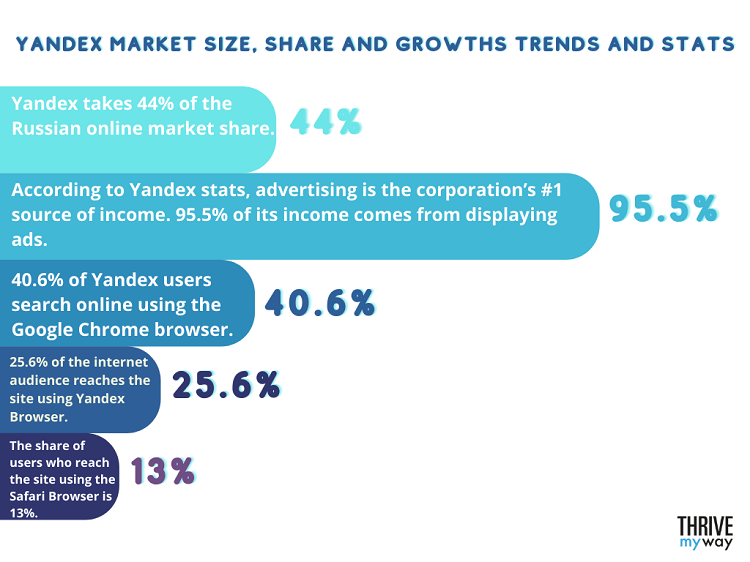 Yandex is the 13th-ranked advertiser in the country. The corporation spent $43 million in 2019 on ads and paid positions on the result page.
Yandex RU is the 3rd most popular search query processing tool in the world.
In 2020, the corporation's valuation reached the 1 trillion Russian rubles milestone, which equals 14.4 billion US dollars.
Yandex takes 44% of the Russian online market share.
According to Yandex stats, advertising is the corporation's #1 source of income. 95.5% of its income comes from displaying ads.
More than two million users pay for Yandex Music's service regularly, according to recent statistics.
40.6% of Yandex users search online using the Google Chrome browser.
25.6% of the internet audience reaches the site using Yandex Browser.
According to Yandex stats, the share of users who reach the site using the Safari Browser is 13%.
Yandex User Counts Stats 2023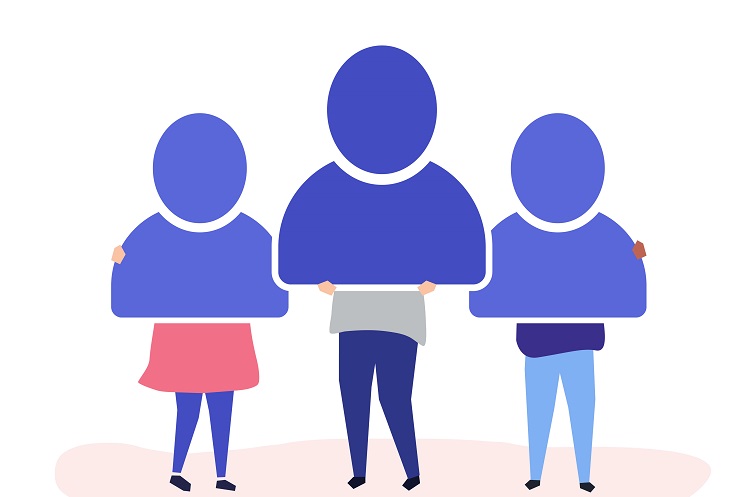 60% of Yandex users utilize the mobile app, while 40% reach the search query processing engine on desktops.
On average, a user spends 12 hours and 17 minutes per month using their Yandex account.
These days, 75% of Yandex users in Russia own Android smartphones.
One in four users reaches Yandex using an iPhone. However, the share of iOS smartphones is projected to reach 56% by 2024.
According to recent data, 0.02% of smartphone users use Windows phones to access the site.
Yandex stats say that 94.5% of desktop users have Windows Mobile OS installed on their computers.
The share of macOS users who use Yandex to search for information online is 3.75%.
The HTTPS protocol secures roughly 97% of sites reached by Yandex users.
43 million users have a Yandex Maps account.
Yandex Game, a service that offers access to a large number of online browser-based games for free, is reached by 11.5 million users monthly.
On average, Yandex Weather is accessed by 32 million users monthly, according to Yandex stats.
People spend 58 minutes per month reading Yandex news, according to the statistics provided by the corporation.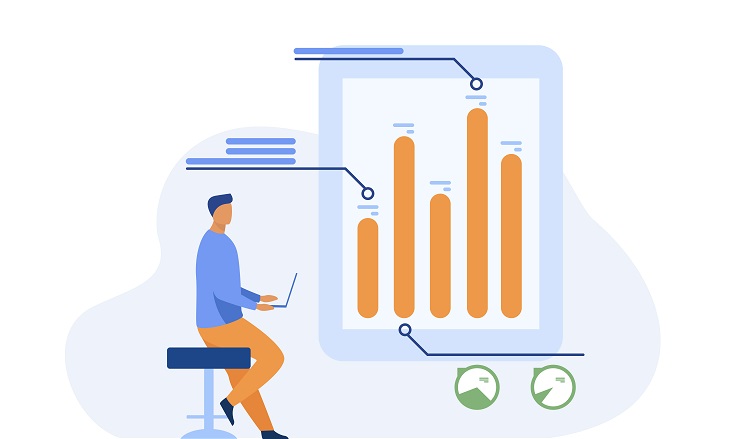 Yandex Usage and Traffic Stats 2023
On average, 60% of the traffic in Russia comes from the Yandex domain name.
Yandex spent more than $2 billion of operating expenses in 2019 to improve its search result delivery technology.
The annual Yandex revenue reached $3 billion in 2021.
The Yandex website is ranked first in the Russian market. Globally, it is the 8th most popular site.
The platform facilitates 3.8 billion web page visits per month.
The average session duration is 11 minutes, Yandex stats say.
On average, a Yandex account owner visits 9.35 pages per visit.
89% of Yandex traffic comes from Russia. The most popular keyword searched is the company's name spelled in Russian.
Less than 7% of traffic comes from Belarus, Kazakhstan, and Ukraine.
The share of traffic from the US is less than 1%.
88.8% of traffic that comes to Yandex is direct.
93.5% of traffic is organic. 6.5% of users reach Yandex from paid ads.
YouTube is a traffic source of half of the visits from social media.
Yandex vs. Google Statistics
Google takes the lead with 53% of the Russian online market. In contrast, Yandex takes only 44% of the market.
Statistics say that Google Chrome is the primary browser used by 57% of users in Russia. Only 14% of people in Russia use Yandex browsers daily.
13.5 million websites on the internet in Russia use Google Analytics to measure their online success. However, Yandex Metrics, an analytics tool, is connected to half a million sites.
In other words, 19.3% of the entire World Wide Web uses Google Analytics. On the other hand, the share of sites that use Yandex Metrics, including the WordPress plugin, is only 0.77%.
Google Analytics is the #1 tool used to measure the number of visitors and user behavior in all countries, including Russia. The Yandex Webmaster tool doesn't take the leading position in any country.
According to recent stats, 1.5 billion users have a Gmail account. In contrast, only 20 million Internet users have an inbox provided by Yandex.
These days, more than 1 billion users store their files on Google Drive, while only 2 million people prefer using Yandex Drive.
800 million people use Google Feed to discover news. Only 35 million users use Yandex News.
Google's revenue grew by 12.7% last year. However, Yandex managed to increase its revenue by 21.5% during the same timeframe.
You might be interested to check those related posts as well:
Conclusion
Yandex is a Russian search engine that was launched as Google's direct competitor. It offers access to a large number of useful services that can help corporations grow. Unfortunately, Yandex's stats say that the corporation has tough time competing with Google in Russia because the Russian government indirectly controls it.
Sources: