WhatsApp is one of the largest mobile apps and social media platforms in the world.
It's been around for over ten years and still manages to grow its user base each year.
Read these interesting WhatsApp Stats to see just how large this app is becoming.
Key WhatsApp Stats 2023
Over 100 billion messages and 100 million voice calls are exchanged on the platform each day.
WhatsApp has over 2 billion users, making it the most used mobile messenger app in the world.
It's the 4th most downloaded app in 2021, after TikTok, Facebook, and Instagram.
But in the US, it was only the 8th most downloaded app in 2021.
WhatsApp Business has over 5 million users.
Half a billion users update their WhatsApp status daily.
WhatsApp Usage Stats 2023
WhatsApp is used in over 180 countries and supports 60 languages on Android and 40 on iOS.
On average, people spend 38 minutes using the app each day.
In the iOS store, WhatsApp has an average rating of 4.7 out of 5. In the Google Play store, it's rated 4.1.
For people between the age of 16 and 64, WhatsApp is the social media platform of choice.
The Whatsapp.com website only receives 24 billion visits a year.
1 in every 3 WhatsApp users is college-educated in the US.
Using WhatsApp Business can increase customer service productivity by 225% and conversion rates by 20%.
WhatsApp Demographics Statistics 2023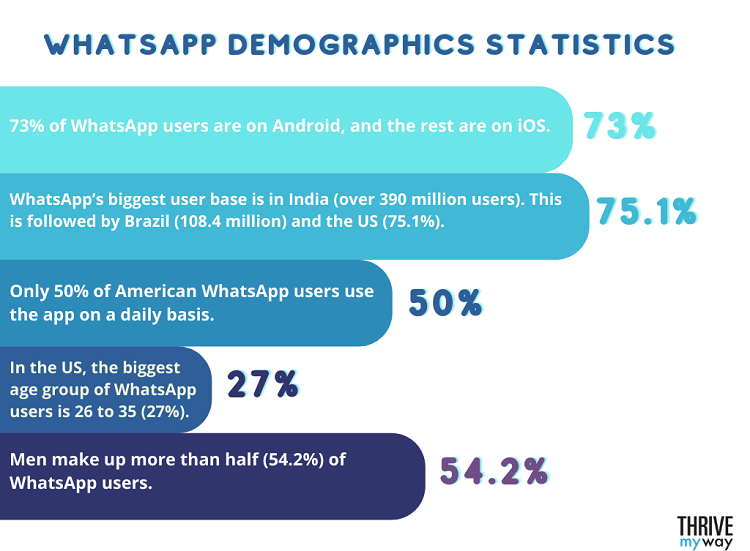 73% of WhatsApp users are on Android, and 22% are on iOS.
WhatsApp's biggest user base is in India (over 390 million users). This is followed by Brazil (108.4 million) and the US (75.1%).
Users in Indonesia spend the most time on WhatsApp, recording 31.4 hours of usage a month.
Only 50% of American WhatsApp users use the app on a daily basis.
In the US, the biggest age group of WhatsApp users is 26 to 35 (27%).
WhatsApp is restricted in China, Iran, Syria, United Arab Emirates, Korea, and Cuba.
Men make up more than half (54.2%) of WhatsApp users.

WhatsApp Growth and Revenue Statistics 2023
WhatsApp racked in over $5 billion in 2020.
In 2021, WhatsApp was downloaded over 600 million times. That makes it the most popular app owned by Facebook.
After the acquisition by Facebook, WhatsApp's user base increased by 365%.
WhatsApp received its first seed funding in 2009 for $250,000.
In 2014, Facebook bought WhatsApp for $19 billion.
WhatsApp is expected to reach over 3.5 billion users by 2025.
You might be interested to check those related posts as well:
FAQs
Which country uses WhatsApp most?
With over 390 million users, India is the country with the most WhatsApp users. However, people in Indonesia spend more time actually using the app.
On average, Indonesian users spend 31.4 hours in the app each month, which is 12.8 hours more than the average WhatsApp user.
How many users does WhatsApp have?
WhatsApp has over 2 billion users in over 180 countries around the world.
It's the most popular messenger app in the world, and the most popular mobile app in general in over 150 countries.
How many users left WhatsApp?
In 2021, WhatsApp released new terms about what data would be shared with its parent company, Facebook. The new privacy policy caused a backlack with many users.
Over 28% of WhatsApp users said they would leave the app, although it's difficult to calculate how many have actually uninstalled WhatsApp for this reason.
Conclusion
Despite some recent setbacks, WhatsApp continues to increase its revenue and user base.
Billions of users rely on its services to communicate daily, which means it won't be going anywhere for the foreseeable future.
Sources:
Oberlo
ThinkImpact
Backlinko
HootSuite
Indian Times
Blogging Wizard