International Business Machines Corporation (IBM) is one of the largest technology organizations in the world. The company is well-known worldwide, but there are lots of facts and figures that might not be commonly known about the brand.
So in this article, we look at the main stats that might interest you.
General IBM Stats and Facts 2023
The company was founded in 1911 in Armonk, New York.
The company was originally known as the Computing-Tabulating-Recording Company.
Computing-Tabulating-Recording Company was re-named IBM in 1924.
Charles Ranlett Flint founded the company in 1911.
IBM has seen numerous years of declining revenues and is undergoing severe restructuring.
The brand has a reputation for selling off low-margin assets to competitors to focus efforts on higher-value products.
IBM Market Share Statistics 2023
90% of credit card transactions are handled by IBM mainframes.
80% of global retailers use IBM retail solutions in their stores and for online sales.
80% of travel reservations are processed through an IBM product.
IBM has a market share of 1.8% of the Infrastructure as a Service (IaaS) market.
97% of banks in the world use IBM products.
Employee and Customer Statistics for IBM 2023
In 2013, IBM had 413,000 employees worldwide.
IBM is considered the largest technology and consulting employer worldwide.
The company is the fifth largest employer in the United States.
Last year in 2021, IBM employed 345,000.
IBM has employees in 170 different countries worldwide.
There are 130,000 IBM employees in India.
There are 3000 people who work as IBM researchers located in 12 labs worldwide.
IBM reduced its employee numbers by about 0.24% between 2020 and 2021.
There are 7000 employees working for IBM Watson.
12,000 use IBM security products and consultations regularly.
IBM has 400 blockchain clients.
In March 2021, there were 3500 job opportunities at IBM, equivalent of 1% of its workforce.
On average, there are 108 applications per available job at IBM.
33% of IBM employees are women
29% of managers at IBM are women
.A quarter of their board members have an ethnic minority background.
In 2020, the company cut 10% of its workforce.
Former IBM employees are known to become well-known technology leaders and entrepreneurs, including Tim Cook, CEO of Apple.

IBM Usage Stats 2023
IBM Watson handles 100 million health records.
IBM Watson handles 200 million health claims per year.
In 2022, IBM Watson, otherwise known as Watson Health, is to be sold.
70 billion security events are handled by IBM every single day.
Every second, 8.18 million security events are handled by IBM products.
27.3 million people use the IBM website every month.
The IBM website has a bounce rate of 52.66%.
The average session on the website includes a visit to 5.5 pages.
The average session on the website lasts for six minutes and forty-one seconds.
22.5% of the website traffic comes from the USA.
Indian users make up 12.77% of the visitors to the IBM website.
Japan is the third largest audience on the IBM website, with 4.56% of the audience.
72.04% of the audience is male.
37.39% of the website visitors are aged between 25 and 34.
Only 3.04% of website visitors are aged over 65.

IBM SPSS Statistics and Facts 2023
SPSS was built by SPSS Inc.
The system was built in 1968.
SPSS was designed to solve statistical analysis challenges.
SPSS Inc. was bought by IBM.
You can use IBM SPSS for free for 14 days.
IBM Revenue Stats 2023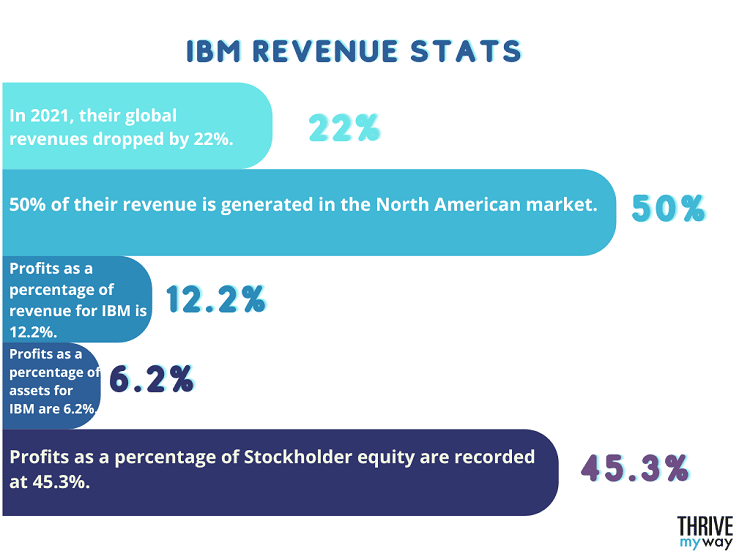 In 2020, their global revenues were nearly $73 billion.
In 2021, their global revenues dropped by 22%.
50% of their revenue is generated in the North American market.
IBM has 206,272 patents.
There were 7534 patents issued in 2014.
IBM earns $24.4 billion from its cloud services every year.
Profits as a percentage of revenue for IBM is 12.2%.
Profits as a percentage of assets for IBM are 6.2%.
Profits as a percentage of Stockholder equity are recorded at 45.3%.
IBM Stock Statistics 2023
Records for IBM stocks go back to 1962.
The all-time high IBM stock closing value was 143.42, achieved on 14 March 2013.
The 52-week high stock price was 146.00.
The 52-week low stock price was 114.56.
The average stock price for IBM is 132.41
In 2021, IBM was valued at $127 billion.
Additional IBM Stats 2023
IBM spends $6.33 billion a year on research and development.
The major focus for the research and development teams is AI and hybrid cloud technologies.
IBM bought Red Hat for $33.4 billion.
IBM has acquired more than 183 companies.
The song 'Ever Onward' was commissioned by Thomas Watson Sr. to be an IBM song to accompany the tune 'Stouthearted Men' by Hammerstein and Romberg.
Colossus of Armonk and Big Blue are two nicknames that have been given to IBM.
IBM has reduced the direct and indirect carbon footprint of the brand by 57.3% in the past five years.
In Japan, an American Football team competes for IBM at a pro stadium, complete with televised games and cheerleaders. They compete in the Japanese X-league.
You might be interested to check those related posts as well:
FAQs
How big of a company is IBM?
IBM is one of the biggest employers and companies in the world. While they have reduced its employee numbers over the past few years, they are still one of the largest employers in the United States and India. They also have about 100 jobs yearly, which attract more than 100 applicants for each opening.
How many employees does IBM have in 2022?
IBM currently has around 245,000 employees worldwide, operating from approximately 150 countries on six continents. The company also has 15 high-tech laboratories worldwide with thousands of R&D employees.
Is IBM stock dropping?
IBM has a relatively stable stock. Over the past decade or so, the stock has remained relatively the same despite poor revenues and profit drops.
Conclusion
IBM is one of the largest employers across the world, with an open and progressive culture. While the company has fallen on hard times recently, it has every chance of a successful restructuring for a brighter future.
Sources:
Macrotrends
Statista
Expanded Ramblings
Hello Leads
Fortune
Wikipedia
Similar Web