We live in a day and age of constant change. Technology updates.
Whatever new platform we learned last year is now considered outdated, and it's on to whatever newer, faster, better platform is out there.
How can a company keep up with training employees? In this article we will dive deep to Microlearning Stats.
Many organizations and businesses are turning to the idea of microlearning. Microlearning is a learning method that involves teaching small bits of knowledge or skills to individual employees at just the right time.
Microlearning is a way for businesses to keep up on training employees in an ever-changing world with improved engagement and increased efficiency.
Consider the following microlearning stats.
Key Microlearning Statistics 2023

A 10-minute microlearning course has a completion rate of about 83%, whereas a traditional learning and development course has a much lower percentage of 20%-30%.
Most employees (80%) prefer microlearning over traditional learning approaches.
Completion rates for microlearning modules are high, ranging from 70% to 80%.
Microlearning has been demonstrated to boost retention rates by 25% to 60%.
Compared to traditional learning methods, microlearning is significantly more efficient, with 5-10 times greater effectiveness.
Microlearning is commonly delivered through mobile devices.
More than half (53%) of surveyed companies observe a positive impact on employee productivity with the adoption of microlearning.
Interesting Microlearning Stats and Facts 2023
Research suggests that microlearning increases employee focus and encourages long-term retention by 80%.
When compared to traditional courses, microlearning is about 17% more efficient.
Microlearning drastically improves employee engagement from about 15% to 90%.
A whopping 94% of e-learners surveyed prefer microlearning on the job, but still, 65% indicate that their organizations' courses present too much information.
Corporate Microlearning Stats 2023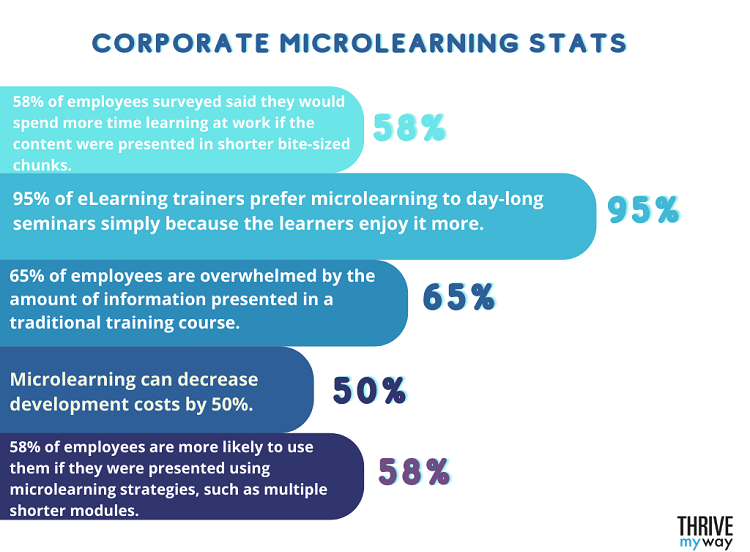 58% of employees surveyed said they would spend more time learning at work if the content were presented in shorter bite-sized chunks.
95% of eLearning trainers prefer microlearning to day-long seminars simply because the learners enjoy it more.
65% of employees are overwhelmed by the amount of information presented in a traditional training course.
Microlearning can decrease development costs by 50% while actually increasing development speed by 300%.
Utilizing online learning tools may be daunting, but 58% of employees are more likely to use them if they were presented using microlearning strategies, such as multiple shorter modules.
If you want better results, then forget about setting goals. Focus on your system instead. – James Clear
Microlearning Trends 2023
An important trend is offering the opportunity for professionals to develop learning experiences that allow them to attain proficiency as quickly as possible.
Customization is key for microlearning. Training is no longer "one size fits all."
Microlearning courses are focusing on closing the digital skills gap and emphasizing people skills.
Employees see training as a job benefit and are increasingly looking for opportunities to grow in their field.
You might be interested to check those related posts as well:
FAQs
How long is an optimal microlearning lesson?
A microlesson can be anywhere from 1 to 15 minutes long, but most experts suggest that the optimal length is right around 5 minutes.
This amount of time is just enough to learn about a new topic or practice a new skill without losing focus or wasting valuable time.
What is the average completion rate of a microlearning course?
On average, a 10-minute microlearning course has a completion rate of about 83%, whereas a traditional learning and development course has a much lower percentage of 20%-30%.
How much do microlearning training programs cost?
There is a wide range of pricing available for various microlearning training programs.
Some offer a free plan for up to a certain number of users, while other programs charge $4/person/month with bulk pricing available.
Conclusion
Microlearning is a way to train employees in a way that increases efficiency, engagement, and enjoyment while lowering company costs, saving time and money!
Statistics for this article were gathered from the following sources:
Conceptual Framework for Programming Skills Development Based on Microlearning and Automated Source Code Evaluation in Virtual Learning Environment
Effects of Gamification as a Micro-Learning Tool on Instruction
Dashe & Thomson
Josh Bersin
Microlearning Blog
Rapid Learning Institute
Raytheon Professional Services
Training Industry
In 2022, the most prominent trends in microlearning will revolve around the influence of TikTok, the phenomenon surrounding Google, and the concept of interactive gratification. Integrating these elements into your microlearning content can effectively enhance learner engagement and contribute to the overall success of your course.