Love creating makeup tutorials and recommending your favorite products to friends? Let us know if beauty blogs are profitable. How much do beauty bloggers make?
Have you thought about launching your own beauty blog but are not sure if it's worth it? Let's see if we can help you make up your mind.
Anyone can start a blog, but it takes work and dedication to be a profitable blogger. What gives you a real chance at a successful career in blogging is to have a genuine interest in the subject you're writing on.
Research and reading useful material such as this awesome tutorial on how to start a blog is the first step on the right path.
Such in-depth guides help you understand the right way to go about establishing your own beauty blog and provide the steps you will need to take to make your blog super popular.
So you've decided you're ready to put in the work, but how much can you expect to get paid?
Bloggers make money from their content in several ways, so there are plenty of income streams available. But can you really make a profit from it?
How Much Do Beauty Bloggers Make?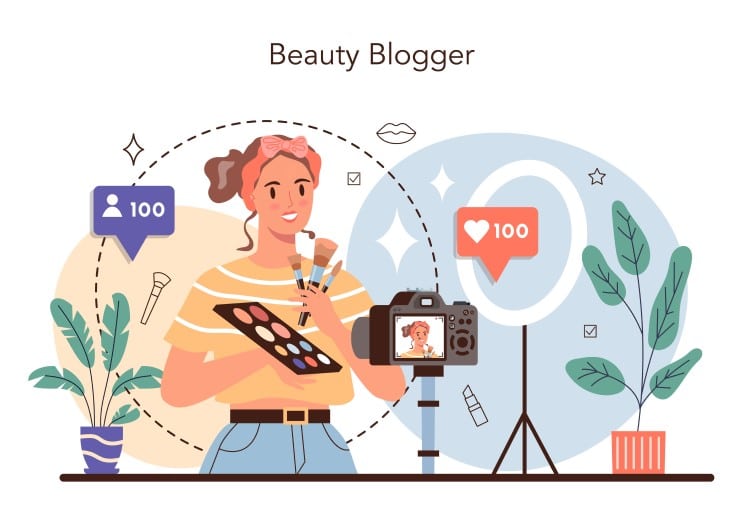 Are beauty blogs profitable?
There's no one set amount that beauty bloggers make, just like there isn't one shade of red lipstick. However, there are millions of blogs on the web – from food to fashion and everything in between – which in itself is a prime indicator that it can be done.
Bloggers can earn anything from $10-$60,000 a month, depending on the work they put in and the following they have. Of course, the biggest beauty gurus in the industry earn millions a month, but we think a nice ten thousand would be plenty.
On her popular cruelty-free beauty blog, Suzie Rose admits earning more than $17,000 per month for the past 2-3 years. With that number, you'd expect Suzie to have millions of followers.
Still, her modest 65k followers on Instagram and another 65k on Facebook suggest it can get pretty profitable as soon as your following starts growing.
How Do Beauty Bloggers Make Money?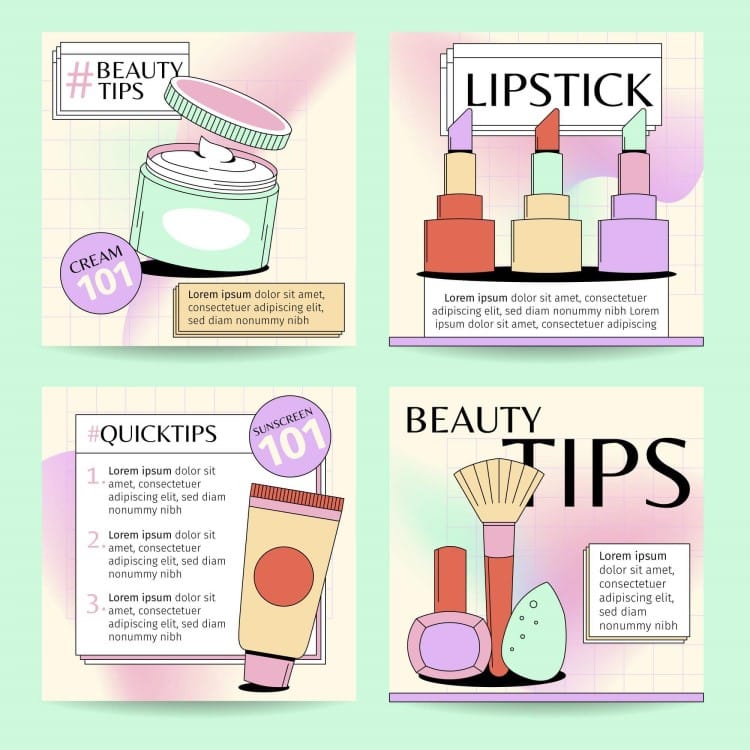 The typical rule is the more followers you have, the more money you'll make, but it's not always the case.
In recent years, many bloggers have been caught out buying their followers, so now brands and ad companies are looking more into engagement, trustability, and other brands you've worked with.
We would never recommend buying followers or using a follower app to try to boost your online presence. The best way to grow your blog to make it profitable is to stay highly engaged, create content consistently and find ways to increase your organic traffic.
Bloggers can earn money earning from their content in several ways:
Affiliate Marketing

Selling Ad Space

Selling Digital Products

Featured Product Reviews

Brand Collaborations

Monetizing Youtube Videos
How Much Money Do Beauty Bloggers Make From Affiliate Programmes?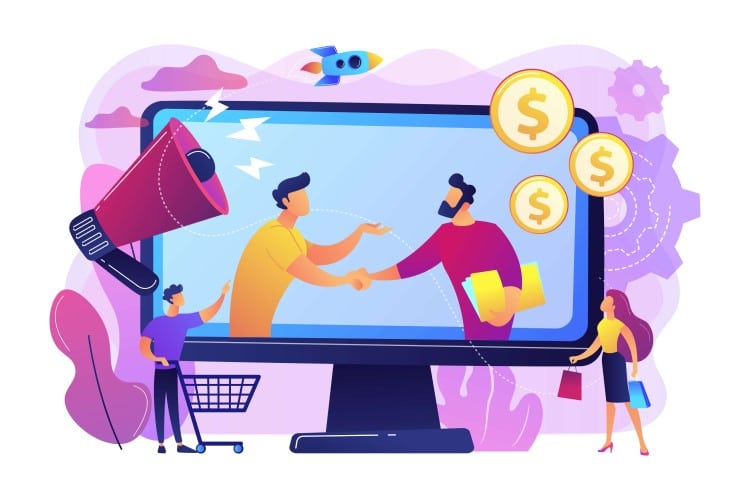 Beauty is the third biggest category in affiliate marketing, with 14% of the market. (Fashion (23%) and sport (18%) take first and second place).
There's huge potential to start earning money by joining an affiliate program when you've gained a small following. A whopping 81% of brands across the world now benefit from affiliates – including Amazon – so no matter what your niche is, you'll be able to find the perfect brand to partner with.
When you apply to join an affiliate program, you'll need to be approved before you can get started. However, if you manage to gain access, brands will offer you a small commission on every purchase you are responsible for on their site.
You'll be given your own unique URL to link in your content so that the brand can track which blogger the traffic came from.
So, if you're doing a product recommendation article or a gift guide, you could end up using several affiliate links in one post – boosting your chances of someone going through to purchase.
Commission can either come in the form of a percentage per sale or a set rate. For example, Elf Cosmetics offers up to 9% commission on each sale, while My Geek Box pays up to $30.
This particular way of making money from your beauty blog does take time. Some bloggers won't reap the benefits for six months, while others with a larger audience might start earning straight away.
The important thing is to be patient, and you could be making a 6-figure income from affiliate marketing in no time.
How Much Money Do Beauty Bloggers Make From Ad Revenue?
Selling ad space on your blog or monetizing your YouTube videos is another way you can start earning money.
Ad revenue is typically measured in CPM (cost per 1000 impressions), so it's worth having a following first, like affiliate marketing.
Beauty bloggers can expect a CPM rate of anywhere between $1-$10 depending on which channel you're using – Adsense, YouTube, etc.
YouTube considers several things when approving your video for monetization: Video length, audience size, and content topic. In addition, they have to make sure that ads aren't too annoying for the viewer and relevant to the content's age demographic.
You'll have noticed that since the beginning of Youtube, videos are getting significantly longer – with some being around 45 minutes to an hour. This is, so the Youtuber has more chance of getting their videos monetized.
If you're more of a writer than a vlogger, AdSense is the best way to serve up ads on your blog. As long as you're hitting 1000 views per month, you'll be able to sign up for the ad platform.
AdSense is more for beginners, as the Ads are typically irrelevant and can look spammy, so we don't recommend using this forever. Once you've gained more traffic to your site, you can use ad platforms such as EZoic or Mediavine, requiring 10,000-25,000 unique monthly visitors.
Using ad revenue to make your blog profitable is a slow process. If your blog reaches tens of thousands of people every month, a CPM of $2.50 will still only take you a couple of hundred dollars, which isn't a lot at all.
Are YouTube Channels Profitable?
ContentCareer estimates that Youtubers with 1 million subscribers or less can earn around $57,000 a year. So beauty vlogs can definitely be profitable!
But gaining that many subscribers in a saturated market can be tough. The likes of James Charles and Jeffree Star inspire beauty gurus of every level of expertise to get onto the platform and start creating content. But it's unlikely you'll begin earning millions like them any time soon.
Can Beauty Bloggers Make Money In Other Ways?
Absolutely! As we mentioned above, bloggers can make money from collaborations and digital products.
Collaborating with brands is a really common way to make your beauty blog profitable. Of course, it's easier to approach brands when you've got some good blogging stats, but that doesn't mean you can't try contact brands as soon as you start. The worst they can say is no.
Brands will likely reach out to you instead when you gain more of a following and request product reviews or sponsored posts on your social media. Some will go as far as to ask you to write a related blog and integrate their products into it.
For this, you can set your rates. This means whether you make a decent income is down to you. Mackenzie Newcomb, Influencer Marketing Manager at Trackr, says bloggers and influencers tend to earn $1k-2k per 100k followers they have, with blog posts paying much more than a simple Instagram photo.
Influencer marketing is a huge industry now, and brands turn to smaller profiles for a more authentic feel. There's now a big demand for Micro and Macro-Influencers who have fewer followers but a highly engaged community. Brands see a benefit to using these influencers more, so you no longer need 100,000 followers to start working.
On Instagram, if you have 10,000 followers, marketing brands is much easier. When you reach this golden number, you'll have access to 'swipe up' capabilities on your stories – meaning you'll be able to direct your followers to a brand's website quickly and easily.
Many bloggers have started launching their digital stores selling eBooks, prints, blog templates, and more. There's also been a huge increase in bloggers publishing their own blogging courses to teach others how to make it in the blogosphere.
Digital products are a great way to make money because you only have to work on the product once and then leave it to tick over. People can download prints, read your eBooks or sign up for your course without you having to process orders or lift a finger.
Conclusion
So, there are many ways you can make money through your beauty blog, but there's a common theme with all of them: You need traffic.
Affiliate marketing requires you to be getting a decent level of traffic to your blog every month. Ad networks expect you to have even more visitors, while sponsored collaborations will only start dropping into your inbox when your audience is highly engaged.
In the same pattern, the more followers you have, the more money you can typically make. So while it's exciting to start thinking about what you'll buy with your first paycheck, it's important to stay realistic.
For example, bloggers who work on their content full-time work long hours to manage their following, create engaging topics, and produce content to make some money.
Working smart is equally important to working hard. Unfortunately, there are a lot of articles on the web that offer conflicting and confusing information.
It is therefore vital to choose the right guidance in order to work smart. An excellent resource to always have at hand is (the ultimate guide 2021) how to make money blogging.
In it, you will find an extensive table of contents from choosing the right product niche (in your case, beauty) to attracting organic traffic to your blog…the list goes on. The guide is regularly updated to ensure that the information it offers is the latest and consistently accurate.
If you have the patience and determination to succeed, you no doubt will. But it's hard to make your beauty blog profitable without your full attention.